I'm back to share my monthly bouquet (a super sweet Christmas present from the hubs). And just like last month's roundup of roses, this month's blooms didn't hail from the grocery store at all. In lieu of the normal $3-5 bouquet, we spent nada and headed out the back door to clip some white lilies for a quick little display in our sunroom. Here they are adding some life to a collection of vases and recycled beverage and wine bottles (some which are left over from our wedding):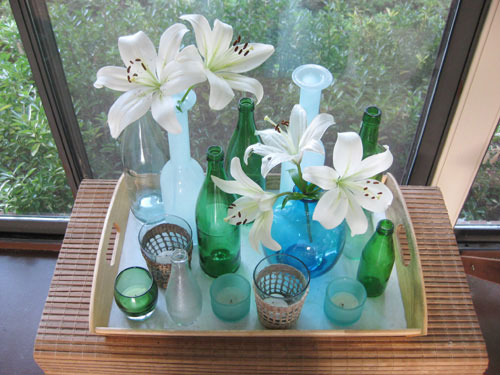 I love the big white petals and the chocolate polka dots that seem to hover above each bloom.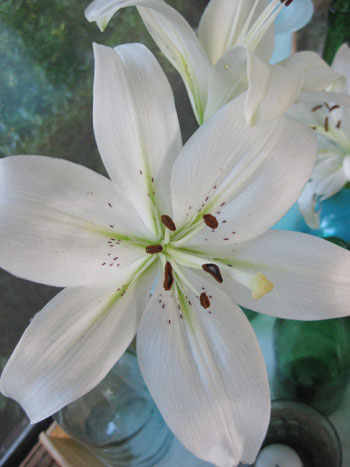 I've also noticed that we seem to especially love putting our budget bouquets in different vases and locations for a totally new effect each time around. While last month's collection cheered up the living room, our new arrangement greets us at the door (we park in the back and enter through the sunroom so we get to see 'em coming and going). It's also nice to remember that anything can be a vase (so save those Pellegrino bottles and old toothbrush holders!).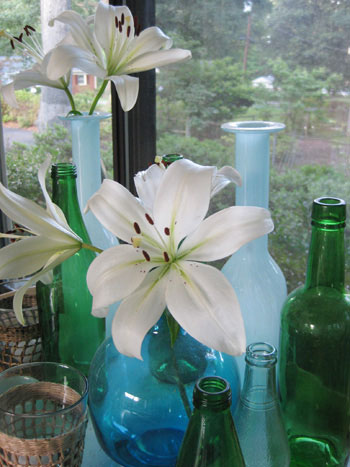 What about you guys? Have you clipped any happy little flowers courtesy of your backyard or rescued any bouquets from your local grocery store? We'd love to know what blooms are tickling your fancy these days- and what free fauna your backyard is yielding now that summer is in full effect.
Wanna see our first grocery store bouquet from last January? Itching to check out February, March, April, May, and June too?Just follow the links for some pretty sweet cheap-o bouquets.