Remember when I shared my first of the year flowers a little while back (a sweet monthly gift from the hubs)? You may recall that they had a bit of New Year's sparkle thanks to a cake stand full of gleaming silver ornaments for take one, and a few weeks later I remixed them with less of a holiday slant since we were well into January at that point.
Well those inexpensive grocery store blooms lasted for pretty much all of January but then February got the best of us and before we knew it we were blinking our eyes and it was almost March- and we still hadn't purchased any February flowers. So while food shopping on the last weekend of the month we made sure that a bouquet made it into our cart as well.
And we really got a lot for a little this time. We spent just $4.99 and I got five different bouquets out of the deal. This time around I was drawn to a bunch of pretty pink carnations and they went such a long way that I'm convinced they might just be my favorite flower ever. Plus they notoriously last a while so that should mean weeks of enjoyment on my part. Oh happy day. Here's the first bouquet of pretty pink carnations adding endless sweetness to my desk near the window: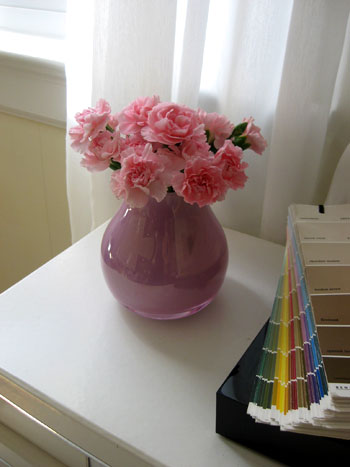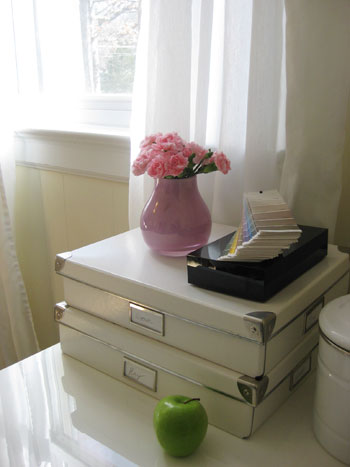 And here are three more smaller bouquets happily residing on the window ledge in the kitchen in a few cheap-o Ikea vases I had laying around. Gotta love that they look just as good in crisp white bud vases as they do in the similarly toned pink vase on my desk.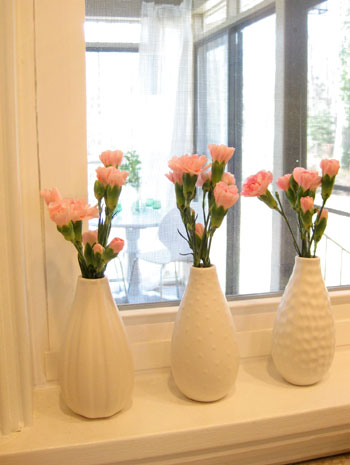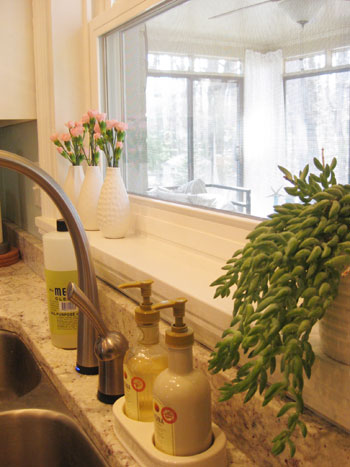 Here's our little bonus bouquet, made mostly from shorter buds and flowers that were snipped off to make the rest of the arrangements (determined not to waste a single bloom I grouped them in a small glass candle holder in the half bathroom). They should all be blooming even more in just a few days.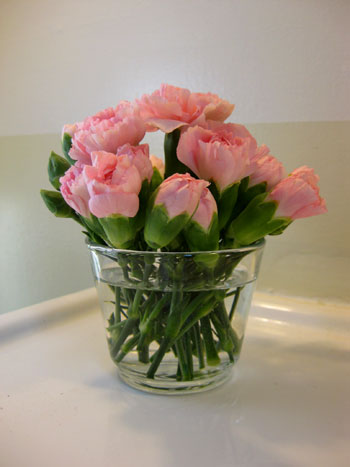 All five bouquets (which happily rung in at less than a buck a piece) certainly add a cheerful spring vibe to three different rooms of our house. It's just so nice to have a splash of pink in a few of the spots that I frequent every day. It's funny that we keep falling behind on our monthly bouquets since every time I finally get my mitts on them I'm smitten with the amazing (and super cheap) upgrade that they add to any space. What are you guys drawn to these days when it comes to flowers or indoor plants? Anyone bringing home pretty potted tulips and daffodils yet? Anyone else enamored with roses these days (especially after V-day a few weeks back)? Spill it.
Wanna see our first grocery store bouquet from last January? Itching to check out February, March, April, May, June, July, August, and September too? Just follow the links for some pretty sweet cheap-o (and even free) bouquets.