Maybe it's the whole organize-everything-because-it's-spring thing or even a bit of last minute nesting, but lately I've been all about whipping things into submission. As in, finding a place for every last paperclip and utensil… even putting every single one of our photos into coordinated leather albums and chronologically numbering them. Yeah, it's a little crazy but I've always been a nerd for organization. And looking at those nice little hand-numbered tags just makes me smile. It's the little things, right?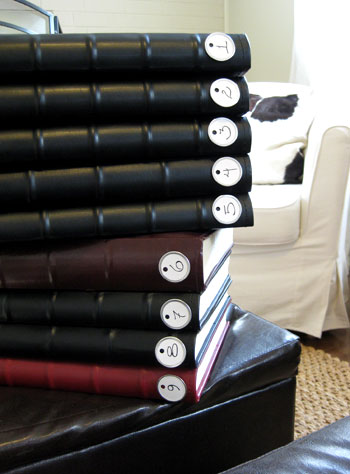 The first stage of the project was to go through all my mismatched old falling-apart albums (and stacks of sad album-less photos) and put them all in chronological order. Then I grabbed some nice-enough-but-not-bank-breaking albums from Target and filled 'em up. I could have stopped there but I wondered if they might be hard to differentiate and sift through since they're all so similar looking (which I like for consistency, but it's not as easy to remember as "the moving photos are in the yellow sunflower album").
And so the idea of numbering the albums was born…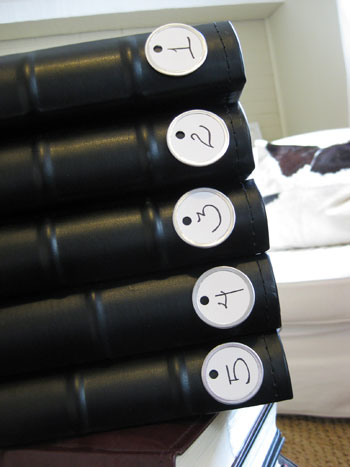 One trip to Office Max and a few dollars later I came home with these metal-rimmed white labels. They actually were meant for labeling valet keys or something (so I removed the little key loops) but the loops would actually be handy for hanging them off of baskets in a linen closet. Gotta love a multitasking accessory like that.
Anyway, I just scribbled a number on each one using a regular old ballpoint pen and relied on a loop of scotch tape to secure them to each album (a dot of Liquid Nails would probably hold them in place even more securely). What do you think? Does it make you want to slap me? Or does it make you want to organize something? I'm one of those people who watches other people clean their house on TV and immediately wants to clean mine. Here's hoping my obsessive organizing rubs off on a few enthusiastic storage freaks like me!
And since many people write to us to ask how we organize and store our photos on the computer along with our hard copies, here's more info in that regard. We keep a folder for each month on the computer (since all of our pics are digital) and we dump them into the right month as we take them. Then every few months we go thought a few months at a time and pick the ones we love and get them printed at CVS on the cheap and stick them (chronologically) in our newly-matched-and-numbered albums. Then we toss the rest into the computer trash and hit "empty." We definitely like editing down our photos (instead of printing every single one that we take). And burning the remaining photos that we thought were good enough to print at the end of the year on a CD labeled as "Photos 2009" gives us a nice little photo backup system that's easy to maintain (we're left with one small CD of annual pics to store in our fireproof safe, while the identical CVS prints are displayed in our numbered albums).
So that's what works for us. And speaking of organization, what have you guys corralled or chronologically arranged lately? Any junk-drawer-clean-outs going on? What about paring down clothes or donating all those unused cans of food in the backs of your kitchen cabinets? Do tell. You know we live vicariously through you guys, right?
Psst- Wanna see other "Easy Upgrades" we've implemented? Here's one and here's another.