Oops, our bad. We briefly mentioned our shoot for BHG's Do It Yourself Magazine two weeks ago and then just left you hanging. So we're back to right our wrong and give you more details. Won't you forgive us?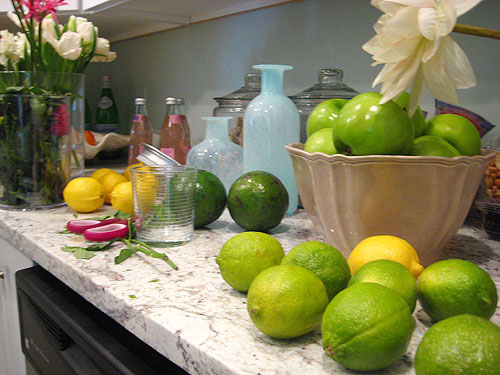 So here's the scoop: For those who don't know it, DIY is a quarterly Special Interest Publication under Better Homes & Gardens. Their crew rolled into Richmond, a slew of props in tow (see a sampling above), and spent 48 hours at Casa Petersik to shoot virtually every inch of our house for a before & after story that will be pieced out across all four of their 2009 issues. And they've officially asked us to be contributors. Not only do we get the pleasure of seeing our narcissistic mugs in a print, we also get to see our very own words because we get to write all four articles! We even get to write in first person, so it'll hopefully feel like our blog – only glossier.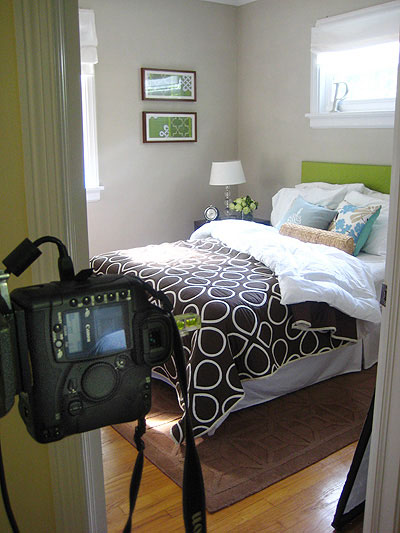 The whole experience was a crash course in how a big, national magazine makes photo magic. So allow us to share a bit of what we learned. First, meet the team: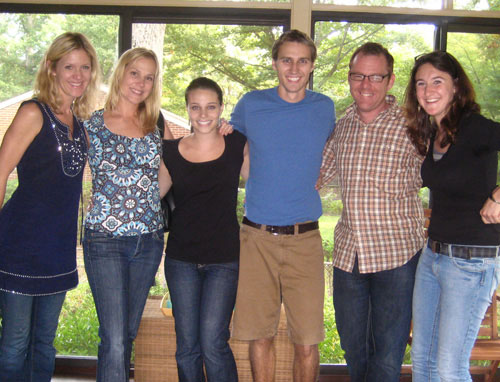 There's Beth on the far left. She's the Editor of Do It Yourself. She ran the show with the help of Cat, who you may recognize as Sherry's newly-married BFF. She used to work with Beth back in Iowa full-time and now does freelance work for her remotely from DC. So a big "thanks" to Cat for submitting us- and another to Beth for thinking we are worthy. Together they styled each of the rooms ("flowers go here, ottoman goes there") and directed, reviewed and approved the shots – like Beth's doing below in our den: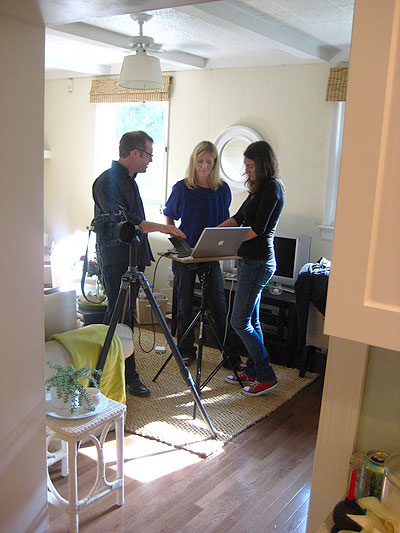 The other two folks in the pic are Erik the photographer and his assistant Piper. Not that this needs explaining, but their job was to make sure that the beautiful scenes Beth and Cat set up were captured just as beautifully on film (well, memory card, technically). You'll have to wait 'til January when the spring issue comes out to see Erik's shots, but you can see the caliber of his work here. As Sherry would say, swoon.
Here's the crew in action again on the front yard, minus Cat who's off styling the next room. Isn't it funny that even outside they used a reflector to cast even more light on the front of the house?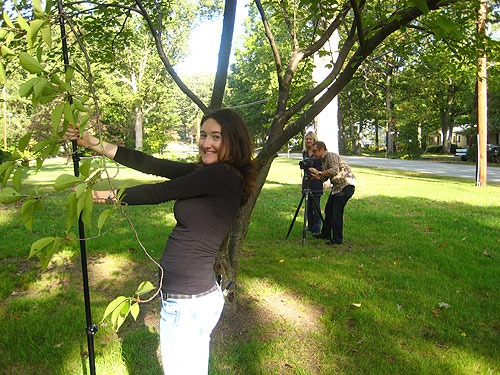 Oh, and ocassionally Sherry and I got our hands dirty too. Like when she was charged with keeping this giant reflector from blowing over in the breeze. Note: I did the husbandly thing and took pictures of her hard at work. I know, I'm quite a gentleman.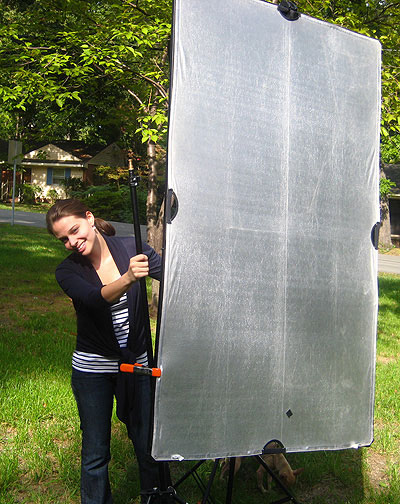 The shoot was lots of tiring work (they captured 32 different rooms/scenes/details in two days), but it was also TONS of fun. Beth, Cat, Erik and Piper were all hilarious company throughout the long days of shooting and were just as great at unwinding afterwards (they treated us to two delicious dinners around town).
We also shared a couple pre-meal shopping trips to pick up extra props. Because while our house was almost-photoshoot-ready, DIY wanted to bring in some fun bonus items to really make things pop on camera. Sherry's got more propping details and tricks to share in our post a little bit later.
But I'll leave you with this shot to show that not even our furniture placement was safe when it came to prepping our rooms for their close-ups. Sorry coffee table, but you've been cut…