We can't believe we're halfway through February already (January was kind of a blur). So in an attempt to take a minute and appreciate the things that we checked off the ol' list (which keeps our momentum up and combats any "we didn't get anything done" nagginess that sneaks up when the to-do list is still super long), here's our yearbook-superlative-style January round-up. And if you want to look even further back, we've got each month of the last two years summarized right here in 24 posts instead of 840.
But let's start with something not-yet-blogged about (and an off the wall theory about bacon and mustaches)…
Most Likely To Sport A Mustache: Anyone in the FLOR store in SoHo last month for our signing, where there were homemade mustache photobooth props. In fact it's where I coined the completely logical theory that "The mustache is the bacon of the face." (Both bacon and mustaches are trendy, and you're likely to find them on random things like mugs and band-aids, so there has to be a connection, right?) I also conversely decided that "Bacon is the the mustache of breakfast."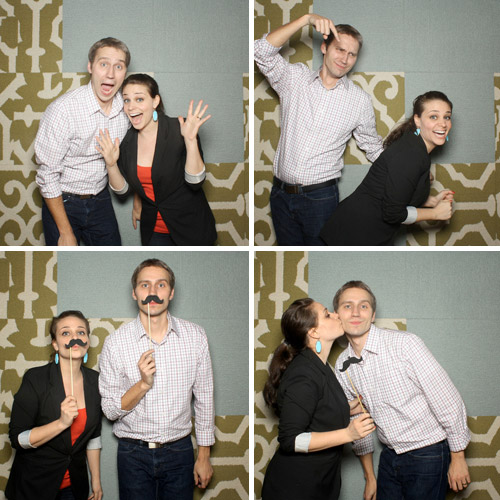 Most Intrigued: Clara, when she opened the homemade latch board that we made her for Christmas. Of course her first sentence about it made us laugh ("oh wow man!") and thankfully she has been captivated by it ever since – especially the carabiners that we added to give the board some color.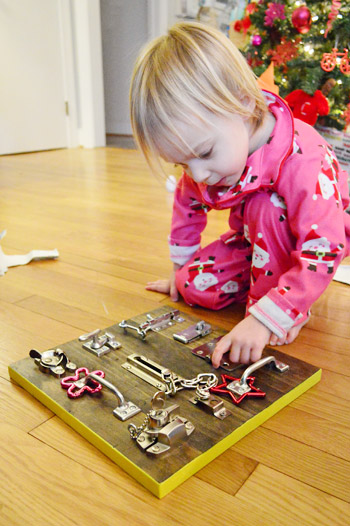 Biggest Relief: Finally getting to reveal our new lighting line at Shades of Light felt awesome (especially since we've been keeping that side project a secret for over a year). We worked really hard to come up with a colorful and fun collection that felt like us, not only in looks, but in budget (nothing's over $99).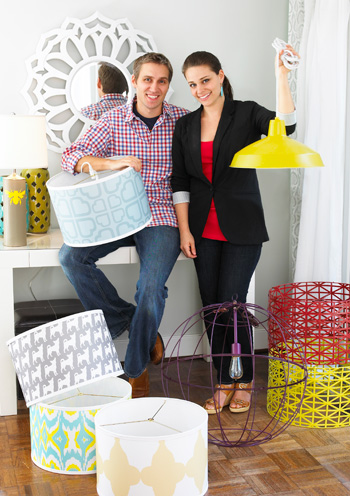 Worst Speller: It's no secret that I'm the more spellcheck-dependent one in our marriage, so thank goodness Sherry noticed – just moments before posting our 2013 blogging resolutions – that I had a typo ("resoltions") in every single one of my graphics. A little bit of quick photoshop later and no one was the wiser.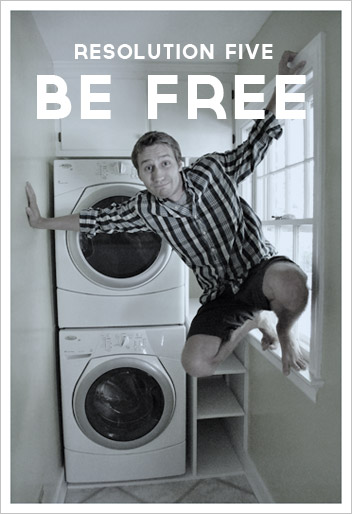 Most Handsome: I gotta give this up to the Burg-ster. For one, it would've been odd to award it to anyone else in our household and he just looks so darn stately next to this pillow that I gifted Sherry for Christmas. We posted this round-up of all of our exchanged gifts, including some tattoos and a few crazy faces too.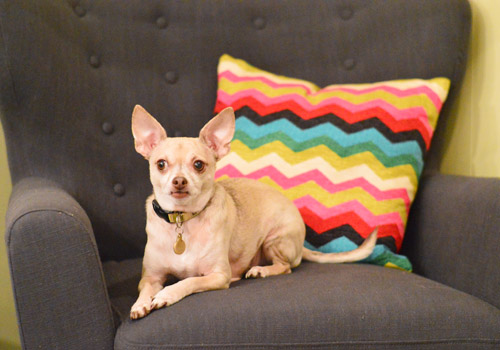 Most Text-y: Probably both of us, considering it's how Sherry introduced me to our new media console after she came across it at a thrift store. Although Sherry would definitely pull out the win in this category thanks to her long text conversations with various non-local friends (yes I'm talking about you Katie and Roo).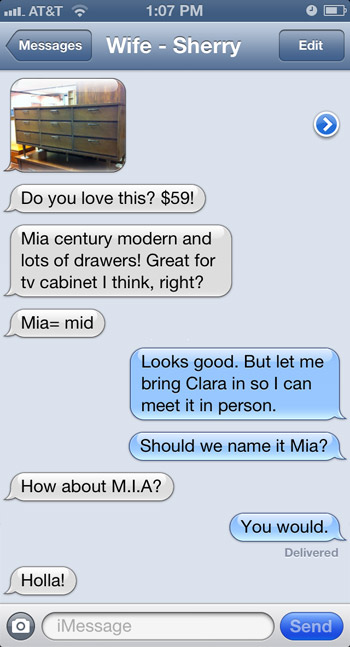 Biggest Nerd: I usually wear the nerdy pants in the family, but I'm giving Sherry this title thanks to the oh-so-scientific equation she cooked up for cleaning our dingy new thrift store media console. Though perhaps I shouldn't encourage her or she might try to cook up her own DIY version of the periodic table (which would somehow involve buying 118 new pillows, knowing Sherry).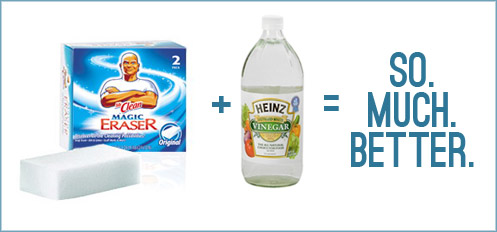 Most Talked About: Sherry's bangs, which she cut herself on a whim and have since become the topic of conversation in just about every Instagram photo and book tour stop to follow (perhaps because they only come out for special occasions but people are constantly asking where they went or demanding that they emerge more). Maybe it's because I'm a guy, but I am fascinated / confounded by how interested everyone is in my wife's hair.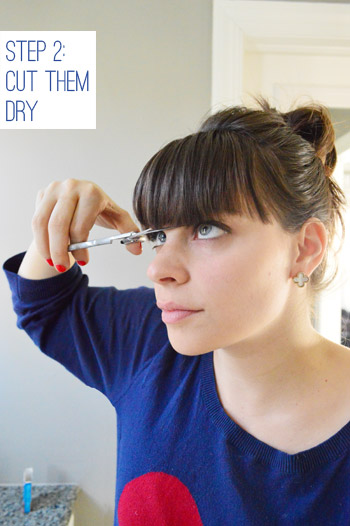 Most Compact: Our casual system for Christmas decoration storage, which we outlined for those who were curious about how we crammed all of our holiday decor out of sight for the other 11 months of the year.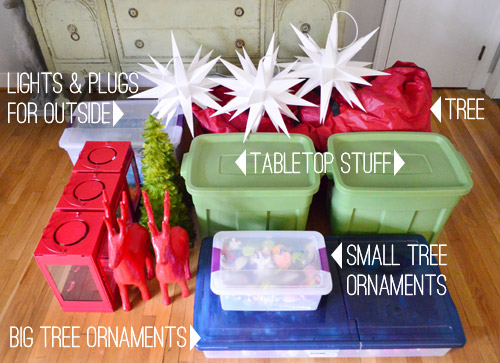 Most Quotable: That award totally goes to Clara these days. Which is why we made her funny little quotes – along with her funny little Instagram pictures – the star of our annual DIY calendar. Oh and Burger's in there too. You can check it out in more detail here and download our free template if you want to make your own.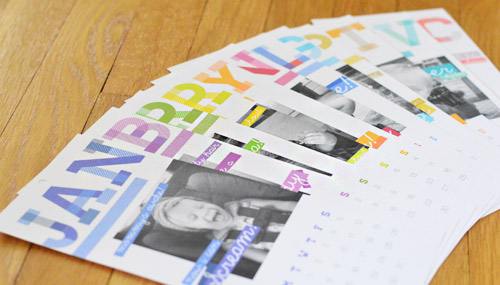 Most Trendy: This goes to the art we added above the daybed in our sunroom, not because the art itself it's especially trendy (although I'm not alone in my map love these days) but because I jumped on the animated GIF bandwagon by making one to show the art wall's progress. Yup, I'm fancy now.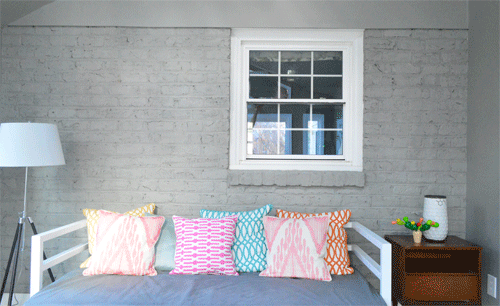 Most Adulterous: This usually isn't an award you want to win, but I'll gladly accept it this month for my not-so-secret-love for the oversized bike prints in our sunroom and the easy DIY frames that I made for them.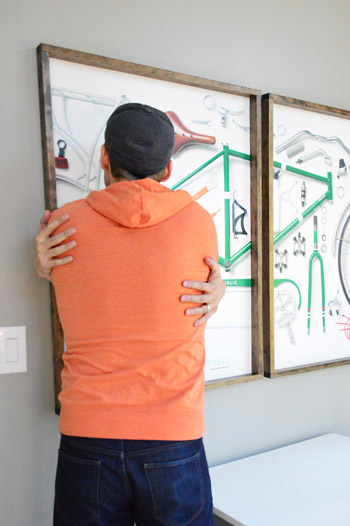 Most Colorful: Our whole house palette. Okay, admittedly the palette itself doesn't look wildly colorful but I'm still handing over this award to the post because it was, well, about looking at the colors in our house as a whole. And it seems as if we have every color of the rainbow going on if you count fabrics, rugs, and accessories.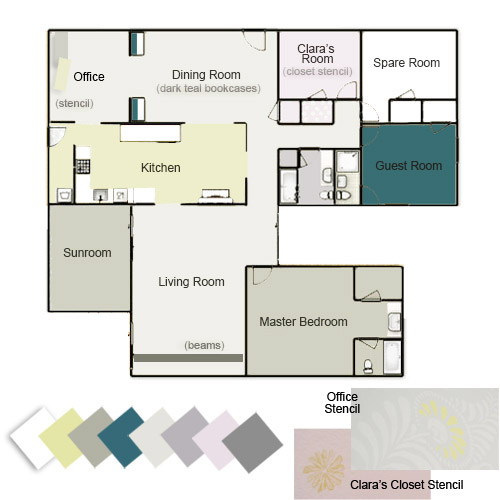 Most Helpful: My newest little DIY assistant, who helped me squeeze the power drill while putting together the new Expedit for our sunroom. And yes, we did use a power tool to assemble a piece of Ikea furniture. I'm way too lazy to do all that allen wrenching by hand!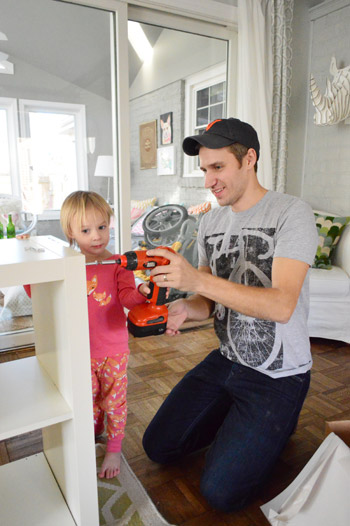 Most Revealing: The glass-doored bathroom in our Miami hotel, which we we stayed at as part of our tour stops in Austin, Texas, and South Florida. It was just one of many good stories from a trip that included me curtsying in a Home Depot apron, Sherry doing a weak Dexter impression, and $herdog's littlest homeboy.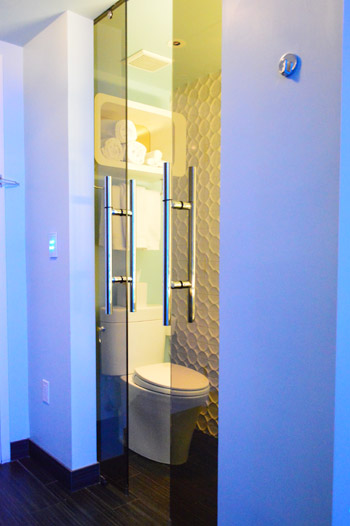 The "Clean Slate" Award: This has to go to our playroom / junk room where we did lots of book photography over a year ago. We finally got it cleared out and repainted it. We were so excited to create a space that we can actually enjoy (as opposed to closing the door to hide from the clutter).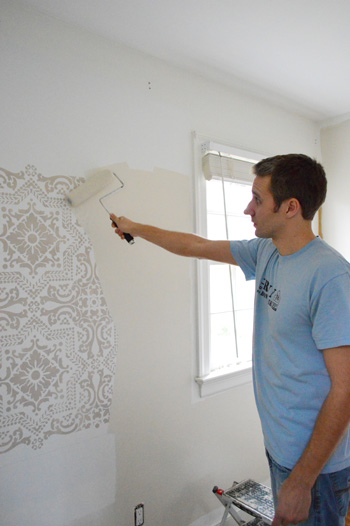 Most Honest: Many of you had questions on the subject, and you know we like to keep it real, so we shared a behind the scenes look at how the book business works, at least in our experience by revealing that publishing a book doesn't make you a millionaire… or even anything close to that. Thank goodness we did it for the love! You know what they say about mo money and mo problems anyway…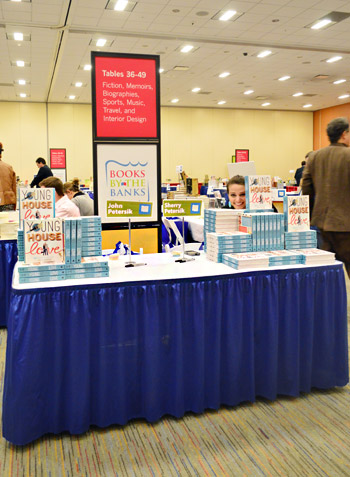 Most Excited: Clara, for her new big girl room, which started to look more room-ish with the addition of a daybed, some bright bedding in her favorite colors, and a play table that I cut down to her size.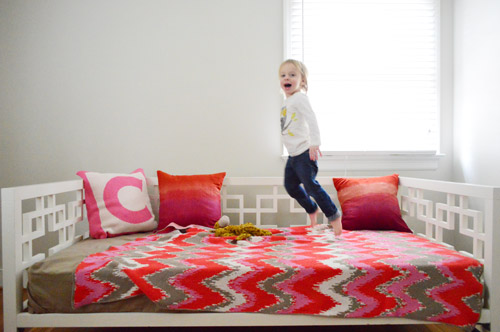 Most Likely To Be Pregnant: Our friend Lori who, by coincidence, was pregnant both times we crashed her home. Her new house caught many of your eyes for lots of reasons, but especially for the awesome built-ins that they added in their family room. And yes, I realize everyone was hoping Sherry would take the prize in this category, but she is not currently with child (unless you count her being in the room with Clara and Burger, but they're not in her belly).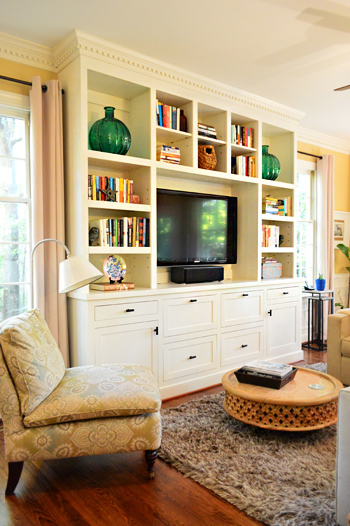 Most Likely To Keep Instagram In Business: Us – although maybe we're just keeping the Instagram spin-off services in business considering our recent order of prints for the frame collage in our living room and magnets for Clara's play kitchen.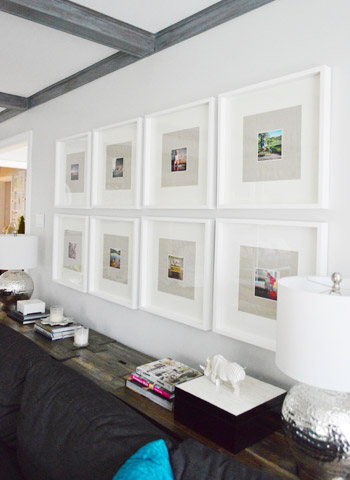 Most Fudge-ing Awesome: The incredible response you guys had to our random idea to have an Unofficial Macklemore Thrift Shop Challenge. We secretly feared we were the only ones who were obsessed with hip hop's numero uno tribute to thrifting, so the fact that you guys were into it was the icing on the cake, er, the faux fur on the big a$$ coat.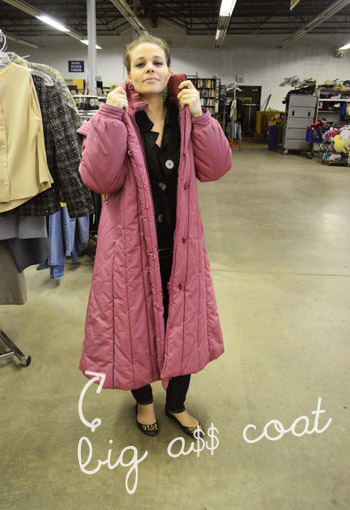 Most Debated: This new dresser for Clara's big girl room that we scored on Craiglist. The jury is still out at our house as to whether it's gonna get refinished or earn some pretty paint, but we sure got lots of suggestion from you guys!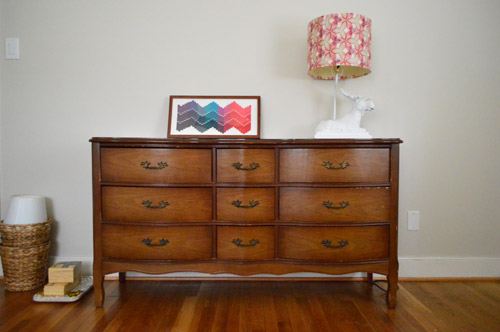 Most Organized: My now-complete pegboard in the basement that finally got filled up with both form (wooden USA, white elephant) and function (shelf, iPod dock, pen cup).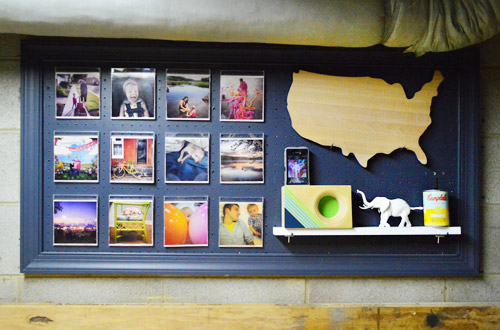 Most Likely To Get Lots of Action: Wait, not that kind of action. What I really meant was that the new pink polka-dot / ombre rug in Clara's big girl room is probably gonna see lots of play time, jumping, tea parties, and stuffed animal mosh pits.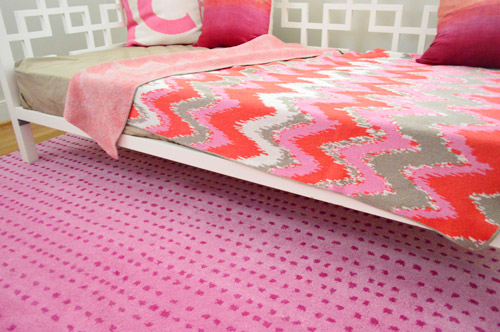 Most Likely To Miss The Memo That Christmas Is Over: These white ceramic houses (which Sherry got as a Christmas gift). Despite being from Ballard Designs' holiday line, it seems they've earned a post-holiday spot on our mantle, which we shared here along with two other mini updates. If Sherry has her way, they'll live there forever. At least we don't have to pay any utilities on them…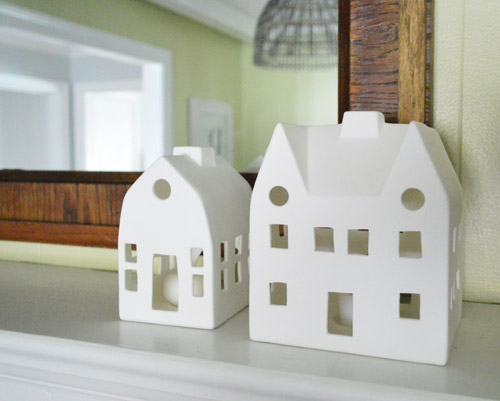 How did January look for you? Did you knock out a lot of travel for work or for play? Did you get any major projects completed? Or did you just hunker down and try not to freeze your DIY-loving hands off?
Psst- We're sharing the most hilarious house-related kid quotes ever on Young House Life. Seriously, I dare you not to laugh. These kids are geniuses.