What's better than one fast and easy project with family photos? How about thirty. Just kidding. How about two. Cool? Let's do this. First up, we have Photo Project Numero Uno. We've had fun with the little Sherri Conley cards-turned-art that we hung above our sofa in eight Ikea frames two years ago. First with bright paper behind them and then with some textured fabric as the backdrop around a year later…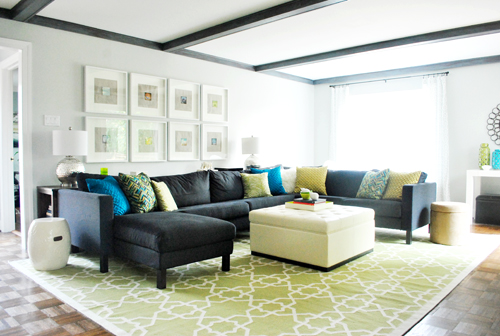 … but lately we've been jonesing for something a little more personal. It all started when Sherry and I were talking about how Instagram seems to capture "real life" better than formal camera pics from a big event. Why? I think because we snap a lot more "day in the life" stuff on Instagram. And when we scroll back through those photos over the last almost-year we've been using it, it captures our days in an honest and casual way.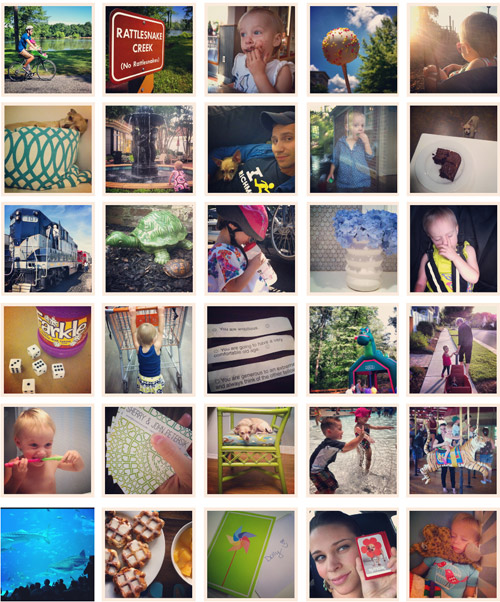 That's not to say that we don't treasure pictures of Clara's party and our wedding and other momentous occasions, but those photos are already represented all over our house (in our hallway frame wall, in our bedroom thanks to an anniversary frame collection, and even in our laundry room by the door). But we don't have Instagram photos anywhere except for a few on my beloved pegboard in the basement. So we ordered eight more 5 x 5″ Instagram pics from PicPlum (read more on that process here) for our living room frame collection where we can all enjoy 'em.
About a week later these guys showed up. Each picture is just a dollar, so the whole project was $8 total. Well $9.75 when you include the shipping.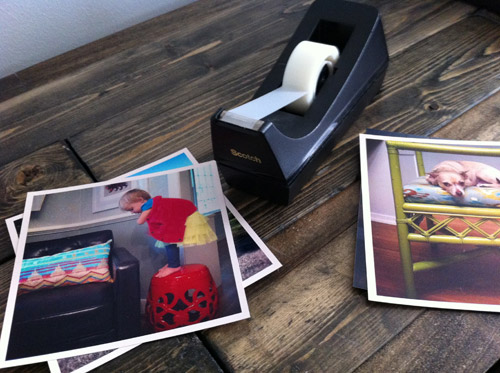 Sherry was so excited to yank each frame off the wall and switch out the old photo cards for actual family photos that I think she did it the second they arrived. The cool thing is that Instragram photos have that nice polaroid-ish border around them (at least the filer we use – called Sierra – does), which adds to the whole casual and not-too-stuffy vibe. When it came to picking the photos, we tried to represent each member of our family a few times and toss in a nice mix of things that we like to do. For example, there are a few pictures of Clara, a few more of Burger…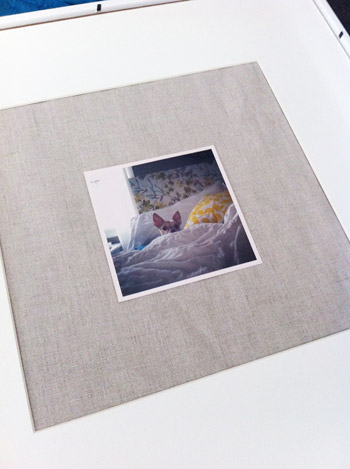 … and a few of us doing things with them together – like swimming at the river or going biking. And you know we get random, so we added a scenic shot that we took of the state fair this year since that's sort of a family tradition at this point (we go every year).
As for how Sherry adhered them to the fabric, she just used scotch tape since that was what worked for the other prints that we had in there for the last year. So it was easy to peel off the old prints (which we saved just in case we want to use them in another spot someday) and tape up the new ones in their place. They're slightly larger which is nice, but there's still lots of negative space around them which is cool since the texture of the fabric and the big white mats are my favorite part.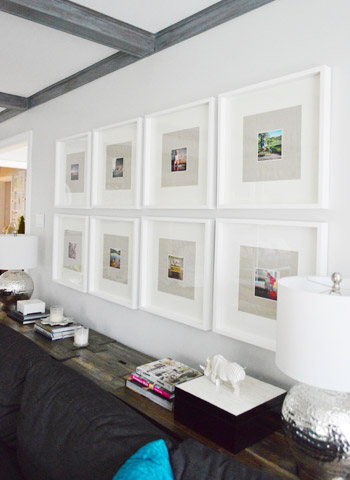 So there it is. One project with family photos down. And one to go.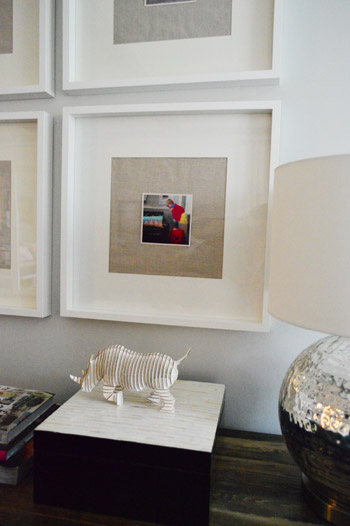 Enter Photo Project Two, stage left. It also could be labeled Instagram Project 2, I guess. (We're more than a little Instagram-happy these days… is there an Instagrammers Anonymous?). I came up with the idea of ordering a few tiny Instagram magnets for Clara's play fridge a while ago, and we finally got around to doing it.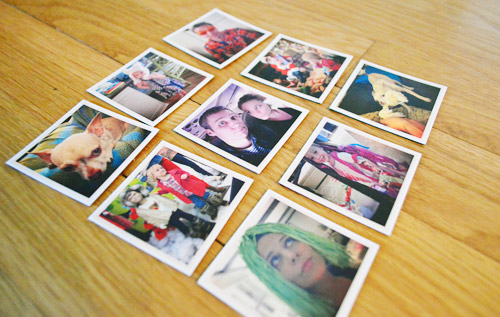 We ordered them through StickyGram and Googled around to find a $2.00 discount along with a free shipping code. So instead of spending $15 for nine customized magnets, we spent $12.99 (making them $1.44 each). You could definitely DIY something similar (our approach would be to print the photos at home, glue them to magnet sheets, cut them as cleanly as possible in little squares, and maybe Mod Podge the front to keep them from getting scratched?). Only reason we didn't attempt it was that we saw a package of magnet sheets at Office Max for something like $15, so it was actually cheaper to order them. But if you want to get your hands on a bunch of them (like for wedding favors or something) I bet it would be cheaper to make them in that instance.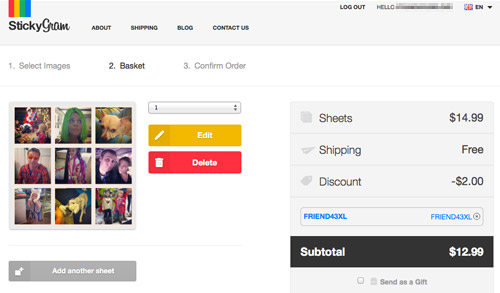 It's hard to tell their size from certain pictures, so here's a shot of them with a quarter for scale. They're about two quarters wide by two quarters tall and you can see the nine photos that we ordered somewhat clearly here. The goal when choosing these was just "photos Clara loves the most" which happen to be these nine since she helped us pick them out herself.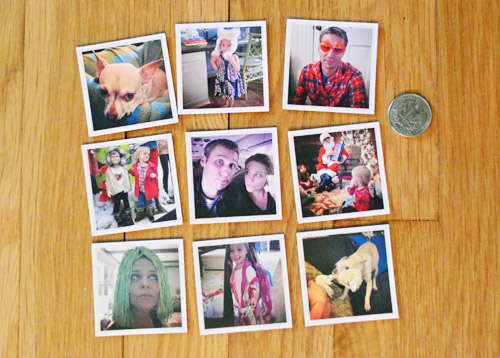 Here they are in action on the fridge. Clara loves pointing out certain ones, like "Look at Burger being silly with his bone in his mouth!" and "Daddy has funny glasses!"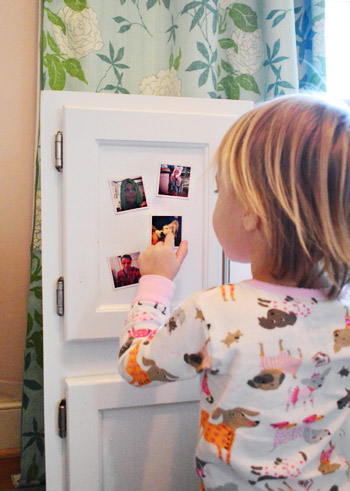 In summary, our house got a little more personal thanks to two easy little Instagram-related updates.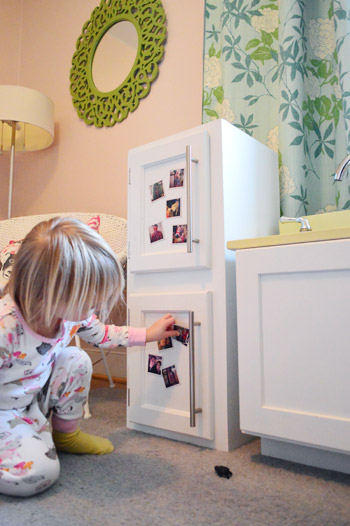 What are you guys framing these days? Is anyone else ordering Insta-magnets? Do you labor over choosing the best photos to frame or print for hours or just quickly act on your first instincts before you can second guess yourself? I'm Team First Instincts. Sherry and I used to over-think things like photo choices, but we realized that the less we belabor them the easier it is to switch them out or update them over time – which keeps the house feeling fresh and "right now" instead of frozen in the past. We'd actually be happier to spend $22 a year ordering updated photos for a few different spots in our house instead of saving that money and staring at the same photos for so long that they become invisible. So that's my tiny picture tip for any other photo-overthinkers out there. In the words of Sherry: you're not marrying them, you're just framing them.
Psst- We announced this week's lucky freebie winner. Click here for the details.