We've been on the hunt for a new media console for our living room since, well, as long as we've lived here almost. That "hunt" is mostly defined by periodic stops through our favorite furniture-rich thrift stores to see if anything grabbed us. We were probably a couple of months from giving up entirely. But then I got this text from Sherry.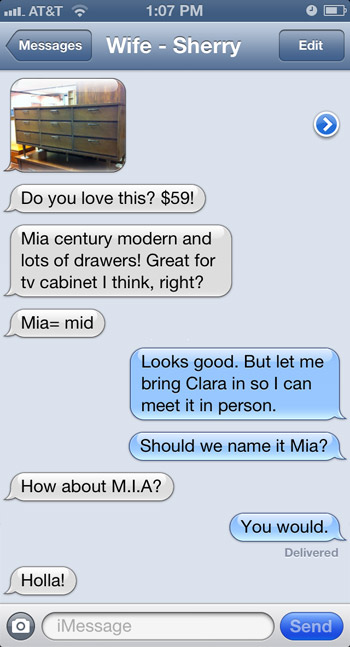 Sherry had run into Diversity Thrift while I stayed in the car with Clara. This is how discouraged this hunt had become… I didn't even get out of the car anymore. Here's the pic Sherry sent me, which was enough for me to get my butt out of the driver's seat and check out Mia in person.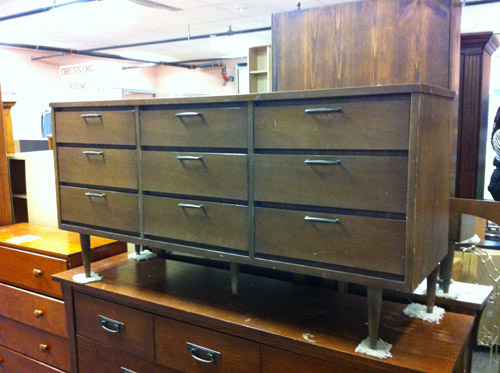 She fit the criteria we were looking for in a new unit – which mostly consisted of "just be bigger than our current piddly little guy" – which you can see below from this post about our new TV (which further dwarfed it). A bonus would be more storage. Six drawers or more were on our wish list.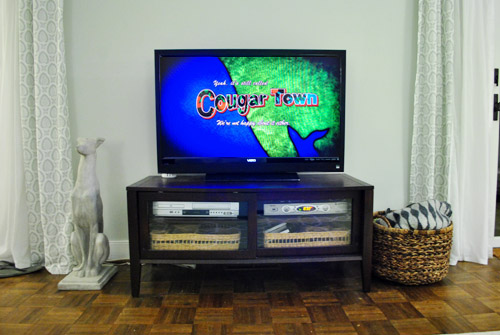 So we brought Mia home. We were eager to put her directly into the living room, but she had some wobby leg issues (as we were warned on the $59 price tag). As in, every leg was wobbly. Which probably explains why a handsome clean-lined dresser like this sat at the thrift store for over a month (the tag indicated that it had originally been $79, but after going unsold for a month it was dropped down to $59).
Wobbly legs can definitely be a deterrent because they go to the heart of that item of furniture. You know, it's not something that a little paint or some stain can fix. It's filed under "structural integrity." But Sherry and I examined all the drawers (which slid easily and were made solidly) and checked the rest of it for any functional damage and found none. So we decided not to let those wobbly legs scare us off…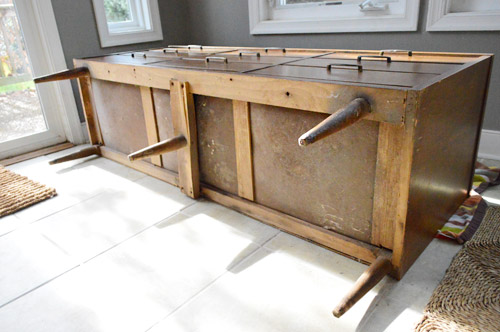 I hadn't ever fixed wobbly legs before, so I was going into it a bit blind. But I figured I could just identify what was loose and hopefully tighten it. For instance, this center brace shimmied back and forth waaaay too easily.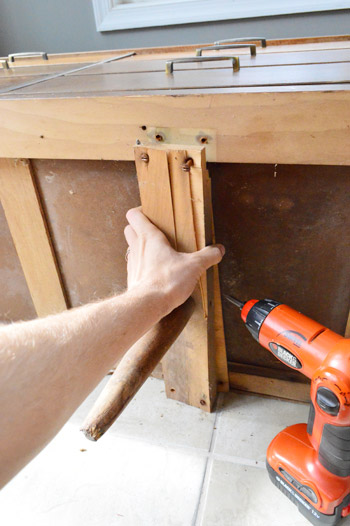 In fully removing it (which I did before reattaching it) I discovered an old screw on the side that was supposed to hold that leg in tight. So with a quick replacement screw, I was already making progress.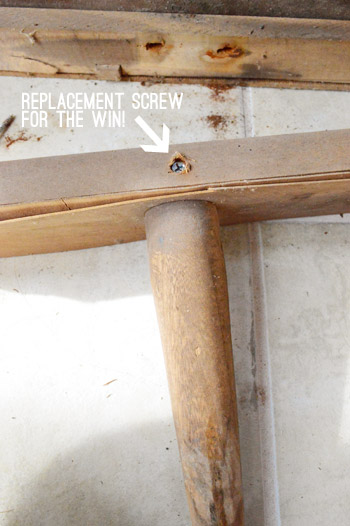 When I reattached the brace with more new screws, the center section got significantly better.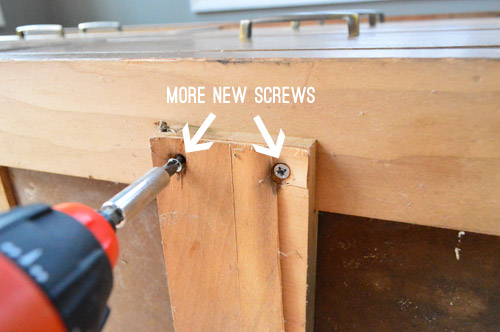 And having discovered the secret leg-screw (wait, that sounds wrong) I was on my way to tightening all of the wobbly legs. But In some cases I found that merely replacing the screws and getting them in there nice and tightly wasn't enough to stop the wobble completely (although it was a huge step in the right direction). So thanks to some Googling, I read about the suggestion to add some wood glue around the joint. I used the end of a paperclip to really work the glue into the seam as well as possible. Then I used a moistened rag to wipe off the excess glue around the outside so it didn't look all messy like it does in this picture (this was taken pre-wipe):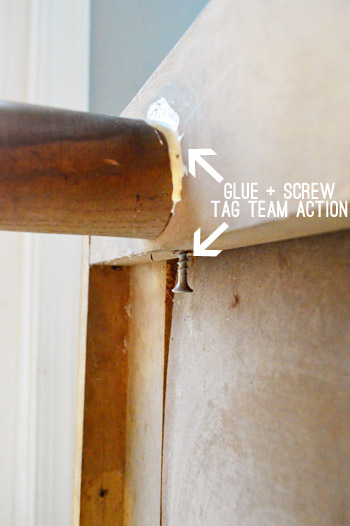 Once all of the legs were glued and screwed (again, my wording is less than stellar here) Sherry helped me turn the piece upright and – resisting the temptation to test its wobbliness – we let the glue dry for a good 24 hours. The next day we went in and gave it a gentle shake.
It was AWESOME. No more shaking or shimmying at all.
Unfortunately Mia, even with her new solid legs, isn't quite ready to come inside to the living room. She needs a good cleaning – and possibly some refinishing or painting, depending on how well the cleaning goes – before we let her in. You can see her bumps and bruises pretty well in this photo taken back in the thrift store…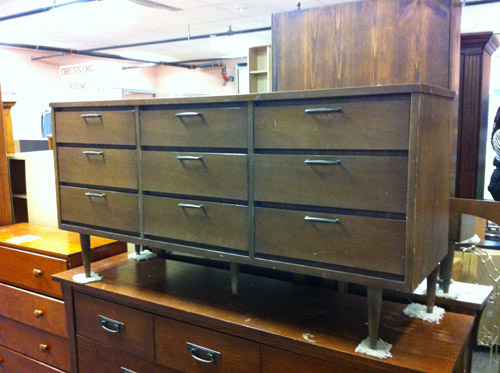 … so we'll be back with the updated & cleaned up Mia after we're done scrubbing her down, bringing her into the living room, and getting the TV all set up (we anchor it to the wall to keep things kid-safe). Sherry's actually scrubbing away on it right now so as soon as she finished up, takes pics, and writes the post we'll be back with that info. In the meantime, how do you guys find furniture? Does one of you run in while someone else stays in the car? Are the photos texted back and forth? Do you accidentally end up naming things thanks to text typos? We can't be the only ones…
Psst- Clara shared a few more holiday-fun-ish details with her penpal in Germany over on Young House Life.