Even though we blog about house stuff every day it's surprisingly easy to forget to fill you guys in on the little changes that we make… until someone sees a picture and says "wait, you didn't tell us you did _____!" And sometimes it's the little things that make you smile when you walk into the same room you've been walking into every day for the last 700+ days anyway, if you know what I mean. So since this blog is as much about over-sharing the small stuff as the big stuff, here are three oops-we-forgot-to-show-you updates.
You guys have asked where my little ceramic houses that John got me for Christmas landed, and I'm happy to report that they've been living it up on the kitchen mantel for nearly a month: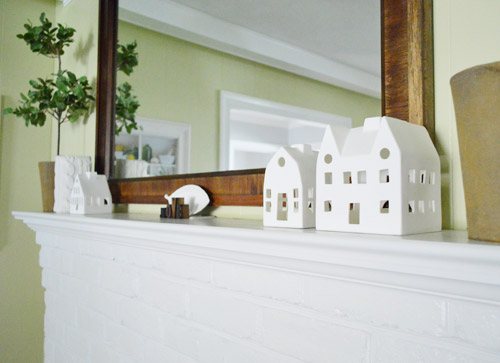 Aren't they cute? The imperfectly shaped matte ceramic finish is amazing. I tell John I want to move into them (we'll take one and maybe the Bowers can move in next door?).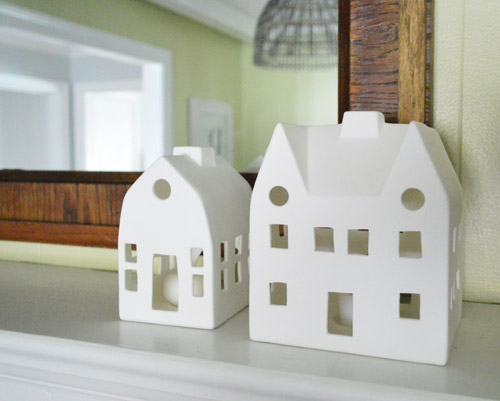 This mantel still feels wintery to me (with the sweater vase, etc) but I can totally see how these little white ceramic houses can be year-round fixtures. Picture them next to a vase full of pink tulips and a few small teal and yellow oil paintings leaning up there around them. Total spring vibe, right?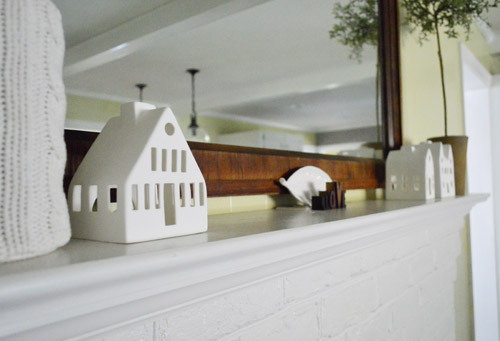 Okay and the next update is one that folks have been asking for quite regularly since this post. So we're very sorry it has taken this long for us to share full room shots of our new chandelier.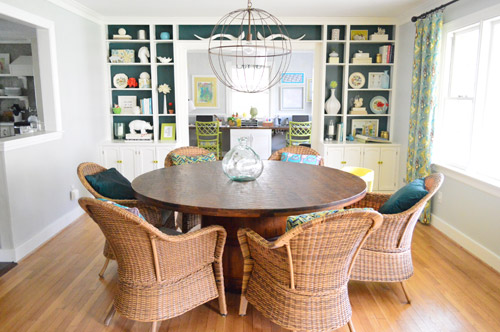 I'm sure some of you might notice that we also added pillows to all of our dining chairs, so let's dive into that, shall we?
Step one: cut a hole in a box. Just kidding. Step one: put pillows on chairs. Done.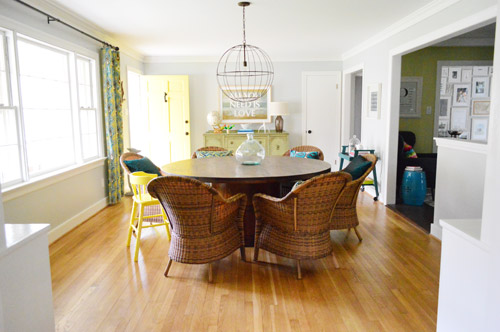 I tried a few combinations and ended up liking three different prints (a solid satin-y one, an ikat-y one, and an abstract chevron-ish one). They might seem sort of random in some pics, but in person they actually seem to play really nicely together since they're all from the same color palette (literally, the same tone of blue is carried across each one, as well as two of them having the same plum and the same white hits of color). They go but don't match if you know what I mean. Someone else might want all the pillows to match each other, or to keep them solid in color, and that works too – just do whatcha love. Bottom and middle pillow: HomeGoods a while back, top pillow: one I made from on-sale napkins here.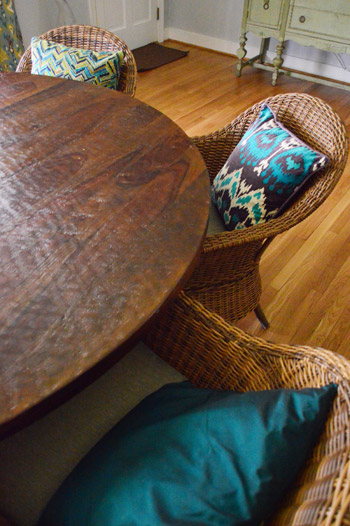 And since we already owned all of them this was a little free act of pillow madness executed by none other than The Girl With The Pillow Problem herself (yes that's me). The fun thing is that the curtains are another pattern in the room, but since they also have the same colors, they seem to play just as well as they would with say, a patterned napkin or runner on the table. So if you just think of dining room pillows as 3-D patterned napkins, you're all set. Also it might feed into your pillow problem. You have been warned.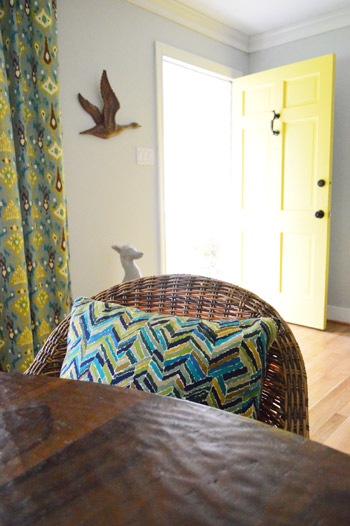 As for if they get stained by food or if we're worried about that – we haven't had an issue with that yet, but none of our pillows are too expensive and precious, so we figure we can just spot clean them, remove their covers and run them through the wash, or even just pull a fast one and flip them over so the stain is on the back if something insane happens that involves a not-coming-off mark. Fastidious Downton Abbey maid, I'm not.
Oh and they tie into the dark-teal color on the back of the built-ins. And the abstract chevron-y one (along with the curtains) also have the same green color that's on those lime green chairs in the office, so that's nice too. Even Clara's little yellow high chair seems to slip in there with a wink and a smile. Oh that coy highchair…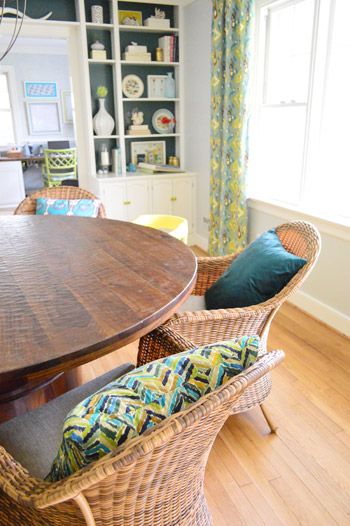 So there are three little updates that have made a few areas in the house feel a little more "loved." Plus I knew some of you eagle-eyed readers might notice them in other pics and demand details, so there ya go. Ha! Now if you'll excuse me we have a little Macklemore Challenge to get ready to post tomorrow. Wooooooooot! $herdog's so excited and she just can't hide it.