Yup, it's time for the annual gifts-we-got-each-other post. Allow me to do some voice exercises. Mimimimi. Ok. Onnn the first day of Christmassss, my true love gave to meeeee… well, we'll get to that in a moment. In general we like to treat the holidays as an awesome time to spend with friends and family while being grateful for what we have, so it's really not all about gifts at our house (people over things and all that). But our tradition is to make Clara a few handmade items – like her fridge and her latchboard – and then we get each other a few "tokens" of our affection (we usually spend around $100 on each other over a few different items, give or take). But before we get to those, let's recap Clara receiving the play fridge that we made for her.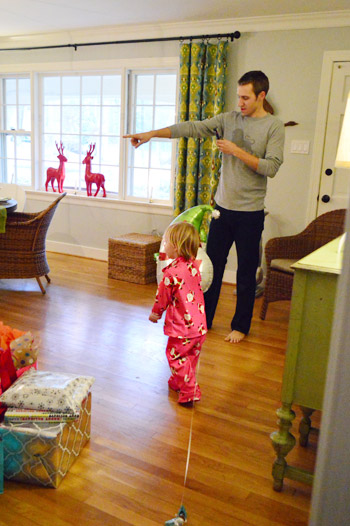 If you saw our Instagram pics on Christmas morning you already got a taste of how happy the bean was about what Santa brought her. Of all the stuff that we had set out for her that morning (we moved everything into the living room so it'd be near the tree to "open") – the things she loved the most were the play eggs. Which makes sense, since she had specifically asked Santa for "eggs and ice cream." No joke.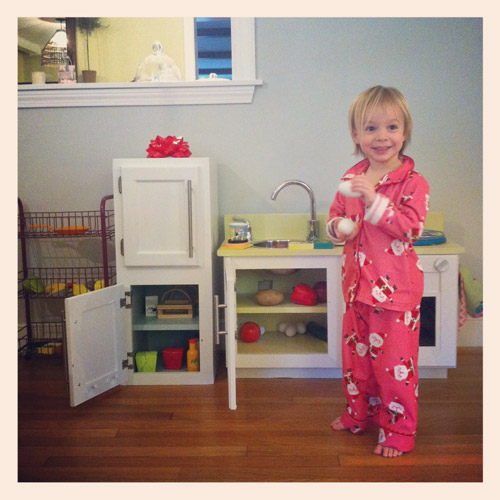 After about 20 minutes of play kitchen time, we migrated back over to the Christmas tree to see what else was in store for us. Note: about 70% of those presents were for or from friends/family members since we usually just exchange a few things each.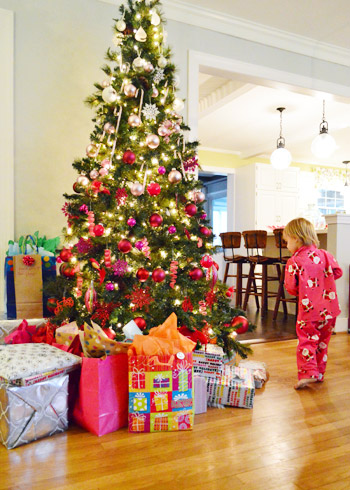 Clara ripped through a couple of gifts from other family members – stickers, markers, clothes, Legos, and a warm winter hat that she already calls her "pigtails" (thanks to those long braids on the sides).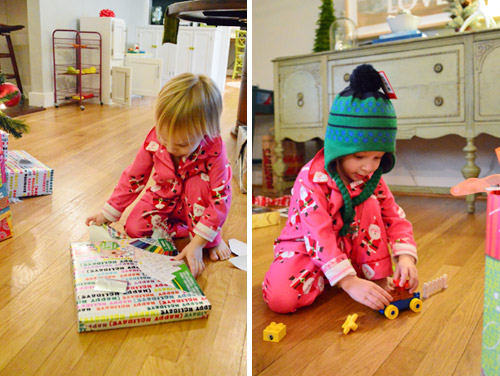 And Burger got a bag full of his favorite bone treats among a few other tasty delights. He loves them so much he even got out of bed before noon for them. What a guy.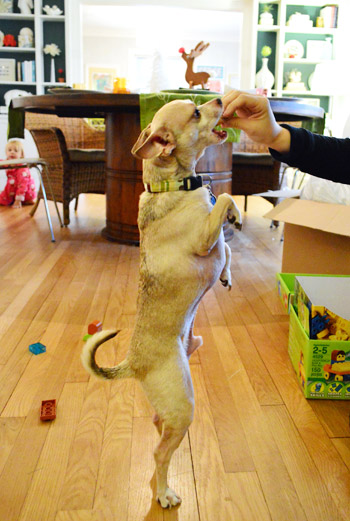 When the "kids" were sufficiently distracted by their bounty, Sherry and I took a moment to exchange ours. Sherry picked up on my recent declaration that I need new t-shirts and gifted me a nice stack of tees from Fab.com (my recent go-to source for them). I love Virginia, mazes, bikes, and NY, so it was pretty cool that they all had some meaning while still just being comfy T-shirts that made me want to hug my wife with gratitude for not buying me a tie.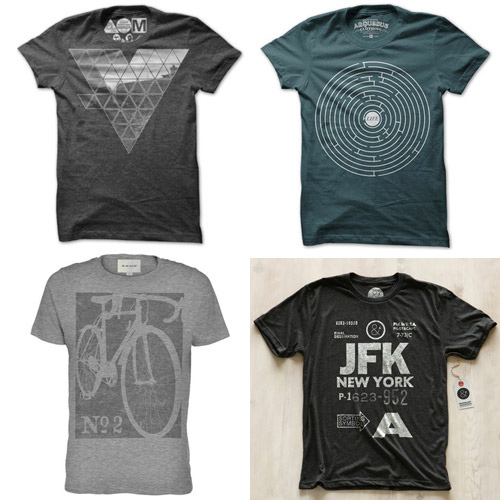 Sherry's recently been toying with the idea of getting a tattoo (I'm 99% sure she's just messing with me), so (you know, to mess with her back) I got her some temporary ones from Tattly just for fun.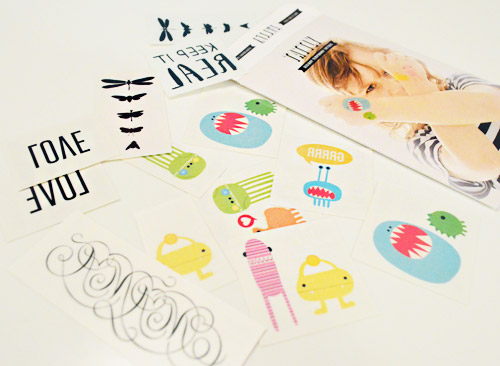 I even threw in a kids' monster pack for Clara to enjoy with us. That ended up being the biggest hit, and within a few minutes we were all sporting matching ink on our arms.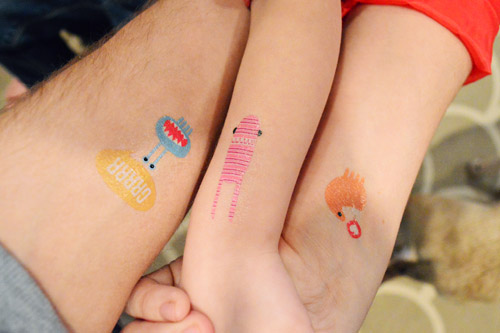 I also got her one of these porcelain cottage lanterns from Ballard Designs that she mentioned in her lady-gift roundup (they're no longer available, but they're similar to these). I got her the big one and my sister and mom got her the other two smaller ones. Could white ceramic buildings be the new white ceramic animal? Sherry cooed over them for a while, and now they live on our mantel so I'd venture to say they were a hit.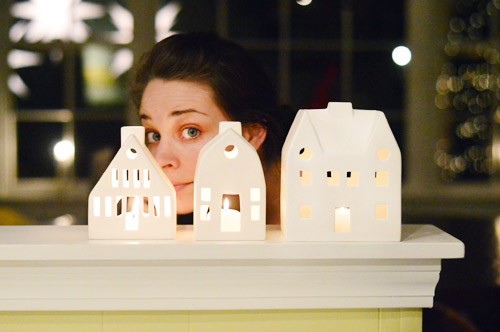 Sherry's very good at dropping specific hints (think emails entitled "think Santa knows that I love this?") so I astutely picked up on the notion that she'd love this colorful pillow from House of Pillows on Etsy.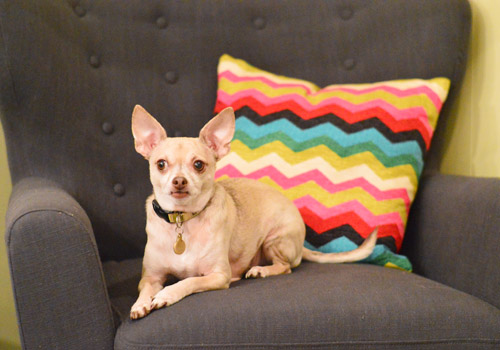 And last but not least, it wouldn't be Christmas without Sherry getting some earrings. So I got her these emerald-colored ones from Kendra Scott (they look a little more teal in this picture than they are in real life). She loves that they're giant and colorful and I love that they look like arrowheads. Everyone wins.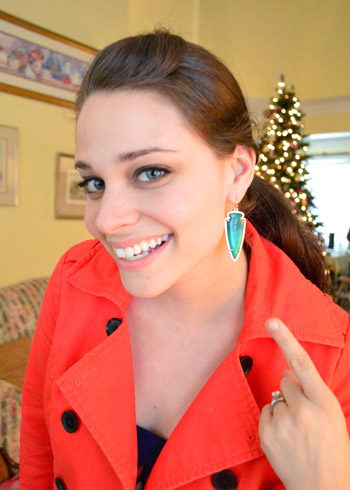 The picture above is actually at my mom and dad's house, where we moseyed over to after our small-family-present-opening activities wrapped up (Christmas pun!) at our place. Over there we had a casual Christmas lunch with my parents, sisters, brother-in-laws, nephews, and even my aunt, uncle, cousins and their kids came down for the day from Northern Virginia. And yes, there was more present opening.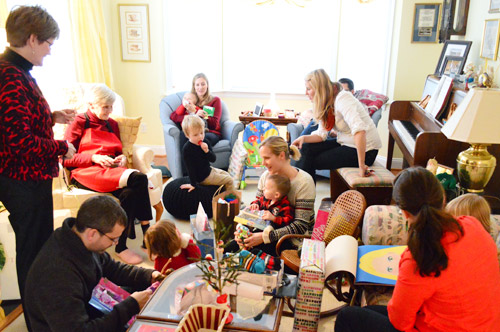 Clara's favorite gift from "second Christmas" were these Make-A-Face stickers from her cousin Elsa.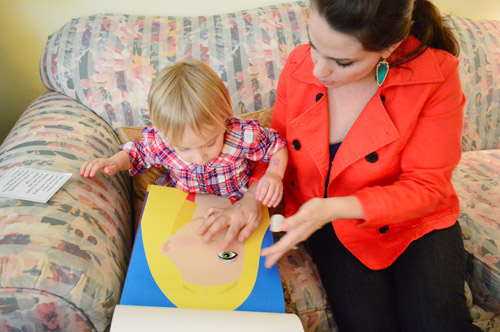 It actually may be my new favorite present too, because watching the faces Clara puts together is HIGH-larious. Above you can see Sherry helping her with the placement of that first eye, but we soon learned that it's far more fun to let her do it all. So we help her get the stickers off the sticker page, but the placement on the faces is all hers: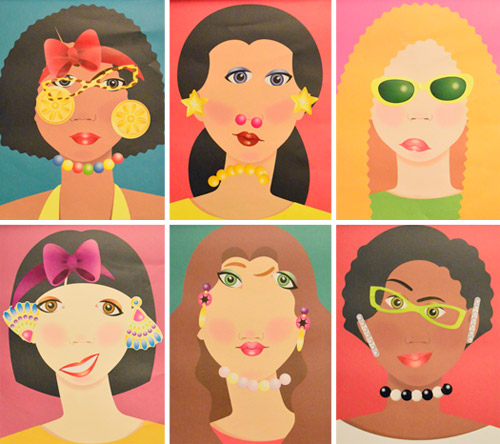 But like any Christmas, the best part was the family time that we got to spend through it all. Here's Clara clocking some quality girl time with her cousin Elsa.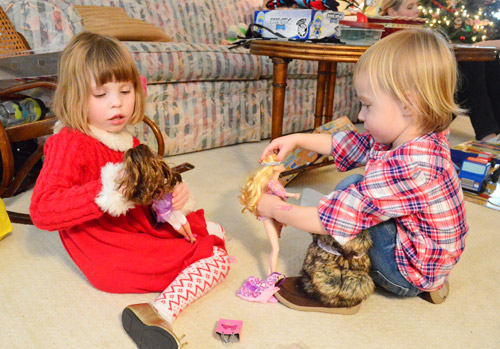 And here we are after discovering that we were accidentally dressed somewhat similarly. Minus the fur boots.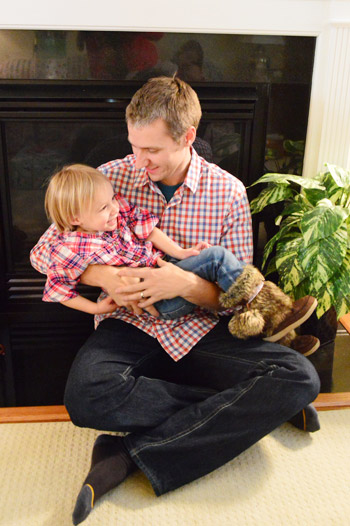 And perhaps the most amusing /unusual part of the day was the makeshift indoor playground that my dad set up in his garage to help keep all of the little kids occupied (there were 6 kids under the age five here, mind you) and out of the lunch-maker's way in the house. As weird as it looks, it was a great way to let them burn off some energy (yes that's a slow slide leading to an empty baby pool). So if ever you mistake us for being super classy or remarkably fancy, just remember this was part of our Christmas. And it was totally awesome.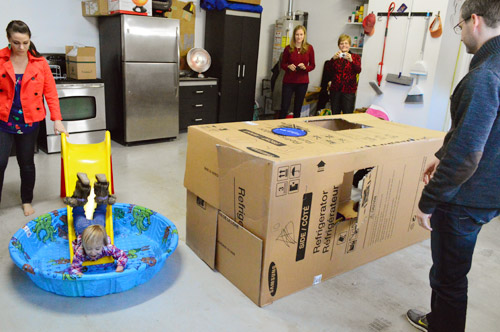 That was pretty much how our Christmas looked. And you already got the drill about Christmas dinner at our house on Monday.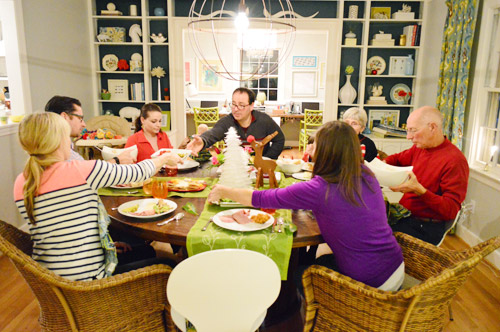 So, how'd your holidays go? What did you give/get? Did any special family events occur (we learned two of our cousins are pregnant!) or were any new traditions started?
Update: You can check out all of our favorite holiday decor finds here – many of which are under $15!