Dude, we've been here over three months! On one hand it feels like we've lived here forever, and on the other hand it feels like we just moved in last week (wasn't it last week?!). We're definitely surprised by how much we've knocked out since moving in (new flooring upstairs, a bunch of exterior upgrades, a half bathroom and a foyer facelift, some fresh paint in the bedroom, and a freshly lofted sunroom) yet some of the completely untouched rooms have us itching to bounce around to them soon. But enough chatter, let's get to the photos. Here's a time capsule of how our house looks three months in:
– The Front –
We've had some dangerous trees removed, replaced the old leaky roof, got a new coat of paint on the repaired siding/trim, and painted the front door a happy color. The yard is still spotty and weed-riddled – and we'd love to add some garden beds and more plantings to make things feel less bare, so we have a lot more to do out there.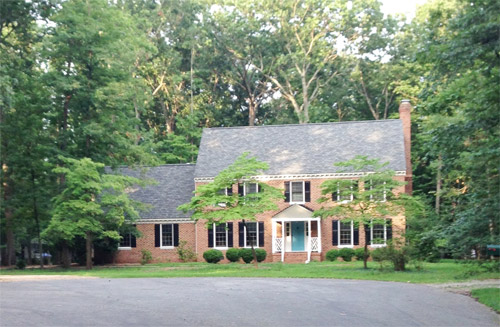 Here's a before just for fun (we thought we'd toss those in for areas that have changed the most).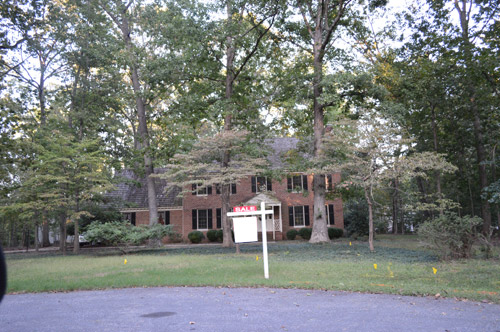 – The Portico –
We removed the old slatted screen door and painted the cream-colored sidelights white (like the trim) along with painting the door. We'd still love to get a bigger doormat, a new light fixture, and add interest to the flat triangle of plywood on the front (we think framing it out with chunkier molding might help).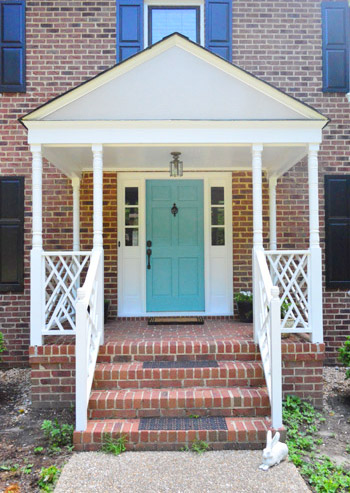 – The Garage –
The side of the house's siding got repaired and repainted, and we'd like to paint the cream garage doors a darker color – either charcoal like the roof or black like the shutters.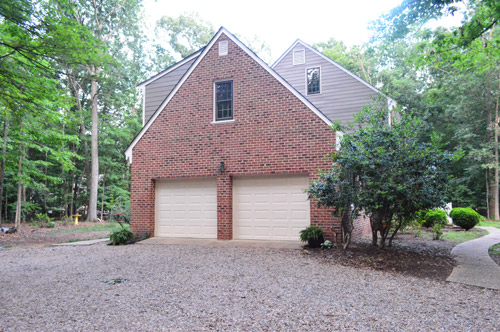 – The Foyer –

We took down the dark wooden doors that blocked access to the kitchen, removed the wallpaper, painted all of that formerly blue trim white, and updated the walls with a fresh coat of paint. Then we hung a new light fixture and some art. We still have the staircase railing to redo (the spindles are blue)… not to mention some old carpeting on the stairs that we hope to replace with a fresh new runner. We're also thinking about painting a subtle color on the ceiling in here.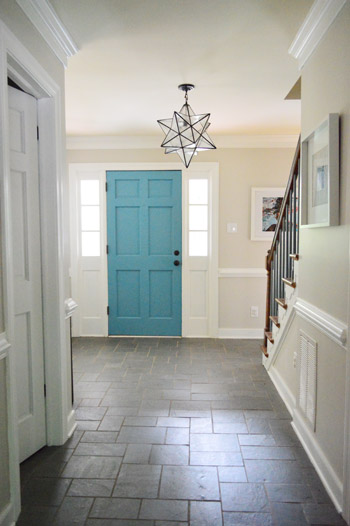 Here's a foyer before shot for old time's sake.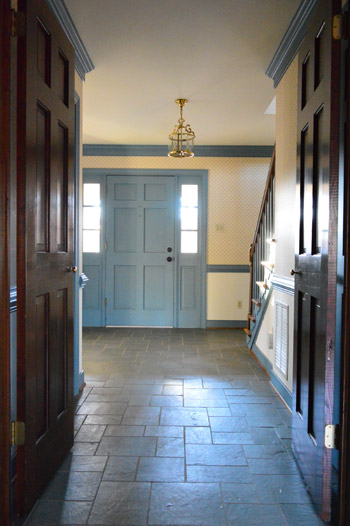 – The Half Bathroom –

In here we've stripped the wallpaper, painted the walls and the trim along with hanging a new mirror, primed & painted the vanity, and hung a secondhand light and some art as well as upgrading the faucet. We're planning a more intense makeover down the line once we save our pennies (maybe with some grasscloth wallpaper or a tiled accent wall?) but we liked that we could make a few cheap upgrades for the meantime.
Here's a half bathroom before shot.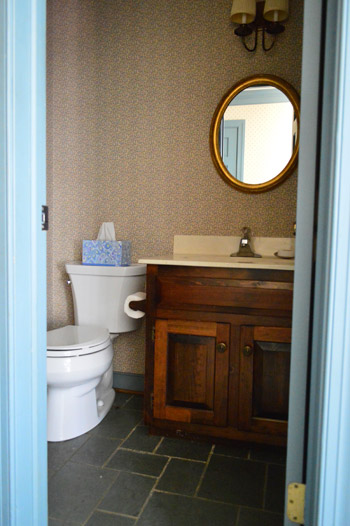 – The Dining Room –
The dining room is still full of blue trim and wallpaper galore. All we've done is drag in our furniture, but we'd love to update everything from the walls and light fixture to those built-ins in each corner.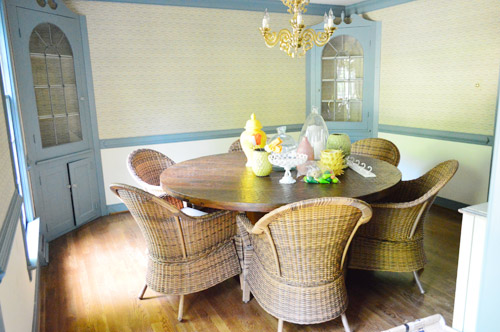 – The Living Room –
So far we've primed and painted the walls and whitewashed the brick fireplace. We loved our first house's den after all the brick, wood paneling, and trim was painted – and this room reminds us so much of that space – so next on the agenda is to paint all of the wood trim a glossy white. Coffering the ceilings and adding a soft blue tone up there is on our wish-list too.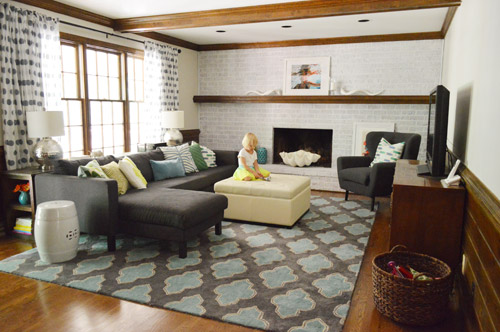 It's far from finished, but it feels a lot more like home than the salmon pink living room that we started with.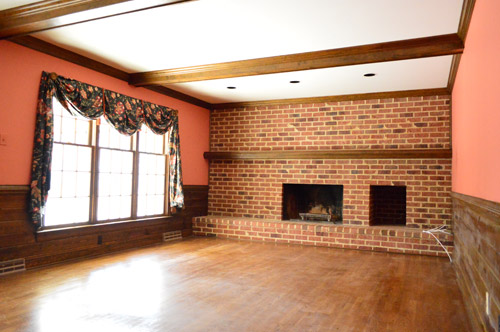 – The Office –
We've really only plopped some furniture down in here and organized our bookcase, but we're planning to paint the blue trim, and we'd love to add some built-ins and maybe even a floating desk. Perhaps something like this?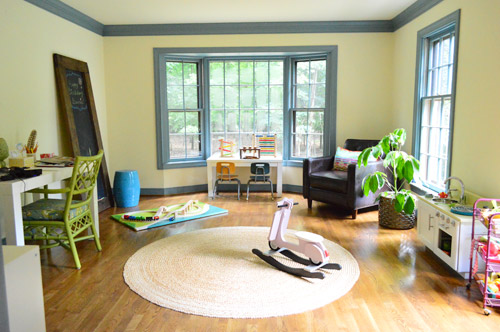 – The Kitchen –
Before doing any major kitchen or bathroom gut-jobs, we like to live in a house for at least a year – just to see how we use a space instead of rushing into anything. We're definitely taking notes about how we use this room and what's in the way in the hopes of a makeover that's open and bright along with being a lot more functional.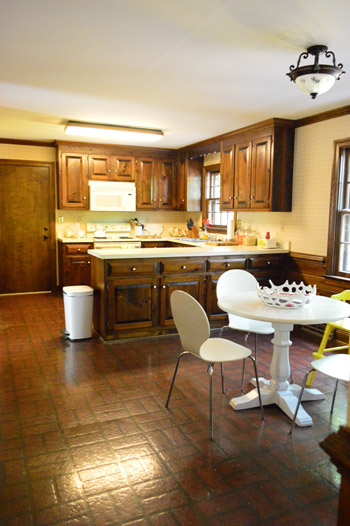 – Our Bedroom –
All of the rooms upstairs had old threadbare carpeting so in the bedroom we painted the cream doors/trim, laid hardwoods right before we moved in, and later painted the walls. We can't wait to add some built-ins behind the bed (we think it'll make those windows look centered), hang some window treatments, and shuffle some furniture around along with hanging art.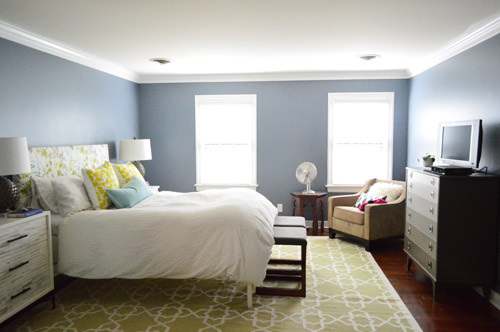 Here's a before shot from back when we bought the house.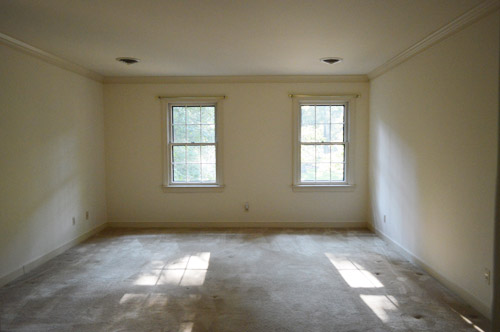 – Our En-suite Bathroom –
We haven't done a thing to the sink nook, but we did take down the old glass shower doors and then we hung a nice high shower curtain in the bathroom to make it feel less closed in. Eventually we'd love to do a huge remodel to combine the sink nook and the rest of the bathroom for a more spacious and less chopped-up feeling with a double sink instead of a single sink in each space, separated by a wall.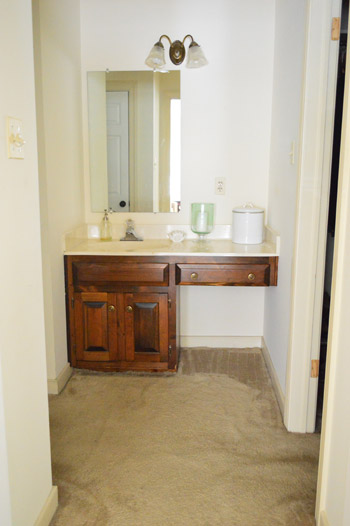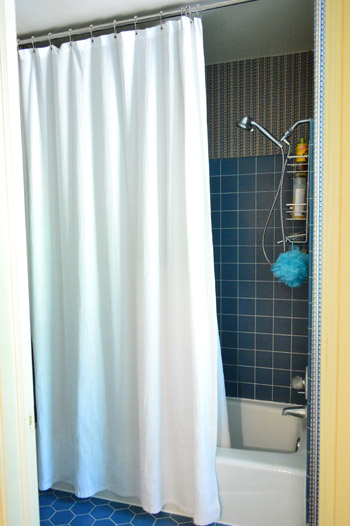 – Our Closet –
Our closet is now packed with stuff and in desperate need of some organization. We'd love to add some built-in drawers and shelves to pack it with function and that old carpet has got to go! We're planning to carry the tile from the bathroom reno in there so the whole "off-the-bedroom wing" has seamless flooring and feels less choppy.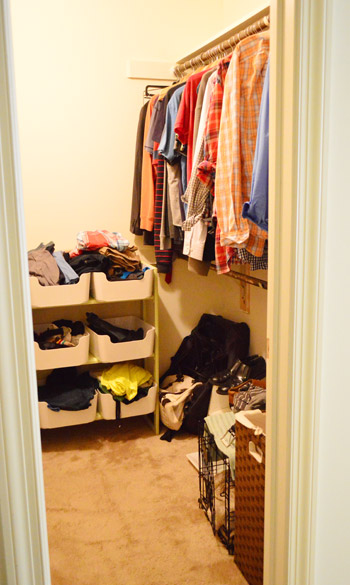 -Upstairs Hallway –
We ripped up the old carpeting, painted all the blue doors/trim, and laid new hardwood floors in a mad dash before moving day. Still need to paint those blue spokes on the bannister along with the walls and ceiling in the hallway.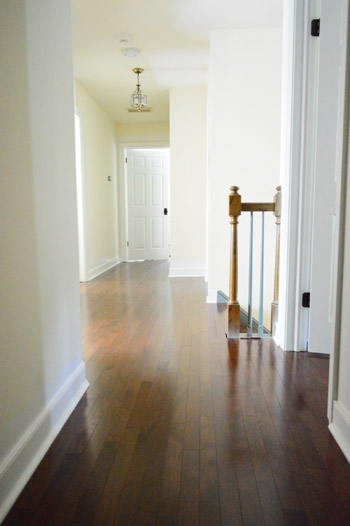 This is one of the areas that has come the furthest so far, so here's the before.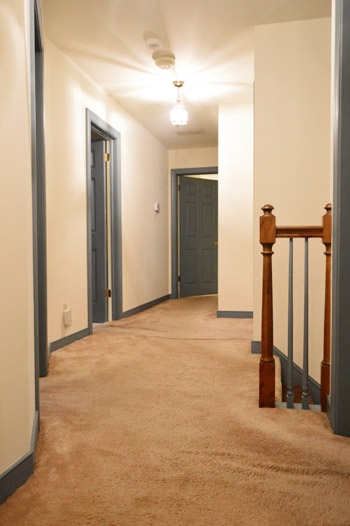 – Clara's Room –
We painted all of the blue trim in here and then we laid new hardwood floors and moved in Clara's furniture from the last house. We can't wait to paint the walls, get an overhead light fixture, and hang some art. We also have a feeling that a few things in here will get tweaked and shifted around, so it'll be fun to see where everything lands. We're still in that switching-stuff-around phase for sure…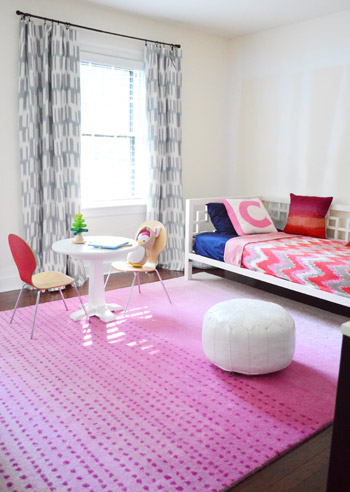 Clara's bedroom originally had old carpeting like our bedroom, but this before photo was taken after we ripped it up.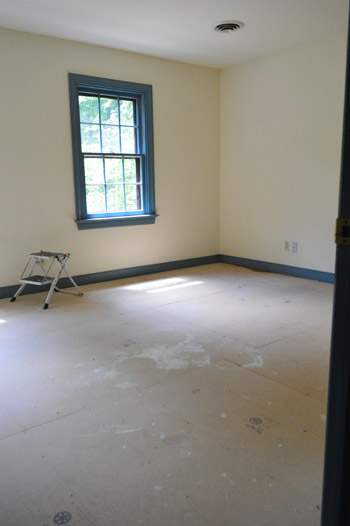 – Spare Room / Possible Someday Nursery –
We painted all the mauve trim and then we laid new hardwood floors. After that not much has happened – we just plopped down a few random objects in here and called it a day. We're not planning to do anything in here until we're sure how we'll use this room (so if we have a baby on the way, it may jump onto the to-do list at that point – but for now it'll just stay like this).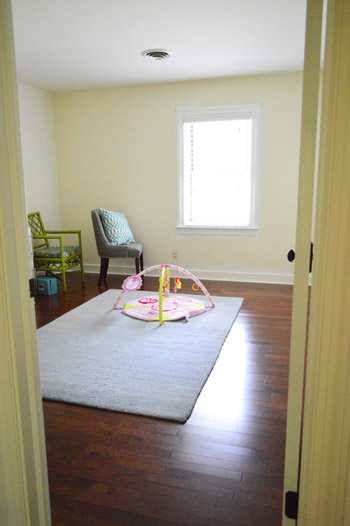 This room started out with more old carpeting and pink trim and doors.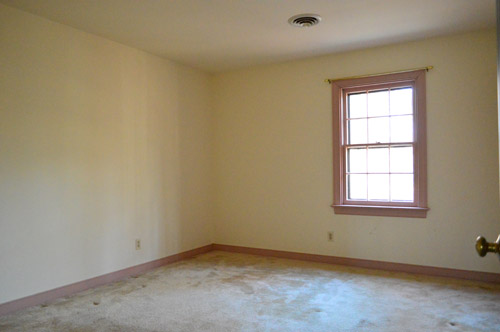 – The Guest Bedroom / Craft Room –
Once again we painted the trim and laid new hardwood floors and then just dragged our furniture in here. We did hang the curtains from our last house's dining room in here, just to make it feel a little more finished, but we still have to paint those stripey walls and figure out some long-term furniture things.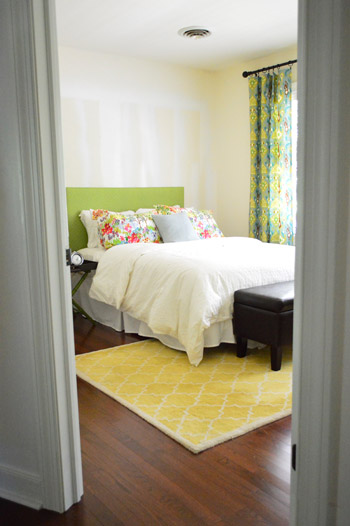 Here's the before.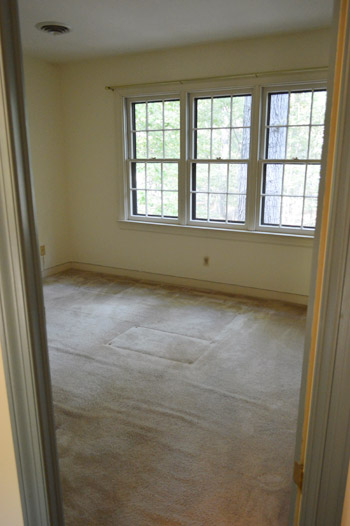 – The Hall Bathroom –
So far we've only hung some faux wood blinds for privacy and dragged in some bright accessories to happy things up. We also hung the shower curtain nice and high, which helps to cover up some of the broken shower tile.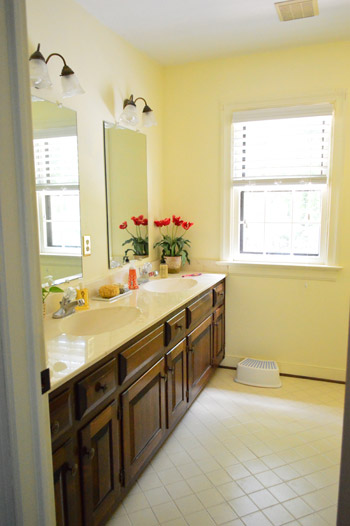 – Laundry Nook –
The blue trim is now white and the old carpet is hardwood flooring but that's as far as we've gotten. We're saving up for some new appliances and down the line we'd love to add cabinetry to the nook and maybe even bring in some sort of frosted doors to block the sound (and then maybe even add a tiled accent wall in the back?).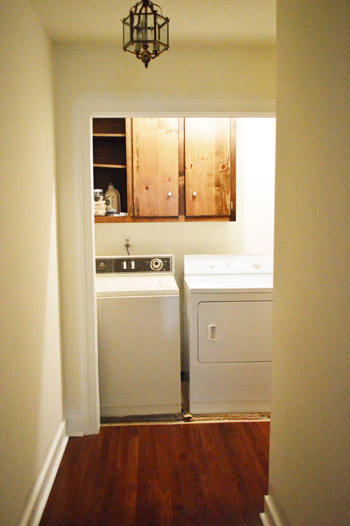 – The Sunroom –
Since moving in, we've stripped the old carpet away and we've taken down the old broken doors to create an indoor-outdoor space that no longer fogs up and seals us off from the deck. We also lofted the ceiling and got some electrical work done (more on that soon!) and we can't wait to add light blue beadboard on the ceiling and tile the floor to create a room with this vibe. Maybe even with an outdoor fireplace…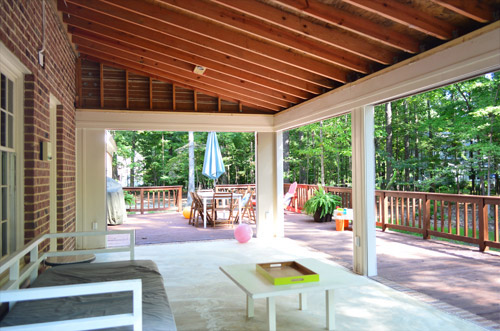 Here's the before shot from when we moved in.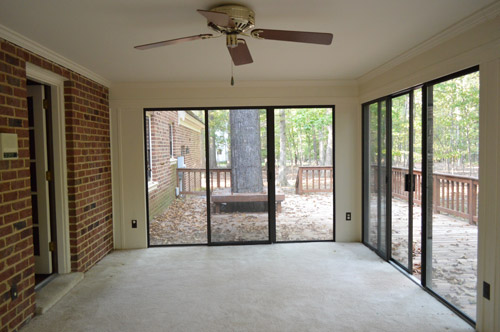 – The Back Deck –
We got the dangerous tree outta there (we thought it was charming and sweet but the inspector and an arborist friend of ours said it had to go) and got the siding/trim painted. Then we patched the hole left by the tree and stripped and re-stained the deck.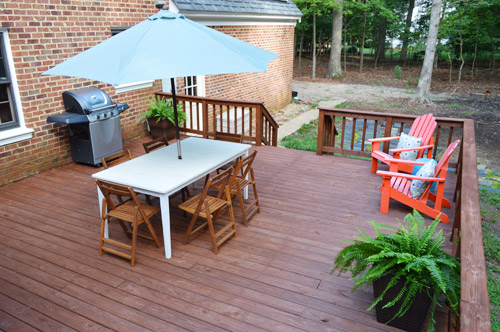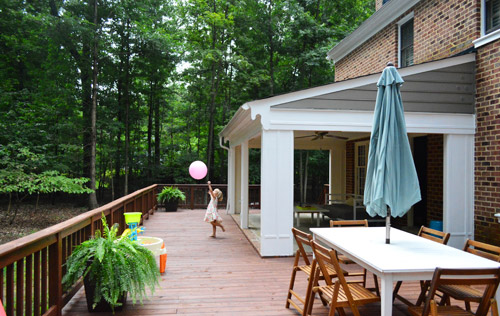 It was in rough shape when we bought the house, so it's really nice to have reclaimed such a great outdoor space.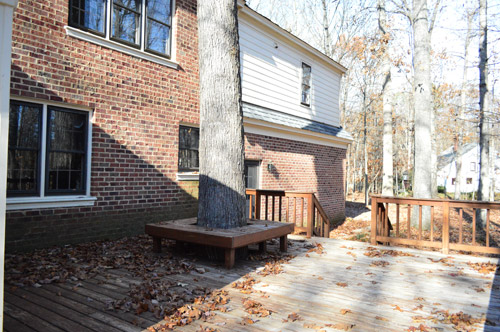 So there you go. We've stopped doing monthly recaps (woops, we fell off that train when we moved) but it's definitely nice to have posts like this to freeze time for a second and capture exactly how crazy (and exciting) it was after 90 or so days of getting settled. Do you guys ever snap photos or write blog posts or make Flickr albums to remind you how your house looked at a certain moment in time? Our House Tour page is always getting updated with new "progress" photos, so posts like these are the ones that we look back at and say "holy cow, remember that?"