Our office looked like this when we first laid eyes on the house.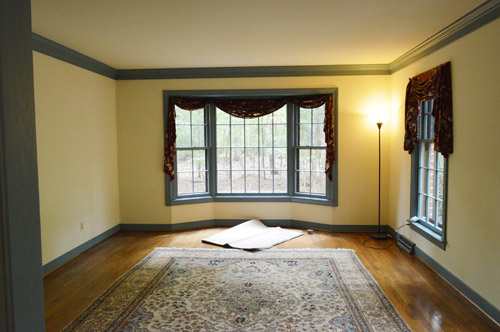 Then it looked like this on moving day.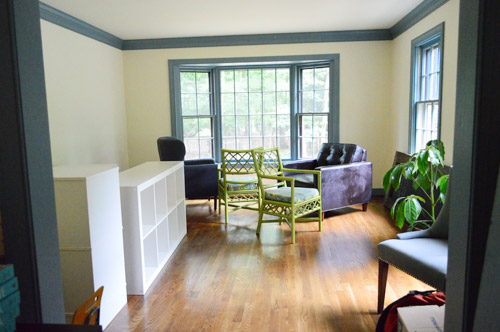 And here's what it looks like about a week and a half into living here.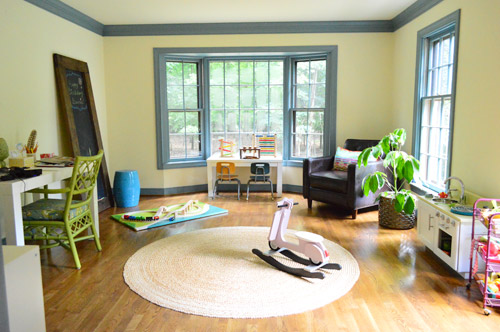 On one hand, it doesn't look THAT crazy. I mean there could be a llama standing in the middle of the rug eating popcorn. But on the other hand, this room has a LONG way to go before it's functional for two working adults (yup, we currently only have one desk going on). And the whole all-furniture-against-the-wall-with-a-little-round-rug-in-the-middle thing is a little weird.
As for what we're envisioning down the line, we'd love to have some sort of double desk action going on (probably floating or as a peninsula so it's attached to one wall on the side) with lots of storage and some awesome organization stuff in play. So a few images that are currently inspiring us for this room are:
this one (maybe we can add built-ins and a window seat under the bay window?)
this one (additional shelving might be handy, and I love how these don't all line up)
this one (those glass fronted cabinets! Me-ow!)
this one (cool beams for architecture, fun lighting, graphic curtains, and lots of storage)
While we let things percolate and brainstorm what we really want to gain from the space, I like to gaze at the things that I like in the meantime. Like this corner. Clara reads/hangs out in the chair, and a big leafy green plant in a long low window = one of my favorite things.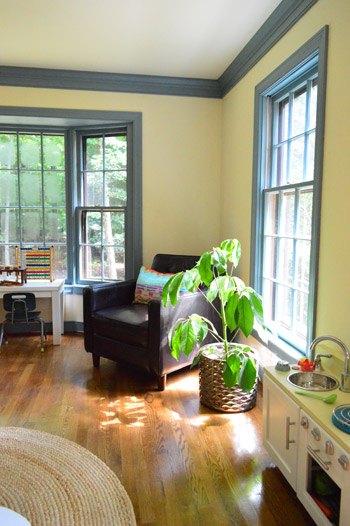 Here's the corner on the other side of the bay window. We leaned our big chalkboard there, and Clara has already been tagging it up, so we like the idea of having some zones for her along with eventually having two functional work areas for us.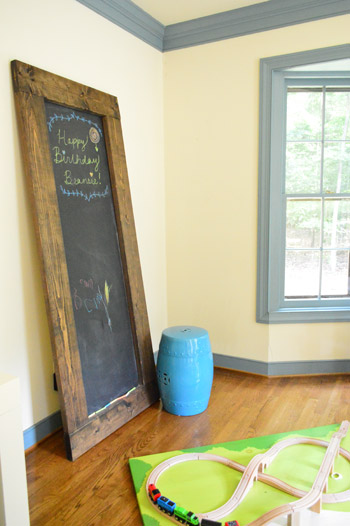 It's the lightest/brightest room in the whole house, which is just right for an office and a spot for Clara to come in and hang with us, so it's nice that it worked out that way. This was originally a formal living room, but we don't need a family room and a living room, and we love a cozy living/family room in the back of the house (where nobody can see our TV glowing from the street). And since that room in the back was also off of the kitchen and in close proximity to the deck along with having a fireplace, we thought the light and bright room that was somewhat closed off from other spaces was the best spot for an office.
Here's the other side of the room, where the storage/function that we do have is currently residing. The Ikea bookcase on the right was in our sunroom, but that's an awesome addition since we lost the built-in cabinetry from our previous office. The filing cabinet on the left was always in our office (it's from Ikea with Hobby Lobby handles) so that's where the printer hides along with a bunch of files on the bottom shelf.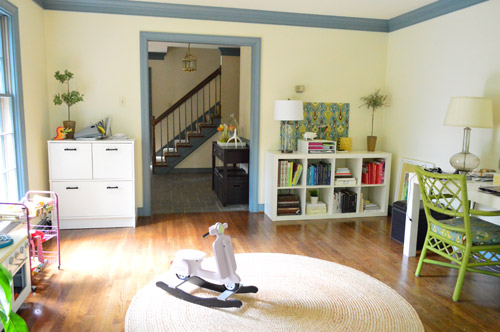 And I can't believe I'm a blogger who hasn't put my books in color order yet. Hello? Have I been living under a rock? Turns out it's fun and takes about ten minutes. I used to wonder "but is it harder to find books because they're arranged by color instead of topic/author?" But let's be real. I never arrange them by anything (not by topic, color, or even by size – I usually just randomly stack them everywhere. So it's just as easy to find them as before, and maybe even faster if I remember one as having a certain colored cover (then I just have to look on that shelf and can ignore 80% of the other books on the bookcase).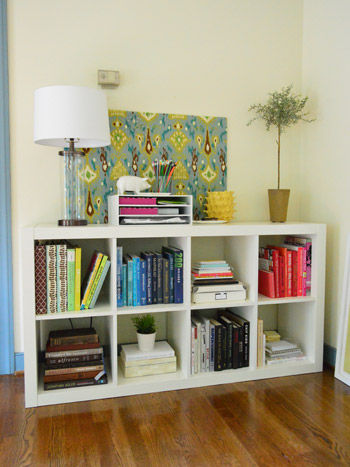 Among the books are a few file boxes, some notebooks and post its, receipt storage, and little desktop things like our pig speaker dock, a bajillion pencils, and a tiered little white box from Target a few years back with three "inboxes" for storing things like tear sheets, printouts, and other worky stuff. And that's my little cork board from my closet leaning up against the wall (thought that might be helpful for work stuff – maybe if we frame it out and properly hang it up?).
This shot is just funny to me because it demonstrates that no matter how much help a room might need, if you get close enough, you can usually find something sweet. Crop, crop, baby.
Although my favorite shot of the room so far is this one. Sure the lighting's harsh and it's a little crooked, but I walked by and saw Clara playing in that big bay window and it was perfect.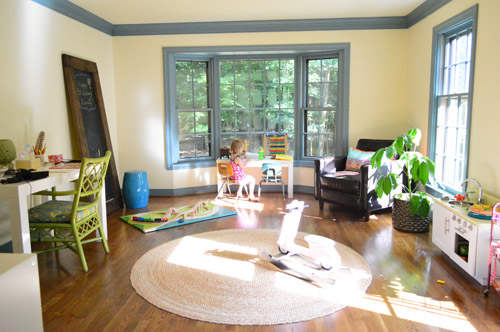 Just like that detail shot two pictures ago demonstrated that moving closer can strategically crop the weird stuff out, this picture is a funny reminder that moving further away can conversely reveal even more to be done. Like more blue trim to paint, more wallpaper to strip…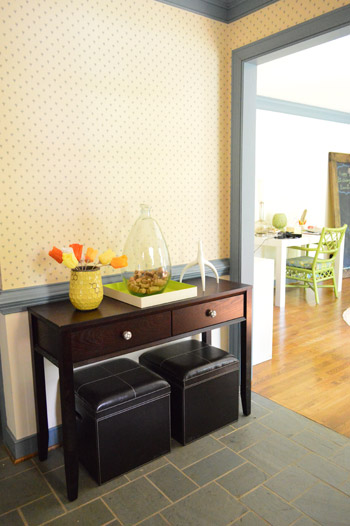 … and more old carpeting to send packing.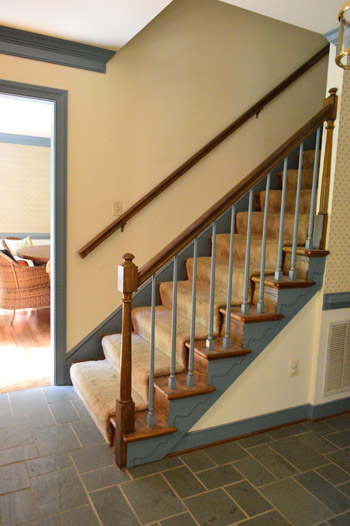 We'll get there someday.
Psst- Last night we shared our favorite video of all time on Young House Life. Oh man, that kid.