First things first. Weren't we talking about how foxes might be the new "it" animal (as in, move over birds and giraffes)? Well, I think this video might be proof that we're all on to something.
Now that that's out of the way, on to our regularly scheduled program…
Sherry and I have always been fans of the idea of hanging art around a TV just to soften the big black rectangle that it creates on the wall. And since we have quite the collection of frames to wade through (128 to be exact) it wasn't exactly a speedy selection process. But after more noodling than I care to admit, we officially hung this house's first frame collage.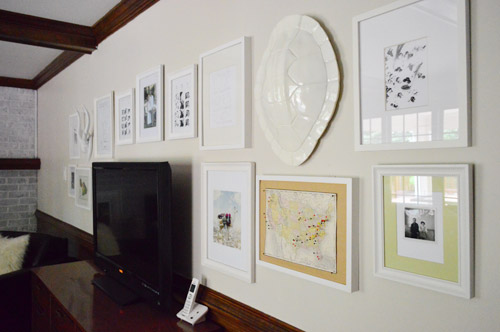 Here's the bare wall that we started with: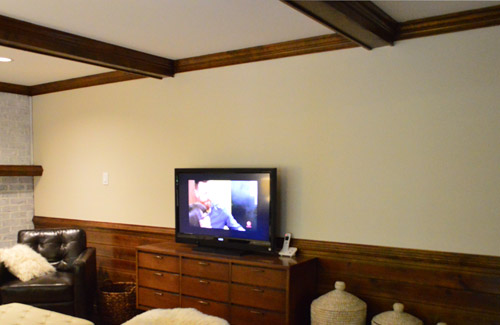 Sherry actually did most of the noodling (credit where credit is due) and she used the floor as her work surface. The big gap in the middle is the space she measured for the TV. In addition to paying attention to the size of the frames, our main goal was to choose art that wasn't too "visually demanding" (i.e. not too bright or high contrast). We don't want it stealing the show from the, um, TV shows.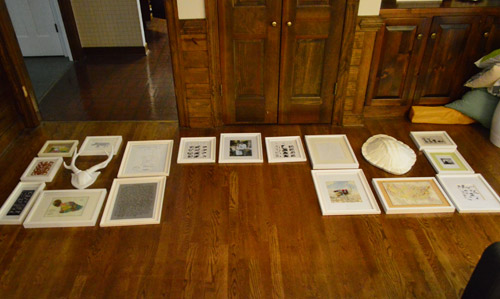 Once the arrangement looked good on the floor, we started transferring it to the wall – starting with the frame right in the middle and being sure to center it on the TV. For some reason even though Clara was sleeping we had Little Einstein on. Nothing like a little Mozart in the background to make frame hanging a joy and a pleasure.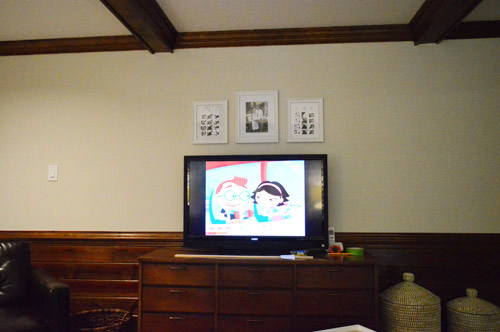 We slowly built out from there on one side, just holding each frame up and eying it. We wanted to maintain somewhat consistent spacing between everything, but weren't crazy careful about it. We like a bit of imperfection in a frame collage (plus, there's always time for tweaking later). For example, after taking this photo we noticed that the frame directly to the right of the TV was too close to it, so we made a mental note to inch it out a little after we finished the other side.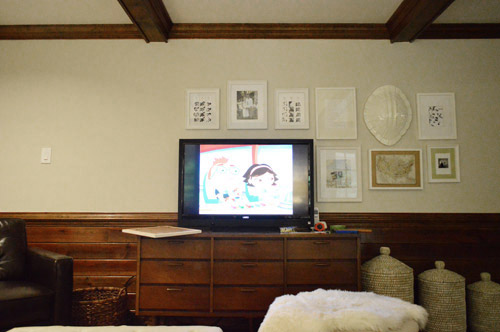 Here's what it looked like with almost everything up on the wall. Well, everything except for the bottom frame on the far left because [insert facepalm here] we forgot to account for the light switch. And that little screw up made us realize that [get that palm ready again] we totally should have centered the TV on the ceiling beams first. Oh the things you don't realize when you map stuff out on the floor…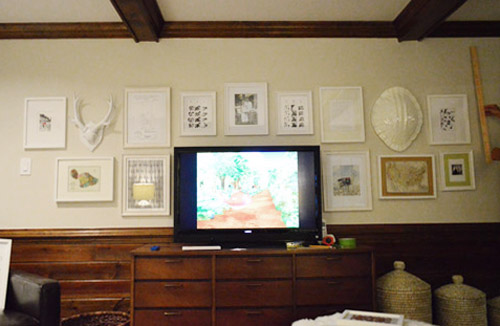 We were less than pleased about the miscalculations, plus I was having deja vu. But having foreseen something like this happening, we thankfully had only hung things with small picture hanging nails at this point (i.e. I hadn't broken out the anchors and screws for some of the heavier items) so it wasn't a big deal to shift everything to the right a few inches (eight to be exact). All but one of our erroneous nail holes got covered up in the end, so we were only disgruntled for a short time.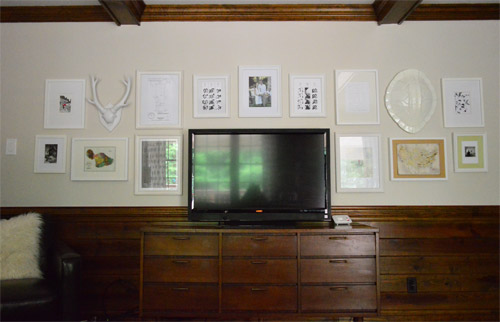 If you scroll back to Sherry's initial "rough draft" layout on the floor, you'll notice that everything stayed the same except we opted for two larger frames on the outside edges instead of three smaller ones. It just looked cleaner that way when we eyed things as we got them on the walls.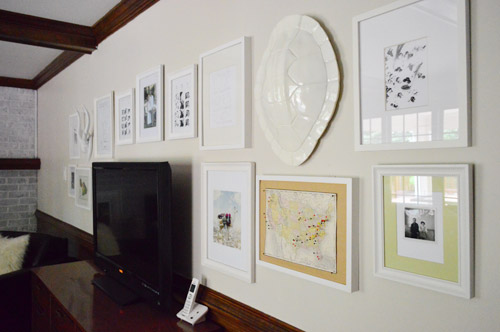 This room is certainly far from being done, but it really does feel more personal with some of our favorite stuff on the wall. Everything from wedding photostrips to the lot drawing of our first house and a map we brought back from Hawaii last year made the cut. Although I wouldn't be surprised if we update a few of the frames down the road just for fun.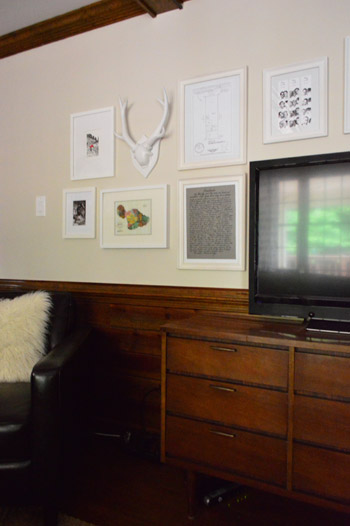 We were most glad to finally hang our pin map in a place of honor (we briefly hung it in the foyer but this art looks better in there). And Sherry's giddy that she got not one, but two faux white taxidermy items up there. Hopefully the deer that congregate out back aren't offended.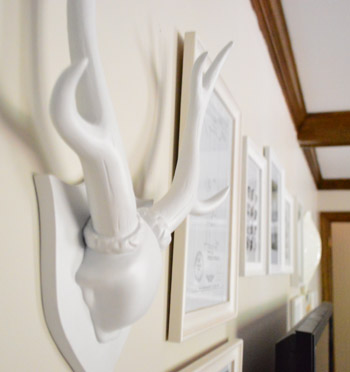 So that's the story of two screws, two anchors, thirteen nails, and twenty nine holes in the wall. Any one else put some holes in their walls recently? Hopefully fewer unintentional ones than us…