Psst- We're still at work on the living room (you got a preview of that mess project here) so we'll be back with those details on Monday (barring any unforeseen catastrophes).
Woot, it's Friday y'all. I'll pause while you celebrate with a desk/cubicle/subway/couch dance. Speaking of rejoicing, for every time that we share heavier DIY related projects (laying a stone patio, building a deck, renovating our kitchen, or even adding board & batten) there are always a ton of little updates that we tackle – sometimes for less than $5 in under 5 minutes. Which explains why our Projects page is full of those things too (you know we love a smorgasbord). So after sharing a bigger upgrade this week (adding crown molding to Clara's nursery) and while we're finishing a few more for next week (our aforementioned living room dealio + more crown molding) we thought a small and inexpensive jelly bean of a project was a nice way to end the week.
What you've never heard of a jelly bean project? Ok, me either, but I think it should be used to describe little updates that are easy to pop into your mouth schedule & budget. So you all remember this old wooden cradle that we scored for $11 at a local thrift shop for the fun little Macklemore Challenge that we did a little while ago, right?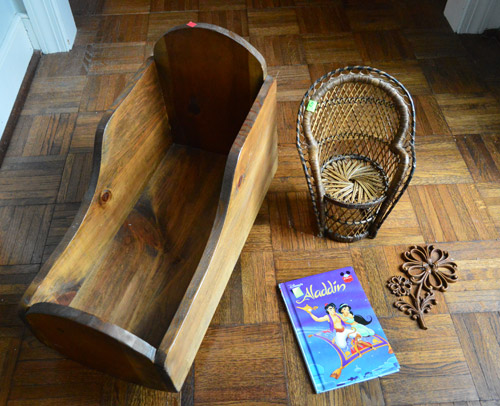 Well, we mentioned that we wanted to paint it – and although a few folks cried out to keep the old wood, in person it was a lot less appealing (it had burn marks, scuffs, and smelled like it had been in storage for 30 years). I just craved something a little crisper and happier for the bean – which you caught a glimse of here in this closet post when I revealed I had painted it white.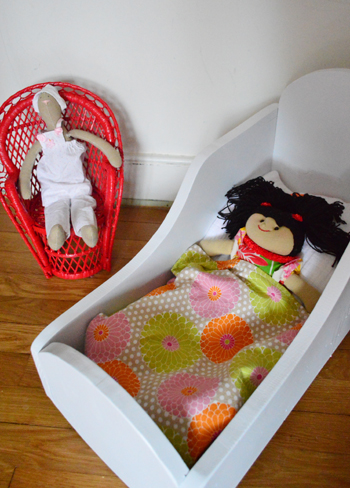 But white isn't as fun as it can be (but it sure is a great base color to layer things over). So I had a plan to turn the fun-dial up (what, that's not a thing?) with some bright red pom-pom trim, scored for just 79 cents at JoAnn in the remnant/discount pile.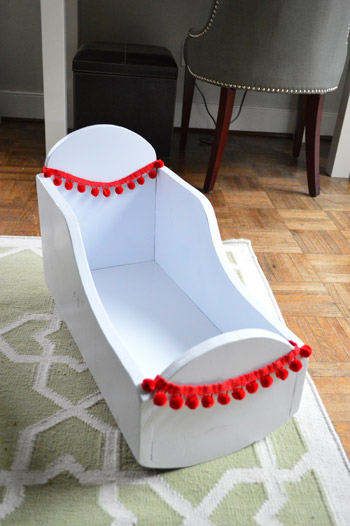 As for how I attached the pom-pom trim, I thought about gluing it or nailing it and then I realized I had some old nailheads leftover from an old rocking chair that I recovered, so I just tapped one of them in the backside of each swag to hold them in place. Oh but first I used crazy glue to "seal" the ends of the pom pom fringe on each side so it wouldn't fray, let that dry, and then nail-headed it into place.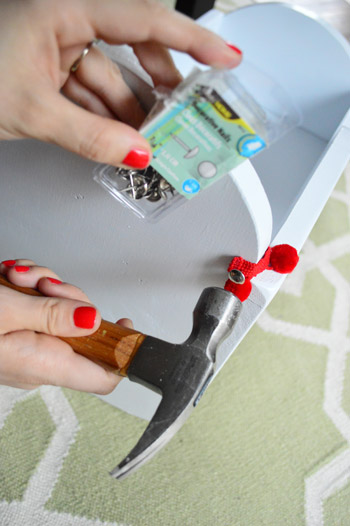 Then I tossed a lumbar pillow that I already had around the house in there to act as a little doll mattress (you might recognize it as the old chair pillow in Clara's first nursery), which was a lot faster than sewing a cushion. Use whatcha got, right?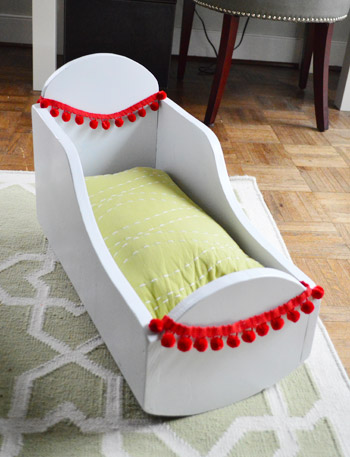 Then I tucked dolly under this sweet pink blanket and bam: a fresh and happy cradle with all of Clara's favorite colors (she's nutso for red and pink these days). No sewing, no cursing, no crying. And instead of paying $59 for something like this Pottery Barn doll cradle, I spent under $15 to take an old secondhand one up a few notches.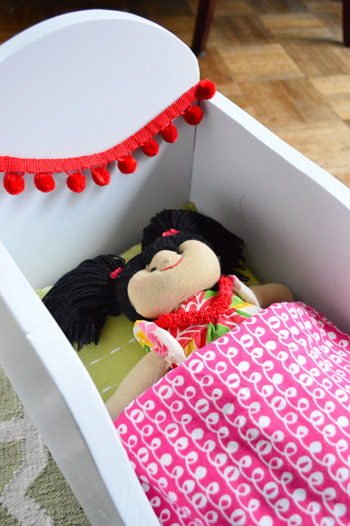 So mission accomplished. And by mission I mean "my kid likes it." Clara loves rocking her babies (and tucking them in, and kissing them, and filling the crib with plastic animals, and trying to put Burger in there…).
Oh and as for the rear view, here's how those nailheads turned out: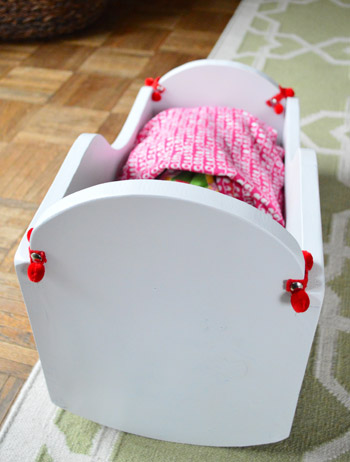 It's definitely a nice clean look – and after a few days of playing with her suped up cradle, all that Clara does is occasionally drape the pom-pom trim over the back of the footboard and headboard, but it's easy enough to drape it back over the front (I worried she might try to rip it off or yank on it and make it all loose, but so far she has just accepted the trim as part of the cradle and isn't trying to tug it off or anything). Hooray for small victories and small updates. Especially if they involve pom-pom trim.
Has anyone else been making over any kid things from the thrift store? How about a real crib? Any crib skirt DIY-fests going on? You know I love a no-sew crib skirt…
Psst- We picked a winner for this week's giveaway – click here to see if it's you.