Yesterday you saw how our board and batten project came out for the Pinterest Challenge, so today we're back with the full tutorial shebang. And hold onto your safety goggles, it's 2,000 words long. But don't let all the words fool you, we'd say that this was one of the biggest bang-for-you-buck / most fool-proof ways to make an easy upgrade that we've encountered in a while. Wow, just realized I'm five sentences into this and I've already said "bang" twice. Not sure if that's a good sign or what…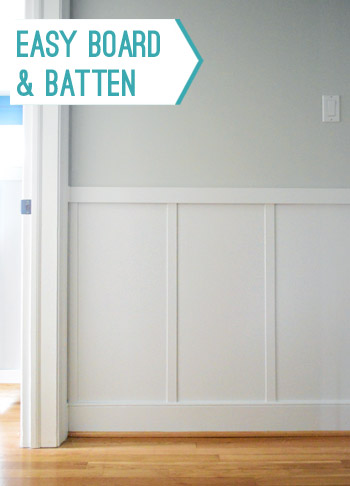 We had long known that adding some sort of molding feature to our hallway was in our future… and now we're just kicking ourselves for waiting so long. It cost us a mere $57 for the materials (we did buy a tool on top of that, but we'll get to that in a second) and it only took a few hour-or-two-long work periods over the course of 6 days (including some break days for paint-curing) to finally bring some oomph to our boring hall. So anyone who's looking to tackle this on nights and weekends could hopefully do it within a week since each step only took a few hours and could be spaced out across each evening.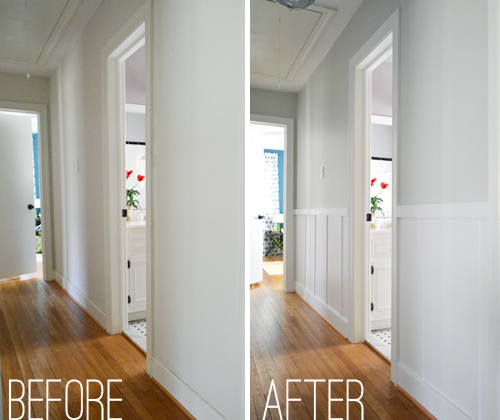 Planning Our Board & Batten
We were inspired by a few other tutorials – like Ana's, Kate's, Sarah's, and Emily's – and took pieces and parts of each to figure out what worked best for us. So our tutorial below may not be exactly what your space needs, but between the lot of us there should be a fitting solution in there! Let's just say that we learned that there are many different ways that you can approach board and batten, so a lot is about personal preference, what suits your home, etc.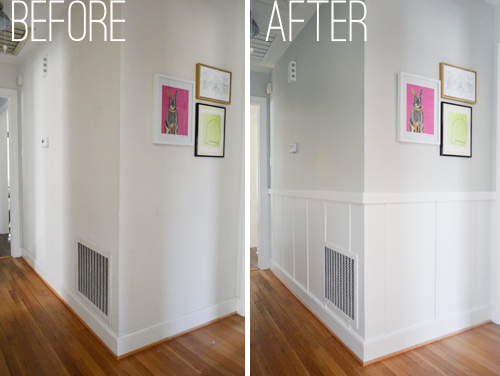 As for our approach, there are a few things to note upfront:
We did not add any "board" to the wall – i.e. large flat panels. Since our walls are smooth (not textured) we just used the existing drywall as the backdrop for our vertical battens. Once everything was painted it all looked seamless and gleaming, just like a board would have looked. But if you have textured walls, check out Kate's tutorial above.
We used our existing baseboards. Why? Because it was easier – and you know we love to use what we have. Simply by choosing battens that were thinner than our baseboards, we could keep them in place and work with them (saving us time and money). But if you can't or don't want to take this approach, both Ana and Kate's tutorials above talk about replacing the baseboard.
Oh, and if you're not the word-reading type we made two videos of the process for you (one for the building portion and one for the finishing). So here's how it all went down when it came to installing the rails and battens (including tips for how to keep the boards level, how to space them out, how to keep them from bowing too far from the walls, etc).
And here's how we finished everything (including how we filled the nail holes, how I cut in without taping off, and a bunch of other stuff that we shoved in there):
And fret not if you can't watch the videos (if, say, you're at work) – we broke down all the steps with photos and descriptions right here (note: watching them later if you're planning to tackle this might simplify things a lot – I always think videos make things less intimidating).
Measuring & Shopping For Materials
To start, we measured the space and planned our materials. My graph-paper sketch was probably overkill, but it made me feel better. It helped us plan how many boards we needed for the top rail and ledge, as well as count how many battens (the vertical strips) we might need.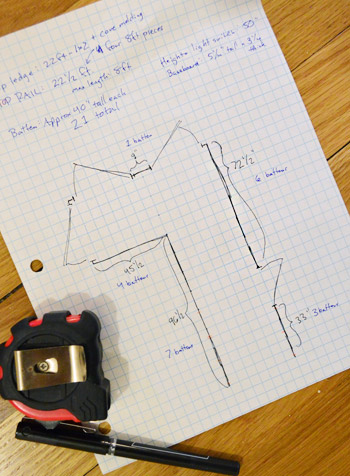 Next up was a supply run. We had most of what we needed on hand, so the only four items that we ended up purchasing are pictured below (the nail gun being a belated birthday gift from my sweet wife who was just waiting for me to pick out the one I wanted). Update: The nail gun shown below is no longer sold, but we've switched over to using this compressor-less nail gun these days anyways.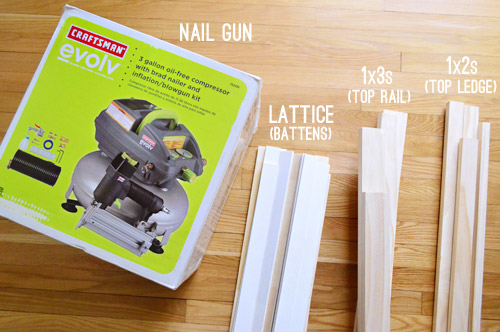 Tools & Supplies Needed
Here's a full list of supplies & materials that we used (many of which we had on hand, along with the things we purchased above):
Pneumatic brad nail gun
Pre-primed lattice strips (our came in 12ft lengths, so I cut them down in store for easier transport)
1 x 3″ pine boards (for top rail)
1 x 2″ pine boards (for top ledge)
Measuring tape
Laser level (optional)
Level
Stud finder
Miter saw (you can also use another saw for cutting wood, or even have them pre-cut in the store)
Spackle, joint compound, or wood filler (for filling nail holes)
Paintable white caulk meant for moldings & a caulk gun
Sandpaper and/or palm sander
Primer
White paint (we used an extra durable cabinet-type paint in a satin finish)
Paint brush, roller, and other painting supplies
*Buy your wood around a week before you start the project and just let it sit in your house (this is called "acclimating" the wood) to avoid any cracks caused by expansion or contraction, which happens if it's not acclimated when it's installed.
Installing The Top Rail
We opted to use 1 x 3″ pine boards for the top rails, which we wanted to attach first (after their acclimation period). So I cut them with my miter saw to fit snugly along each stretch of wall. If you have exact measurements for your space you can even get them pre-cut for you at Home Depot, so don't let the use of a saw scare you off from this project.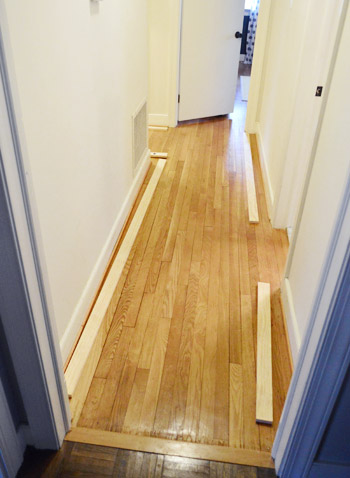 Before attaching them to the wall, we had to do a few things – like deciding the height of our board and batten. We first assumed "the higher the better!" and held it just under our light switches and thermostat. But after stepping back, we realized the high placement was just making our eight foot ceilings look lower than they already are.
So, as you'll see, we later landed on a more traditional height of 40″ off the floor, which is a lot closer to the "traditional range." But again, many aspects of installing board and batten are just a personal preference thing, so go with whatever you think looks best for your space. I'm sure rooms with tall ceilings or ornate crown molding might look awesome with higher board and batten (as well as mudrooms and other entryway areas, etc).
Since floors and baseboards aren't always level, we relied on this cheap laser level that I picked up a while ago to mark the 40″ line on a few spots along each wall. Those marks created a guide for us when holding our 1 x 3″ board in place.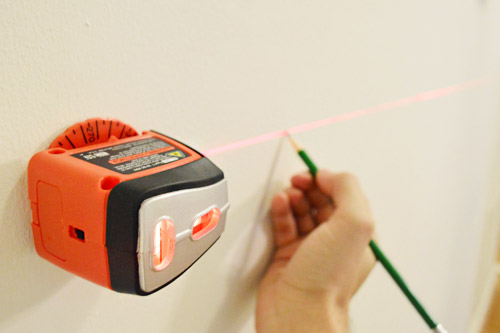 And since nails are always more secure when they go into studs, we also broke out our stud finder to mark each to-be-nailed spot along the wall. Obviously just remember to make your marks low enough that they won't be covered when you hold up your top rail piece.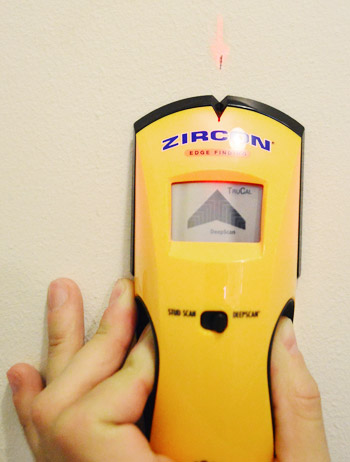 Next up was nailing the rails into place with my new pneumatic (i.e. air compressor powered) brad nail gun (the one photographed has been discontinued, but we switched to using this air-less nail gun anyways). This was my first time ever using one and it intimidated me the first few times, but now I'm in love with it (not as much as Sherry, who says she wants to marry it). I'll write a separate post about it later, but let's just say it was the saving grace of this project. It probably would've taken us three or four times as long to complete the construction portion of this project without it. We bought a pretty basic, but well-reviewed Craftsman model (here's an affiliate link to it for ya).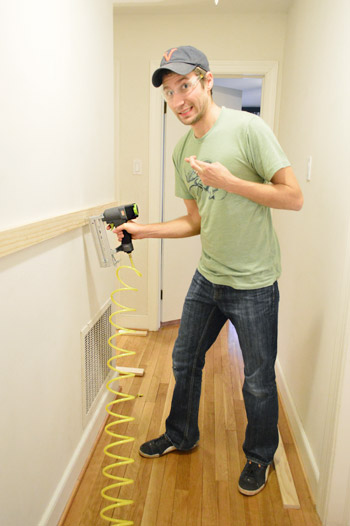 So here are all of the top rails in place. We opted not to glue them to the wall in addition to nailing them into studs simply because if we ever decide to remove or replace this, we don't want to rip off chunks of drywall in the process. The good news is that the boards are so light – especially all of the vertical lattice pieces – that nails shot into studs with a nail gun are supremely secure… especially with the caulking that we did around any cracks to hold them even more firmly.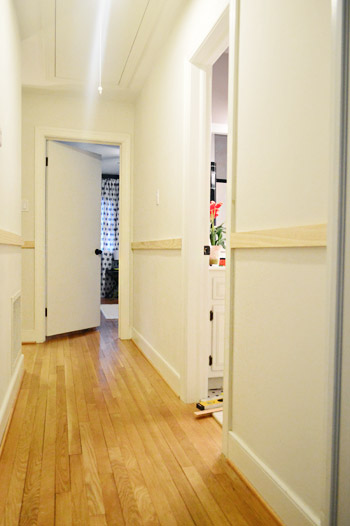 But even if you opted to glue things on top of nailing them, it wouldn't add much time or cost to the project (a tube of Liquid Nails is just a few bucks). Speaking of time, if you subtract the time it took us to set up and figure out the nail gun, I'd say the process of measuring / cutting / nailing these took us about an hour.
Adding The Vertical Battens
We used lattice strips at Sarah and Emily's suggestion because they were cheap (66 cents per foot!) and they didn't stick out past our existing baseboard. Had we used 1 x 2″ boards like some folks do, it would've hung over our baseboards. We could've replaced our baseboards too, but then they would've stuck out past the trim around the four (count 'em four!) doors in our hallway. So yes, chunkier battens could be nice in less narrow spaces (we didn't want ours to jut out too far and close things in) but in our case we actually thought the lattice + rail setup was ideal and we like the dimensional-but-not-crazy-thick result.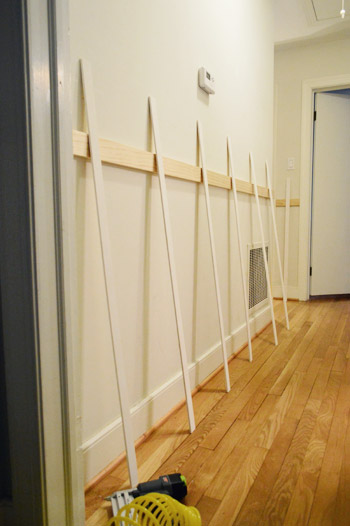 We chose to space our battens at 16″ intervals because our studs are 16″ apart and this meant that more nails would go into studs, not just into drywall. Plus, when we held up a few spacing options it looked pretty darn good (seriously, half of this project is just deciding what looks best and going with it). To make our lives easy, we used a scrap piece of 1 x 3″ board to make a spacer (a 14.5″ spacer kept the lattice 16″ apart from center to center).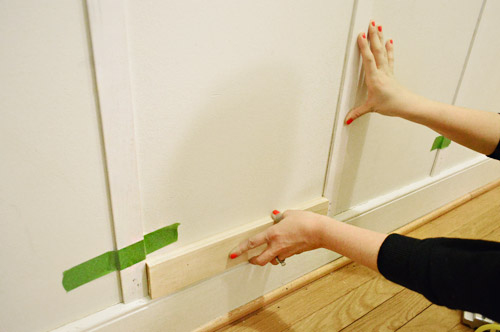 The lattice was light enough that tape held it to the wall while we used a level to make sure each batten was perfectly vertical. Then Sherry went back with the nail gun and secured them in place. Is it wrong to say that watching my lady concentrate so hard while wielding a power tool got me a little hot and bothered?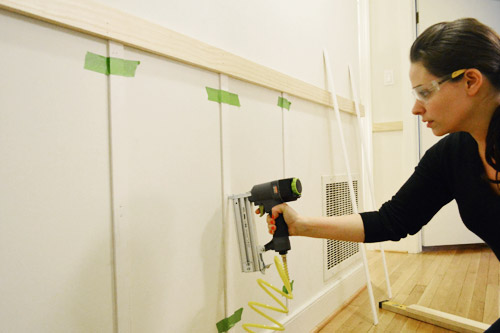 About an hour-ish later, all of the battens were cut to size and nailed into place.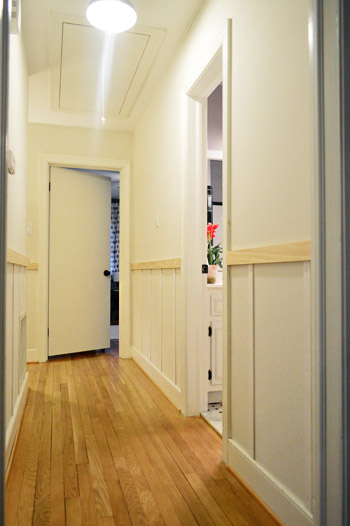 Since we wanted the batten on the facing walls to line up (and that's where the studs were, which added stability), the placement was pretty easy to determine. But if you were tackling this and not every batten could end up in a stud to accomplish a balanced look, I'd go with balanced placement over hitting every stud (they're seriously as heavy as a paint stirrer, so they'll likely hold up fine either way).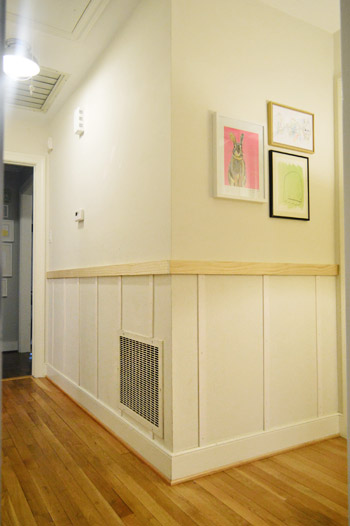 At around this stage of the project, Clara saw it for the first time – and here's her reaction word for word: "Wow! It's beautiful! Did a man come while I was sleeping and bring that?" Is that kid hilarious or what? She totally didn't give us credit for it. We think it's because that morning the heating guy came with an oil delivery for us, so she remembered a man coming to help with something and assumed he came back to fix up the hallway for us. Naturally.
Lots of the tutorials we saw included adding a ledge along the top to sort of beef things up or create a spot to lean art or other items. We bought some 1 x 2″ pine for this purpose but as soon as we held it in place we realized we didn't really like it. Since it wasn't going to be a functional ledge for us, it basically just narrowed the hallway more and created a few hazardous little corners for tiny heads to walk into. So we scrapped the idea, returned the wood, and enjoyed calling the construction phase: COMPLETE.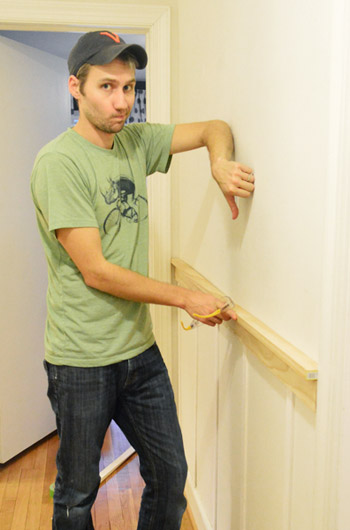 Prepare For Painting
The next day we started to prep the space for painting by filling nail holes and caulking gaps. At the recommendation of some of you guys, we went with spackle over wood putty (we hear joint compound works too) since it's said to be easier to work with and holds up better over time. It certainly went on easier than wood filler so assuming it keeps looking as good as it looks right now, we're completely sold on that approach for filling nail holes after your rails and battens are hung.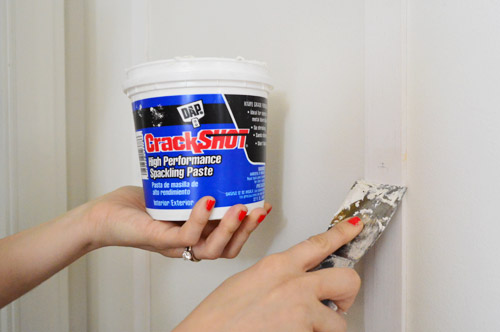 After all of the nail holes were spackled (not a fast process, but not too bad – maybe it took an hour total?) we used paintable white caulk to fill some of the gaps between our boards and the wall. Since our old house doesn't have perfectly flat walls, this was a necessary step to keep the project looking nice and polished in the end. We didn't do every edge, just the ones that needed it (across the top rail and a few places along the battens). I'd say the caulking step added another hour of work in case you're wondering. Oh and definitely watch the finishing video in this post for more details about exactly what caulk we used, how I smoothed it, etc.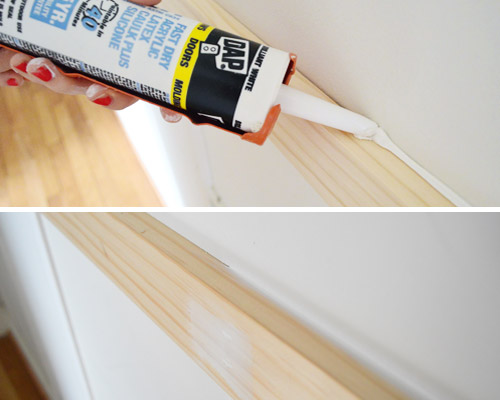 Later that day we broke out the palm sander to get rid of any excess spackle around the nail holes.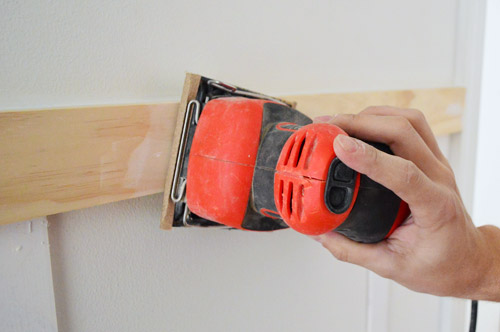 Prime & Paint
After that, the rails and battens were ready for primer. We already had Kilz Premium (which is a stainblocking primer) on hand, so we used a brush and a small foam roller to put one coat of primer on each piece of wood to prevent any bleed-through in the wood down the road (always a worthwhile "insurance" step). And we went over the battens too, just to be safe (even though they came pre-primed). Here's the whole thing primed and almost ready for paint. Just had to let the primer dry.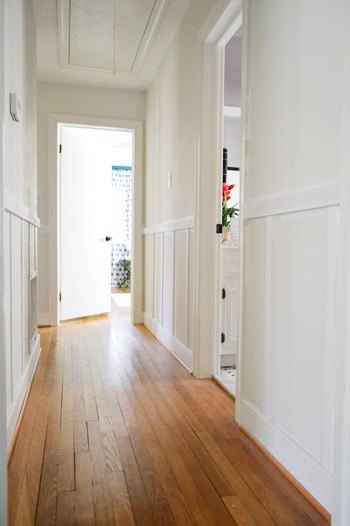 The next day it was finally time to paint the board and batten. We used Benjamin Moore Advance paint in Decorator's White in a satin finish leftover from our office cabinet painting project. Advance paint is especially durable (we used it on our kitchen cabinets too) so we figured it was a good choice for hallway molding that might get its fair share of wear and tear.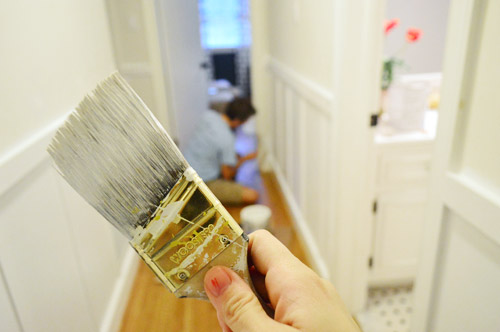 Admittedly, the finished picture of the painting step isn't very dramatic since the walls above were still off-white.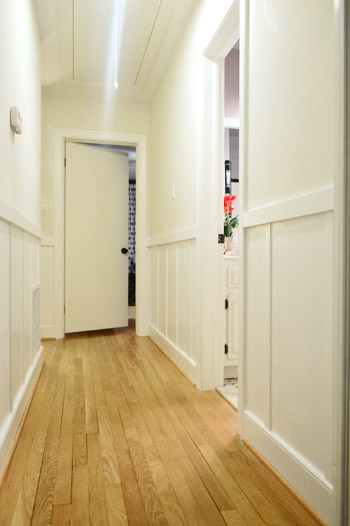 So after letting the paint cure for a couple of days we tackled painting the walls above the board and batten. Sherry was still nervous that taping the freshly-painted top rail could peel paint off, so she opted to cut in by hand around the top rails (you can read her tips for doing that here and watch the video in this post and the video here for even more tips). She did a great job, despite not having her usual short-handled brush handy.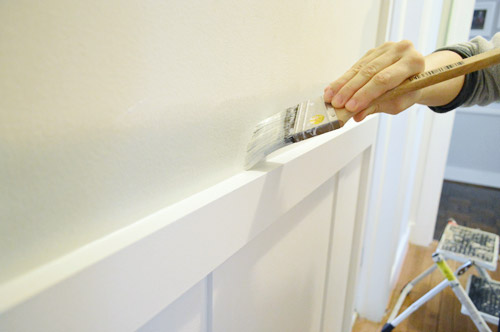 After she was done edging, I went back with the roller and (after a second coat) we had the finish line in sight.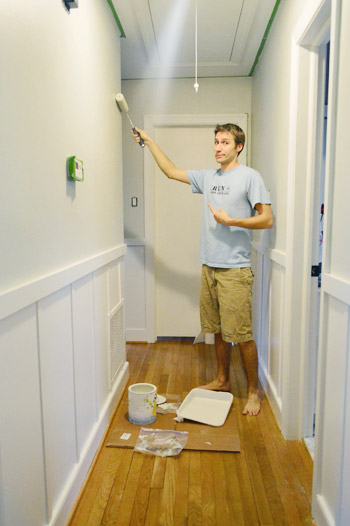 Oh, and if you couldn't tell – we were painting the walls with Moonshine by Benjamin Moore since:
we had some leftover from painting our dining room
we didn't want anything too bold/dark to close in the hallway
it's the color in the adjacent frame-filled hall and we wanted them to relate to each other (so things didn't feel too choppy)
Note: we still have to paint the trim in the frame hallway the same white color as the board and batten.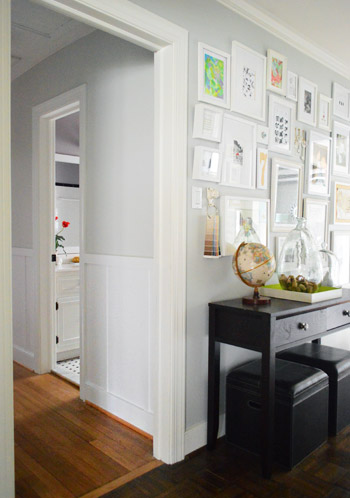 Boom. Just like that we're ready for after pictures. So here we go!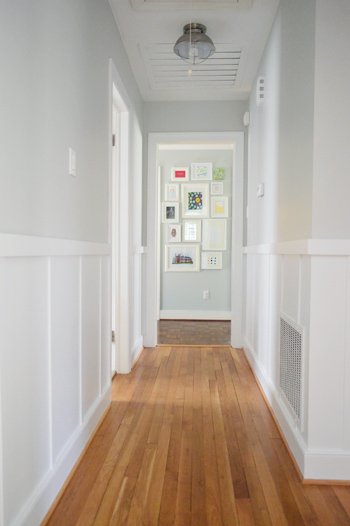 We're in love with the result. And we're kicking ourselves that we didn't do it sooner. You know how you never quite realize how "blah" a space is until you do something to it and wonder why you waited so long? I mean, we walk through this hallway dozens of times a day and all we had done up to this point was hang some art in one small corner (the most hidden part of the hallway, ironically). But now that we've got the board and batten up we're ready to hang some more.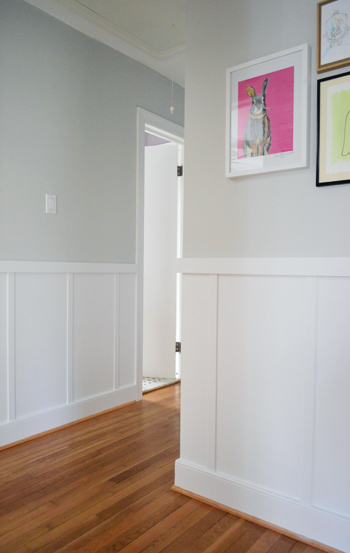 Total Project Cost
Okay, so let's break down the budget. We only spent money on three items since we had things like paint, spackle, and caulk on hand. And had we actually purchased my nail gun back at my birthday in November as planned, our total cost for the project would've been only $57. Crazy, right?!
Four 12′ pieces of lattice – $32 ($0.66/foot at Home Depot)
Two 8′ pieces and two 6ft pieces of 1 x 3″ pine – $25 (also from Home Depot)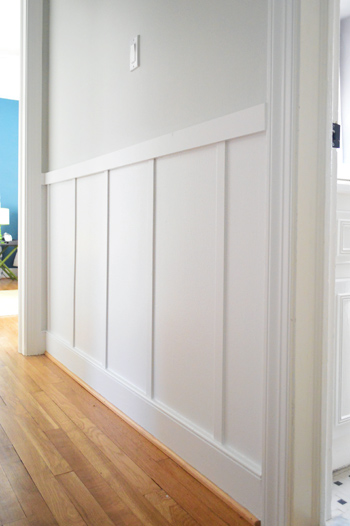 And time-wise, our project stretched over the course of five days (six if you count the trip to Home Depot for the materials). But if we had the luxury of not having to schedule things around Clara, it probably could've been completed in three days (first day for construction & spackling/caulking, second day for sanding/priming/painting the board and batten, third day for painting the wall). Heck, you could probably even ditch that third day if you're doing this project on an already painted wall.
But if you're doing the nailing by hand it might take longer (which explains why Sherry had the urge to make out with our nail gun). Oh but if you don't want to buy one, you can always rent one from your local home improvement store, so that's another option.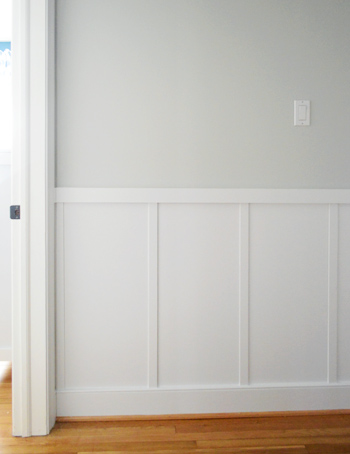 But here we are, roughly six days later and waaaay more excited to walk down our hallway. We're now in the midst of figuring out what to hang on the walls above the board and batten, as well as choosing what next project we can take on to satisfy the itch I've now got on my nail gun trigger finger (after I wrestle it away from Sherry). I smell some crown molding in our future…
UPDATE: We repeated this project in our new house, but with a twist to make it feel a little bit fancier. Check out the tutorial for our new twist on classic board & batten here.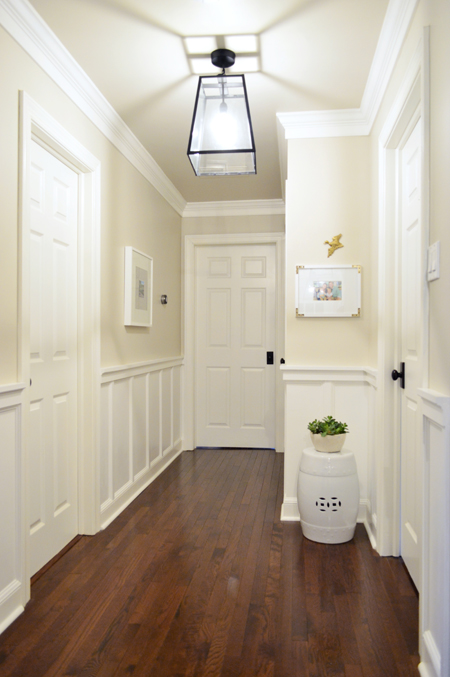 Update – Wanna know where we got something in our house or what paint colors we used? Just click on this button: