Some of you may remember that we wanted to make an adaptation of a crib skirt (a fitted band of fabric that would hide the view under the bean's mattress and into her storage drawer below) so we're back to share the simple step by step process. And if you guys know me at all you'll fully anticipate that I didn't even pick up a needle and thread. Yup, I used my favorite iron on hem tape along with scissors, a tape measure and an iron. About forty short minutes later I had a custom fitted crib skirt (that's removable and washable too). Here's how it all went down:
First, I measured the vertical space between the bottom of the mattress and the top of the drawer, which was the same height all the way around the crib. Then I measured the horizontal distance of each side of the crib, which left me with two smaller lengths for the sides and one longer one for the front of the crib (I opted to make a three sided skirt because the back won't ever be seen). Then I added three inches to each measurement. For example, if the measured height for the side panel of the crib was 12″ I added three more to make it 15." And if the measured length of that side panel was 30″, I added another three inches to make it 33."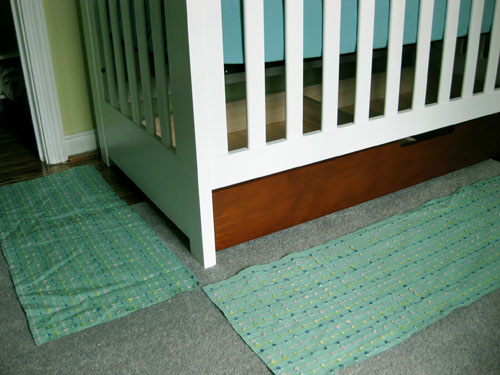 Then I simply cut out a 15″ x 33″ piece of fabric for that side and moved on to the next side of the crib, using the same add-three approach.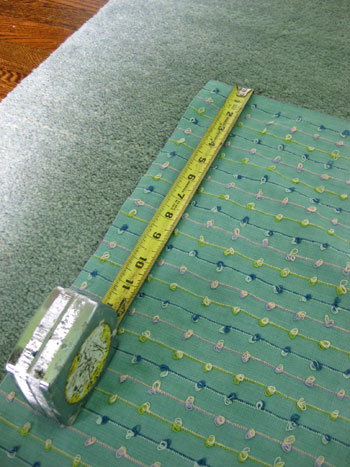 After carefully cutting everything out, I was left with three panels, all of the same height and two of the same width (while one was longer since that was the front panel). Note: if you're using any type of printed fabric, be sure to cut everything out in the same direction, so you don't end up with a crib skirt with one vertically striped panel and one horizontally striped panel- unless that's the look you're going for.
Then it was time to whip out my iron along with the scissors and my trusty Heat N' Bond Ultra Hold (my favorite heavy duty iron on hem tape, available any craft store like Michael's). Since I wanted all four sides of each panel to have a nice finished edge, I simply cut my hem tape to the length of each side of the panel and ironed it in place ON THE BACK of the fabric, as close to the edge of the panel as possible. Tip: when ironing on hem tape, keep the clear side down and the paper side up- you never want your iron to touch the clear side or it'll get all gross and goey.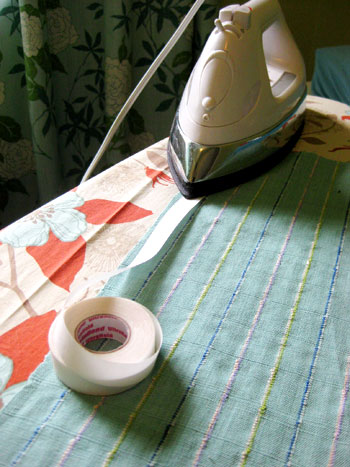 Then after ironing that strip of hem tape in place on the edge of my panel of fabric I just gave it about ten seconds to cool off a bit and got to work peeling back the paper, which left me with a strip of sticky stuff (it almost looks like clear double sided tape):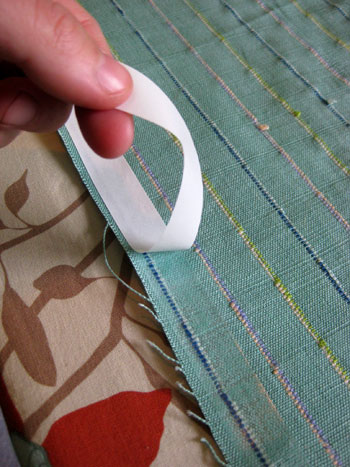 Without disturbing my little ribbon of stickiness, next I folded over the fabric so that it just covered the double-stick-tape-looking strip and ironed that fold into place.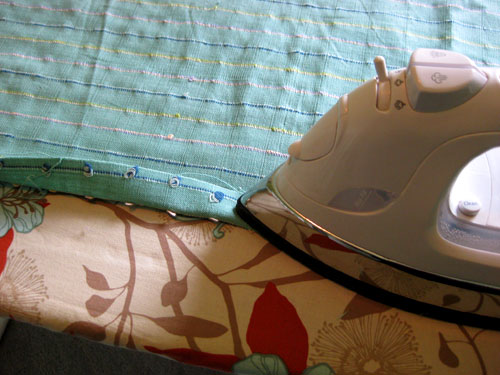 Voila- I was left with a finished looking hemmed edge without any puckering or pinching (a common issue I have when I sew). Then I just repeated this process on all four edges of my two side panels and on the top and bottom edge of my front panel (I left the two sides of my front panel unhemmed because I'd be joining them to my already hemmed side panels).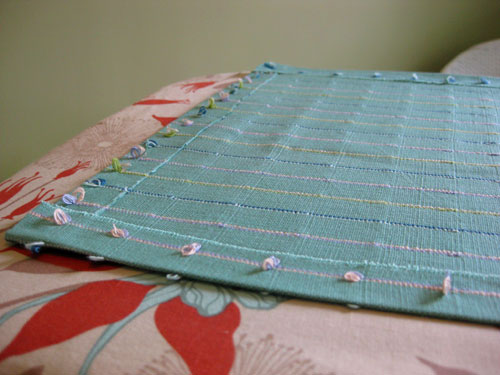 Then place the hemmed edge of one of your side panels next to the unhemmed edge of the front panel that you want to join together (eventually you'll be joining all three panels, but pick one side panel and one front panel to start with). Add another ribbon of hem tape right on top of that side panel edge that you already hemmed. Once you peel of the paper that strip of sticky tape on top of your side panel's hem will be how you join the side panel to the front panel. Then it's as easy as ironing them together…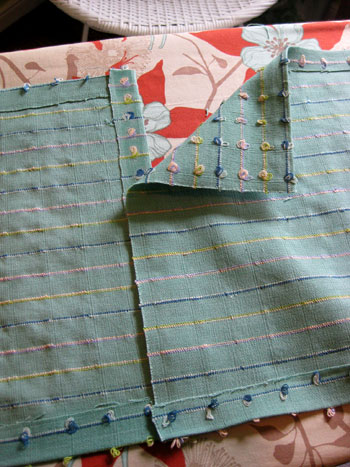 … for a nice finished seam when you flip everything over and look at it from the front of the fabric: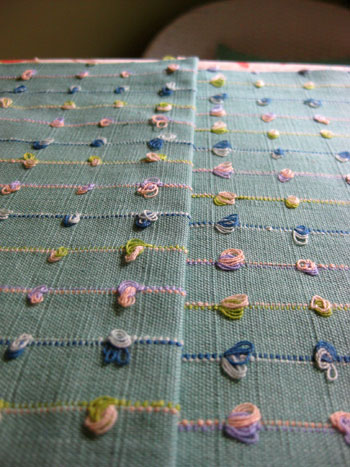 Just replicate this step to join the other panel (or panels, if you're making a four sided skirt) and you'll be left with one long hemmed band of fabric. Of course if you had enough yards of fabric you could have just cut one long strip and hemmed the edges of that without worrying about making and joining side and front panels, but most people are cheap like us and want to be able to do this project with just one or one and a half yards of fabric (which is what we used) so cutting the panels and joining them at the edges of the crib is a necessary step.
Then all that's left to do is secure this polished looking fitted skirt to the base of your crib. We opted to use velcro to hold our skirt in place, which also makes it easy to remove and wash (yup Heat N Bond is totally washable and extremely durable as well):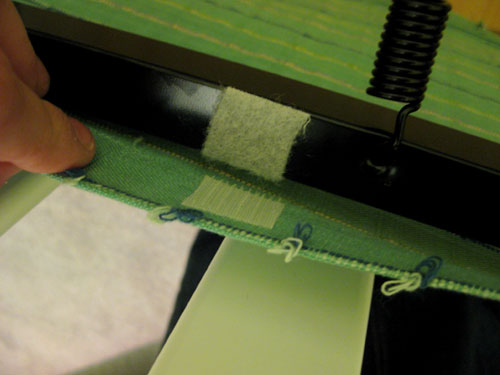 Plus since our crib's mattress has a lower setting, we know that someday we won't need this skirt (because the mattress will later be lowered to right above the drawer so there won't be a gap to bridge anymore) so we love the fact that it's easily removable. As for those velcro details, we just cut out a few inch by inch squares of it and placed them around the top of the crib's metal frame (three or four per side) to hold everything in place. Note: You might want to give the side of sticky-backed velcro that's attached to your fabric a stitch or two to hold it in place so you don't have to worry about losing 'em in the wash.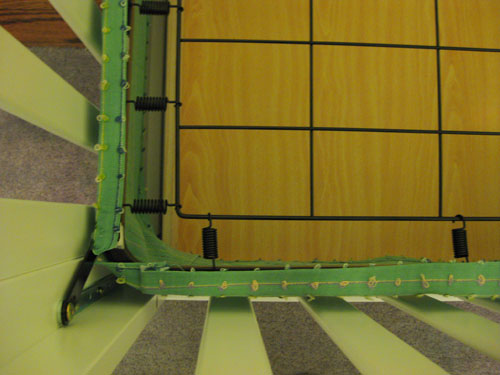 And once we put the mattress back on it was just as polished and fitted and sleek looking as we hoped.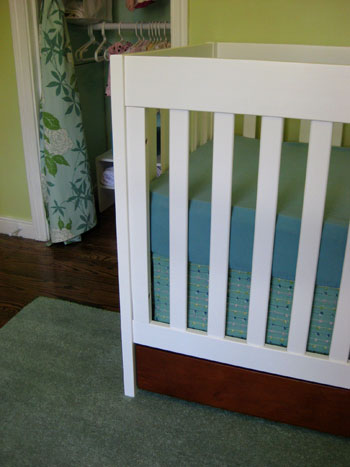 We love how the colors coordinate without matching perfectly (we wanted them in the same family to avoid a high-contrast stripey effect since we don't mind letting the curtains be the star textile in the room).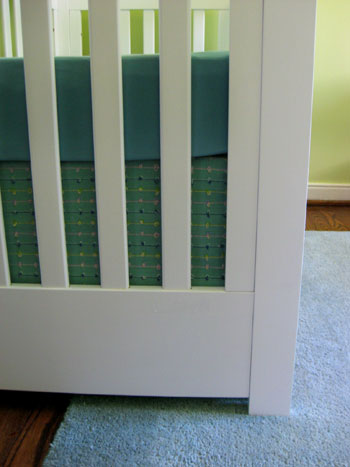 So that's how we made a washable and removable crib skirt without breaking out the sewing machine or breaking the bank. In fact we completed the entire project in less than an hour and only spent money on the fabric, which was just $14 for a yard and a half (learn more about our crib skirt fabric hunt here).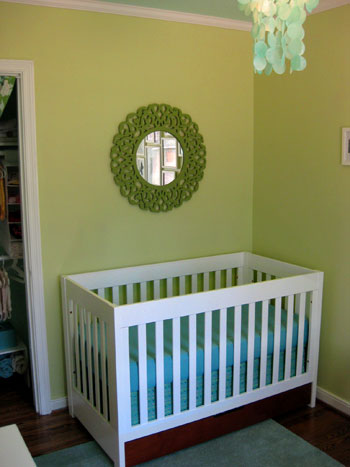 And there you have one more way to make a custom crib skirt (we actually made a more traditional floor-length version right here – which is a better option if you want to be able to slide things under it for storage). Is anyone else out there planning to whip up a made-it-myself crib skirt of their own? Have any of you crafty people already crossed it off your to-do list? And while we're on the subject of skirts, where does everyone stand when it comes to bed skirts in general? Too frilly for grown ups? A great way to hide storage systems and overflow items? Do tell.
Psst- Wanna see our nursery progress from the very beginning? Here's our painting post, our big shopping spree, our crib hunting rundown, our curtain-making tutorial, our fun little chair search, our mirror-painting extravaganza, this DIY faux sheepskin project, our big dresser makeover, and our closet organization efforts. Fun, fun, fun.