***This giveaway is no longer accepting entries – see who won below!***
And our lucky-slash-friendly winner this week is… Jennifer M (whose best friend is her husband. They met in college studying architecture together and now work together). Congrats!
If you saw that title above and thought "oh, like the Bestå media storage system from Ikea" instead of "typo alert!" then you may be just as into the fine purveyor of flat-packaged Swedish furniture as we are. And if you're not the only Ikea lover in your circle of friends, then you'll be happy to learn that this Saturday on March 9th Ikea is celebrating BYOF (Bring Your Own Friend) day as part of their ongoing Life Improvement Project. The day will feature freebies, special discounts, seminars, activities, and even gift card giveaways. Speaking of which… they're giving one lucky reader three $100 gift cards right here this week (one for the winner and two for his or her friends) – which I'm pretty sure would solidify your status as BFFs for life.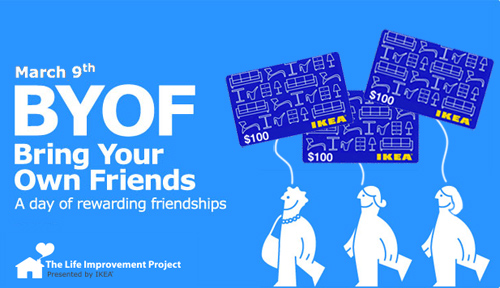 PRIZE: Three $100 gift cards to Ikea
TO ENTER: Comment on this post with the words "BYOF ME!" and tell us…
BONUS QUESTION: … about your BFF. How did you meet? How long have you been besties. What's the weirdest thing you love doing together? Do you have funny nicknames for each other – or a secret handshake that involves winking and doing the Macarena?
NUMBER OF WINNERS: One
PRIZE SHIPS: We always beg every vendor to ship internationally but some companies are not legally able to vend things beyond specific areas (more on that here). This giveaway is open to the United States.
GIVEAWAY CLOSES: Wednesday, March 6th at 8pm or at 10,000 entries (whichever comes first)
USUAL STUFF: One entry per e-mail address is permitted. The winners will be selected using random.org and announced on Thursday as an update to this post. That's right, come right back here on Thursday for the announcement of our winners. Good luck…
***COMMENT ISSUES? If you're trying to enter but keep getting a "duplicate comment" warning, click here to see how to solve it!
Note: We aren't paid or perked for hosting these giveaways, we just do 'em to thank you awesome folks for stopping in. See our Giveaway FAQ page for more info. Pics courtesy of Ikea.