The day has finally come! It's about to get thrifty up in hurrrr. Here's the deal. This "Challenge" – which we issued last Friday – was basically an excuse to all (virtually) go thrift shopping together and share our spoils. Plus there was a scavenger-hunt-ish element tossed in there for kicks. And just like our little Pinterest Challenges, if you guys wanted to partake and blog about it, we have a little linky thing at the bottom of this post so everyone can share their favorite finds.
There were just THREE things we asked folks to do in order to play along (well, four if you count blogging about it, although of course you can play along even if you don't have a blog).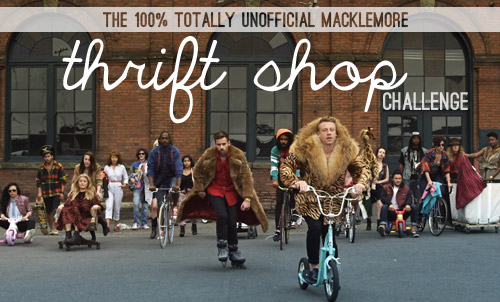 Step #1. Go to a thrift shop with – just as the chorus of the song says – "$20 in your pocket" and take a picture.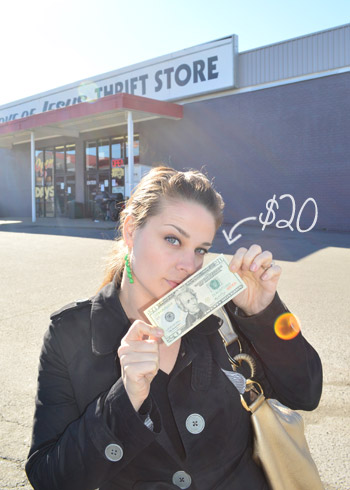 Step #2 was to spend your $20 any way you'd like and photograph your spoils. They could be home related, fashion oriented, kid focused, anything. And you didn't need to make them over or repurpose them at all (although that's totally allowed too!). So here's the part where we'll share what our 20 spot scored us: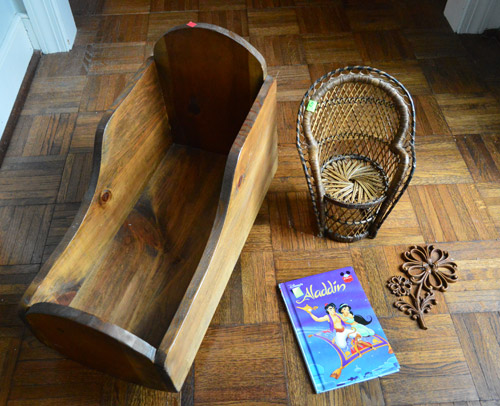 A nice solid wooden doll's cradle: $11
A woven doll's chair: $5
An Aladdin book that Clara picked out herself: 65 cents
A wooden flower wall hanging: $1
Total: $17.65
And here's what I did to the little wooden wall hanging. I just painted it white and added it to Clara's frame wall (two small finish nails are holding it up).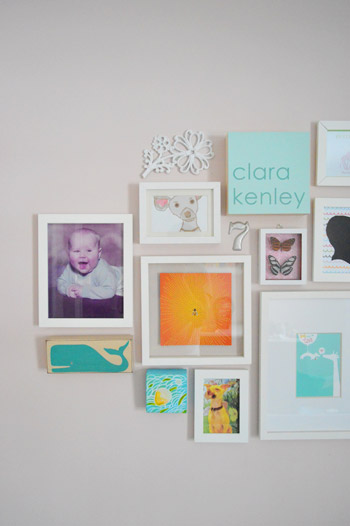 I have big plans to spray paint the chair (glossy red I think…) but I haven't gotten there yet. Thankfully it's still a big hit among all the dolls, even in its current state.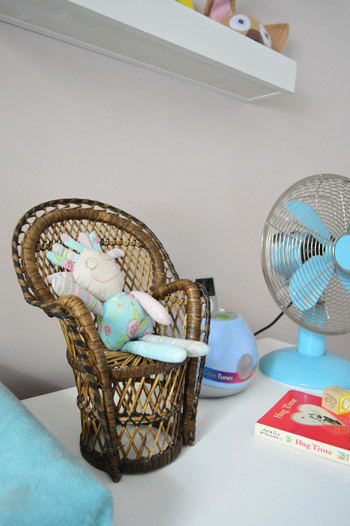 The cradle is the big winner of the group. Clara is having the time. of. her. life with it. She likes to tuck her dolls in. So first comes the hug…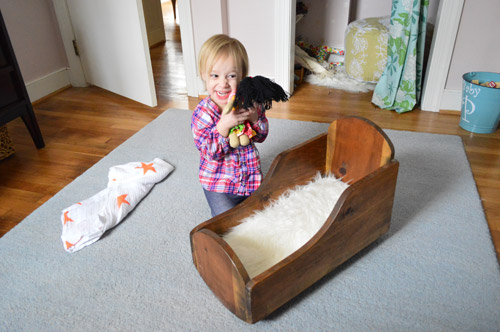 … then the kiss…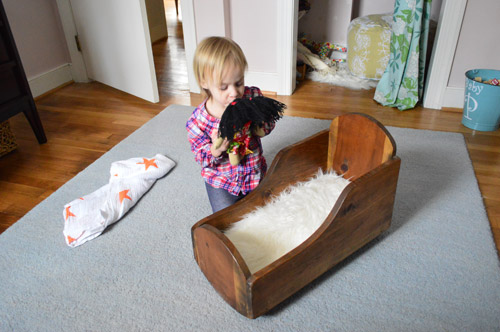 … then they get snuggled under the blanket…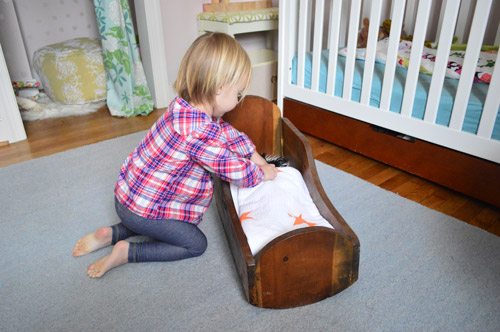 … and they get another kiss just for good measure…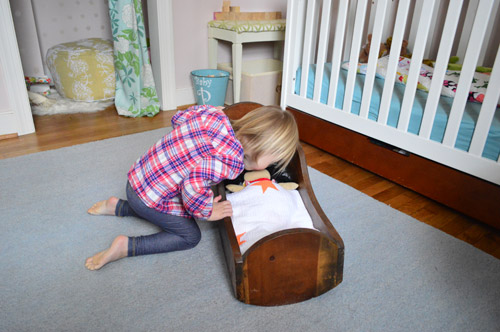 Pretty much the cutest thing ever. Oh but I also have plans for the cradle. I want to prime and paint it a bright color (yellow?), sew a cushion for the bottom, and maybe even make a little quilt like Clara's for her dolls (remember this one I made for her with her weekly fabric?). Dude, I'm even thinking about how cute a little fabric banner (like this, only mini) to drape over the head of the crib would be. Yeah, $herdog is about to pimp this cradle. Big time.
In the meantime Clara is definitely having a good time with it as-is. She's really into being the mommy and calling her dolls her babies, so rocking them and tucking them in is up there with changing their diapers on her list of favorite things to do (also, Burger is sometimes her baby – but he has successfully avoided the cradle and any diaper changes thus far).
Oh yeah, and we can't forget the last step…
Step #3: Find a pirate ship bed. And lose your freaking mind over it. (Seriously it was amazing).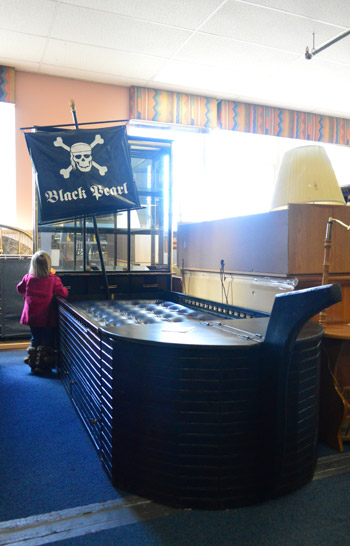 Just kidding.
Step #3. Find one item (or more) referenced in the song and snap a pic. Here's the scaveger-hunt-ish element that we tossed in because we're weirdos. And you get bonus points for doing something ridiculous with the item in the photo. After all, Macklemore has some pretty great confidence when he's rocking those footy pajamas.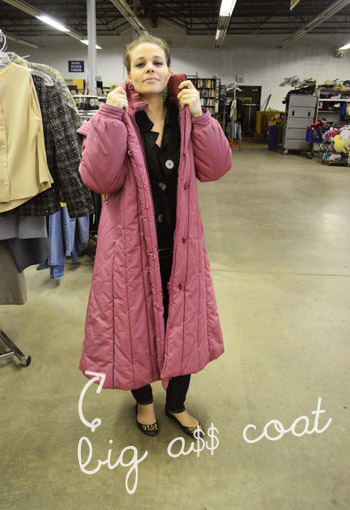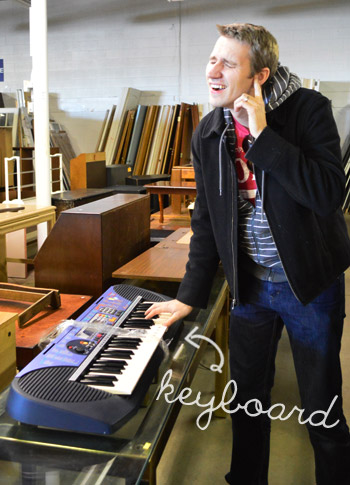 Now here's the part where we tip our matted faux-fur thrift store hats to you guys and invite you to share all of the fun Macklemore Thrift Shop finds that you've dug up in the last week (right along with us, well at least virtually with us). If you've already blogged about it, just:
click on the blue "Add Your Link" button with the odd cartoon head at the bottom of this post (you might have to do some scrolling, depending how many projects are added)
add a link to your specific blog post about your project in the url field (not your home page)
where it says "name" write a short description of your bounty (ex: "Big A$$ Frame" or "Best Purse Ever" or "Kitchen Stuff") as opposed to your actual name
we'd also love if you could quickly link back over to this page so it's a nice two-way link-fest (feel free to use our Macklemore Thrift Shop banner too!).
And if you'd rather just link over to your project in the comment section of this post, feel free to do that – or even add a link to a free photo sharing site like Flickr with your pics if you don't have a blog (remember to set the gallery to public so we can all see it). We're crazypants excited to see what you guys have hunted down!