For those asking where March Superlatives went, here they are! So a happy belated April to ya (it took everything in me not to say "hoppy belated April" by the way). And with the new month already here, that means it's also time do our regular look back at what March held for the Petersik household (in yearbook style superlatives, of course). We even tossed in some never-before-seen stuff for kicks. Oh and you can check out all out all of our monthly superlatives dating back to January 2011 right here (it's over a years worth of projects crammed into just 14 posts). This month we're starting off with some not-yet-mentioned happenings that kept us busy behind the scenes (are you surprised it's book related?).
Most Cinematic: The scene at our house while we were shooting a promo video for our book at the request of our publisher (with the help of a pro photographer / videographer who also happens to be our brother-in-law Todd and his assistant Adam). We're still working on the final edit, but we can't wait to show it to you guys once it's officially in the can. You'll even get a sneak peek at some of those often-mentioned secret book projects that made the video!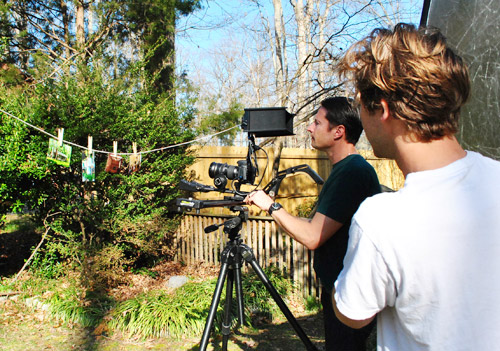 "I Came, I Sawed, Then We Went On Vacation" Award: Prepping for our new floors and getting a head start on them the day before we hopped on a plane to Portland, and then Hawaii.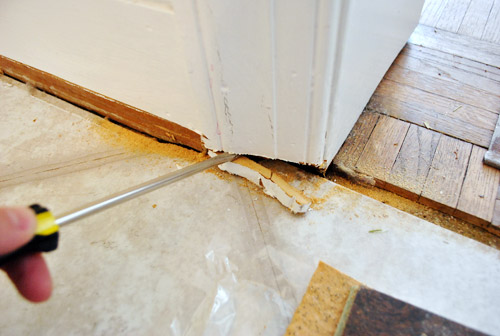 Most Portlandia-esque: Portland (shocker, we know) – but we figured this stylish and unique city deserved it's own personalized award. Thanks for having us Portlanders!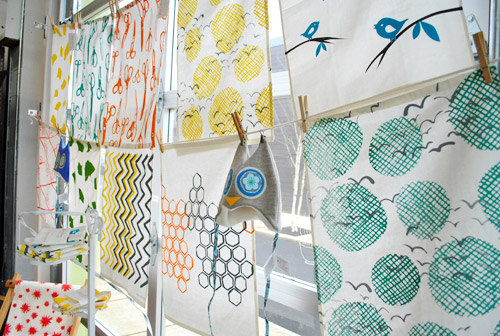 Most Inspiring: This house that we crashed while out there, which was one of our favorites. Giant map poster for the win!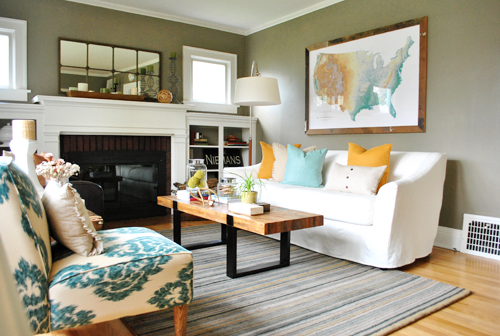 Most Missed: Our Hawaiian vacation, which already seems like ages ago. Thanks goodness we have lots of pictures (like these and these) to reminisce.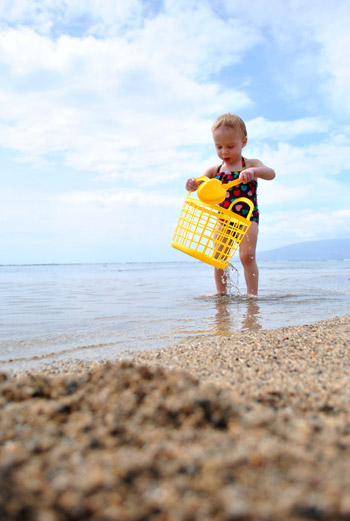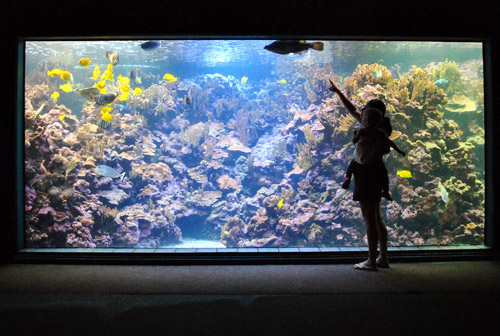 Hole-iest: The tiles we had to patch when we decided to eliminate two of the brackets from our kitchen shelves.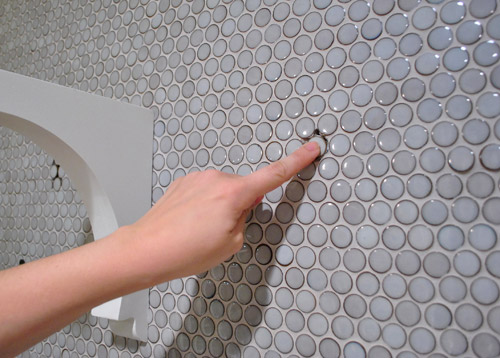 Grooviest: Putting our tongue-and-groove floating cork floor together (I thought this was a more appropriate award than "Tongue-iest")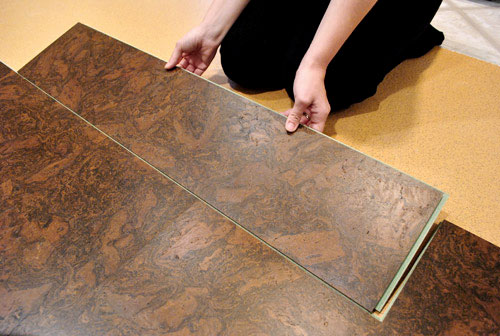 Closest Call: Nearly running out of cork floor boards by the time we got to our laundry room. Luckily we had just enough scrap to make it work!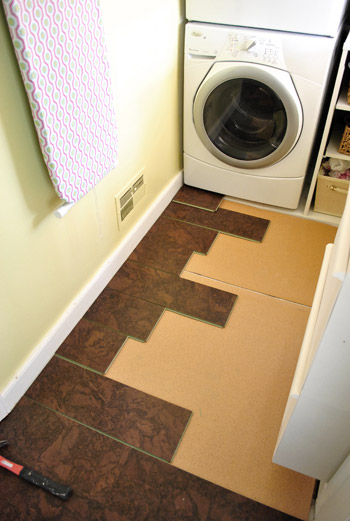 The Cherry On Top Bottom Award: Finally finishing our new cork floors, which was the icing on the kitchen-y cake… especially once we got the trim and sealant on it.
Our Favorite After: Our kitchen! Having been several months in the making, it was exciting – no, exhilarating! – to declare it (pretty much) done and slowly watch it go from dark to happy.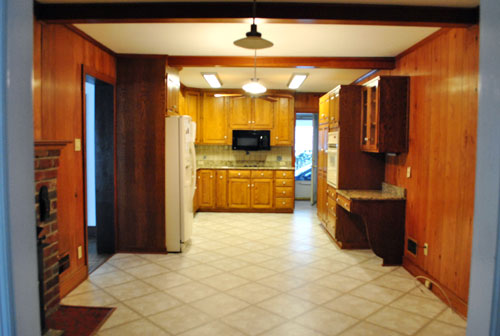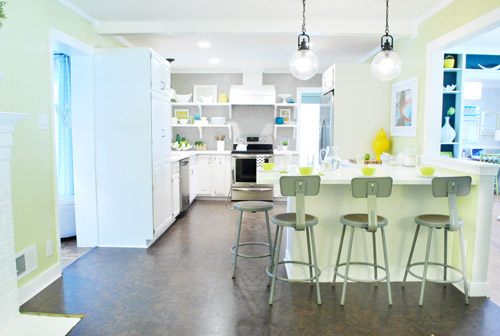 Widest: Our new TV. Okay, it's not the widest screen there ever was – but this 42-incher is definitely a big improvement from our previous 26″ guy. Now we can actually read subtitles and news tickers on the bottom! Oh but don't mind the too-small tv cabinet underneath it, we have big plans to build something or rescue a thrift store dresser or cabinet that's a bit bigger to fill that wall up a bit more.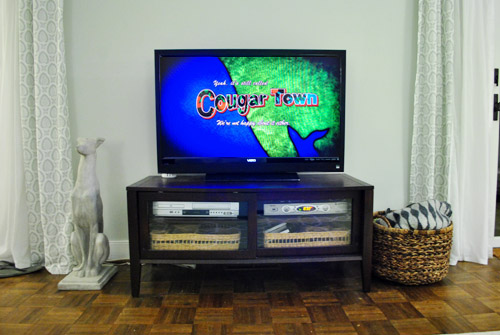 Most Gravity Defying: These floating vases that Sherry finally hung as part of her Dude Get On That Already initiative. They're loving their new home in the guest bathroom.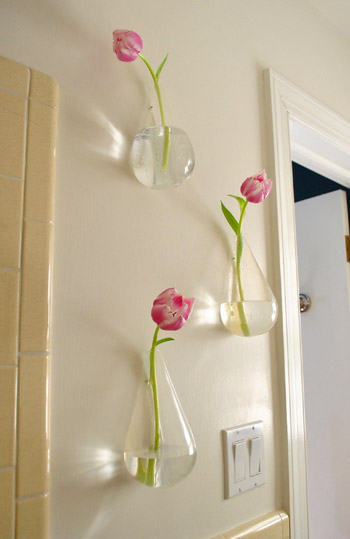 Sexiest Voice: Sherry, while giving this whole house video tour (our first in seven months) while getting over the flu. Is there anything hotter than sick voice? I think so…
Most Festive: Our kitchen for Sherry's 30th birthday when I strung up ribbon to surprise her in the morning.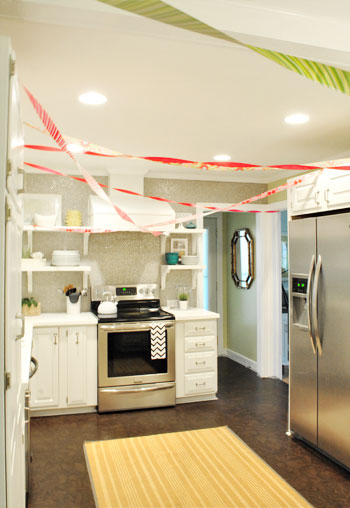 Mood-iest: The mood board we whipped up to get started on a mini-update for our long ignored bathroom.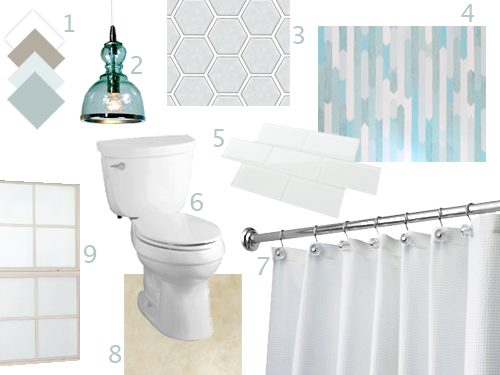 Most Rock-ing: The Rockport Grey in our bathroom. Feels good to finally have some paint on the walls in there!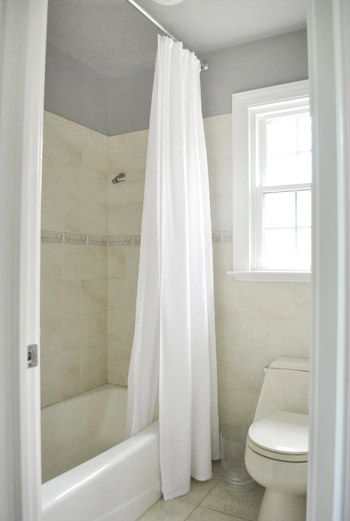 Biggest Pin-Head: Sherry's hidden closet pin-board made from cork board, duct tape, and leftover curtain fabric.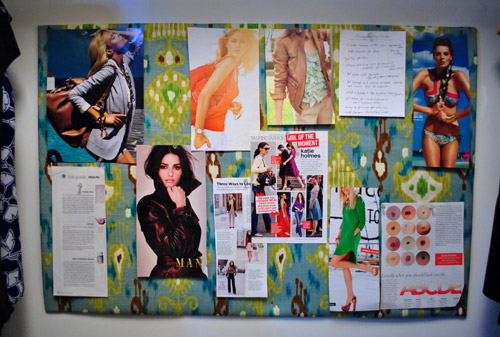 Biggest Pin-Head (runner-up): Sherry's creation for the Winter Edition of The Pinterest Challenge, this bean bag pouf that she sewed for Clara's closet.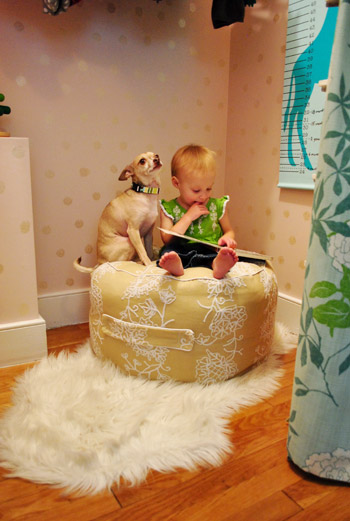 Boxiest: This happy yellow jewelry box that Sherry sprayed as part of her Dude, Get On That Already challenge.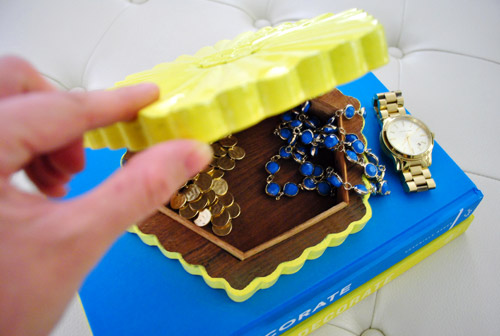 Most Fun: Sitting in this refreshed yellow high chair that got a few coats of happy spray paint. Looks like a good time, eh?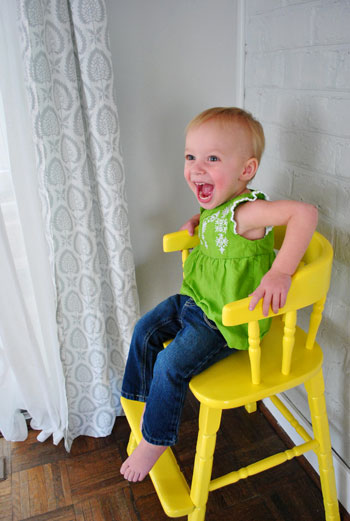 Least Fun: Our completely out-of-the-blue leak thanks to a leaf dam on our roof. Oh, and as an update – we've since crawled back up into the attic and double checked for damp insulation/drywall/wood and all is dry and mold/odor free. Whew.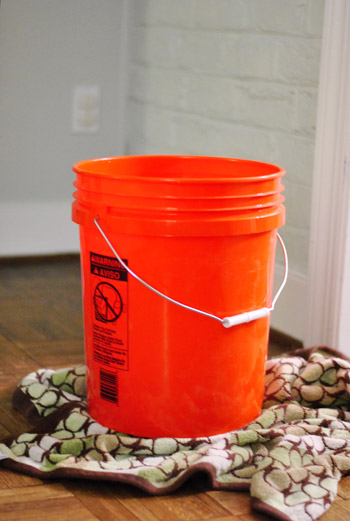 What did you guys eke out in March? Did anyone else turn thirty or finish a long-term kitchen makeover or spray paint a high chair? Have you ever made a list of accomplishments to look back on? Feel free to use the comment section of this post to list what you've done (or just toss out a few highlights). It's always fun to take a break from adding things to the to-do list for a second, just to look back and appreciate the things you've checked off. We totally think it helps us keep up the ol' momentum – especially when it comes to tackling some more heavy lifting (and digging) outside… bring on those shovels!