Well, I guess we did rehang the shower curtain at ceiling height right after we moved in – but other than that we haven't really touched this room. In fact, pretty much all three of our bathrooms are uncharted territory for us when it comes to updates. But you've gotta start somewhere, so we decided to start in the one we use the most – and probably find the quirkiest. See, it doesn't have a sink (that's in our bedroom, actually) so it's a really small room. We're talking around 5′ x 6′ total (including a regular sized tub). So yes, the door practically hits the toilet (it just barely misses it). And John can stand in the center of the room and touch all four walls (my husband has quite the wingspan, but this room really is tiny).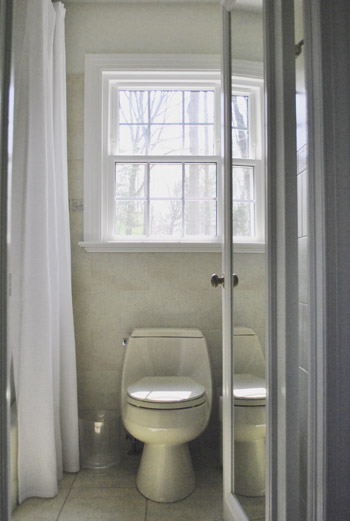 The room's a total beige box. Beige tile with gray veining on the floor, the same tile in the shower and even on the walls around the toilet and door, an accent row of tiles with gray trees on them, beige paint on the walls, off-white-trim, even a beige futuristic toilet (check out the curve in this video).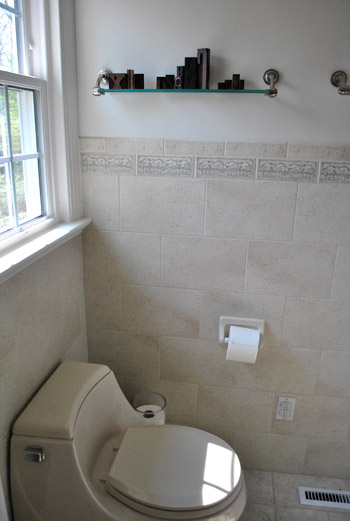 Oh yes, and there's a glass shelf and towel bar right next to the toilet – neither of which we've ever really used for anything functional. Why? Well, hanging a towel that would literally brush against us on the way to the toilet felt weird so we use the towel hooks on the back of the door instead. And we just plopped some wood printing blocks on the glass shelf (intending to hang art to fill in that wall) but it always felt like the shelf – and towel bar for that matter – invaded our personal space in such a small room.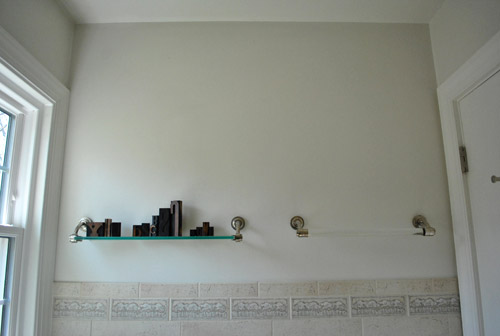 We jokingly call our bathroom The Travertine Palace although it's not actual travertine tile and it's anything but palatial when it comes to size. The funny thing is that a few folks have come over and said "wow, you don't have to do anything to this room!" which never fails to make us laugh because it probably feels the most not-like-us of all of the rooms in our house. We're just suckers for crisp white trim, a white toilet, a not-beige color on the walls, and not all the same tile on the walls and the floor and the shower. But we can completely appreciate that some folks would love this room as is. I think the main thing we're craving is some contrast. It feels like such a monochromatic box to us. And when we added the crisp white shower curtain way back when, it just planted the seed that the room might feel more crisp and less all-beige if we did things like:
paint the cream trim white
paint the walls so they have some contrast
craigslist the toilet and replace it with a classic white one
replace the boob light (seen here)
hang some bathroom-friendly art
do something to add privacy to the window
replace the border tile around the room (maybe in phase 2?)
replace the floor tile down the road (just to break things up since there's so much of it)
I'm sure I'm forgetting something – let's just say the room has room for improvement
So that's the plan. I even whipped up this mood board to help us envision things. Of course we're sure the plan will change ten times since we just figure things out as we go, but so far here's what's on our mind: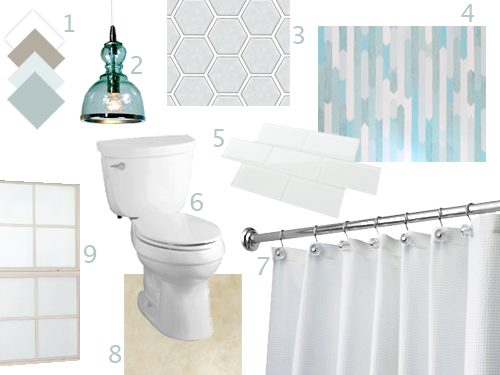 1. When it comes to the color scheme since we're working with beige tile with gray veining, we want to bring in some richer gray tones (to keep everything from looking so monochromatic and add some contrast). We'd also love to introduce some pretty blue tones (to tie into the blue wall color in our adjoining bedroom).
2. We have been in love with this light fixture for a while now, and we're hoping it pops up at our favorite local lighting outlet (The Decorating Outlet) since it would be a pretty amazing upgrade from the boob light situation that we have going on. We're not sure if the placement will look weird though (centered in front of the window would be so much cuter) so we'll have to see where we end up. You know we'll keep you posted!
3. This tile. Ahhhh, this tile. We want it. Hex tile has always allured us (sort of like penny tile, except it's even more bee-ish, and you know we love bees). So we can totally picture it in our bedroom someday. But it's definitely going to be down the road (we want to work with the existing tile, but do dream about replacing the floor tiles to break things up since there's so much of that tile all over the small room).
4. I painted this little ditty a while back, and have always thought it would look really cool in the bathroom (oversized art in a small room with a dramatic high-hung shower curtain could be fun, right?). Of course we have to see if it really works in there, but especially with the blue glass pendant we think it could be nice.
5. We're loving the muted moody look of frosted glass subway tile, so we'd love to use a light gray glass tile as an accent around the room (something like this, but not exactly) to replace the tree tiles. Although we're not sure if it's a phase two project (depending how hard it is to track down and how challenging it is to extract the tree tiles without hurting the tile around 'em).
6. A good old fashioned white toilet! We can't wait to replace the beige futuristic one that we have in there (we'll craigslist it and then grab an American Standard from Home Depot, which we got for our first house for under $100 and loved more than the fancy Kohler one we inherited).
7. This represents our existing extra-long white waffle shower curtain, which will stay to add some crisp-yet-soft texture to the tile-riddled space (we got ours from amazon.com by searching 95″ shower curtain, but this image is from Target).
8. This represents our existing tile, which is beige with gray veins running through it.
9. This frosted window (found here) is one of the ways we've been debating adding some privacy to the room without blocking the light. You know we love frosting film (more on that here and here).
But enough planning. How about some action? Well, we've removed that oddly placed shelf and towel bar, spackled and sanded the holes they left, and applied one coat out of two on the walls in a rich putty color. In a bathroom (where you're dealing with semi-gloss paint) the first coat always looks especially horrifying so we can't wait to get the smoother second coat up there.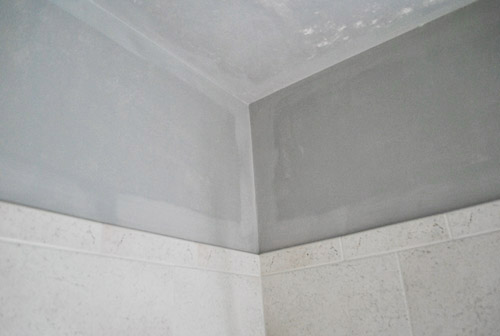 Oh and this picture is a really bad sell on this color (since it's spotty and half-done and just shows a corner of the room) but you can check it out in the kitchen here. It looks great with our tiles (ties into the gray veining), will really make white items like the shower curtain and the future glossy white trim pop, adds contrast, and obviously will look a lot better once a second coat is on there and it's dry. And you can see that we're painting the ceiling too (which we also did in our first house's bathrooms since we find it makes small rooms actually look less chopped-up and busy).
Of course we'll be back with tons of finished photos for you. We just have to tackle coat number two, wait impatiently for it to dry, and then hang the shower curtain back up to snap after pics. So those will be up tomorrow! In the meantime, did you guys tackle any bathroom upgrades over the weekend? Do you have nearly done living spaces but completely untouched bathrooms? What is it about these tiny rooms that's so intimidating?