Before getting to the Reader Redesign goods, we have a quick Burger-related story. Yesterday was a very scary day for us. Burger was sitting on Sherry's lap and Clara and I came home and Burger was so excited to see us that he jumped off her lap (as he's done a million times before) and somehow lost his balance and flipped in the air and landed on the floor on his back and neck. He yelped and Sherry scooped him up to see if he was ok but he shook his head and acted fine. So we put him on the floor but he couldn't walk. He had no balance and walked into the walls and wouldn't put weight on either of his hind legs and kept falling over.

While rushing to get everyone in the car to get him to the vet, Sherry called them to tell them we were coming and while she was on the phone Burger had what we think was a small seizure (he was very rigid and his eyes were open but he wasn't focusing on anything and he was shaking violently). It stopped after about twenty seconds and by the time we got to the vet he was acting completely normal. He could walk and all of his vitals checked out. They think the stumbling and loss of balance along with the possible seizure was from the shock of the impact but he restored all function and checked out all of their many tests so we're just so thankful he's ok. They said we had to watch him for the next 24 hours for any signs that something's off, and we're still a few hours shy of that mark but he's acting just like his old self and is jumping and running around (as hyper as ever, haha). Whew. He scared the heck out of us, but we're all so thankful he's ok.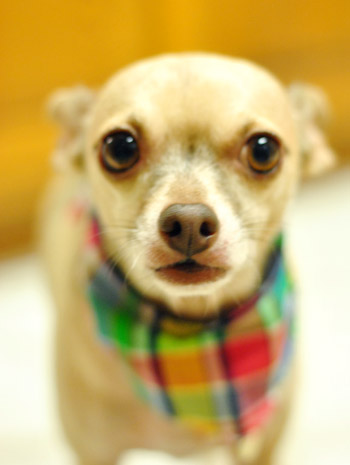 But back to the reader redesign! Now that we're shifting from kitchen to bathroom brain, it should come as no surprise that we're gravitating towards the bathroom makeovers popping up in our inbox these day. And we're especially charmed by ones like Michelle's – because it (like ours) isn't a total gut job. Instead, it's just a few manageable updates that go a long way. And for Michelle, those big impact changes are paint, pattern, and molding (I was this close to an alliteration there). Check out her note below.
As fellow stenciling survivors, I thought you might enjoy our powder room make-over!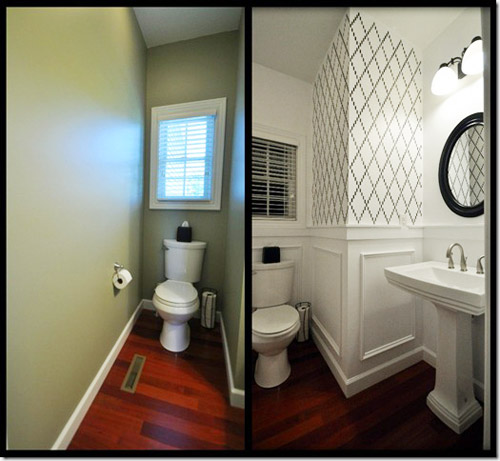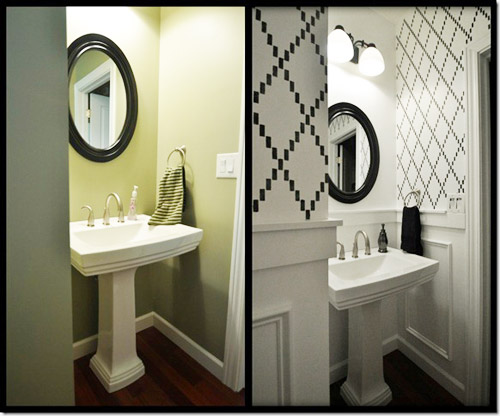 We added some moldings and used the Nova Trellis stencil from Royal Design studios to transform our boring powder room into a quirky new space!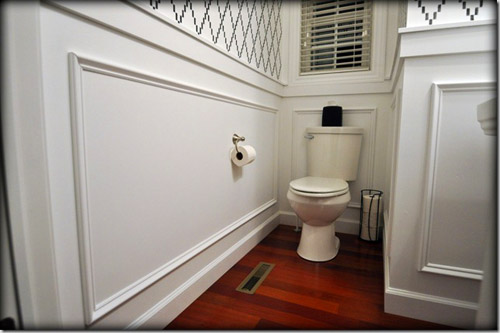 The white is Ultra White by Valspar. The black is Black Leather by Dutch Boy.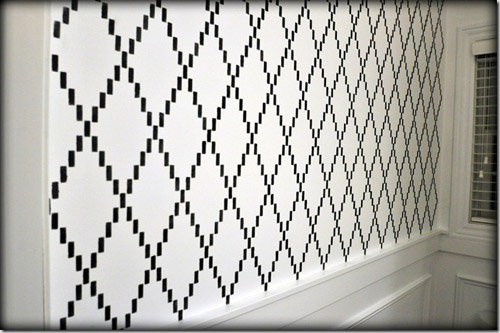 We still need to add crown molding and wall art. I might also switch out the mirror and window treatment. This room is a little bolder than my usual conservative style but I'm digging it! – Michelle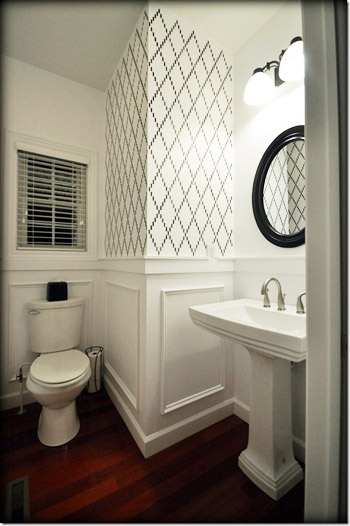 We are too, Michelle. Thanks for sending the pictures our way. We love a bold pattern in a small space like a bathroom (rooms like that will never look giant anyway, so embracing them and turning them into something special is such a great call). It really wakes up the room in a nice way. And the molding and trim adds tons of style too. To read more about this project, visit Michelle's blog. But first let's hear what you like best. Is it the crisp white molding? The rich wood floors? The pedestal sink? Or the brave stencil job?