How about some Hawaii Two-O. Yes, that is a bad play on Hawaii Five-O, which can only mean one thing. It's time for our second (and final) post about our trip to Maui, Hawaii. In case you missed the first post last Thursday, check it out here to read about:
where we stayed
where we ate
our "neighborhood"
how we saved money
Oh and we talked about what it was like traveling with a toddler (and what worked/didn't work) as well as getting Clara adjusted to the time difference here on Young House Life. Now as for this post, we'll cover:
all of the activities/adventures that we tackled while we were there (with a toddler in tow)
the home-related purchase we made to remember the trip
our vacation "tradition" that we continued in Hawaii
Our number one activity was going to the beach, since this trip was all about relaxing. We know lots of folks go to Hawaii with adventure on the brain – snorkeling, zip lines, dinner cruises – but that wasn't what we were looking for (nor what we could really do with Clara by our side anyways). Nope, we were looking for some major decompressing and relaxing after three weeks of people in our house and no sleep thanks to shooting over 100 projects for our book. But beyond beaching it up (and chowing down), we did make time for some "adventures" of our own.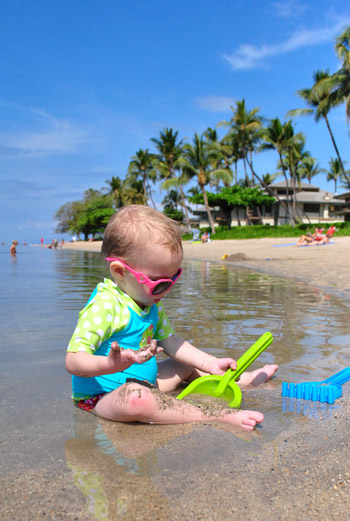 We also dedicated an entire day to driving the Road to Hana. Even after reading a few guidebooks, we weren't totally sure what we were in for, but it just sounded like one of those things "you had to do" while in Maui. So we stocked the car with snacks, diapers, fuel and a guide CD (which we bought at the start of the highway in Paia) and headed towards the promise of beautiful vistas, iconic Hawaiian sights, and curvy roads.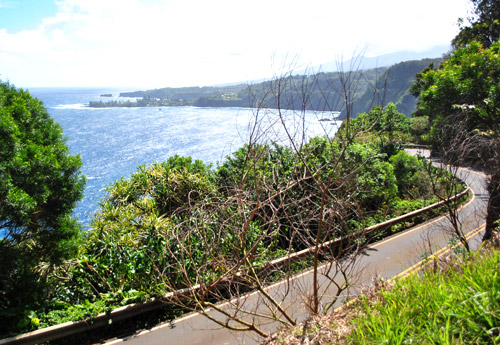 Those promises were all kept. It was amazing. Before getting into the sights, let me say something about the highway itself. It was definitely nerve wracking. It was nearly non-stop curves, which was kinda fun at first. But after the third or fourth hour of it – as the curves became blinder and the road narrower (the yellow line frequently disappeared) – I was gripping the steering wheel a bit tighter.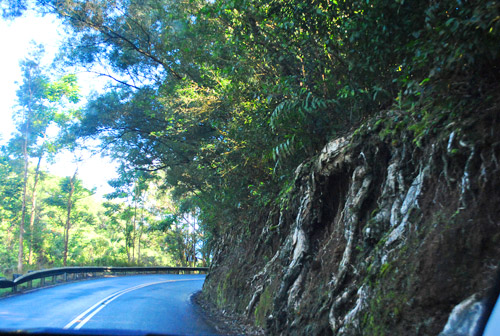 But it was all worth it.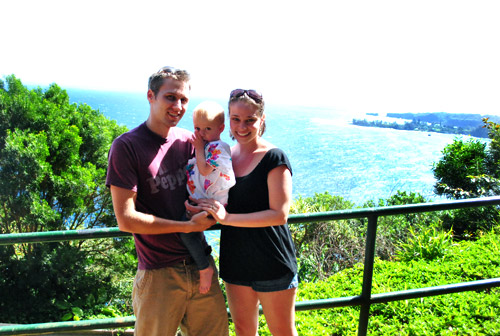 We didn't make as many stops as the average Hana traveler might (hiking to waterfalls wasn't so easy with Clara) but we did try to take in as much as possible from the road itself – like this waterfall visible from the highway.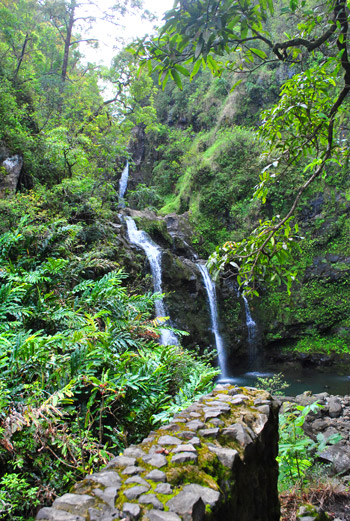 And we did take some extended time to explore a couple of awesome spots, one being the Ke'anae Peninsula. There were awesome views of the sea violently splashing against the cliffs… and a delicious food stand called Aunt Sandy's. Mmmm, still dreaming about the banana bread we bought there.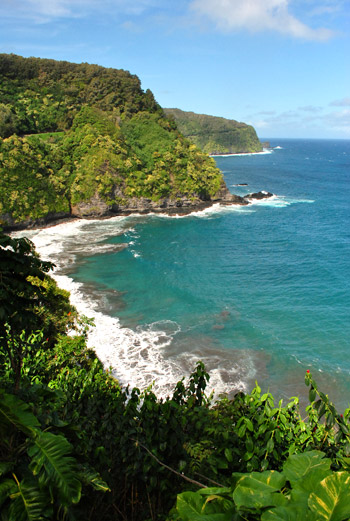 But even better than that was Waianapanapa State Park. There were such spectacular scenes – like a sea arch (in the distance there below), a blow hole (where water shot up from the middle of a rock when a big wave hit) and even a cave.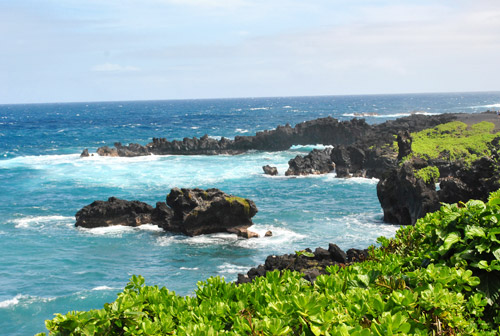 But of course the best part was the black sand beach, since it was unlike anything we had ever seen before.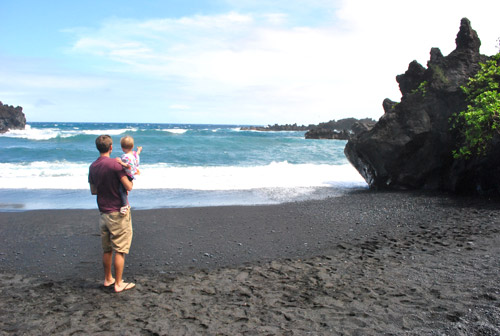 The sand is actually made from lava rock, hence the black color. Clara thought it was majorly cool. As did we.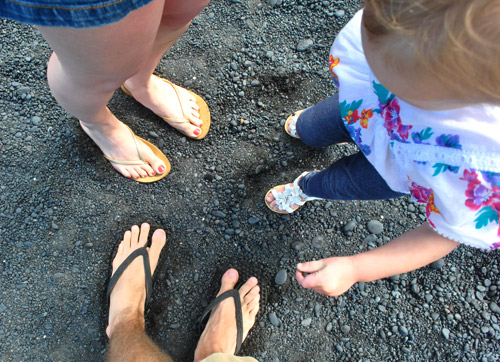 Two bummer things happened after this point. First, it got very overcast and dreary, which would've made our pictures worse. And I say "would've" because the second bummer thing was that our camera battery died. Oops. But we drove on to Hana, got lunch at a roadside BBQ called Braddha Hutt's and continued around the island. Some people spend the night in Hana and some turn around, but we decided to drive the full loop to see as much as we could (plus Clara was napping, so we were happy to drive on). The rest of the loop still served up plenty of curves, but there were fewer cars coming the other way – hooray! We even got to drive on some unpaved roads. See – adventure! All in all, our full loop drve around Hana took us about eight hours with a bunch of stops along the way. And Clara was amazing in the car. I think those stops helped her stretch her legs and stay limber. Haha.
We even made it home and charged the camera in time to catch an awesome sunset back in Lahaina.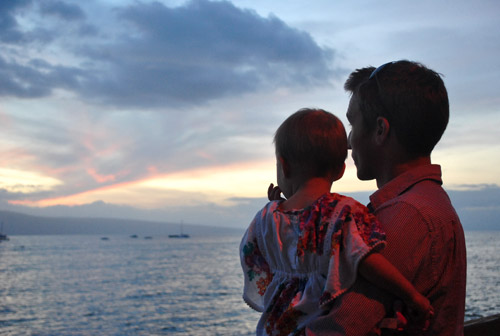 This is my "I thought the nice stranger taking our picture was zoomed in closer so I crouched down in order to be less tall but instead I just look like my midsection is collapsing in on itself" pose. Of as Sherry calls it, my "walker pose" (yes, its another Walking Dead reference).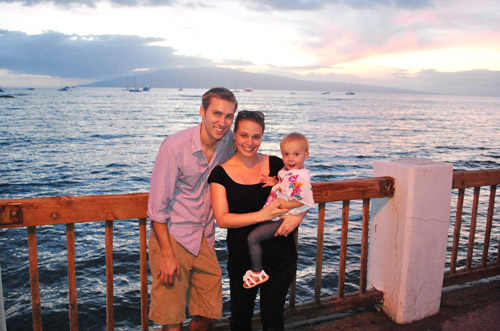 Our other "big adventure" was going whale watching. After Sherry and I spotted some whales from shore (more on that in this post), we decided that actually getting on a boat so Clara might see some a bit closer would be fun (and hopefully worth the potential nightmare of being stuck at sea for two hours with a old 2 year old).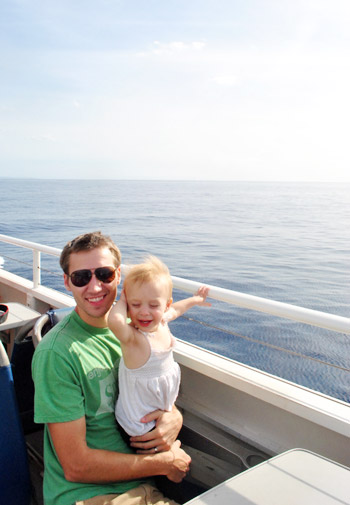 Luckily, Clara was pretty good on the boat (minus one momentary meltdown)… and although she was a few years younger than the rest of the kids, we even attempted to let her participate in the "Young Naturalist" program that should've involved some quiet listening. But for Clara it involved some "Hey little girl, can I get all up in your business? No? How about this next little girl!?" Clearly we're still getting the hang of this "age appropriate activity" thing. She literally crouched in every last kid's face while aiming her butt at the sweet lady talking about whales.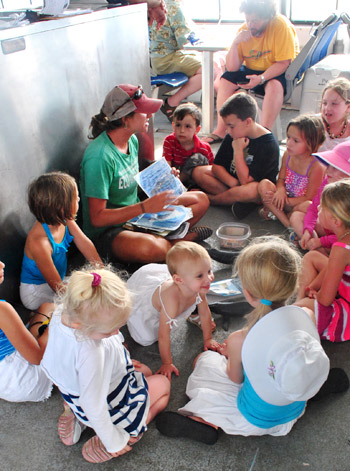 So once we stopped Clara from distracting the older kids, we got back to whale watching duty. Clara even found her own "perch."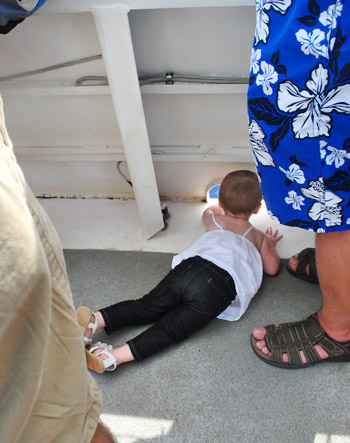 And here's the good news – we saw whales!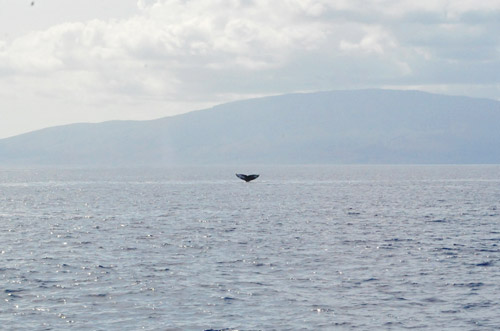 Sadly none came very close (the boats have to turn off their motors when they get within 100 feet) and there weren't any dramatic jumps into the air or gigantic splashes, but the frequent blows and occasional tail sitings were still pretty cool.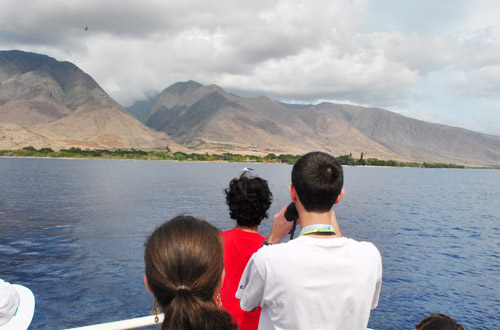 But for the most part, it was just fun to be out on the water. And yes my wife did take this picture by hanging over the railing like Leo and aiming the camera back at us.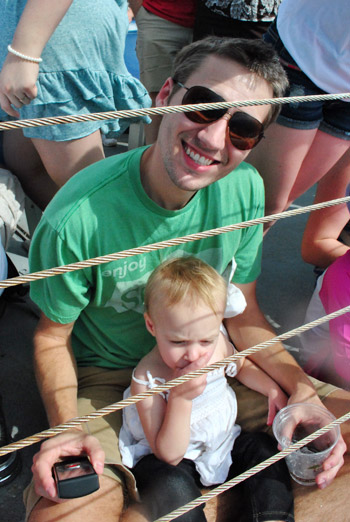 We got a gorgeous day for it and the views back to Maui were stunning.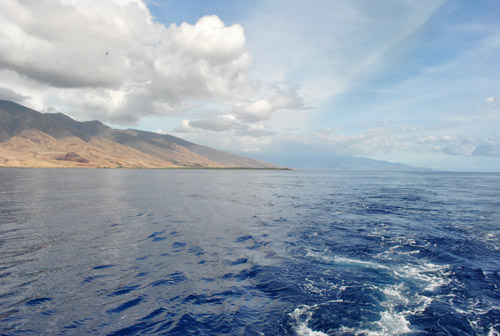 And oh yeah, we think it was Clara's first official boat trip! We're not sure that she really noticed very many of the whales – though she did get some laughs from fellow passengers when, at a completely quiet and whale-free moment, she yelled "I see whales!"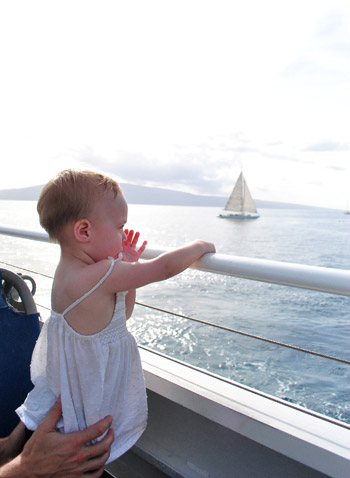 But not all of our sightseeing was by car and by boat. We did plenty on foot as well since our condo was super close to everything in Lahaina. One of our favorite spots to eat ice cream was Banyan Tree Park, which features one of the world's largest banyan trees. It almost looks like your everyday tree-filled park. Until you realize it's just one giant tree that drops roots from the branches in other areas (so what appear to be many trees is all just one big tree). It's like nothing we've ever seen before.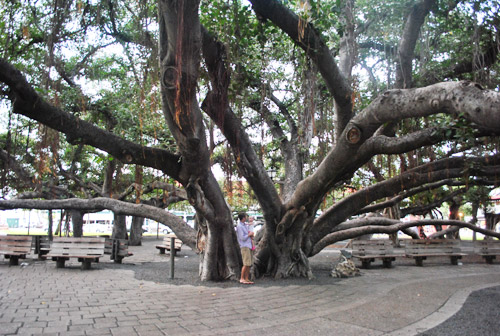 The roots grow down from the tree and when they reach the ground they build new trunks, like this one that Clara and I were playing a bit of peekaboo around.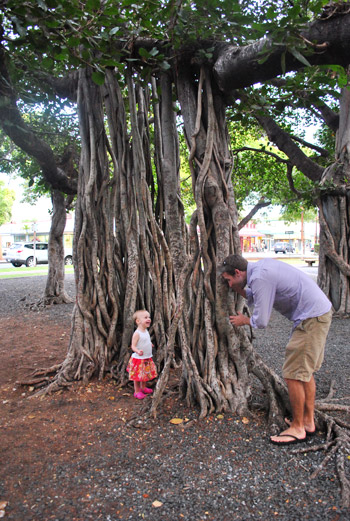 There was also a little artisan fair / flea market thing under there over the weekend, but we waited to get these pictures when it was a little less crowded so you could really see how amazing the tree is.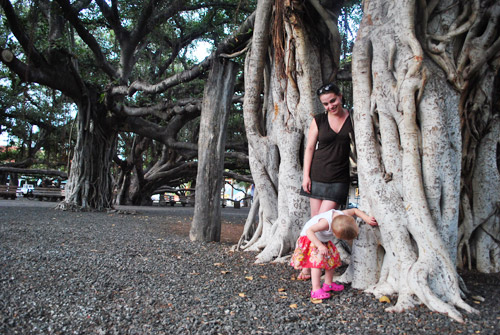 One of our favorite ways to explore was by taking long morning walks (which usually involved a stop for breakfast along the way). It was a cool way to discover some planned destinations and also resulted in us stumbling upon a few unexpected things as well.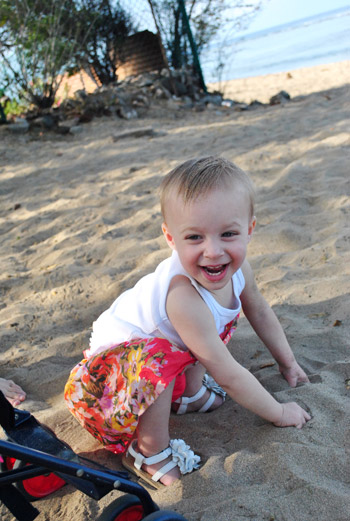 One of those unplanned discoveries was the Lahaina Jodo Mission. It was crazy to just turn the corner and suddenly see a Japanese temple and a giant Buddha statue.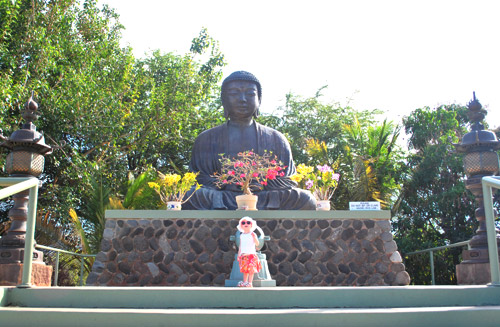 It was kinda cool to get a little taste of Japan without having to endure another transoceanic flight.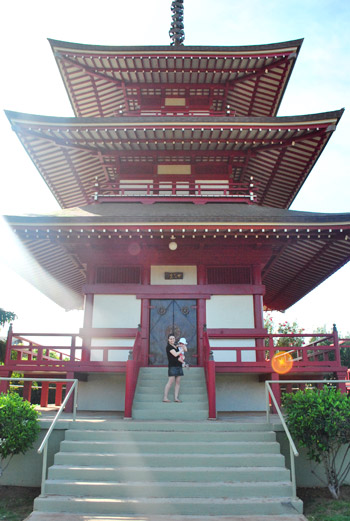 We also got a chance to check out an abundance of something that Clara is obsessed with: animals. So you may think a Hyatt is a weird destination when looking for feathered and fuzzy things. But look what we found right there on the premises: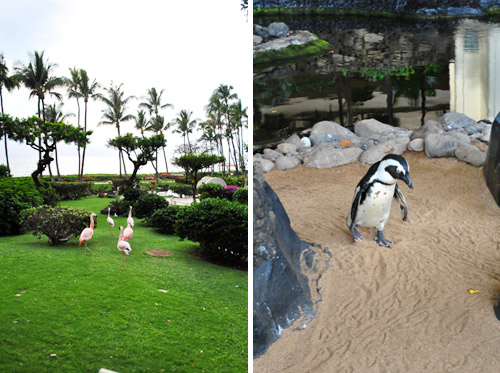 We had heard that the Hyatt Regency at Kaanapali had some animal sights to see, so we were not disappointed to find flamingos, black swans, and even African penguins (tropical penguins – who knew!?) roaming the property. Not to mention a pretty envy-inducing pool: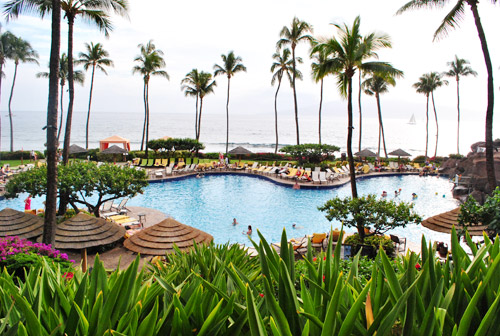 We also got a nice oceanfront walk in along the resort grounds. Raise your hand if you're having a good time!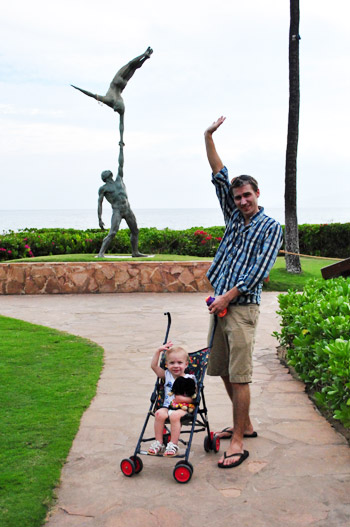 One place we knew we'd find animals was the Maui Ocean Center. And unlike the whales, we're certain she spotted these aquatic creatures. And a few might've spotted her in return.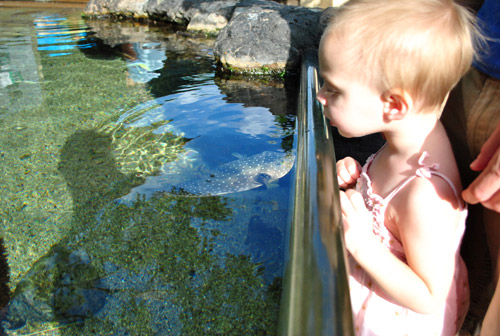 The absolute coolest part of the aquarium was the underwater tunnel that put you in the position of having fish, sharks, and even gigantic sting rays swim around you…. and over you.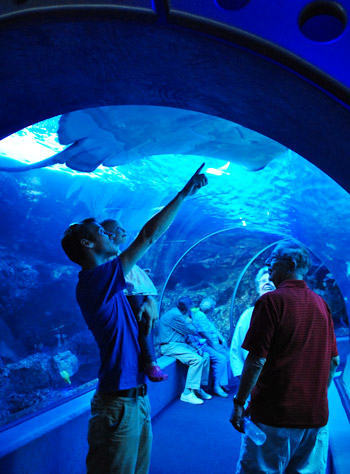 Just call it our much drier, Clara-friendlier version of snorkeling.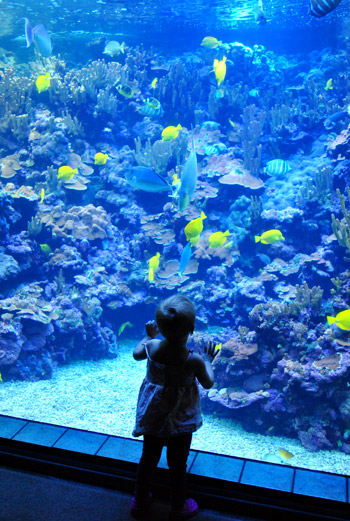 The Maui Ocean Center was our very last stop before leaving the island. Since our flight left late one evening but our hotel check-out was in the morning, it was a great way to spend the afternoon before having to hop on an airplane.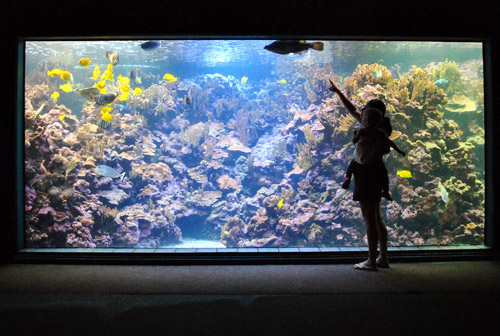 As much as these posts we're writing are to share our trip with you – they're also to document it for ourselves a little bit. But to make sure we keep a more detailed and chronological journal of our trip, we've continued our vacation tradition of writing postcards to ourselves.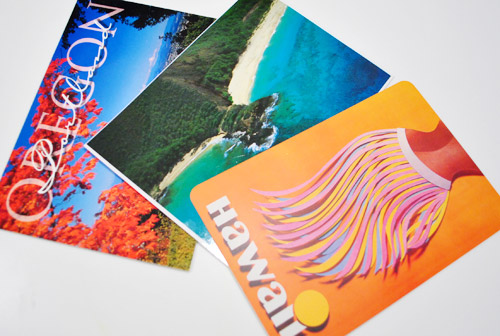 We don't actually mail them in most cases since we usually end up using all of the space on the back to write out what we did each day – though we mostly hit the highlights of where we ate, what we saw, and any funny anecdotes (like Clara's not-so-successful dinner at the hibachi restaurant that we mentioned here).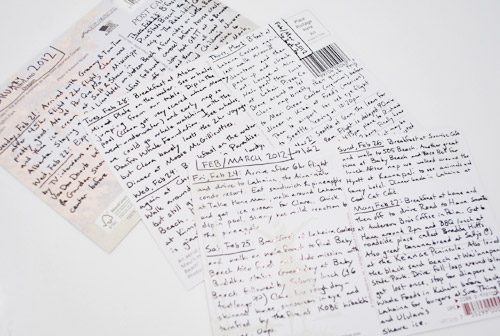 And look what else we brought home from Hawaii…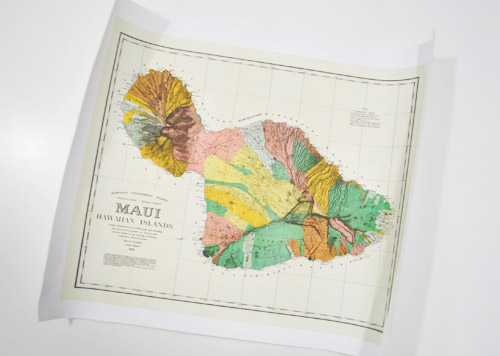 It's a historic map of Maui printed on canvas that we got for $20. We figured we needed a map that represented our trip to Hawaii since the US map that we put pins in to mark all of our trips only shows the 48 continental states. This guy is too pretty to put a pin in, but we're looking forward to getting some Maui mapiness up in our house. PS: Doesn't Maui kinda look like a limb-less lady leaning over (like it's closely examining the words "MAUI" above)?
Okay, so that's the end of our trip recap. It's making us miss being on vacation, but we're mostly just so grateful that we had the chance to get away and enjoy some relaxing family time with our traveling pal Clara (and yes, we missed Burger every single second, and even woke up one night because we thought he was walking around the bed but it must have been his ghost). Do you guys have any trips or vacations coming up? Tell us all about them.