Since we took waaaaaaay too many pictures of our six night stay in Maui, we did our best to go through them all and majorly pare them down – but it still adds up to two posts (you know we like to over-share). We wish we could have taken you all with us in our suitcase, so I guess the next best thing is posting all about it. In this one, we'll cover:
where we stayed
where we ate
our "neighborhood"
how we saved money
And in the next post we'll detail:
all of the activities/adventures that we tackled while we were there (with a toddler in tow)
the home-related purchase we made to remember the trip
our vacation "tradition" that we continued in Hawaii
Oh and over on Young house Life we just posted all about flying with a toddler and how we helped her adjust to the time difference.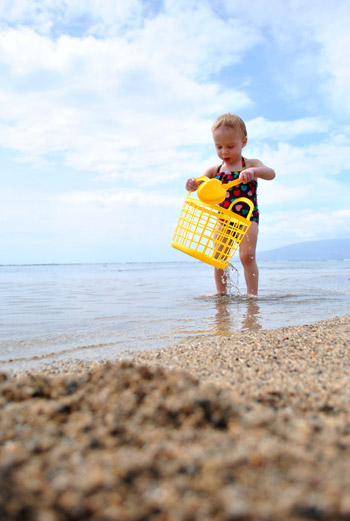 So without further ado: where we stayed. We found our little condo at a resort called Aina Nalu in Lahaina (a fun walkable area on the West Coast of Maui) through HomeAway.com. This is definitely under the "how we saved money category too" since booking a room at the same resort through a travel agent or their main site could have cost a lot more (they're billing a comparable room at $185/night right now, which adds up to $126 more over six nights), but we got it for less by going through HomeAway and working directly with the owner (who was so helpful to email directly with any questions we had)! Here in Richmond some basic hotel rooms are $150- $175 a night, so we figure that rate in paradise (for a two bedroom condo with two bathrooms, a full kitchen, and a washer & dryer, no less) is a pretty great deal. And did we mention the beach was walkable along with tons of shops and restaurants? We really loved the area and the condo itself.
One of the coolest things about the condo owners was that they made the place completely kid-friendly. They even provided a pack n play, stroller, tons of beach toys that Clara adored, and safety features like outlet covers and cabinet door latches in the kitchen and bathroom. Some research about the location (we googled around for an area of HI that was ranked high for being child-friendly) and the the five star ratings on the HomeAway site definitely helped us pull the trigger – and we were very happy with our accommodations. Here's the lobby of the Aina Nalu resort. Nice, huh?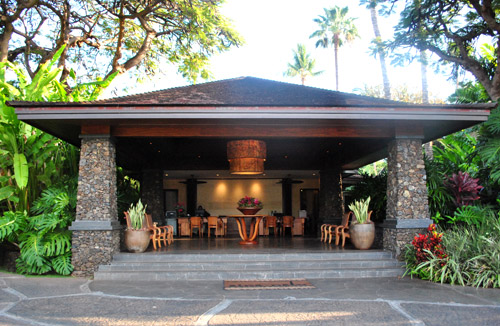 And here's the main bedroom and en-suite shower (we booked a two-bedroom over a one-bedroom because Clara sleeps much better without sharing a room with us, so it was definitely worth it to us).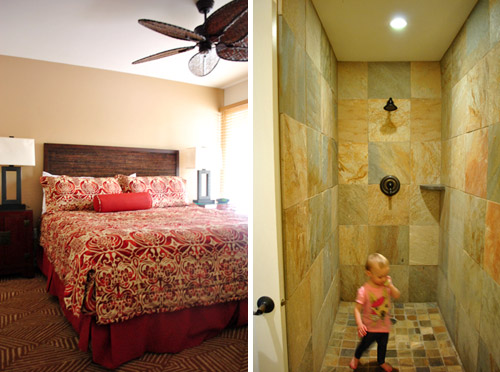 Many of the rooms in the resort were treated like hotel rooms (so guests went in and out with a hotel key and there was housekeeping, etc) but ours was a residence, so we didn't have housekeeping and used a regular key to get in and out. We're a little crazy, but we actually liked feeling like it was our little private condo instead of a hotel room that would get regular visits from folks making the bed and refreshing the towels. There were definitely enough towels to keep us happy for the duration, and there was even a washer and dryer in our unit, so we did a load of laundry half-way through the trip, which was awesome for all of Clara's ice-cream-and-sand-covered items.
Here's a shot of Clara in front of our door (so you can kind of see how the grounds were laid out with pathways to different rooms/buildings…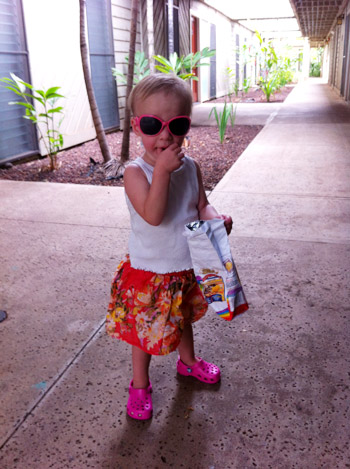 … and there were also pathways to other areas like the lobby and the two pools on the premises.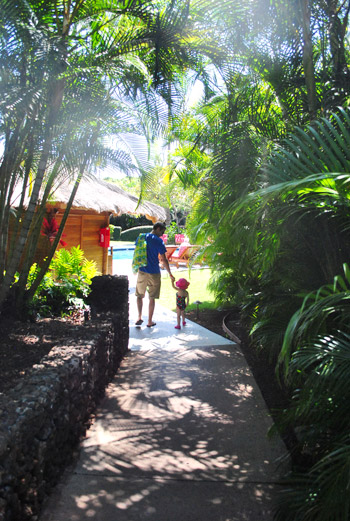 Some days it got pretty busy (so we'd head off the to the beach, drive around the island, go out for food, look for whales, embark on some other adventure that we'll share next week), but other days we had the whole pool to ourselves, so we'd go for a dip.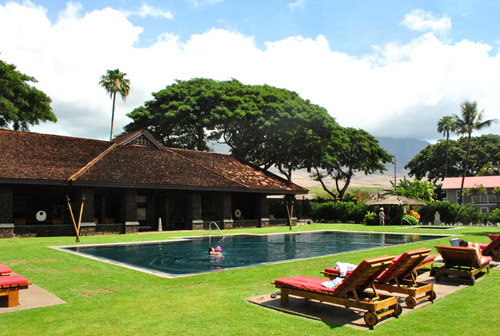 It was pretty sweet.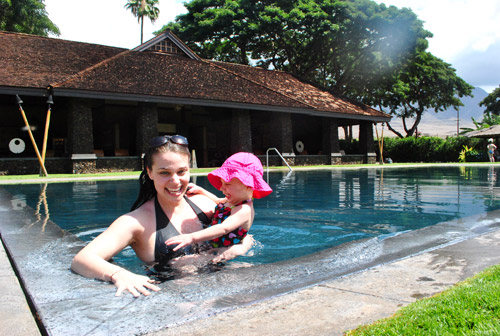 Not only were there plenty of seats for sunning, there were also these shaded little cabanas that we loved. They were like king sized beds twenty feet from the pool.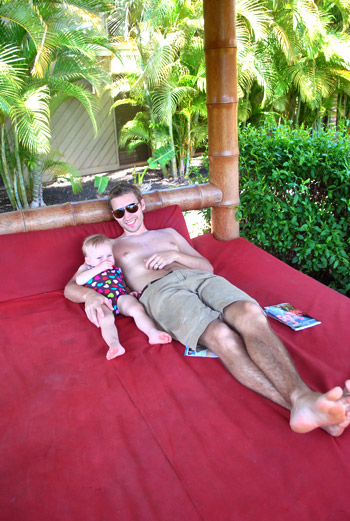 Here are two more random "accommodation" shots for ya. You can see the second pool in the left one below, and the view back at the rooms in the one on the right.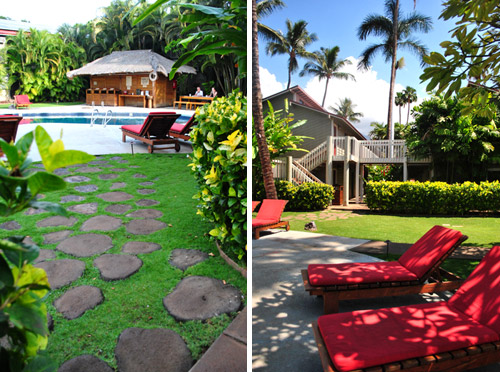 This is just a cute pic of my girl. Is she cute, or what? We each got one item of clothing to remember the trip, so John got the blue HI shirt that he's wearing and I got a super soft t-shirt that says Maui and Clara got pink Crocs. She calls them her "rocks" and loves them. And they were definitely handy to have in all that sand and surf (waterproof + sandproof shoes = yay).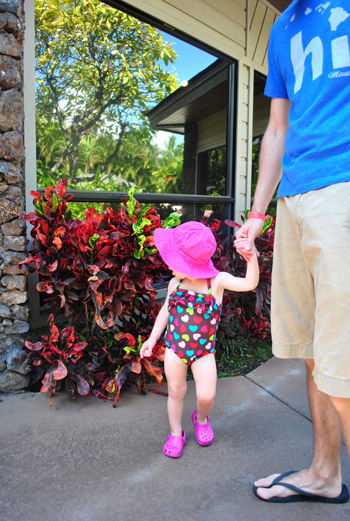 Now for more on Lahaina. It's a great little area on the West Coast of Maui with sweet shops and restaurants that we could walk to from our condo.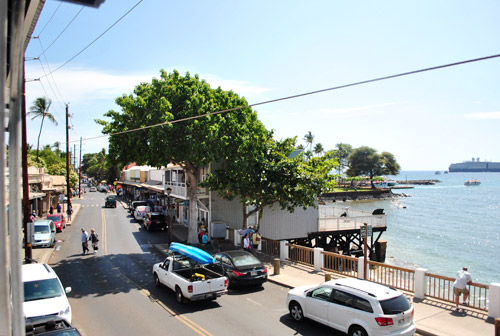 There were even a few nearby beaches that were also walkable from our resort (don't mind the rocks on this one, there were sandy ones too)…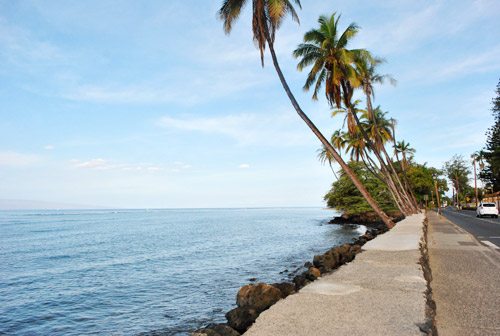 We especially enjoyed one called "Baby Beach" thanks to the fact that coral reefs blocked any waves, creating a shallow little kid-friendly spot for splashing around. Sure there were some rocky coral spots, but kids could easily avoid them by staying closer to the ocean's edge (Clara didn't try to go beyond the boundaries we set for her, especially with all the fun beach toys that we brought to keep her entertained).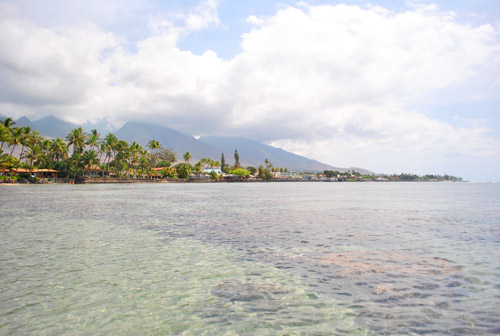 Sometimes she sat about waist-high in the water and splashed around or poured buckets of water on her head (after counting to three as if to warn herself it was coming). But other times she just sat where the water met the sand and played for hours.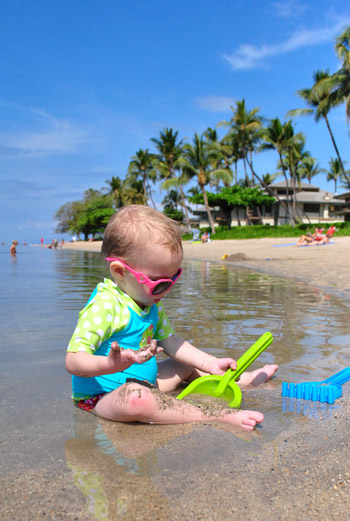 Of course we loaded our pasty selves up with SPF, but other than that we had no responsibilities. Cell phones were off, we only checked the blog for about 30 minutes a day, I didn't wear makeup all week, it was glorious.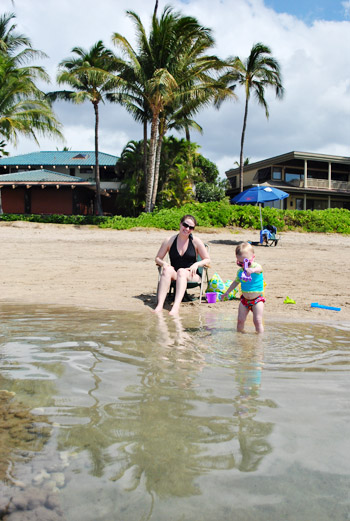 When we got hot we all took a dip.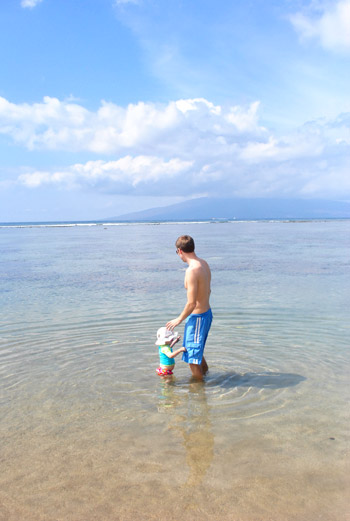 And watched the water (beyond the reef that kept the waves out) for whales. We never saw any at this spot, but we saw a ton of them on some other beaches (more on that soon).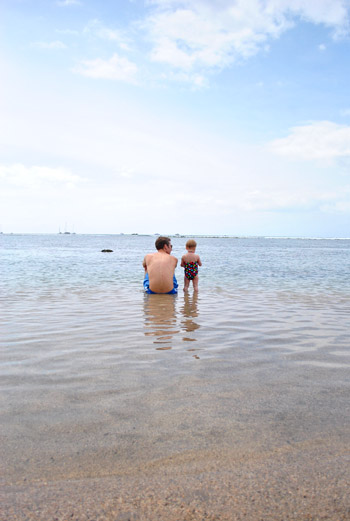 Since this entire beach up to that area waaaaay in the background (where you see one wave breaking) was essentially a huge sandbar, you could walk all the way out and it was only about waist deep. The view back at Lahaina – and of the island beyond – was awesome from way out there.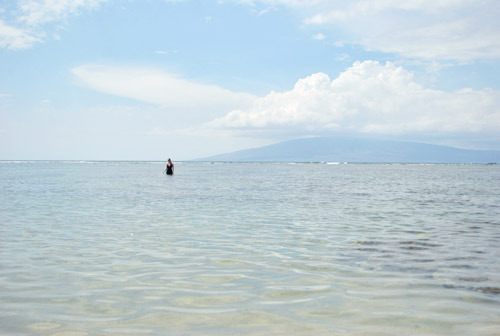 By comparison, Clara's favorite view was probably this kayak that randomly floated by. She stared at it, completely speechless until it passed, and then shouted "little girl and doggy on on on on on a boat! Hi doggy! Hi little girl! Hi boat! Hi man!" She only repeats words when she's super excited. Haha.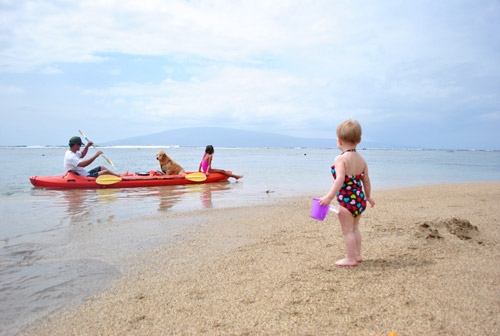 Other than keeping an eye out for the dog kayak, Clara had a good time covering herself with wet sand. You think I'm joking.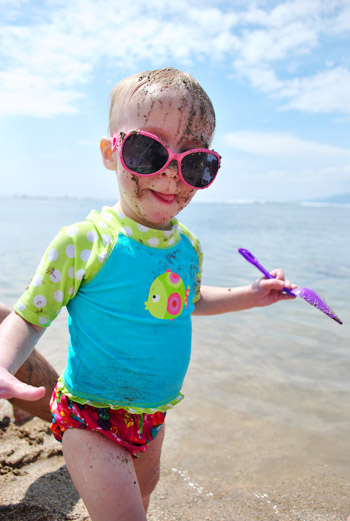 So now that we've covered the accommodations and the neighborhood beaches, we'd be remiss not to mention all the amazing grub that we enjoyed. I mean look at it. It's like a rainbow of deliciousness.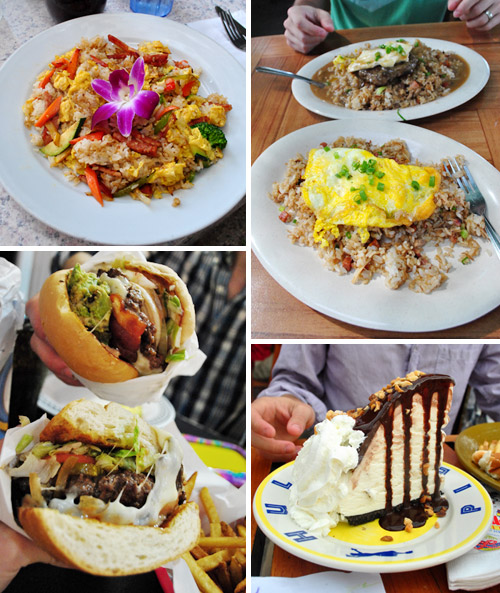 The top left photo is the fried rice breakfast from Lahaina Coolers (we loved sitting outside and watching people and dogs go by – oh and splitting entrees when we could, since HI food can be pretty pricey). The top right photo is Loco Moco (John got a hamburger on top and I got an egg on top) from Aloha Mixed Plate (so reasonable and such a great view if you get lucky and snag a table by the beach). The bottom left are burgers from Cool Cat Cafe, which was rated the best burger in Maui (so good!), and the bottom right is a giant slice of Hula Pie from Kimo's (another great beachfront restaurant that we enjoyed). Oh and for those with kiddos, Lahaina Coolers and Kimo's have crayons, which always earns a little extra credit with folks like us who are desperate to keep the bean happy while we chow down (although she had her fair share of the Hula Pie to keep her happy!).
This is Lahaina Pizza Company. They had great pizza and an awesome view from their upstairs balcony (not only of the folks walking by on the street below, but of the ocean and all the cruise ships and whale watching boats that jet in and out). That look in John's eyes is bliss, btw. Oh and I had a cold angel hair pasta salad and it was awesome.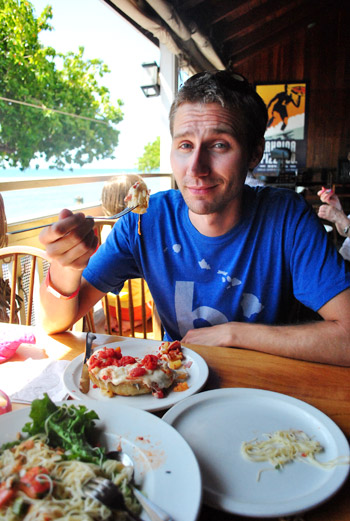 This is a funny story. We took Clara to hibachi and only realized once the first giant fireball blazed that she was terrified. She literally screamed and then kept repeating "fire is hot!!!" while bawling. Poor girl! Apparently when kids are younger they don't get it and when they're older they can rationalize that it's safe and ok, but around two seems to be the sweet spot to be terrified. We felt awful, so I stood outside with Clara (who muttered "it's ok Clara, it's ok" to calm herself) while John waited inside for them to make our whole meal so we could get it to go. Then we ended up chowing down on one of the cabanas near the pool back at our resort. It was kind of disastrous and hilarious all at the same time. Definitely one of those things we'll remember for years to come when we think back on our big Hawaii trip.
Thankfully Clara was great when it came to all of the other places that we ate. If they didn't involve flames shooting up to the ceiling, she was a-ok. Here she is with John at The Mixed Plate (which we mentioned in that food mash-up photo above).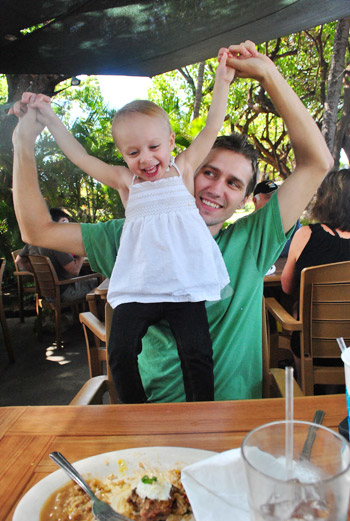 She enjoyed a lot of the local fare (especially snow cones, ice cream, bagels, and french fries, haha) but sometimes she wasn't into whatever we ordered so we kept a steady stock of crackers, fruit, veggies and other snacks on hand to keep her smiling. Oh and see that "Aloha" sign behind us? Clara has been learning her letters so she was saying "Das a A, das a L, das a O, das a H, das a A" and one of the waitresses was so impressed that she gave her a flower. So cute. Clara was so proud she kept sticking it against her nose and mouth and exhaling (she thinks that's how you stop and smell the flowers, by heavy breathing on them). Wish we had a picture of that.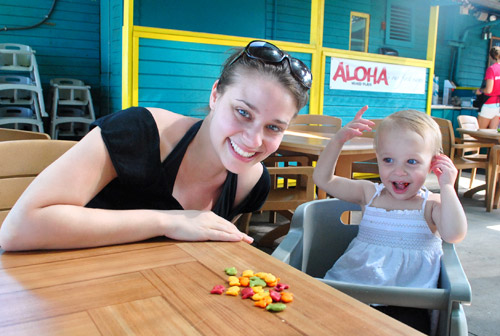 Oh and we mentioned that we saw some whales at a few other beaches, so here's one diving right out of the water while we ate at Aloha Mixed Plate. Is that a sight to see, or what?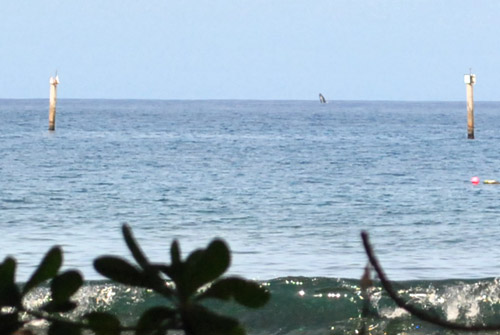 The way you notice whales at first is usually by catching a big white splash like this out of the corner of your eye. Then you hold your breath, clutch your camera with a death grip, and hope that he or she comes diving back out (which is when we got the shot above). It really is amazing to see, and even after spying a bunch of them it never got old. The fifteenth whale spotting is just as exciting as the first one.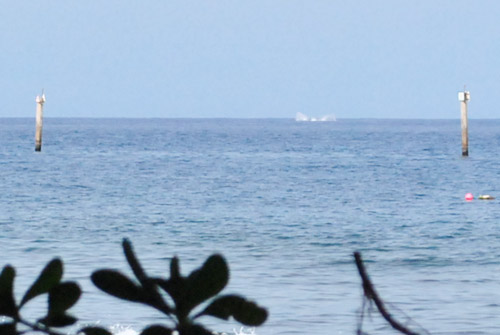 As for other places that we ate but didn't snap any photos, here's that list:
Take Home Maui (a yummy deli with delicious fresh pineapple)
Sunrise Cafe (a really reasonable breakfast joint that locals recommended)
Bradda Hutts (an amaaaazing BBQ stand outside of Hana – just split a chicken platter and bask in the glory)
Auntie Sandy's (this was a stand that we stopped at at the Ke'anae Peninsula for fresh baked banana bread)
Sure Thing Burgers (a fun local/organic burger stand in Lahaina)
Moose Mcgillycuddy's (a sports-bar-ish place that we were lukewarm about)
Cheeseburger in Paradise (not associated with the Jimmy Buffet restaurants – it was right on the water and awesome)
Fred's (a fun Mexican restaurant in Kihei that ended up being great – we had actually tried to go to 808 Deli but it was closed)
Ok, and John would kill me if I didn't mention Ululani's. He visited another part of Hawaii about 7 years ago (Oahu) which is where he learned from a friend-turned-Hawaii-native that there's "generic" shave ice (which is made with really course chipped ice, like you'd find here in the lower 48 states) but there's also Hawaiian shave ice that's super super fine. Literally, it's like snow. And that's the good stuff. It's like butter. But sweet and soft and divine. Yes, I just said divine. It's official, I'm turning into my mother. Oh and here's a quick tip about Ululani's – they'll add more syrup to your shave ice if you're halfway through it and it's tasting more icey than favorful. They're cool like that.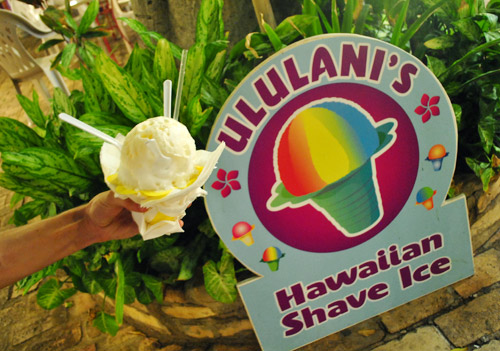 Oh and although we already touched on a few ways that we saved money, here's the whole list for ya:
Our last big trip was five years ago (our Honeymoon to Alaska) so we had a nice long time to save up.
We learned that flights are typically most expensive if you book them on a weekend and least expensive when you book them on a Tues night/Wed morning (we definitely noticed it was true for HI tickets). They can also get super pricey if you wait too long (about 2.5 – 3 months out seemed to be the sweet spot for us, but it probably depends on the destination).
We used HomeAway.com to find a two bedroom, two bathroom condo with a washer & dryer and a full kitchen for $164 a night. And it was an amazing place with two pools that was walking distance from the beach (fully equipped with and a pack and play and stroller for Clara, so we didn't have to bring them).
We carried on our luggage instead of checking it (we packed light knowing we'd have access to a washer & dryer in our room and saved any worries of lost luggage while dodging bag checking fees).
We bought some basic groceries like cereal and snacks for Clara to supplement eating every meal out (because when a plain bagel is five bucks at a restaurant, you do what you can to avoid that). We also cooked a few low key meals in our condo since we had a full kitchen to offset the costs of eating out.
We split meals a bunch of times. Instant fifty percent off. Haha. And almost every restaurant served giant portions so we didn't go hungry. We did occasionally splurge for two entrees, but often were so full that we carried half of them home in a bag (which meant free lunch the next day).
We booked excursions/adventures online or through special vendors (there was an Expedia agent with a booth at our resort who offered a lot of discounted rates on things like whale watching tours – and the aquarium that we visited offered 10% off for booking online).
So that's Part 1 of our little Hawaiian adventure. We'll be back with the second half of the goods next week sometime (where we'll detail all the adventures/excursions/activities we enjoyed, the house-related purchase we made, and the vacay tradition that we carried on in HI). Until then, feel free to chime in on this post with favorite restaurants, activities, and other things to do while in Maui or just HI in general. We'd love for it to become a great resource for anyone else who is traveling out that way!