A bunch of you have been asking how turning thirty was for me, so I'll take a break from painting something (yes, there is paint going on a formerly untouched bathroom wall! wahoo!) to admit that Monday was a really nice day. So far thirty is all good. And I don't feel a day over 29. Hah. My theory is that every birthday sort of feels like not much has changed since I wake up feeling the same way I did the morning before. By comparison, I always feel older when life events happen (graduating college, getting married, having a baby) but for some reason a birthday to me is just a fun day when I get to eat too much dessert. Which I most certainly did this time. So here's the play by play.
I woke up to a kitchen that looked like a big ol' present.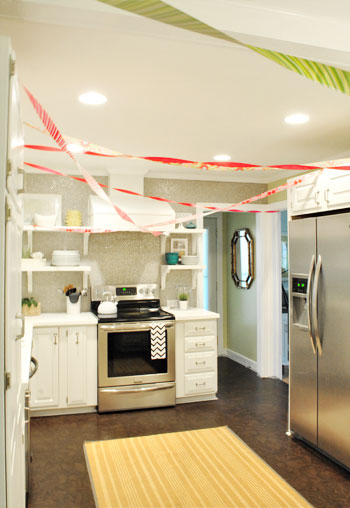 John had strung ribbons around it like the prettiest spider web I ever did see: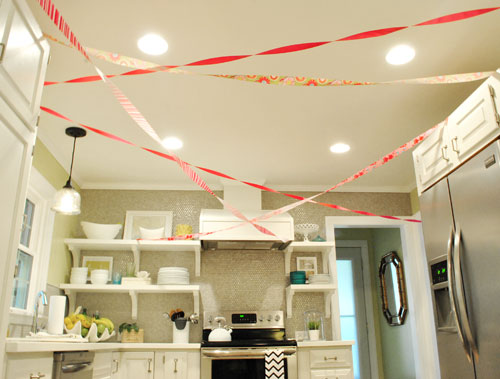 Is he a man or what? I love a guy who isn't afraid to get his ribbon on in the name of birthday madness.
John also secretly picked up my favorite lunch ever: pastina (although it never says that on the box, so maybe that's just what my Italian mom calls it). It's basically tiny little pasta stars that you make and then add butter, milk, and salt. I used to eat it after school growing up and it always feels like a treat when John remembers that I love it and surprises me with some.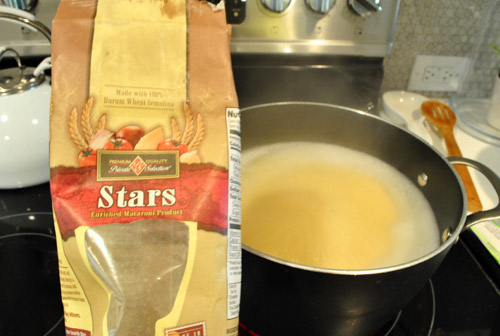 It was the first time Clara ever had it, and she LOVED it. That's my girl.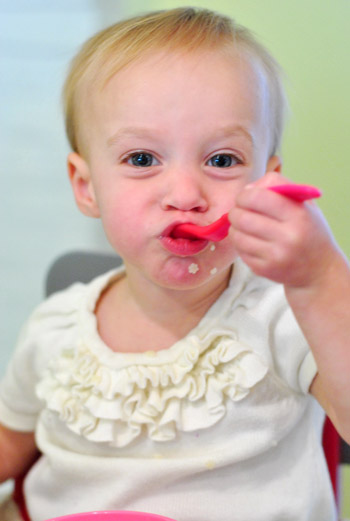 We worked a normal day, except that we decided to unplug a few hours early (at 5:30!) and head over to Stonypoint, which is an outdoor walking mall here in Richmond. John said since we're always too full to make it to dessert that he thought we should get dessert before dinner, to ensure that we had room. It was really cute and he told me to pick any restaurant I wanted and it actually became this tour of reading every dessert menu and picking the one that sounded the most amazing…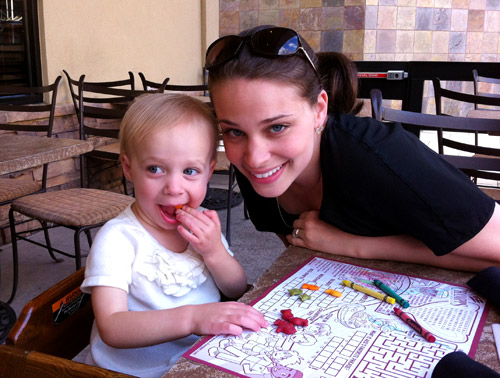 … which ended up being this trio of strawberry cheesecake, brownie, and gooey cookie topped with caramel from Champs. And yes, at the same moment John and I busted out laughing because we realized that the bowls looked like the chairs from The Voice. Yes, I might have even turned one around while singing "this is the voice." And the waiter might have seen me. So you'll be pleased to know that I'm not any more mature or less embarrassing in this new decade that I've entered.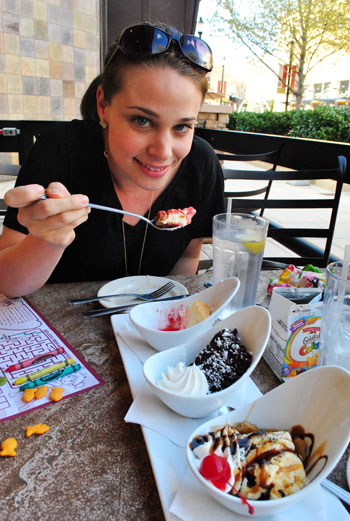 Of course we ducked into Anthropologie, which I love to peruse just for all the creative ideas that they have going on with displays (check out the awesome burlap upholstery webbing that they used to create a woven wall behind Clara in the picture below).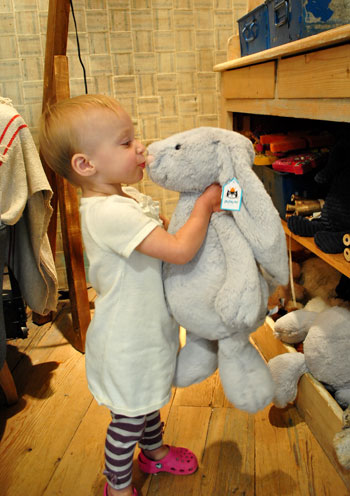 But enough talk about the background. How cute is my kid in the foreground? Love that girl. She actually sang happy birthday to me about seventeen times, so it was extra sweet. I even got some encore presentations on Tuesday and Wednesday, which never failed to make me grin like a fool.
Along with a card full of sweet nothings from the hubby and cute scribbles from the bean, John got me this book called The Happiness Project that I'm already loving. The first chapter is all about paring down and I swear it made me want to drop the book and go all organization-crazy in my house. So beware, there might be some cleaning/organizing/basket-related madness going on along with the landscaping, bathroom, and deck-building plans that we have on the list.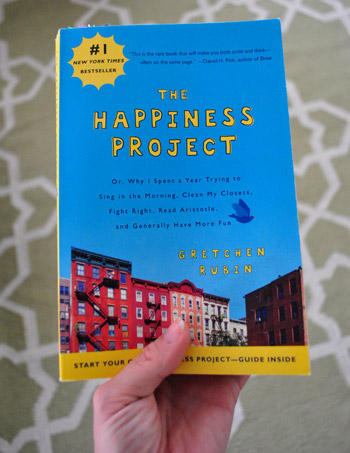 He also got me this sweet ceramic elephant box (you know I can't resist a sale, so I actually sent the link to John with a wink and a mumble about someone's birthday…). John also surprised me with a gift card for a massage at my favorite place (he gets me one every Mother's Day, and I must have raved about that annual tradition so much that it might have become a semi-annual thing – wahoo!). Momma's still got some knots from laying a bunch of cork flooring, so it'll definitely come in handy.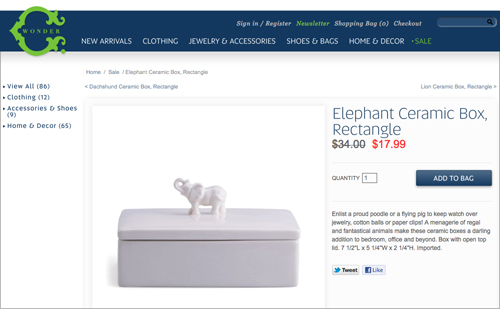 Then after we tucked Clara into bed, instead of DIYing something or flopping on the couch to size photos and write posts, John made me my favorite dinner: a chicken and leek stroganoff recipe from Jamie Oliver (I know it sounds gross but it's the most delicious thing ever). We ate it outside on the patio with candles to the sound of the rustling wind and the baby monitor that we brought out there with us. Haha. It was great.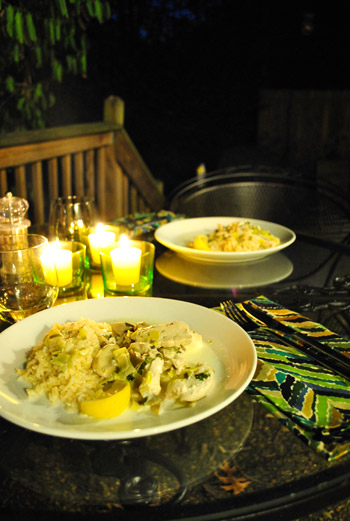 Over dinner, we got to talking about how much we love this house, and if we think we love it as much as our first house (our first love! our first baby! that house was our everything for a very long time). The verdict: yup…. but it's a tie. We will always have a place in our heart for that first home of ours, where we got married in the backyard and brought Clara home. But I think it surprised us to realize how much our hearts swell when we think about this house too. Especially because it didn't feel nearly as warm or cozy as our first house at first, but it definitely does now. It was a fun chat because the conversation also turned to us brainstorming things we can't wait to do (as it tends to do at least once a week, haha). I guess we get love by giving love, so talking about all the ways that we want to show our house some love fills us with excitement and makes us love it even more.
All in all it was an amazing thirtieth birthday and I have so much to be thankful for. I love my hubs, my bean, and my pooch for making me feel so special along with all of you who sent such sweet birthday wishes my way. I know I get mushy on you guys a lot, but you really are the best. I'm so happy to share my house, my thirtieth birthday, and my random little DIY life with you.
Psst- You can check out John's big 3-0 here, Clara's first birthday here, my last birthday here, and Clara singing her unique rendition of happy birthday here.