I'm not sure any of you have noticed, but we have a tiny TV. Well, some of you have definitely noticed because you keep laughing at us and commenting about how overdue we are for a bigger one. And as the resident man of the house, I have to say I agree. Our little 26-incher made sense in the old house, where our den was so narrow that I could practically change the channel with my toe…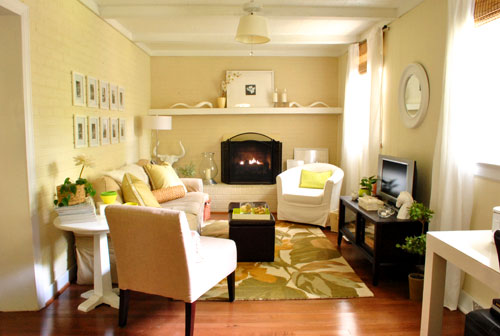 But now that we have a bit more space in our current living room (we actually miss the cozy-ness of our first living room, but love having extra room for Clara to play/run around), the phrase "we really need a bigger TV" gets uttered anytime a subtitle pops up, a news ticker rolls across the screen, or we have anyone over to watch a movie with us. Yeah, we can't read those things without standing up and walking halfway across the room. But a new TV is something we've just been putting off and putting off, which is surprising considering how much TV we watch.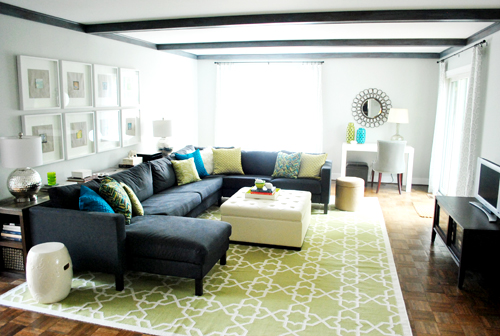 But ever since we got the tip that February and March were the best times to buy a TV (supposedly these post-Christmas, post-Super-Bowl months are the television industry's slow season, and when demand is low, prices can drop) we've been waiting for the right moment to seize the day and just upgrade already. And after a bit of research, a bit of chatting with my brother-in-law Martin (who went through a vigorous research process of his own a few months ago), and a bit of price checking – we narrowed it down to these two TVs – a Vizio and a Samsung, both sold at Target: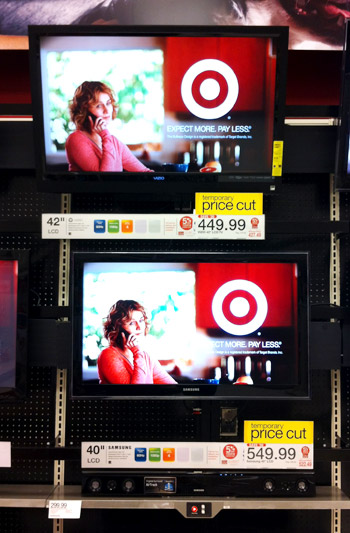 They're both LCDs, both 1080p, and both in the neighborhood of 40″. They were also both eco models that only cost $17 a year to run, so they're very low on the energy scale (the lowest we saw was $15 a year for a costs-double LED). The around 40″ size wasn't any magic number that we calculated, it's just what we arrived at after discussing that we wanted something big, but not crazy-big (and when we held up a tape measure at home, it felt right). Both had 4+ star reviews on Target, Amazon, Walmart and a few other sites that came up on our Google search. Any idea what we ended up choosing?
Naturally, we went for the $100 cheaper / 2″ larger Vizio. But that $449.99 wasn't our final price. You know us and our coupons…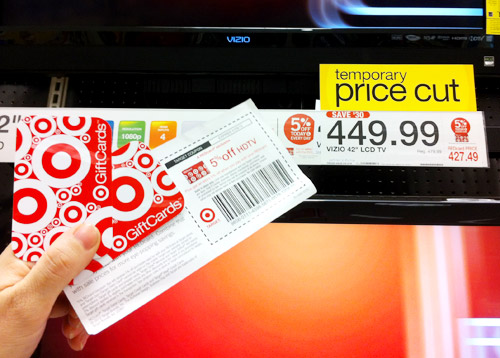 The reason we wanted to buy our TV at Target was:
They were having a temporary price cut – taking it from $479 to $449
We have a Target credit card, which gives us 5% off every purchase – knocking it down to $427
Target randomly sent us an "additional 5% off all HDTVs on top of the 5% for using your card" coupon (I think coupons like these go out to Target cardholders) – shaving it down to $406
We had a couple of leftover Christmas gift cards, which left our final out-of-pocket cost at $356
Which isn't bad considering our much tinier TV was purchased for about that much five years ago (we think that old TV will either go into another room or get craigslisted). So after 15 months of staring at our too-small TV and saving up/stalking sales, we brought that baby home. And Burger couldn't have been more excited to watch… the news? Seriously Vizio? You thought this lady was the most exciting graphic to show on your box? Can't a guy get an exotic underwater scene with fish and coral in all colors of the rainbow? Or at least a charging bull or a running horse or something with a little speed/excitement?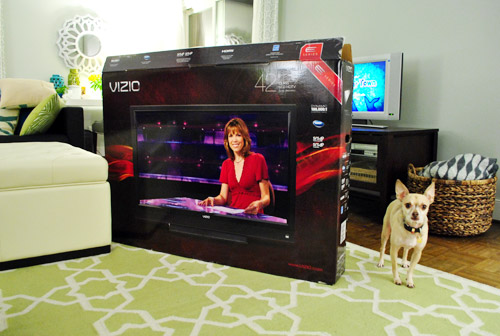 Before we set it up, we wanted to try to capture exactly what sort of an upgrade we were making. So here's a pic of our old TV: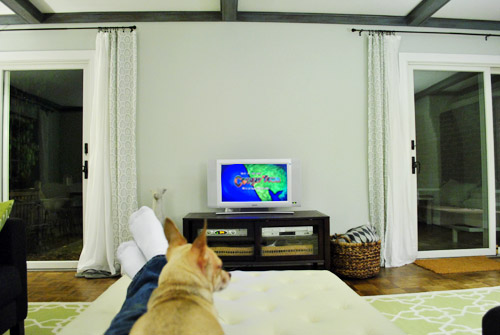 Ridiculous, isn't it? It's a bit exaggerated because this is a small picture of a small TV, but you get the idea. So we broke out the new guy just for comparison's sake. It's starting to look a bit better, right? It's also starting to look like we're gonna need a bigger media console too (we've been planning to build something from scratch or retrofit something from the thrift store, so we'll keep you posted).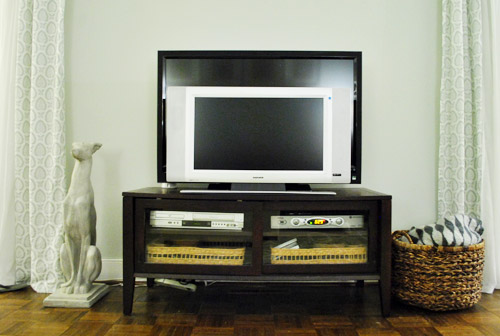 Here's that view from the couch with the new TV on. Hey look, now you can actually tell that we were watching Cougar Town now! As in, all of the letters are readable now (again, this isn't a life sized photo, it's a small picture of a TV across the room, so in person it's a lot bigger and reading small things like the subtitle are now no sweat). Whew.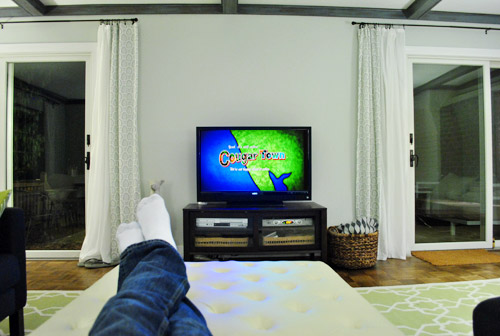 Oh and we tethered it to the wall with a wire that came with the TV along with a screw and heavy duty anchor (we may eventually mount it on the wall, once we figure out what's going on under it so we can determine the height, etc). But for now this will at least keep it from tipping.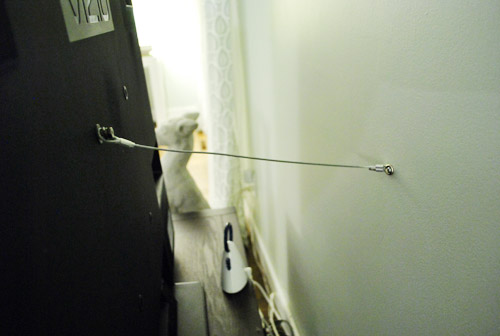 Hopefully this is just the beginning of updating that whole area of the living room. We definitely think it needs a bigger piece of furniture – preferably with more storage and a bit more height – to ground our big new TV friend. But until then, we're just happy to give our squinting muscles a break… and of course we're happy to have the Cul De Sac Crew back in our lives.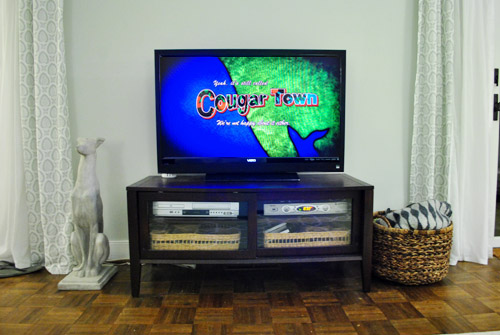 Is anyone else making any television upgrades lately? Or just watching some good TV? Now that the book shoots are done, maybe we'll actually have time to watch the boob tube again! So much catching up to do. But you know we're up to date on The Walking Dead so nobody spoils that for us. Haha.