After all that sun we got in Hawaii, we almost forgot that we still have some adventures to share from a notoriously less sunny place. We already told you about our day at the Portland Home & Garden Show (you can read more about that here – and if we met that evening, our pic together might be here). And yes, Sherry is holding someone else's baby and I'm wearing an apron (meant for Clara!).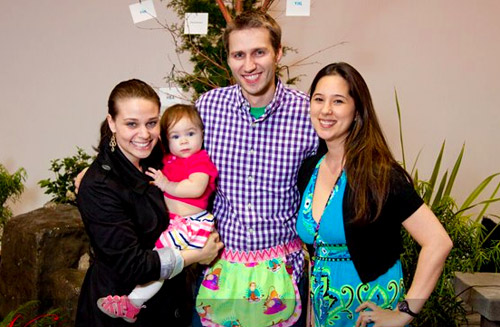 Between all of that presenting/meeting/greeting we actually had some time to take in the city a little bit too. So for anyone planning a visit (or just wondering what the heck we did) here ya go…
We got into town around 4pm PST on Tuesday the 21st and Clara was tired with a capital T. The poor girl had gotten up two hours early, was nearly at her normal bedtime (in East Coast time), and hadn't napped or even slept a wink on the plane – scratch that, she slept one wink as we touched down at PDX (we'll cover more on traveling with a toddler and how she adjusted to the time difference later on Young House Life).
So after giving Clara a much needed power nap we dashed out to grab dinner at ¿Por Que No?, one of the many restaurants that you guys had recommended to us. It was muy delicioso (forgive our iPhone pics for being no bueno). Our favorites were the carnitas and the shrimp & pineapple tacos if you're wondering.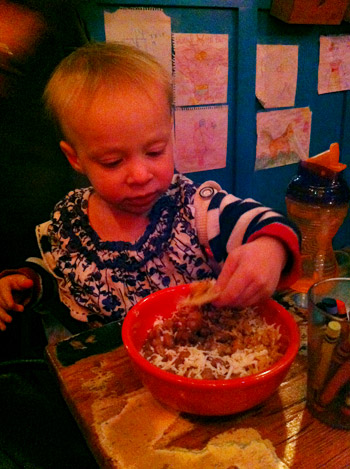 Since we were determined to soak in as much of Portland as possible (and force ourselves to get onto west coast time), we even stayed out long enough to get dessert. We hit up Salt & Straw, which was this ice cream lover's dream. Although having to pick just one of their very distinct flavors was a bit of a nightmare (paralyzed…with…indecision). After sampling spoonfuls like Pear with Blue Cheese and Arbequina Olive Oil, I landed on their most popular flavor: Sea Salt with Caramel Ribbon. Meanwhile Sherry got something equally amazing (almond ganache something?) and I also bought one of their extra soft t-shirts (why yes, I am expanding my repertoire beyond soda shirts to food related tees as well).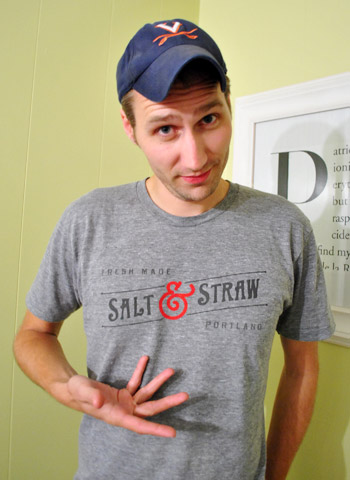 Salt & Straw was a pretty cool shop too. First, it was a big reminder that Portland is crazy about being eco (in a good way). Compost everything? Don't mind if we do!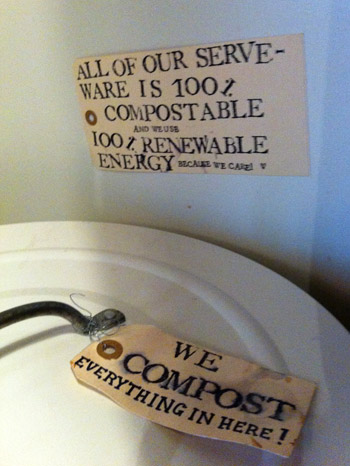 Decor-wise they also had a flock of these awesome wire birds soaring across one wall along with exposed beam ceilings and industrial lights and stools.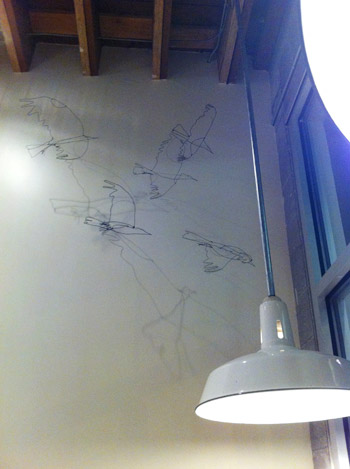 And these cool rustic shelves stocked with retro looking products like soaps, stationery, and straws were speaking our language. We could've spent another hour or two there soaking it all up (and digesting our first scoop enough to order up another one), but we were starting to push our luck with our littlest ice cream connoisseur (who got the Double Fold Vanilla and loved every bite of it – so much that she screamed "buh bye ice cream!" when we left).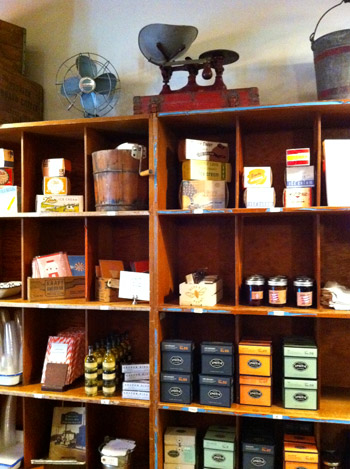 The next day – Wednesday the 22nd – was spent pretty much entirely at the Home & Garden Show (Clara was being entertained by my parents, who had thankfully flown out with us to visit some family in the area). Oh but after our early interviews with a couple of Portland's morning news shows (you can check one of those out here) and before any presentation/meet & greet stuff started we did have a break to check out the single most recommended spot according to you guys: Voodoo Doughnut.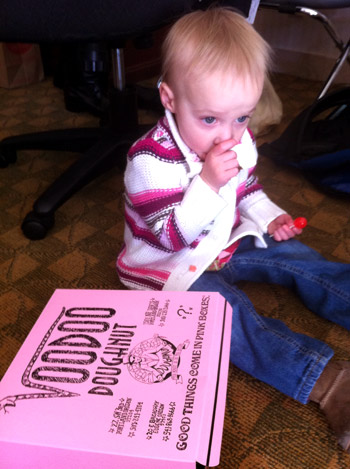 There were so many weird flavors that we wish we could've rented a secondary stomach for the day. In the end we ended up with a Bacon Maple Bar (yes, a doughnut with bacon on it), a Neapolitan (chocolate doughnut with vanilla frosting, strawberry dust, and marshmallows), and an Arnold Palmer (vanilla frosting with lemonade & ice tea dust… and a solitary green Froot Loop?). They were all good, but the Bacon Maple definitely rocked our world the most (crispy + salty + sweet + doughy = awesometown).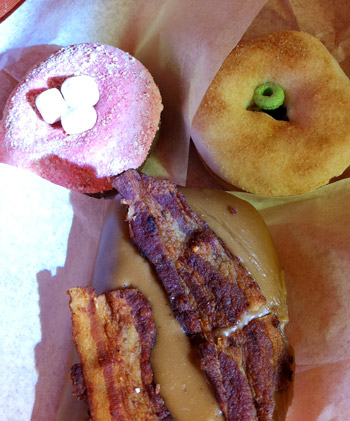 So by this point we were pretty convinced that Portland was (a) very green, (b) very yummy and (c) apparently very weird. Case in point: when Sherry spotted this sign in the background, she did her part to fit in. I'd say she looks mighty weird. Mission accomplished, Mrs. P.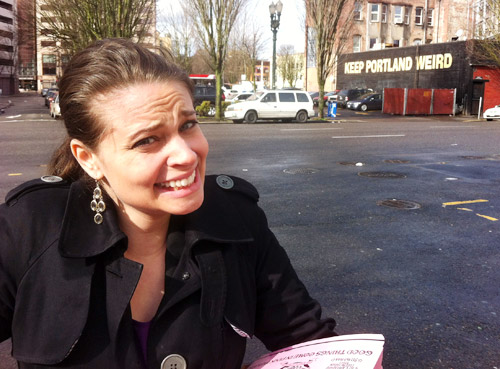 Fast forward to Thursday, which was the extra day that we had built into our stay so that we could run around town a little more. We started the day at another highly recommended spot: Pine State Biscuits. Is it sounding like we just ate the whole time? If so, it's pretty accurate.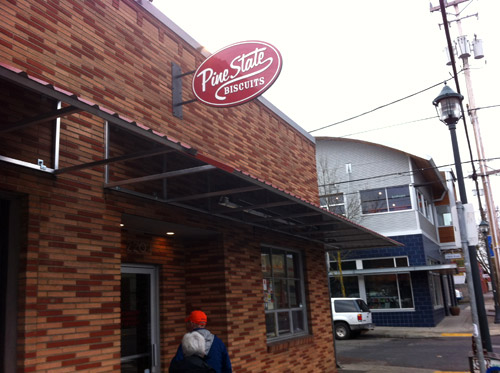 Sherry got their signature sandwich: "The Reggie" and I got "The Chatfield" (basically the same thing, but with apple butter instead of gravy). We realize this picture is less than appetizing, which is doing this breakfast a great disservice. It was the best.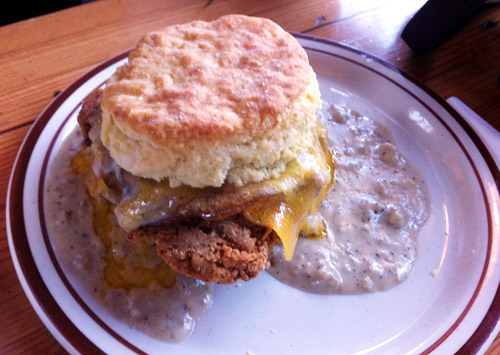 We also bought some local art while we were there, which was hanging on the walls of the restaurant (I love when they do that – because if you see something you love you're actually allowed to buy it). There were so many letterpress prints attached to wood boards to choose from…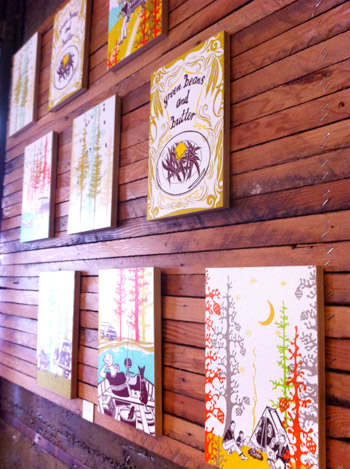 … but we went with this guy: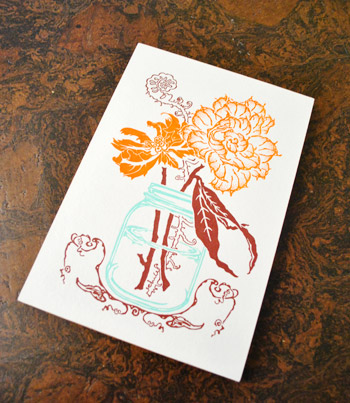 They're made by a local company called Old School Stationers and sold for $25 a pop. We love getting things like this while on vacation to remember the trip by (full disclosure: Sherry has a childhood shot glass collection from every place she's ever visited while growing up, which she only realizes now is an odd thing to collect at age 10). No idea where our new letterpress guy will end up, but we'll share pics when he finds a spot in our house!
But now let's focus on our non-culinary adventures. With full stomachs (and another t-shirt added to my wardrobe along with some sweet Portland art), next we hit up The ReBuilding Center, which was like our local Habitat for Humanity ReStore on steroids… and with cheekier signage.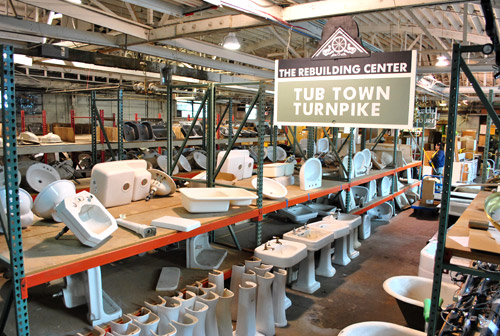 I'm sure we could've spent hours hunting through the rows of lighting, tile, windows, and lumber – but without an easy way to get anything home we resisted (plus it was freezing in there!). Though we almost snagged one of these picture frames that they make from scrap wood: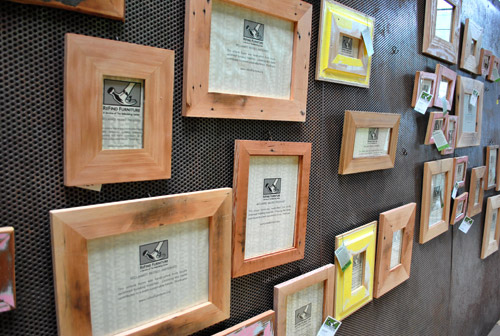 The ReBuilding Center just seemed to underscore how much this town values reusing materials. I mean, just check out this cool wall made from random windows on one of The ReBuilding Center's warehouses.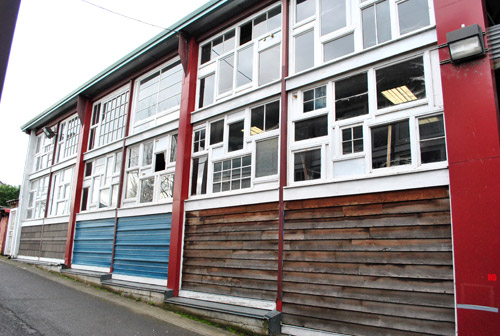 After we left there, we passed a block of shops that caught our eye – specifically this place (Sherry has trained her eyes to zero in on bee references).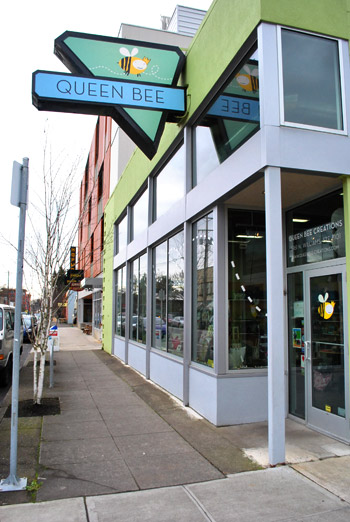 Queen Bee Creations was cool, not just because they had really great textiles like this (Exhibit A):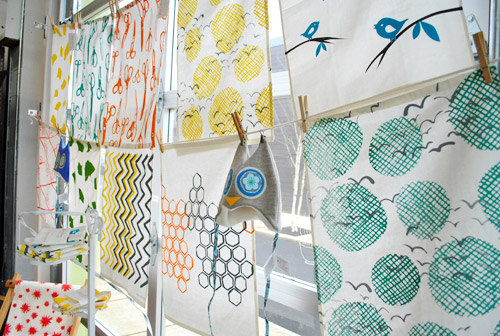 And this (Exhibit B):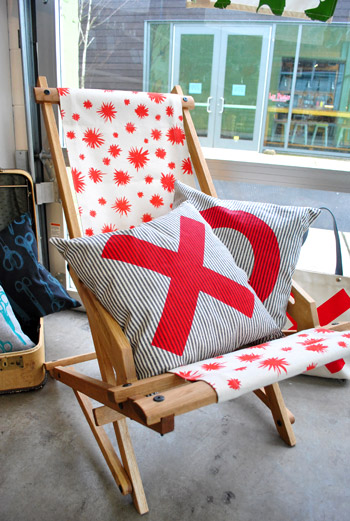 But also because the shop opens right into their studio (or "hive" as they call it). So you can actually watch their items being made (stitched, printed, and more!). It's really fun to witness this little reminder that the things you can buy there are literally made right in front of you by Portland locals.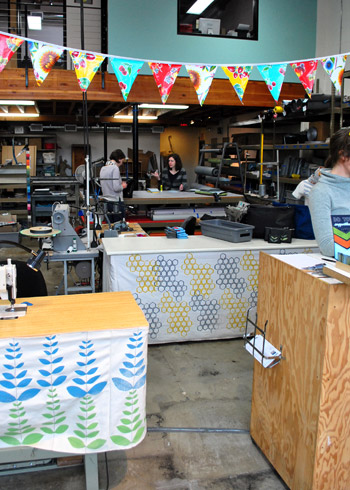 Another one of our favorite experiences in Portland was just driving around and checking out the neighborhoods. There seemed to be a really eclectic mix of houses and lots of bungalows and arts & crafts style homes (which we love).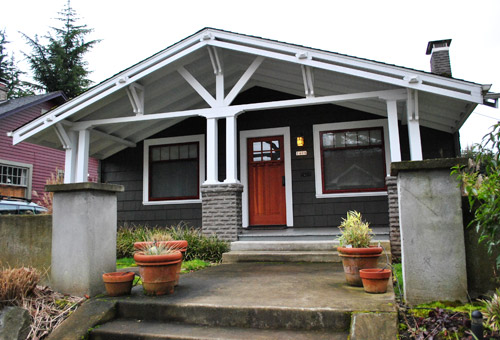 People also seemed to have a lot of fun with their exteriors, so there were lots of fresh color choices to take in.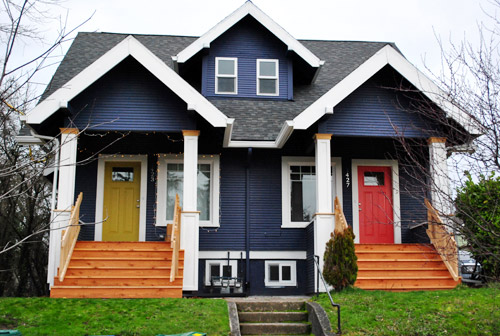 It's too bad we weren't there in a season where things were lusher and blooming. Although we're mostly convinced that the rumors that it's always overcast and misting in Portland except for in August are pretty spot on.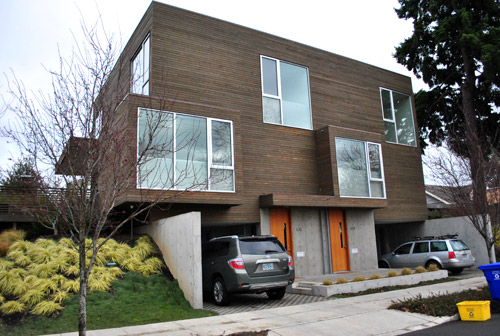 We also lined up a House Crashing visit while we were there, so we did manage to admire at least one house from the inside as well. We've still got to sort through those pictures, but here's a preview to whet your appetite. It was beyond inspiring. We hope to edit the pics and write it all up by next week for ya.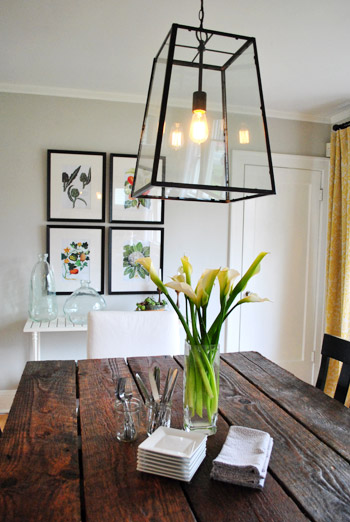 It was actually this homeowner, Kirsten, who made the suggestion that we check out Schoolhouse Electric. We knew of them from this giveaway that we did ages ago with them, but we hadn't heard they expanded their line beyond retro inspired lighting and hardware.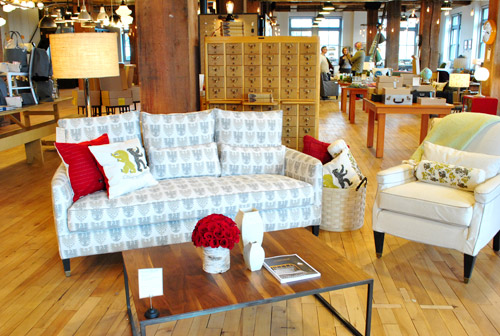 Sherry especially loved this big House 5 sign…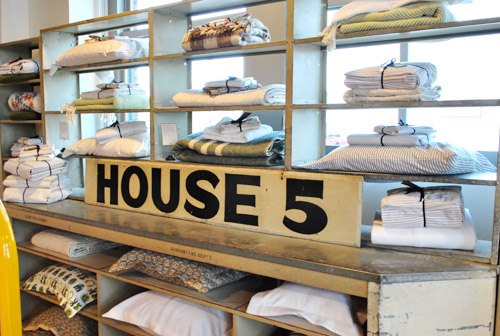 … these printed lamp shades…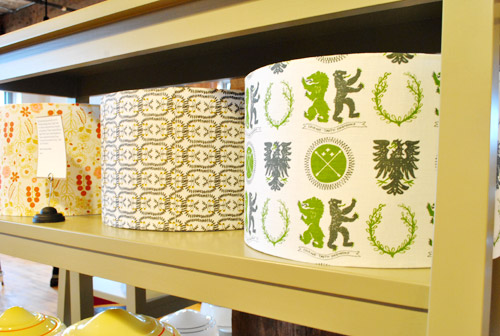 … and these library-card-catalogs-turned-bench-seating. We only wish we could have squeezed in a trip to Rejuvenation too (they have amazing lighting) but Clara was getting antsy so it was time that we did something with her in mind.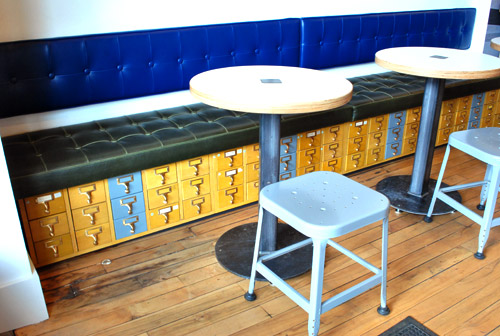 Luckily the (otherwise sad-looking) mall near our hotel had a carousel that Clara adored (she had fun selecting which horse she wanted to ride). And pretty much the entire time she was on it, her face looked like this: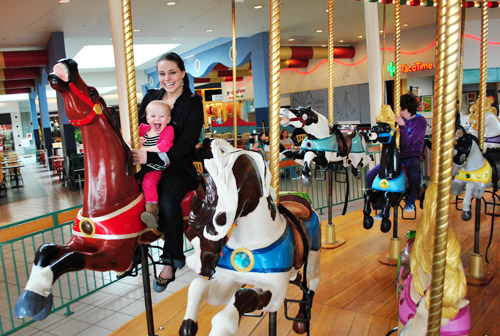 Portland has a pretty awesome Children's Museum too – so we spent a few hours there as well. Why hello giant lite brite, fancy meeting you here.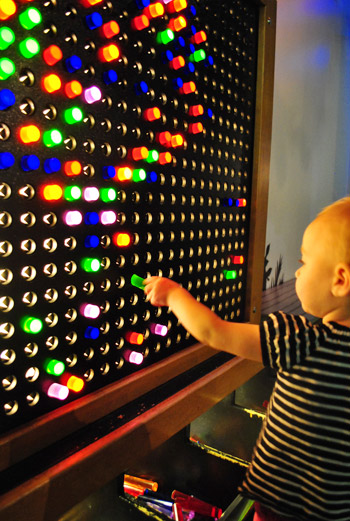 Like any good toddler with hair so short she's often mistaken for a boy, Clara spent most of her time playing with the trucks in the giant (rubber) gravel pit.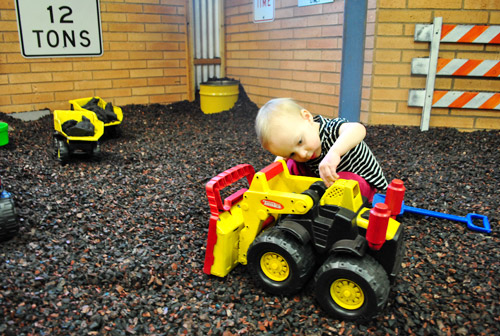 Our time in Portland actually wrapped up in nearby Beaverton, where my cousin lives with his wife and two children. My aunt and uncle had also driven out from Boise to pick up my parents (they were all heading back for a big family visit in Idaho when we ventured on to Hawaii) so they had all of us over for dinner. We somehow managed to leave without pictures – probably because we were just enjoying the chance to unwind with family that we don't get to see that often.
So even though our Portland trip was quick, we felt like we squeezed in a lot of P-Town in two and a half days. Actually, in some ways it felt like the perfect taste to make us want to come back again. Perhaps for our book tour in the fall? Here's hoping! Can you Portlandians schedule a few sunny days for us? And we'd love more tips about what shouldn't be missed next time we're in Oregon (selfishly for ourselves, but also for anyone reading this who is looking for more Portland fun).
Psst- The Portland Home & Garden Show Meet and Greet photo at the top of this post is by NV Holden Photography.
Pssst- Check out all of the other traveling posts we've shared over the last 4.5 years here.