We're sneaking in one last look at December, in case there was anything y'all missed – and also just to remind ourselves that we didn't spend the entire month in a Christmas cookie-induced food coma. We've noticed that taking a second to appreciate the items that we have checked off the list each month inspires us to get going on even more projects that we have yet to tackle. So it's a nice breath of you-did-it-now-don't-stop to keep our DIY momentum a' flowin. And if you want to see more of last year (or even the year before) we've got each month summarized right here (in 24 posts instead of about 840 – not bad, right?).
But first, something that we haven't shown before: our New Year's Eve photobooth pic that we took as a family. It's a real old timey photobooth, which is why the photo processing is a bit, um, "vintage." And by vintage I mean it obscures the fact that I was making a two-zero-one-three with my hands in each frame (get it? 2013?). But at least it's clear that Clara is sporting some major photobooth skills. Check out that range of faces she's giving us.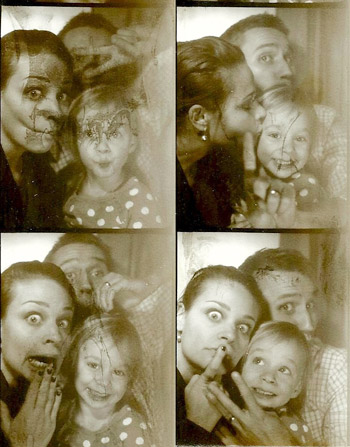 Most Undone: Our gradient Christmas tree, which we loved putting together (we even made a time lapse video of it!) but it sadly got disassembled a few days ago. But we're already thinking about how we'll dress it up again next year…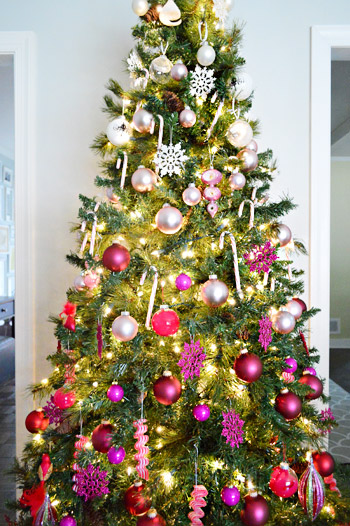 Most Improved: The mirror in our hall bathroom, which we framed out with some simple pieces of wood to give it a more polished and upgraded look.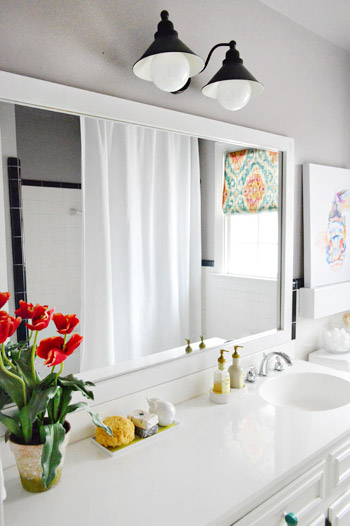 Most Linked: We put up this linky-fest last month for folks to post projects they've done that were inspired by projects in our book so that we all could check them out. Right now there are nearly 200 projects to browse!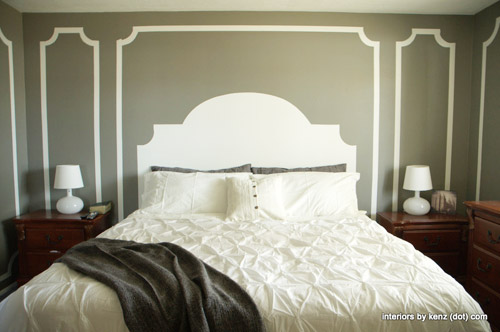 Most Overdue: Meeting Nicole of Making It Lovely in person, which we were able to (finally!) do in November during our Chicago tour stop. But it wasn't until December that we got around to sharing the photos that we took when we crashed her beautiful pad.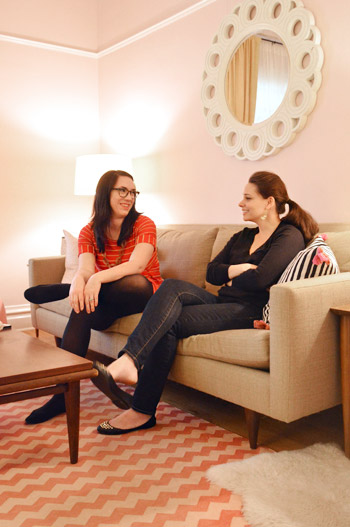 ORB Victim of the Month: All of the doorknobs in our house, which we chose to update with a simple coat of our favorite spray paint (oil rubbed bronze by Rustoleum, for the uninitiated). It was a quick way to make our old mismatched doorknobs feel a bit less, well, old and mismatched.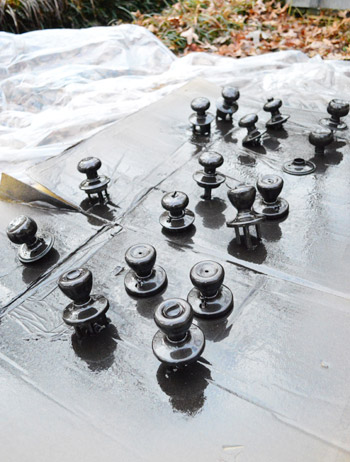 Most MacGyver-y: When we decided to paint our extra-tall sunroom, we devised this system – a paintbrush taped to a pole, fancy I know – to edge around surfaces we couldn't reach on our ladder. Take that weird area around our ceiling fan!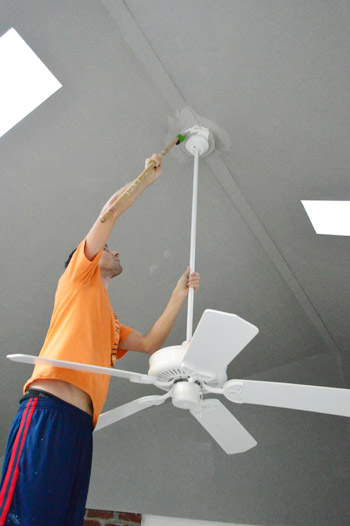 Most Magnetic: These ornament magnets that we busted out this year for just about the first time since making them for a local magazine article back in 2009. They would later hold all of our holiday Christmas cards. We photographed them and other random festive decorations around the house for this post.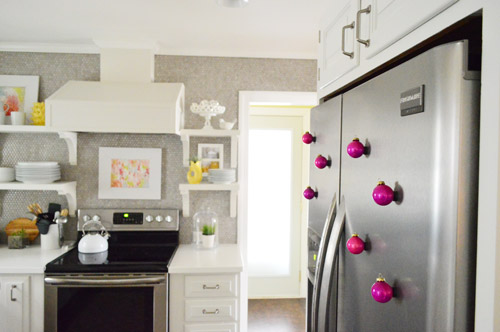 Most Graphic: This tutorial on How To Change Your Outlets which we provided entirely in one 2000 pixel tall image (including captions) for easy reference.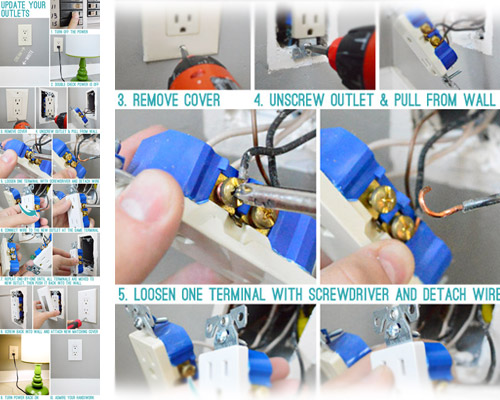 Most Likely To Want World Peace: Me, as acting Miss District of Columbia for a brief moment when she let me wear her crown during one of our three recent book signings in the Virginia/DC area. This was also the post where we recapped the holiday crafting session that we led at Living Social.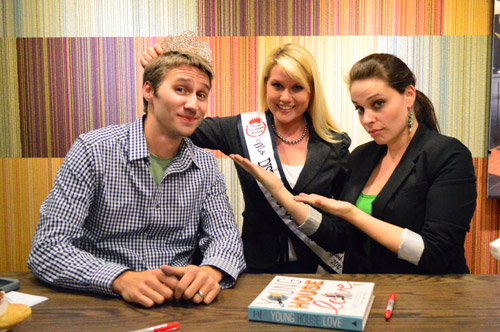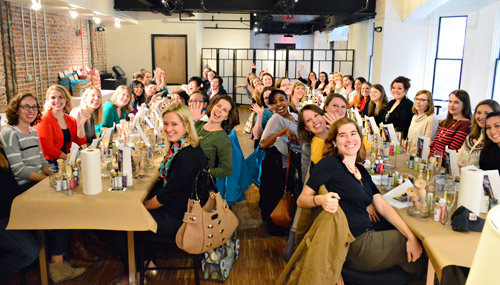 Most Unimpressed: Burger (what's new?). This particular instance of being unphased by a change in our house occurred when we finally bit the bullet and painted the brick wall in our sunroom to go with the rest of the walls that we already tackled. It was awesomely unifying, even if Burger couldn't have cared less.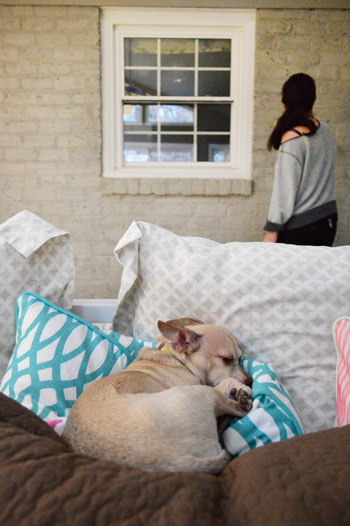 Most Back-To-The-Future-ish: The chance that we'd be able to move into our old house and make different design choices is pretty slim, but that didn't stop Sherry from imagining what she'd redo and what she'd repeat if we were just tackling our first home's decor now. It was fun to see what changed and what has stayed the same when it comes to our style all these years later…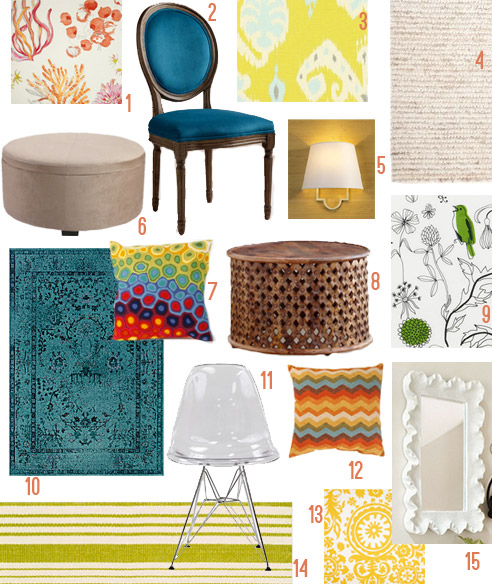 Most Giftable: These three holiday gift guides that we put together – including one for kids, one for ladies and one for guys. We'd love to know if any of you ended up giving (or getting) any of the items we rounded up for ya.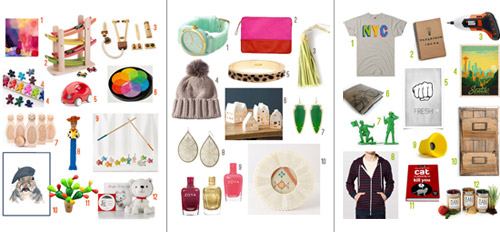 Coolest: The homemade play fridge that we created for Clara for Christmas this year. It – along with a thrifted wire cart and some new play food – were a little addition to her much-loved play kitchen from last year.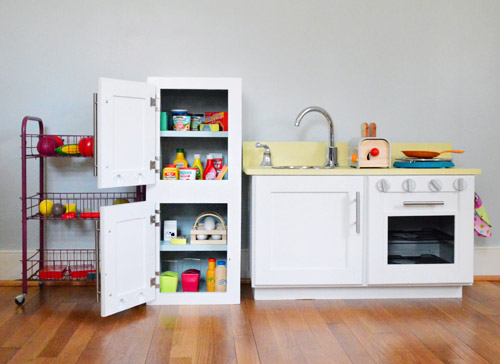 Most Gifted: Well, just about everyone was probably feeling gifted in December. We were just proud not to have to buy any new wrapping stuff this year, thanks to reusing existing bags, paper, and tissue. In this post you'll also see our Christmas lights all strung up outside as well.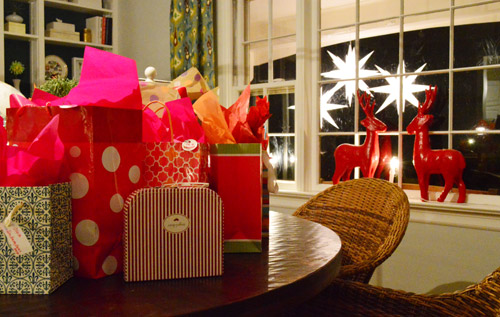 Most Vertically Challenged (Plant Edition): Our tabletop tree, which we decked out again this year in fun, non-matching ornaments that are special to us (there were even a few Clara-creations in the mix). And this year we added a cheap DIYed window garland from some on-sale felt ornaments from Target last year.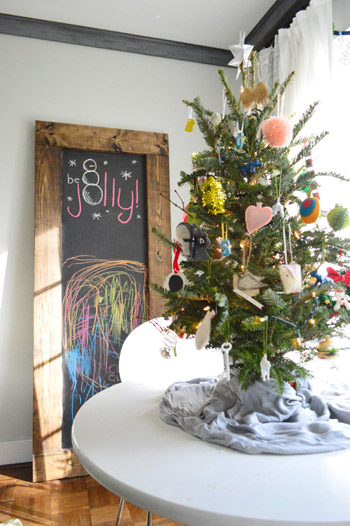 Most Vertically Challenged (Human Edition): Sherry, who was given a covert behind-the-desk box to help compensate for a certain shortcoming (pun most definitely intended) during one of two live TV appearances that we eked out here in Richmond.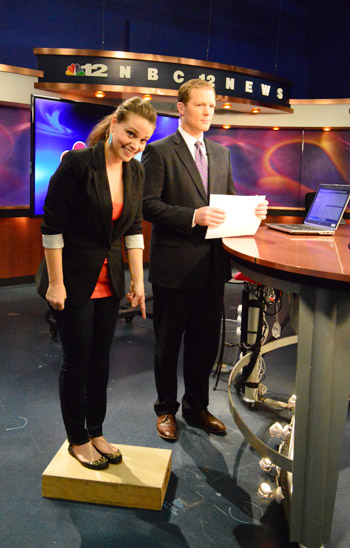 Most Dedicated To Their Craft: Clara and Burger, who had an easy time "acting" the part of children stealing Santa's treats for our 2012 Christmas card.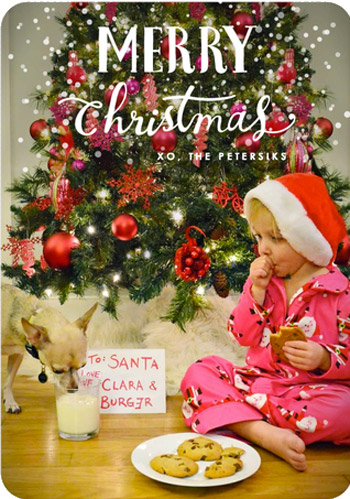 Most Nervewracking: We sweated the idea of hosting Christmas dinner for the first time ever, but things went pretty darn well – especially since it gave Sherry a chance to break out the cloth napkins and even use magnolia leaves from the front yard for each place setting.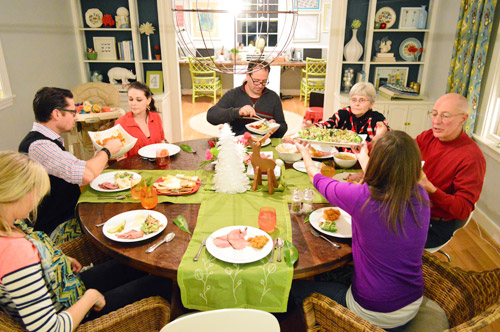 Most Handsy: All of the crafters and artists that we encountered at Richmond's Handmade Holiday craft show this month. Our hands didn't leave empty either – we came home with a few great things – including these wisdom cards that Sherry loves gazing at while she types away.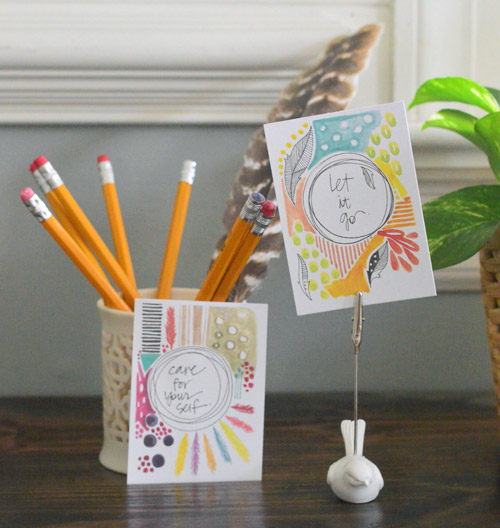 What about you guys? What'd you accomplish last month? Or what didn't get done in the holiday craziness that you're looking forward to tackling this year instead? We have a certain big girl room that we can't wait to get a jump on as well as an unfinished basement and sunroom to attend to.