Does this totebag from Richmond Threadlab look familiar? If so, it may be because you caught our Instagram feed a couple of weekends ago when we hit up our local Handmade Holiday Craft Show (just like we did last year). The fair is a bi-annual craft-stravaganza put on by the Richmond Craft Mafia (we went to their Spring version earlier this year too). It's always filled with tons of cool artists, crafters, and other handmade magicians from the Virginia-ish region. And thanks to most of them having Etsy shops, you guys can sort of virtually shop along with us. So here's some the cool stuff that we came across, starting with some of the new guys that we haven't spotted at previous events.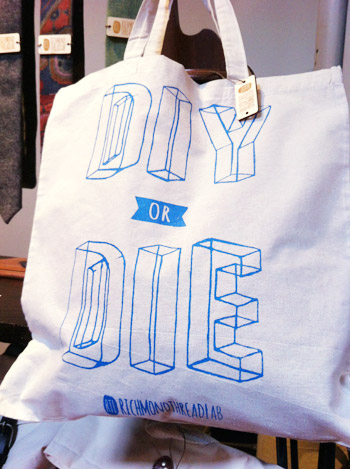 Spade Moderne had tons of graphic pillows and tea towels that we loved, but what caught Sherry's eye most was this mistletoe brooch (though you could totally cheat and make it an ornament too). Knowing Sherry she'd stick it in a shadowbox and call it holiday art.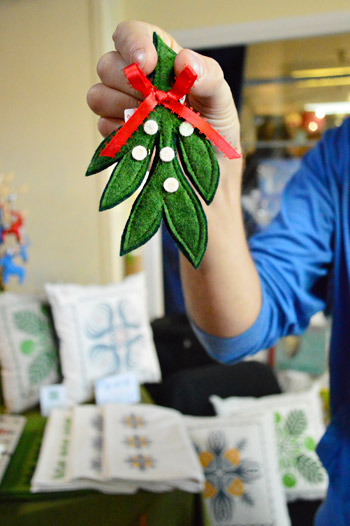 Also calling our name from the printed-fabric arena were these screenprinted tea towels from Tiny Peepers. And to live up to their name, there was also this hipster-tastic onesie that kinda made me wish Clara still wore onesies…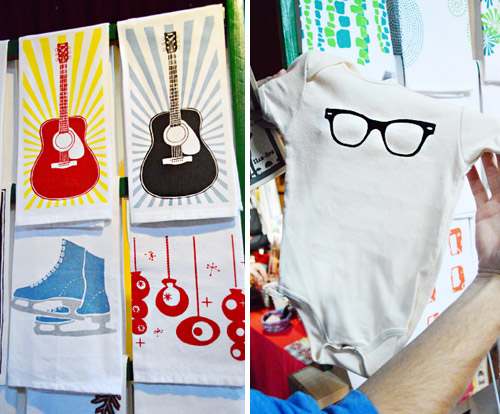 Check out this sweet 2013 calendar from Flytrap Studios. Can you believe we already have to start thinking about 2013 calendars? Where did the year go?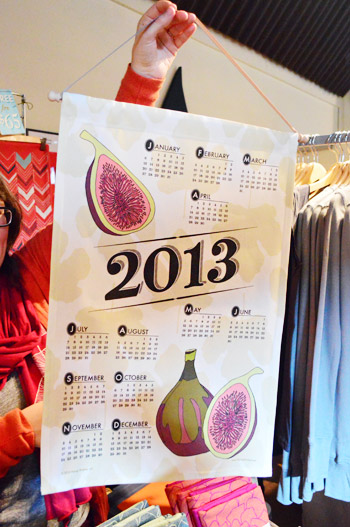 These fabric rattles from Tributary Handmade were also pretty darn cute. But I think the true brilliance is that fact that they sell silent versions as well. Plus, the one on top (with the pears and apples) is the same fabric that we used for Clara's 17 week photo way back when. Memories.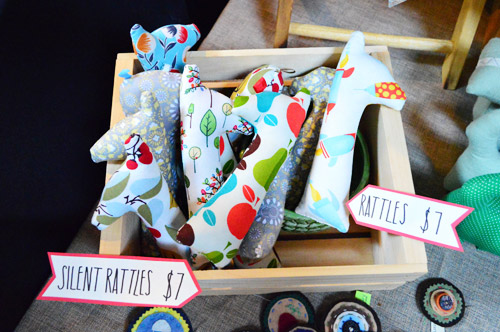 Tributary Handmade also had these cools dolls that for some reason kept reminding me of the Beatles. I think they'd go great in a little boy's room – especially the mustached and suspendered man in the middle. I'm talking to you Weston Bower.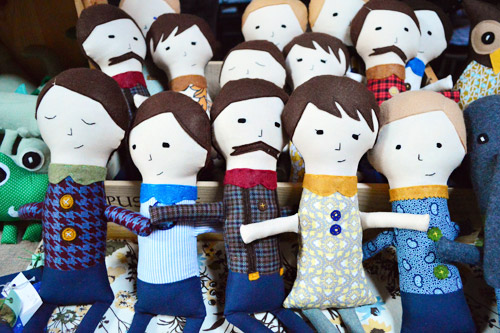 Nearby we also spotted a bunch of pillows, bags, and things made out of old grain and feed sacks from Jessica Reed Artifacts. Of course the Christmas spirit of the room meant that we were most drawn to the stocking.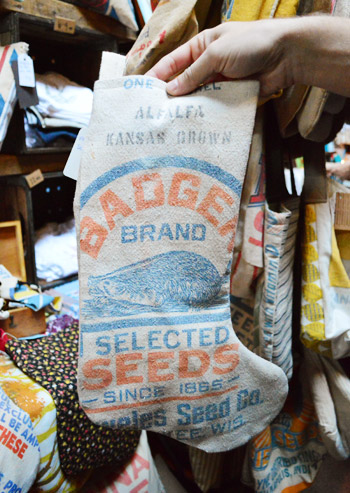 Found Studio had these fun mixed media paintings with mason jars as the subjects. They're like the Warhol soup cans of the Pinterest era.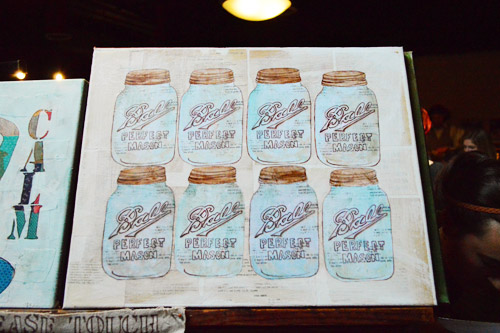 They also had a bunch of smaller paintings available. We especially liked this long one with the pennant banner (and that small green bicycle).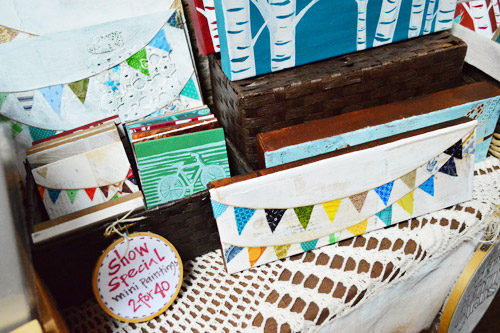 A lot of booths are starting to become very familiar now that this is our third consecutive visit to one of these local craft fairs. But the cool thing is that most of them are always doing new stuff, so it still feels new. Like Funnel Cloud Studio now has a New Jersey version of the state prints that we admired previously…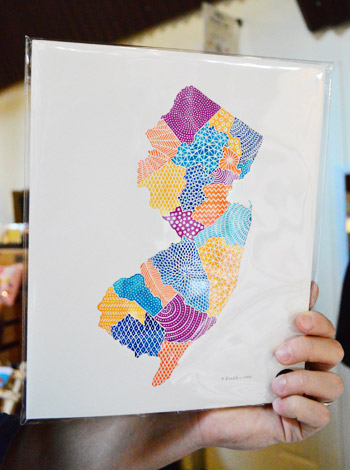 And clay-master Tasha McKelvey had these cool clay gnome ornaments this year. It kind of makes me think a gnome-themed Christmas tree would be funny. Or a tradition of "find-the-gnome" each year when you decorate the tree.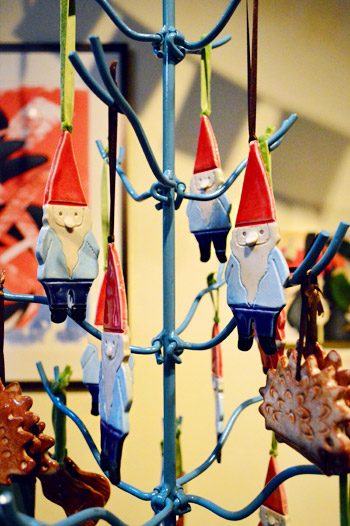 It's always good to see Phil Barbato (and his wife Meghan) at these things. We've purchased his artwork in the past, but it was his Baby Octopi that got our attention this year. I love that this one has a gold tooth (at least, that's how I'm choosing to interpret it).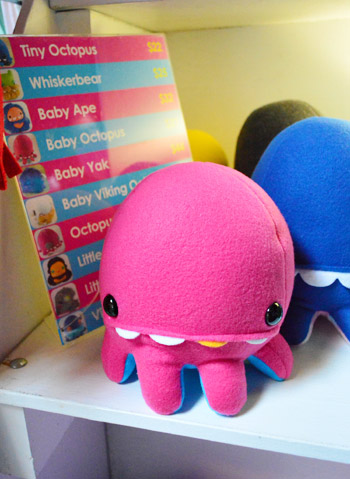 Matt Butler had us cracking up over his bacon print at past events (it says "either you love bacon or you're wrong"), but this year it was this print that had me chuckling. Truth in comedy, right?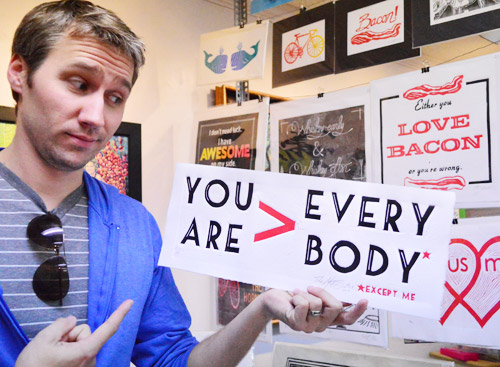 Matt also has a few bike-themed items, which you know I can appreciate. He does these custom printed Toms shoes, and I think it's really cool that they connect to create one image.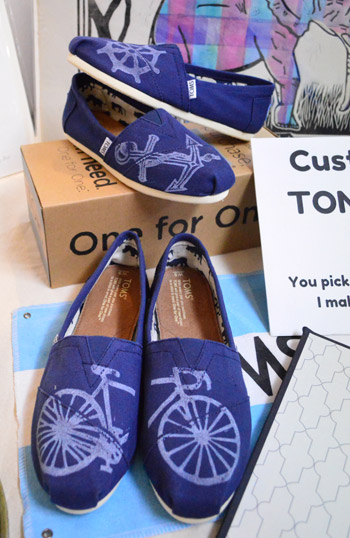 Suzanne of Silver Tree Art had lots of fun and colorful stuff as usual. Sherry spent a good five minutes browsing through some of her "wisdom cards" that are like cheerful little spirit-boosters.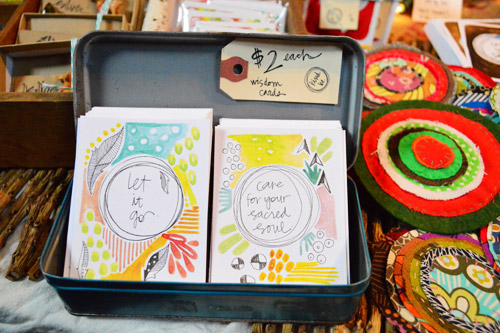 And Sherry was also struck by these cool layered necklaces by Lucky Accessories.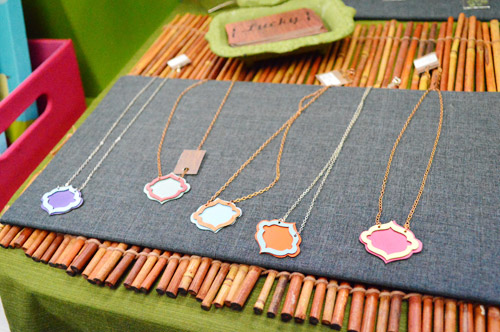 Of course we couldn't afford to purchase everything that we admired that day (heck, we couldn't even cram it all into this post). But we didn't go home empty handed. I bought part of a Christmas gift for a coffee lover in my family thanks to a local shop called Lamplighter Roasting Company. And yes, their bag design is just about enough to make me want to get over my aversion to java-flavored anything.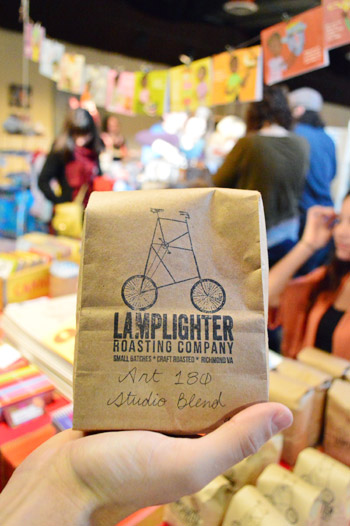 Sherry also snagged a couple of those wisdom cards that she was so enamored with. They now sit on her desk as pretty daily reminders.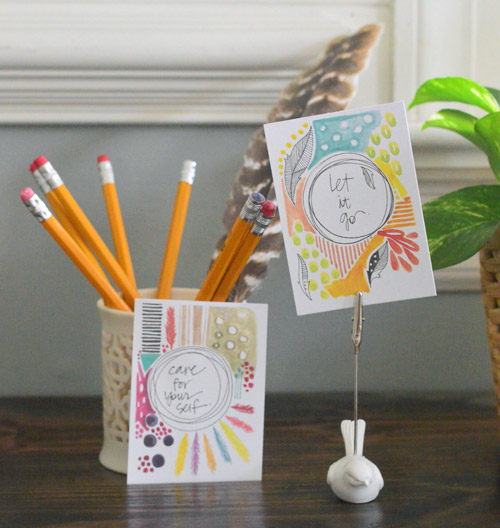 And we also raided Funnel Cloud Studio a bit. No, I didn't let Sherry bring that Jersey print home, but I did give into her addiction to all things shiny and animal related with these gold and silver prints. Gold armadillo for the win. And you know we love our rhinos (see our blog header for evidence).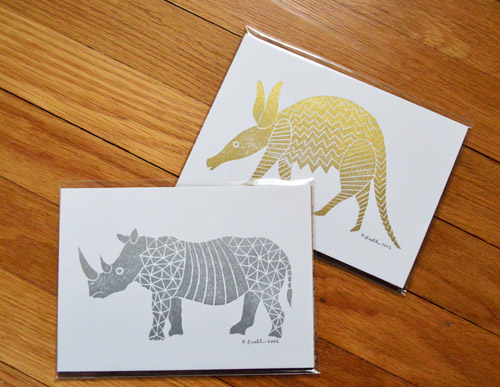 Meanwhile I convinced her that we had to have Funnel Cloud's awesome new poster: Things That Are Awesome.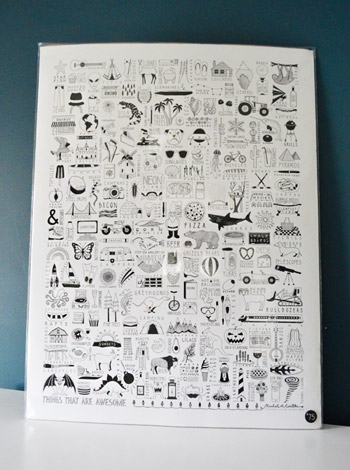 We don't have a spot picked out for it – we're thinking guest room – but I've already clocked about thirty minutes just discovering all of the intricate little drawings (and secretly evaluating whether I agree with their awesomeness or not). We even had guests over for the holidays and all of them were drawn to it – just standing there staring. So we think it'll make an awesome addition to that room.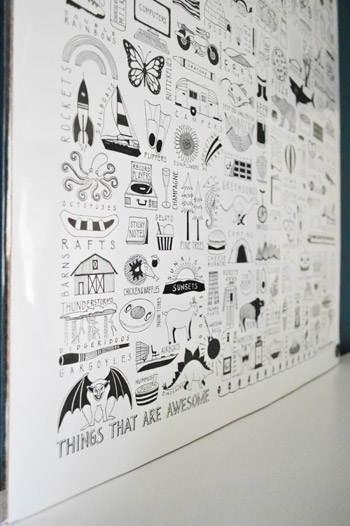 Now we'll pause to send a huge thanks to all of the awesome artists who make these cool local craft fairs possible. Your talent runneth over, and we love Sherry loves bouncing from booth to booth. Literally, I think she was bouncing for a good part of the fair. You know what they say: giddy wife, giddy life. Wait, that's not the expression?
Anyone else hit up any craft fairs or get any handmade gifts to give this year? Got any favorites from the items that we shared above?