…the third week of December! Okay, maybe that's not as catchy as the opening to SNL, but for all y'all (yup, I said it) who follow our Instagram pictures (and who have requested the videos to match the wacky photos that we posted below) here ya go. Yes, we never thought we'd actually type a sentence like this, but we've had a busy week in the live television department. See, it sounds crazy. Also, about that pic on the right… we didn't try to match the set. That just happened. And it was hilarious.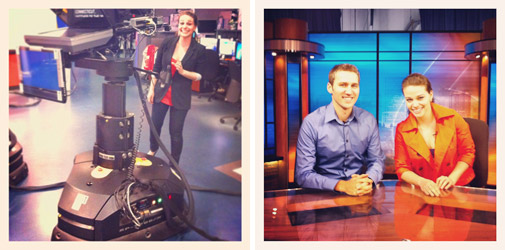 By coincidence, two local Richmond stations actually invited us to appear on their programs – ahem – their LIVE programs, this week. That means things from our mouths would go straight to people's television sets with barely any delay. Yikes. Wait, let me rephrase that. YIKES.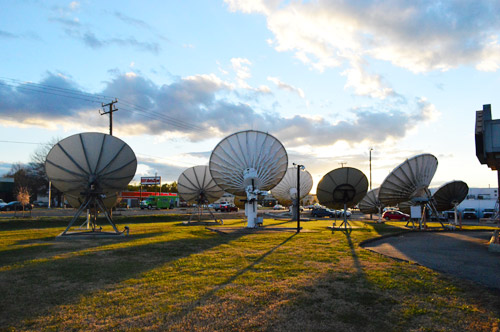 The first was on Tuesday with NBC's "First at 4" newscast. We were invited by local newsman slash social media enthusiast (slash fellow parent to a Clara, slash friend) Ryan Nobles, who interviewed us about a year and half ago in our house about radon (see the end of this post for the clip which involves proof that Sherry's crazy). So it was fun to be invited to his place this time around.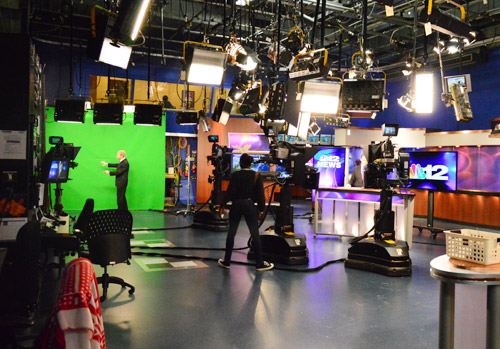 Check out the weatherman (Ros Runner) giving his forecast on the green screen in the back.
And here's our short little interview with Ryan. It was relatively tame on the embarrassment scale, minus when Sherry proclaimed that chalkboard paint is great because "you can tell people what to do." Twice. She says she couldn't stop repeating it. (You can also watch it here).
Wanna know a funny secret? As soon as Sherry and I both stepped into place for our interview, the producer paused and said "yeah, I'm gonna get her a box." Yes, my short wife had to secretly stand on a box behind the news desk the whole time. Ain't she cute on her little booster step? And hey, if you ever wondered if newscasters wore pants behind their desks…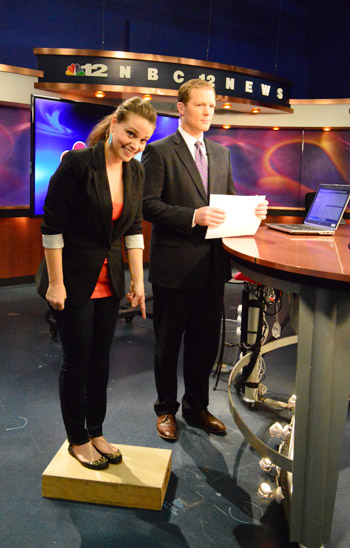 So thanks again to Ryan and the folks at NBC12 for having us last Tuesday. And thanks also to whatever live TV god prevented us from cursing / fainting / saying the word "fart" instead of art on camera.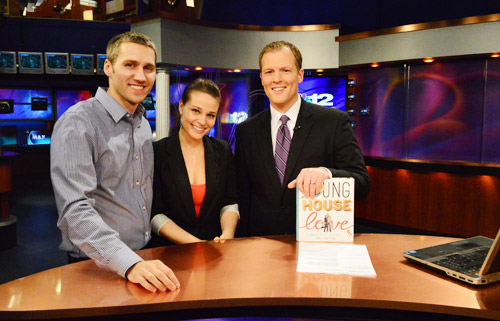 With that boost of on-camera confidence, we arrived Thursday morning at CBS6 for our second gig with very few butterflies. OK that's a lie, we were just slightly less nauseous and Sherry vowed not to work "tell people what to do" into the discussion this time. She also decided to tuck away her security blanket (The Black Blazer) and broke out a jazzy orange number instead. She just told me it's coral, but I'm a guy so I'm gonna stick with orange.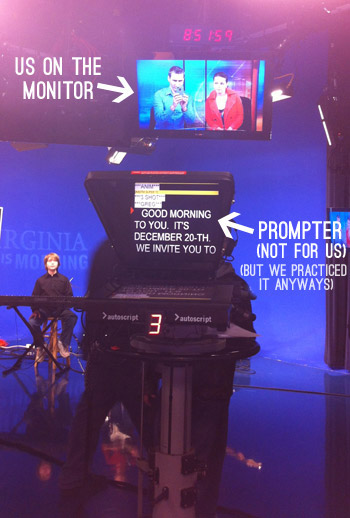 It also helped that this was a rodeo we'd been to before, way way back in 2009. It's a local morning program called Virginia This Morning and we've been friendly with them since that interview long ago. In fact, they were the ones that Sherry begged to bring The Nate Berkus Show to Richmond (it wasn't on at all in our market). It didn't work, by the way (apparently they need more than one crazy fanatic calling to make things like that happen).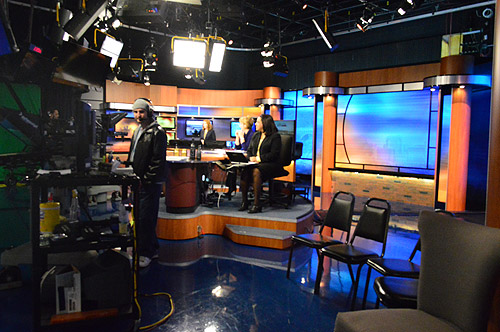 We found out when we got there that we'd actually have not one, but two five minute segments. Gulp. But the hosts were so warm and welcoming that it felt pretty simple. Here's the first clip where we talk about everything from buying ugly things in thrift stores to Clara's favorite tool. Oh, and Jessica also give us a hybrid celebrity name in the introduction. (You can also watch the clip here).
While we were waiting to come on again we also got to watch this local tween jazz band play Jingle Bell Rock. Spot any future Biebers in there?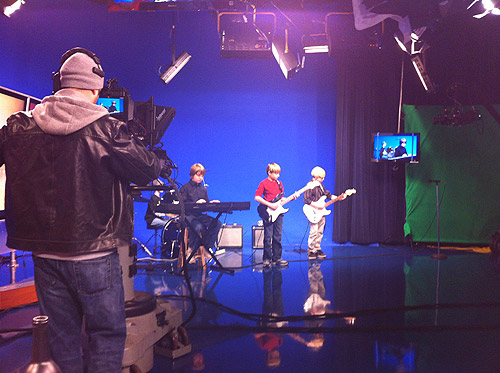 Then we closed out the show with this second segment, which was about some fast and easy projects from the book that could act as last minute stocking stuffers or hostess gifts. And Sherry raised her fist in the air for Jersey. Really, that happened. But we happily avoided any wardrobe malfunctions or other FCC-fine-worthy moments. Huzzah! (You can also watch it here).
We're very grateful to be able to go into the holiday week knowing that we didn't bring shame to our families or do anything that would ban us from Richmond television for life. But we really have the folks at each station to thank. Seriously, it was great to see Ryan Nobles again – and Jessica Noll was so easy to talk to that we could've gone on for hours. But I don't think they're looking to add "The Petersiks Blab On And On" to their station line-up anytime soon. #obligatoryweirdfacephoto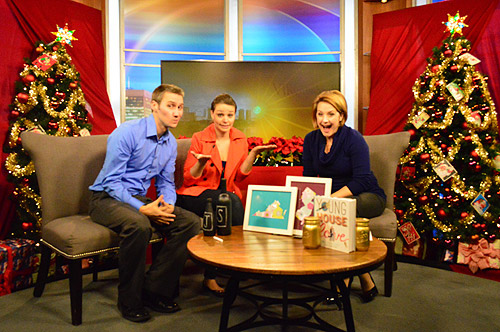 Anyone else have any TV experiences that have gone well? Or not so well? Did you cash in on your 15 minutes of fame or get recognized from your moment on air? Did you wear dangly earrings to the first one only to be told not to do that for the second one (ok, Sherry did that and then got all flustered so she grabbed the coral orange blazer for the second show in a moment of panic). Nope, still can't call it coral.