We actually whipped up this fast and easy holiday decorating video before we finished our tree (which we shared last week), but because we're sticklers for order around here, we thought tree-decorating-video-numero-dos made more sense following tree-decorating-video-numero-uno so we're squeezing this baby in at the end. But good things come to those who wait, right? According that that cliché they do anyway. So without further ado, here's a video* (with plenty of belly for those on bump watch) all about seasonally decorating every nook and cranny of your home on the cheap and in a snap. And the best part is that we used things we already had laying around (so we spent zero bucks this year on these holiday accessories). You can watch it below or over here on You Tube:
And for those of you at work who can't exactly fire up the video, here's a little summary of what we touched on. First we detailed how we tossed together our mantel decor using cheap-o stocking holders along with stockings that we customized with little DIY labels and then flanked with gleaming silver candlesticks topped with ornaments.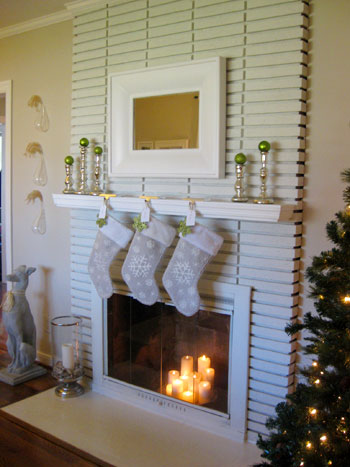 Sure a few glowing candles in those candlesticks would add gentle ambiance, but with a slew of candles burning in the fireplace it's quick and easy to add color and holiday fun by topping them with shiny ornaments instead.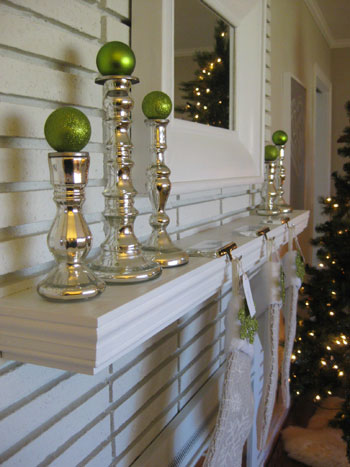 Here's a detail shot of the stocking situation. Basically we hung our little neutral stockings from Tar-jay on our cheap-o $5 stocking holders (also from Tar-jay) and layered on a 20 cent sparkly green snowflake ornament (yup- also from Tar-jay) with a little tag that I made with each family member's name on it (I snipped cardstock into a tag shape, punched a hole, knotted on a little loop of twine, and scribbled "John", "Sherry" and "Burger" on the front. Easy, eh? And now Santa knows which one is which (without any spendy monogramming).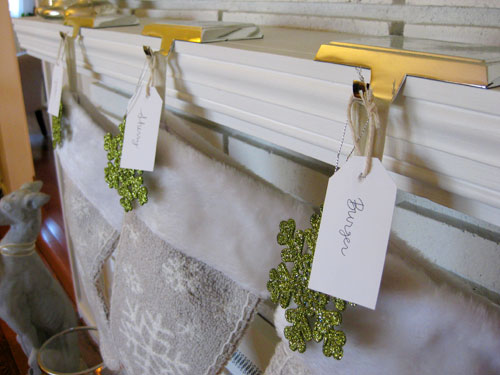 We also quickly switched out the normally ivory and cream pillows on our sofa for some green silk ones that we had in the third bedroom (we snagged them for $10 each at TJ Maxx a while back). They definitely tie into the tones on the mantel, the nearby console (which we'll get to in a minute) and of course our citrus themed Christmas tree. And the silk material feels extra luxe with all the glittering ornaments in the room. Oh and tossing a throw with a bit of green and some playful fringe (also stolen from the third bedroom) and one of our home's many traveling faux sheepskin rugs (from Ikea) over the back of the sofa added even more layered and plush texture. And we actually like how they don't scream Christmas at all, but definitely work with the decor in the rest of the room.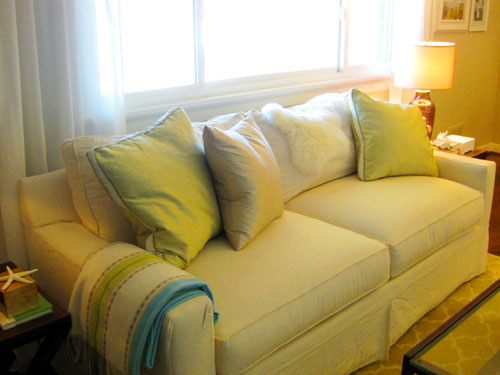 We also should warn you that it's not Christmas in our house unless we shove ornaments in practically every vessel that we own, so we started by filling each of our glass based lamps with silver ornaments for a super simple yet totally stunning result.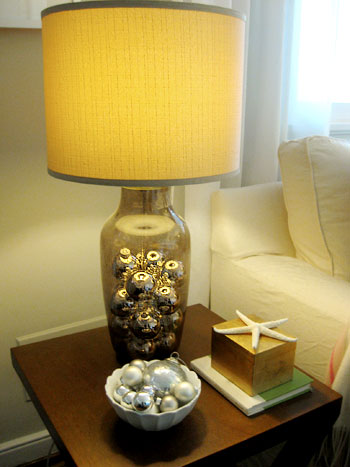 Oh and the tip here is that we store the 15 ornaments for this lamp in a large plastic ziplock bag labeled "lamp base #1" and the other 15 that we use for the second lamp in another large ziplock labeled "lamp base #2" so it's practically autopilot decorating from year to year. Of course to switch things up you could stuff your glass based lamps with glittered or painted pinecones, faux snow balls or fake snow, black and white family pictures (vintage looking ones of children on sleds would be cute) or even fresh pine boughs clipped from outside.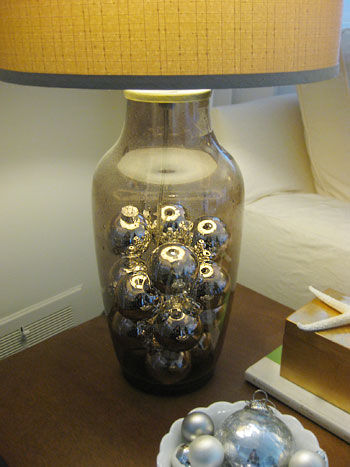 And since we are not above decorating the faux animals around Casa Petersik for the holidays (we admit it's weird, but kind of oddly festive too) we took a piece of ribbon from a gift we got last year and tied it around Mr. Dog's neck. Presto, in about thirty seconds he was wearing his holiday best. You could also do this around any ceramic deer heads (and their antlers) that you might have on the wall or even around concrete lions that flank your driveway.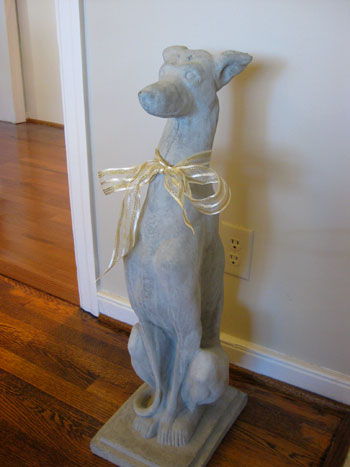 To further demonstrate that we don't take ourselves too seriously over here, it's an annual tradition to give our iron bull (who hails from a North Carolina flea market) some funny ornament earrings. Because isn't it every bull's dream to be decked out for the holidays? Olé!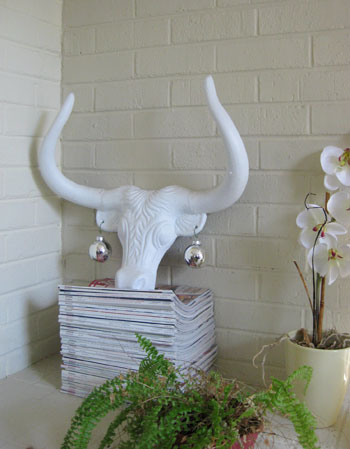 Even the kitchen got in on the action. We just moved the fruit that we usually store in our faux clam shell (from Z Gallerie) over into an alternate bowl on the other side of the counter, which freed up our giant shell for- you guessed it- a whole bunch of ornaments. We warned you we're pretty much all about stuffing ornaments everywhere and calling it a day. Anyway, we layered cheap shiny silver balls with smaller frosted ivory and gunmetal colored ones, which actually look like big gleaming pearls (which we think is quite appropriate for a clam shell). And not only does this display dress up any kitchen for ol' Saint Nick, it can actually serve as a great centerpiece when you're entertaining (check it out on our dining table two Christmases ago).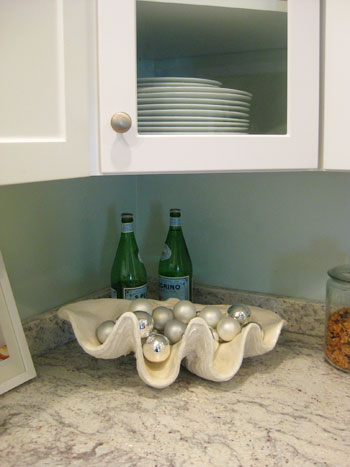 Because we like to change things up on our console table for certain holidays (here's what we did for Halloween and Thanksgiving), this season we simply popped a feather tree in the middle of a pretty green tray, added a cylinder full of green ornaments, and even used a bit of real live greenery to hammer home our green-is-the-new-black decorating riff.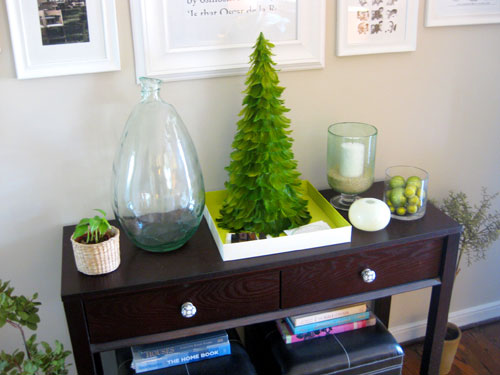 And in case anyone's wondering, the green feather tree is from Target last year (we picked two of them up on sale after Christmas for just $4 a pop)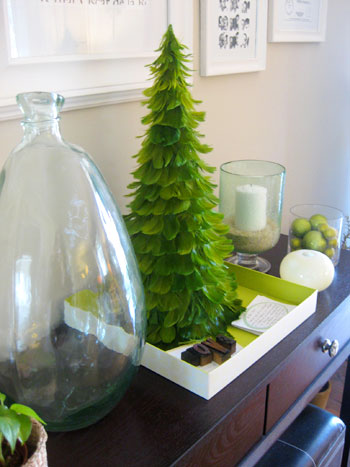 Then we made our way into the den which also has a mantel that was desperately in need of some seasonal spin. We threw up a pretty neutral wreath with fun green accents (purchased by my sweet mother-in-law at Pottery Barn for my birthday back in March- it was super on sale since it was so far past the holidays). And yes, we could have removed the framed art that you see leaning behind it, but we didn't mind the layered look since the mat was so large that the wreath doesn't obscure the picture behind it.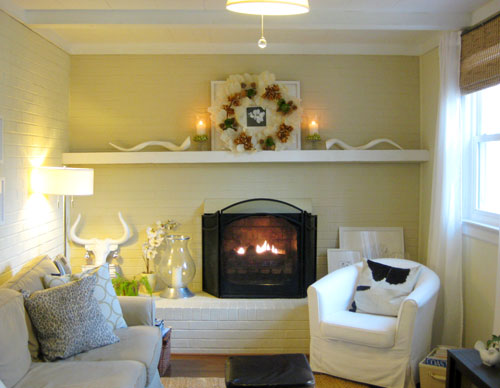 Then it was as simple as dropping a few green glittery vase filler orbs (picked up a while back at TJ Maxx for $2) in each hurricane for a soft and symmetrical arrangement that feels cozy and welcoming- especially when we light the candles and fire up the gas fireplace.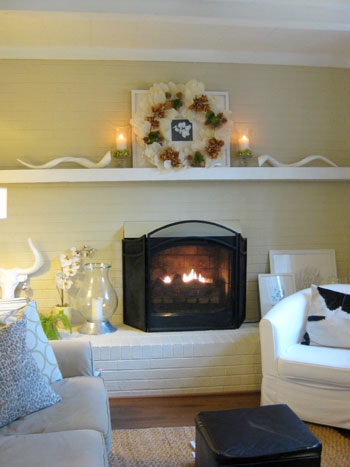 Isn't my birthday/Christmas wreath awesome? The white paper leaves had me at hello (along with the super sale price that didn't put it out of birthday-list range). Gotta love those waaay after Christmas sales that just happen to fall over March birthdays…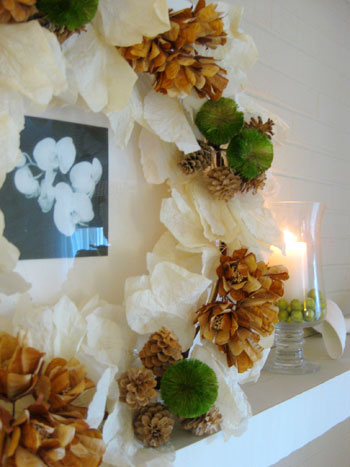 So that wraps up our little holiday decorating roundup for Casa Petersik. And although a lot of the seasonal accent pieces that we introduced were pretty neutral (gleaming silver ornaments and candle sticks, tan stockings, an ivory wreath, etc) except for some fresh pops of green, our bright citrus-themed tree really amped everything else up and looks so festive and fun along with the rest of our holiday decor.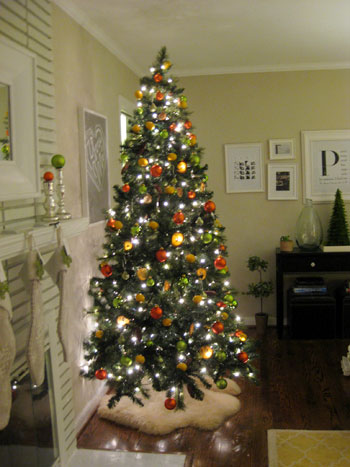 So good, in fact, that it inspired us to make a few last-minute switcheroos to inject even more color into our green and neutral decor (like the orange ornaments you now see on the mantel).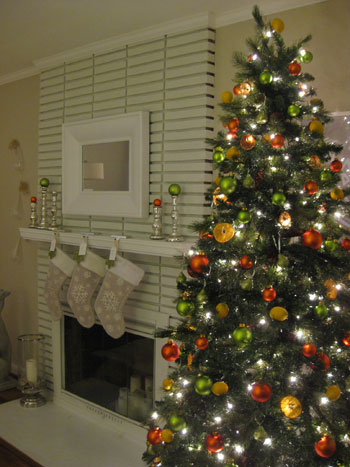 So from the bottom of our orange, lime and lemon loving hearts- we hope you all have a blast decorating your home for the holidays.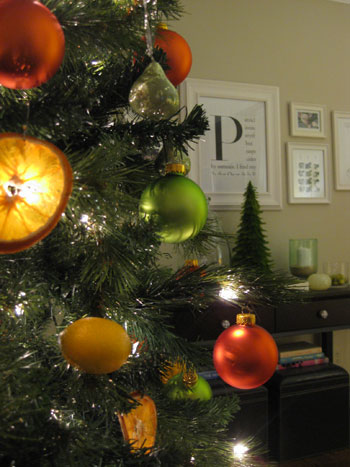 And while we're on the subject, what kind of seasonal decor do you guys bring into your home beyond just decorating the tree? Do you have a family tradition to buy a fresh boy scout wreath for the front door? Do you set out lots of holiday treats like candy canes and caramel corn? Do you string up lights around your house's entire exterior? Let's talk about how you really set the scene for a stellar holiday season.
* Yes, in hindsight I realize that there are two "that's what she said" moments in the video (for those who watch The Office). Both are totally unintentional.
Psst- Looking for more holiday decorating and entertaining ideas? Check out this post, this post, this post, this post, this post, this post, this post, this post and this post for more seasonal fun.
Update: You can check out all of our favorite holiday decor finds here – many of which are under $15!