We couldn't let the holiday season pass on by without taking on a few more fun and festive decorating projects. And by projects I mean super simple stuff that takes less than a few minutes and incorporates everyday items you already have around the house. In fact, all we picked up was a bag of moss from Michael's for under $5 and some small silver toned ornaments from Target for $4.99.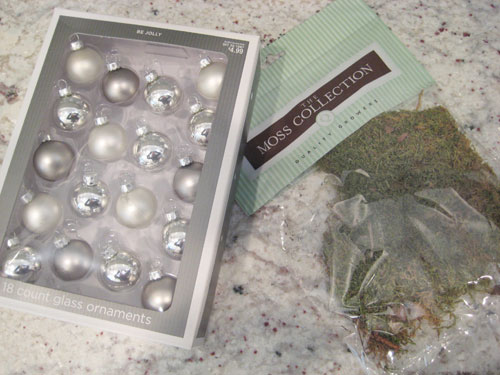 Then we just grabbed one of the cylinder vases that we had laying around and added a few inches of moss topped with a handful of glistening mini ornaments: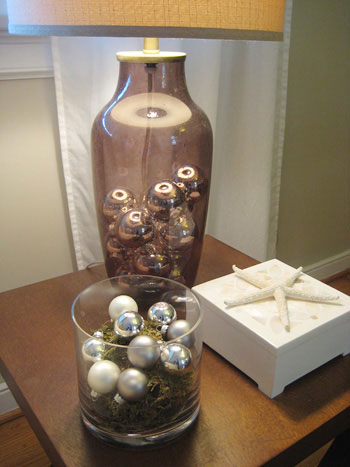 Adorable on a side table, mantel, coffee table, and even as the Christmas dinner centerpiece. And so easy!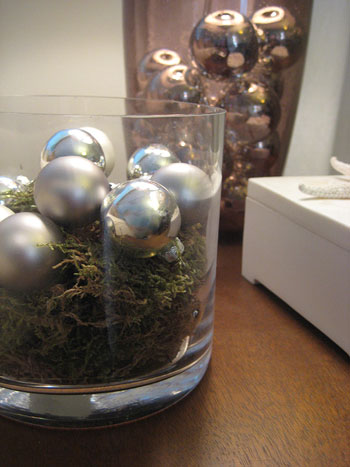 If you don't happen to have a cylinder vase handy, a variety of other vessels will do. A glass bowl would work just as well. Even a large glass hurricane (which called for a bit more moss and a few more ornaments) looked fresh and festive: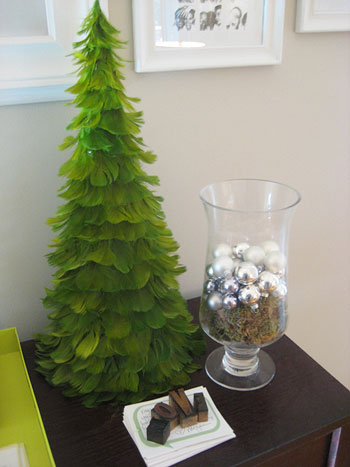 Here's another ornament related idea that doesn't even call for moss at all. Popping one simple-yet-stunning ball into a decorative bowl on a side table adds sparkle and shine in about ten seconds flat.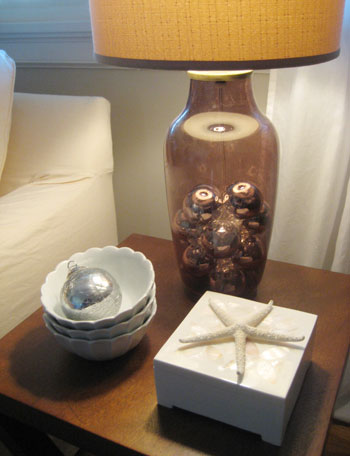 But sometimes side tables and buffets have to multipurpose around the holidays. If guests are coming over and finger food needs a place to live, why not add a bit of holiday glitz to the mix by filling a large serving plate with small ornaments and then adding a cup full of popcorn, candy canes, mixed nuts, breadsticks, twizzlers, or red and green jelly beans: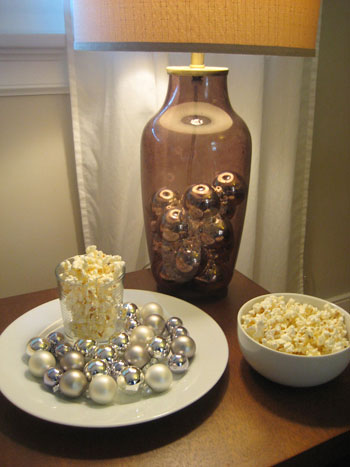 What is it about windowsills this time of year? We consistently ignore ours (save for some weekly dusting) but then December rolls around and we want to dress 'em up with something wintery and wonderful. Instead of candles we decided to create something that gleams in the daylight too. A little mercury glass vase (that we snagged a few months ago at Target for $3) plus some moss and a few more mini ornaments equals a darling little seasonal showstopper. And you can create a whole bunch of "topiaries" with just one bag of moss if you stuff each vase with paper and then just cover the top with moss). You know we're all about getting more for our moolah.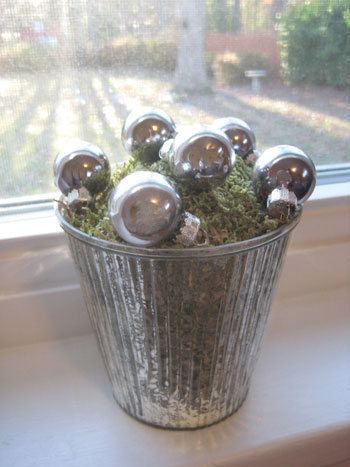 And if you're looking for a more illuminating project, popping a pillar candle into a glass bowl, hurricane or vase along with a tiny bit of moss and a few more mini ornaments instantly creates a great little holiday accent:
We hope you guys are having as much fun with your seasonal sprucing as we are! And we'd love to know if you have any other easy and affordable holiday decorating ideas up your sleeves. Tis the season to spill the beans…
Update: You can check out all of our favorite holiday decor finds here – many of which are under $15!