We're back with another DIY holiday gift idea. It all started last year when we purchased three inexpensive starfish from Michael's and painted 'em to look like little Santas. We'd seen similarly painted starfish in beach shops around the holidays for about 12 bucks a piece and we knew we could crate our own on a dime.
And because John's parents were the proud owners of a brand new beach house we thought the starfish motif particularly applied. So we painted little belts, hats, beards and boots on our starfish and voila. Instant Saint Nick with a beachy twist. Here are John's parents opening their little Starfish Santas last Christmas: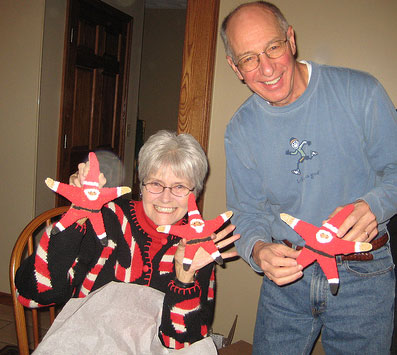 And this year we thought our little painted starfish could become a tradition of sorts. So we decided to attempt the lesser seen Snowman Starfish (although starfish are a bit less reminiscent of roly-poly balls of snow). We picked up another starfish from Michael's and dug out our red, white and black paint from last year and we were off.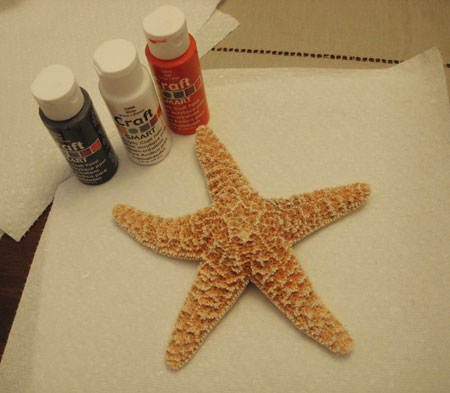 We started by painting the whole starfish white and then added little black boots, three black buttons, and a black mark on the top of the starfish that we would later turn into a hat. A few black dots for the eyes and the nose along with a happy red smile completed step two.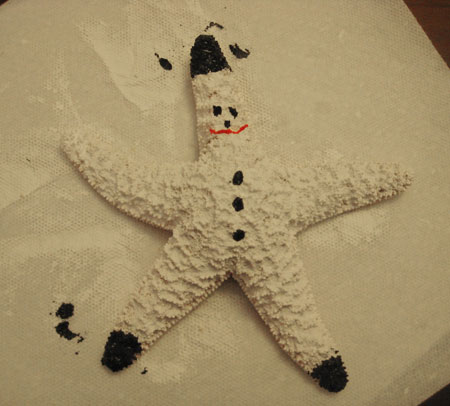 Then for a little extra flair we added a tiny scarf fashioned from red ribbon (glued in place with a dab of Liquid Nails) and the brim of a hat (by cutting out a black card stock oval with a hole in it to slide down the point).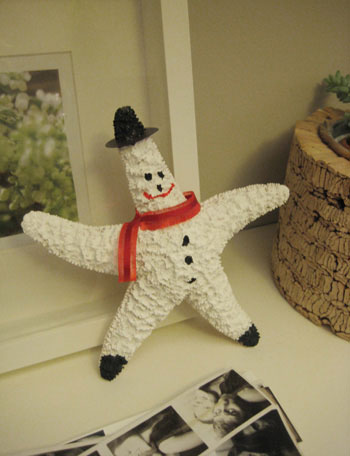 Is it the chicest little holiday decoration that ever existed? Nope. But it's cute and handmade and fulla love. And the project itself is so easy that children can definitely help, so if you're looking for a holiday craft project for the kiddos this may be just the thing. Now we'll cross our fingers that John's parents didn't check the blog today. Shhh, don't tell.
Update: You can check out all of our favorite holiday decor finds here – many of which are under $15!