Heard something in the "We're Digging" segment of our podcast… but can't quite remember which episode it was? Well, you're not alone (heck, we can't even keep all of the episodes straight) so to make it easier we've rounded them all up in one big master list for ya. Just scroll on down until you find it, plus you can click on any episode title to listen or view the full show notes. Happy Digging!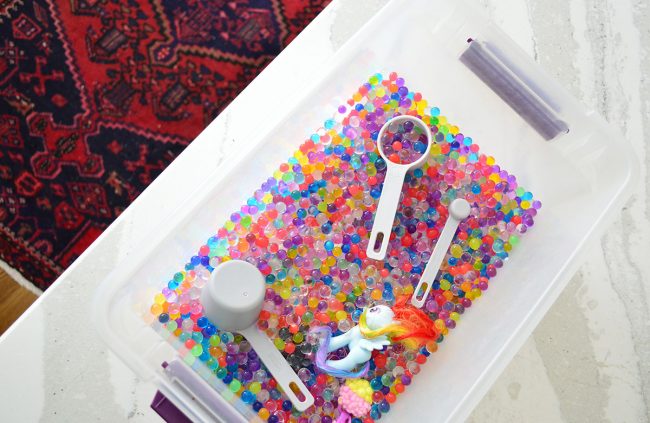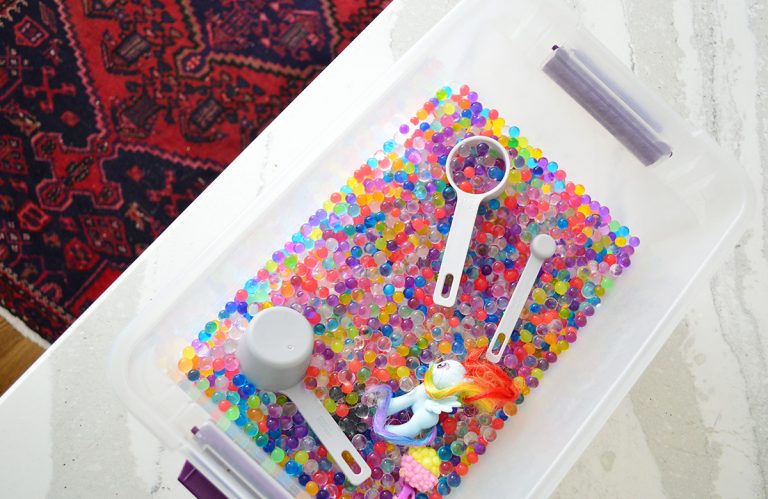 Sherry: MarvelBeads, which have kept our kids surprisingly busy and are surprisingly not that messy (especially if you store each batch in a small tupperware with the lid open so it doesn't get moldy).
John: The books we've both been reading on our recent travels: The Couple Next Door, Final Girls, and The Girl Before. Warning: they're pretty dark!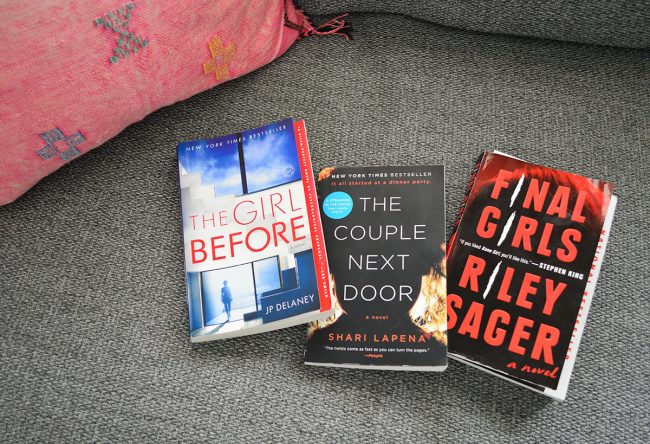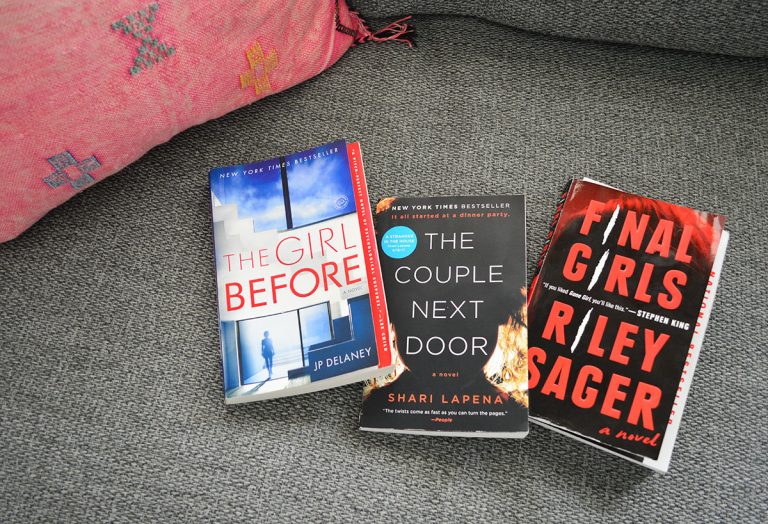 Sherry: Cameo, a website where you can order personalized messages from celebrities (well, "celebrities"). John got Sherry a birthday message from Countess LuAnn from the Real Housewives of New York City and she still screams every time she listens to it.
John: Mail order boxsprings that you assemble yourself, like this metal boxspring/foundation we recently ordered for our guest room. It's more affordable than some store-bought ones (which cost extra to deliver) but these came shipped from Amazon for free. Pictures below is a wooden one we had previously, but since went into our bedroom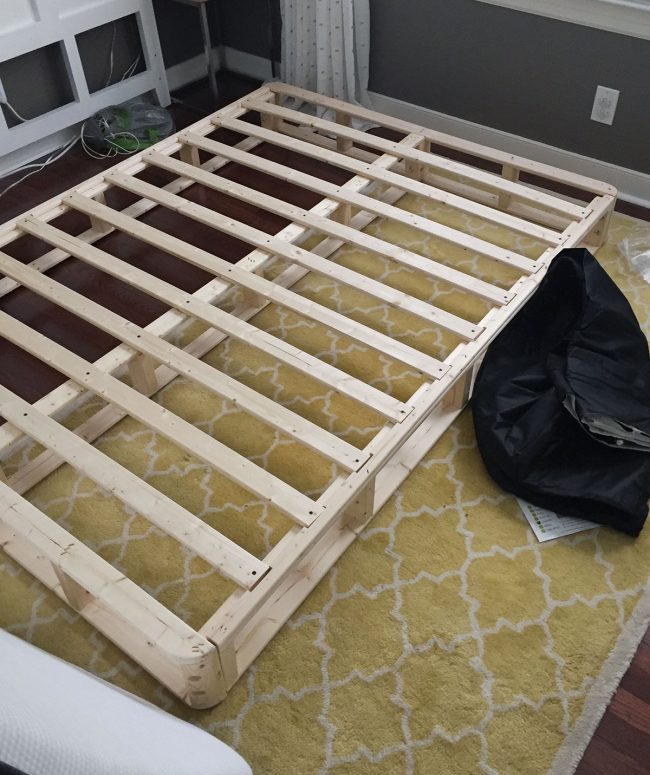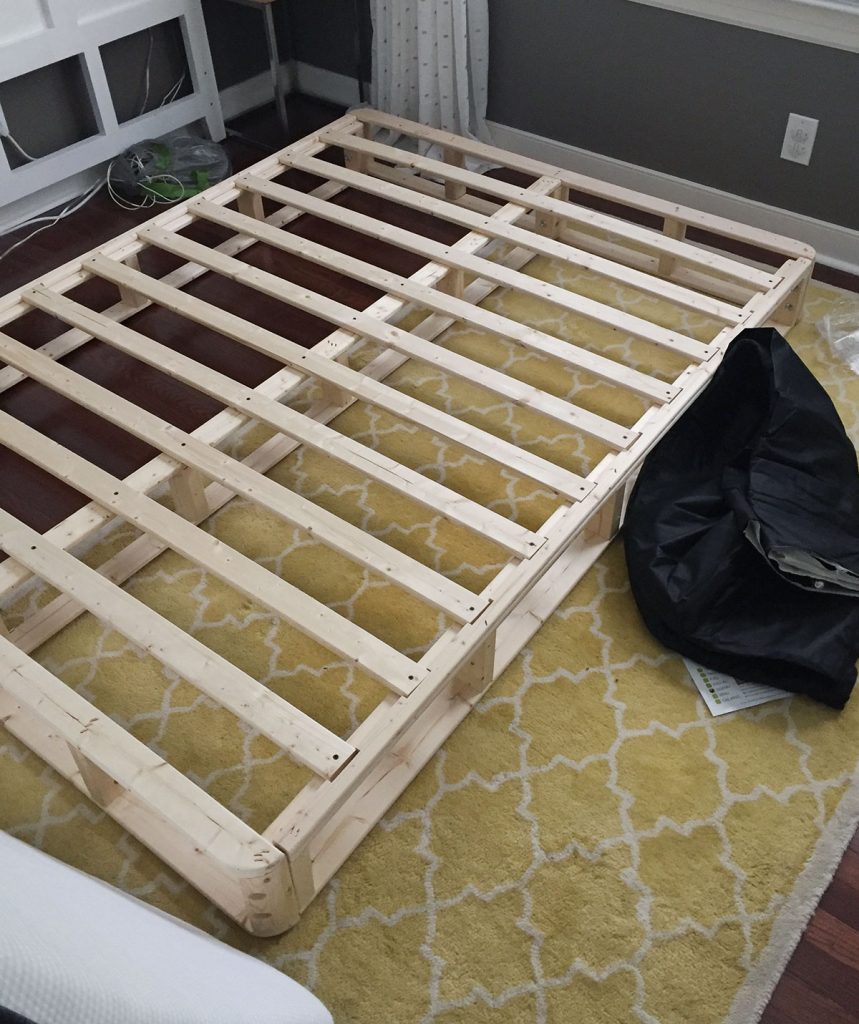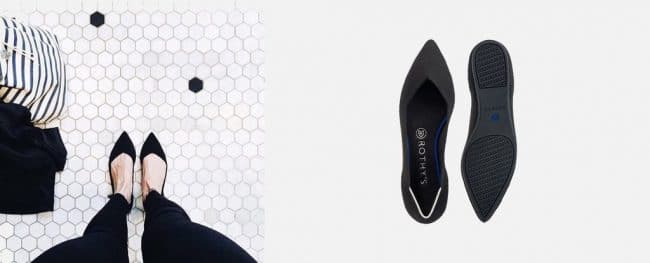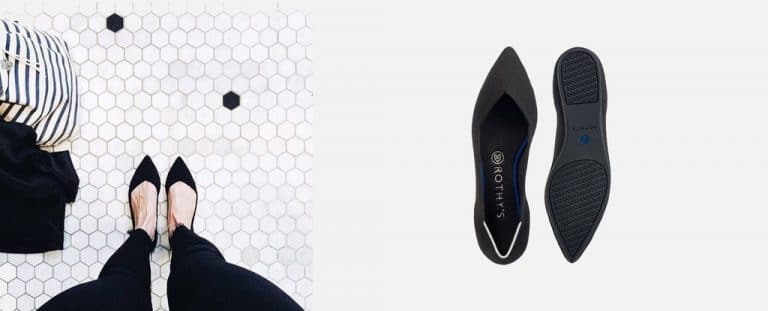 Sherry: Rothy's shoes, which Sherry raved about feeling like socks. They also come in a round toe option as well. I'm relieved to report that they don't look like someone put their foot into a Desani bottle, and it's also pretty cool that they're machine washable.
John: Going on double dates with friends!
Sherry: Restored By The Fords on HGTV, featuring brother and sister team Steve and Leann Ford (above) because of their bold and intersting spaces that aren't like everything else we'e seeing on HGTV these days.
John: Wohven, the t-shirt subscription service we mentioned. I've been pretty impressed with the quality of them (versus what I typically wear which is usually Target, Old Navy, or free shirts from the various races I run). You can choose the size, the neckline (crew or V-neck), and plain ($9) or graphic tees ($11). Below are some samples of their designs: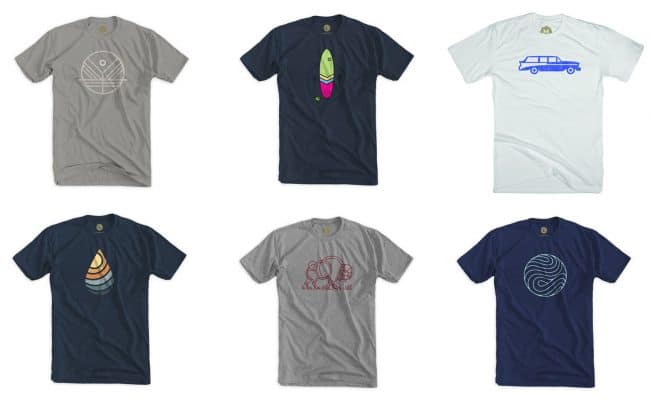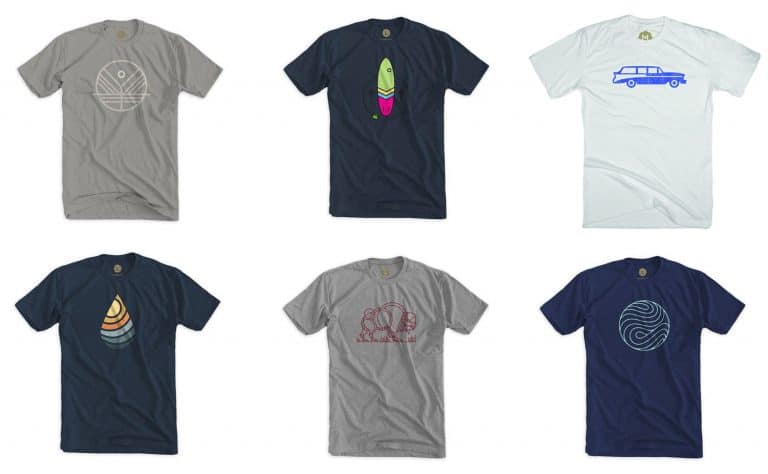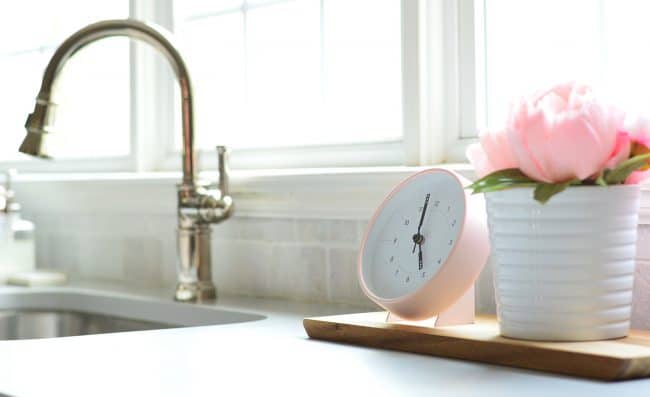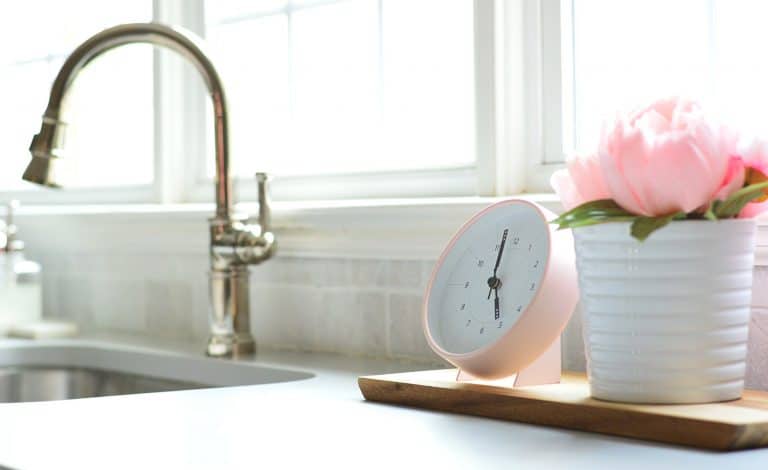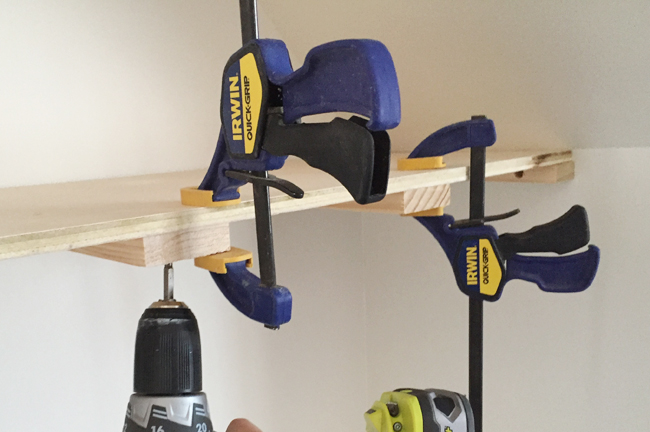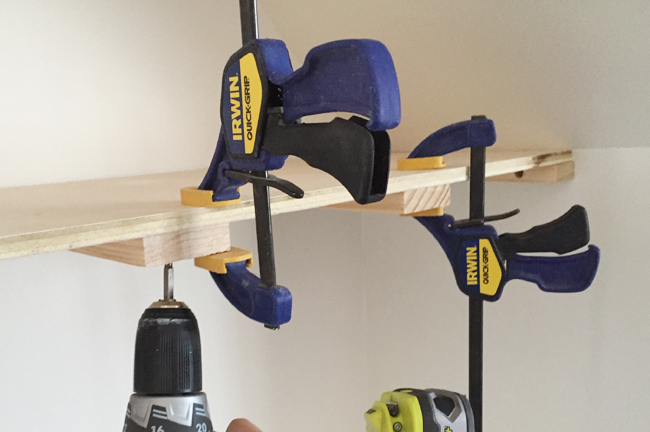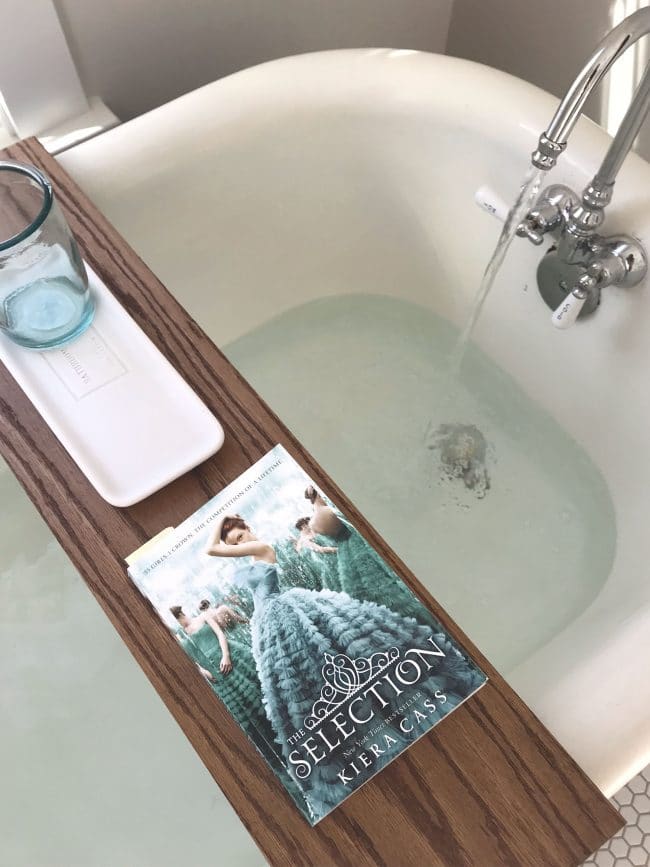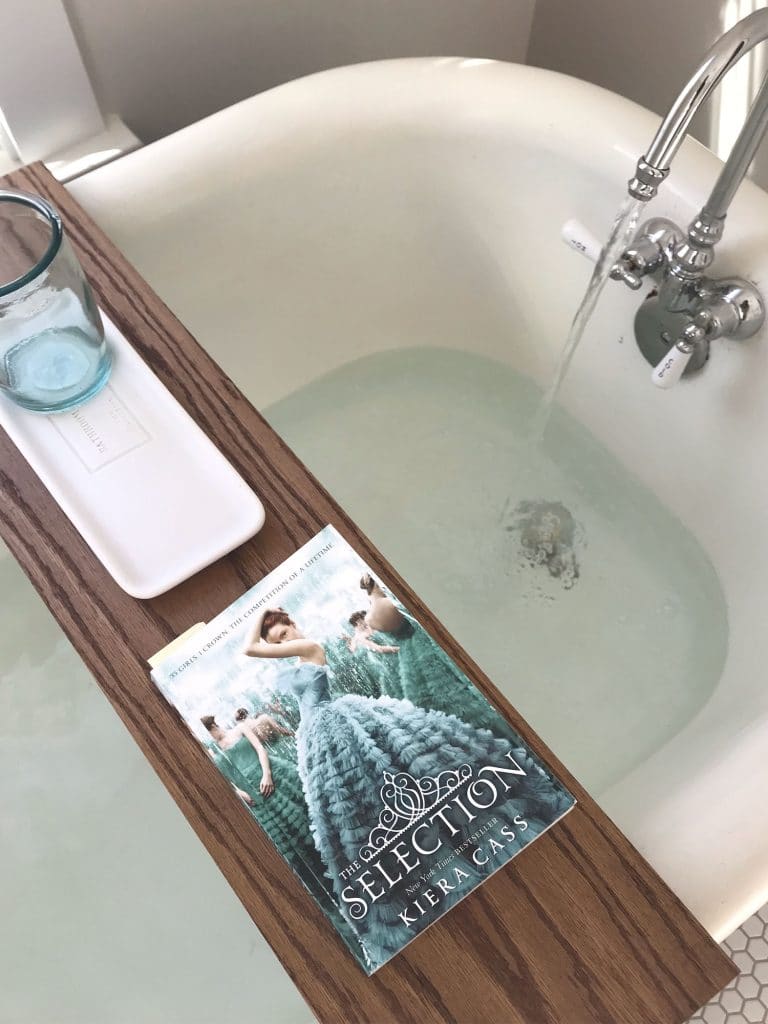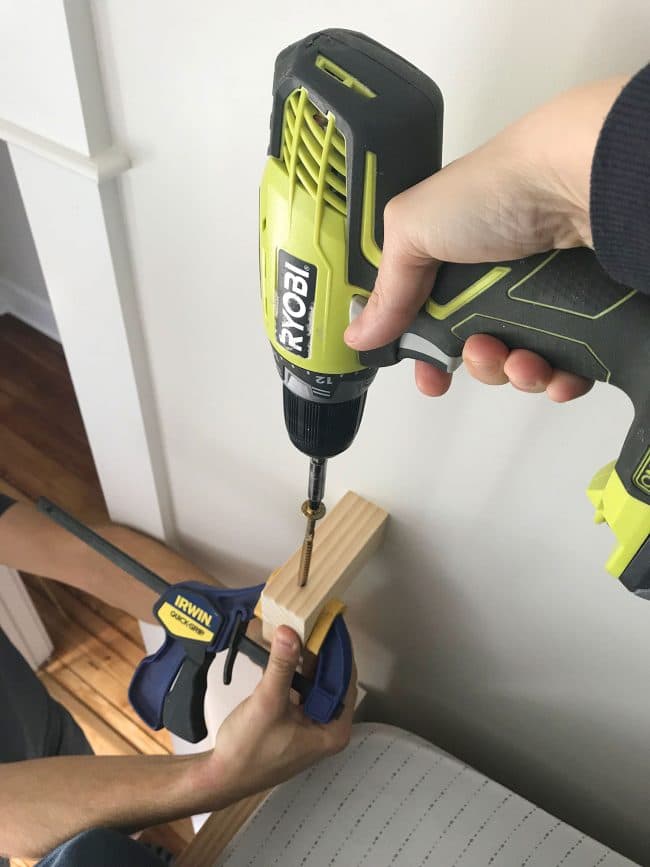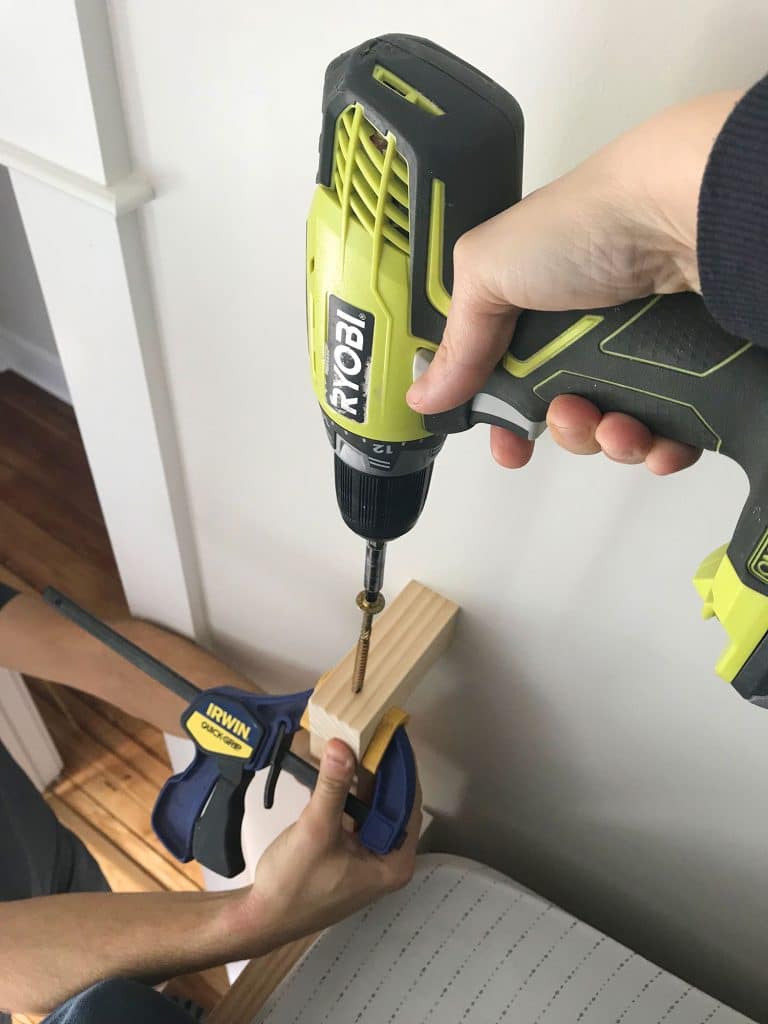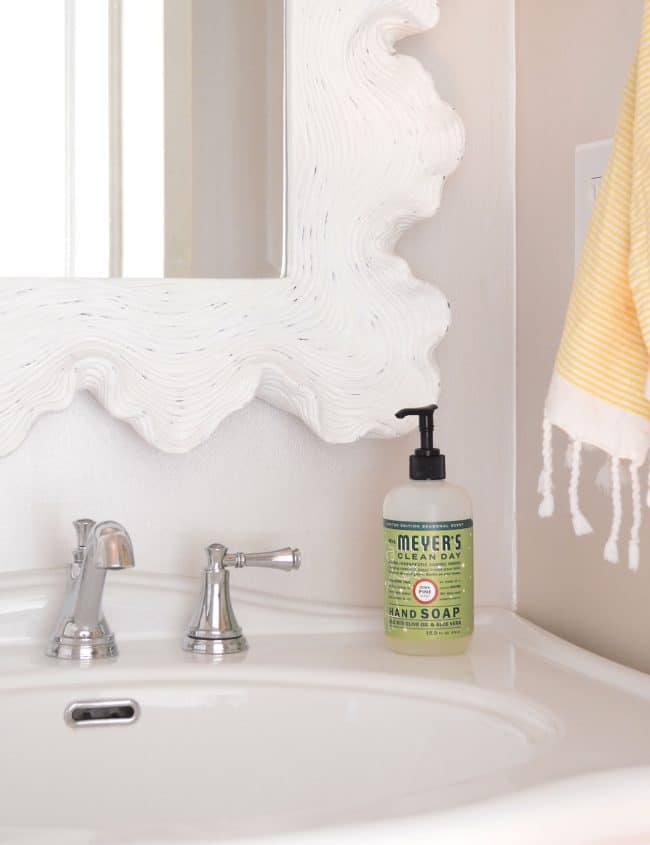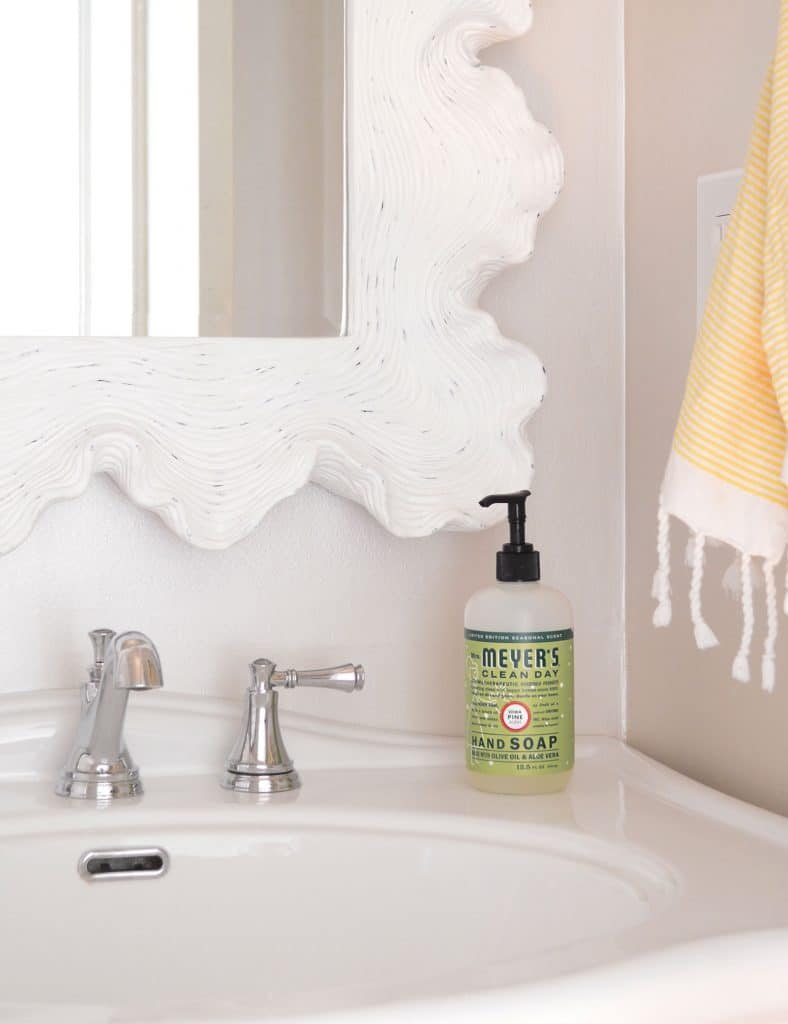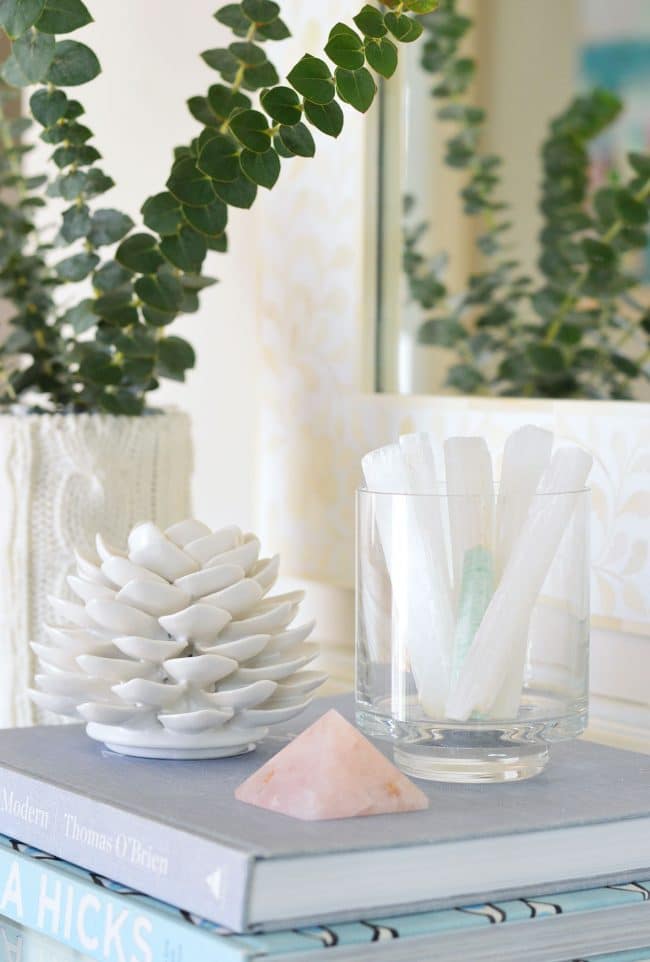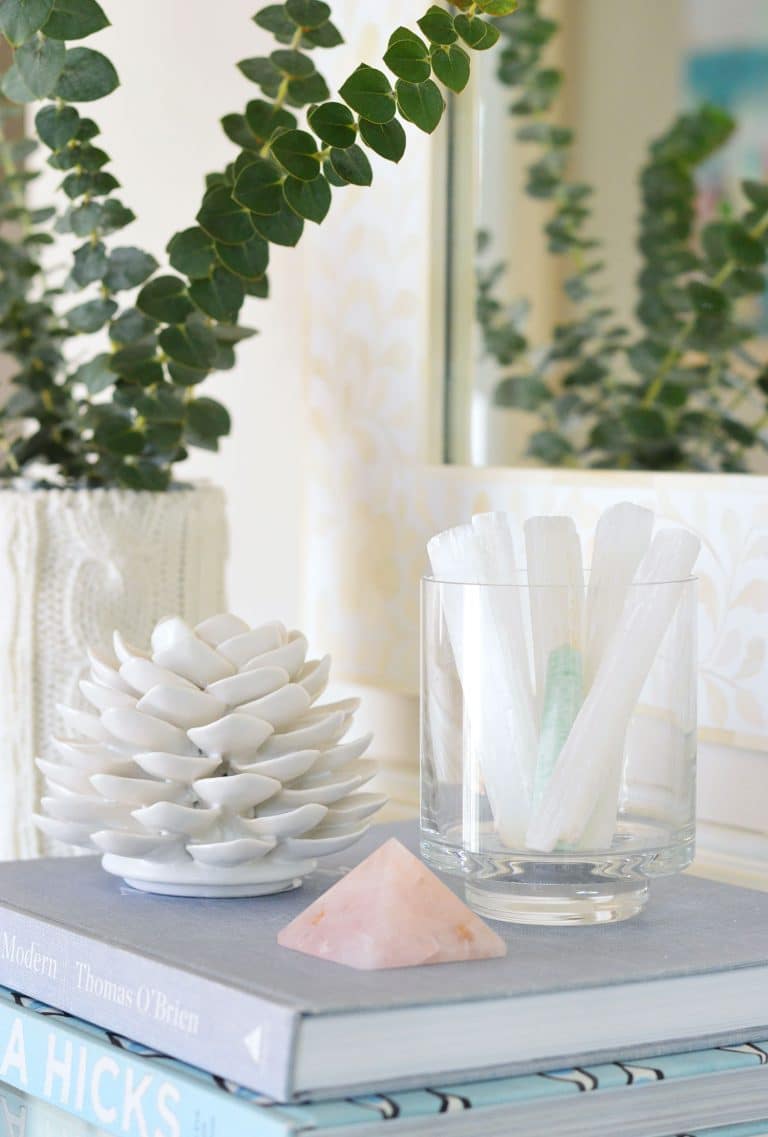 Sherry: Crystals! Including thoes shown above, some of which came from a local shop but many she picked up on Etsy from shops like this one,  this one, this one, this one and this one.
John: Ikea IMMELN shower baskets that we now own four times over (plus a pack of these hooks) to hold shampoo, soap, and other bath stuff in our showers here and at the beach house. They've been incredibly reliable (knock on wood). Much more so than the ones we grabbed at Target one day (specifically this one, which crashed to the ground in mere minutes)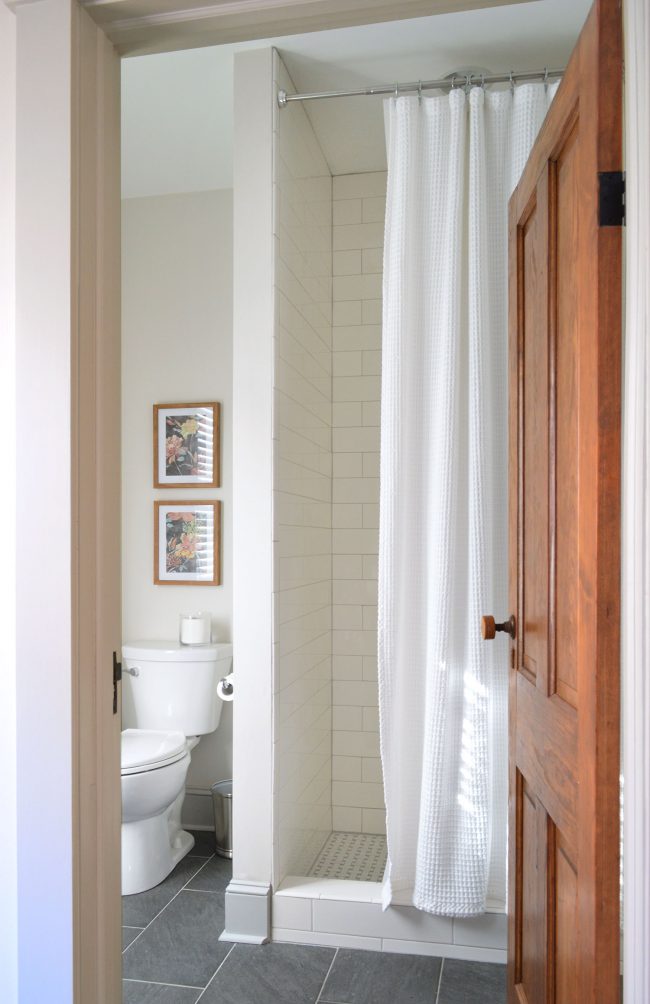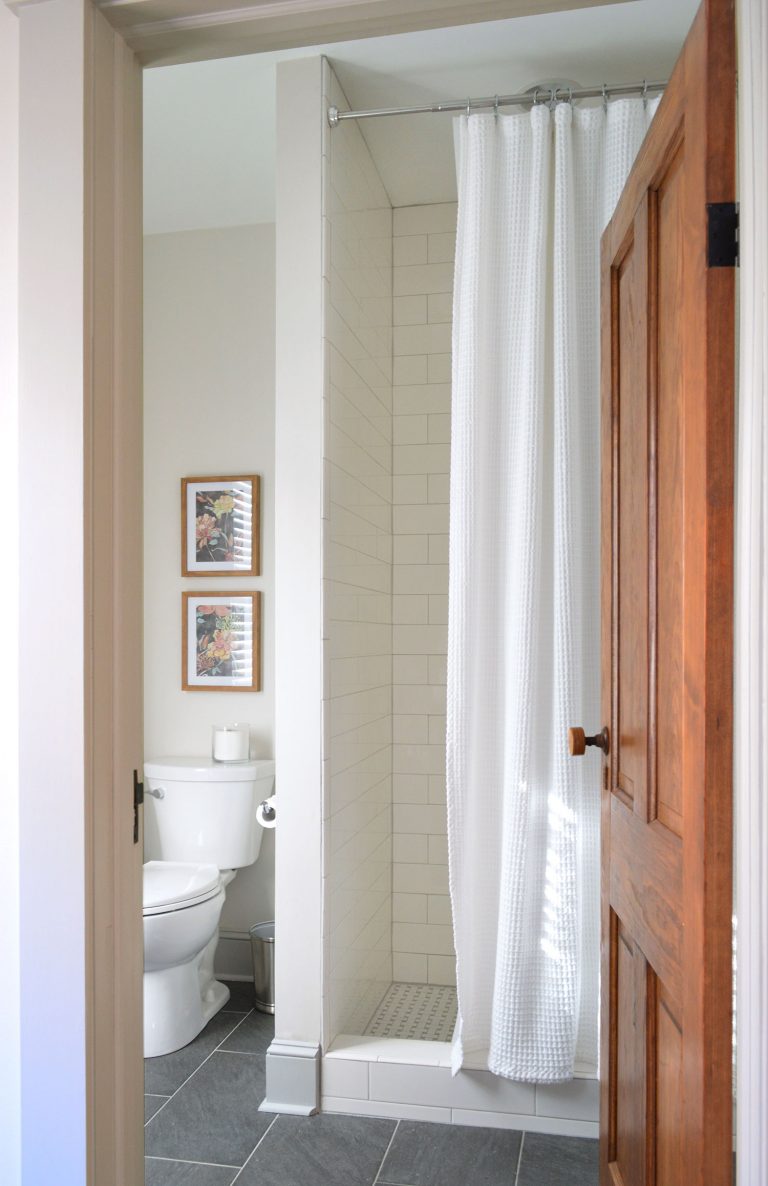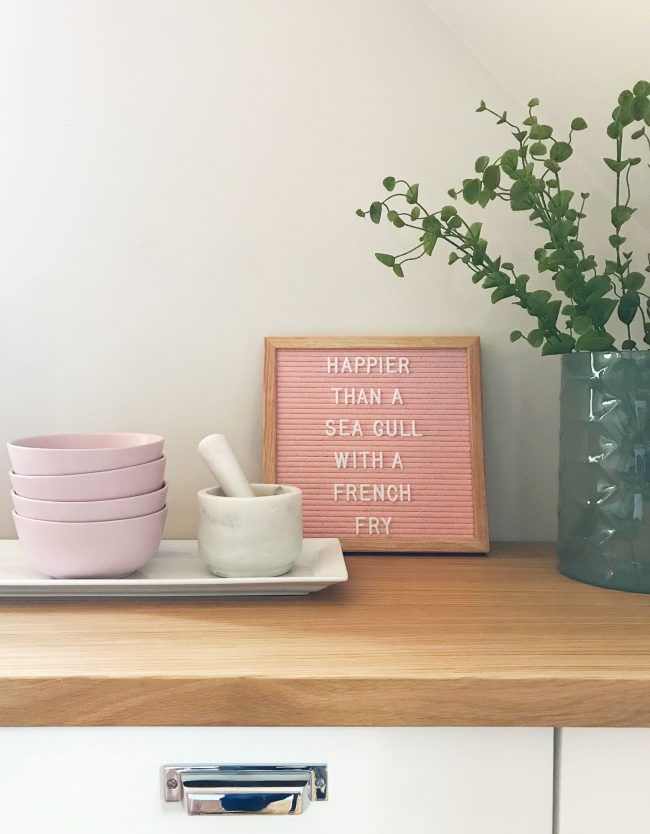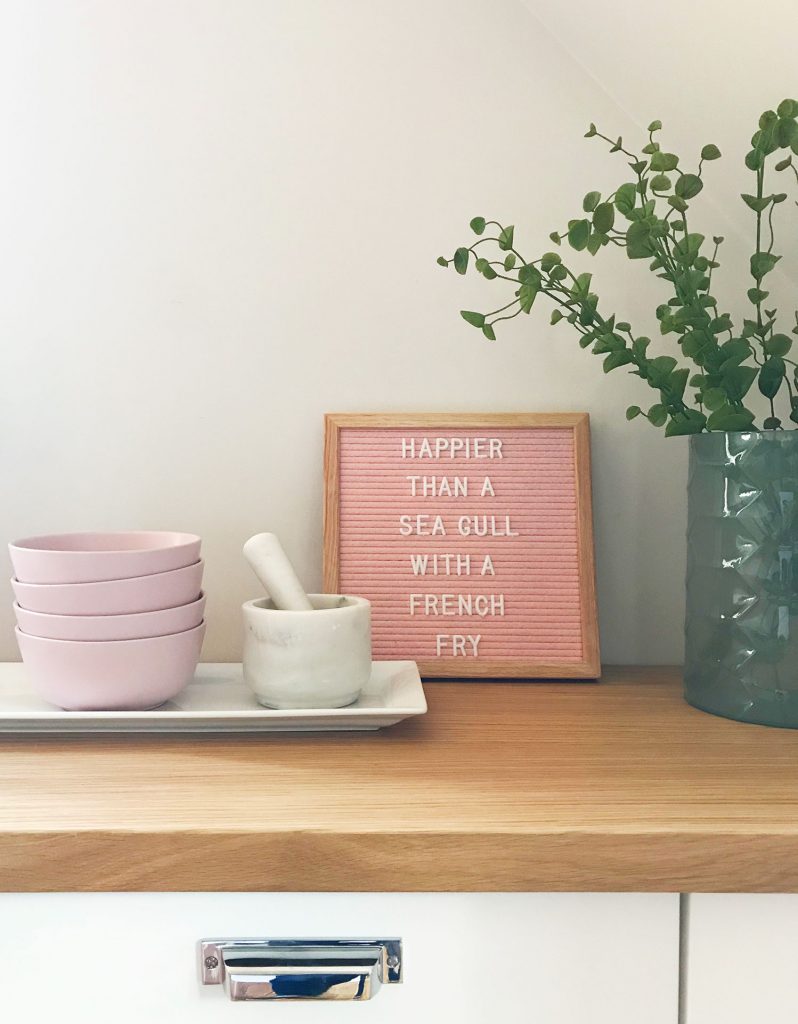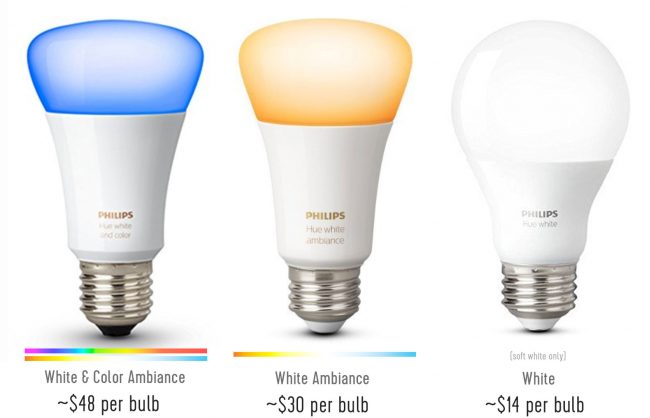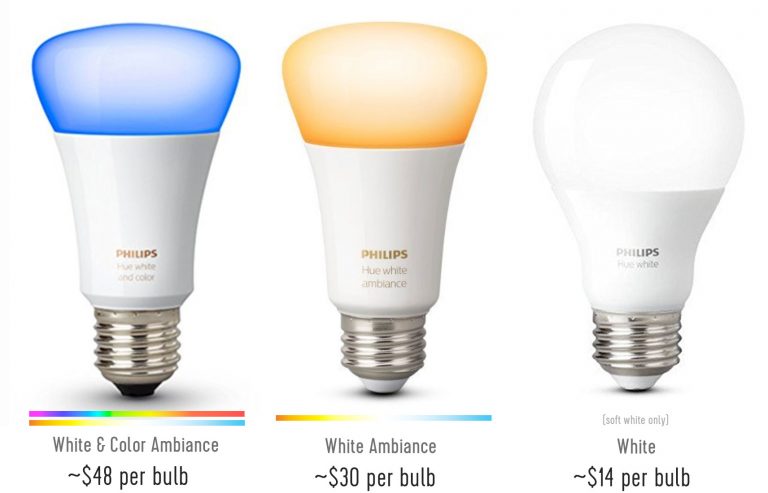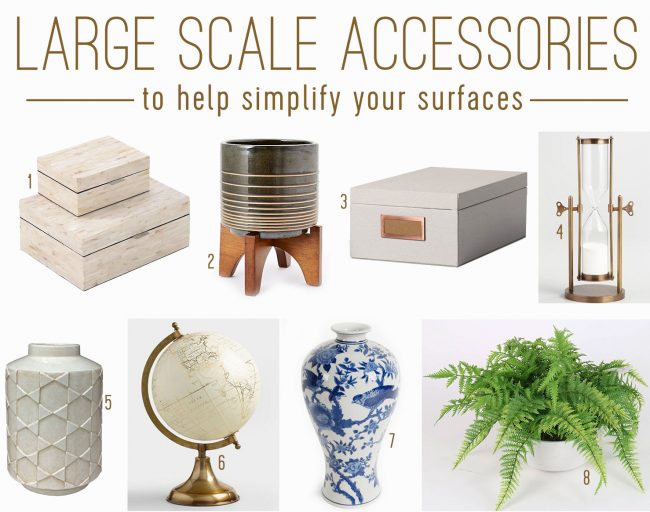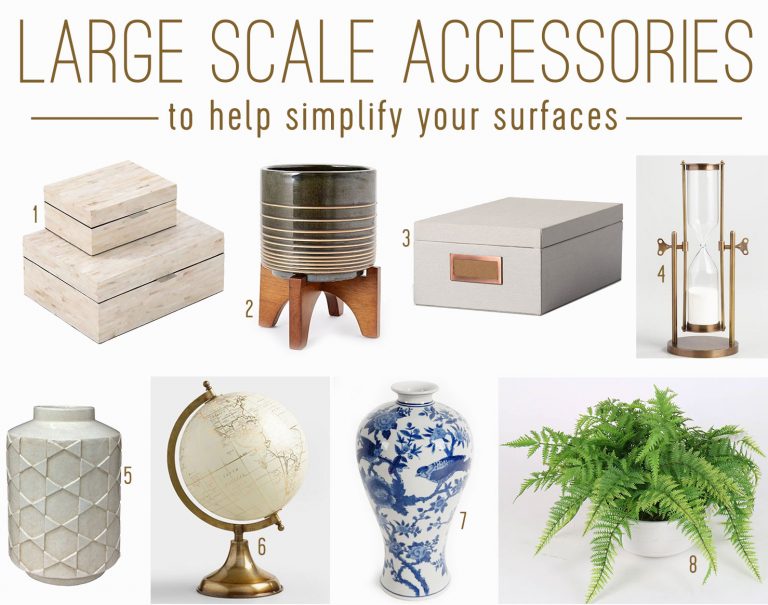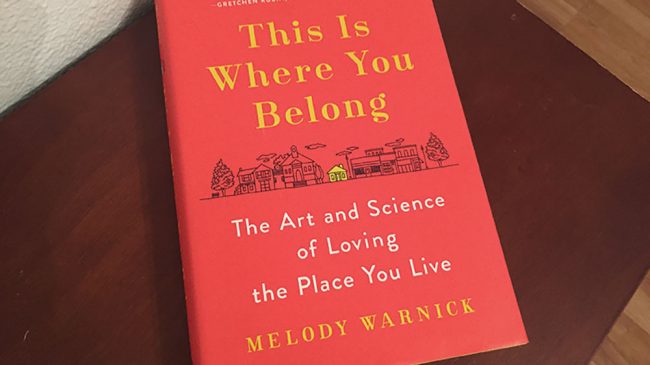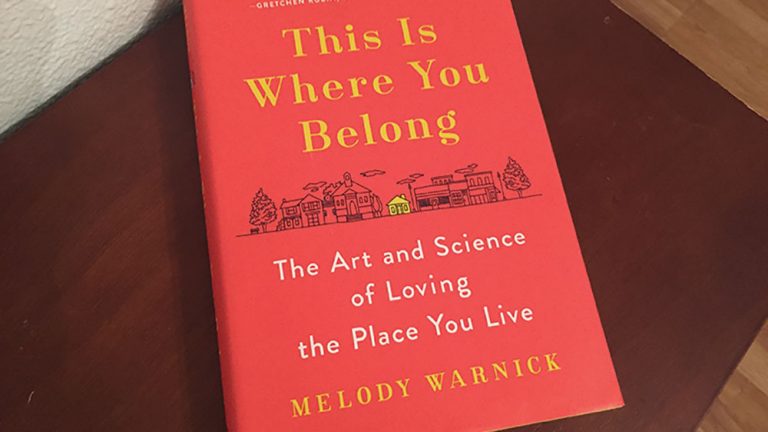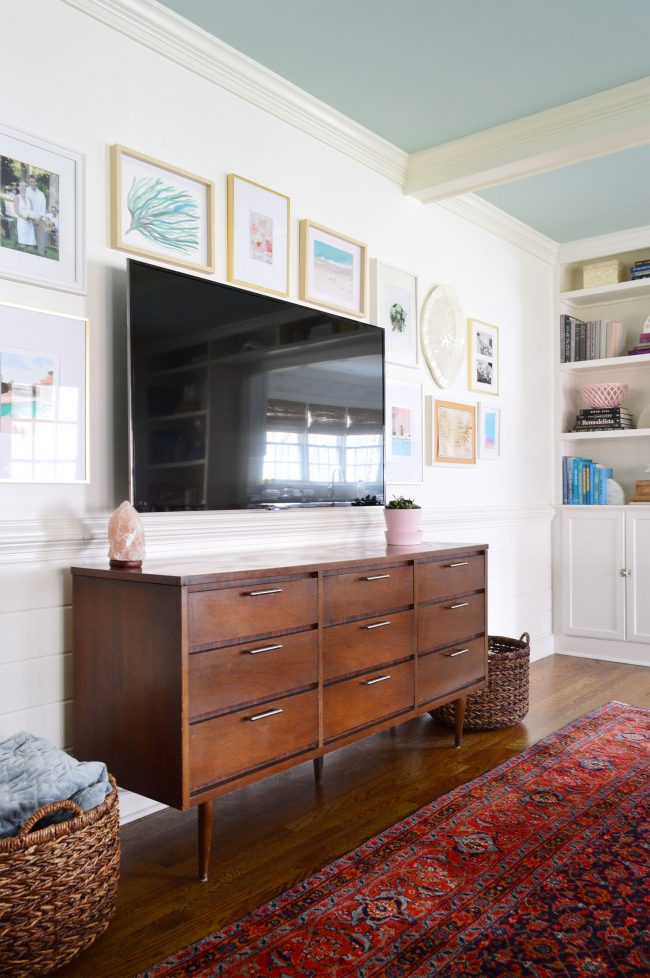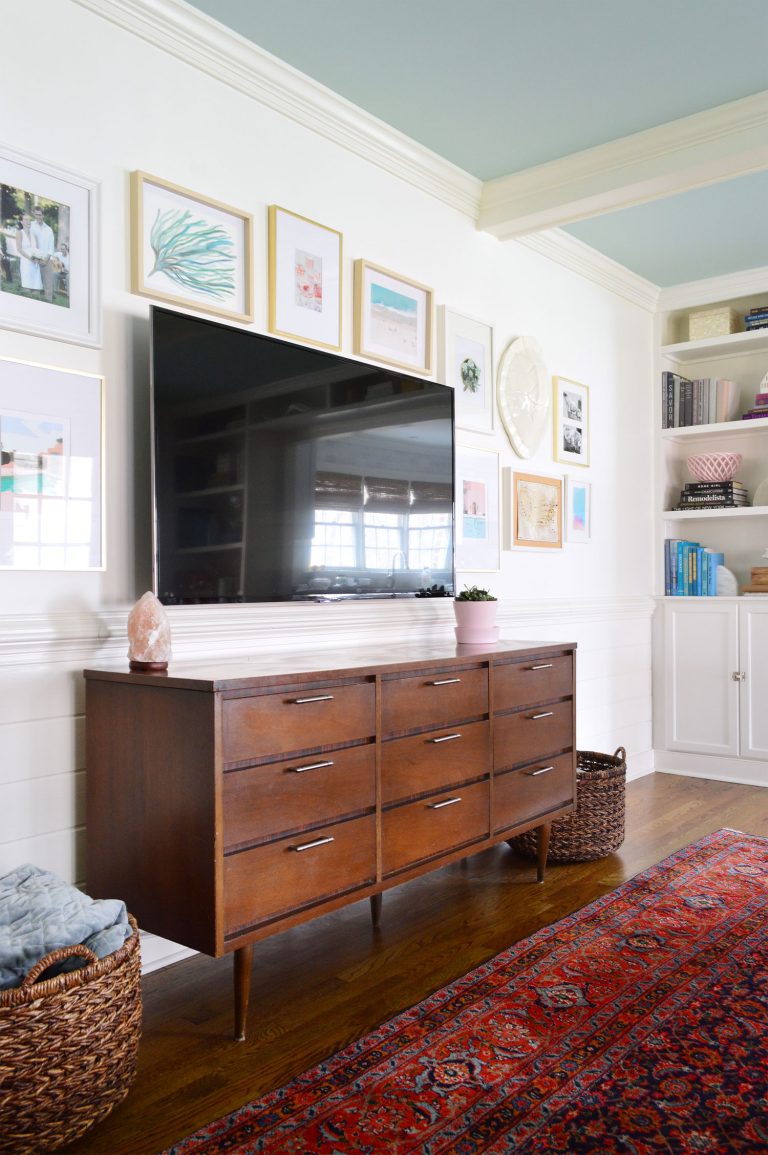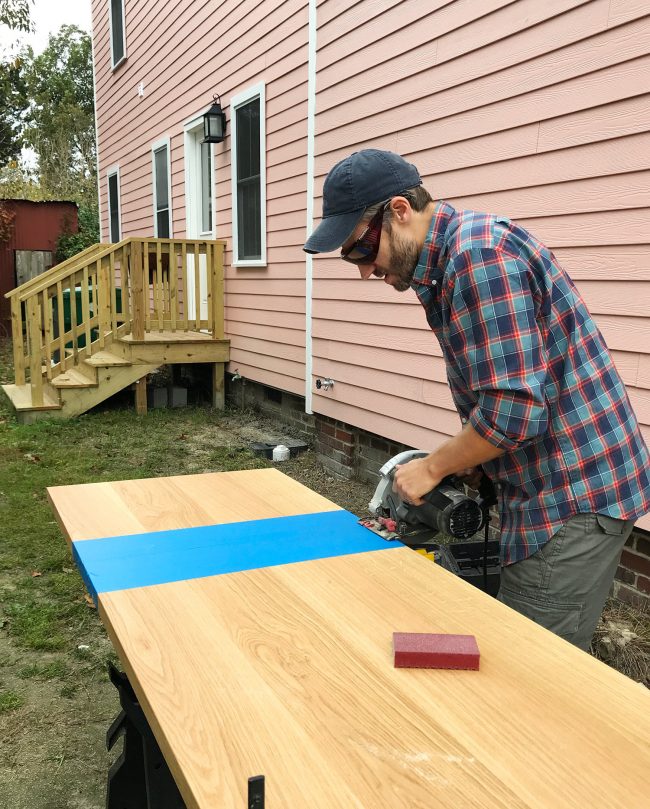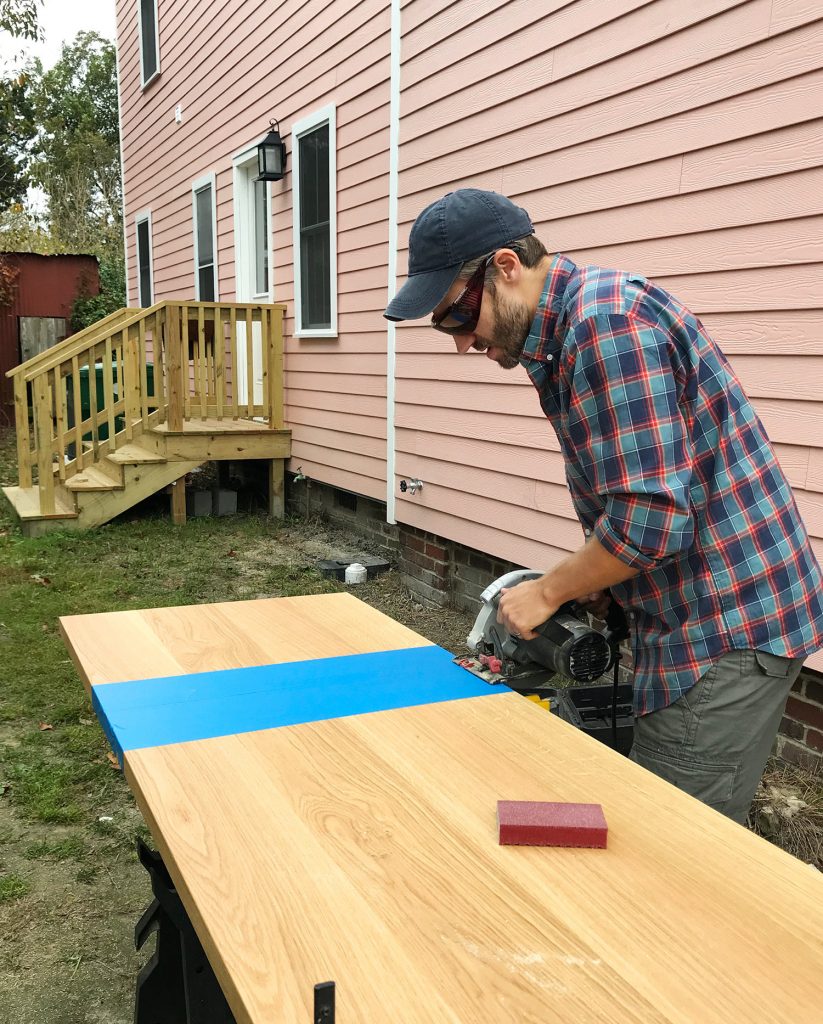 Sherry: This weighted blanket that was a Christmas present from John. It looks like the prices have gone up since we purchased it before Christmas, but I got her the 48 x 72? size in the 12-pound weight (it's supposed to be around 10% of your body weight) in the Gray Rhombus cover.
John: That's me above, sporting my super sexy laser enhancing safety goggles that make my laser lines much more clear while cutting wood. I'm not sure what brand mine are (they came with my saw), but this $8 DeWalt pair would do the trick.
Sherry: Stripped on Bravo, the show that is a surprisingly fascinating social experiment. I'll link to one of the Stripped promos so you can see it for yourself. Everything's blurred, but it's still too NSFW to embed here – ha!
John: What Do You Meme?, a game that we had tons of (grown-up) fun playing with some friends over the holiday. If you're a Cards Against Humanity fan, we highly recommend it! Above is one of the card combos that had us cracking up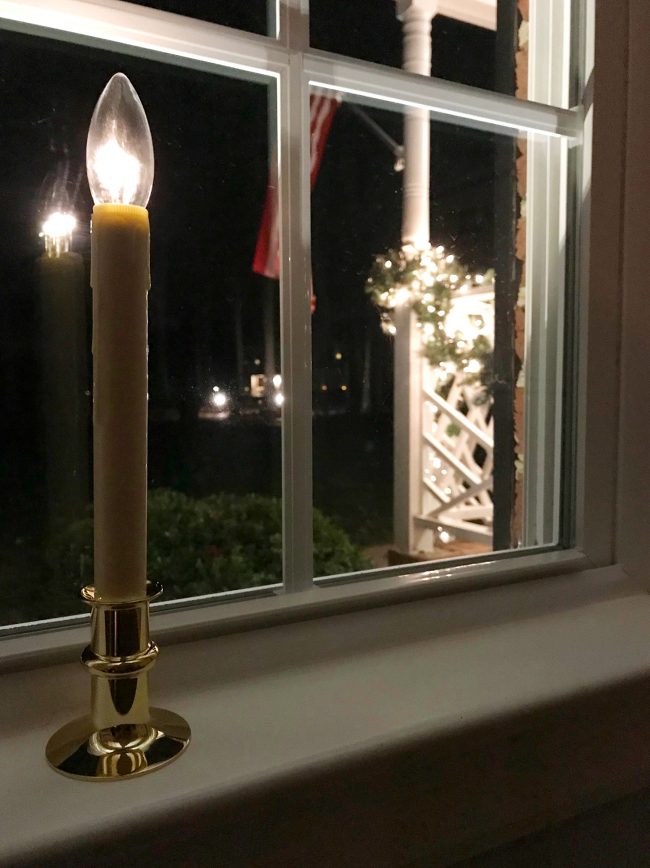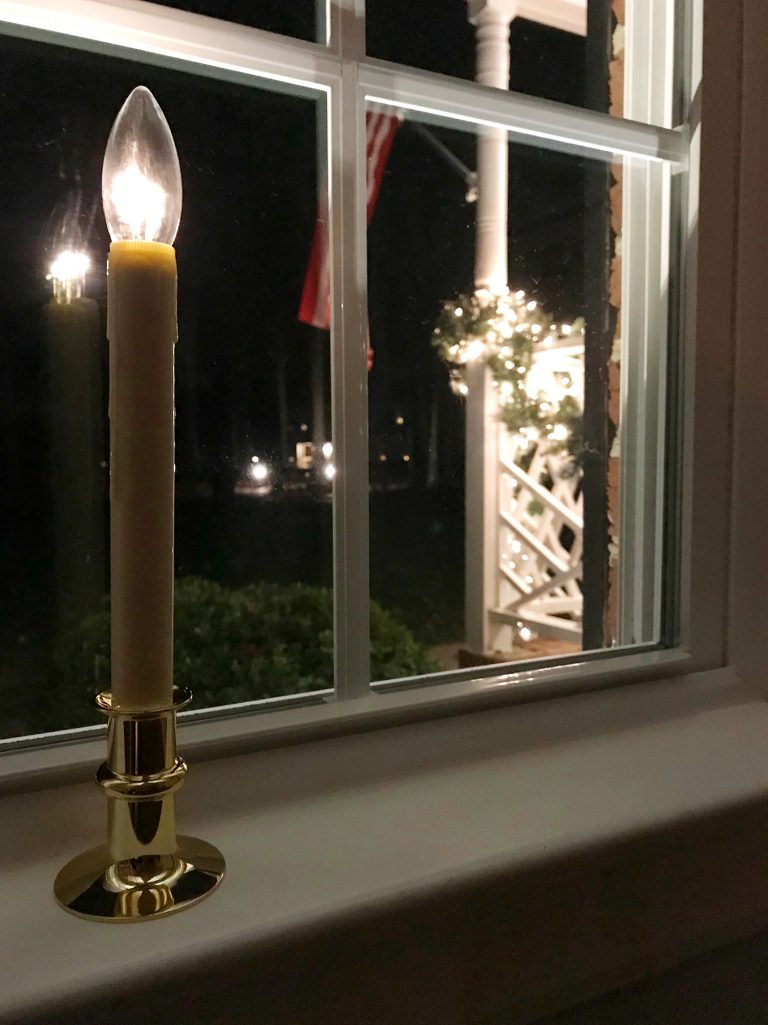 Sherry: The LED Streetside Brightness Cordless Window Candles that we have been enjoying for two Christmas seasons so far (and just added 'em to the beach house too). They're SUCH AN UPGRADE from the plug-in ones you have to turn on and off all the time – plus, look ma, no cords! We love that they're completely auto-pilot after you turn them on for the first time each season (it makes going to bed so much faster than running around to every window half asleep).
John: Spotify, for music discovery and creating playlists, but also because now you can listen to our podcast on Spotify!!!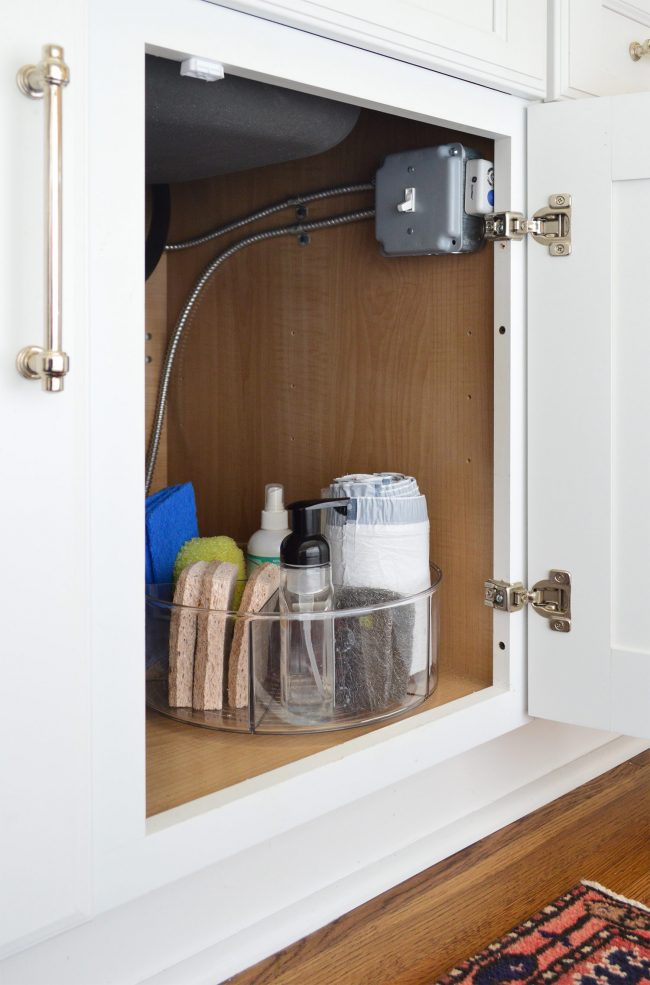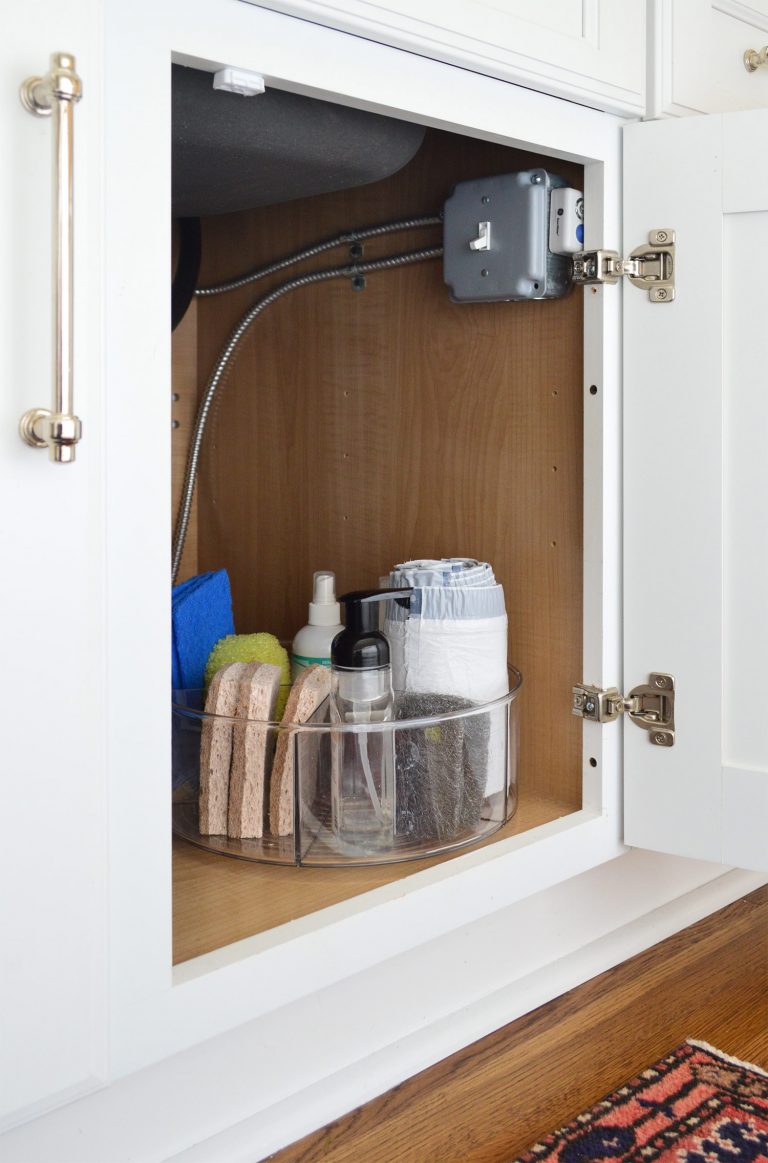 Sherry: The Divided Turntable we used to make some of the cleaning supplies that were getting buried in a basket under our sink a whole lot easier to access. Also, this Cabinet Lazy Susan that we use for Sherry's morning routine stuff downstairs, like vitamins and that apple cider vinegar that she smears all over her face with cotton balls every morning.
John: The quirky/hilarious podcast Heavyweight including these episodes: Gregor, Milt, or Kenny. And Sherry's favorite so far has been Isabel.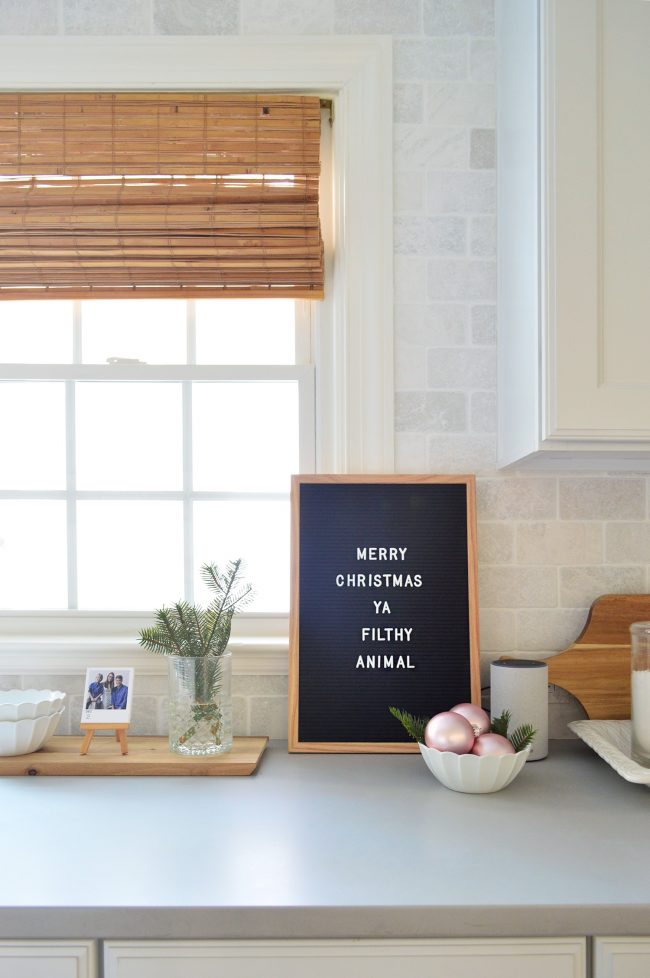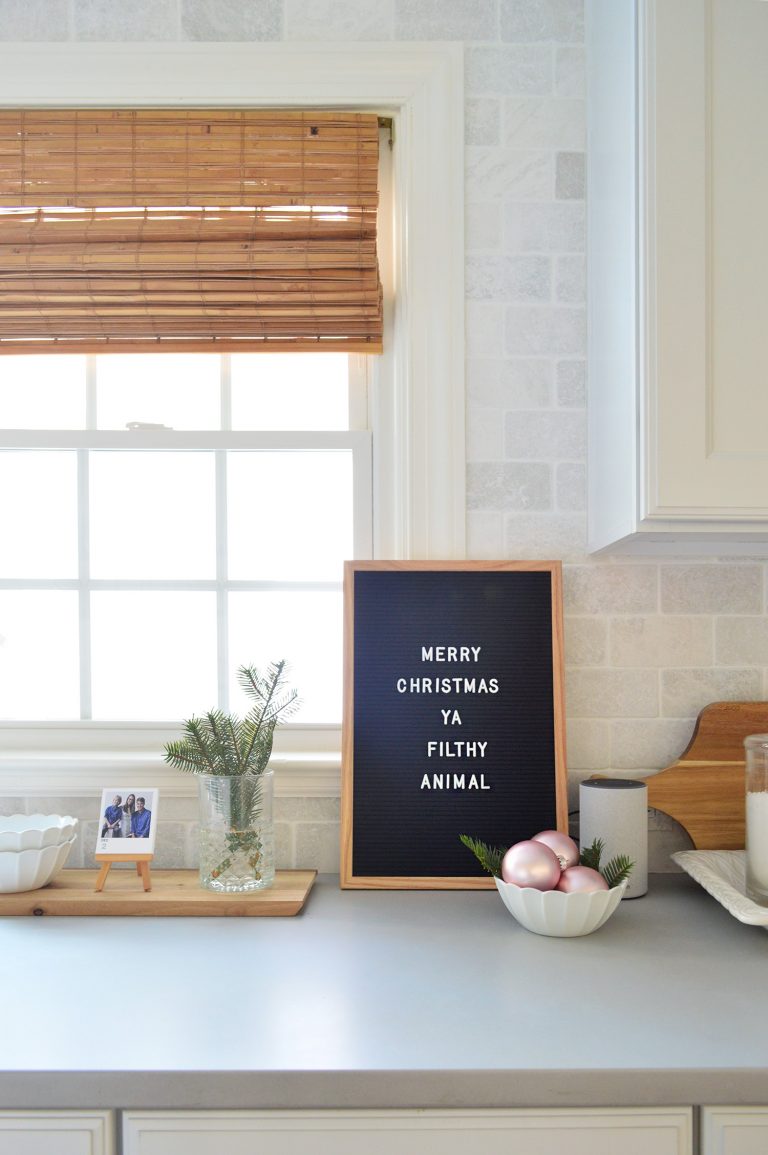 Sherry: Holiday cards from Minted, thanks to their free receipient address printing. Above are some designs we're loving this year (we ordered #4!): 1 / 2 / 3 / 4 / 5 / 6 / 7 / 8 / 9
John: The $40 personalized page-a-day calendar from Social Print Studio that I can't stop recommending. We're already gathering photos to make a batch of 2018 calendars for the whole family.
Special episode so no "We're Digging" this week!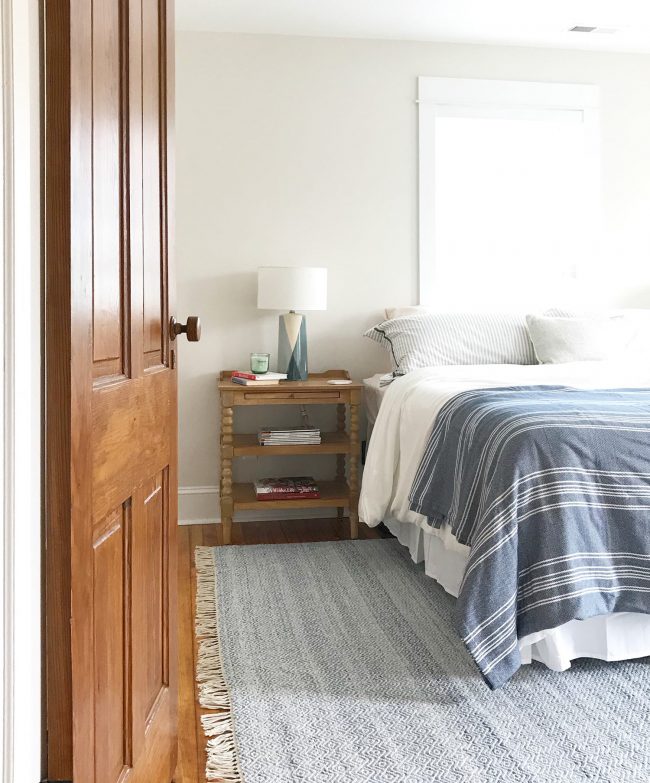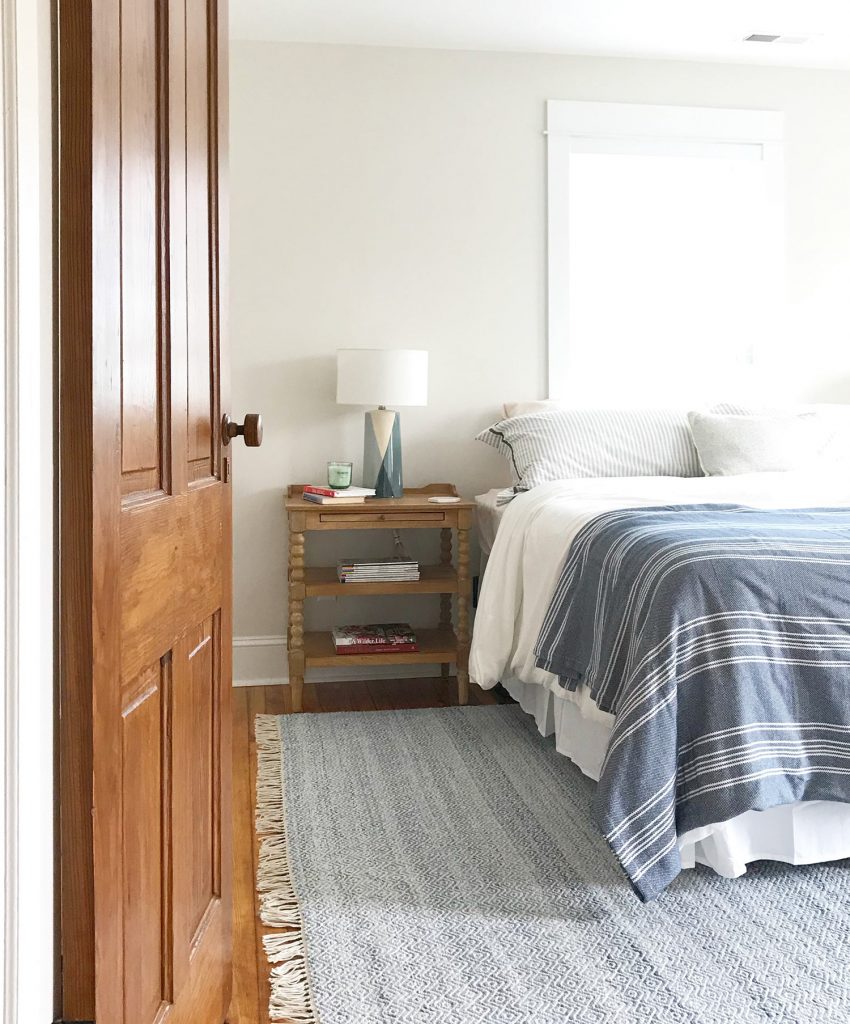 Sherry: Bed risers, like these sturdy six inch versions that we've used in the beach house to create more hidden storage and give the beds a more comfortable height (extra long 18? bed skirts we also helpful).
John: The Five, the British drama/mystery that we recently watched on Netflix that's super good and full of twists and turns!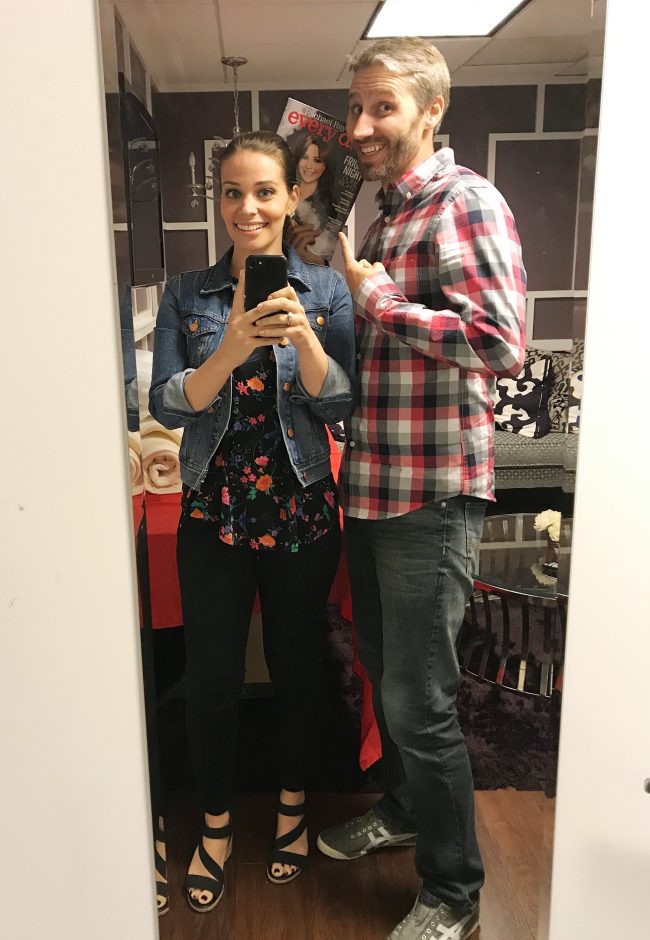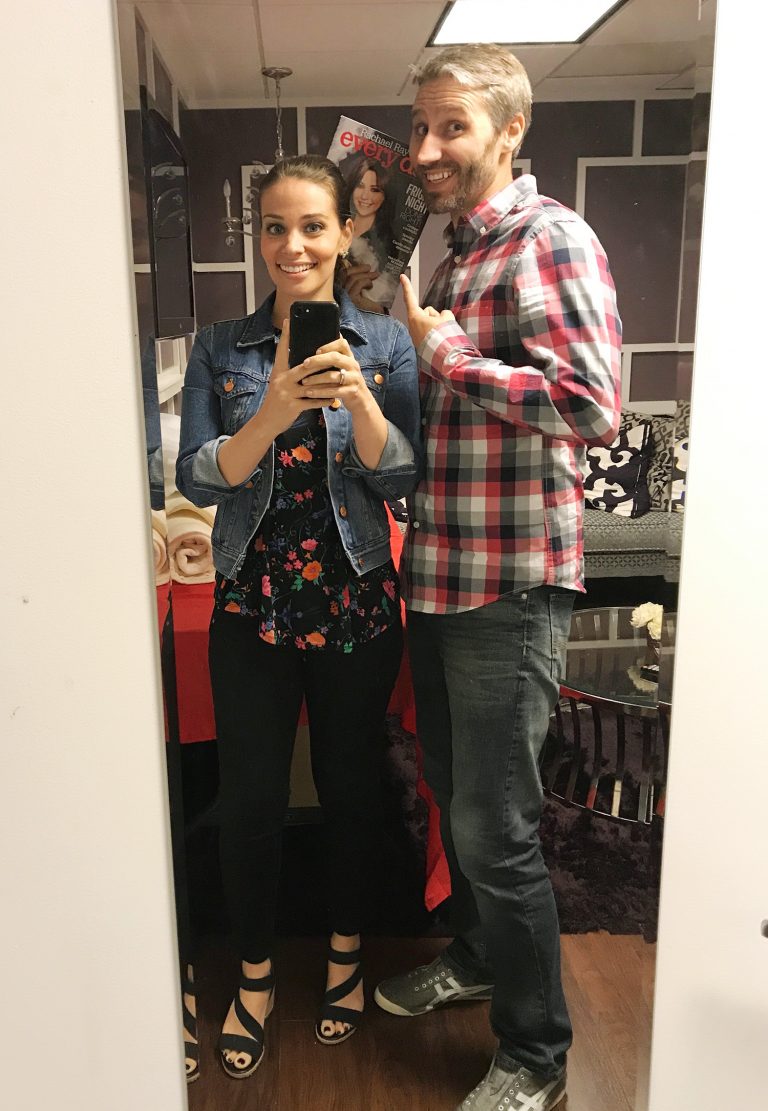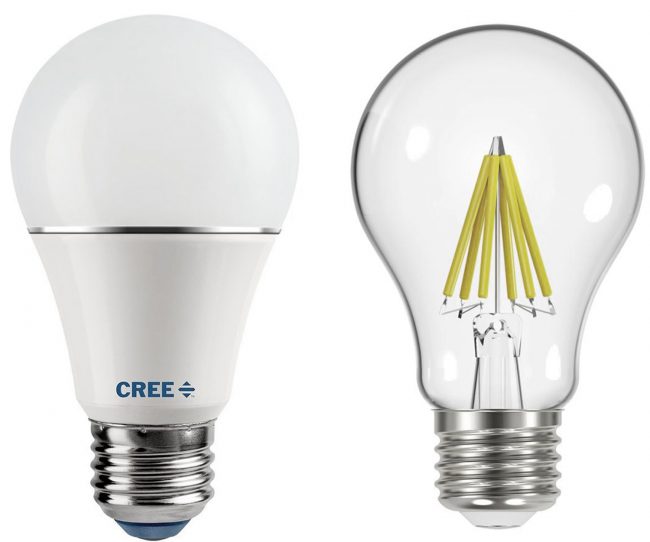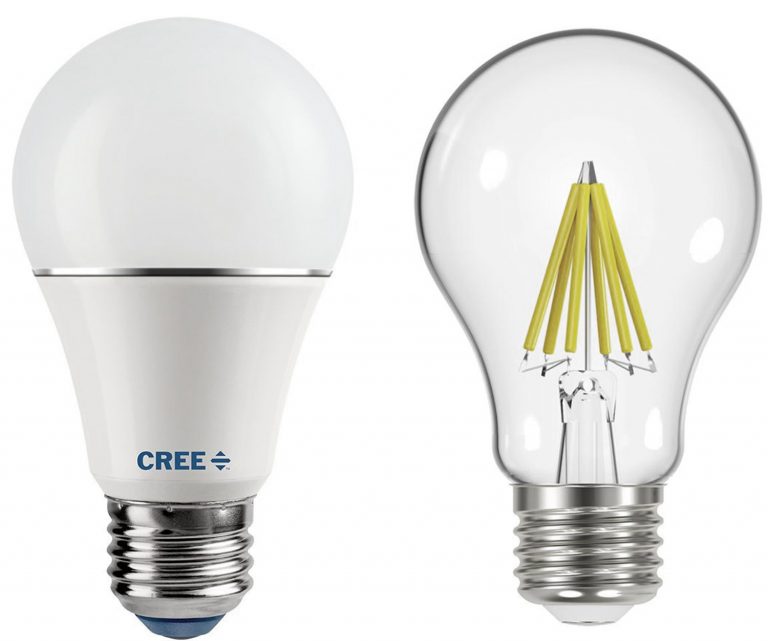 Sherry: Fake plants, like the ones shown above:

John: The "Do Not Disturb While Driving" feature on the new iPhone iOS 11 update (and here's a handy guide from Apple on its capabilities)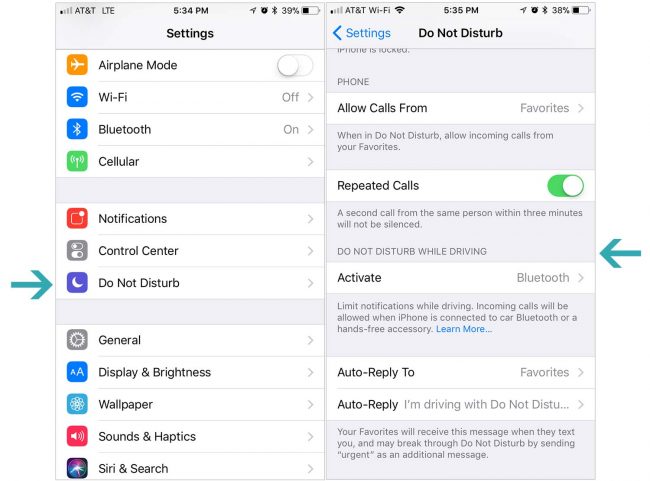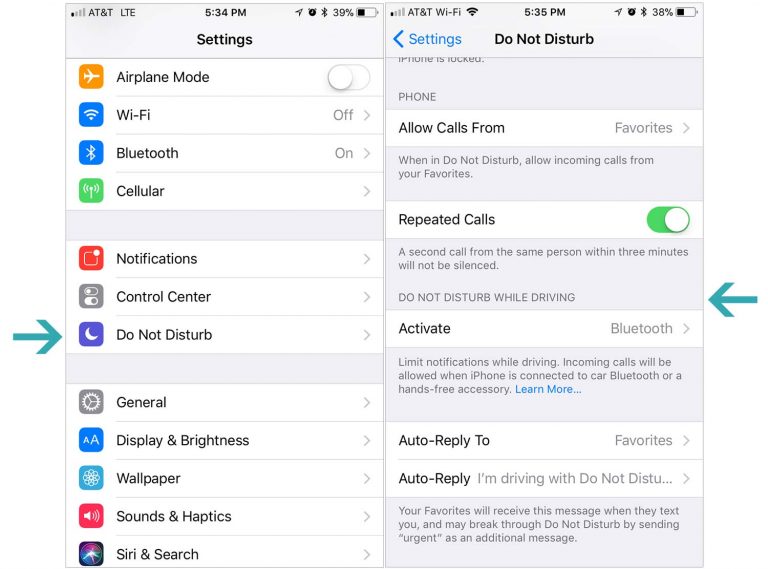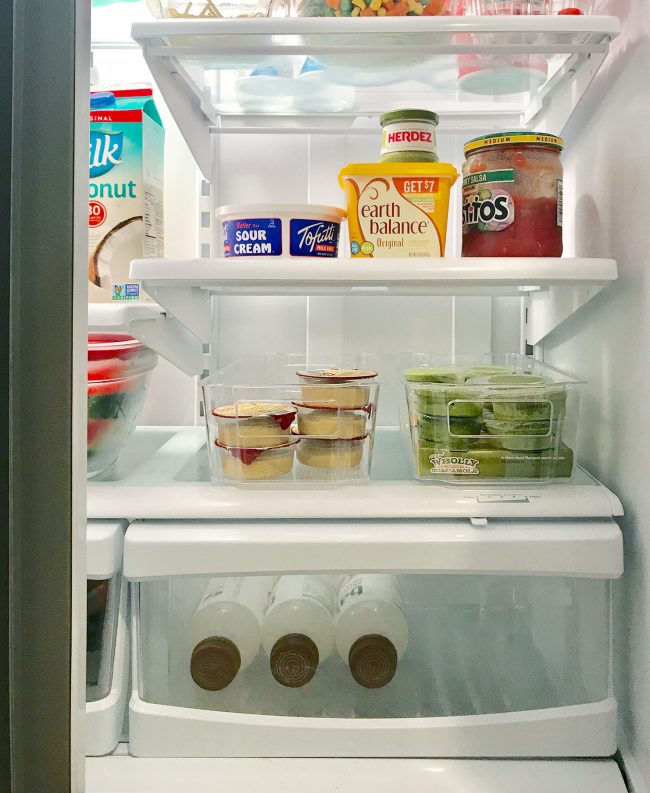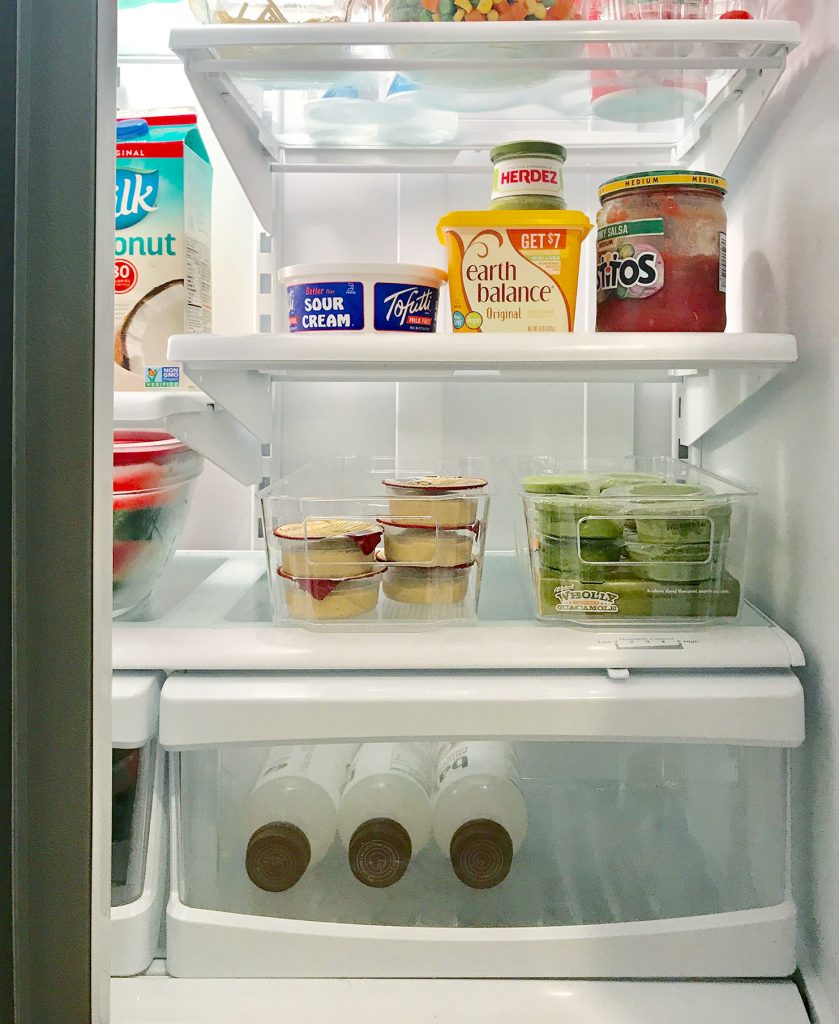 Sherry: These storage bins that we've been using to wrangle our snack cups of guacamole & hummus. The bins come in three sizes (we have the "Medium" ones). Here's another good option in case those go out of stock.
John: IFTTT is an app (it stands for "If This, Then That") that does lots of fun and useful things by connecting your web accounts and smart devices (a sampling of them are showing bel0w). And it's all FREE!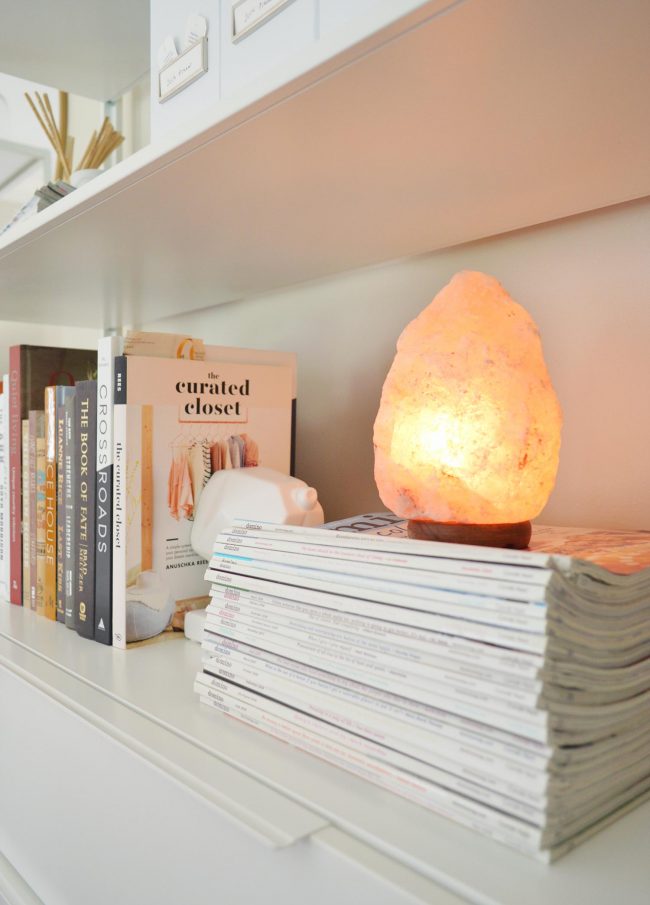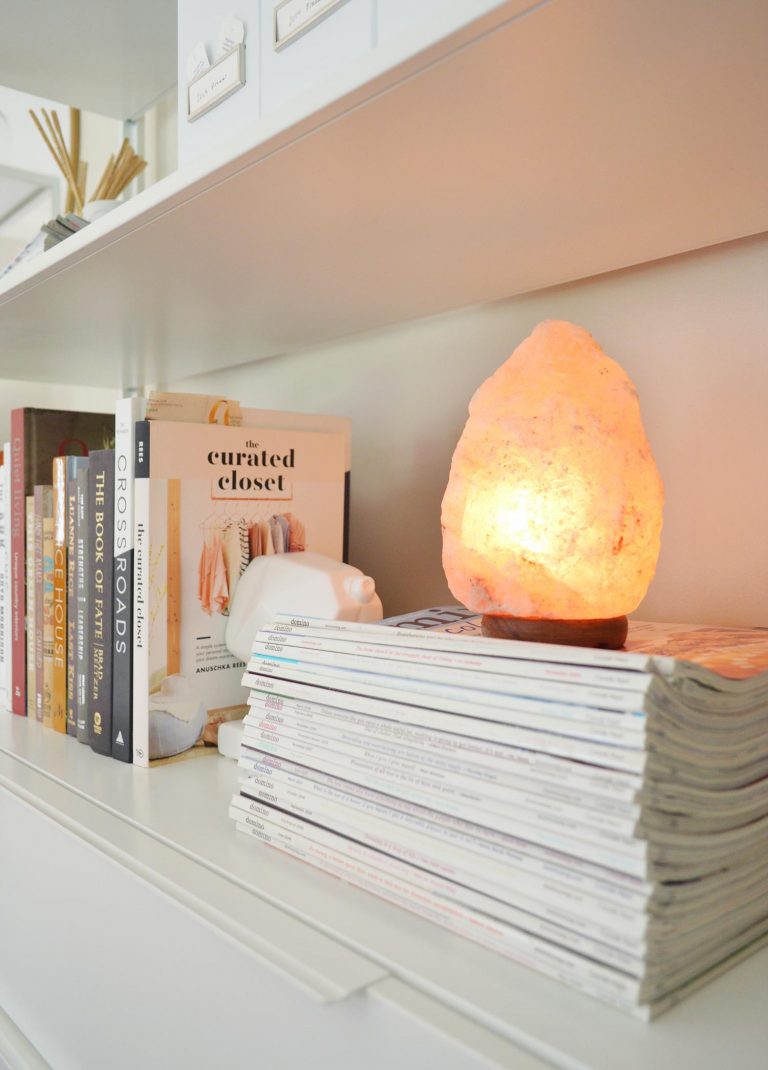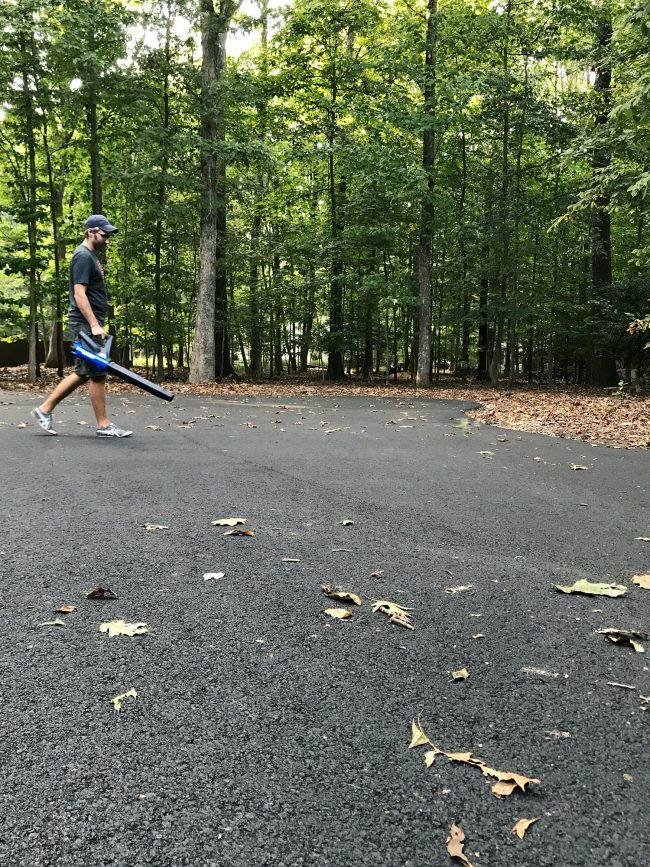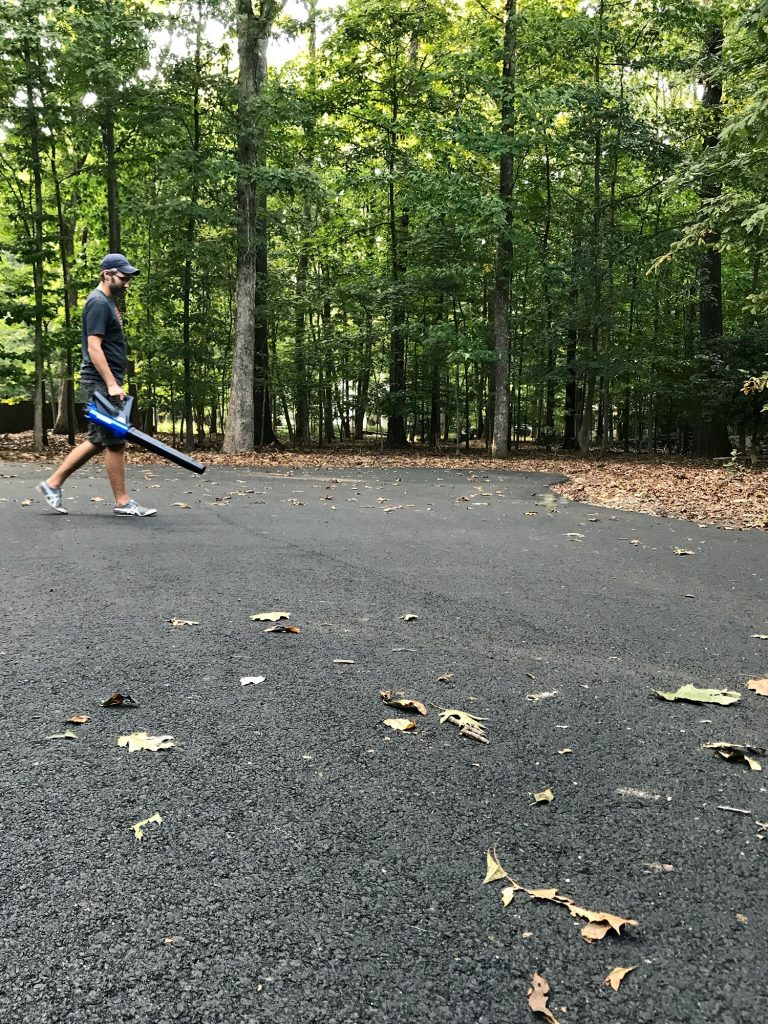 Sherry: Decorative shelf bracket, like those shown below, as an easy way to add function to a wall (especially when you don't want to just hang another fame): 1 / 2 / 3 / 4 / 5 / 6 / 7 / 8 / 9 / 10 / 11
John: The OXO Tot Tub Drain Stopper that we use to remedy our old not-capable-of-holding-water tub drains.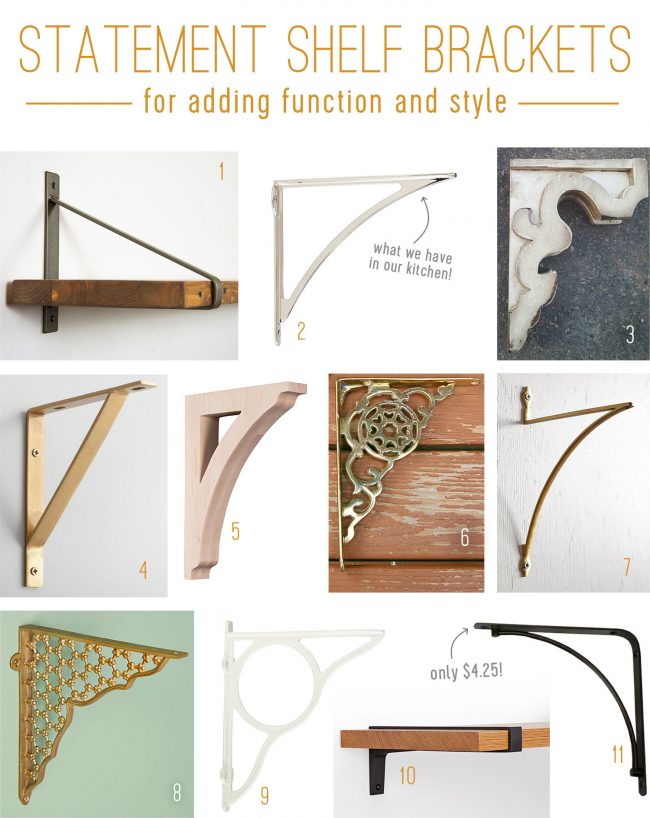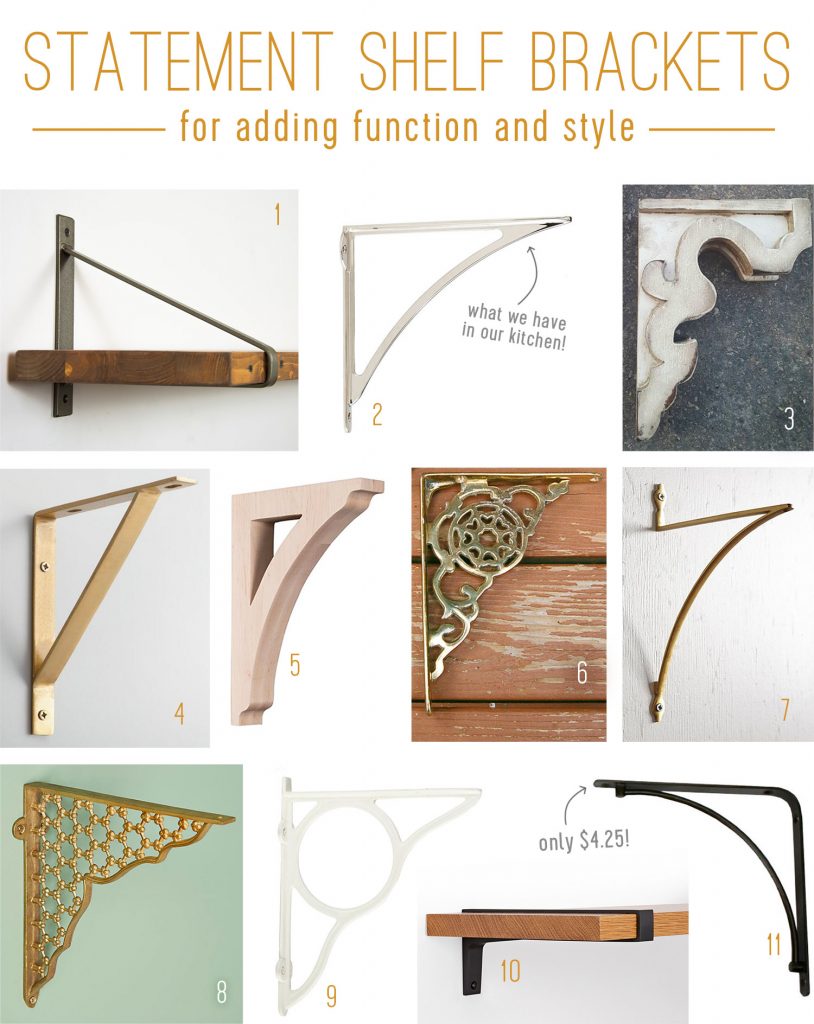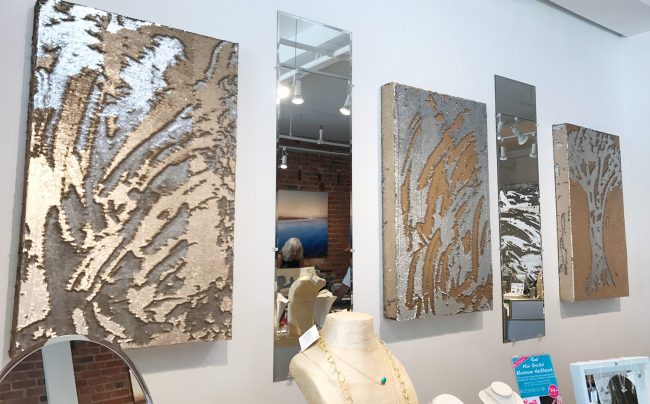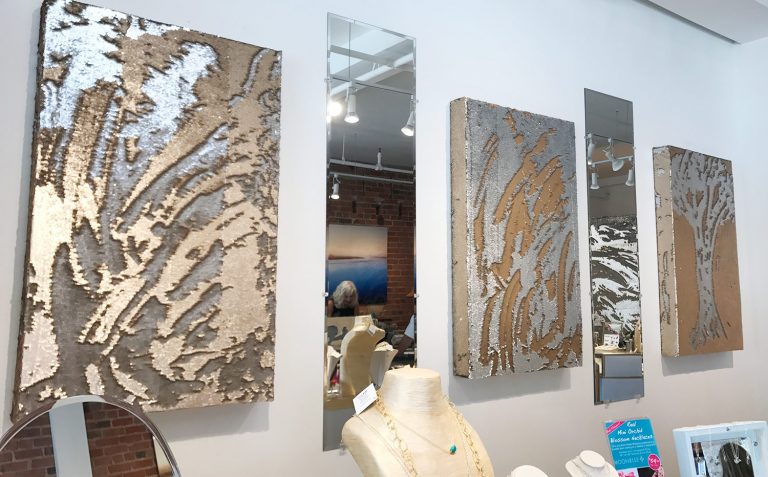 Sherry: Mermaid Fabric, like this one, this one, and this one, which we spotted in the wild as some abstract art meets keep-kids-hand-busy display at a jewelry store in Cape Charles (shown above). Such a smart craft idea for a kids room!
John:  The Shrunk's Inflatable Toddler Mattress that we use for traveling. We love its compact size, the included air pump, and the fact that it hasn't ripped or leaked in almost 4 years of use.
Sherry: Bai, her new favorite coconut drink for a boost of natural caffeine
John: American Fire, an amazing non-fiction book about a long line of arsons on the Eastern Shore of Virginia, just north of our beach house a few years ago. It's like true-crime, plus weird romance, plus social commentary all wrapped up into one well-written tale.
Sherry: The 3M Command "velcro strips" that we use to keep our gallery walls straight come in lots of sizes (see below). We like the multipack, and often cut some of the larger ones vertically to fit behind our frames so we get two for the price of one.
John: The Big Sick, which is the perfect date night movie (even the trailer is hilarious). It's probably leaving theaters soon, so hurry!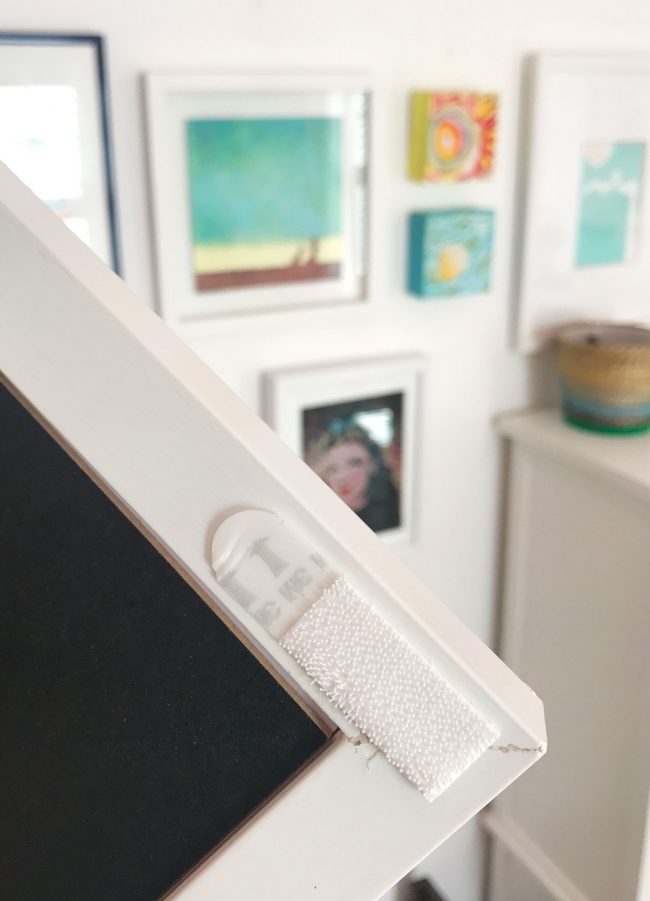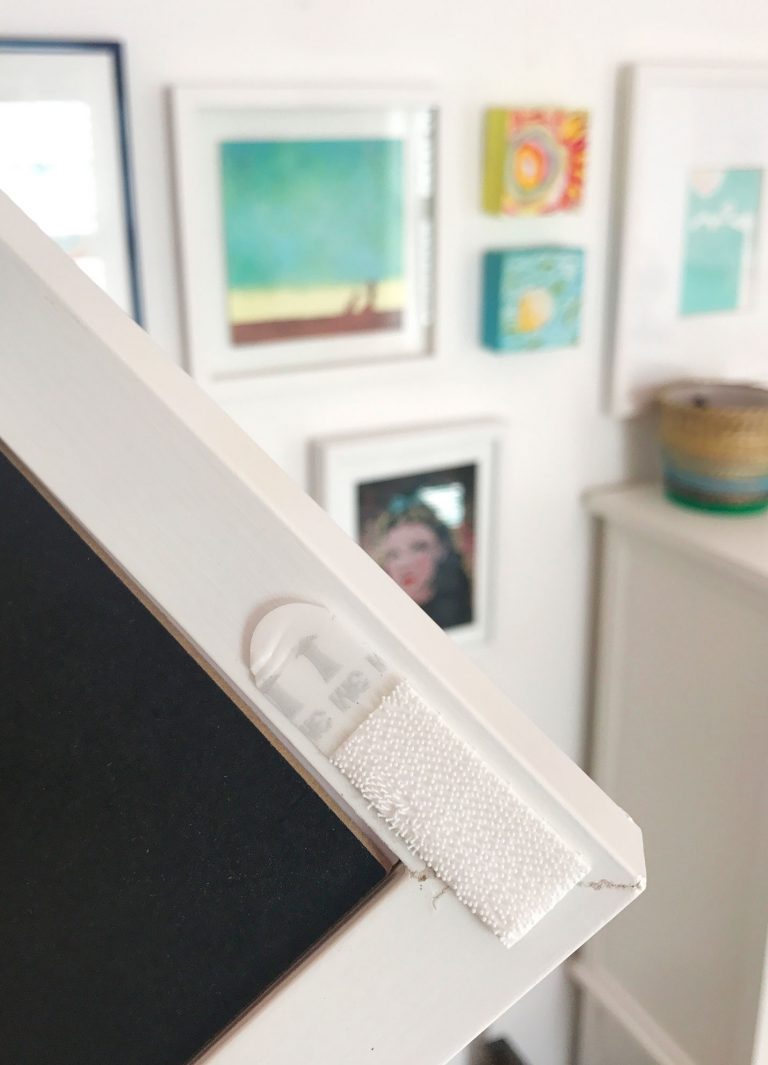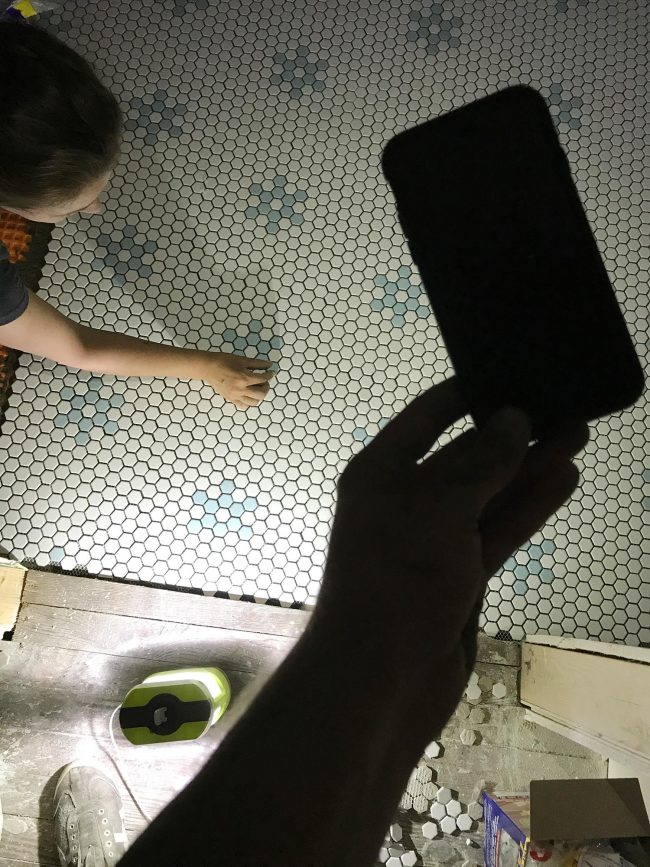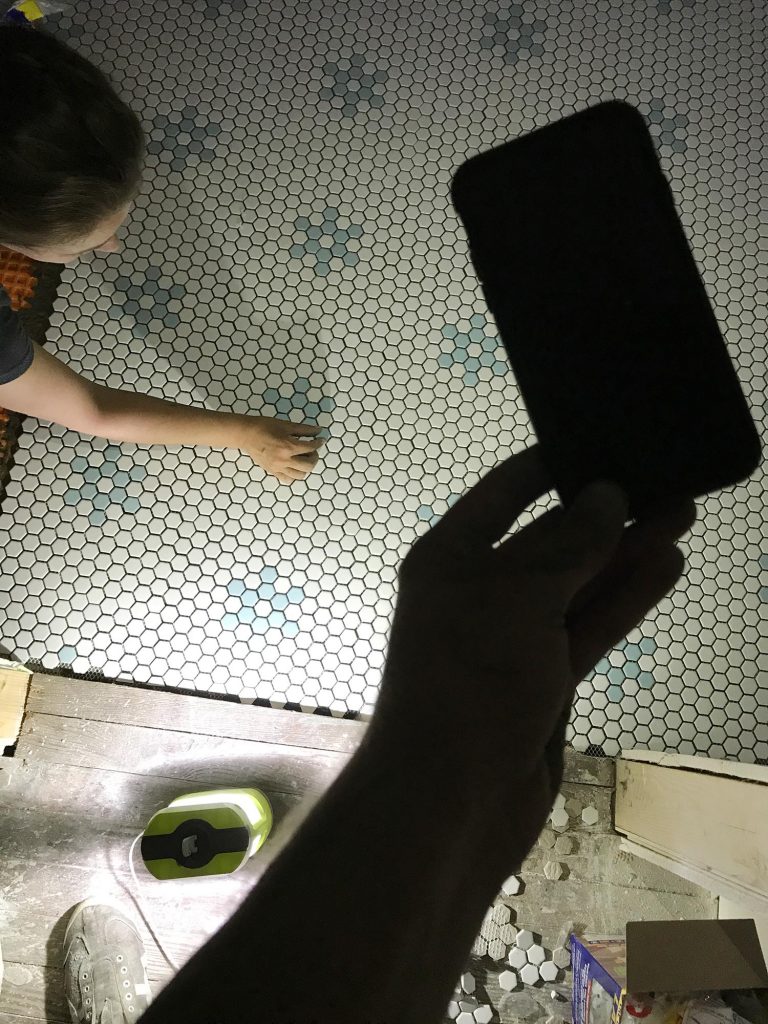 This was a "Special Episode" so no We're Digging this week!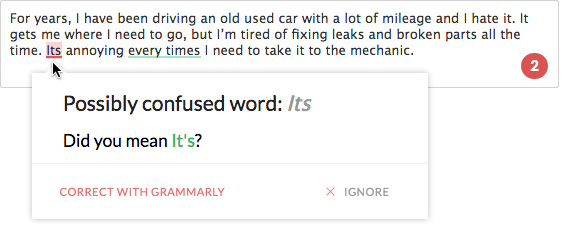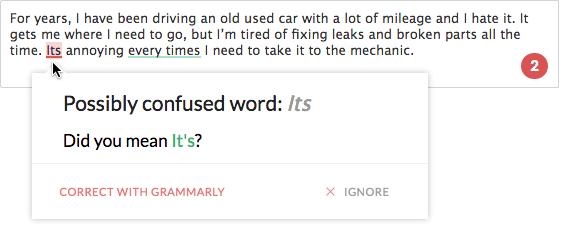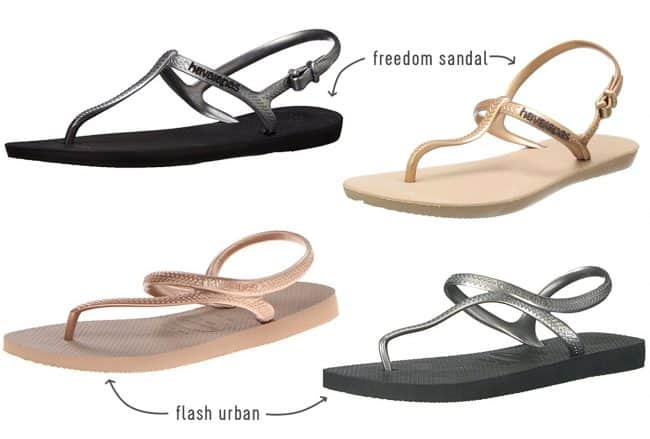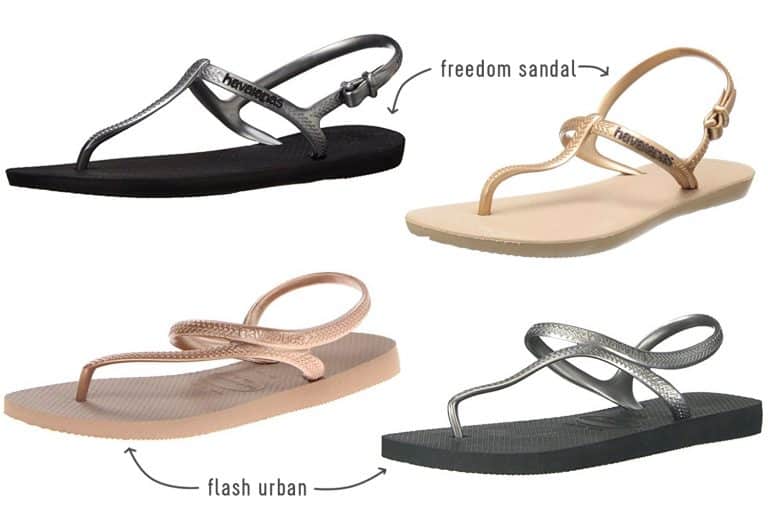 Sherry: Havaiana's Freedom Sandal and Flash Urban Sandal which look more like sandals but they feel like flip flops.
John: This hose reel that we got to finally wrangle our garden hose in the backyard (and we repurposed the old hose pot as an actual pot for a fern)!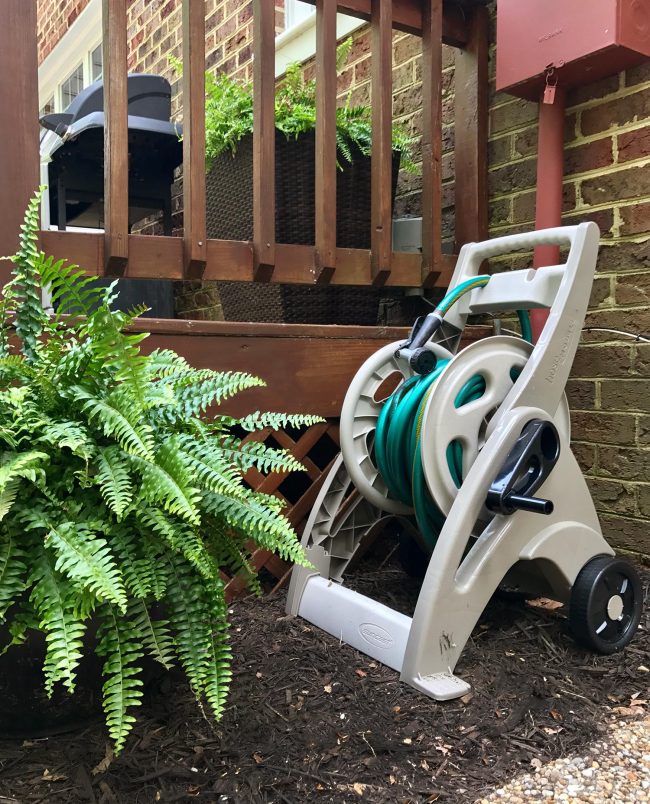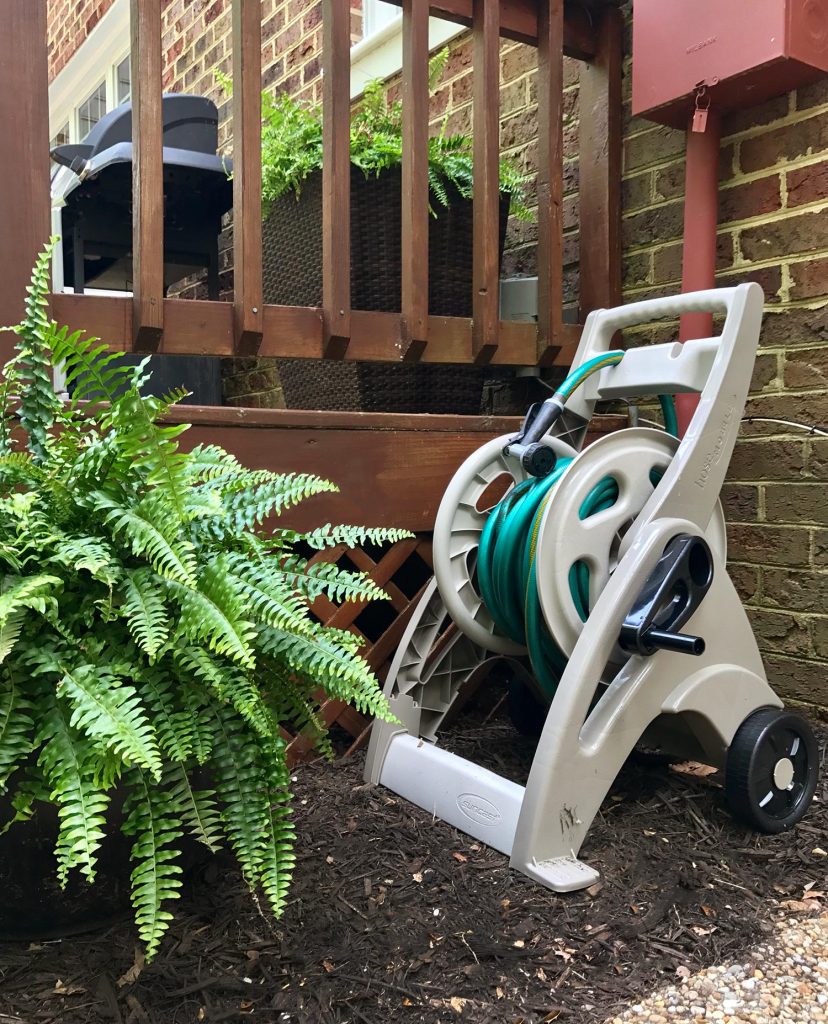 Sherry: Black one piece bathing suits that she tried on during her hunt. #1 and #6 are the ones she ended up keeping, and she shared a few notes for other small-headed short gals in the graphic above. 1 / 2 / 3 / 4 / 5 / 6 / 7
John: This plain, close-fitting baseball cap that I'm sporting these days. I got it in navy (it doesn't look as "distressed" as it does in the sales pic) but will probably go snag either the black or the green one too.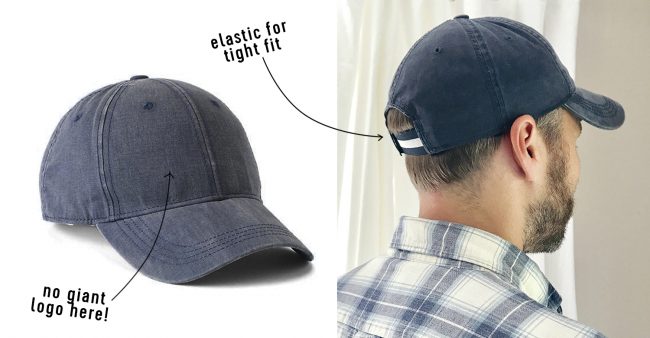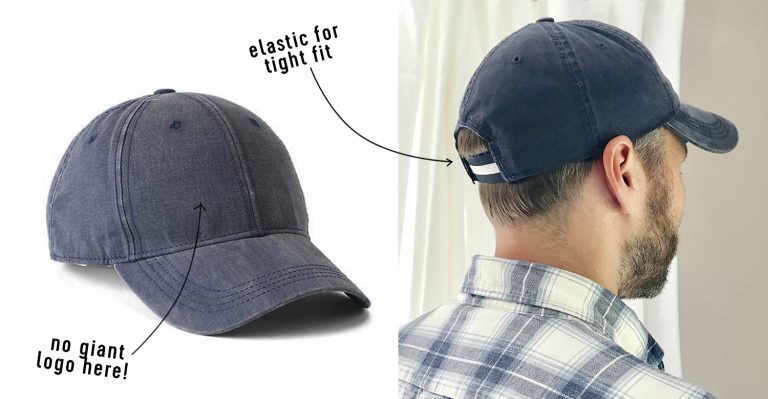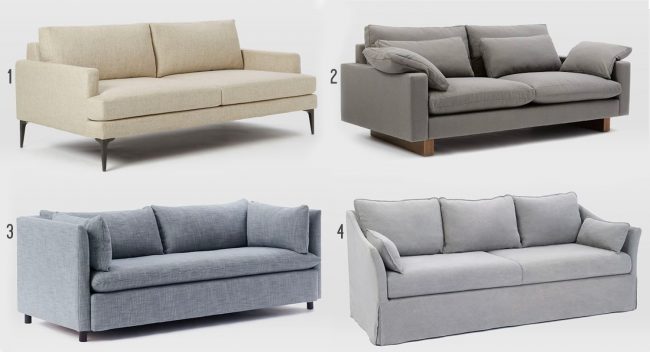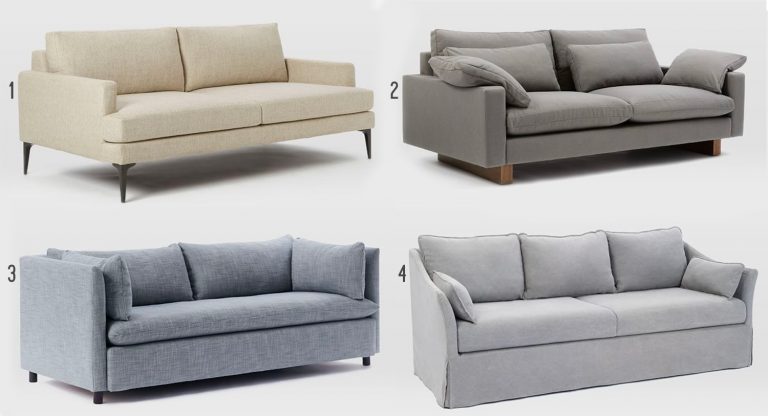 Sherry: Four couches that Sherry is imagining in our living room (not necessarily in these colors): 1 – Andres, 2 – Harmony, 3 – Shelter, 4 – Antwerp Slipcover
John: A new backpack to upgrade our worn Jansport. Here are some of the bags we've got our eyes on: the Rickshaw bags (1, 2) are a little pricier, but may feel more polished than the billboard vinyl versions from Rareform (3, 4).
Sherry: Above are some of the Ikea products that we're happy to see on Amazon (heads up: prices are sometimes higher than what you'd find in Ikea stores, so this is really best used when it's not easy to get to an Ikea in person): 1 / 2 / 3 / 4 / 5 / 6 / 7 / 8 / 9 / 10 / 11 / 12 / 13* / 14 / 15

*Meatball sauce not to scale (ok, neither is anything else) UPDATE: We learned after this podcast went live that Ikea released a statement saying these are 3rd party sellers, and not Ikea (despite being listed as "sold by: Ikea" on Amazon). Bummerssss. They did say they're exploring the idea of selling on Amazon in the future though, so here's hoping!

John: My Father's Day present of having two neighborhood kids spread my mulch for me so I didn't have to!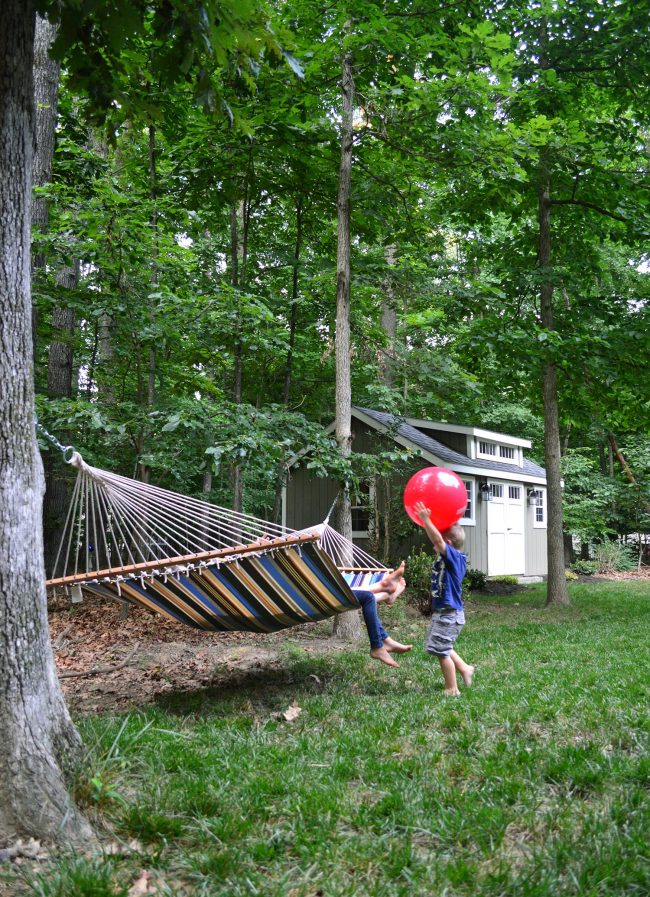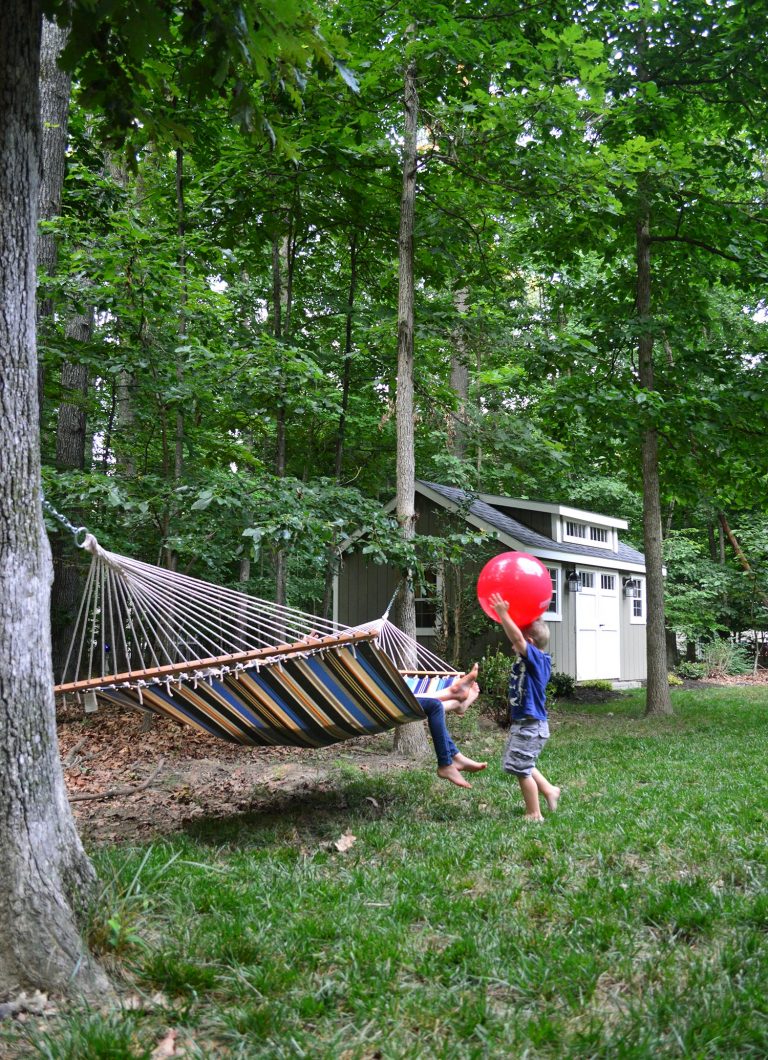 Sherry: Tsh Oxenreider's At Home In The World, which has given us the travel bug. You can also follow her on her blog, The Art of Simple, and her podcast, The Simple Show.
John: Wet saws, my love of which has been rekindled thanks to my aunt's backsplash project, so below are some links to mine and a few others you might want to consider if you've got a tile project (or ten) in your future.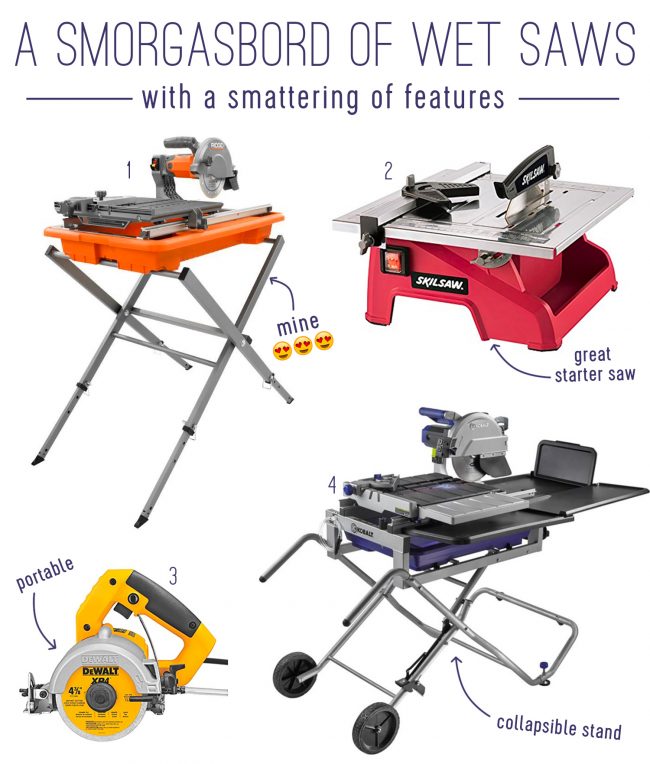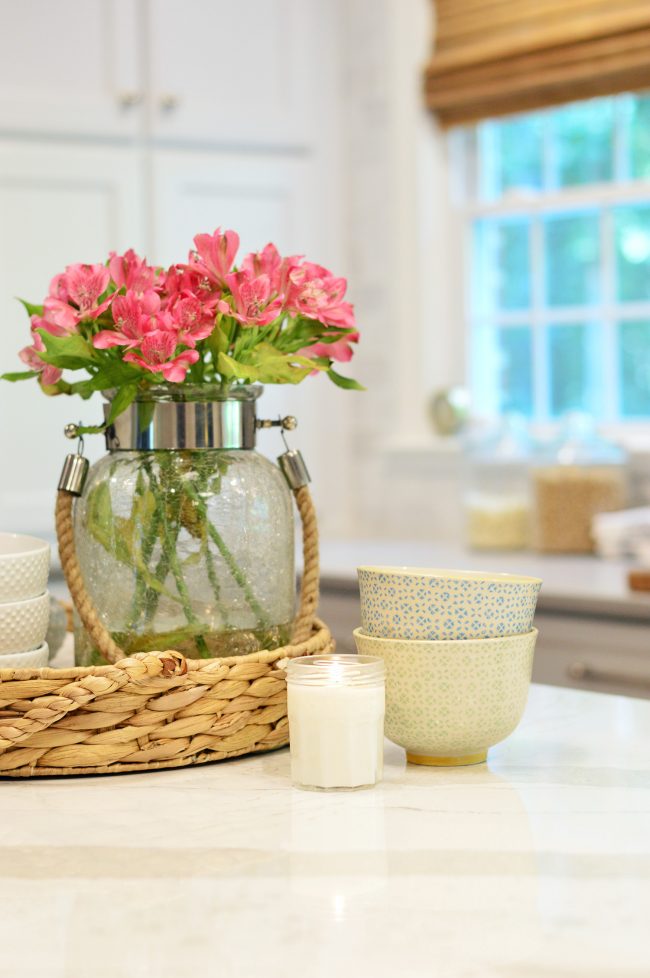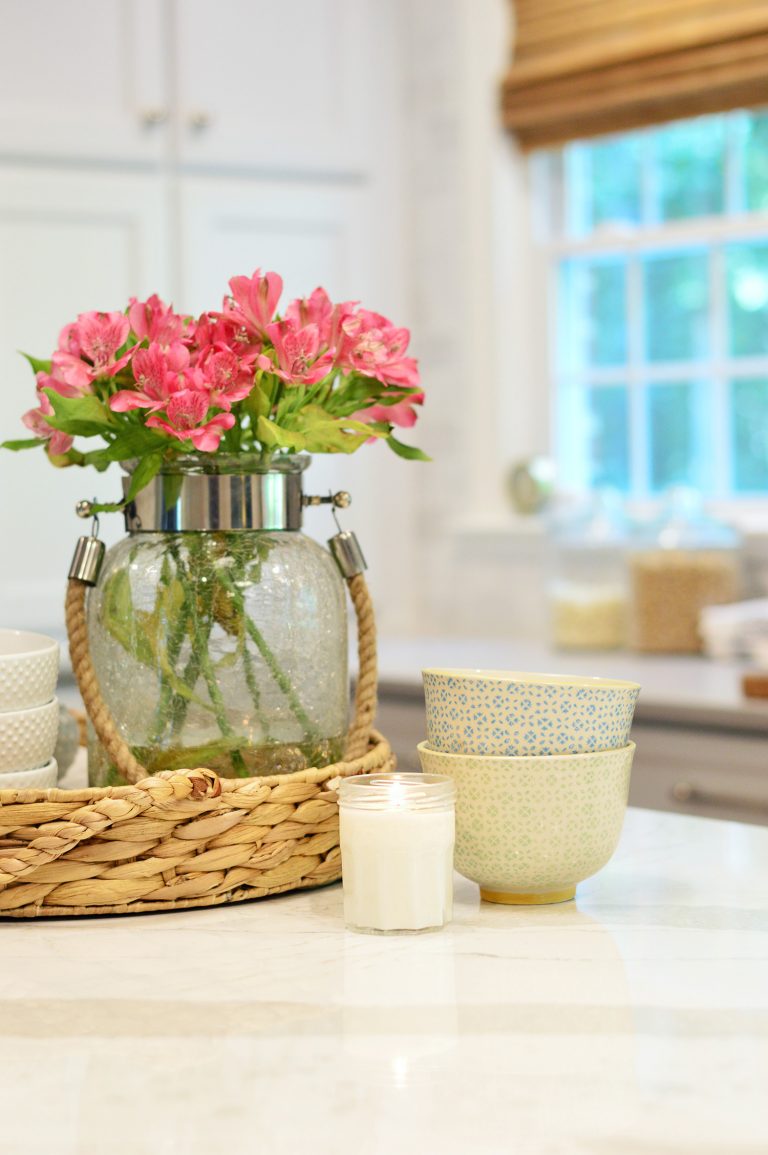 Sherry: While her five year old "weekender" bag is no longer sold, but below are six similar options that would do the same job for quick trips: 1 / 2 / 3 / 4 /  5 / 6
John: Stuffing a mesh laundry bag similar in your suitcase for a no-brainer way to sort dirty clothes on a trick. And if you're looking for a set with smaller washer-ready bags, this 5-piece assortment could do the trick.
Sherry: Outdoor swings and such to encourage our kiddos to get more fresh air this summer – including some of those shown above: 1 / 2 / 3 / 4 / 5 / 6 / 7 / 8 / 9
John: Instagram accounts with#satisfying #soothing #calming videos, like our neighbor's fast-growing Instagram slime account and some more listed below
Sherry: "Pretty" toilet paper holders for your bathroom, like those shown below: 1 / 2 / 3 / 4 / 5 / 6 / 7
John: Grand Designs on Netflix, a British design show that shows renovations on a scale unlike what we're used to on most American TV.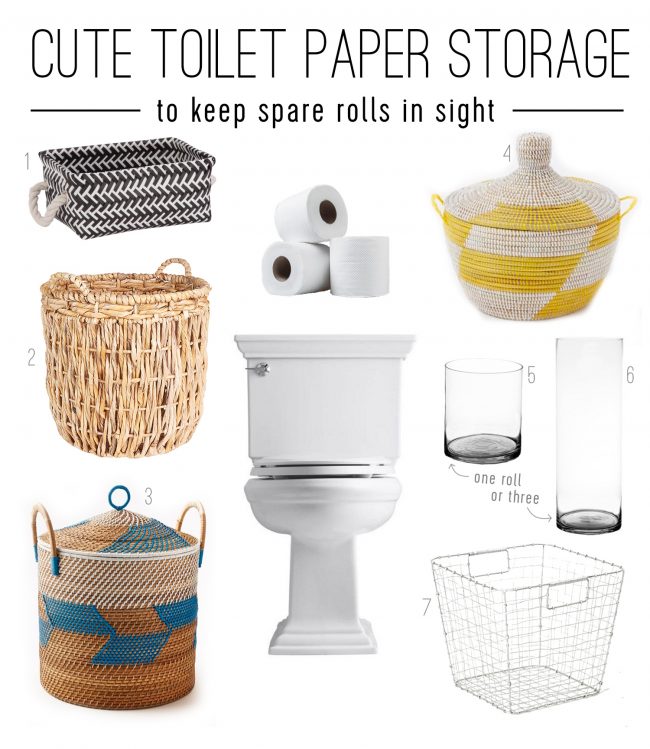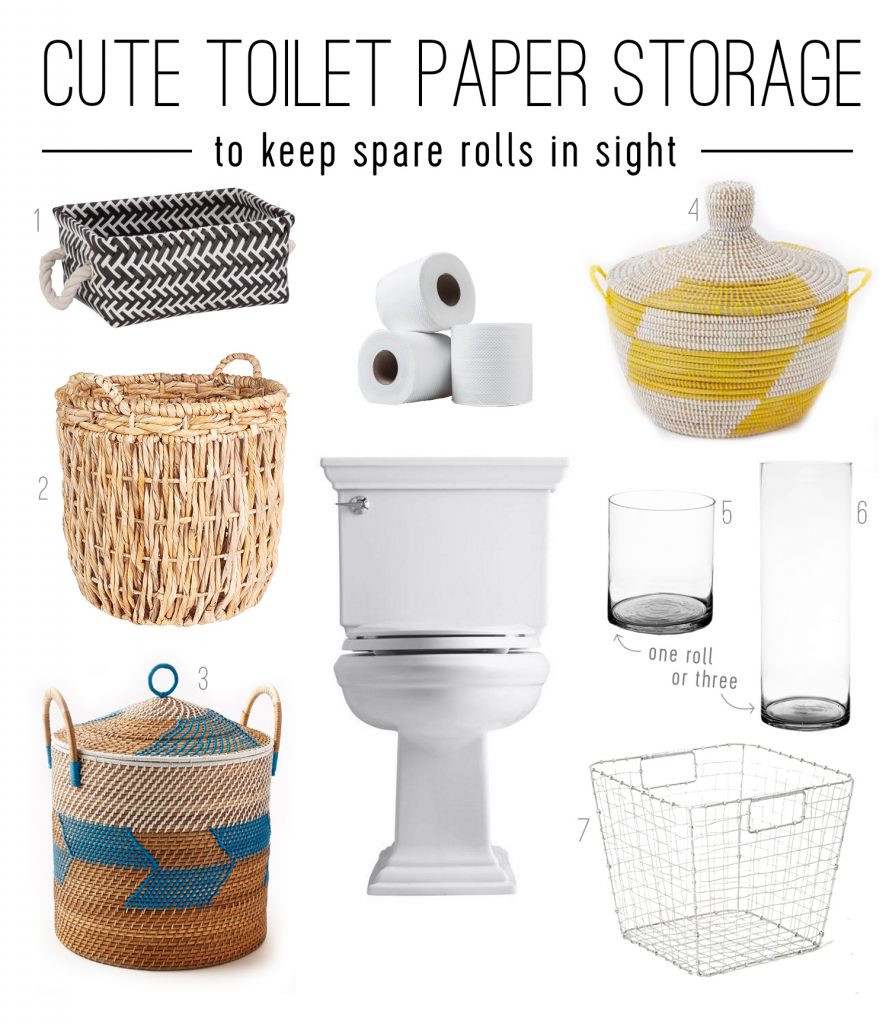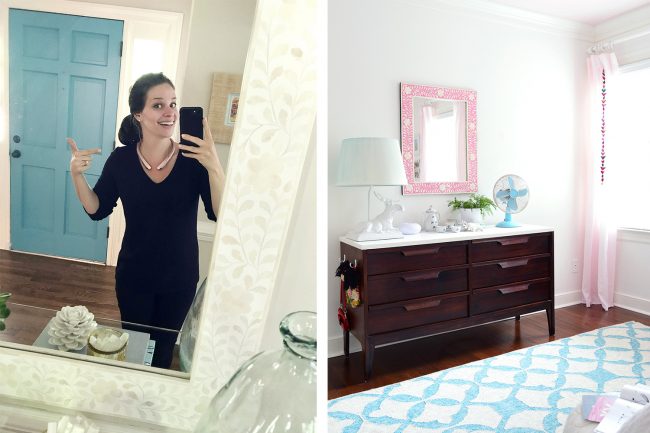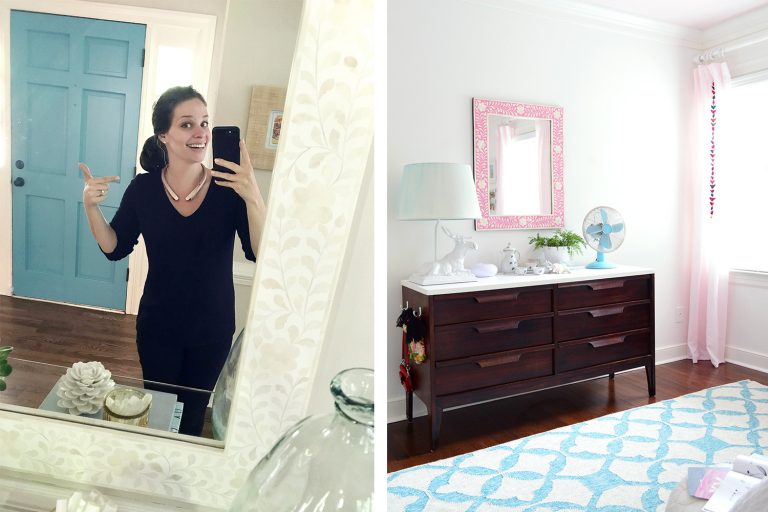 Sherry: The How I Built This, the podcast about how big business got their start, you can find episodes (like the Kendra Scott one Sherry loved) on their website or wherever you listen to our podcast.
John: Fun / helpful beach equipment like an inflatable lounger (we spotted the Fatboy Lamzac in person, but there are less expensive options too, like the Air Lounger and the Chillbo Baggins) Update: only use these on sand/land and not in water (we've since heard about multiple issues with people being sucked under water if they break/pop/deflate). We loved the rolling beach cart we used at our Spring Break rental, and this version that turns into a table is pretty cool too. We're also marveling over the "quicksand" blanket that doesn't hold sand.
Sherry: Window curtains that are 96″ (or longer!) which work great, even for standard height 8? ceilings like ours. See some favorites below: 1 /2 / 3 / 4 / 5 / 6 / 7 / 8 / 9
John: The book So, You've Been Publicly Shamed which tells the stories of everyday people who catch the ire of the Internet mob.
Sherry: Oversized table lamps that make a big statement in a room (like those below, which are all at least 2 feet tall):  1 / 2 / 3 / 4 / 5 / 6 / 7 / 8 / 9 / 10 / a / b / c
John: The #TryPod Initiative that encouraging people to help others get started with podcasts (you can even send 'em to our Getting Started With Podcasts guide). And more specifically, the S-Town podcast we're excited to check out as well as Planet Money – the nerdy but compelling look at all things economic in the world.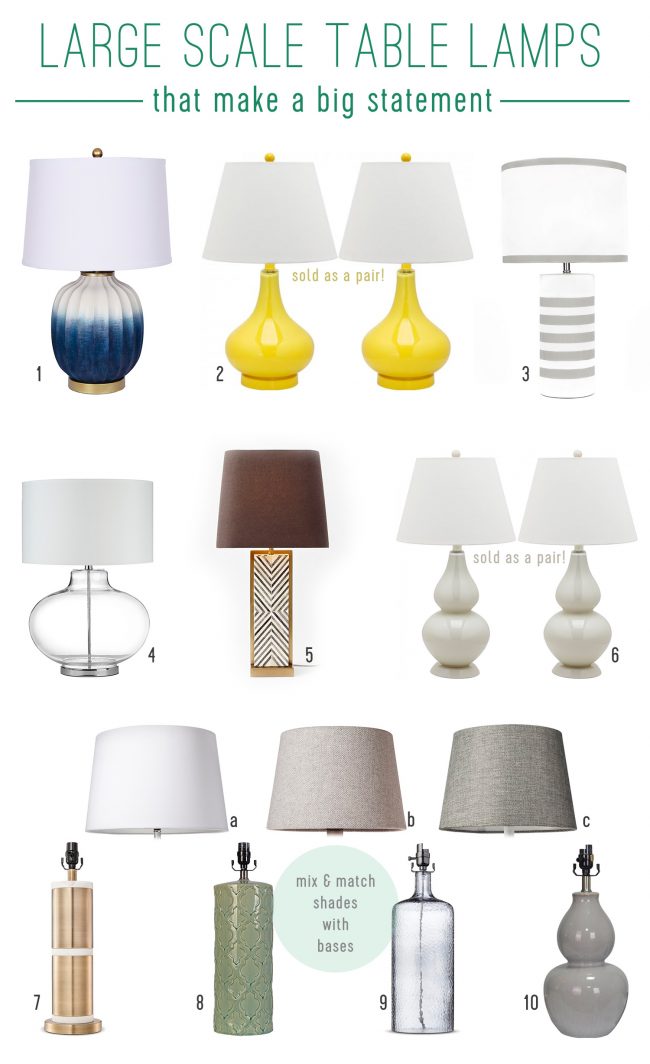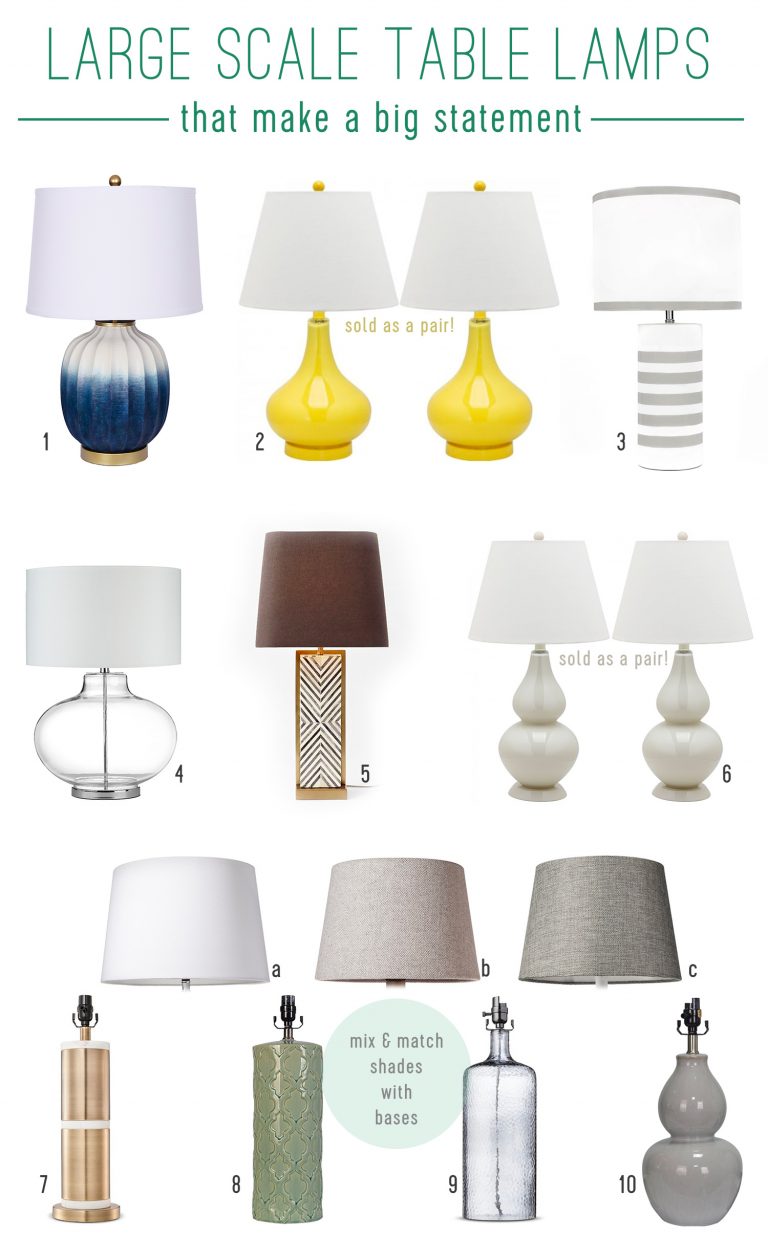 Sherry: Our favorite brand of apple cider vinegar. Just put it on everything and life will be awesome.
John: The Roku 4 box that we've been using to stream some of our TV (namely Netflix and PBS Kids at this point) as we try to cut the cable cord.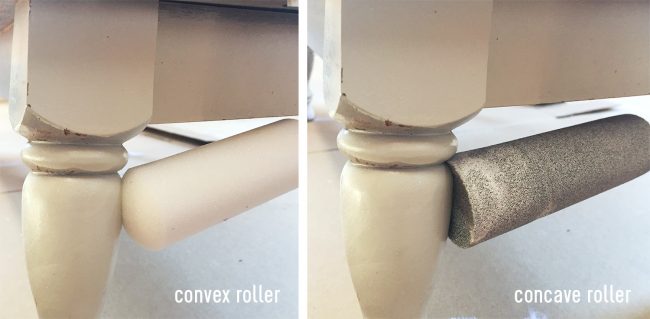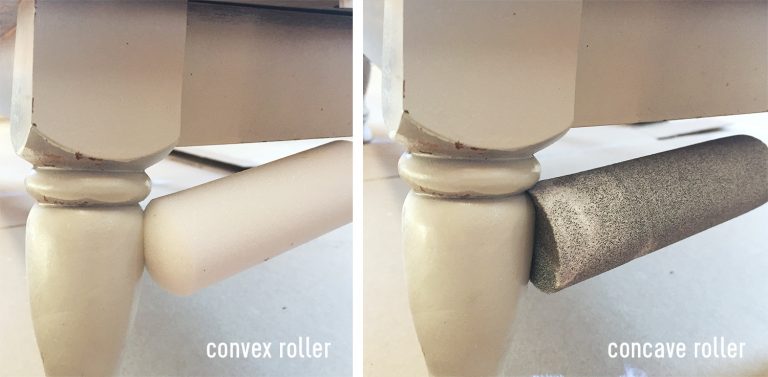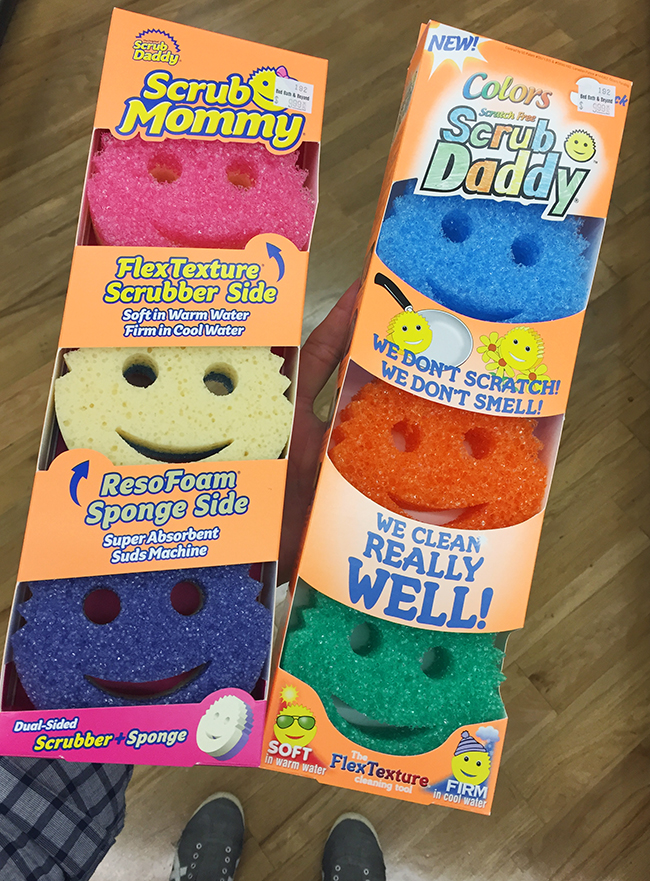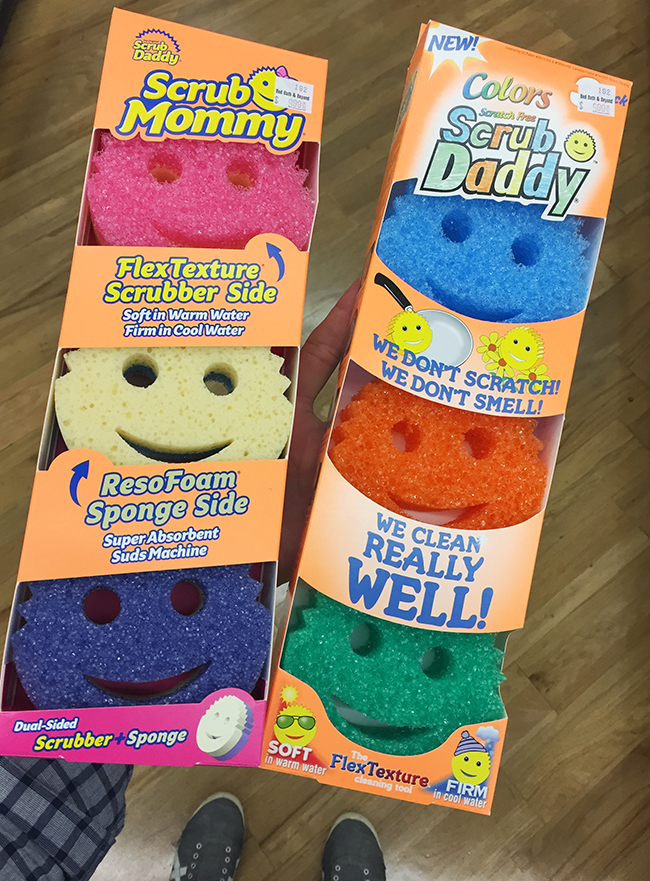 Special episode… hence no We're Digging
Sherry: Charcoal deodorizing bags, which Sherry has been obsessed with for years (we just ordered two sets of them to replace our old ones, which Sherry originally read about in Real Simple magazine back in 2014). You can spy one on Sherry's nightstand – it's the gray, linen bag behind her book.
John: Samplize, an Indiegogo campaign that seeks to create a removable paint swatch decals created with real manufacturer paint, for accurate color testing without all the wasted paint.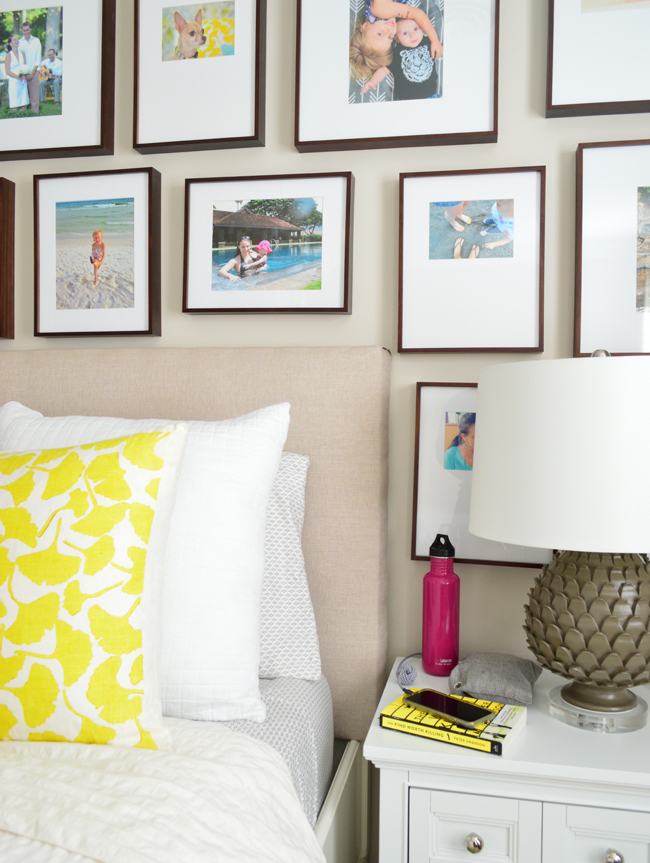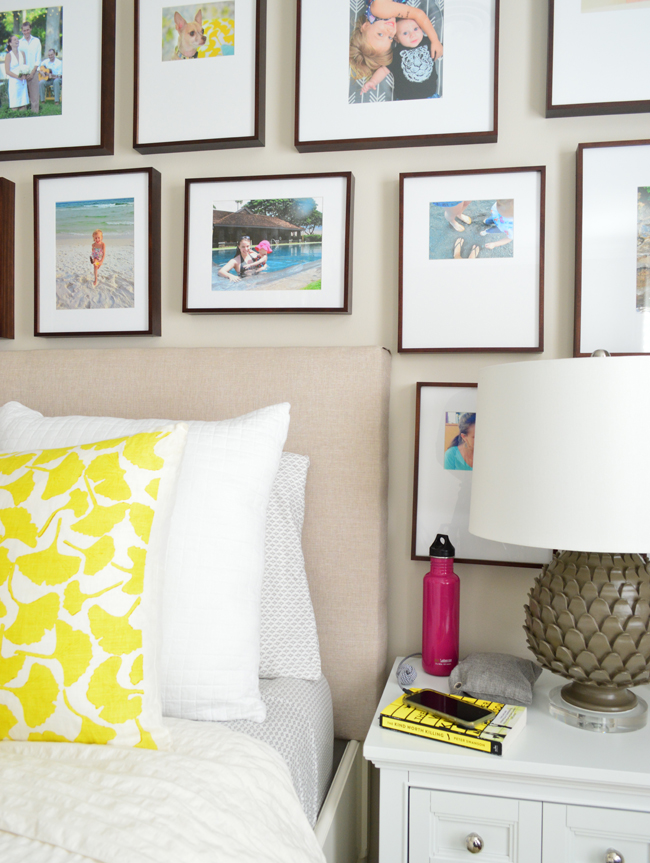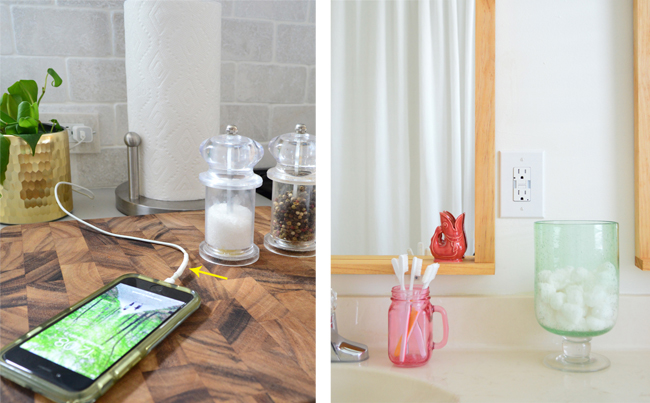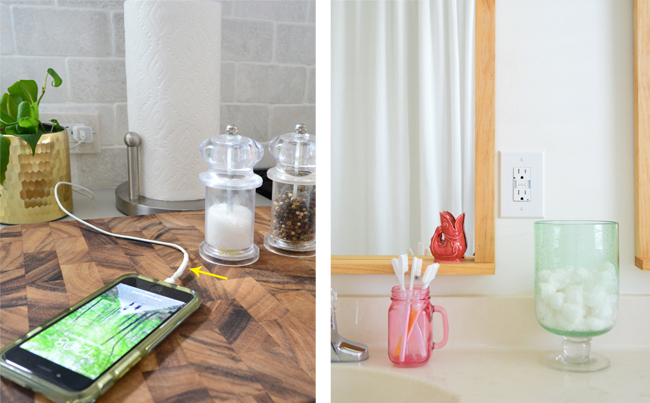 Sherry: Fruit bowls, like the ones shown below, as an overlooked kitchen accessory that can breathe new life into your countertop zone: 1 / 2 / 3 / 4 / 5 / 6 / 7 / 8
John:  My Crazy Invention Sketchbook that is a nice combo of art and engineering for kids looking for a break from the standard coloring or activity book.

Sherry: Some books that encourage you to take-a-deep-breath : Chasing Slow & Hands Free Momma
John: Glitch, a Netflix zombie show that's not really about zombies at all (and a perfect, 6-episode binge watch!)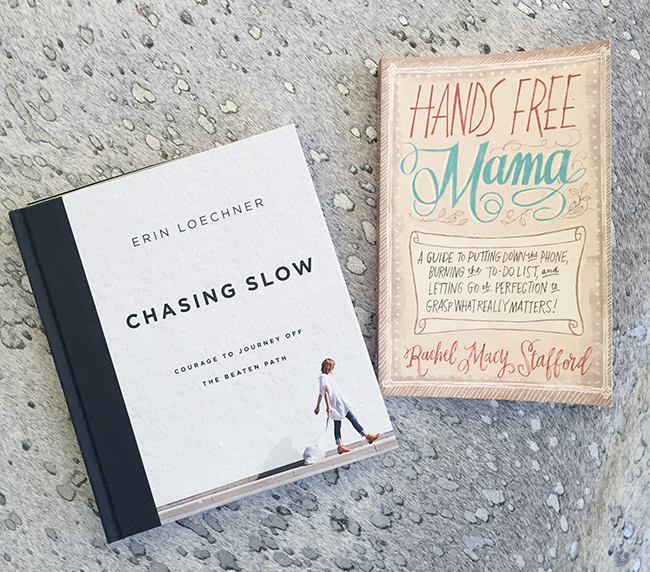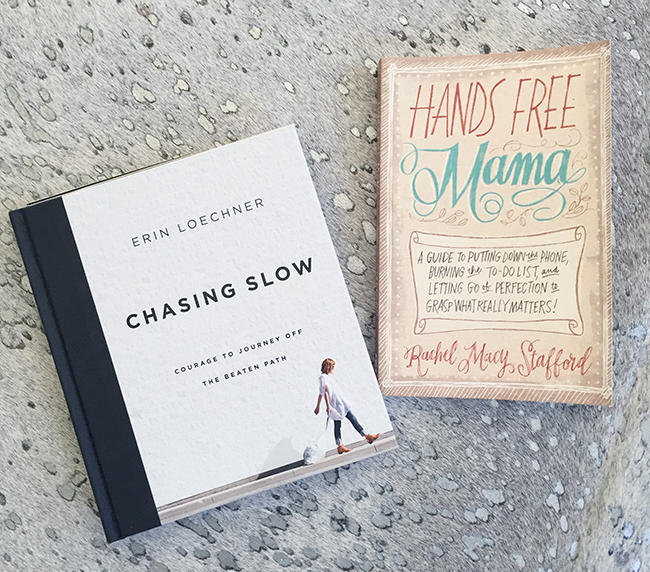 Sherry: Wood stain pens for touch-ups in floors and furniture. Our favorites are the Golden Oak and Ebony stain markers, but they come in plenty of other colors too.
John:  Groupon, specifically for their experience-based discounts that are great for getting excursion or outing ideas, even if you don't buy the discount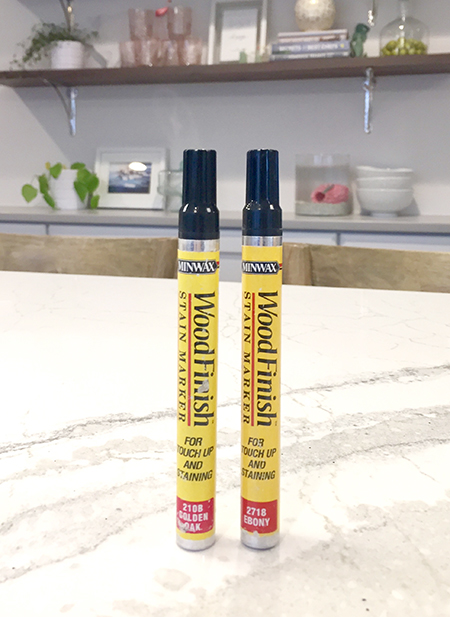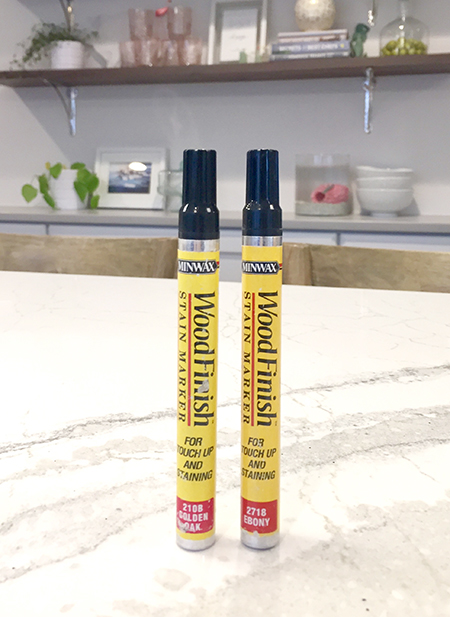 Sherry: @The_Home_Edit on Instagram if you want to fill your feed with more organized-within-an-inch-of-its-life eye candy.
John: In a twist of format, John wasn't digging the Roomba we once owned (a 595 series – but now the entry level is the Roomba 650).
Sherry: Mermaid pillows like those shown below (many of which are available in alternate colorways) : 1 / 2 / 3 / 4 / 5 / 6 / 7 / 8
John: Wireless LED candles for you holiday windows, complete with an auto on/off timer, and a brighter side that faces the street.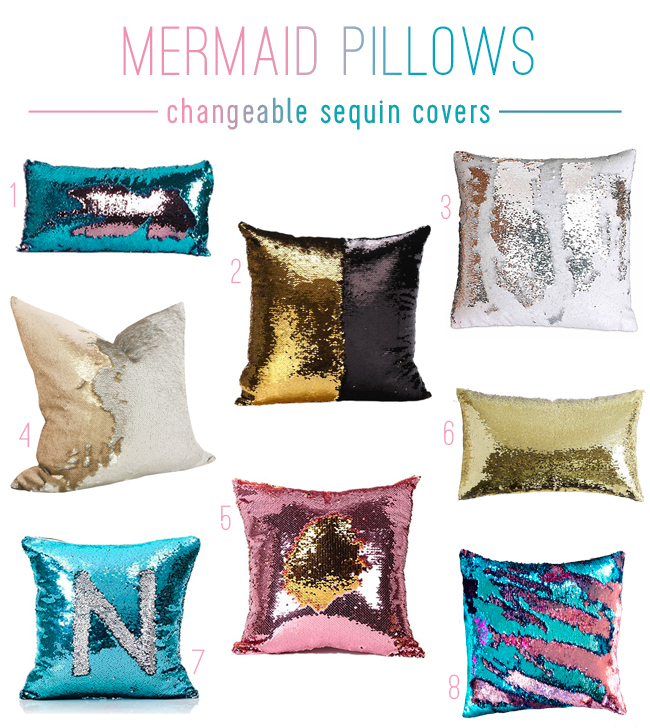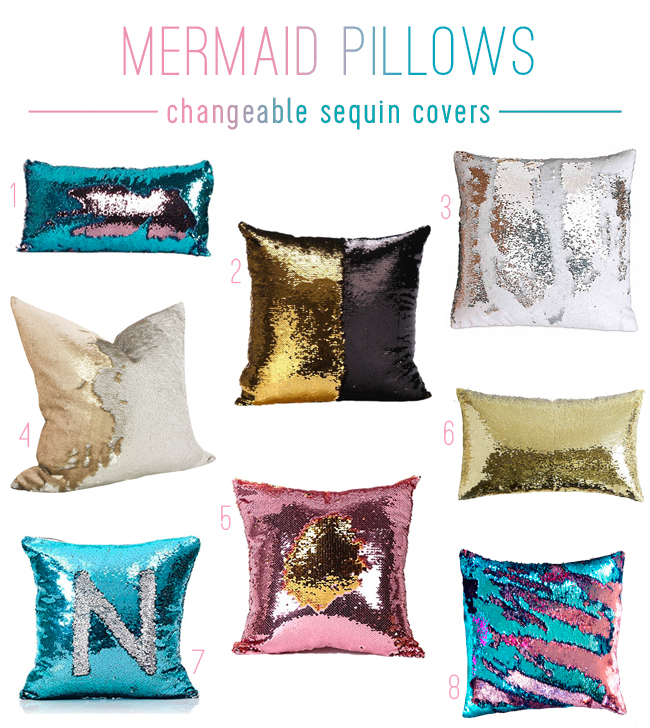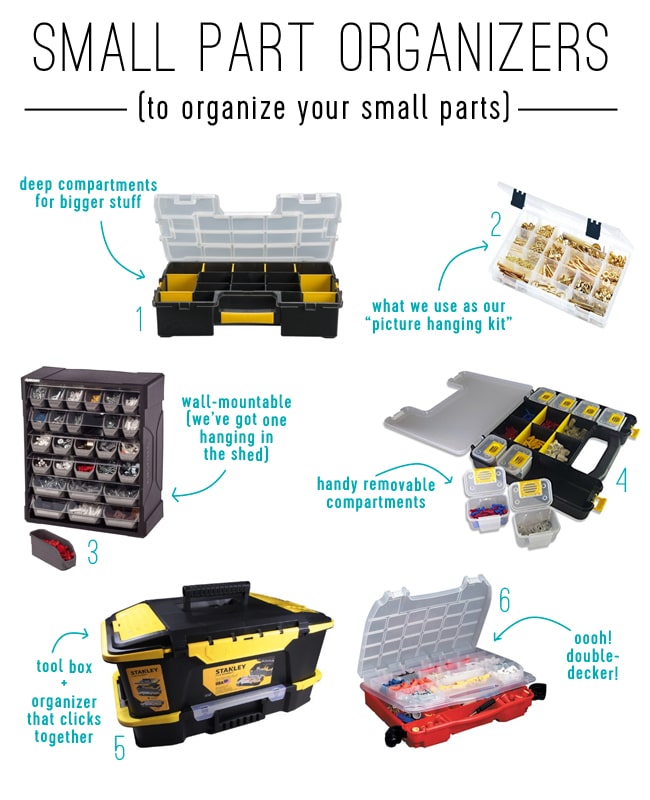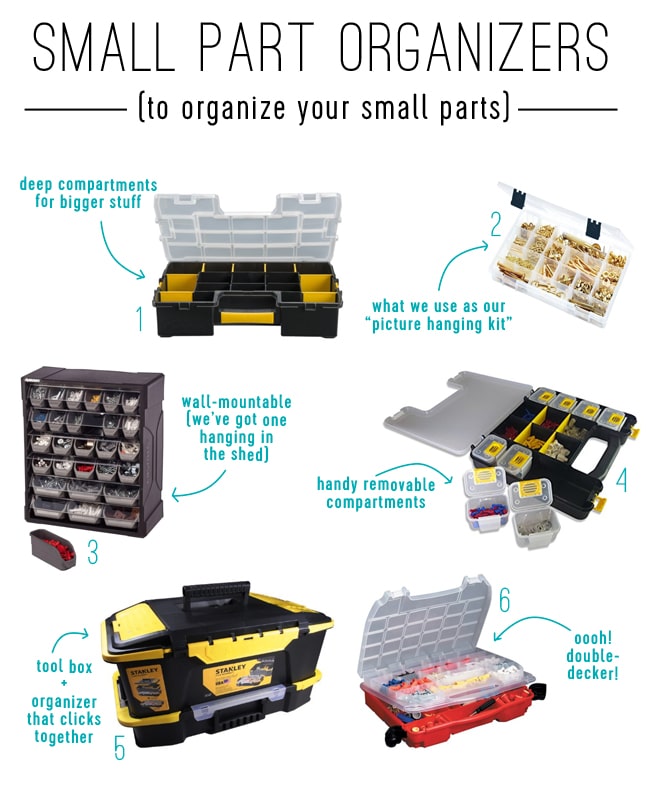 Sherry: Stocking stuffers for the decor enthusiast: 3M Command velcro, OOK picture hangers, a level, a scented candle, a pretty frame, some ornaments, a small plant (even faux!), a cute dish towel, and ceramic anything.
John: Stocking stuffers for the DIYer: safety goggles, work gloves, rags, carpenter pencils, tape measure (or pocket tape measure), small work light or flashlight, sanding blocks, short handled paint brush, and a bucket!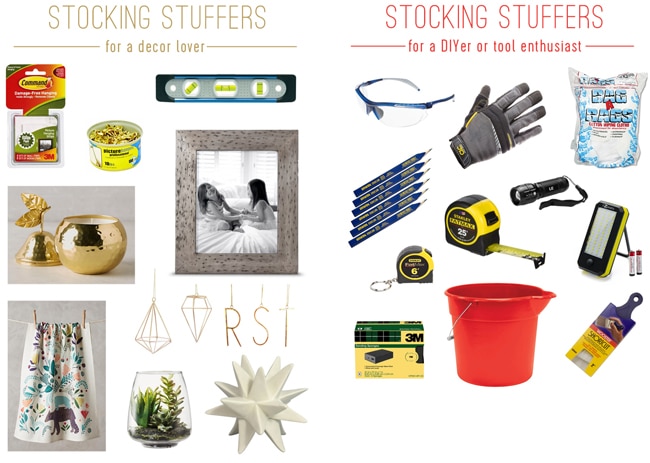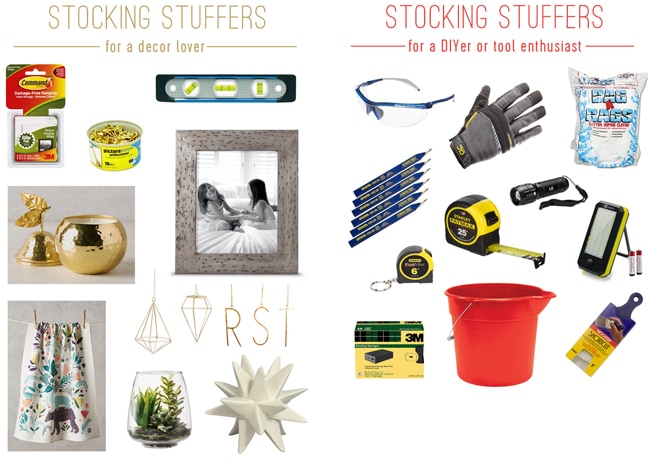 Sherry: Handmade custom address stampers found on Etsy (shown below)
John: The hilarious & unlikely pair that is Martha & Snoop and their new show on VH1 called Martha & Snoop's Pot Luck Dinner (Ep 2 is especially great).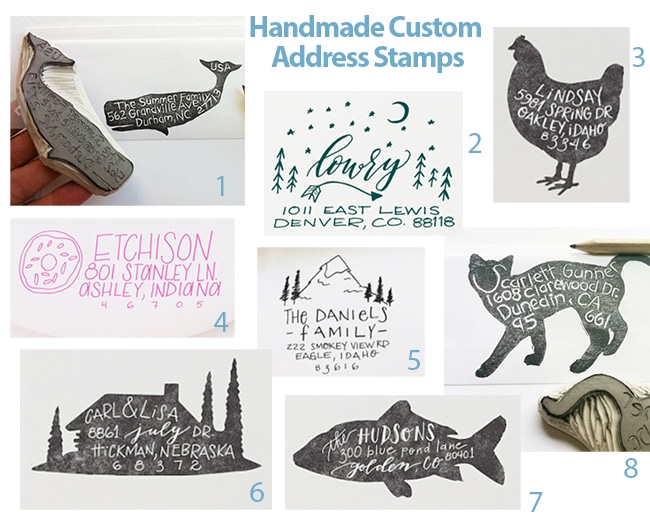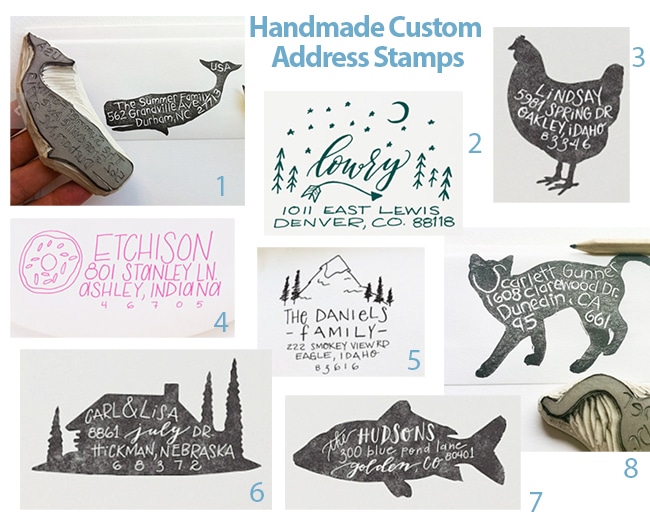 Sherry: Faucets with a pull-down sprayer, like the one we got for our new kitchen and others show below: 1 / 2 / 3 / 4 / 5
John: Voice-controlled smart home hubs like Google Home and Amazon Echo, which we don't own but are admiring.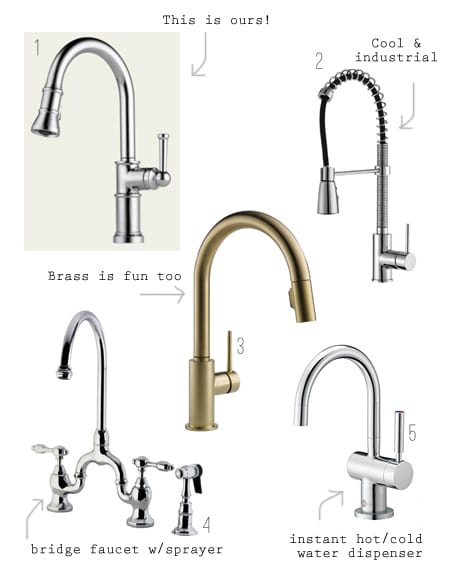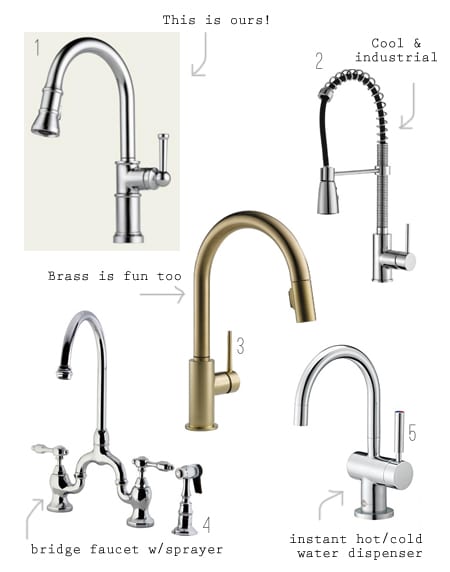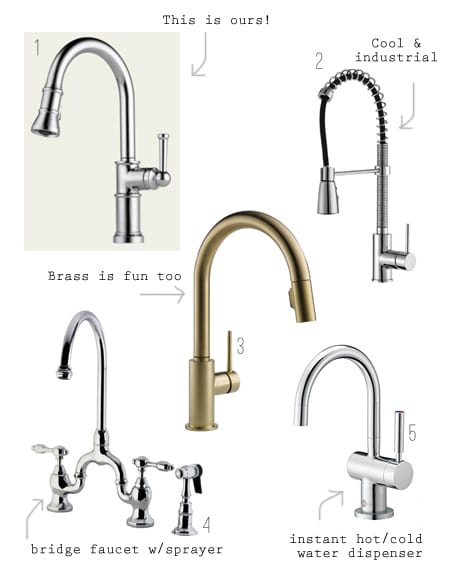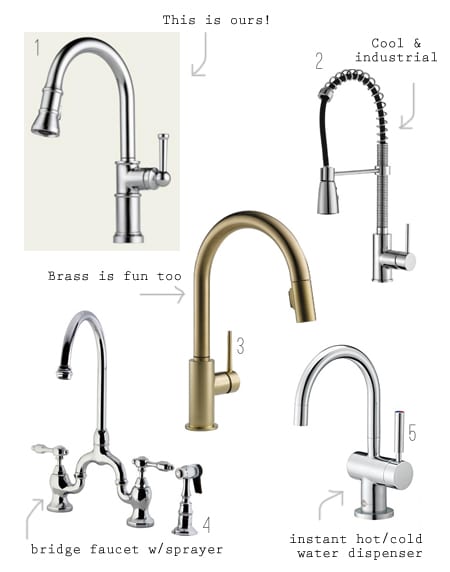 Sherry: Different personalized Christmas ornaments for the kids, given each year  (some of her favorites are below): 1 / 2 / 3 / 4 / 5 / 6 / 7 / 8 / 9 / 10 /11
John: Books with aerial beach photography (to read & frame), like: Time And Tide by Christian Chaize, Beaches by Gray Malin, Overview by Benjamin Grant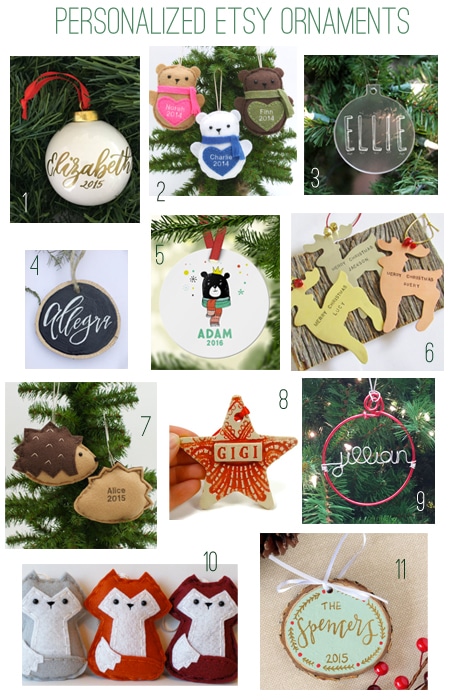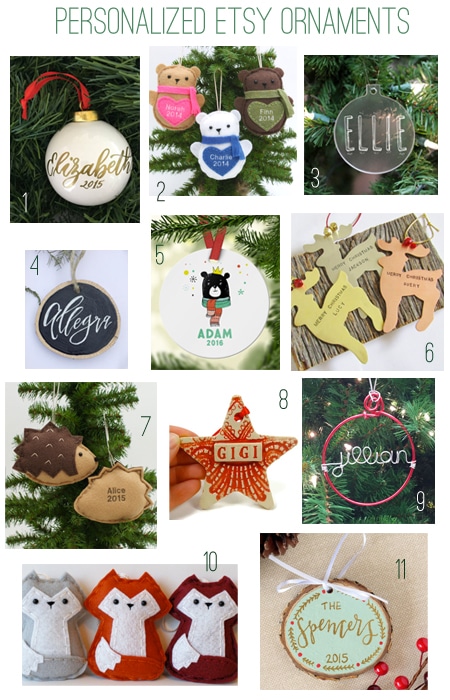 Sherry: Cake stands for more than just cake! (Some of our favorites are below) 1 / 2 / 3 /4 / 5 /6 / 7
John: Rachio Smart Controller, the wi-fi smartphone operated irrigation system that we installed in our yard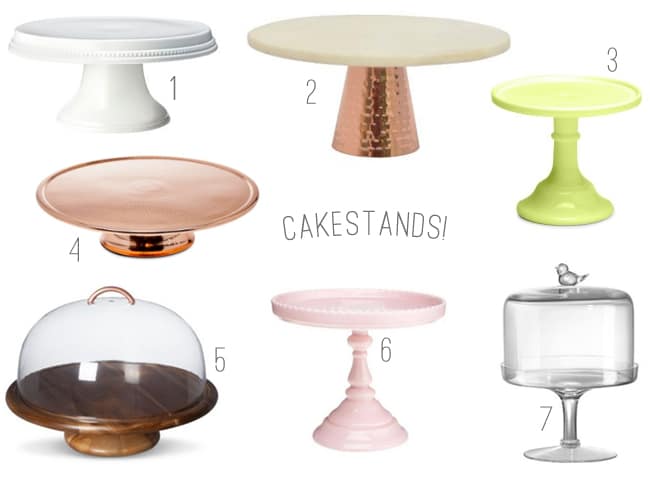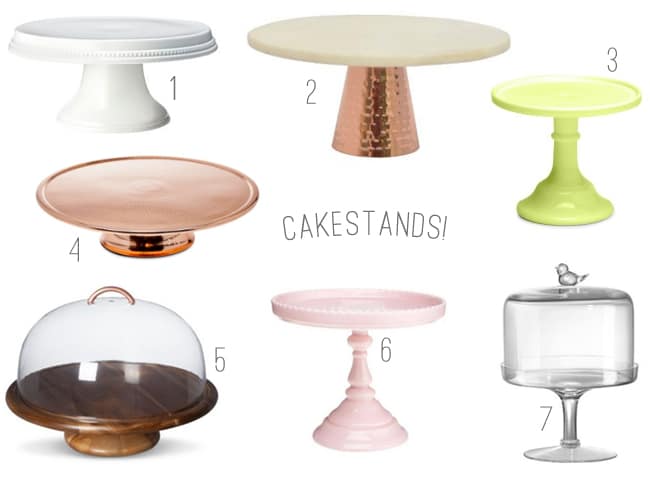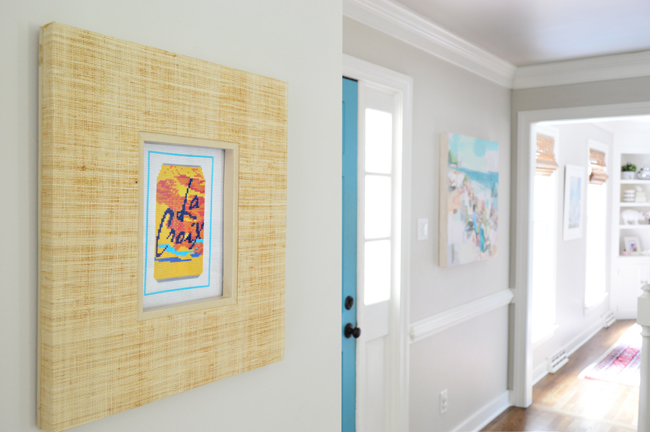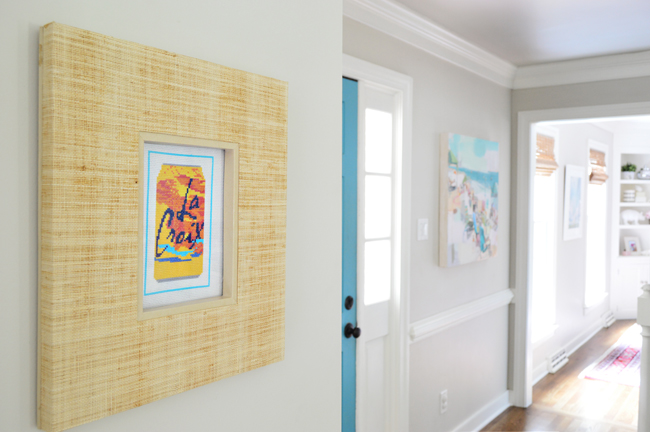 Sherry: 10% Happier by Dan Harris, a hilarious and relatable book about reducing stress
John: Using list programs & Amazon to keep better track of our magazine subscription renewals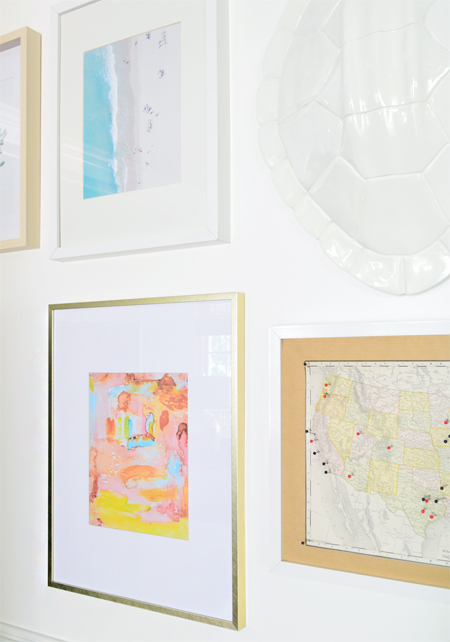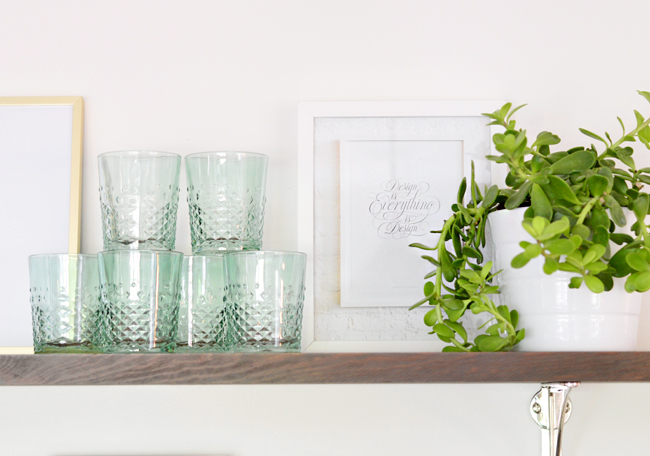 Sherry: Our touch-sensitive bedroom nightstands that turn off our bedside lamps with a tap (& this kit to retrofit yours)
John: Drinking water for the entire month of October, in celebration of my invented holiday: Aquatober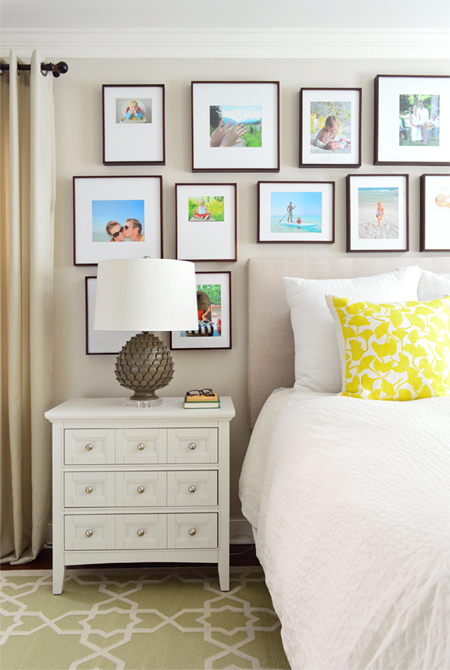 Sherry: Shower curtains, a cozier alternative to the glass door trend (some of our favorites are below):  1 / 2 / 3 / 4 / 5
John: SimpleDesktops.com, where you can download free graphic wallpapers for your computer or phone
Sherry: Legit bookends – unlike the rice-filled vase that failed us spectacularly (some of our favorites are below): 1 | 2 | 3 | 4 | 5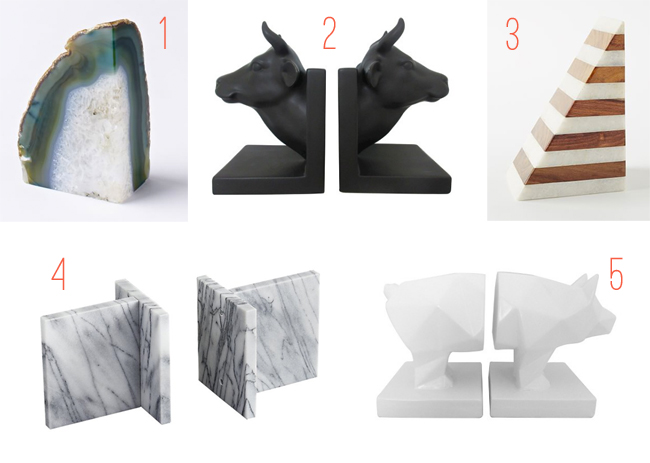 Special episode… hence no We're Digging
Sherry: Native brand kids shoes  (we get them in Pigeon Gray) and they're the perfect shoes for summer
John: The Honey extension for a Chrome web browser that auto hunts for discounts during web checkout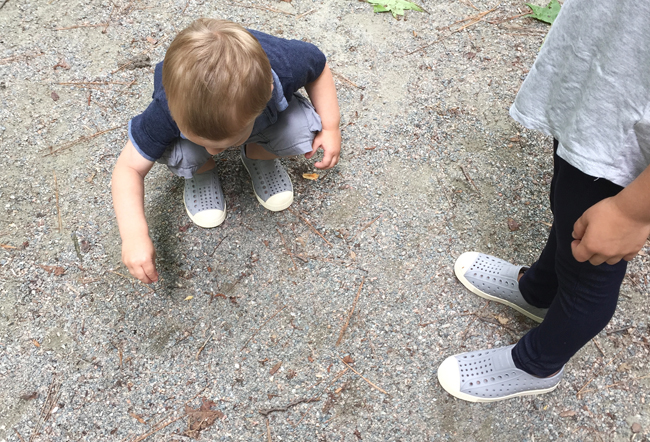 Sherry: The movie Bad Moms, which is now available on Amazon
John: Saws on collapsible stands, like this one or this stand owned by two of our friends
Sherry: Gratitude journals, both the act of keeping one + the journals themselves (some faves below): 1 / 2 / 3 /4 / 5 / 6
John: Duvet cover clips that keep your duvet insert from slipping around in your cover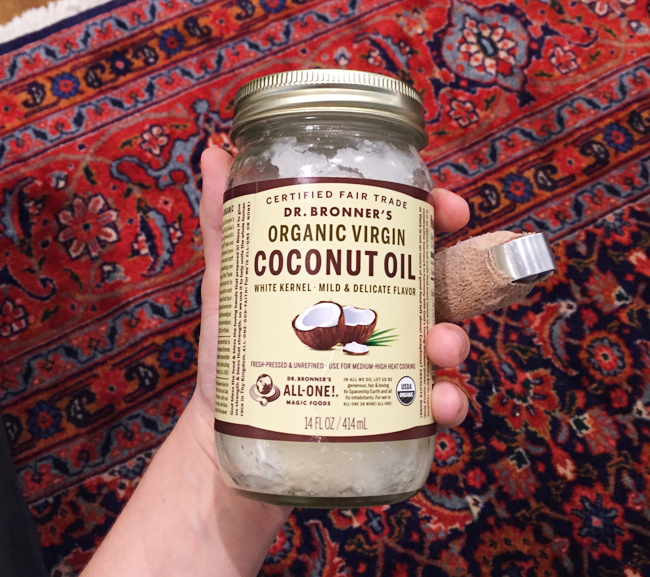 Sherry: "B.A.P's" (aka: Big Ass Plants), like a Hope Philodendron, which are easier than Fiddle Leaf Figs. We've since written a post on the topic with even more info.
John: Shark Navigator stick vacuum for small messes and easy clean-up when you don't want to break out the big vac
Special episode… hence no We're Digging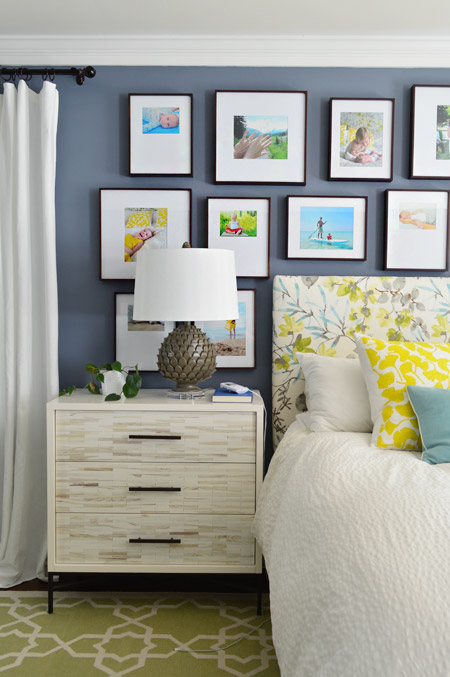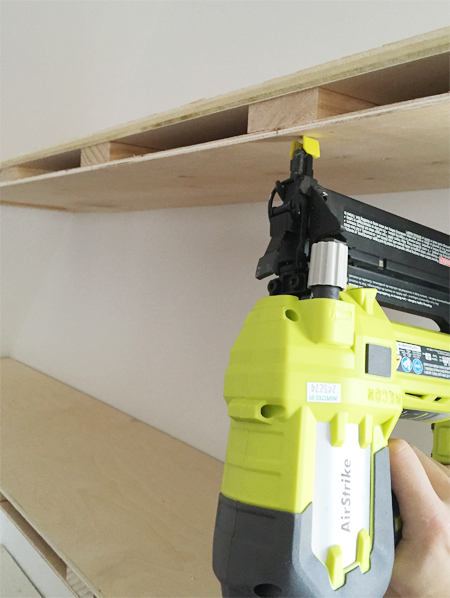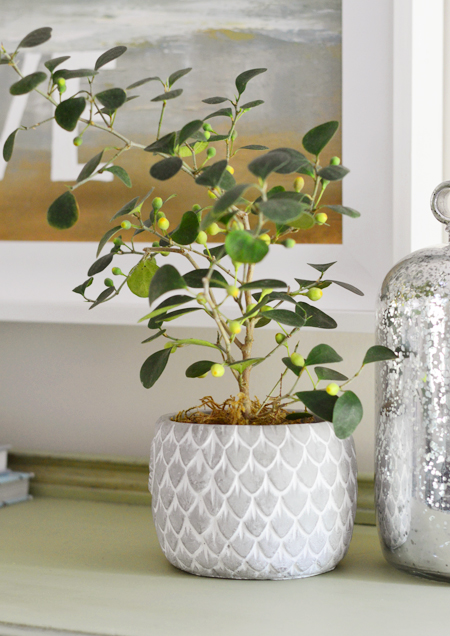 Sherry: Big affordable ferns to add easy greenery to our back deck
John: The Surprisingly Awesome podcast, which takes a look at "boring" subjects to uncover their hidden awesomeness. Episodes #12 Mattresses, #9 Pigeons, and #7 Adhesives are some good ones.
*This page contains affiliate links*