It's no secret that house projects can be stressful. Sometimes REALLY stressful. So today we're sharing three ways we're keeping a handle on it during our bathroom renovation, especially around common stress points like broken budgets, creeping timelines, and decision fatigue. Plus, how you can you stop second guessing yourself! We're also spilling the details about a part of this renovation we haven't mentioned much, which oddly enough happens to be one of the things we're looking forward to the most. We also have some holiday life hacks for you that were submitted by our listeners and why part of Sherry's childhood has come back to haunt us (in the best way possible).
You can also find this episode on your favorite podcast listening app, like Apple Podcasts, Google Podcasts, TuneIn Radio, Stitcher, and Spotify.
What's New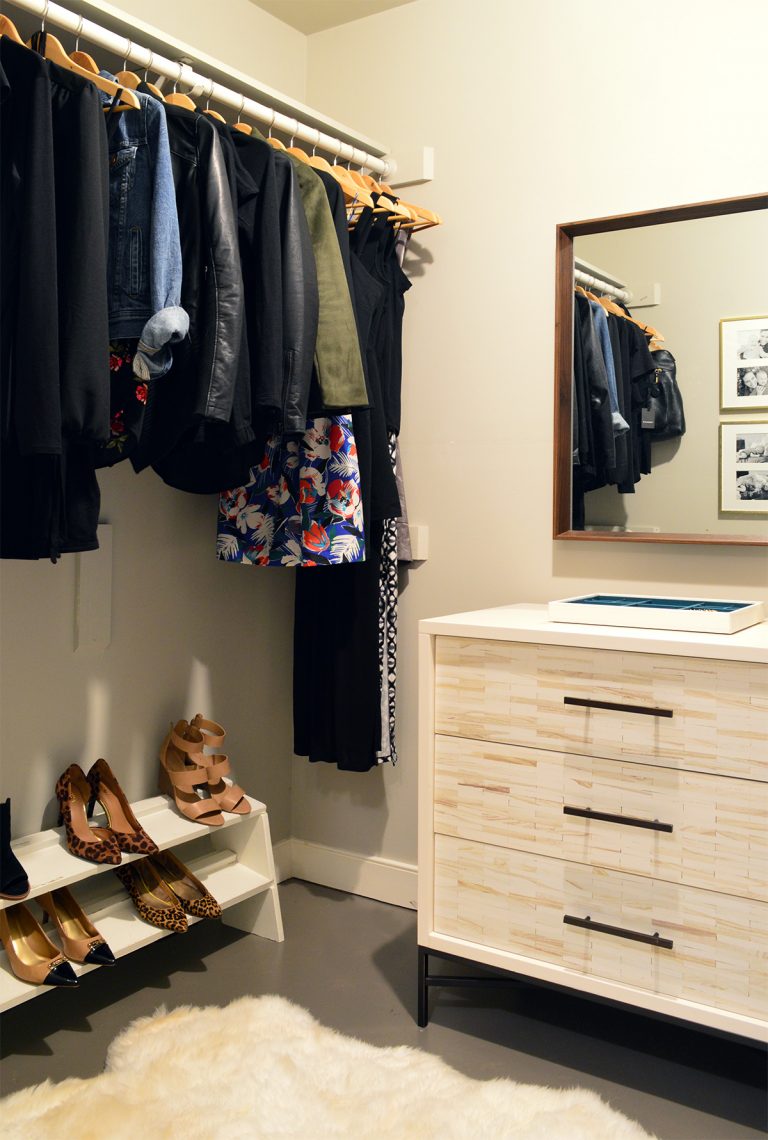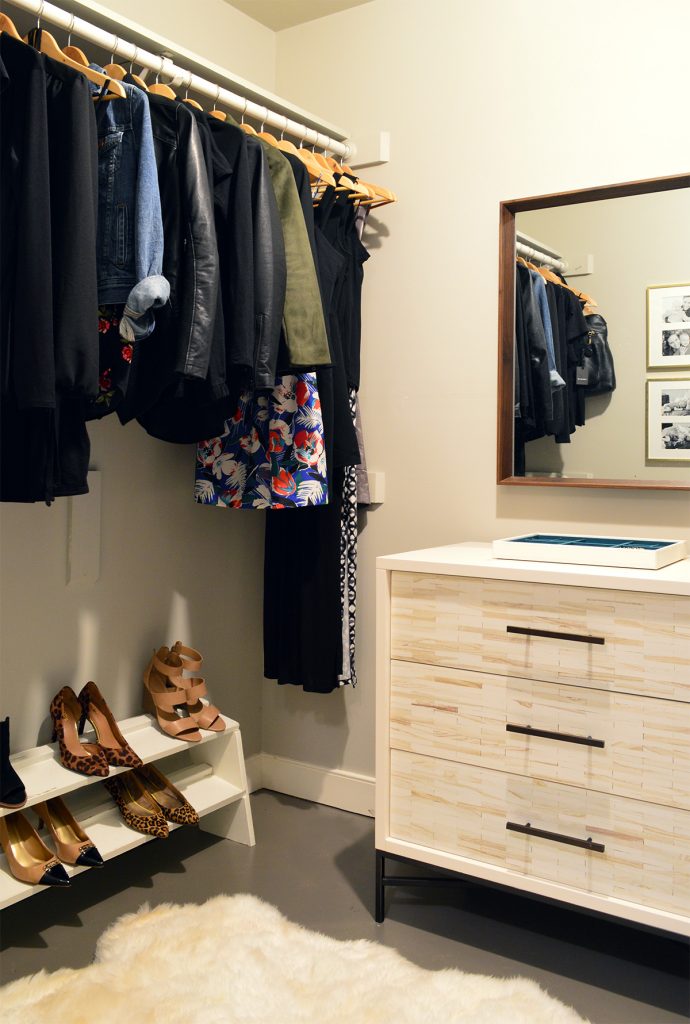 You may remember what our closet used to look like from last year's post about Sherry's minimal wardrobe. That's her side of the room above (duh) and mine is below – at least that's how they used to look before demo. Also, hi Burger!
(Right now this is just an empty room with no floor…)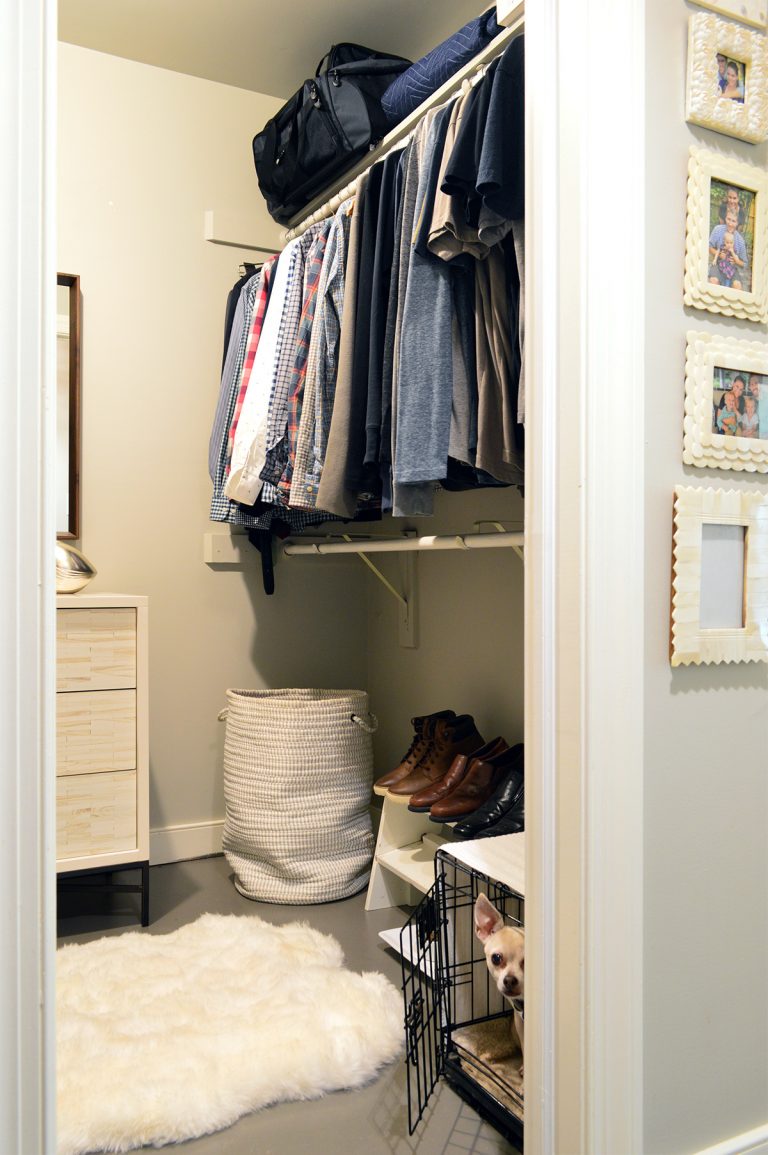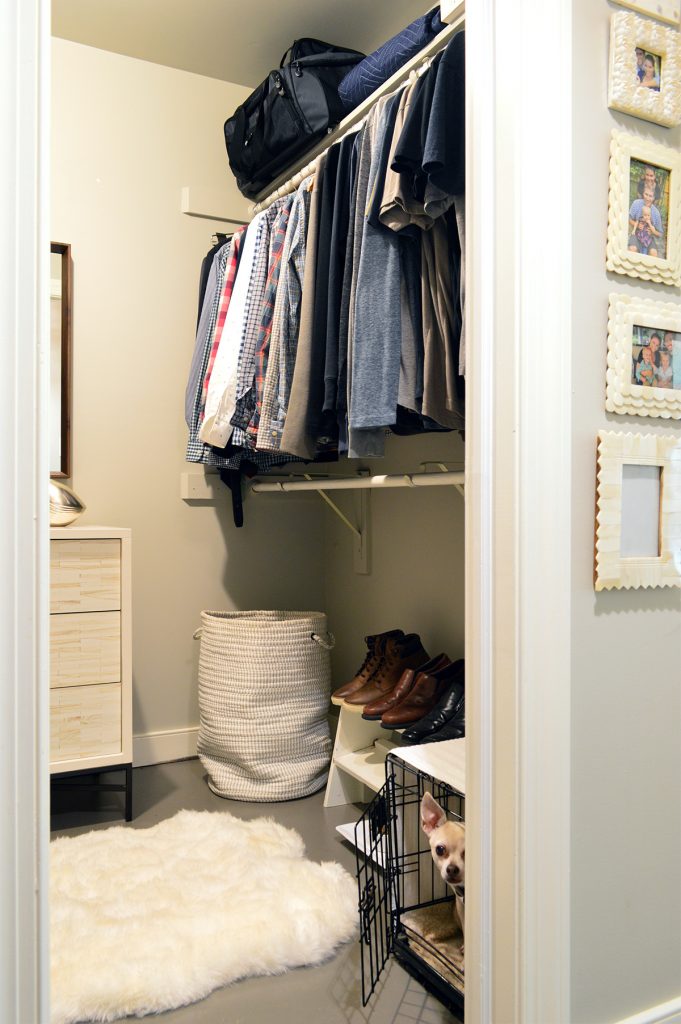 Below is a rendering using Ikea's Pax Wardrobe planner to show how our new systems are going to (sorta) look. This is the design we worked on at home, but we fine-tuned it in the store before placing our order so I can't remember if this is precisely the layout we ended up with or not. We'll show you a ton of photos when it's done.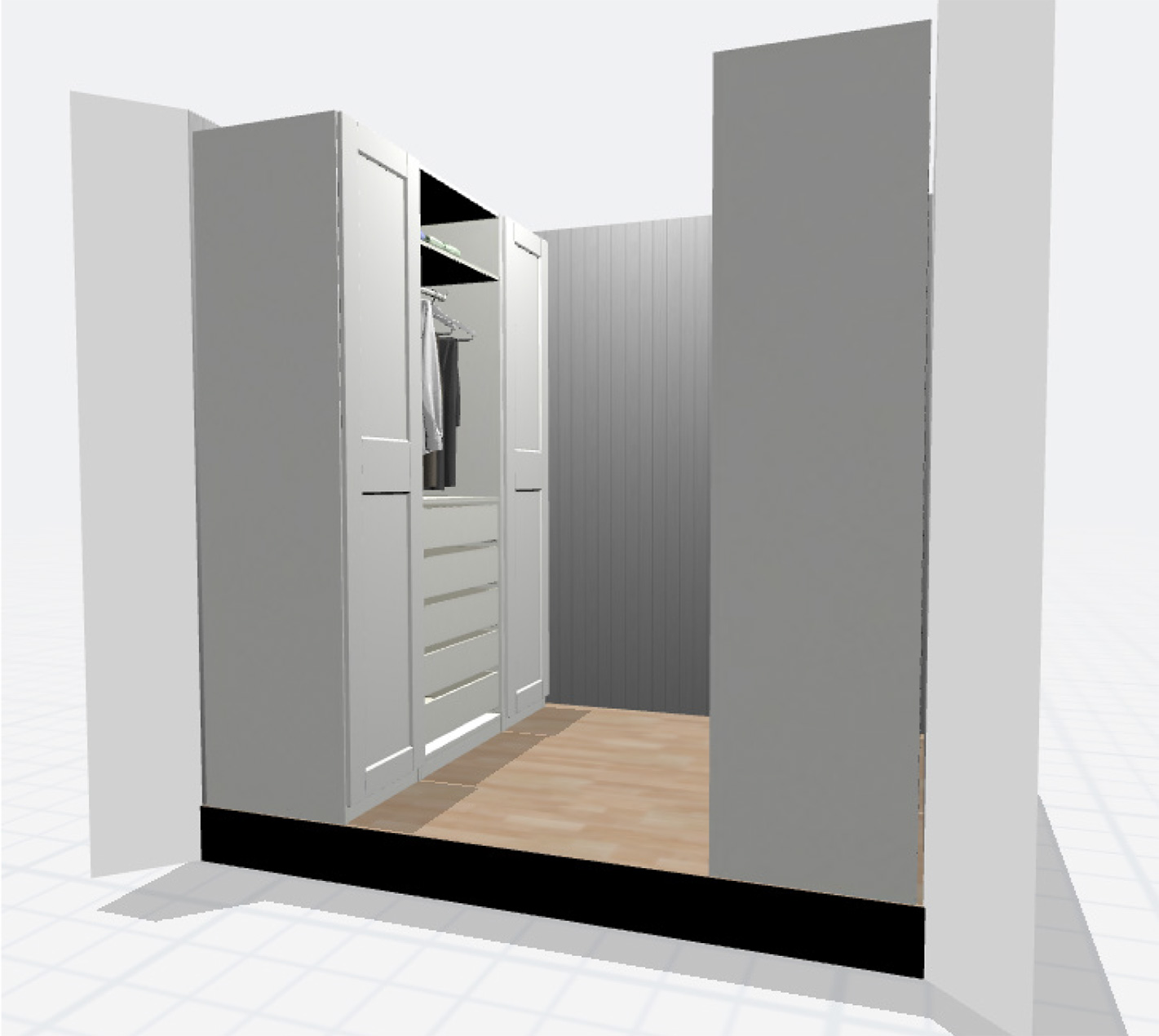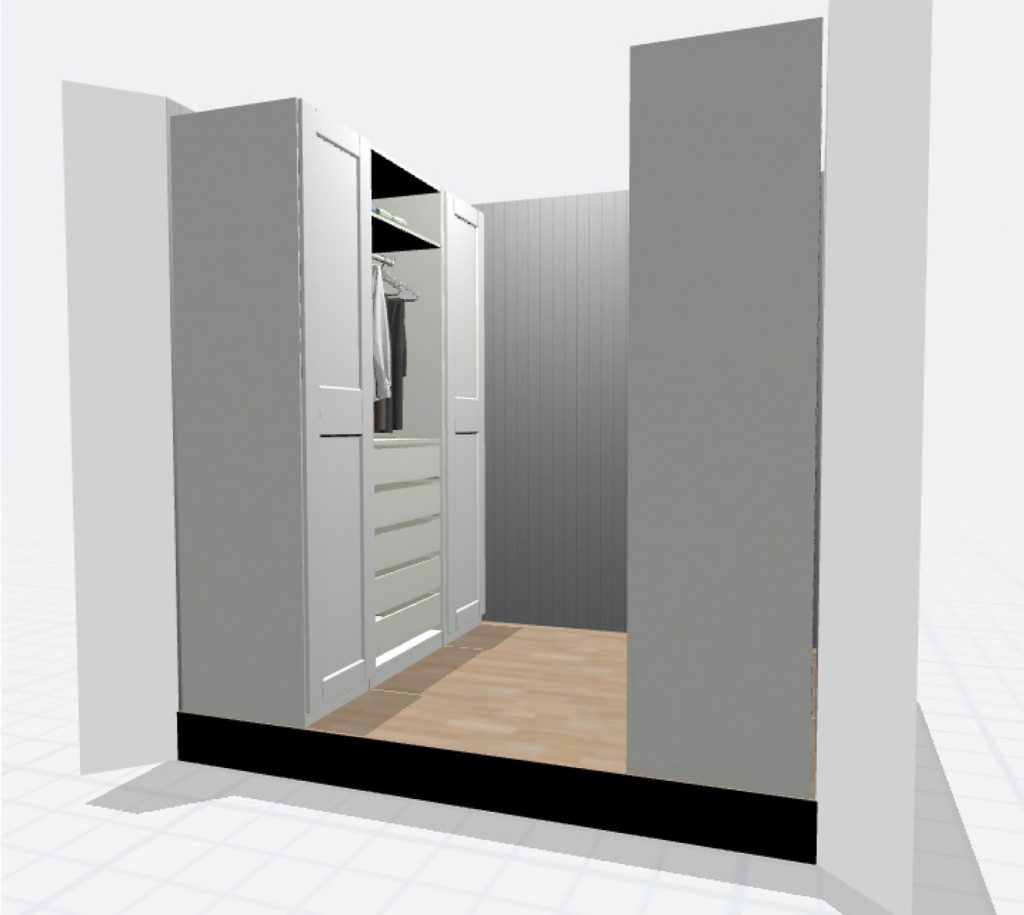 We have one 29″ wardrobe flanked by two 19″ wardrobes with doors on each side (they don't sell doors for the 29″ size – but we also think that center area will be more convenient without doors, especially since half of it is drawers and drawers behind doors = double the work to get to stuff).
We kept our exposed portions identical on each side, but have customized the insides of the doored 19″ wardrobes for each of our needs. We'll share more about their organization once we actually have them installed.
The last time we used Ikea Pax wardrobes was in our first home's main bedroom when we expanded our clothing storage by adding two wardrobes on either side of our bed. You can see how we organized them in this post. I can't believe that was nearly 11 years ago!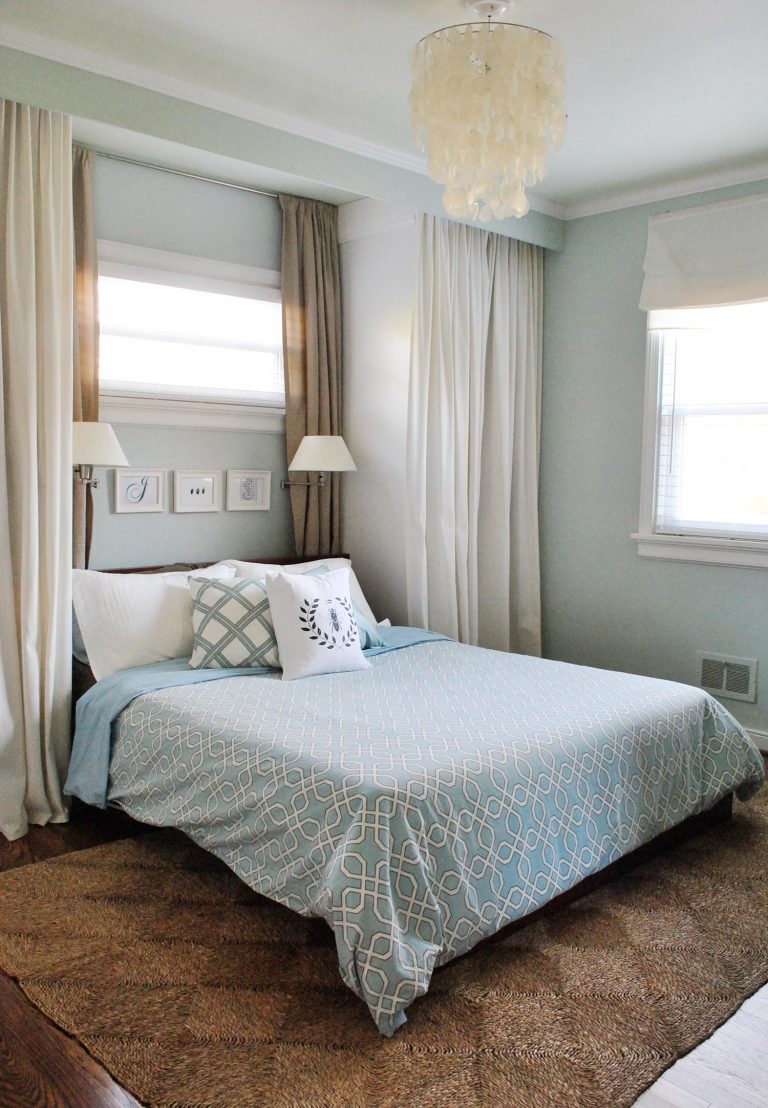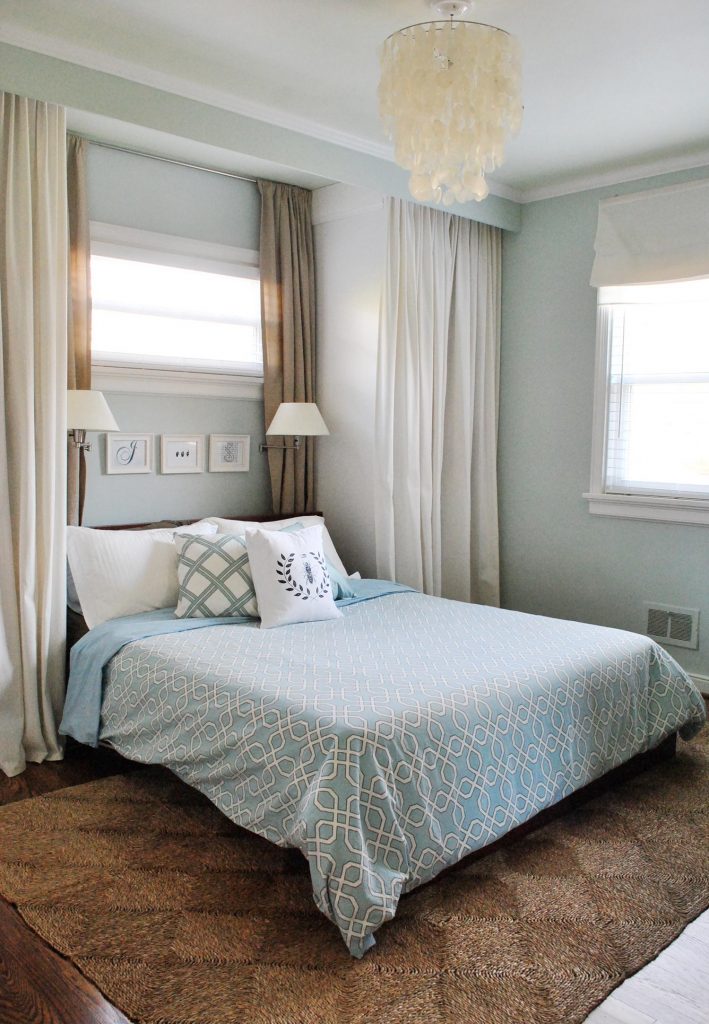 And to round things out, here's a link that'll take you to see the closet in our second house. It's oddly familiar to what our closet here used to look like!
Updates: Holiday Life Hacks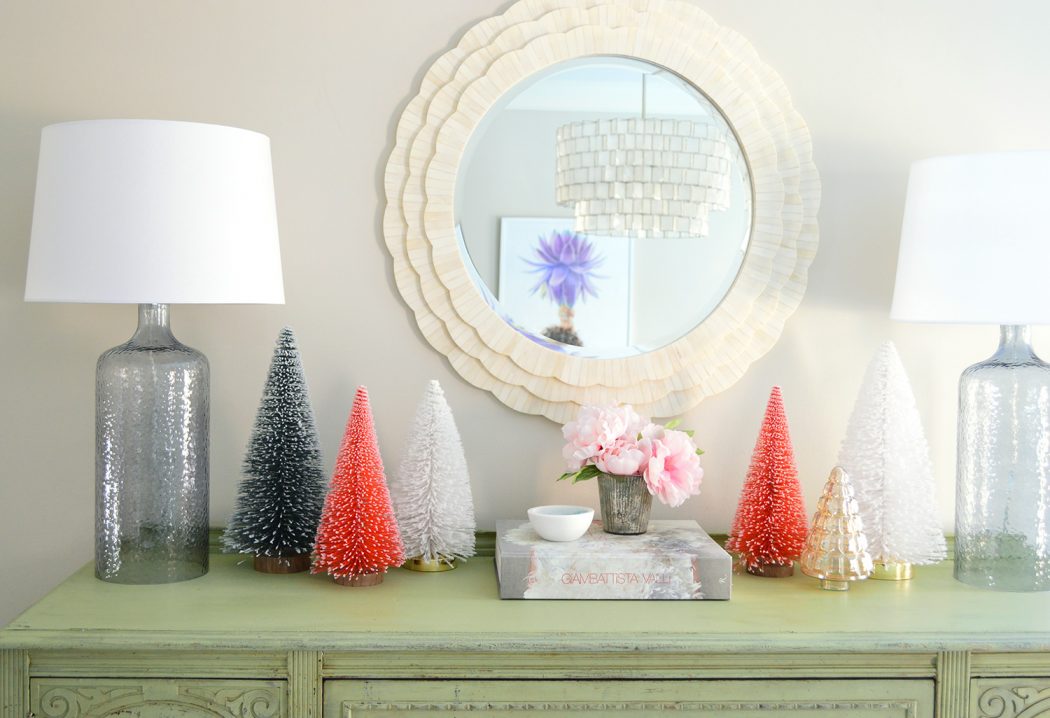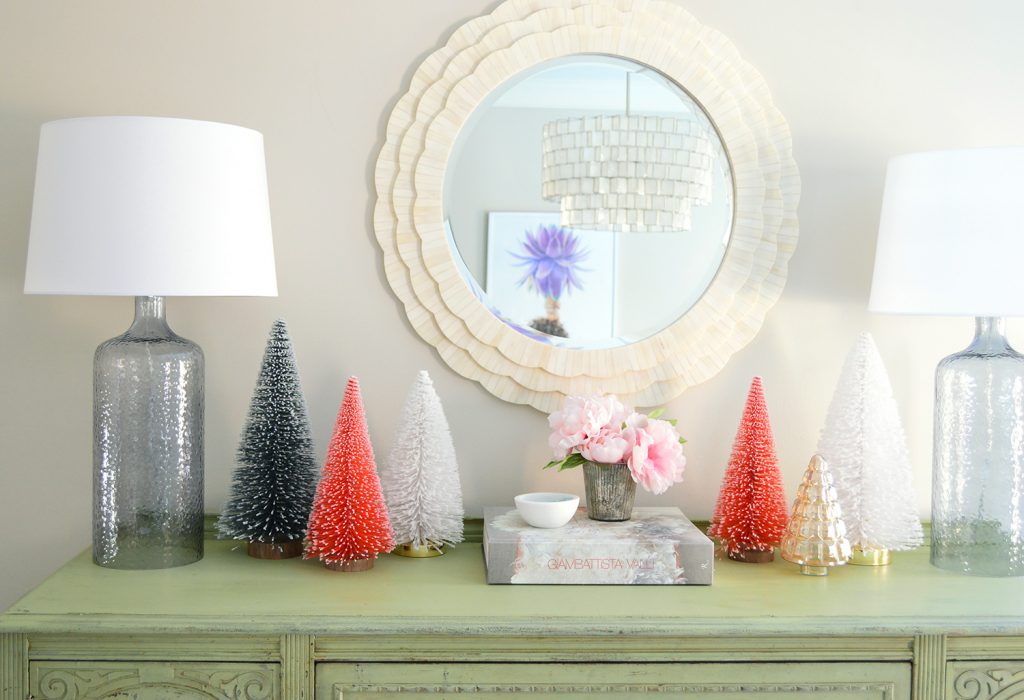 As promised, here's a list of some of the holiday gift-giving themes we've used in the past with our extended family:

Hey Hot Stuff! (spicy food, things that keep your warm, items related to hot places or destinations)
Book It (books or other reading related items, but also things about booking a trip or running)
Travel Junk (things you pick up while on trips or vacations)
Say Cheese (photo or cheese related gifts – we got a Wisconsin-shaped cutting board for our cousins who live in Madison)
On The Road (gifts good for road trips or travel, like this travel art kit we received)
The Year of Granny (to honor my grandma's 90th birthday we chose gifts that reminded us of her, like an automatic card shuffler)
Be A Good Sport (sports-related gifts like memorabilia for your favorite team or actual games to play together)
Feeling Green (eco-related gifts, or things that were literally the color green)
Across State Lines (local gifts from the town of the gifter)

You can also hear more of our listener's non-holiday "life hacks" in Episode #153.
Managing Renovation Stress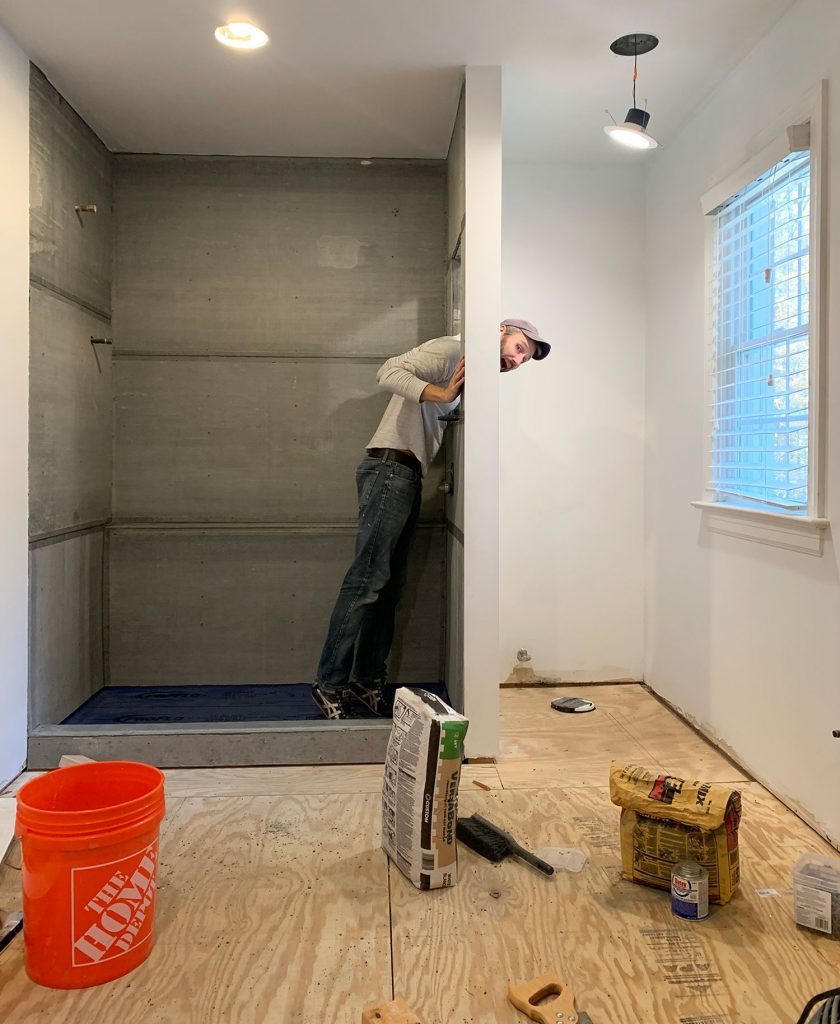 If you want to catch up on our bathroom renovation, click that link to see a post with before photos, floor plans, and links to all of our tile and fixture selections (including Sherry's beloved tub).
The photo above was taken last week as we focused on knocking out all of our tile prep (almost done!) meaning we can hopefully start tiling the shower floor, shower walls, and the entire floor of the bathroom and closet after Thanksgiving. Here's a before shot from a similar point of view below. We've already come a long way!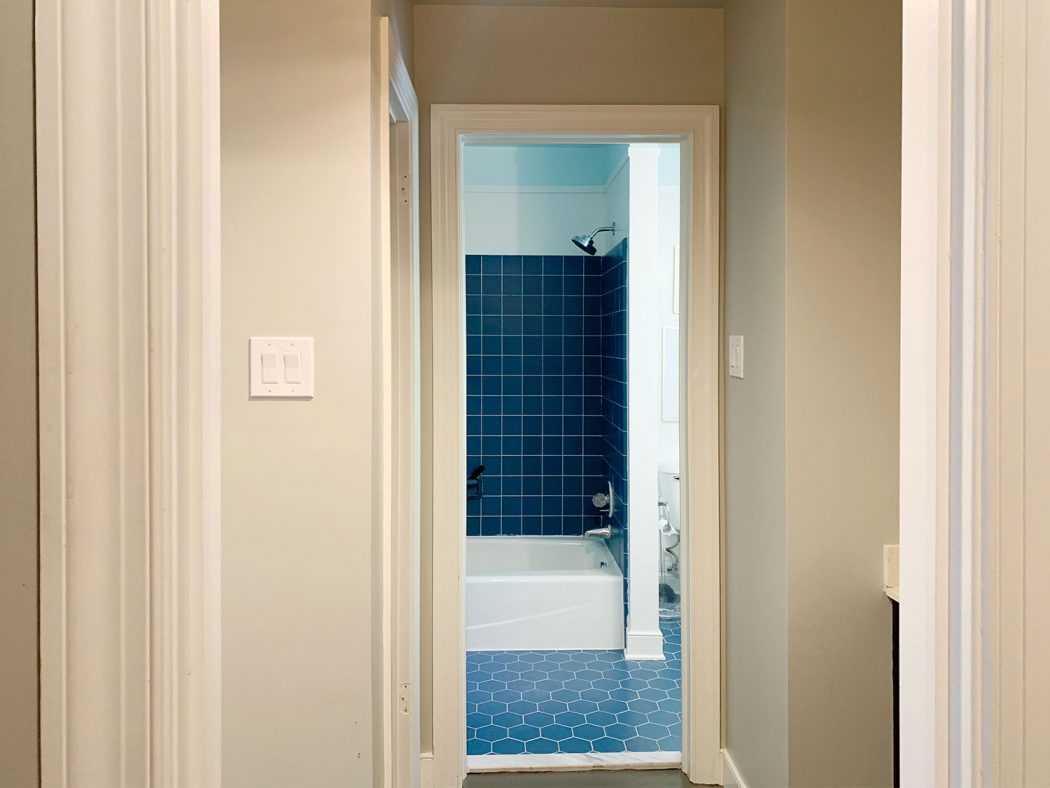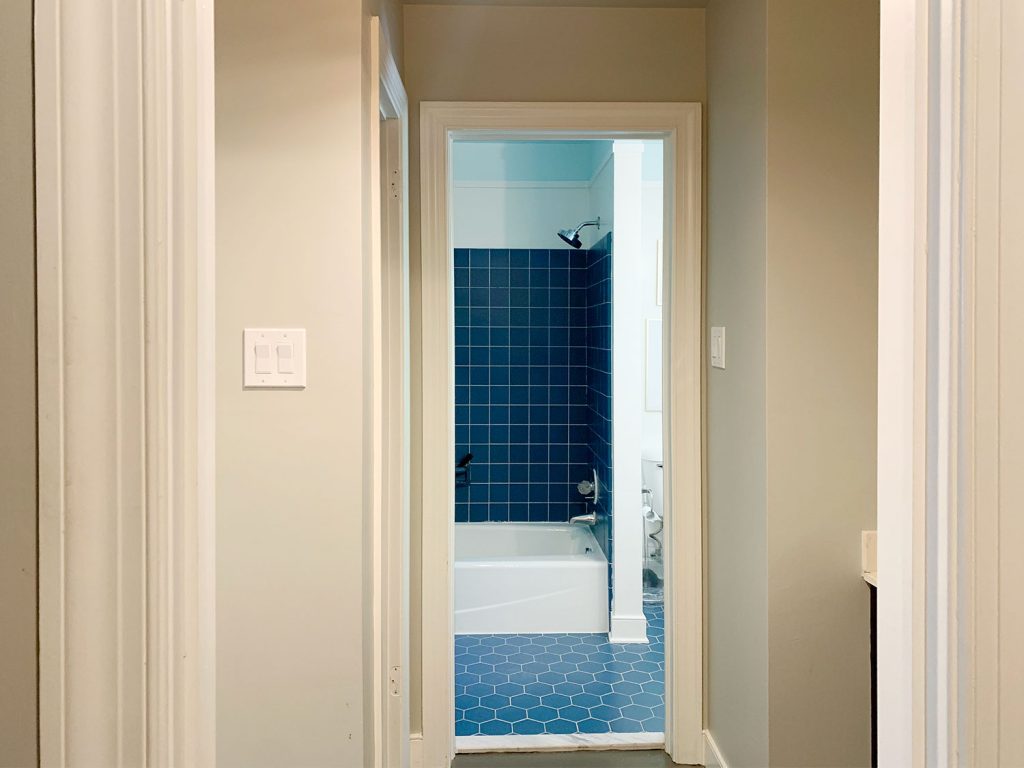 We also referenced our conversation with Miranda Anderson this week, which you can fully hear in Episode #152. You can also hear her own discussion about "enjoying the process, not just the outcome" of a renovation in episode (#36) of her own podcast, Live Free Creative.
Lastly, the quartz counters in our kitchen that we talked about in the episode are the ones shown below. Our issue with them is that the matte finish shows these ghosted outlines of every single water spot or splash, which can be removed by buffing them, but you'd constantly be doing that to keep them at bay. Meanwhile the polished quartz counter on our kitchen island doesn't do that at all. Super low maintenance & wonderful.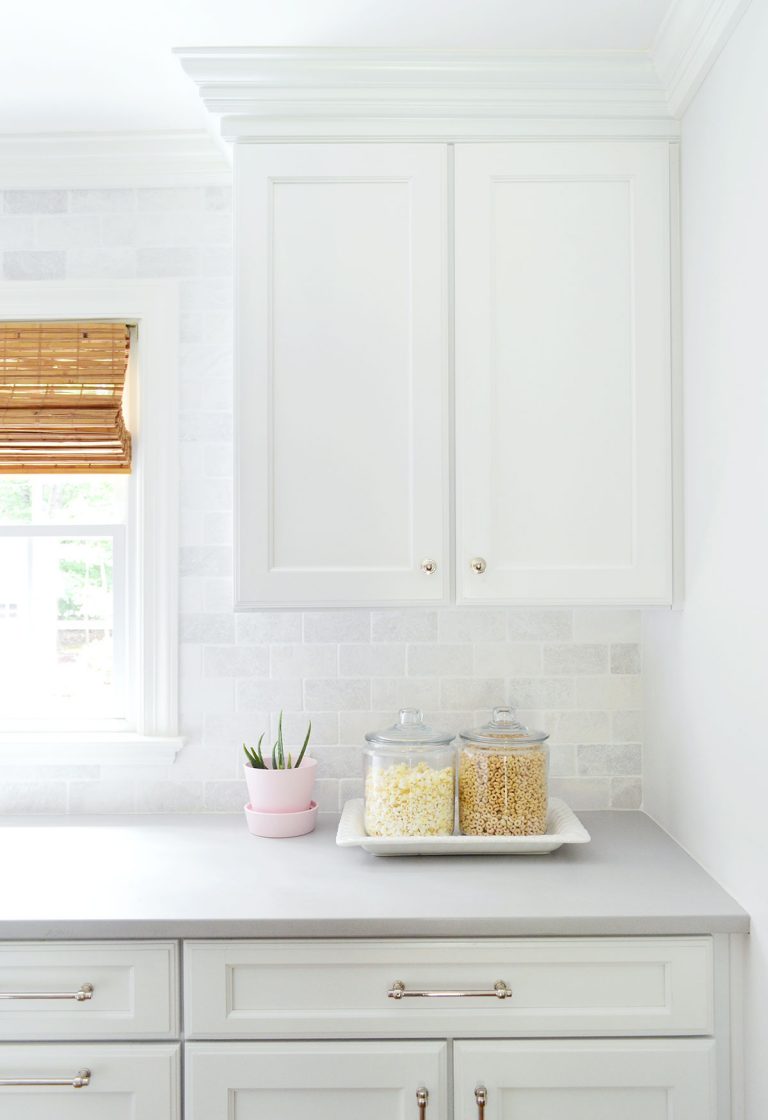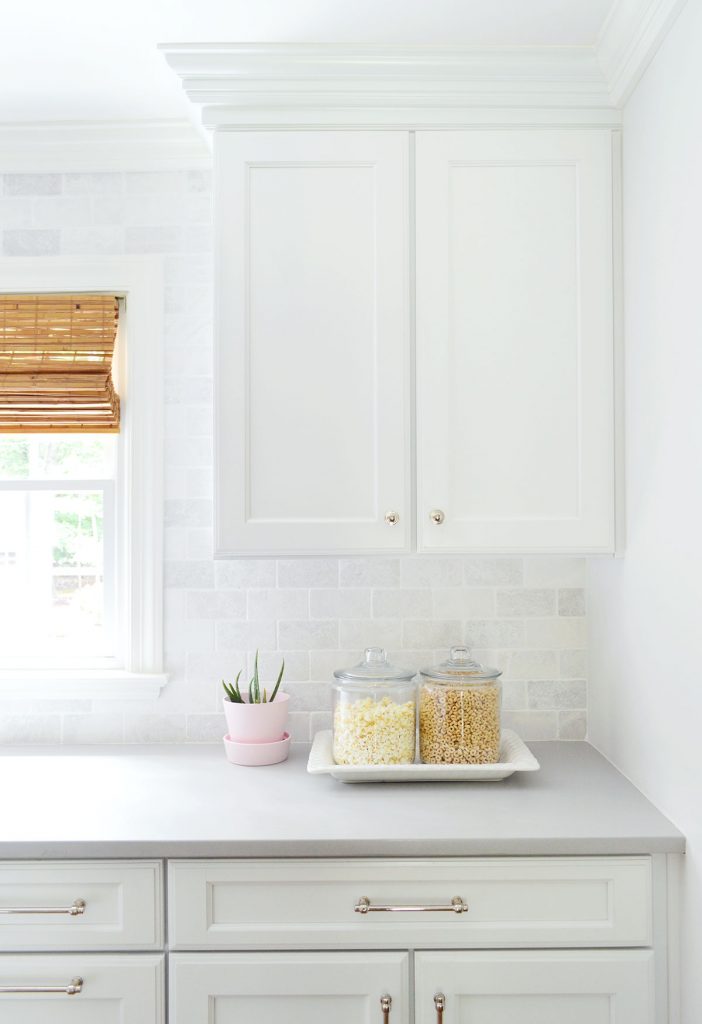 We still love the look and durability of them, but in retrospect we would've gotten them in a polished finish instead, had we known about the ghosted water spots. You can see more pictures of our kitchen here.
We're Digging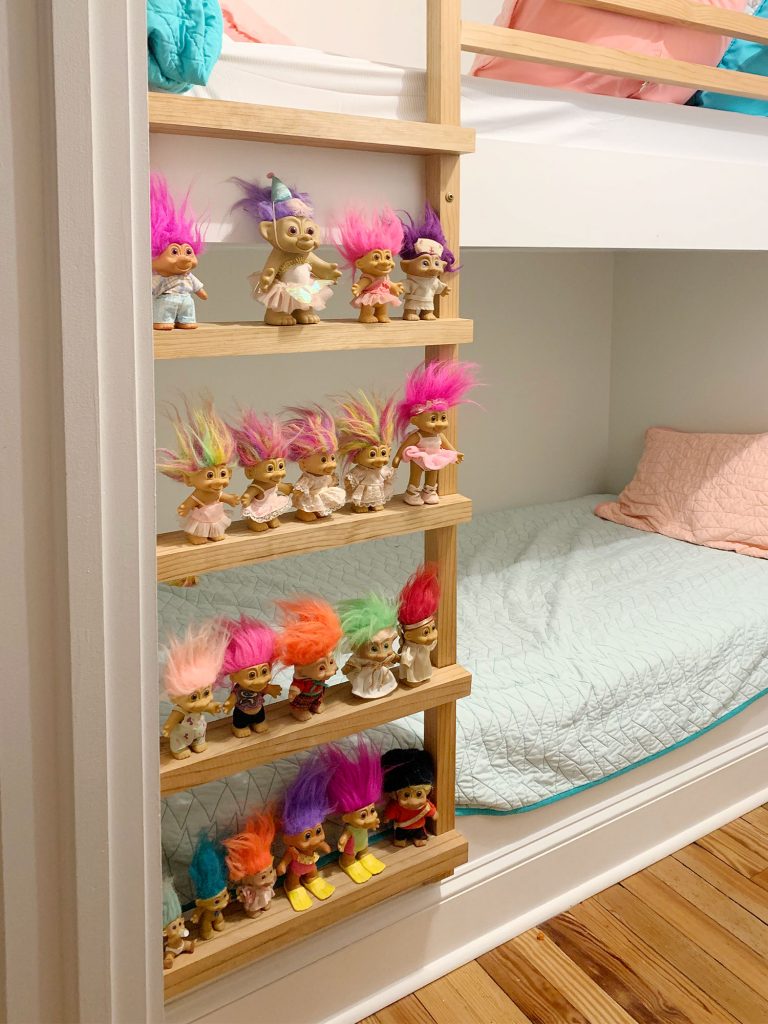 Those are the vintage troll dolls our daughter got from her sweet friend. You can find similar lots for sale on eBay if you're looking to connect to your kids with toys that you played with as a kid. Hopefully yours will be less creepy than the one at the top with the birthday hat on. #nightmare
Here are also some other throwback toy ideas:
Sherry also mentioned the "Save – Spend – Share" piggy banks everyone keeps asking about, so here's a link to those again.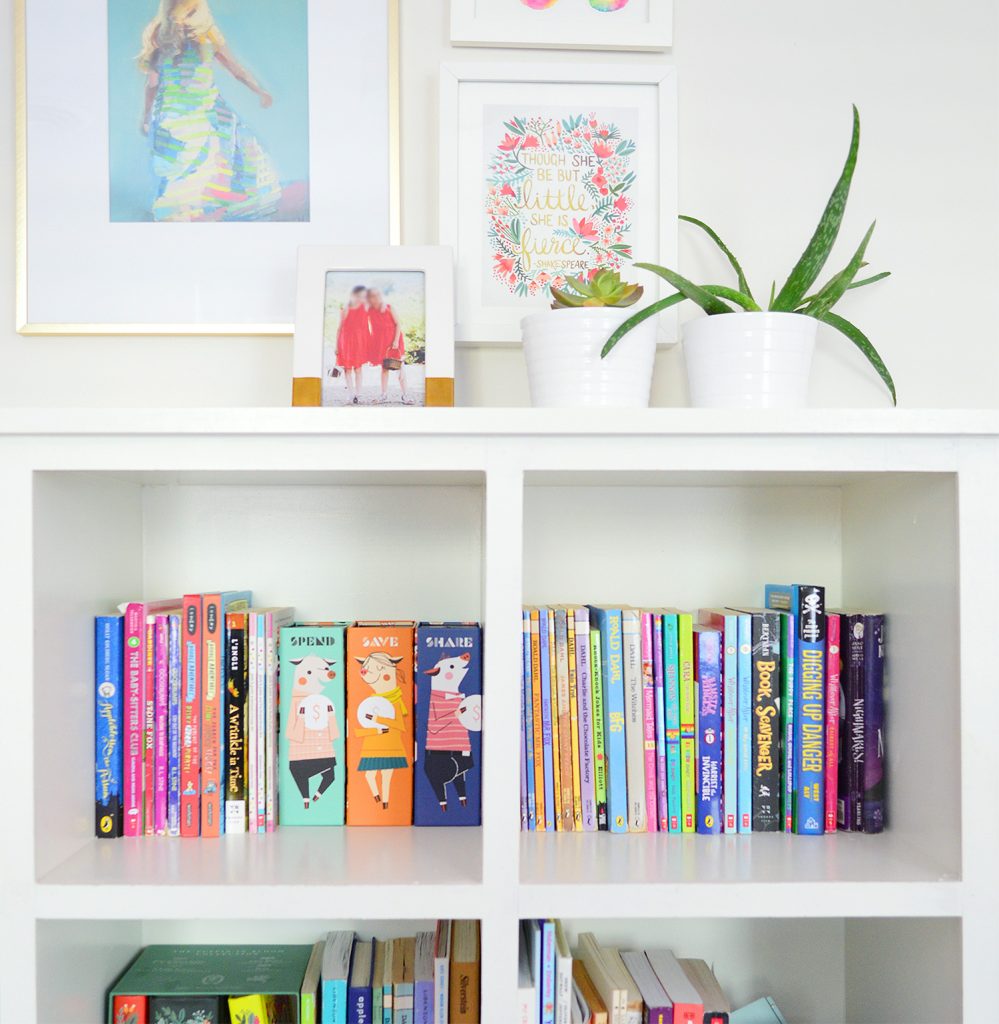 And here are the "stretchy" jeans that I wear basically everyday. Right now they're priced at just $20 (!!!) so I just bought another pair as backup. The Slim Fit is my favorite because, personally, Skinny is too skinny for me.
If you're looking for something we've dug in a past episode, but don't remember which show notes to click into, here's a master list of everything we've been digging from all of our past episodes. You can also see all the books we've recommended on our Book Club page.
And lastly, a big thank you to Agility Bed for sponsoring this episode. During their Cyber Sale you can get $200 off any size hybrid mattress plus your choice of a free Cool Foam Pillow or free Sateen Sheet set by going to AgilityBed.com/YHL now through December 6th.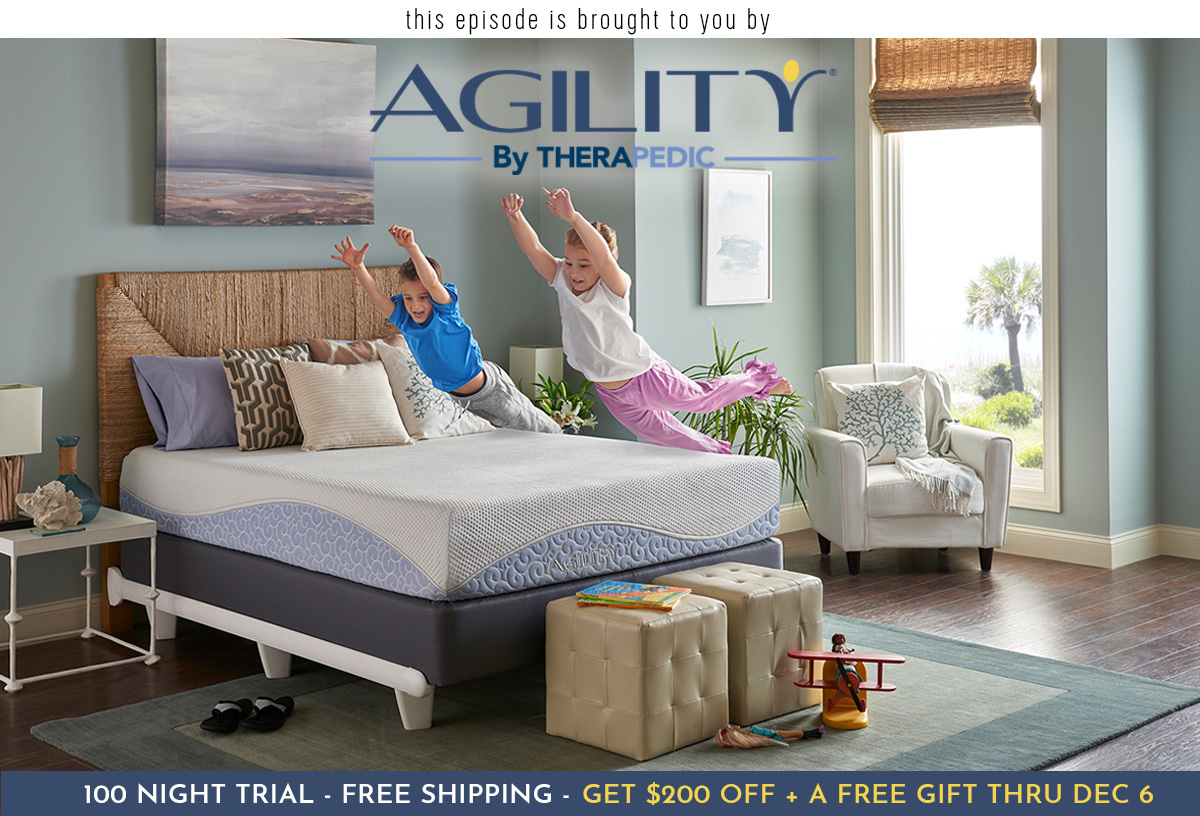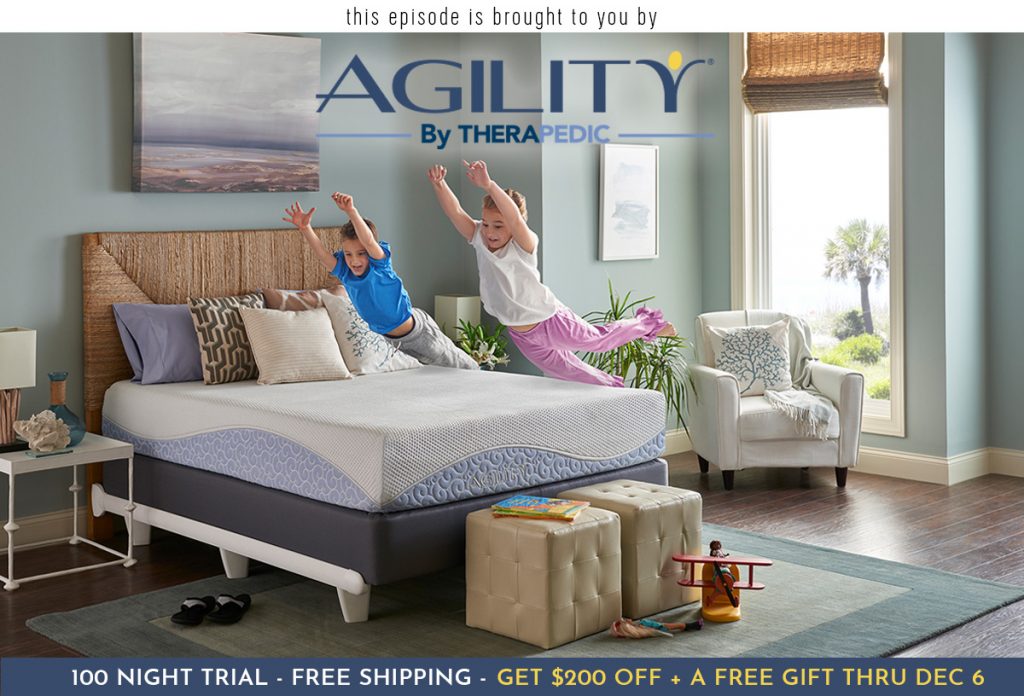 *This post contains affiliate links, so we may earn a small commission when you make a purchase through links on our site at no additional cost to you.