You guys submitted your favorite life hacks over the last few weeks, so today we've got an episode bursting at the seams with all of those cheap & simple tricks for making your home run smoother and your day a little less frustrating. We've got everything from clever cleaning tips and unconventional storage ideas to both high and low tech ways to keep you more organized. We're also sharing why we're giving a BIG EYEROLL to the latest part of our bathroom renovation and a new money saving tool that we got for our kids.
You can also find this episode on your favorite podcast listening app, like Apple Podcasts, Google Podcasts, TuneIn Radio, Stitcher, and Spotify.
What's New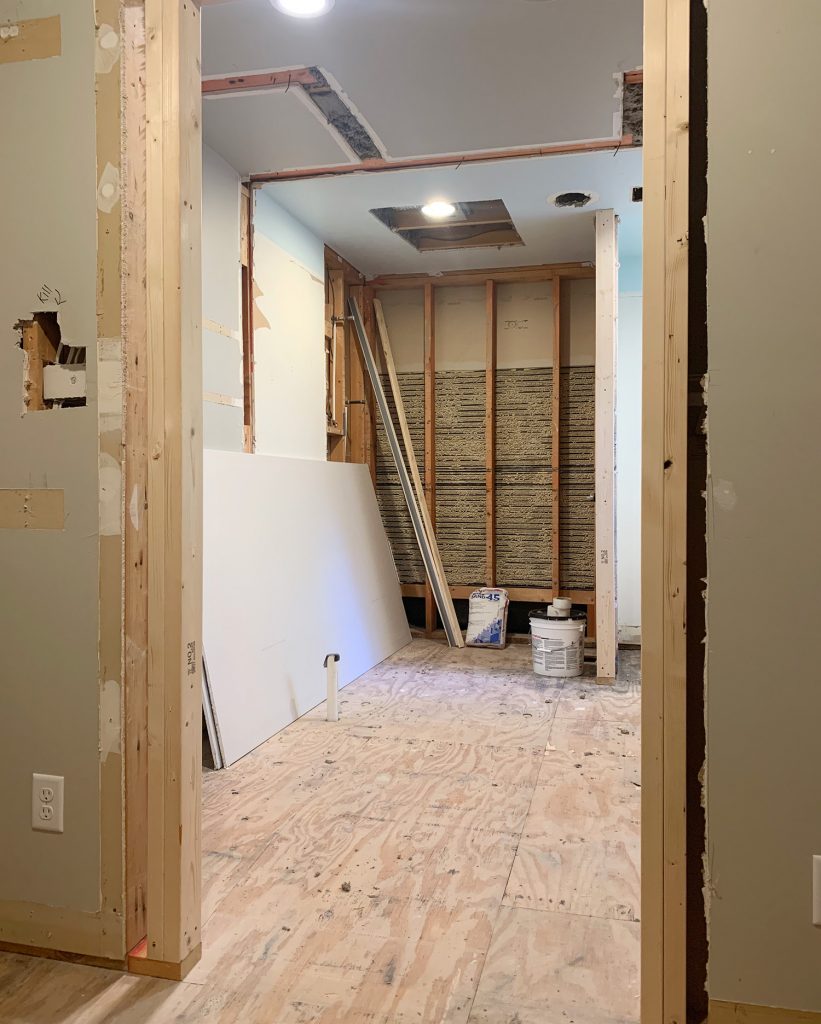 Life threw us some curveballs this week so we didn't get very deep into the "unglamorous middle" of our bathroom reno. We basically just bought a bunch of materials to prep the floor/walls and framed out the new closet door, and planned to start as soon as our drywall guy finished up. But then due to some unexpected scheduling stuff with him, other than dropping off a few supplies late last week… he hasn't even started. Monday, we hope!
If you want a look at what's ahead of us, you can see the process for prepping a floor for tile in our laundry room (from 2014!) and what went down during our first (and only other!) full gut bathroom remodel back in 2009.
Life Hacks & Sticking Point Solutions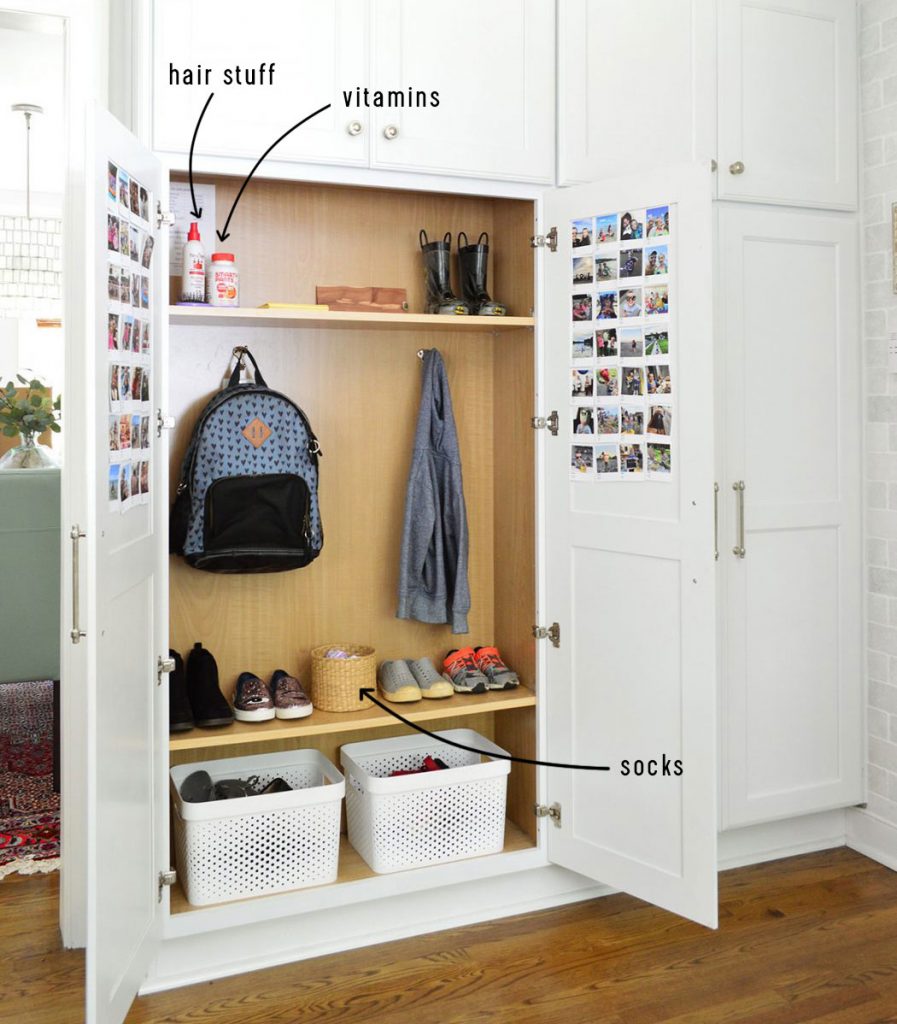 A few episodes ago we asked for your submissions about little life hacks that helped your days go more smoothly by eliminating sticking points or creating efficiencies in your routines, like some of these examples we've mentioned:

Keeping our kids' socks downstairs in our "mudroom" cabinet (so no one has to run back upstairs when we're trying to get out the door). We also keep other morning routine stuff there to make it all autopilot – like a hairbrush, lice prevention spray, and the kids' vitamins. Gets us out the door fast!
That's an old photo below (picture more vitamin bottles & face stuff ), but Sherry keeps all of her morning routine stuff in a kitchen cabinet next to her tea mugs. Since she has tea every day, putting the vitamins & face stuff there reminds her to do that when she grabs her mug (she used to forget vitamins 80% of the time when they were stored somewhere else). For her full skin/makeup routine, here's a post with all of the details. And here's the evening primrose capsule she mentioned she likes for her skin (she mentions that some people take it while pregnant, but definitely consult your doc if you're pregnant before taking it – it's only for the very end of pregnancy I think).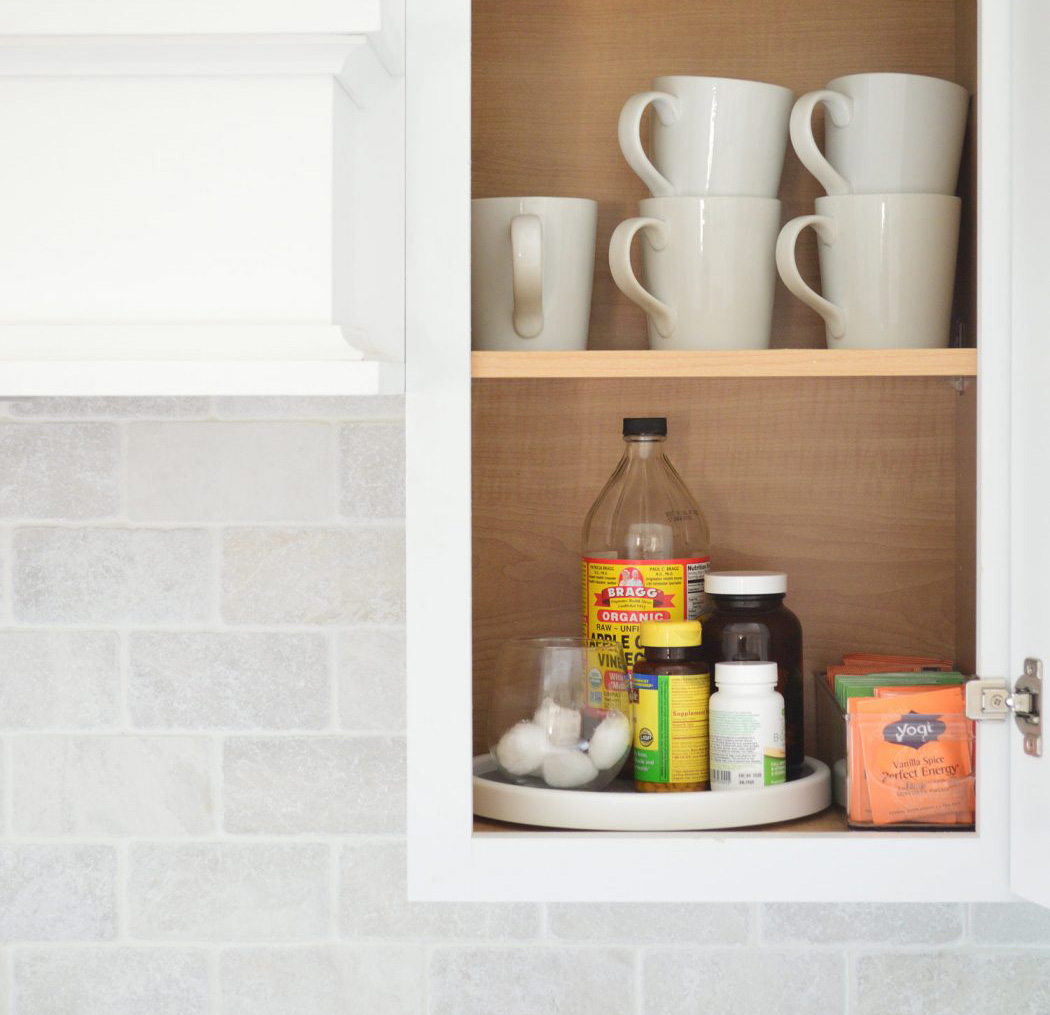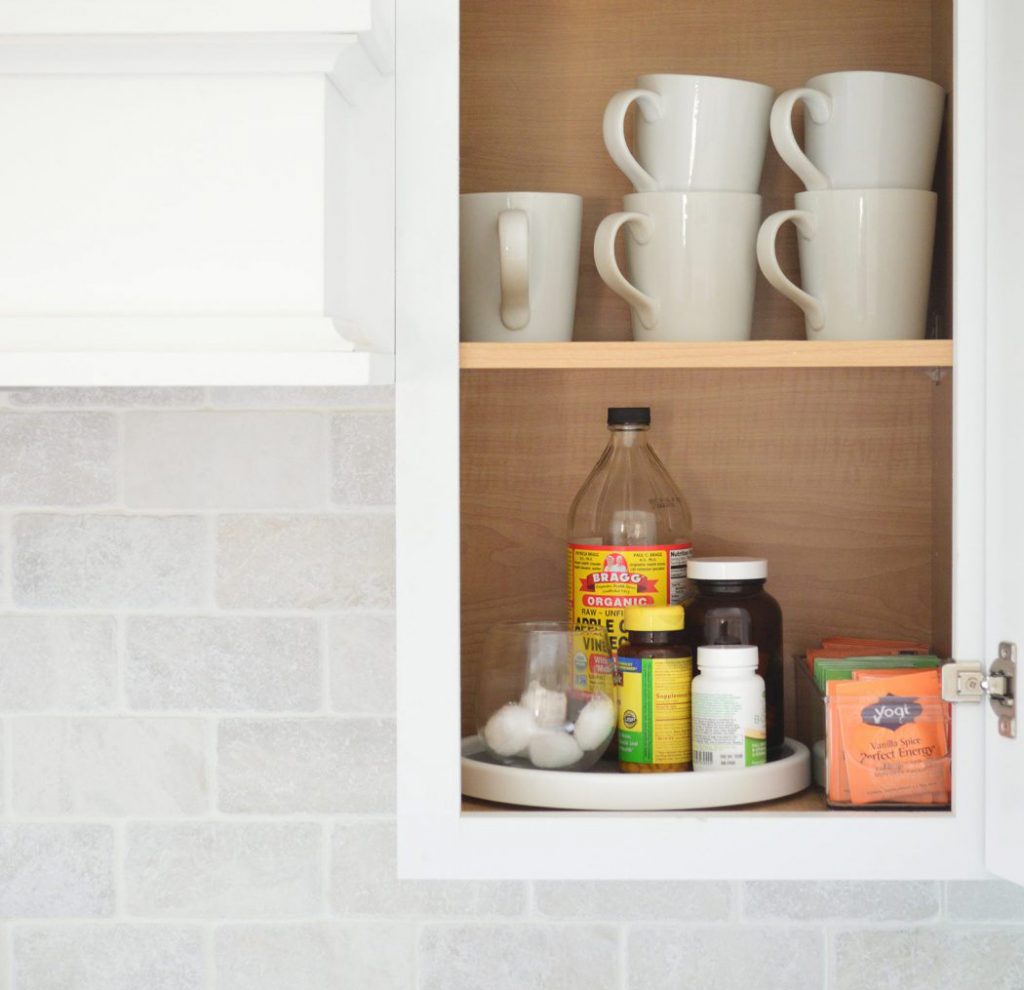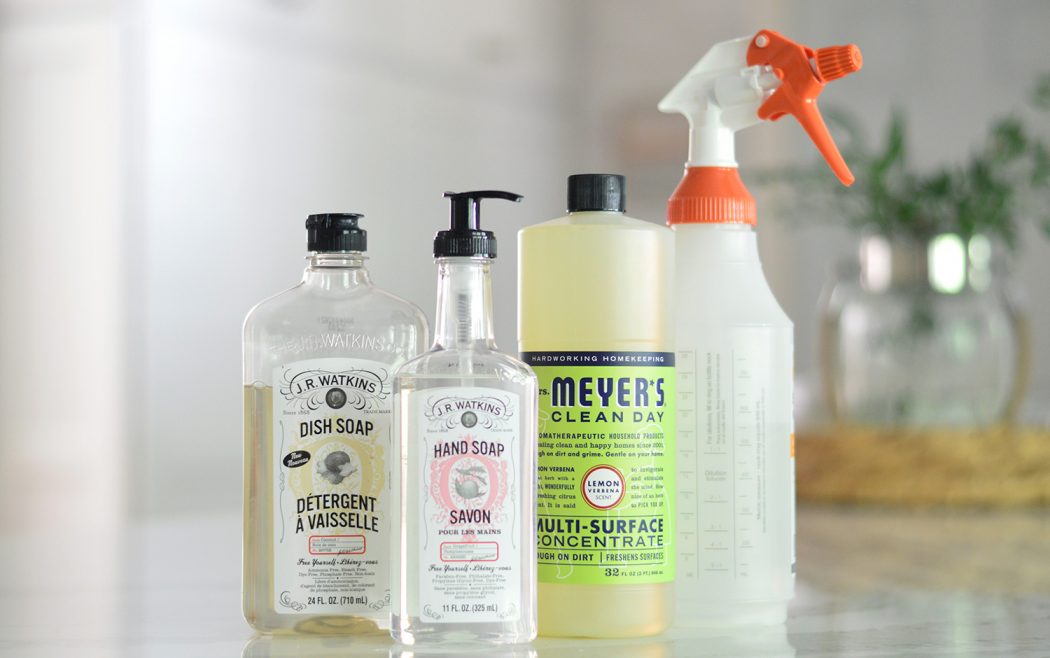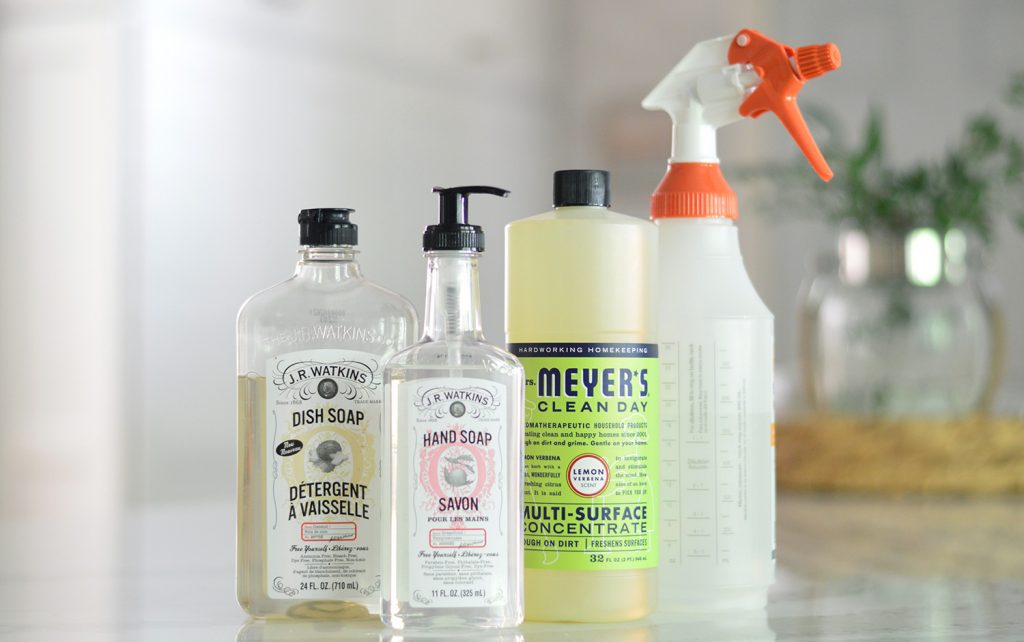 I tossed out the idea of maybe washing each of our kids clothes (grouped by kid) within a separate mesh laundry bag (like these) all within the same load to make sorting easier since they won't get mixed up and each bag could go right to the correct room & be put away. We already own one so I might give it a try before buying any others, but I'm interested to hear if anyone else uses this method!
And these are the drawer boxes that Miranda Anderson's husband Dave was using to group his workout clothes by outfit so he could just pull one out and go. You can see them in action in the closet tour she posted on her Instagram Stories.
We also mentioned a service like Unroll.me for unsubscribing to email newsletters (just not ours, wink wink!). We've had mixed success with something like that, so Kelsey's trick for searching "unsubscribe" in your inbox might be a great method to find them all at once and bulk that task.
Sherry mentioned that she realized keeping her makeup in the car made the most sense (after trying a ton of other locations with less success) and you can see what the heck is in that small bag (she doesn't have a lot of makeup at all) over here in this post. There's probably a life hack in paring down your makeup so you're not digging through tons of stuff you don't use too.
And lastly, we mentioned some new things that we implemented recently, like finally just freaking buying some chip clips so that we don't waste time and effort hunting down some random thing like a binder clip or a clothespin or resorting to a elastic band. We also keep them clipped to the bin with our chip and cereal bags so everyone can grab one quickly. Putting it right where you use them (instead of across the room in a junk drawer) works much better too!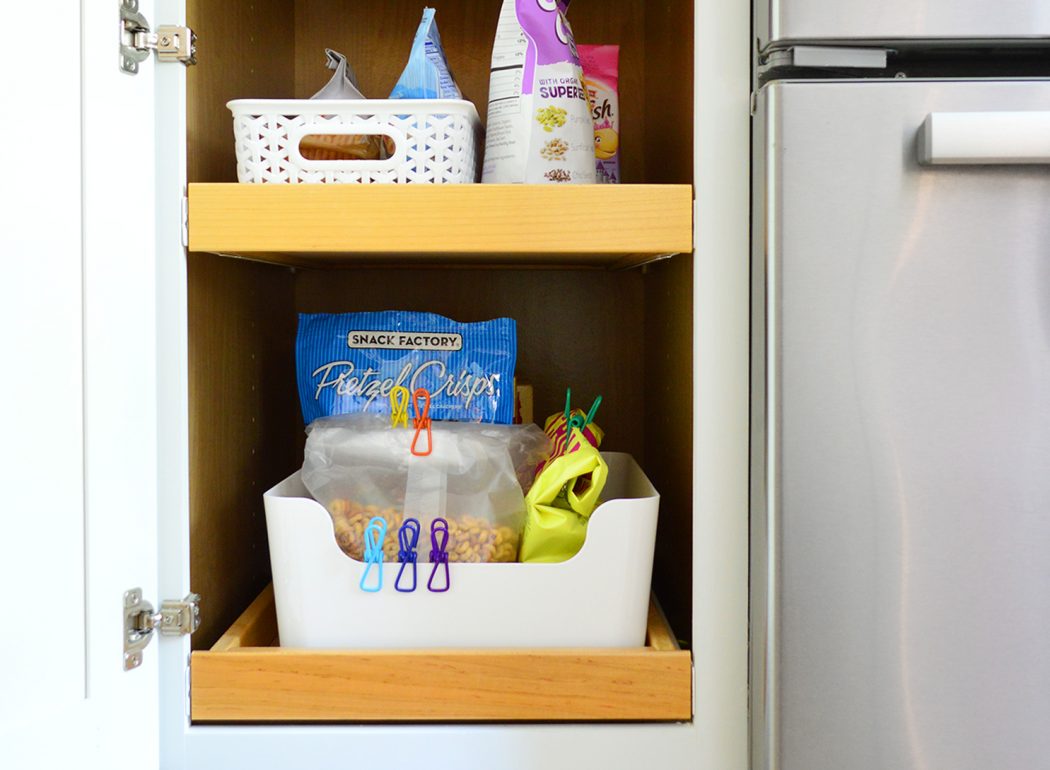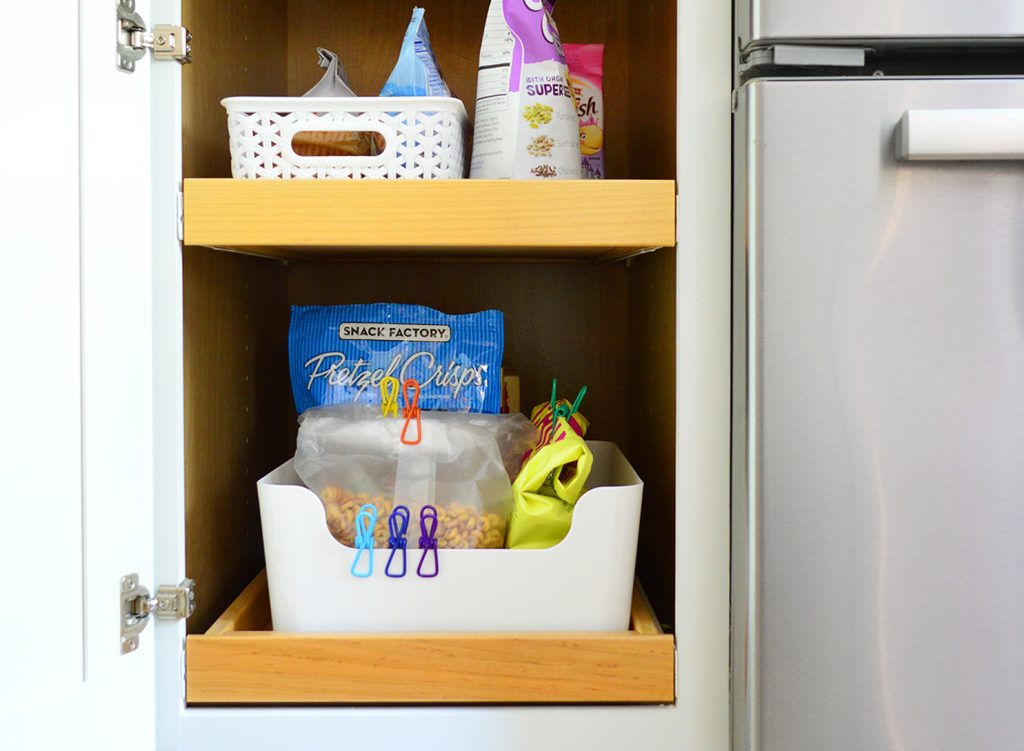 And here's the long 6-foot braided charging iPhone cord that we replaced behind our couch so we can charge our phones without getting up – no matter where we're sitting on the sofa. It's a 3-pack for $10 (!!) so we added the other two to the beach house to make charging more convenient there too.
We're Digging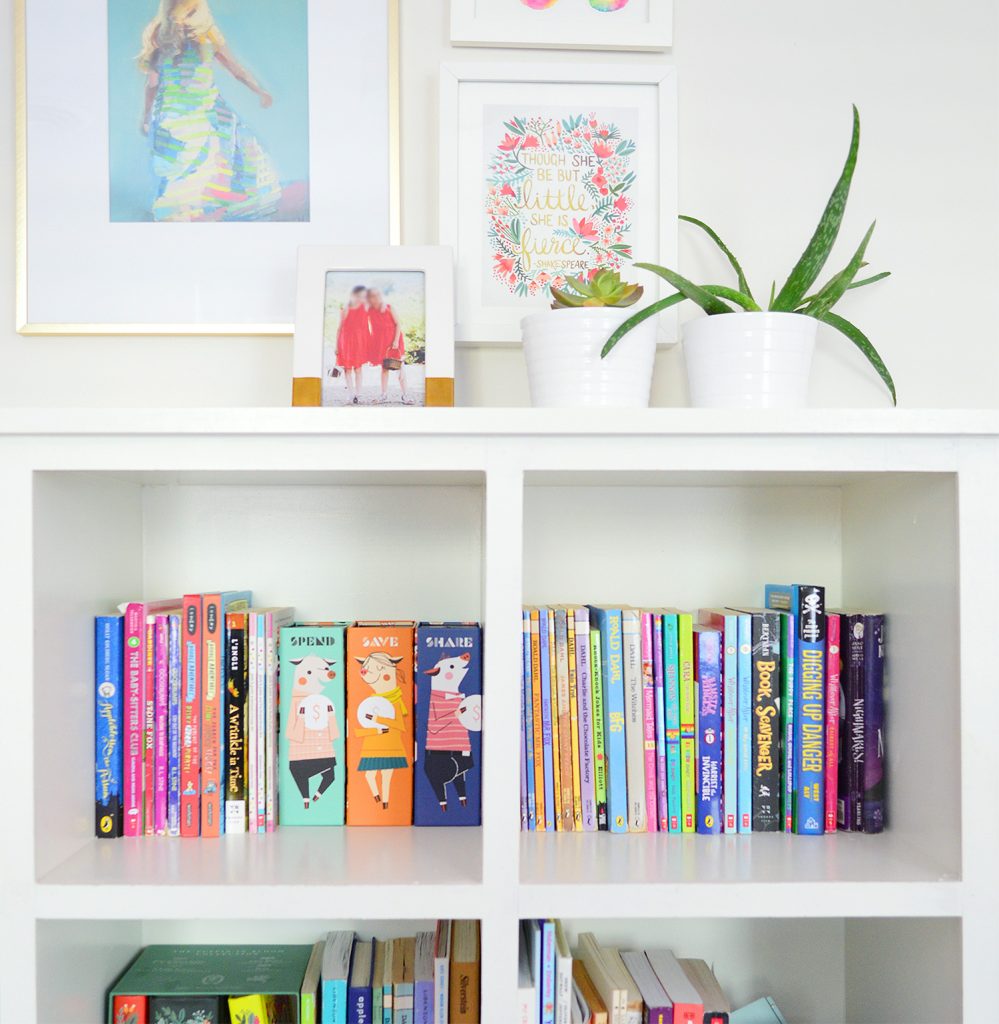 These are the piggy banks that we purchased for each of our kids to help them navigate the concept of spending, saving, and sharing/donating their money. We love that they're unbreakable (we debated using three labeled pickle jars in each room but didn't want any shattering). We like how they blend in with the books on their shelves and they're easy to open when it's time (they're magnetized boxes, as opposed to having to wrestle some rubber cork).
And here's that book I recently read and really enjoyed: Educated by Tara Westover. Such a fascinating true story told in such a thoughtful way. Highly recommend!
If you're looking for something we've dug in a past episode, but don't remember which show notes to click into, here's a master list of everything we've been digging from all of our past episodes. You can also see all the books we've recommended on our Book Club page.
And lastly, a big thank you to Grove Collaborative for sponsoring this episode. You can sign up at Grove.co/YHL and get a FREE 5-piece Mrs. Meyers cleaning set, a 60-day VIP membership, and free shipping on your first order.
Thanks for listening, guys!
*This post contains affiliate links*