Getting rid of stuff is hard, especially when it comes to kids and their creations. So this week we're sharing the simple trick we use to keep everything from arts and crafts to forts and cardboard box villages from taking over our house, without putting a damper on creativity. Spoiler alert: this trick works for adults and our favorite things too! Plus, armed with an expert's advice and a new guideline for how much indoor greenery a home should have for optimal air quality, Sherry doubles down on our home's plant collection. Also, why things got weird when we switched sides of the bed – and the embarrassing dangers of moving furniture.
You can also find this episode on your favorite podcast listening app, like Apple Podcasts, Google Podcasts, TuneIn Radio, Stitcher, and Spotify.
What's New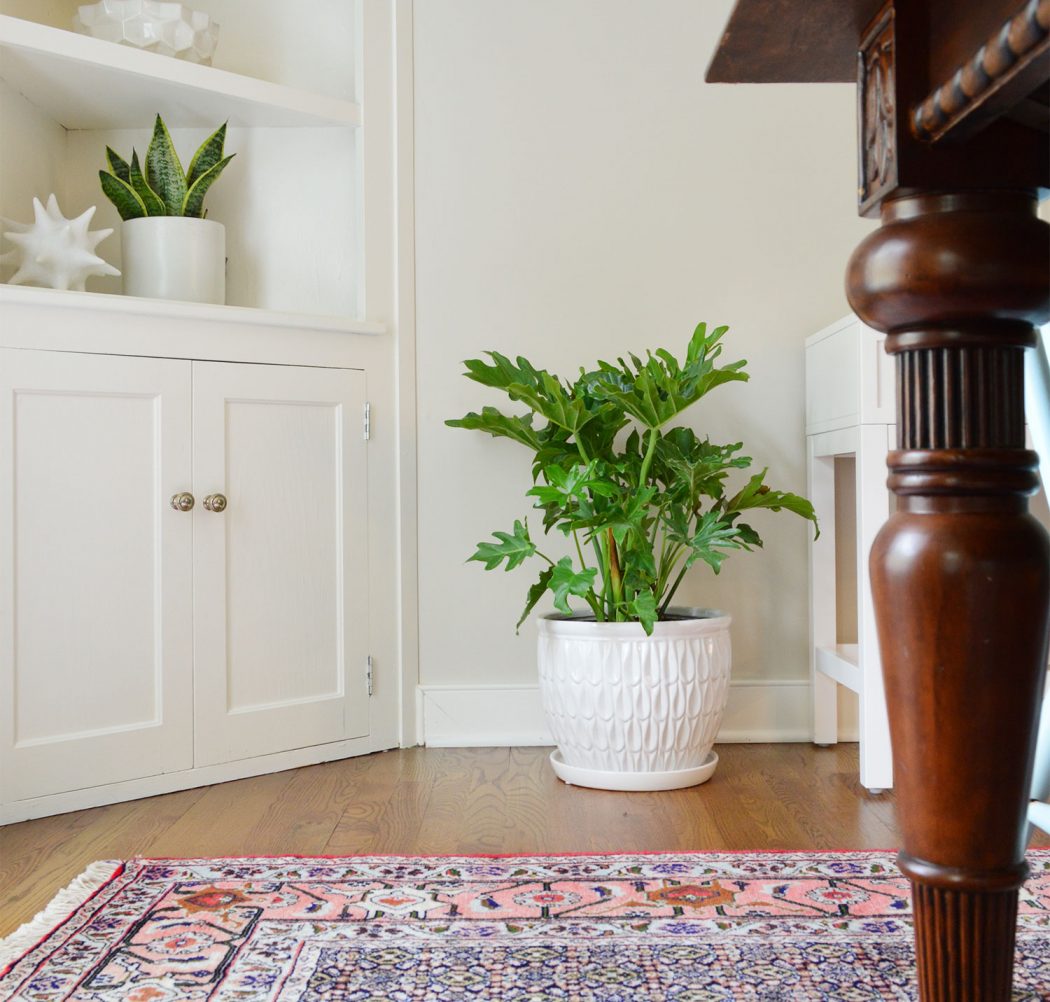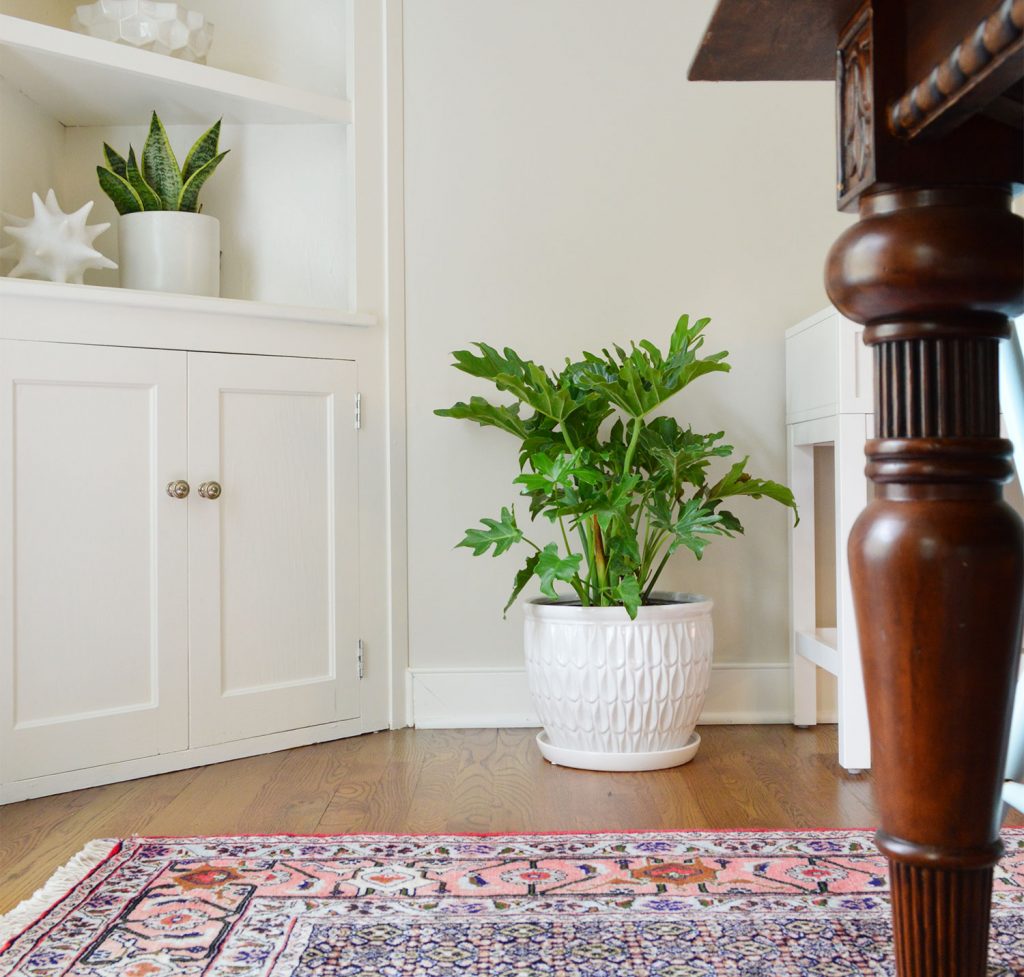 If you missed our earlier episode where we talked with house plant expert Carmeon Hamilton, be sure to check it out in Episode #149. She has SUCH good advice for nervous plant owners like us to raise your knowledge and your confidence.
Here's a couple of articles that summarize the NASA study about plants that do the most for your indoor air quality (here's one from Reader's Digest, another with an infographic). It's also the study that recommended 1 plant for every 100 square feet in your home.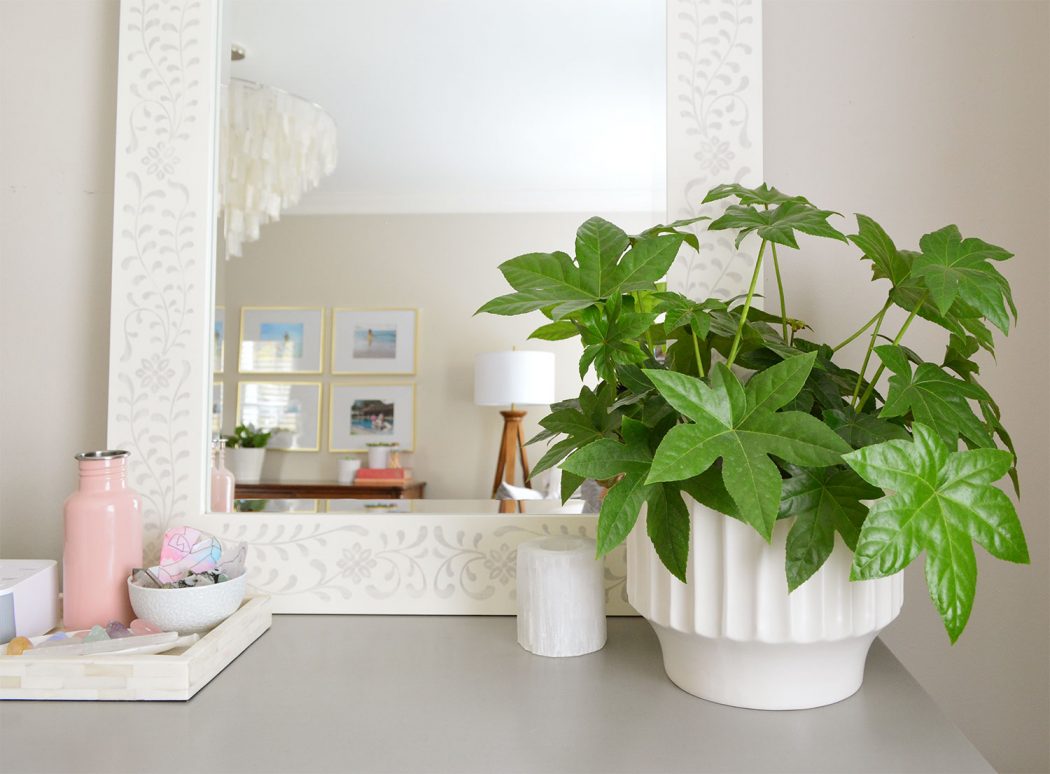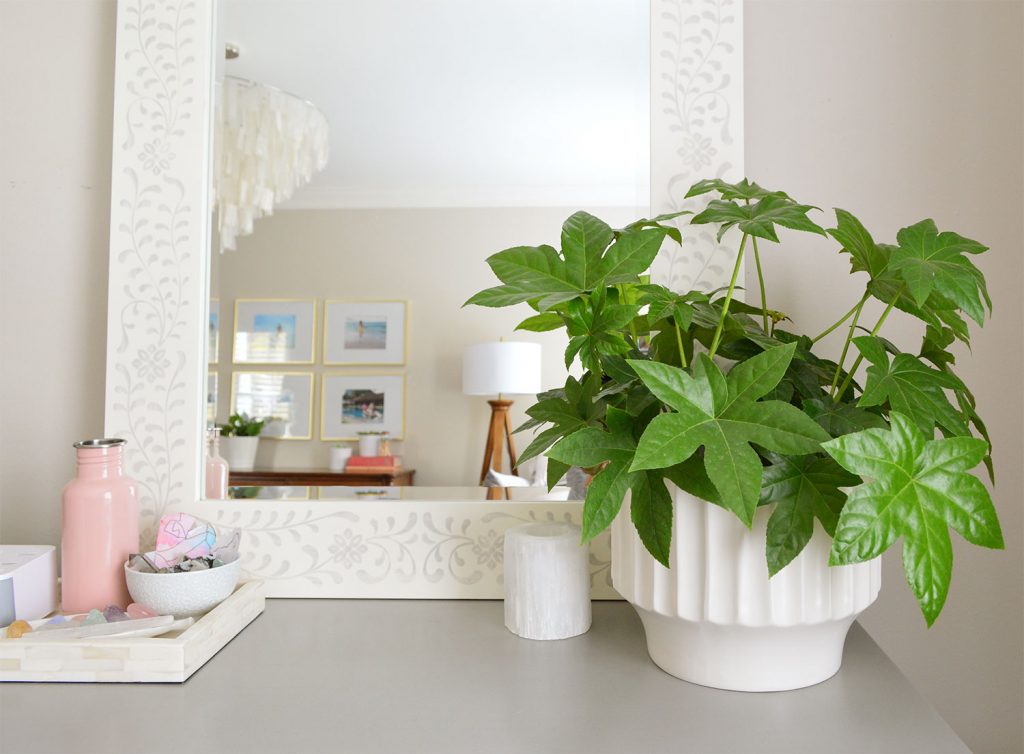 Sherry promised to link to our "post from like 10 years ago" (which actually ended up being written pretty close to 10 years ago – in January of 2009!) about the indoor air purifying power of plants. It has one sad little photo in it (even less than we guessed it would have). Oh, the old days of blogging…
In addition to some pothos & snake plants, the other plants we've added are Fatsia Japonica (that's the one you see on my gray dresser in the photo above) and Sherry's giving philodendrons another change (that's the one in the pot on the floor in the photo of our dining room two pictures up).
You can also read more in her round-up of her favorite faux plants, which also includes some real plants she's had success with in the past.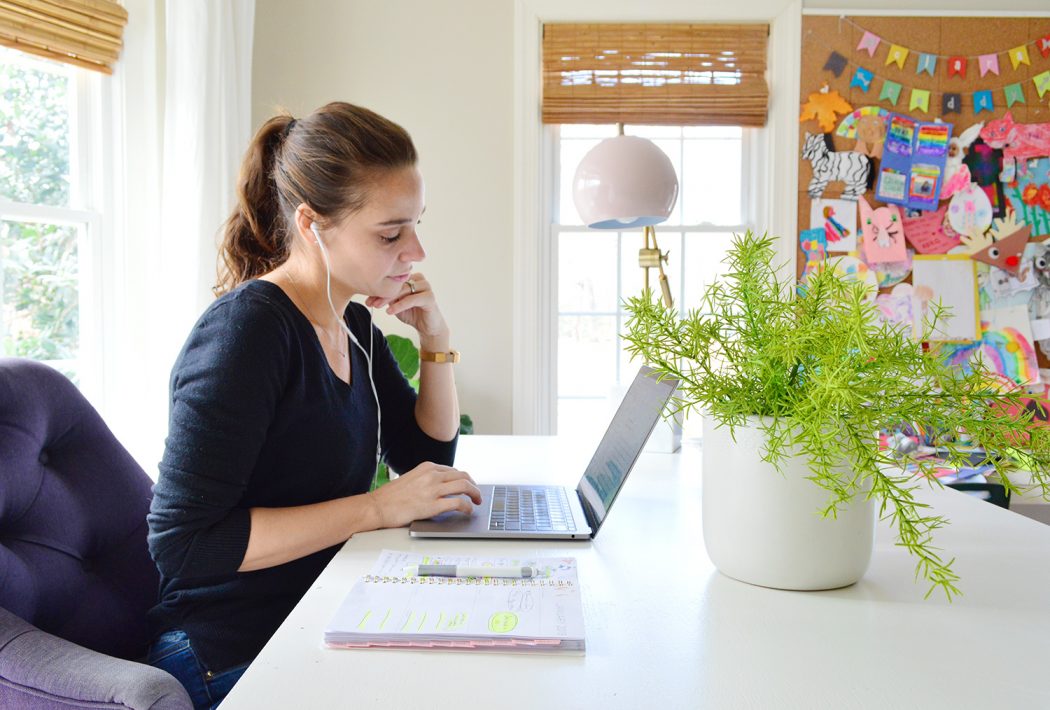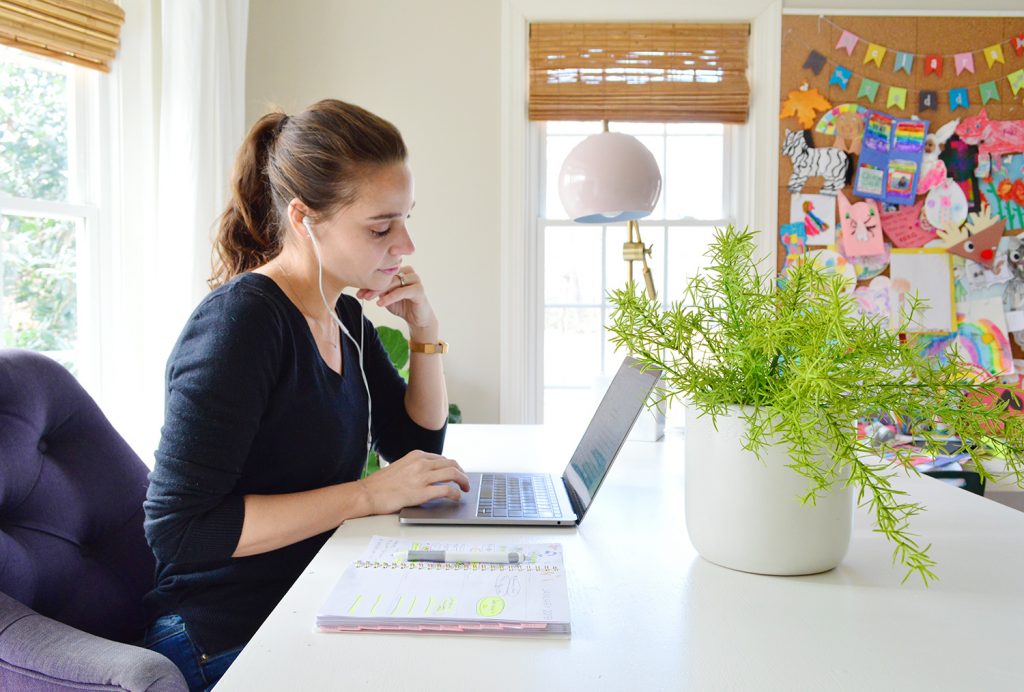 Update
If you missed when we originally challenged ourselves to switch sides of our bed, it was in Episode #151 along with the results of our listener survey about that topic.
Well That's Embarrassing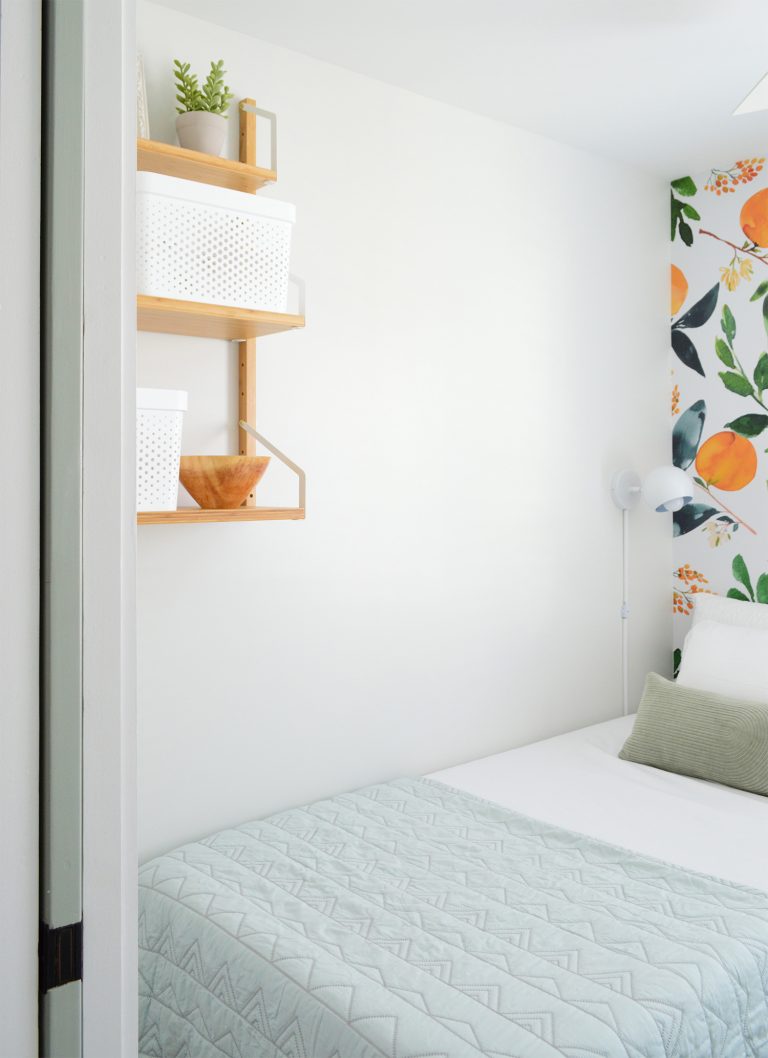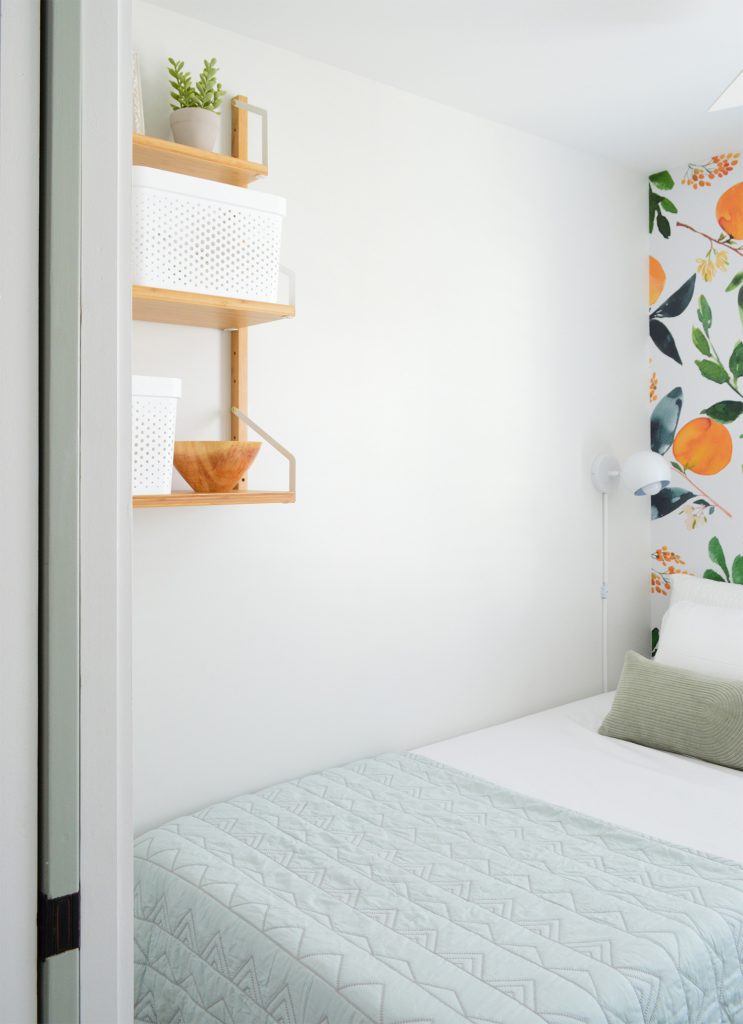 The pocket door Sherry was referencing in her story about nearly smashing her hand to smithereens was the one pictured above. It leads to one of these two sleeping nooks (you know, the rooms with the wall murals).
Next time we're in the duplex we'll see if we can snag a pic of the indentation her ring left in the door!
Listener Question: How To Manage Crafting & Art Projects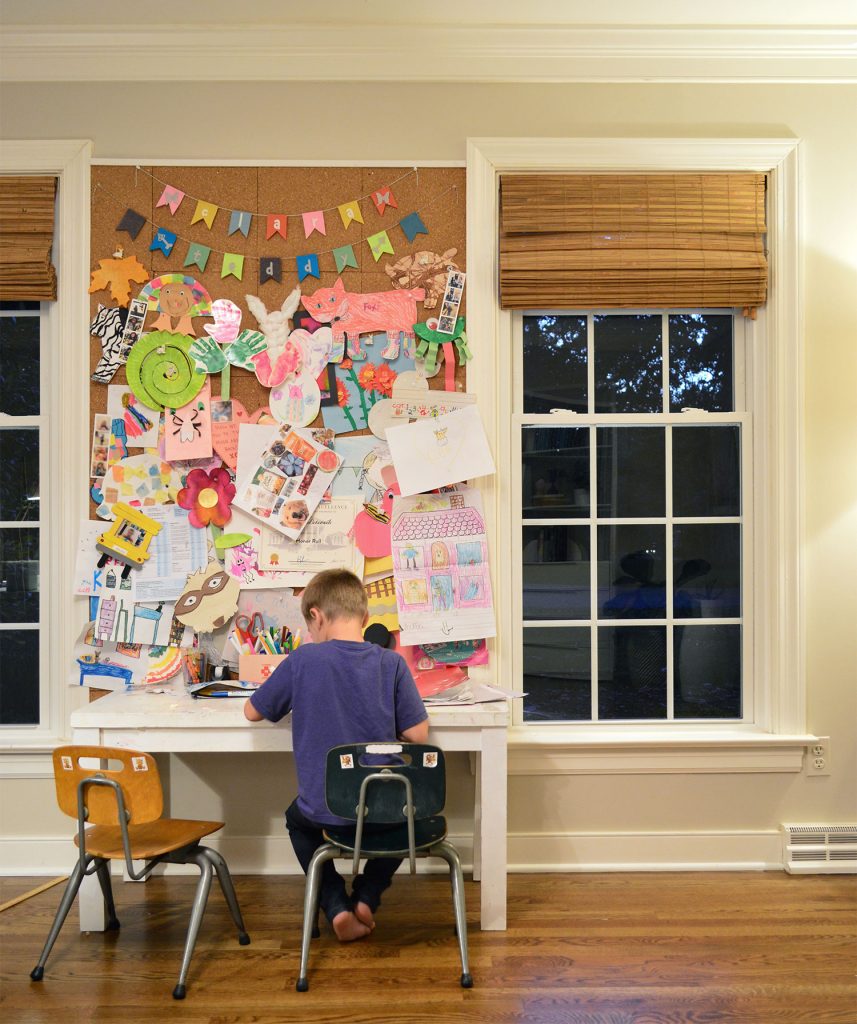 That's our kids' giant corkboard in the office, which is our main "display" space for the 2D artwork that they make. You can read all about how we made it out of store-bought cork squares here.
Below you can see the large bins that we have for each of the kids to actively store & sort their creations (which are different than the keepsake boxes we keep upstairs with OUR very favorite things they create to save forever). Can you tell there's a 90's troll doll obsession going on right now?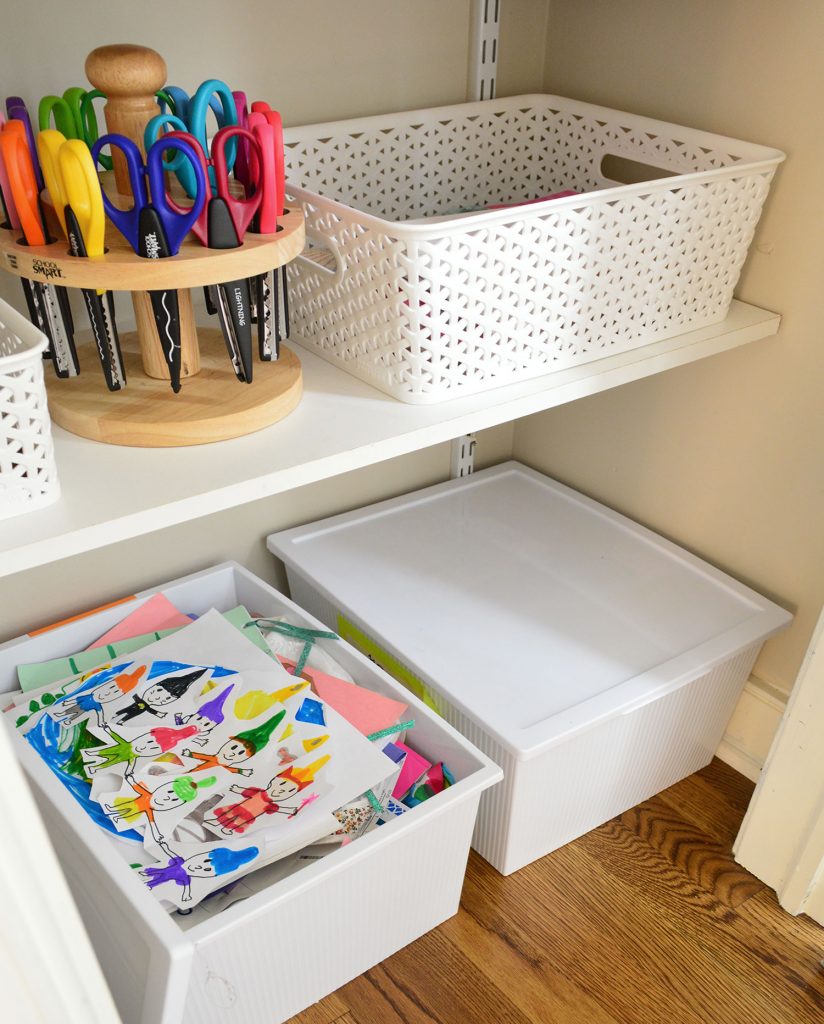 We also talk about putting up frames in your kids' rooms to create yet another "display space" or "gallery" so they feel like everything isn't stuffed in a bin. We use regular frames now, but in the past we found these specially designed kids' art frames to be super helpful (back when they asked to swap things out a lot more often – sometimes daily!). They perfectly fit an 8.5×11″ sheet of paper, so you can flip them open & change the art without taking it off the wall… plus there's some storage space for extras in the back.
We're Digging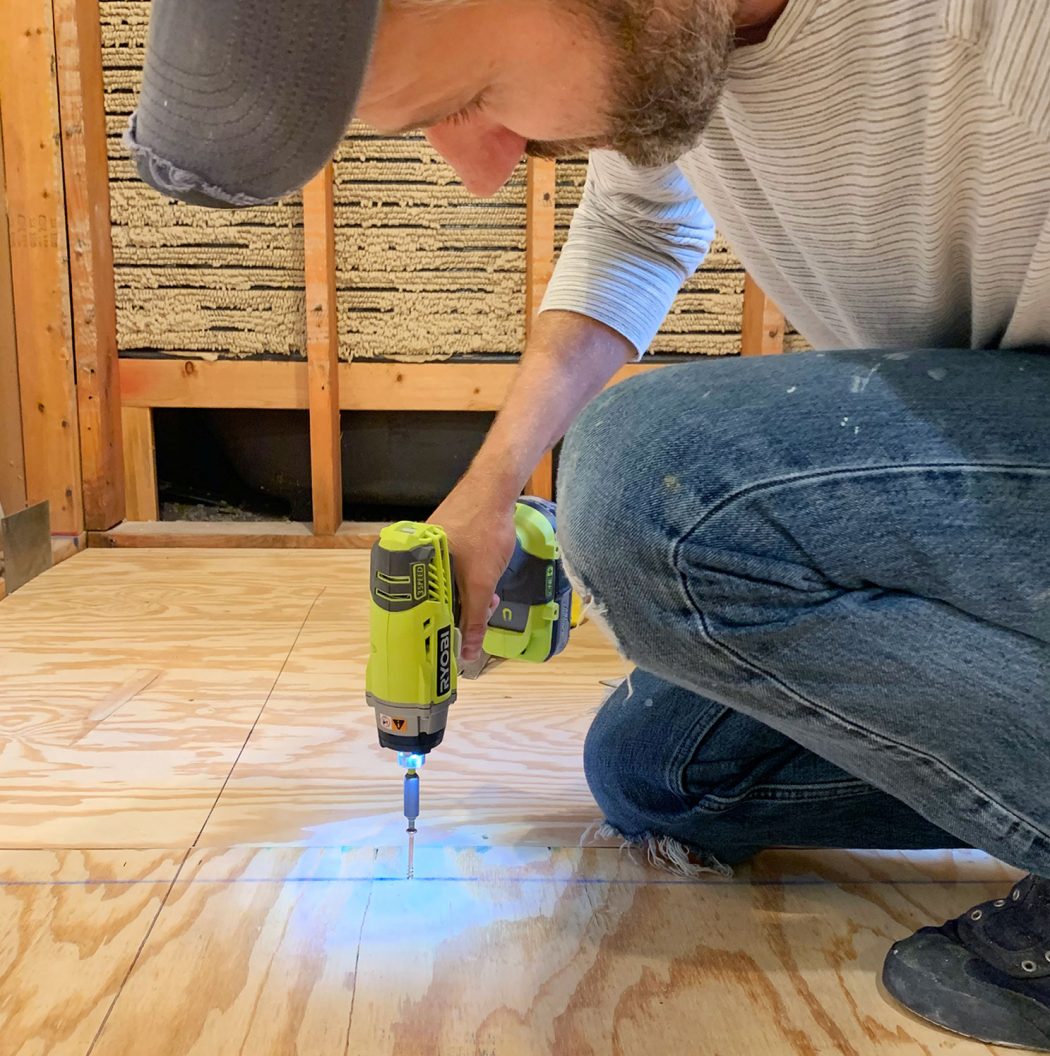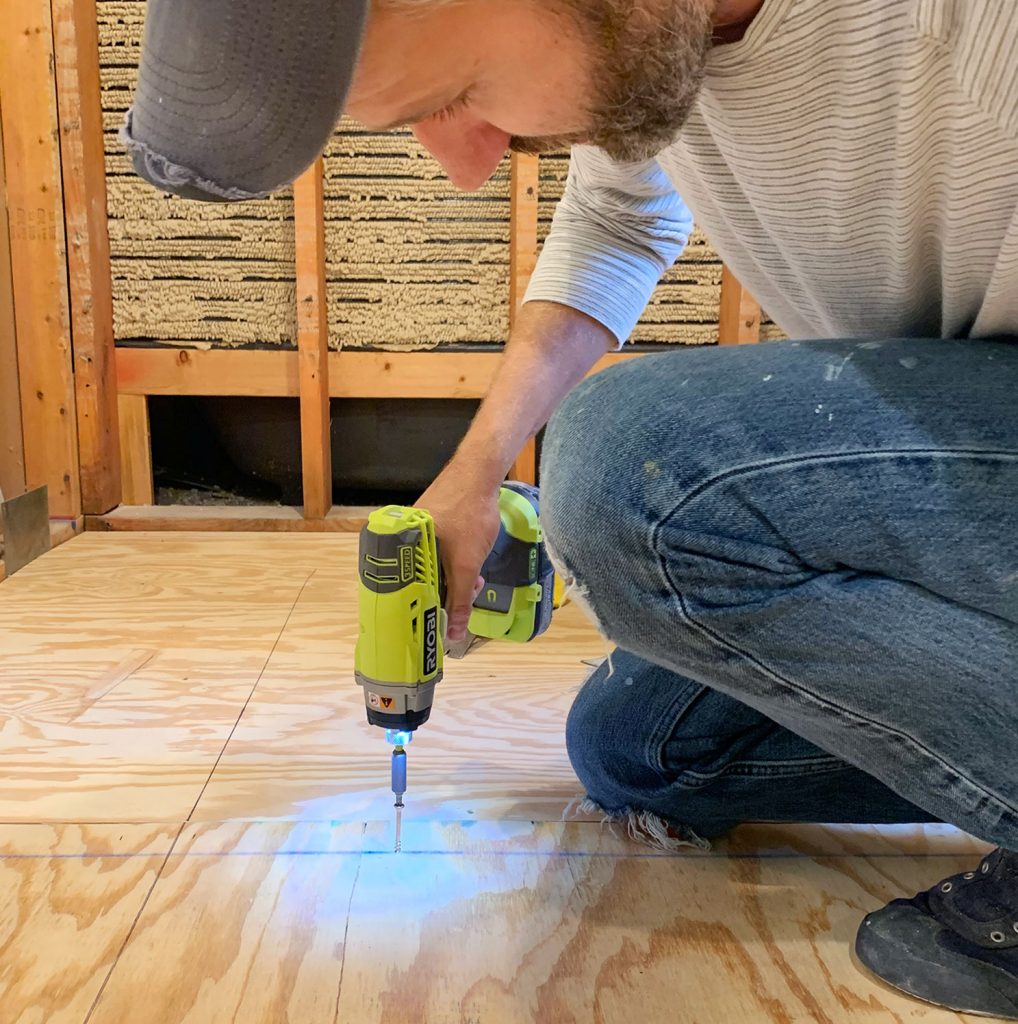 Here's the impact driver I got to make installing our new subfloors in the bathroom faster & a lot less backache-inducing. I also found this slightly cheaper version that would work just the same for this task – it just doesn't have variable speeds like mine does.
And although we don't have a clever name for the other thing we're digging this week (Give-vember?!), we had the best time gathering Thanksgiving meal items for a local family and donating dog food to a local rescue group with our kids. It was heartwarming & we're already eager to do more.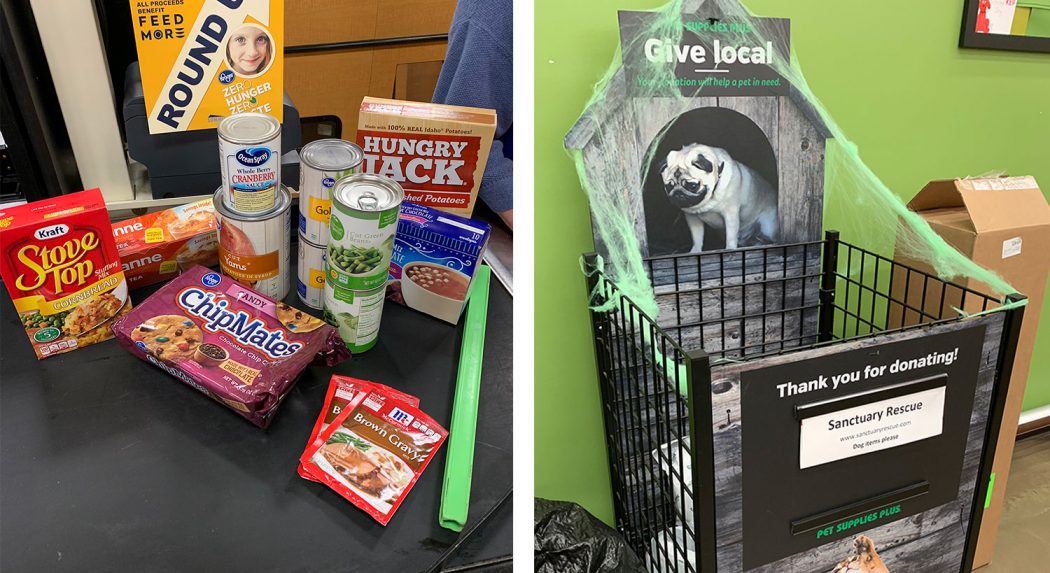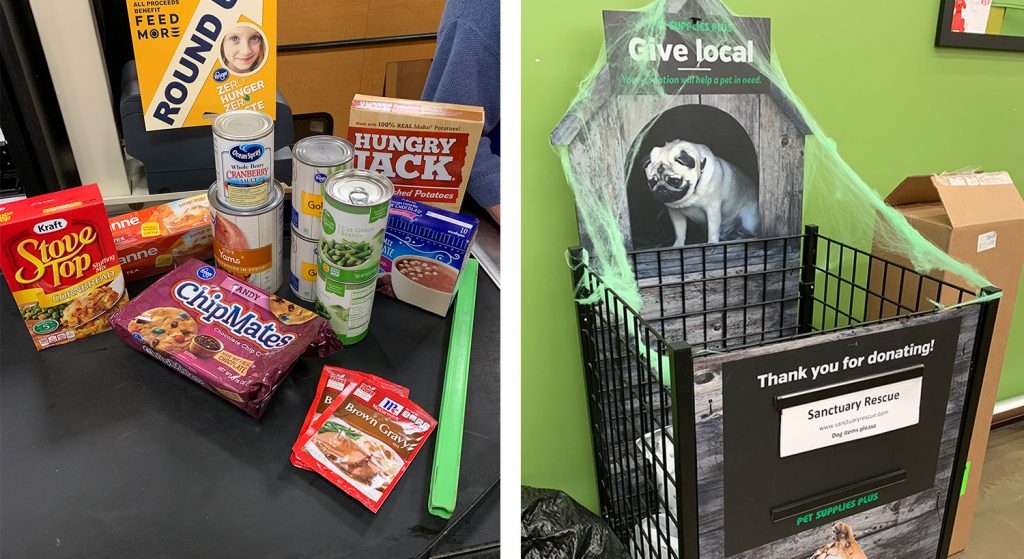 If you're looking for something we've dug in a past episode, but don't remember which show notes to click into, here's a master list of everything we've been digging from all of our past episodes. You can also see all the books we've recommended on our Book Club page.
And lastly, a big thank you to Social Print Studio for sponsoring this episode. You can take 15% off your next order using the code YHL15!


Thanks for listening, guys!
*This post contains affiliate links, so we may earn a small commission when you make a purchase through links on our site at no additional cost to you.