Today we're exploring an expert's theory that your childhood passions (specifically around 5th grade) could hold the key to what you'll love doing most as an adult. It was fascinating to take a look back and see if the idea really held up for us. We're also confessing to a mistake we made when hiring a pro for a recent house project and sharing what we'll do differently from here on out. Plus it turns out that plants aren't the powerful air purifiers we were promised, and the nerdiest decorating project you've ever heard in your life.
You can also find this episode on your favorite podcast listening app, like Apple Podcasts, Google Podcasts, TuneIn Radio, Stitcher, and Spotify.
What's New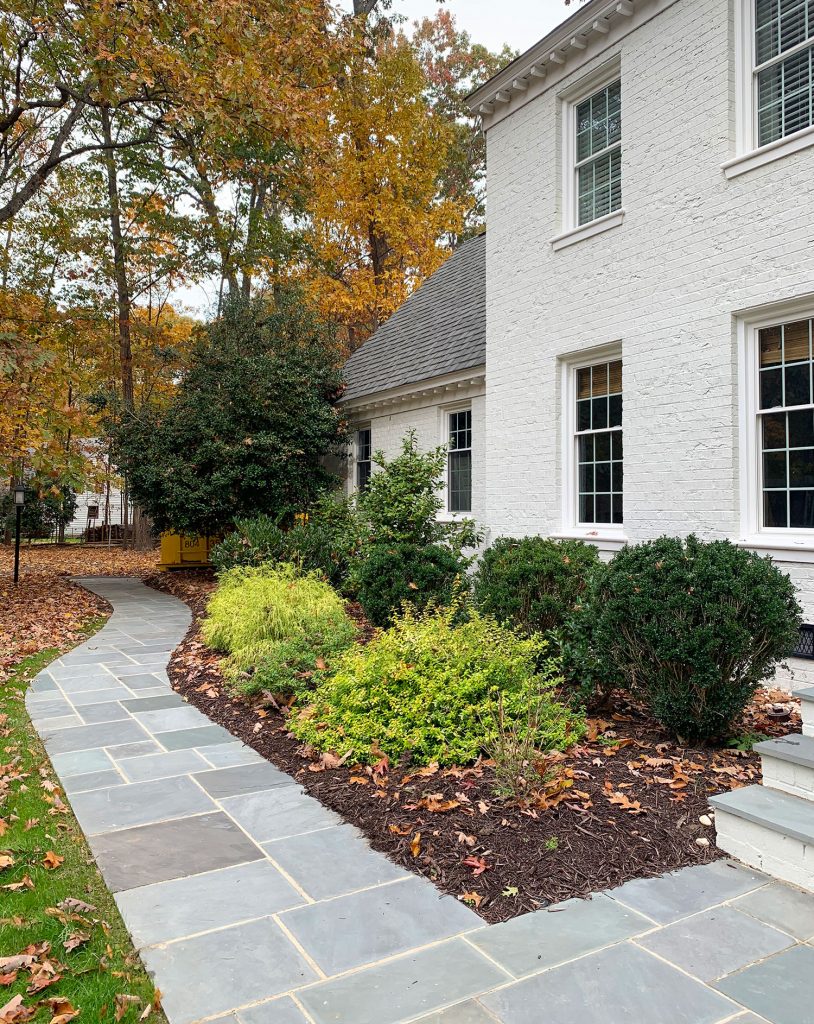 We'll have a post this week with more photos of all of our outdoor updates, but for now, here's a sneak peek of our new front path. You can even see a bit of our widened front steps here too.
And below is a photo from last fall where you can see the old aggregate path & steps a little better (you can also see another sneak peek photo in the shownotes for Episode #150).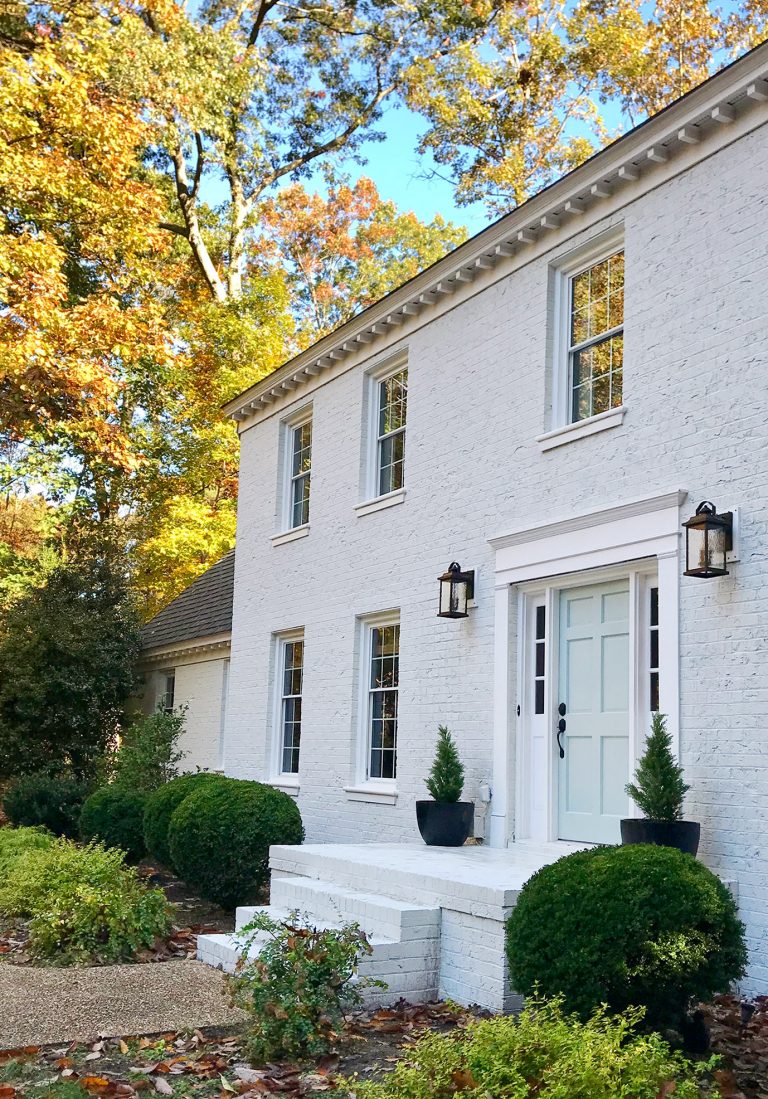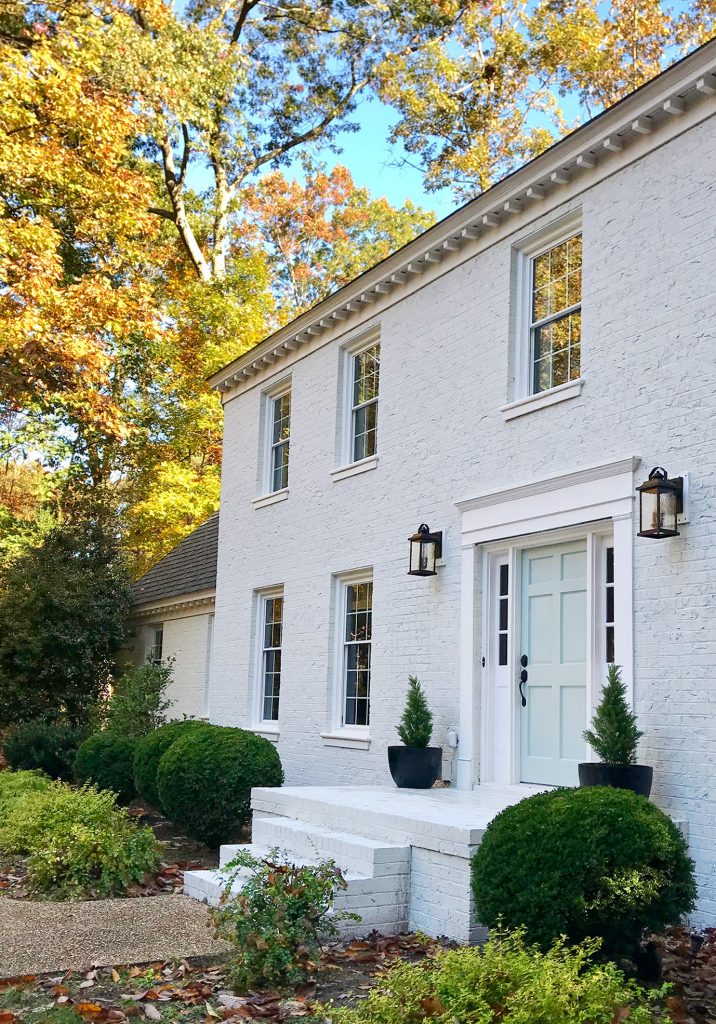 We also referenced our advice/process for hiring contractors, subcontractors, or other professionals, which you can hear in detail in Episode #68.
You can also hear more advice on working with pros in the following episodes:

Simple negotiating tricks in Episode #63
Insider tips from contractors on how to be a better client in Episode #104
Why contractors are sometimes hard in pin down in Episode #109
Update On The NASA Plant Study
So in last week's episode we talked about how plants help purify a home's indoor air, based on a study NASA had done that's allll over the internet.
Here's where you read the ACTUAL study from 1989 off of NASA's digital archives (there are a couple of screenshots below – pretty retro, eh?). Also, does anyone else find the term "Squirrel Cage Fan" hilarious?
As soon as that episode aired, tons of you pointed us to newer articles like this one from Time Magazine that say the NASA findings don't really hold up outside of "laboratory conditions" (like in your actual home).
But the good news is that they also point to studies like this one, that say caring for indoor plants has been shown to reduce your stress and anxiety.
The Rule Of Age 10
Here's where you can read the full Reader's Digest article about The Rule of Age 10, and here is the book that explores the idea of changing your life or career later in life.
I'd also be remiss not to link to where you can get a Reader's Digest subscription (looks like it's $15 for the year, or $8 if you do an auto-renewal plan). Sherry would love to have more of you on the RD bandwagon, I'm sure.
And here we are around age 10, just living our best lives and posing amazingly for photos.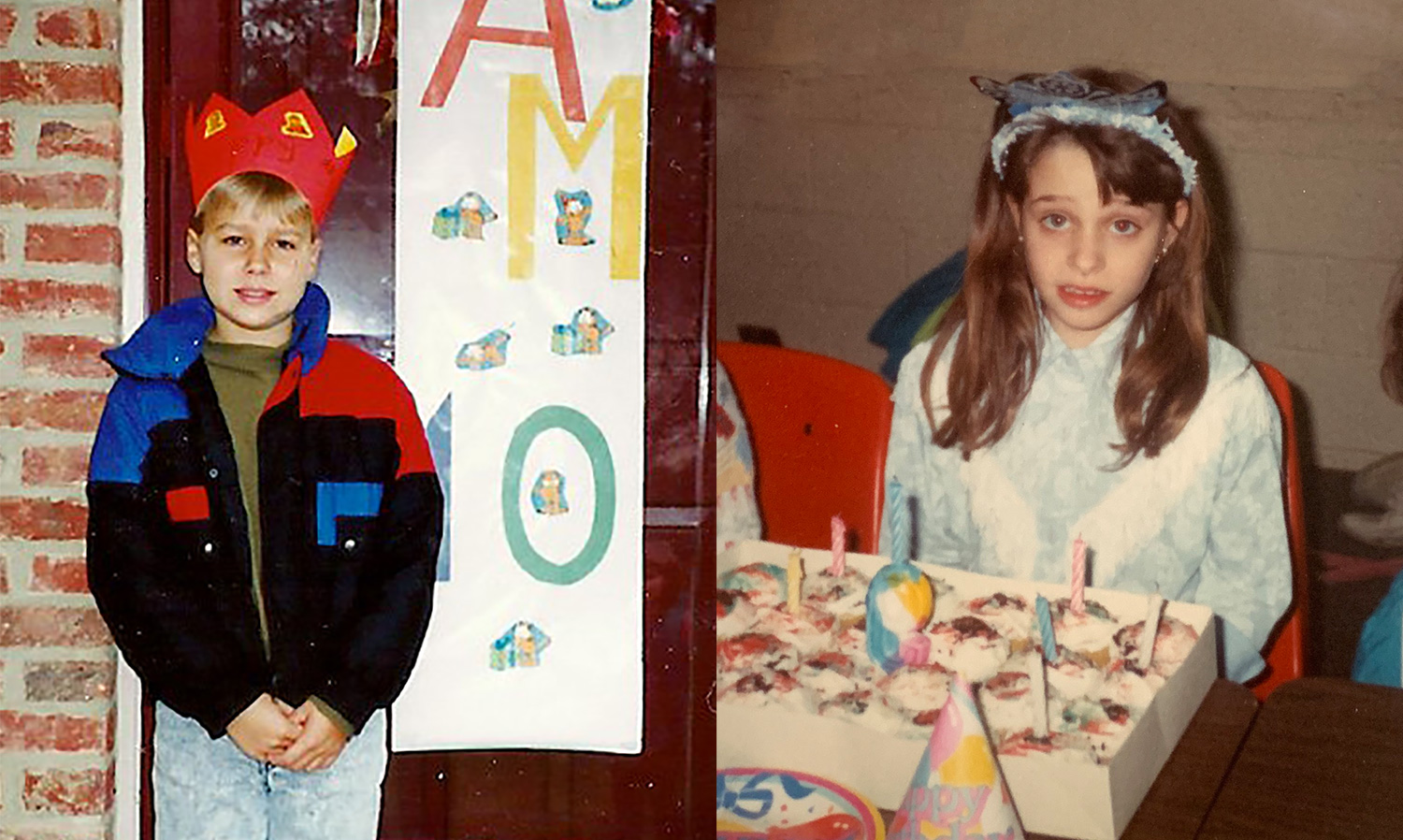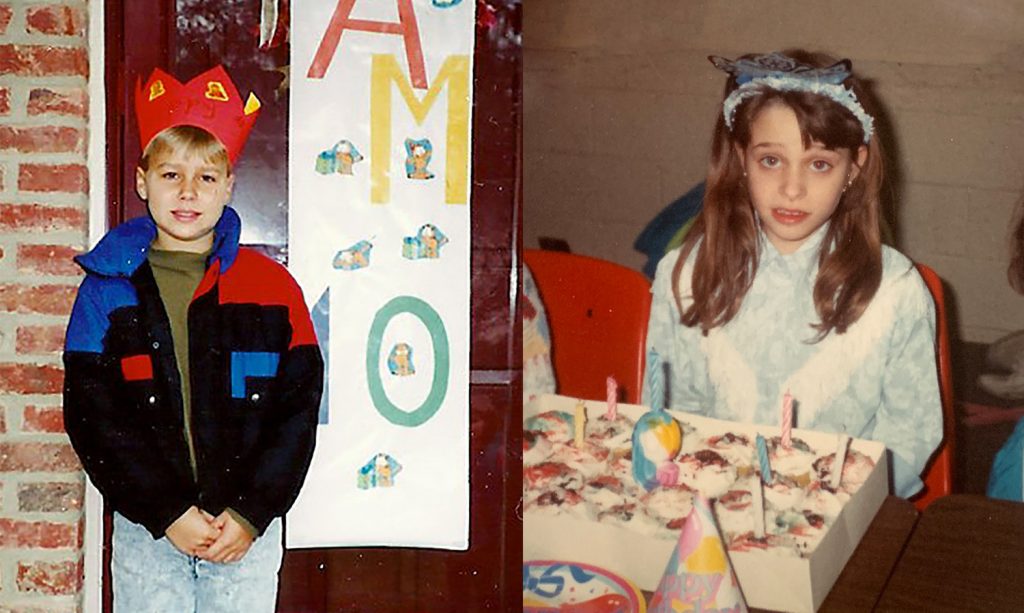 Here's Sherry's childhood room that she referenced, complete with clouds that she painted on her closet doors and light blue trim (which she changed pretty frequently). The seal poster is pretty good, but you'll also note her "pet net" hanging in the left corner, and those tinsel "tassels" that she made and taped to the corners of her trim. Let's also acknowledge the airbrushed winking jeans that she bought with her own money from a boardwalk shop at the Jersey Shore.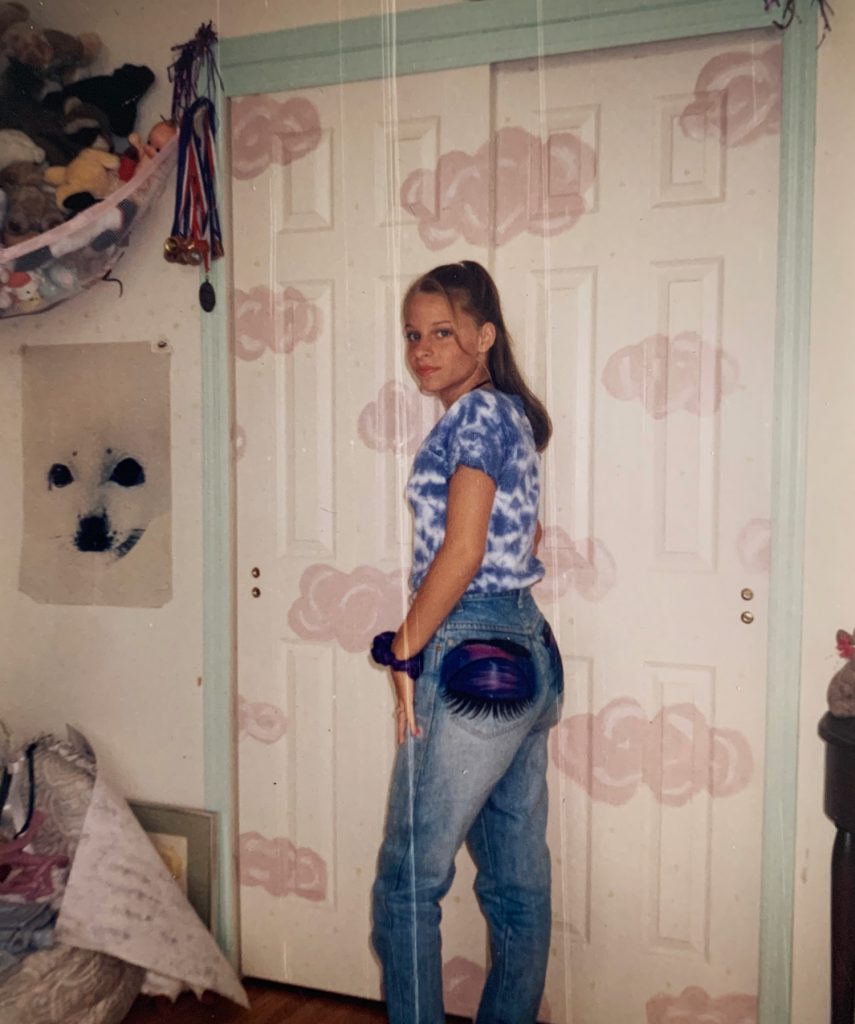 Sherry mentioned that I was early on the "room documenting" bandwagon, which included these crude collages I made by taping together a few 3×5″ photos. Ladies & gentlemen, I called this "a panoramic representation" of my room. The first collage is my side of my first dorm room, and the second one was my apartment for my last two years of college.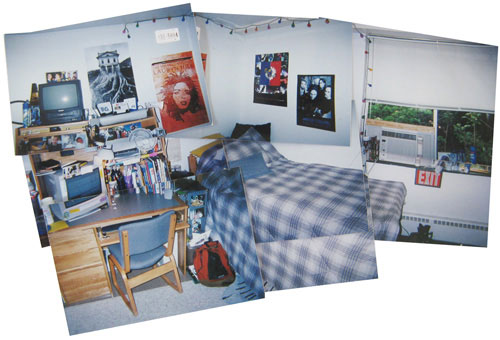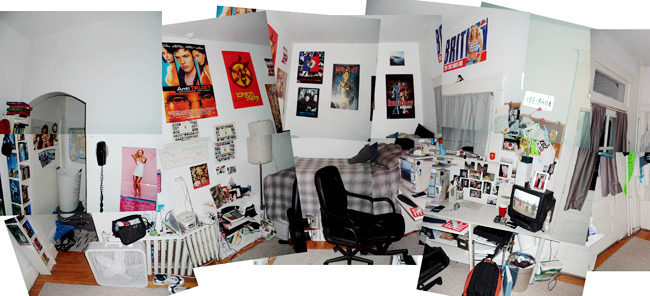 You can see the radiator I mentioned making the shelf for in the collage above, but sadly you can't see the math-y painted top part because it's covered with stuff (apparently I didn't bother to clean a dang thing before taking these pictures).
We're Digging
Here's the chalk line we used to mark the joists under our new bathroom subfloor panels (marking the joists with the chalk made it faster for us to make sure we were hitting them with our screws). You can see the string is coated in the blue chalk dust and I've got one end of it hooked on to the edge of the plywood. I don't have it pulled taut in this photo, but you can see how it left a nice straight faint blue line on the floor when we pulled it straight and snapped it.
Mine is several years old now, so this is the closest version to my model that I could find. There's also this one for a little less (both are still under $10).
And if you're fans of Elsie and Emma (or are just looking for more casual home-related podcasts) definitely check out the A Beautiful Mess Podcast. You can find it wherever you listen to our podcast.
Oh, and if you're interested in starting a podcast yourself, we wrote a podcasting e-course for ABM last year that has everything covered for getting yours off the ground. You can actually get 38% off right now in honor of my 38th birthday last week (just enter the code BIRTHDAY now through December 15th).
If you're looking for something we've dug in a past episode, but don't remember which show notes to click into, here's a master list of everything we've been digging from all of our past episodes. You can also see all the books we've recommended on our Book Club page.
And lastly, a big thank you to Annie Selke for sponsoring this episode. Their big Cyber Sale is coming up where you can get 25% off sitewide. And good news! We just learned it's actually starting this Friday, November 22nd. Just go to annieselke.com/YHL to check it out. Sales last through December 6th.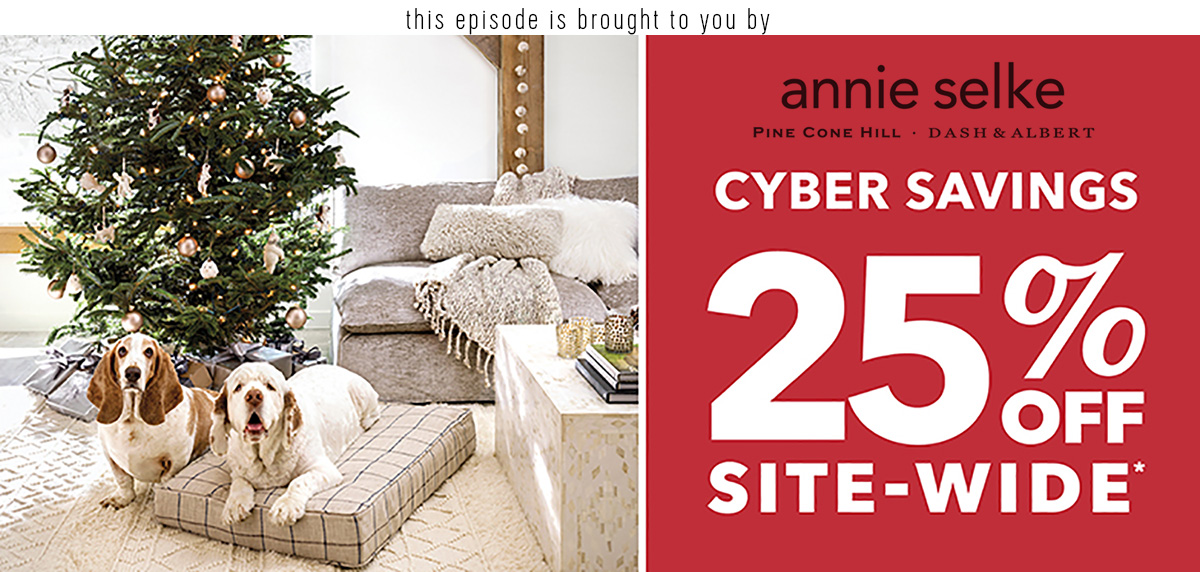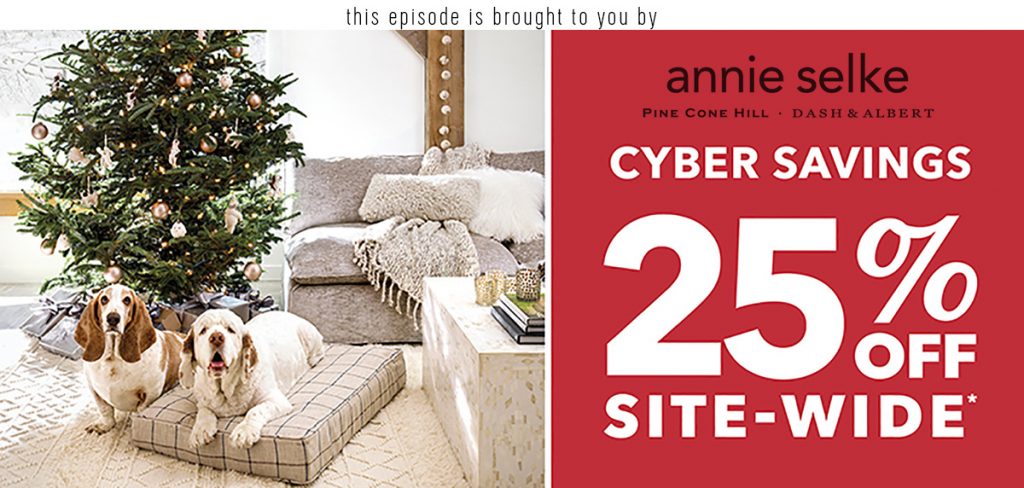 Thanks for listening!
*This post contains affiliate links, so we may earn a small commission when you make a purchase through links on our site at no additional cost to you.