October is officially here, but before we dive into another month of projects, it always helps us keep the ol' momentum up to take an appreciative look back on all of our happenings from last month – everything from making over Granny's bathroom and building a train board to making some tables into ottomans and celebrating our 5th blogging anniversary. And since we love to throw in something never-before-seen, we're actually revealing the first stop on our book tour below. So here's everything in our usual weird yearbook-superlative-style that definitely inspires us to keep plugging away (plus it makes browsing our archives a lot easier – you can read back through January of 2011 right here in just 20 posts instead of 700). Hootie hoo for September in review.
Most Surprising: Considering how much we loved the blue metal stools in our kitchen, it was surprising (even to us) when these craigslist finds wormed their way into our lives. Thankfully we've got a plan for the blue stools (involving our sunroom) since these swiveling guys are our new favorite things.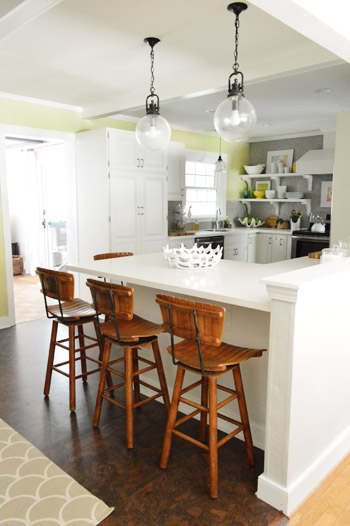 Biggest / Most Gradual Transformation: Our bedroom, which has come a long way since we first moved in. But it took a while to get there, which is why we documented its evolution in this picture-filled post for ya. The lesson? Don't despair if things aren't done the first week, month, or even year that you move in.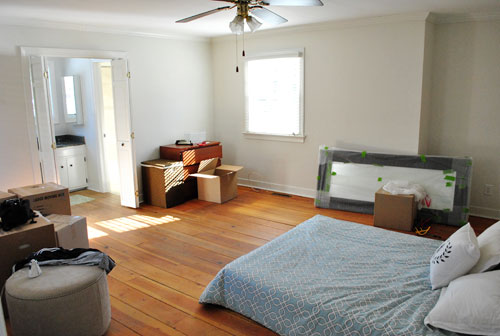 Biggest Missed Opportunity to Make A Quad City DJs Reference: This post about building a train board for Clara (that the music-fueled Sherry somehow failed to entitle "C'mon Ride The Train"). It's like I don't even know her anymore…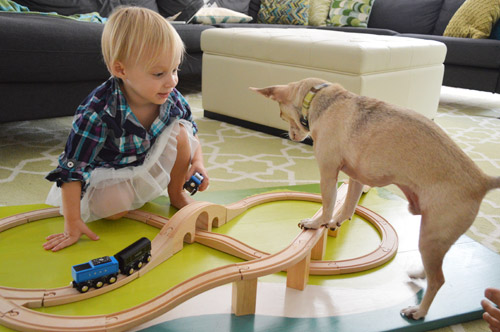 Video Killed The Comment Section: Despite some requests for a post about how we make our videos, this lengthy post might have had ten comments in the first hour. Perhaps I overestimated how geeky our readers were. What? You don't want to hear about my high school obsession with a camcorder?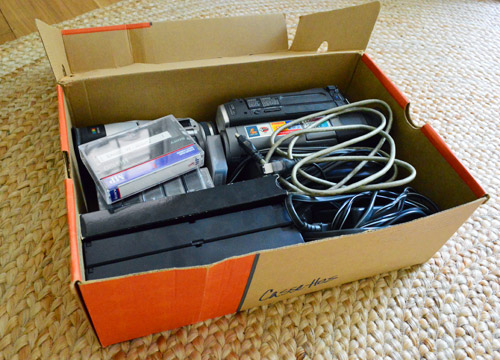 Creepiest Project: It's not even Halloween yet, but we're already decorating with dead things. At least it was a pretty dead thing: this butterfly that Sherry (and Clara) found in our yard – which found a place on our bookshelf. Update: it's still going strong and looks the same – although we've been meaning to add a glass dome over it just to protect it a little more.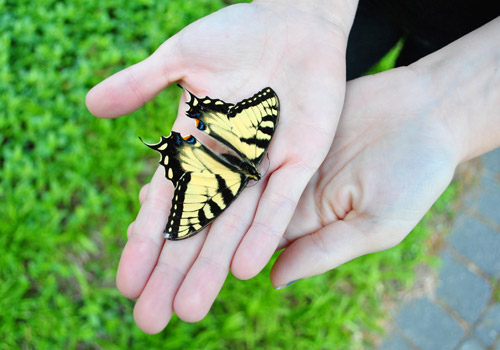 Toughest Decision: Finally giving up on our craigslist dining room chairs and getting some deeply discounted new chairs to take their place. We love the new look, but it was kind of a bummer to not be able to make the other ones work. Ah well, live and learn.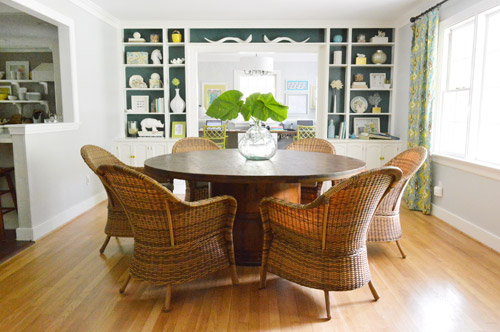 Biggest Oops: Breaking our camera when it fell off of a board I was sawing. That's the bad news. The good news is that it gave us an excuse to get a new camera which also does HD video. Speaking of which…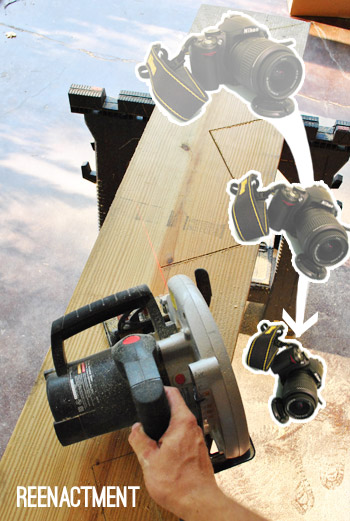 Oddest Couple: Me and Sherry, who shot this latest house tour video with our new camera as a two-some. I held the camera (since Sherry is Miss Shakes-A-Lot when it comes to video) and she narrated behind me. Yep, this is a fancy operation over here.
Biggest Relief: Finally being able to unveil this promo video for our book, which we shot back in March (but then had to keep our lips sealed for months). Even better, we finally got to reveal some of the secret book projects that we did back in January…
Most Burger Approved: This little ottoman upgrade in our bedroom where we repurposed some old X-based side tables to create new stools at the end of our bed (they're our version of doggy steps so Burger can climb into bed).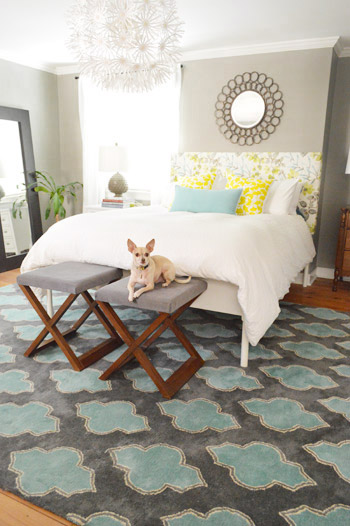 Most Likely To Require Eating Lots of Tomato Soup: This project, using the special edition Warhol Campbell's Soup cans at Target. A little cork board to soften the metal edges, some colored pencils, and voila! Update: we did successfully consume all of the soup. Woot.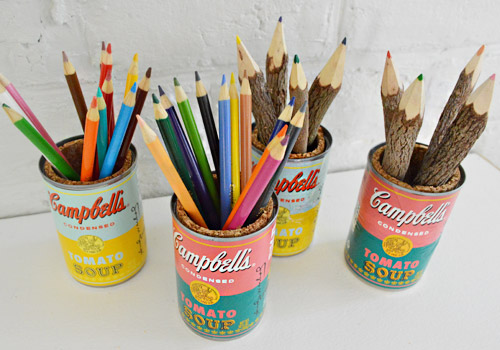 Most Uplifting: Our visit to my Granny's house in West Virginia, where we spent a work-filled weekend updating her downstairs powder room. It was a bit tiring, but we left feeling nothing but elated.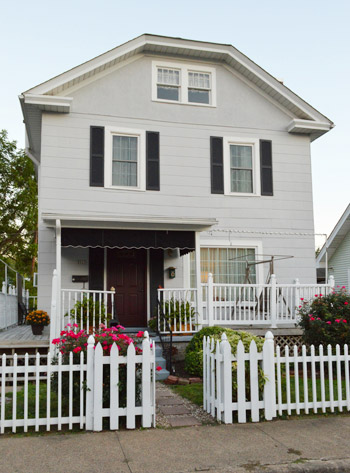 Biggest 24 Hour Improvement: Granny's bathroom, which was already looking worlds better by the end of day #2 (thanks to some paint, a new floor, and tidying up a lot of rough spots in the room).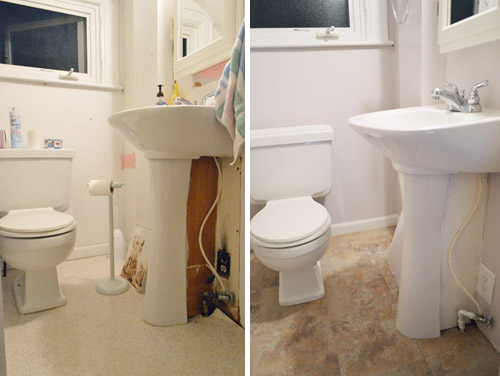 Breakout Star: This has to go to Granny herself, who seemed to earn herself quite a few new fans when we revealed her new bathroom to her (on video). And I can't tell you how happy it makes me that you guys saw exactly why we love her so much.
Most Academic Shopper: Sherry, who wrote this post about how she finds deals on clothes and keeps her wardrobe in check (you guys seemed to really like the idea of giving your clothing a grade, btw). Closet GPA, for the win.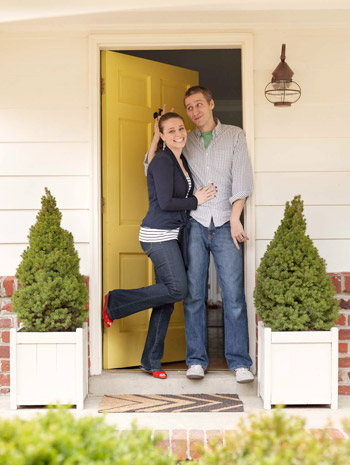 Biggest Rivalry: We did a fun little side-by-side comparison of the rooms in our first house and their counterparts in this house. And yep, we even chose winners. The final tally of wins may be closer than you'd expect…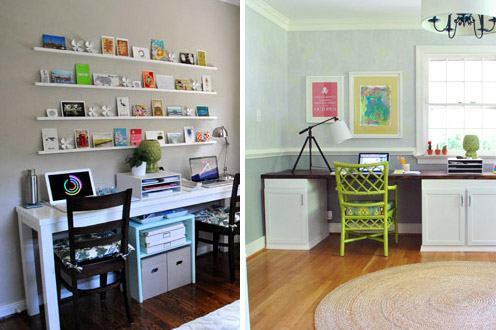 Littlest Updates: We made four small changes around the house – like installing another dual-flusher in the guest bathroom and creating a hidden spot for our shredder (below).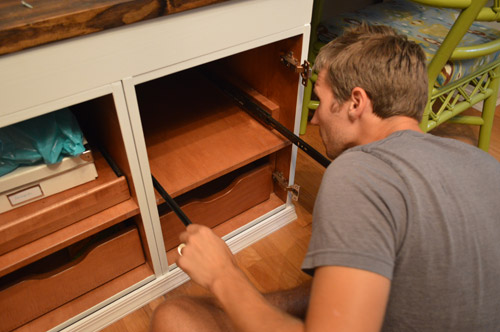 Longest Graphic: The images in our posts are usually less than 400 or 500 pixels tall, but we made an extreme exception when we created a graphic timeline depicting our history from 2004 as a way to kick off our 5th blogivesary. That thing clocked in at over 4100 pixels long!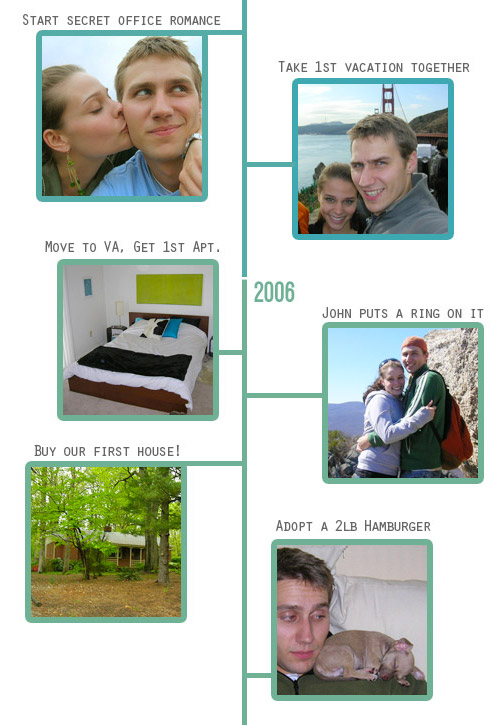 Most Ordinary: The day we shared as our usual blogiversary "day in the life" post. It might not be everybody's normal, but it's a pretty regular weekday around these parts.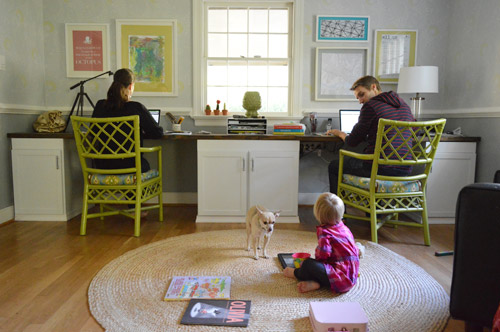 Biggest Conspiracy Theory: People became quite curious about the "tragic event" that robbed poor Olivia the pig of one of her ears (which we mentioned in this blogiversary post about some YHL facts and figures). The story? Clara just bent it back and forth until it snapped off. Oh the humanity.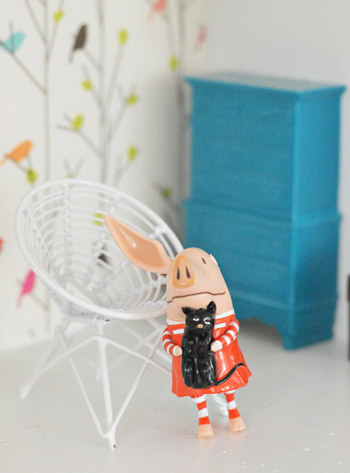 Most Scene-Stealing: Clara & Burger, who got their own little Blogiversary Q&A video this year, which had folks just as captivated (if not more so) than the video of me and Sherry answering personal questions that you guys asked.
Most Nostalgic: Going back through our archives and plucking out some favorites (and least favorites – like this image that won for "Worst Photo").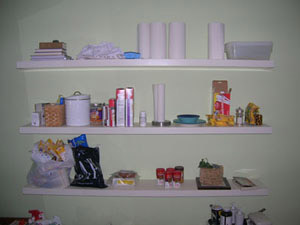 Most Ambitious: Stating our goals for our next year of blogging – which we do every blogiversary, sometimes with limited success. This year we're hoping to embrace the crazy, mix up our posting style, write shorter posts among those beefier long ones, and incorporate you guys more. Let's see how we do…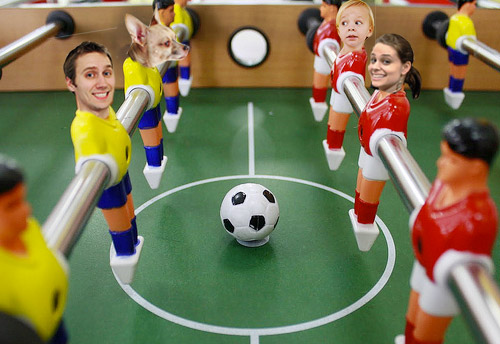 Most Graphic: This blogiversary post showing the results of our little reader survey. I had some fun making the infographics, and I believe the consensus was that Beyonce makes any chart better.

Most Likely To Make Pigs Fly: The first stop of our book tour (which kicks off in less than 3 weeks!) in the city of the flying pig: Cincinnati, Ohio. We're so pumped to reveal the full 17-city list tomorrow morning!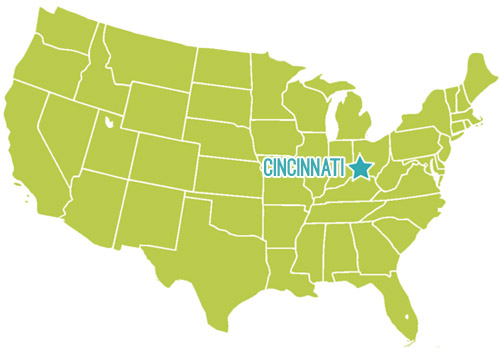 How did September shape up for you? Did you get any major projects completed? Try your hand at a makeover for someone else? Celebrate any special anniversaries/milestones? Or just have fun photoshopping your head onto things like a foosball table?