Blerg. I either have food poisoning or a stomach bug today. But thanks for all the stool love this morning, guys (wait, that sounds kinda gross). And as for this afternoon, while I attempt to avoid breathing on anyone else in this house (who are all thankfully unscathed so far), I thought it might be fun to create a little "timeline" of how each room in our house has evolved, since it's definitely never an overnight transformation around here. And given our copious bedroom updates, we thought it was a fine place to start. So without further ado, here's how the room has evolved over the last twenty months since we moved in. It's still not done, but it has definitely come a long way – and it's really fun to look back on some of those "middle" stages and wonder what the heck we were thinking. Haha. Thank goodness for trial and error!
This rundown is a pretty great reminder that small changes (along with a few big ones) can really breathe new life into a room as you learn what you love and how you'd like to live. We've actually come to a place where we wholeheartedly believe that over-time tweaks are half the fun (I'd probably want to move every year if I could only do a room once and then had to live in that frozen-in-time-result without changing a thing). So here's the very first shot of our bedroom that we shared the day we moved in. Pretty much a blank canvas.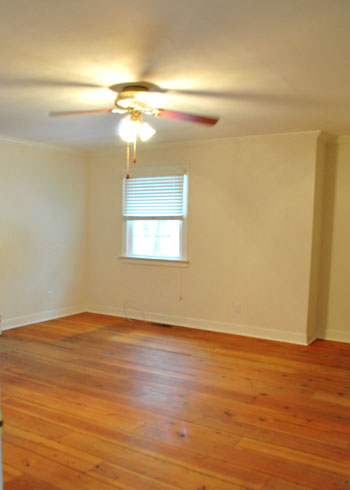 First we just plopped our furniture down on the floor and didn't even have a bed for the first three weeks or so. Getting up every morning from a ground-height mattress = not our fondest memory.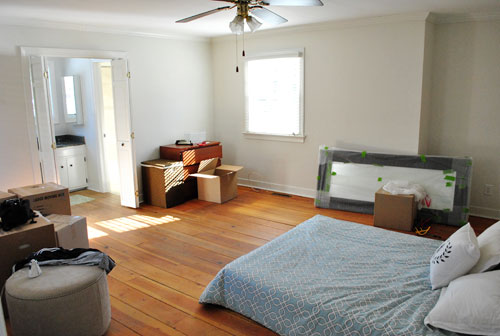 Then we got Ed the Bed since we were overwhelmingly excited to have such a giant room to work with (our old bedroom was around 10 x 11′ and this room is 16 x 16′ – so we thought something big and frame-y would look awesome in our cavernous room).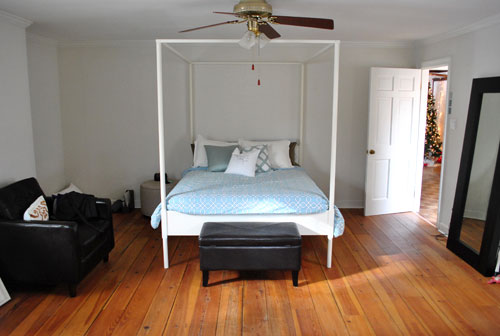 Then we got this duvet on clearance from West Elm, but John only let me get it under the stipulation that we would ebay it if we found something we liked more down the line. Hindsight = 20/20. We never should have settled and definitely should have held out for something we both loved. Oh well, live and learn. Right now it's neatly folded in our playroom just in case we decide to use it/the fabric for some other space (curtains for Clara's big girl room, etc). Otherwise it'll definitely hit ebay someday.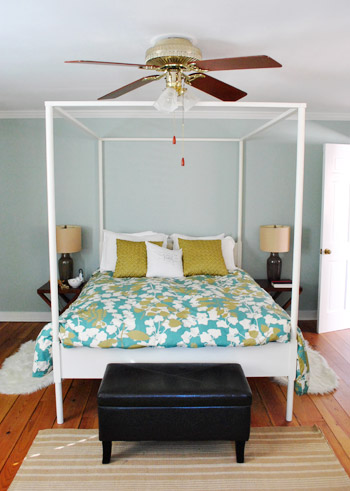 Next came our big ol' snowball of a chandelier, which is still one of our favorite things to stare up at before bed or squint up at in the early morning. Here it is hanging oddly low thanks to that top bar of Ed the Bed (it looks crazier in this pic than it did in person, but it still wasn't quite right).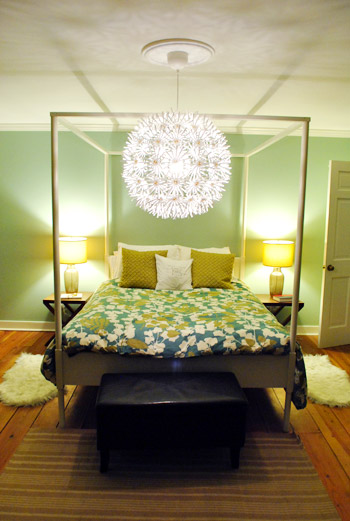 We struggled with Ed for a while, tweaking him to remove those top posts since they were just too encroach-y with the chandelier. Oh and we got a nice big jute rug to cozy up the splintery old wood floor. Here's that phase.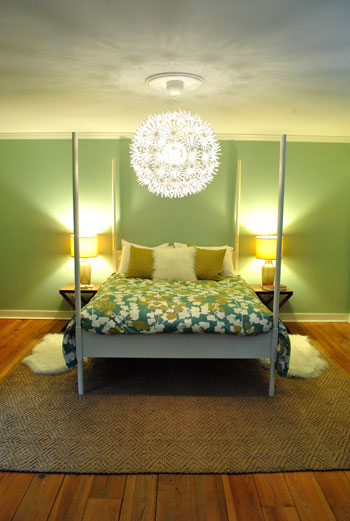 Then we found two Alaskan botanical prints at a yard sale (we honeymooned in Alaska, so we thought they were sweet for our bedroom) and hung them on either side of the bed with Ramsey in the middle.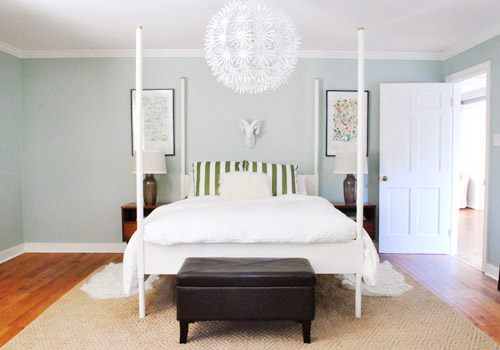 Things pretty much stagnated there for a while until Ramsey was broken during a book shoot (he jumped off the wall in the kitchen when no one was even in there) and we decided to hang the botanicals inside the bed posts instead. And then we found our new rug at a local outlet, so we pulled the old rug out (with plans to use it under our dining table or in our sunroom eventually – or craigslist it if we don't like it in either space down the line). Our new super-discounted outlet rug definitely breathed life back into this stuck/stagnating room. So grateful. Sometimes it takes changes like this to jump-start things again once you've hit a wall.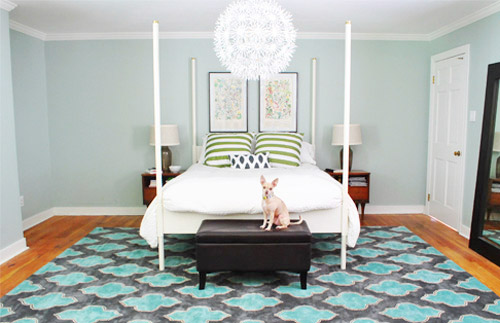 Then in a flurry of trying new things, we gave three different prints (picked up for $2.99 from Ikea a while back) above the bed along with different pillows from around the house…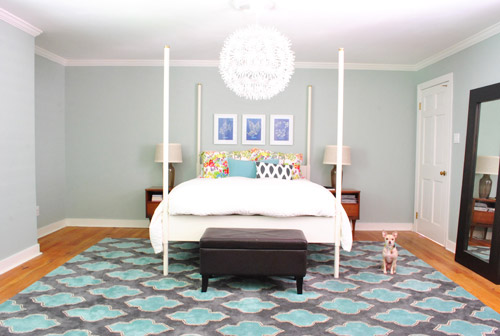 … only to decide we preferred the botanicals and another pillow combination (along with some lamps that we actually bought for the bedroom instead of just using leftovers from our first house's living room).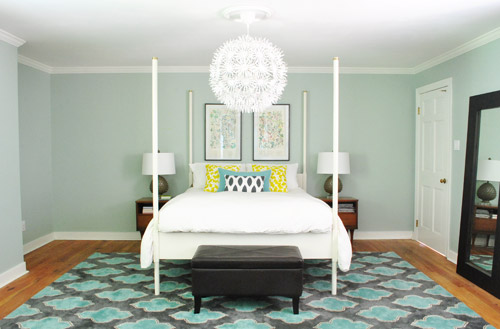 Then we finally put on our big kid pants and decided to just give the bed a try on a wall that we previously thought would be way too challenging (thanks to an off-centered window on one side and a nook on the other side). At first it looked crazytown…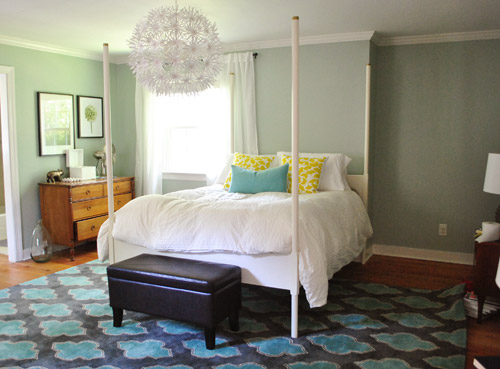 But after we re-hung some art/rearranged some furniture that we already had, we ended up here.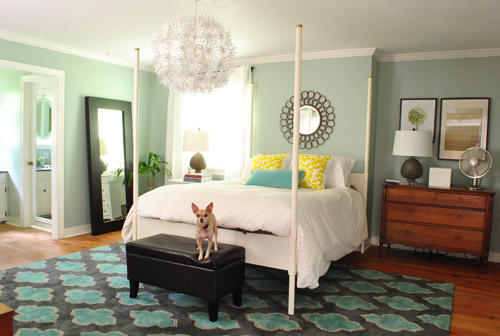 And then we gave Ed a little haircut.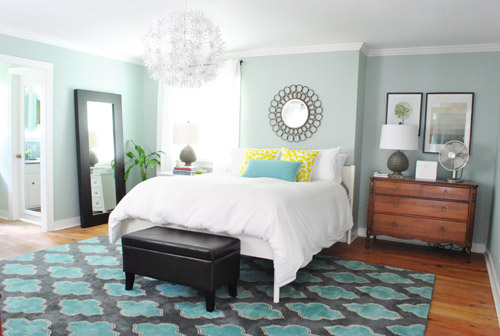 And then we made an upholstered headboard to cozy things up a little more.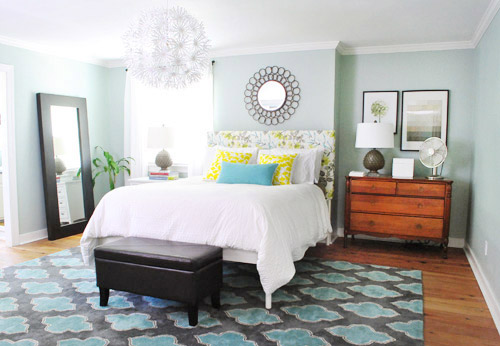 Next we finally painted the walls a darker color (Rockport Gray by Ben Moore) which definitely helped the headboard and all the thick white trim pop (John wanted to do it for months and he finally wore me down). Boy was right. We love it so much more in this moodier sleepier color.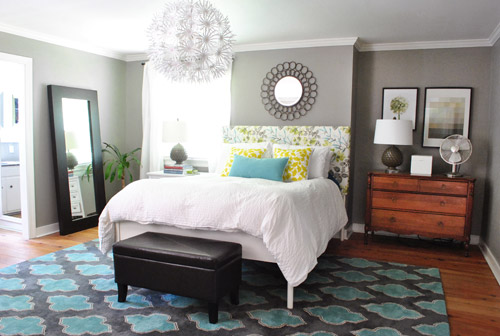 It's especially noticeable how much the new color accents the chunky white trim around the sink nook. Such a difference!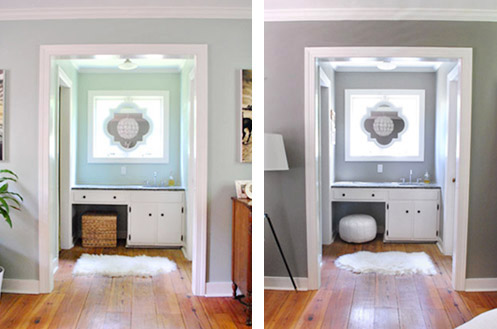 Of course we still have plans to:
refinish the floors
possibly paint the ceiling a light light blue color
furnish the entire bare wall across from the bed
eventually turn a window into a door that leads out onto the deck
someday vault the ceiling so it's sweetly peaked (how cozy would that be?)
… so we'll have to keep you posted. But it's pretty interesting to look back at all of these phases of evolution, sort of like a time capsule of where we were, where we were trying to go, and where we are now.
Actually when we look back in our archives, every single room in our first house evolved the same way – moving things around, using what we had, altering things to work, getting new things along the way, and hitting up lots of outlets and thrift stores along with affordable retailers like Ikea and Target to keep things wallet friendly. Did we make mistakes? Sure! Did we learn as we went. Absolutely! If we could rewind would we skip all of those wrong moves? Who wouldn't! But it's pretty cool that even with those mistakes, you can come pretty far (and learn a ton about yourself and what ya love) by just giving things a shot and letting a room evolve over time. Sometimes over a long a$$ time. Haha. But the journey is part of the fun, right? Our first house took us 4.5 years to figure out, so maybe we're getting a tiny bit faster in this one?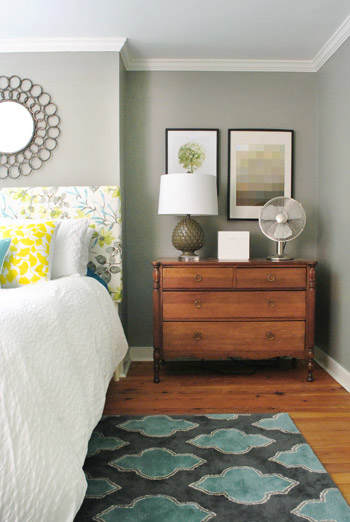 Although some other rooms are completely untouched, so maybe not. Haha.
It's funny how some things stayed, like:
Ed the bed (although he did get that trim)
our free hand-me-down dresser from John's parents
our leaning mirror (which John got me as a wedding present back in 2007)
our $50 Ikea chandelier
Meanwhile, other stuff came in from other rooms, like:
the Hobby Lobby mirror that used to hang in the living room
that small white cabinet from the dining room
And other items went out, like:
the old rug
the old side tables (both of which we'll reuse or craigslist for loot to put back into other tweaks)
Thankfully even things like those old too-small yard sale side tables were just $11, and we'll probably get to use those in Clara's big girl room (and can always resell them for at least that much) so it's a good lesson that just because you buy things, you don't have to be married to them. Undoing something like a paint color or an upholstery fabric can take a day of work, but it's hardly irreversible. And it just might be the key to making it through a not-sure-where-we're-going phase and onto another love-it-so-much-more phase. Heck, even if over time you realize that a furnishing or accessory isn't the best choice for a room, there are definitely other rooms where they can go to live (like our blue stool story from this morning). We love keeping things flexible and taking a completely reversible approach to making our house a home. It's just so much less intimidating and final than having some unspoken can't-make-mistakes rule (even if you wait for years between decisions, there's no guarantee that you'll love each choice- sometimes you just have to live and learn).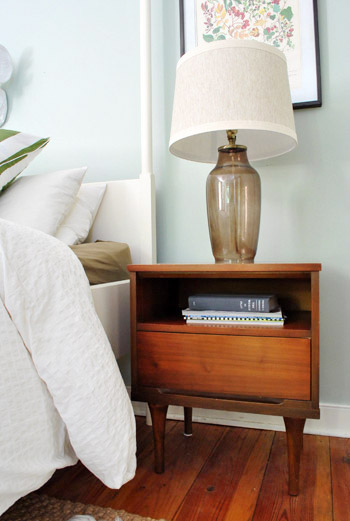 It's fun to see all of these bedroom evolution pics on one page, right? So stay tuned as we slowly work our way through all of our other rooms (probably on and off over the next few months – or years if we fall off) just to see where they've been and where they're going. The goal would be to keep these posts updated as we go, and to link to them from our House Tour page – or another page called Room Evolutions – so anyone who wants to see details on a specific room could click on that room and see these rundowns with a bunch of links to all the projects during those different phases (a number of readers have actually requested that we group room updates that way).
Have you ever snapped photos of a room over time as it evolved? Did it take more than one paint color to get it right? Were you surprised to see what stayed and what went? Were you shocked at how much of a difference some free changes like rearranging the floor plan or tweaking furniture (like cutting Ed's posts) can make? Did little homemade touches (like an upholstered headboard) end up making all the difference? I think our DIY headboard along with our giant pineapple-based lamps are our favorite things in the room these days.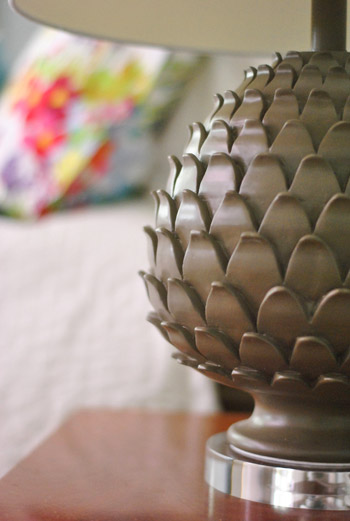 What's your favorite thing in your bedroom?
Psst- This month we're making a trip out to visit John's grandma in Huntington, WV, so if anyone has an awesome house that they'd like us to crash (a la these) in either Huntington or Charleston WV, we'd love to check out your digs and hopefully stop by (just send your submission pics to [email protected]). Woot!