Well, after reading every last one of the 750+ suggestions you guys left on this post (no doubt about it – there are definitely a million ways we could have gone with these guys!) and putting lots of thought into pretty much every possibility under the sun, we ended up going with our very first instinct. A chipper turquoise-y-teal tone.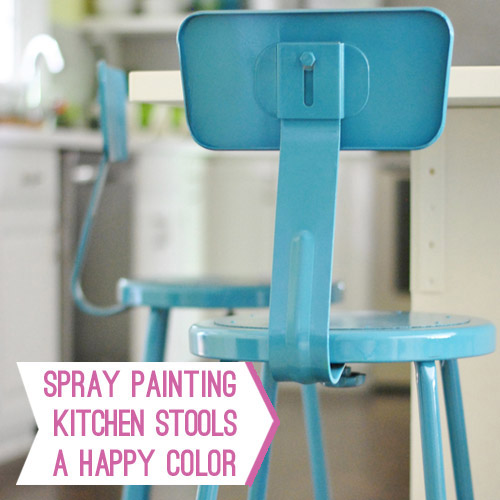 So here's the rundown of how we transformed these basic $32 stools from an online supply store.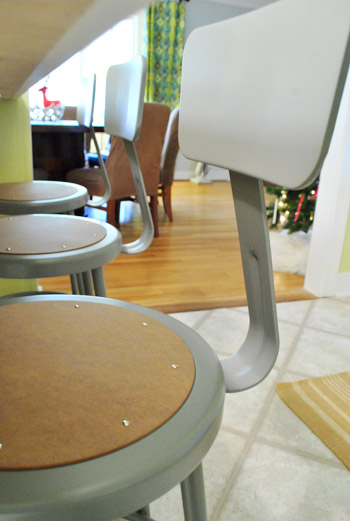 The funny thing is that there were probably the most votes for blue from you guys too (closely followed by yellow). Although there were definitely suggestions for a ton of other options (four different colors, tones like orange/coral/purple/pink, upholstered cushions, seats painted a different color, dipped legs, an ombre effect, etc). But even before sharing our stool musings we found ourselves gravitating towards turquoise or teal. Especially since we already have green chairs that we painted and reupholstered for the office…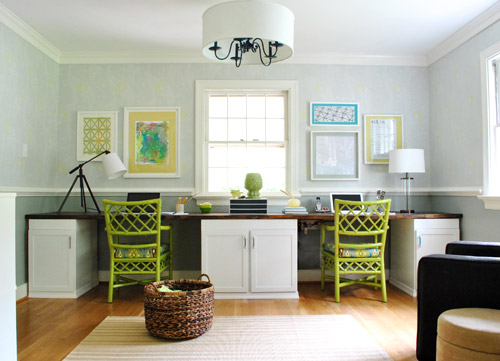 … and a yellow highchair for Clara that gets used in the dining room/living room (it's not counter height, so it works better at normal tables than the kitchen peninsula, where we typically use a booster seat attached to one of our stools).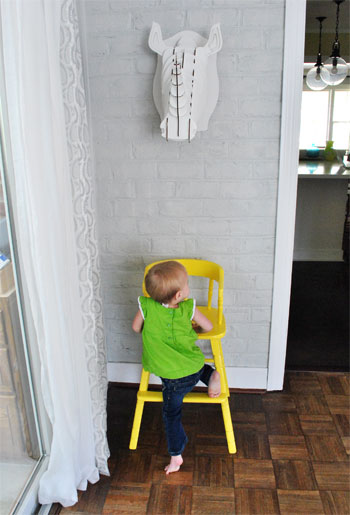 We decided not to make any final decisions until our rug arrived, and then to just follow our gut and pick a darn color already go with whatever we liked best. The truth is that a ton of other colors definitely could have worked (white cabinets & counters + gray tile + brown floors = a pretty neutral backdrop for any splash of color), so it really just came down to personal preference. I think we always would have done the "what if" thing if we hadn't just followed our nose heart.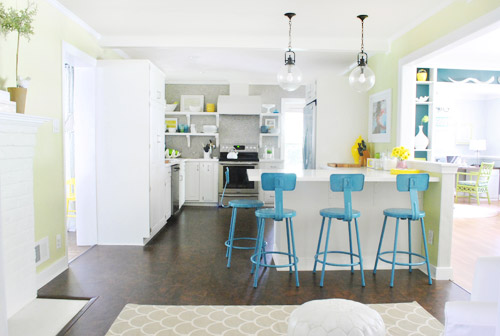 We love how the color relates to the dark teal built-ins in the dining room without being too matchy-matchy, and even ties into the small pops of color on the open shelves. Although I'm sort of tempted to completely white-ify the stuff on the shelves and the counters (fewer pops of yellow and blue) so the stools can really be the star – just because a lot of the kitchen photos that I've pinned as inspiration with colored stools don't usually have a lot of bold pops of color all over the rest of the room (although some have a few). So I'll keep you posted as the accessories continue to evolve in here!
In the meantime, it's an especially great upgrade when staring at the other side of the room from the stove. Without any penny tile to the ceiling or colorful shelf accessories, this side used to look sort of bland. We love how the new stool color makes it look alive, but not too clown-car-crazy. It just feels like us.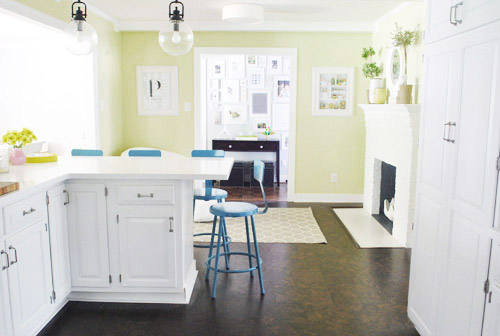 The kitchen officially fits into the rest of our house, which has other bold pops of color going on in every room that we've tackled – like our teal guest room with a bright yellow rug, our gray living room with a bright green rug, our pink nursery with bold floral curtains, our stenciled office with green chairs and multicolored art, our gray-blue bedroom with a teal and charcoal rug, and our gray dining room with green curtains and dark turquoise built-ins.
And ultimately it was freeing to realize that the worst that could happen if we didn't like our choice was that we'd repaint. Although I'll admit that I'm very thankful that we like them this way (this wasn't exactly a ten minute project). Haha. And luckily the veneer-ish brown seat took the new coat of paint really well, so the whole chair looks even and feels nice and durable. We opted to paint the brown part of the seat the same color just to keep things graphic and simple (we feared they might get too busy-looking with a brown seat and a blue painted frame).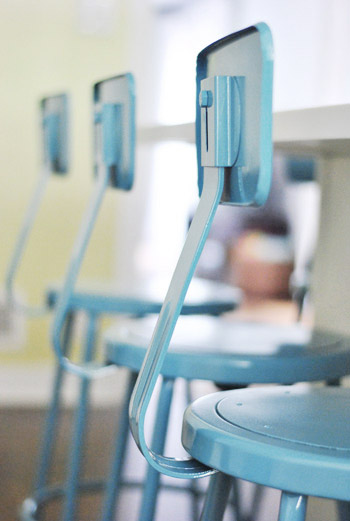 One of our favorite views of them is this one, which used to look sort of flat with the stools in their gray-with-brown-seats state…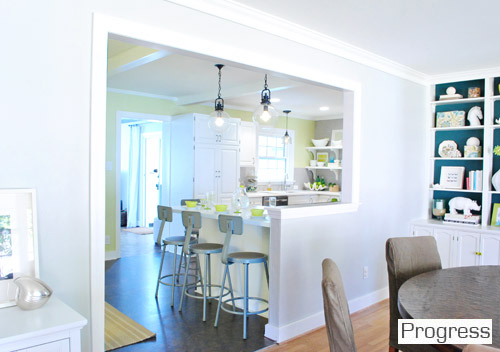 … but now looks cheerful and less monochromatic to color lovers like us (thanks to those hot little turquoise gams).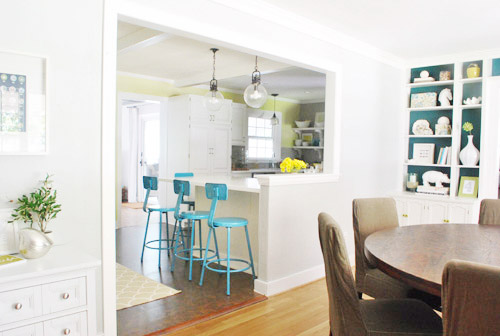 Even the view into the dining room makes a lot more sense in person (now that the stools tie into the subtle pops of turquoise in the ikat curtains). It used to be dull with eight brown dining chairs in the background and four gray stools with brown seats in the foreground, so it's nice to have broken things up a bit more with some color to set the stools apart. And someday we'll figure those dining room chairs out once and for all. Haha.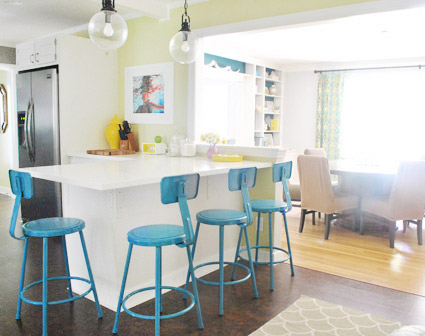 But I doth jabber on. Here's how I got 'er done.
1) I roughed them all up with 300 grit sandpaper. Just to give them a little tooth so they'd be more durable for the long-haul.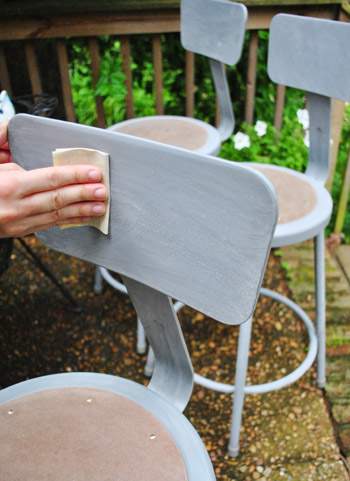 2) I used a liquid deglosser to remove all that sanding dust and further ready them for primer and paint (I like how it looks like I'm thumbless in both this photo and the one above it). We use a no-VOC deglosser called Crown's Next that we got from Home Depot a while back for a few bucks.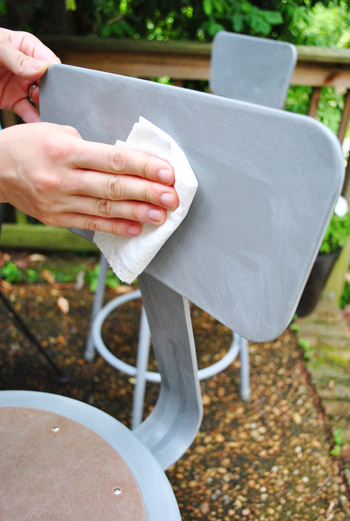 3) I sat them out in the yard on an old tarp and some cardboard (so their legs wouldn't sink into the grass so they could be sprayed evenly).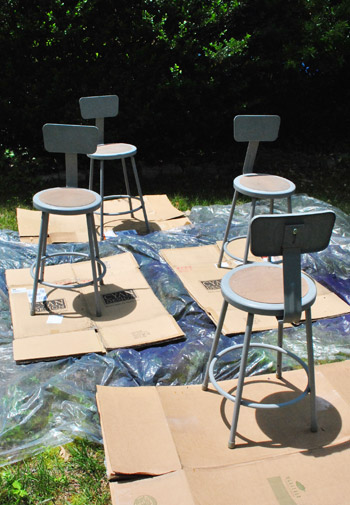 4) I misted them with very thin coats of spray primer until they had a nice even coverage (we generally love spraying metal since it takes paint really well – especially if it's sanded, deglossed, primed, and painted in thin and even coats). You can check out some general spray painting tips of ours here.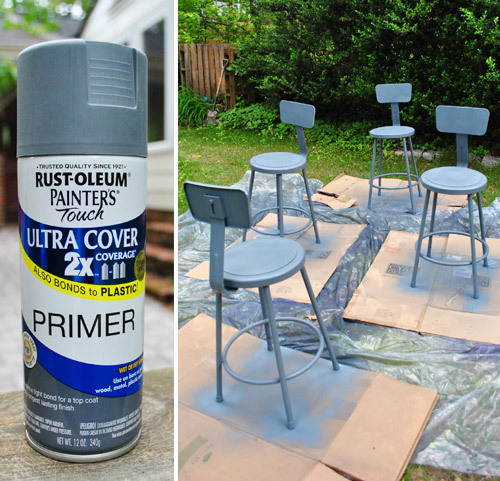 5) I misted them with very thin coats of spray paint until they had nice even coverage. We went with Tropical Oasis by Valspar in a gloss finish (we liked that it had a fair amount of gray in it, while some other teal options looked a little too bright for us without any muted undertones to tie them into things like our gray wall of tile and our new scalloped rug). We applied around five super thin and even coats, beginning on the next coat pretty much as soon as the first one was done (light misty applications like that hold really well and don't drip or peel like thicker ones tend to do).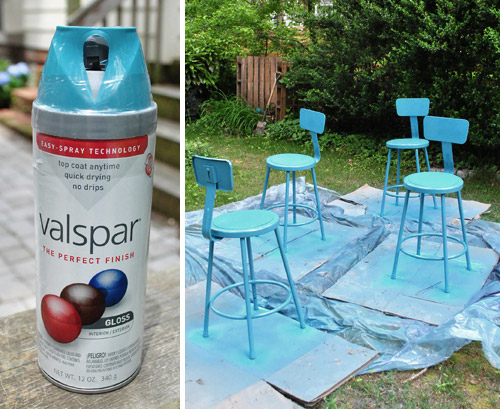 6) I left them outside in the sun for 24 hours (after checking to be sure there was no rain in the forecast) so they could off-gas and cure up. Next they got brought into the sealed-off sunroom for another two full days, just so they could continue to cure up and let out any fumey smells before they were allowed into the house. Then finally (those few days felt like years of waiting) we got to bring them back into the kitchen and see how they looked. They should hold up for a nice long time (painted metal, when done correctly, can look great for decades). We'll definitely keep you posted on how these guys do over time.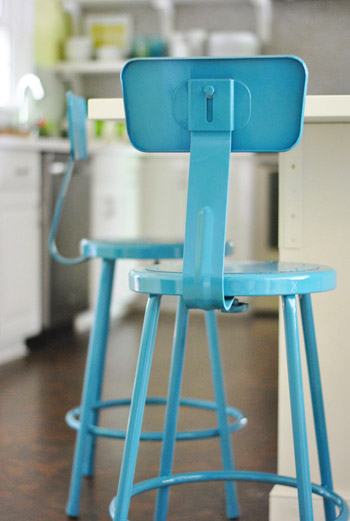 And now for a budget breakdown:
3 cans of primer + 3 cans of spray paint = $29
300 grit sandpaper and liquid deglosser = $0 (already owned, but they might run you $6 if you have to buy 'em)
TOTAL: $29 (which meant each of my $32 stools got a $7 upgrade)
I totally think people would spend way more than $39 a pop for these chipper little stools at a furniture store. So, yay. As for a time breakdown…
Sanding and deglossing them all = 1 hour
Priming them all = 1.5 hours

Painting them all = 1.5 hours
TOTAL: Four hours (obviously with time in between steps since I primed during one Clara-nap and painted during another).
Speaking of the bean, Clara actually stopped to pet one and say "blue stool! so pretty! like a princess!" right after we brought them in. No idea why she equates blue stools with princesses, but we'll take it. I gotta say that the kitchen finally feels semi-complete. Huzzah! And I might be imagining things, but proofing 352 pages of book layouts (not exaggerating) on our upgraded stools was a little less of a grind for some reason.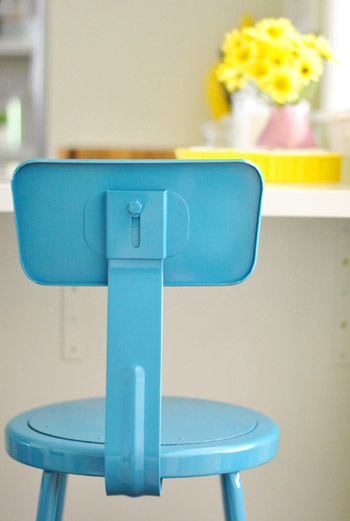 Maybe they have magical happy powers?
What have you guys been upgrading with paint or primer these days? Have you ever used a liquid deglosser? We used to be so scared of it since they seemed like it'd be fumey and burn your fingers off, but we love the stuff we use (and it has yet to remove my fingerprints – although it might have taken off my thumb for a few pics).