Here's a tale I've been dying to tell for a while, but now that we actually got it done (this has been done in my head for over a year), we can spill the beans. Because apparently doing something in your mind does not a blog post make. Ha. So without further ado, here's how we took two 5-year-old side tables from Target (that we hadn't used since we lived in our first house) and turned them into much needed padded ottomans at the foot of our bed (since Burger needs a little help getting up into our extra tall bed, they're like our version of doggy steps).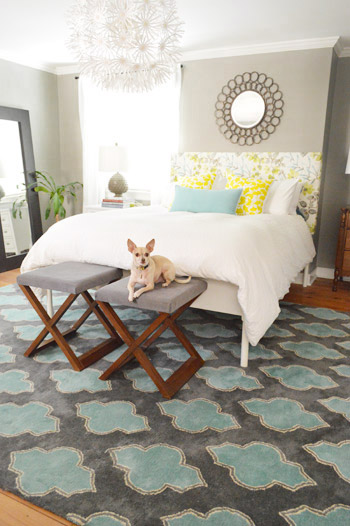 First we placed the side tables in front of the bed to see if we liked them there.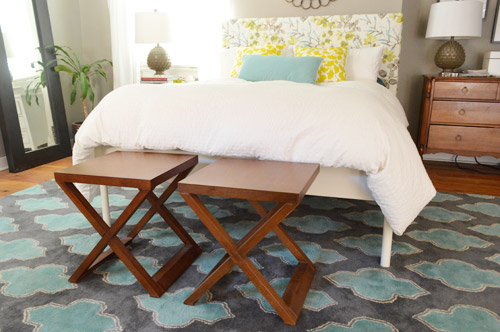 Sold! The color is great since they tie into the hand-me-down dresser that we got from John's parents. And we're always suckers for an x-based anything, so we were off to the races. Of course they didn't feel quite as integrated with the rug as they could, but we thought a thick charcoal fabric on the top of them (along with some nice cushy foam) could help them tie in a lot better (scroll up to check out the first pic to see how much that gray cushion seems to help).
But on with how we did it. First we used a flat cutting attachment from our Dremel Multi-Max to cut off the top of the table (freeing it from the x-based legs). Sounds crazy, right? But since we wanted to upholster the tabletops – to take them from side tables to benches – and it didn't pop off with the removal of some screws (it was attached with nails and some glue), using the Dremel to get them separated was our best move. Yes, we might have been singing "Keep 'Em Separated" during this phase.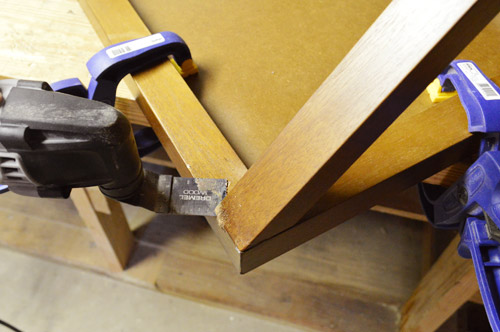 Next I used 1″ foam from JoAnn to create cushions for the top of each ottoman (a 50% off coupon scored us enough to do both tables for just $9). I cut it to the exact size of each top by tracing it with a sharpie and then just cut along that line with a regular old scissors.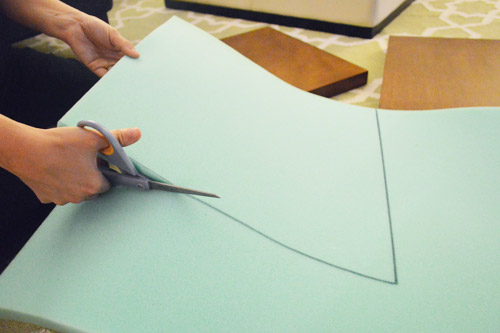 Then I used some spray adhesive that we had in my craft drawer to spray the back of each foam square (I did it outside since the residue is super sticky if it settles onto your floor) and then brought them inside and stuck each of them to the table tops.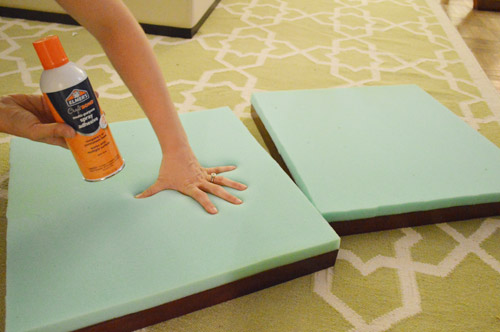 We only needed one yard of $15 fabric that we snagged at U-Fab to cover those babies (it's sort of a dark charcoal corduroy). So I cut squares of it that were about 4″ wider than the tabletop on all sides (to give me enough fabric to wrap around the foam & wood sides and staple it in place around the back).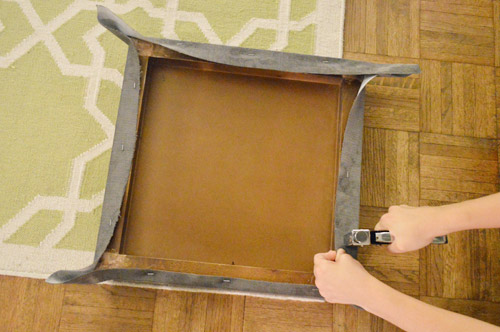 I like to pull it all tight and staple it just a few times (ex: 3) on each edge of the back of the table (see above). Then I flip it over to make sure it's tight enough (and nice and centered, since there are small lines in this fabric) before going crazy and adding the rest of the staples to hold everything in place, like you see below: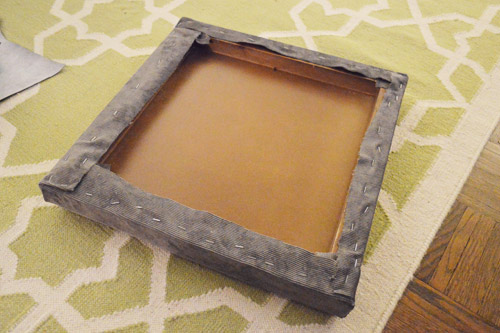 The corners are always a little tricky, but I just folded the fabric into triangles, sort of like how you wrap the corners of a present. One little triangle overlaps another one and they form a nice clean edge.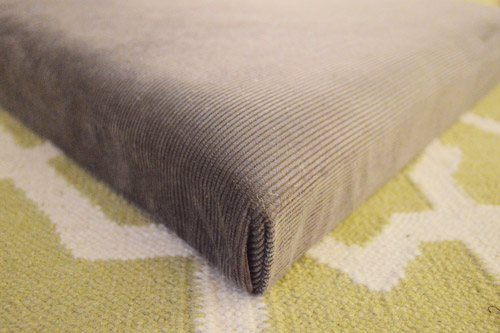 Next we brought the legs down to the basement and sanded the edges to make sure there wasn't anything pointy going on (since we cut the top right off of them, they were a bit sharp from that step). Then we used a regular old brown magic marker to color the unstained parts that we sanded down, just so it would all blend again.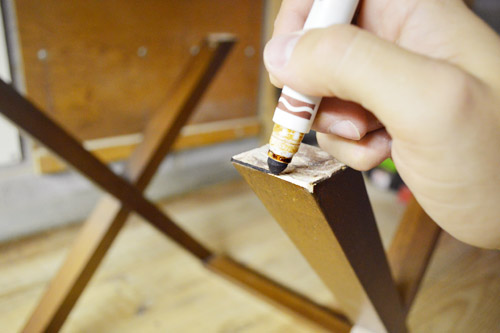 Then we pre-drilled some very small pilot holes at an angle that would ensure that a nail would go right through the legs and into the tabletop from underneath, securing everything for a strong result. We did two 2″ nails on each leg (8 nails total) just to be sure it was all nice and secure.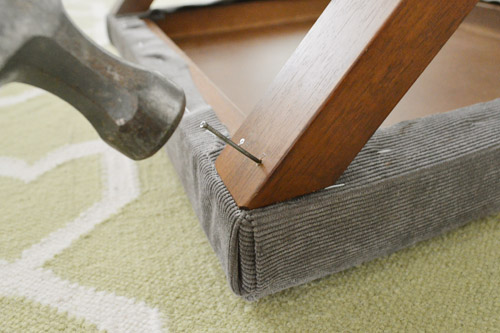 Boom, done. Total spent = less than $12 per ottoman. Total time spent = around two hours (mostly while watching NY Housewives, which might have slowed me down since I was pausing every few minutes to try to understand why everyone was fighting the. entire. episode).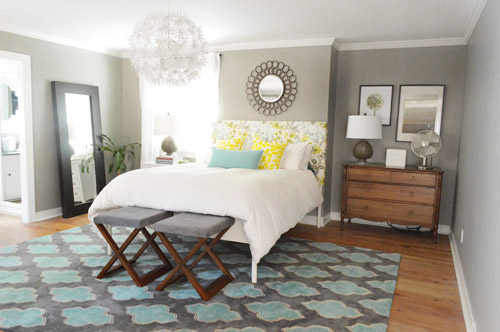 They definitely work for our Burger-getting-into-bed objective, and the best thing is that the colors/materials are so diverse that if we ever wanted to scooch them around the house into some other room/spot we totally could (if we ever found a super long bench for a steal that we'd rather use at the foot of the bed someday, for example). Gotta love flexible pieces. Oh and just for fun here's what we had there before (an old leftover storage bench from our first house), which felt a lot heavier and clunkier: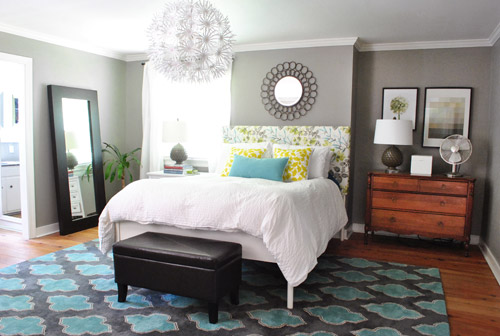 Oh and as for our "construction" process, our tables are both super light, so our little foam + fabric + nails seem to have done the trick (Burger has hopped on and off a bunch of times along with the bean, who has completely manhandled them provided some great quality control) but if yours are heavier it probably doesn't hurt to use small screws instead of nails to secure things (the way the legs of our x-based tables were configured we worried that screw-heads would be a lot more obvious/ugly, so we figured if small-headed nails worked that would be a more subtle choice for us).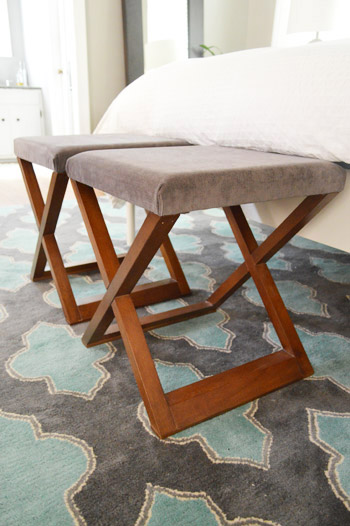 Oh and I sat on each of them and they didn't explode into kindling or anything, haha, so they're decently strong, although I don't know that we'd actually use them for perching (we have a chair in the corner of the room for that), so as long as they hold Burger (and piles of dirty clothes if we're being real) we're happy.
What items of furniture have you guys been tweaking with fabric or paint or foam or hardware lately? Any other side-table-to-ottoman conversions going on? Does anyone else remember that awesome Victoria Hagan collection from Target from back in 2007? That's where we got these x-based babies (I think for around $50 a pop). Her collection was totally the best. Wish she'd come back for an encore presentation. Who wants to bang on the table and slow-chant "we want Hagan" with me? Anyone?