Am I the only one who thinks of Will Ferell's Robert Goulet impression from SNL whenever I hear the word nature? Yes? Anyway, sometimes a little toddler discovery turns into a ten second project (free & fast = my jam) and it makes me smile enough to want to share the goods, so here they are. We'll call this a tiny Friday update in the name of some "all-natural" fun. As many of you know, much like ceramic animals, outdoorsy things make my heart go pitter-patter (I'm a sucker for a framed sea fan or a collection of nature-ish vacation finds in labeled jars from each trip we've taken). So when Clara and I were playing outside and we found a butterfly just resting on the ground, it was nothing short of amazing (Clara said "the orange and blue part" was her favorite – that's how close she looked).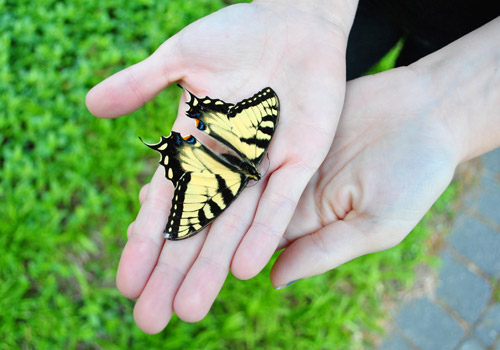 And then I realized that gal wasn't among the living anymore. So sad!
But she was too beautiful to leave out there in the grass, so I carefully scooped her up and decided to bring her inside so we could hopefully enjoy her beauty every day. I thought about putting her in a shadow box but we already have a faux butterfly shadowbox…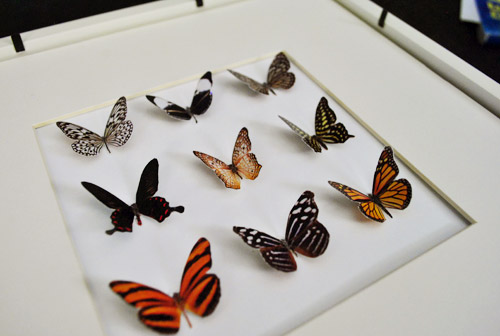 … that we made from a butterfly flyer at an exhibit we went to (more on that here).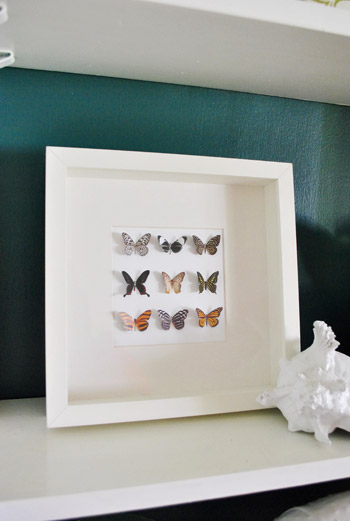 So I decided to let her be just as nature intended, and "parked" her (or maybe it's a him? aren't the guys the colorful ones in nature?) on a piece of coral from a vacation a few years back.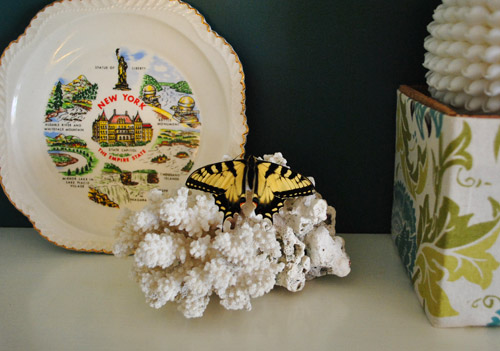 Yup, just like that he landed there and decided to hang out with us in the dining room.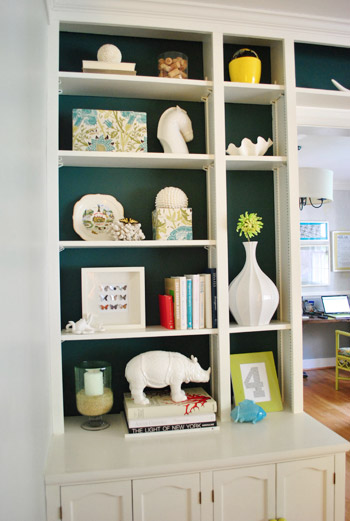 Is that weird? Clara loves looking at "her butterfly" (she knows we can wave, but there's no petting allowed).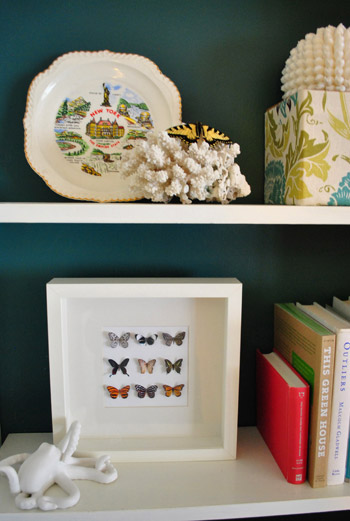 I do wonder if we should do anything to "preserve" the butterfly from eventually turning into dust or something (or getting coated with dust – although I wonder if a quick hair-drying on cool would work from time to time?). Does anyone know what they do when they make shadowboxes with real ones? Are they sprayed with some sort of varnish? Or treated in some other way to keep them looking bright and life-like? I wonder if I could track something down and give ours a little protective (and dustable) shell? Ooh, or what about putting one of our glass domes over the whole shebang (as seen in this old Halloween post) to solve the dust problem?
And since it's Friday, what are you guys doing this weekend? Any fun plans? We have a crazy overdue dining room update along with some basement stuff on the agenda (as well as a bathroom makeover we're planning to tackle for John's grandma in little while), so we'll be back with a lot of those details next week. Happy Friday y'all!
Psst- We announced this week's giveaway winner, so click here to see if it's you.