Who's ready for the big bathroom reveal?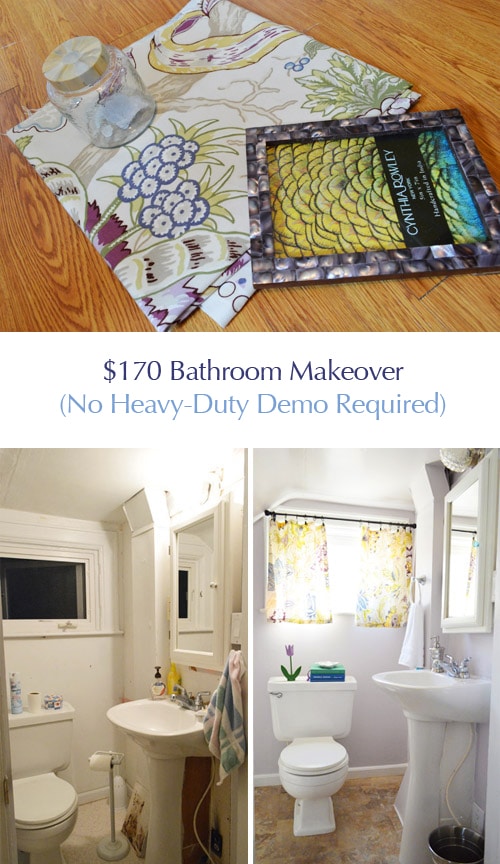 As we mentioned in Monday's post, there are almost always three main steps to room makeovers (some of which take forever and a day, and some that are done fast and furiously, like this bathroom blitz):
prep/planning (brainstorming, picking a color palette, going shopping, priming, sanding, spackling)
bigger upgrades (painting walls, refinishing or painting cabinets, laying new flooring, etc)
finishing touches (curtains, new hardware, art, accessories – all the things that add "you" to the space)
So Day Three (see Day One and Day two here and here) was all about those finishing touches. Here's how it all went down (and yes, I was writing on the back of a paper plate with a calligraphy marker – gotta use whatcha got, haha).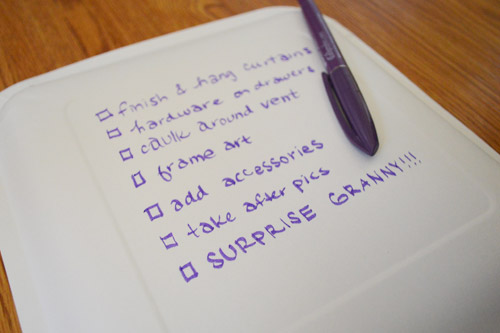 Ta-daaa! It took about an hour to make some custom curtains for Granny's window thanks to some designer fabric (made by Braemore, if that helps) that we scored at a deep discount (at U-Fab in Richmond on our way out of town) and some no-sew hem tape.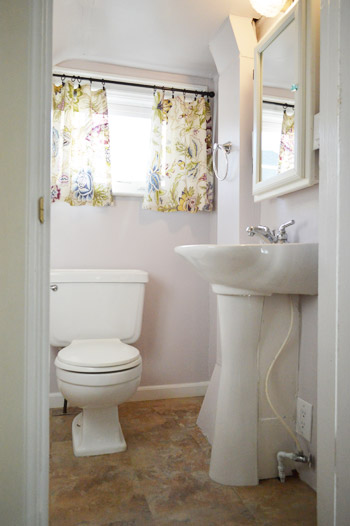 I just measured the window to see how long I wanted them (a few inches below the bottom of the window trim felt best) so I cut two rectangles of fabric that were 29″ long (the length that I just measured plus two inches to allow for hemming) and 31″ wide (to give them enough fabric to feel drapey and full when they were hanging up there). Here's a better shot of the fabric to jog your memory (it's hard to photograph it in front of the window).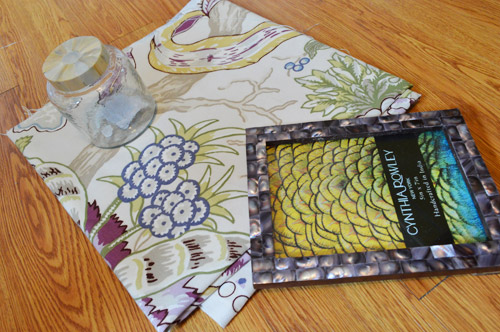 Once they were hemmed on all sides (using this method), they were 27″ x 29″ (my target size after accounting for those extra 2″ in each direction that would be used by the hem). Then it was as simple as hanging a curtain rod from Target and using some ring-clips (also from Target) to hold up my little fabric rectangles.
Here's a close up of the pretty fabric. Something about it just screamed "Granny" to us. It's so happy and sweet.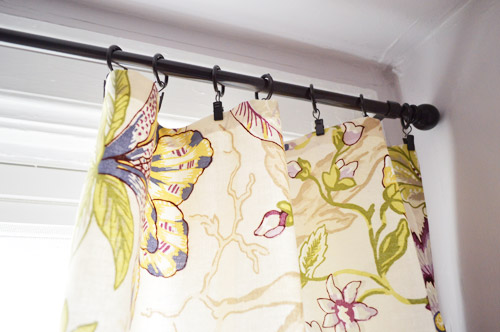 Oh and just when we thought we were done with the caulk on Day 1, we decided that one seam (where the front of the vent met the new flooring) could look a lot more polished with a smidge of caulk) so I made a video for you guys that might help you get a nice clean caulk line:
Then came the fun part: accessorizing tiiiime, baby. In came a lot of items that Granny already had (in colors that we pulled from the curtains like emerald, navy, and violet).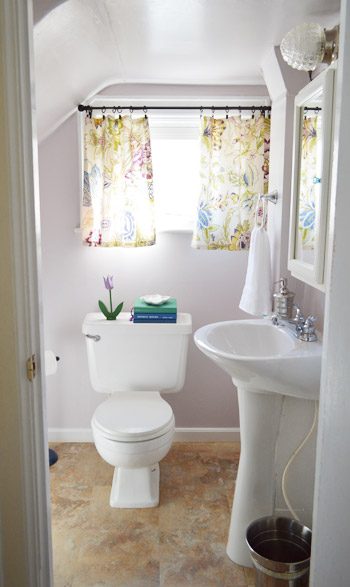 We even grabbed some fresh flowers from the nearby grocery store and plopped them into a vase that Granny already had. And see that wooden tulip on the toilet? Papa actually made that for Granny years ago, so we loved working it into our little room reveal. It's the simple things, right? Speaking of those, how is it that a once-white-now-navy toilet paper holder can be so cute? It's just one of those little upgrades that makes something feel a lot more fun than just going with a basic store-bought version. Note: For some reason the floor looks Snooki-tan orange in some of these shots, so the one below is the most accurate.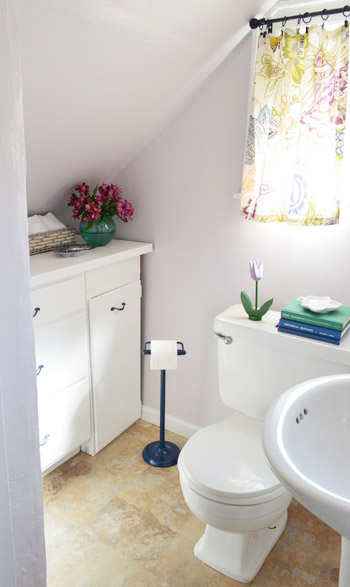 Here's a straight shot of the cabinets with their navy hardware on them (we wish we had enough time to make a false-drawer on the top right – maybe next time we're in town…).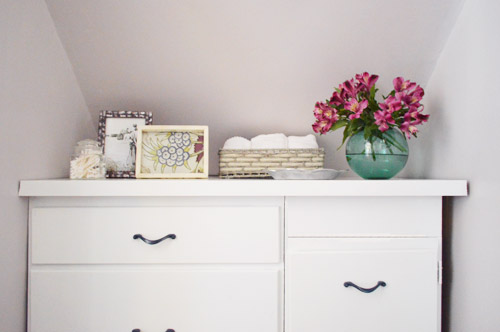 We mentioned that we wanted to bring in some meaningful art, so this is actually a picture of Granny and Papa when they were younger that we shared back in this post. We loved it so much that we got it printed as a 5 x 7 for our new purple frame from HomeGoods. Next to it, I also framed a scrap of extra fabric. Printed or patterned fabric behind glass = free art (and Granny can always switch it out for a picture if the mood strikes).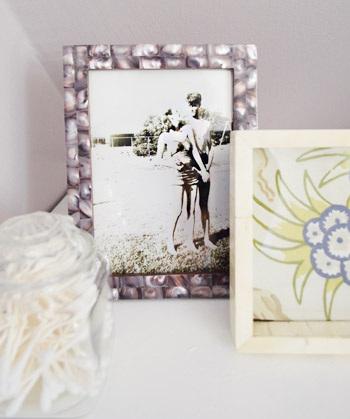 This pretty silver tray was already Granny's, just like the sweet green vase. She has so many awesome things around the house that it was fun getting to showcase some of them in the room reveal – especially since she really seemed to love seeing them in there among some new things like a basket of extra hand towels, the flowers, and the frames.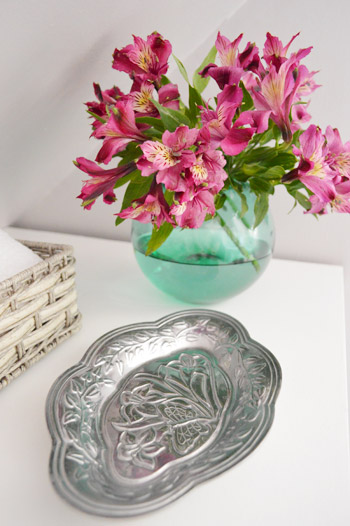 In such a tiny room, we really wanted it to feel cheerful, so while some folks might think it's crazy to stack bold green and blue hardcover books on the back of the toilet, we really wanted to add color and use things Granny already had around.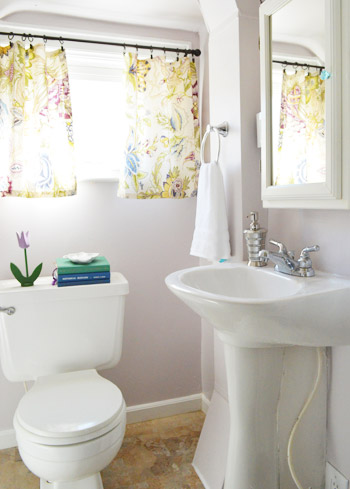 The funny thing is that the colorful books were probably her favorite part along with that meaningful little wooden flower that was made for her by her husband so many years ago. Aww.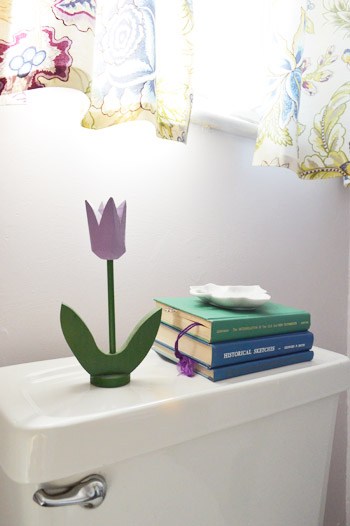 She even noticed the little things, like the small blue knob that we added to her medicine cabinet.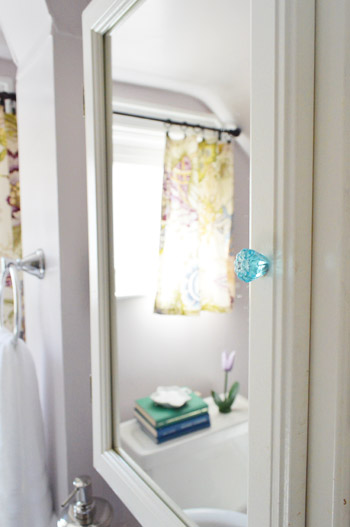 And we can't forget how rough things were looking when we arrived, so here's a flash back to the sink area before… and after we worked a little magic.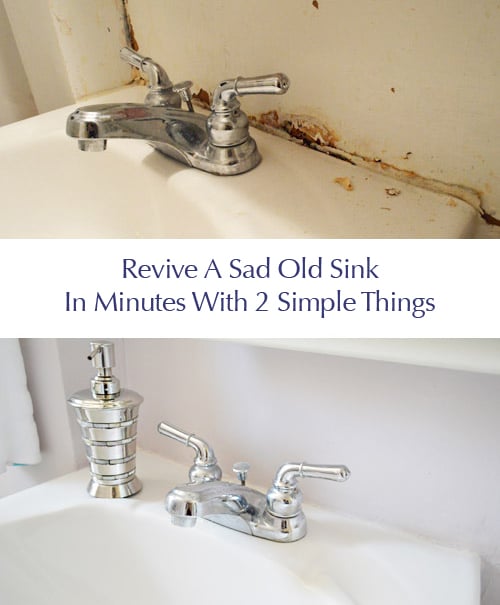 It was a really simple update. We just cut out that old caulk, re-caulked, and painted the wall behind it. Is caulk not the MVP of DIY, or what?
And here's that shot of a few of the other more challenging issues in the room next to a final shot of the space. It's amazing what a few days of work can do, huh?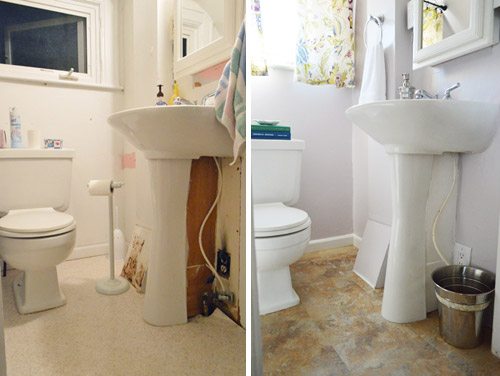 It was pretty darn satisfying to see our to-do list all crossed off:
Brainstorm colors & go shopping for accessories (Day 1)
Spackle/sand/caulk everything to prep the room for paint (Day 1)
Rebuild the cabinets a bit so they look more balanced (Day 1)
Prime and paint the cabinets for a more updated and open look (Day 1 & 2)
Paint the entire room, including the ceiling (Day 2)
Fix a few issues, like a rusted duct and an old dingy corner below the sink (Day 2)
Redo the floors, which were that old sheet laminate stuff (Day 2)
Revive some hardware/accessories with a fresh finish (Day 2)
Make & hang curtains to add some charm (Day 3)
Bring in some meaningful art (Day 3)
Add some functional/meaningful accessories to finish things off (Day 3)
Reveal the whole shebang for Granny (Day 3)
So that's the story of jumping at the chance to redo Granny's bathroom in three days and on a nice modest budget. Is it weird that we're in love with this tiny room now? As in, we joked about bringing an air mattress in the next time we came to visit and sleeping in there. Yup, weird.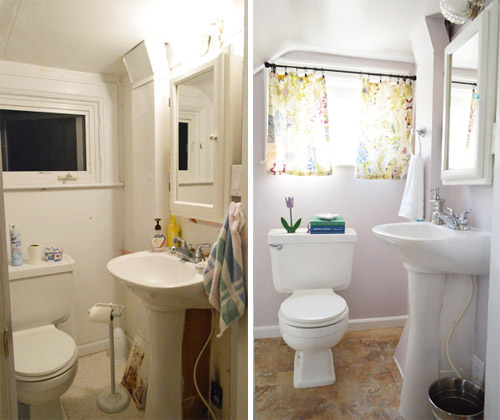 Oh and we did happen to capture the big reveal on tape, but before we get to that, here's a little budget breakdown for ya:
2 quarts of paint, "Hint of Violet" in Benjmain Moore's Aura in Satin (a gallon would have been too much/pricier, so we went for two quarts): $40
Zinsser's Smart Prime & Benjamin Moore's Advance Paint in Decorators White for the cabinet: $0 (already owned from this project)
30 vinyl stick tiles from Home Depot: $30
1 yard of fabric for curtains from U-fab: $15
Curtain rod and ring hooks from Target: $18
Wood for cabinet, new outlets, and outlet covers from Home Depot: $10
Valspar Indigo Stream spray paint from Lowe's: $4
Trash can, towel bar, soap pump, frames, basket, and hand towels from HomeGoods: $45
Blue knob for medicine cabinet: $1.50
Flowers from Kroger: $6
Books, wood flower, green vase, toilet paper holder, tray, glass jar for cotton swabs: $0 (these were already Granny's)
Spackle, caulk, paint supplies, hem tape: $0 (already owned, and carted with us so we had them on hand)
TOTAL: $169.50
Not bad for a new floor, upgraded cabinets, freshly painted walls, new curtains, fresh-looking hardware, and getting to say good riddance to rust and peeling caulk, right? But enough money chit-chat, let's move on to something priceless. Here's Granny's awesome reaction:
The funniest part is that we didn't coerce her to wear that sweater to match the room, she just happened to have it on! We loved that. And we loved that she loved the room even more.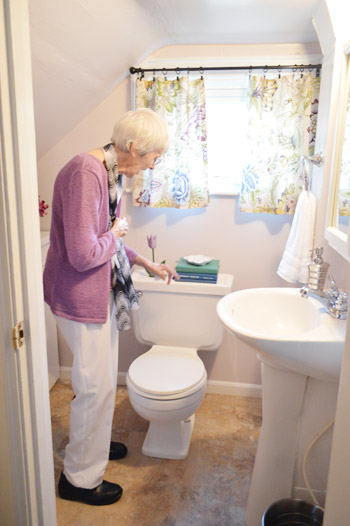 We were so happy to get to do something so fun for one of the sweetest women on the planet.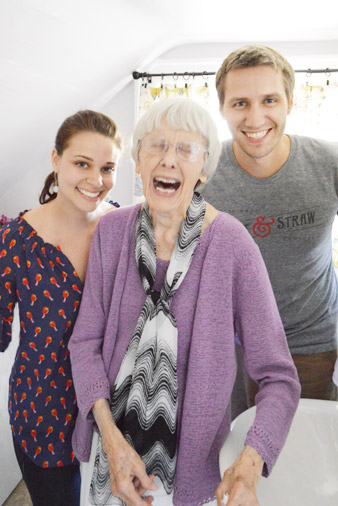 Then we hopped back in the car, and drove home with smiles on our faces.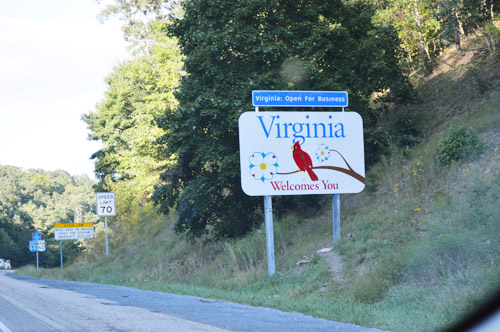 What about you guys? Have you ever gotten an opportunity to help someone else with their space? Did they promise not to peek or were they in on the action with you? We actually loved that Granny gave us free reign and avoided that hallway so she wouldn't see what was going on. And we're so glad that she liked the result.