Fire up your laser pointers and bunsen burners. We're back with our yearly numerical slash statistical goodness. Each year we like to break down what YHL looks like by the numbers. Some are crazy. Some are surprising. Some are serious. Some are, well, just for fun.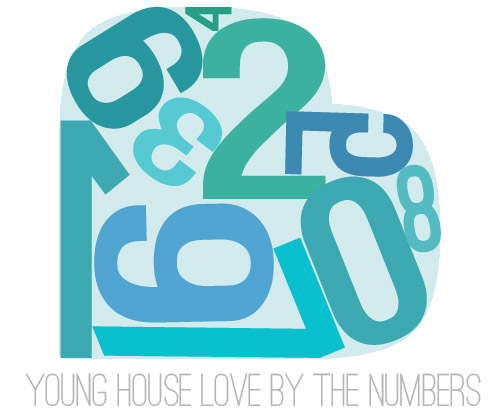 Oh and this year we thought we'd include a few fun blog facts that might blow your mind (no guarantees though, your mind might remain intact).
Fun Bloggy Fact #1: Each month the cost for us to host our site (so it loads well/doesn't crash, etc) is more than our mortgage payment.
Fun Bloggy Fact #2: We have written over 2,311 posts in the past five years, and if they each took an average of 2.5 hours to write (that's the usual with uploading & editing pics) that means we've spent 5,777.5 hours writing posts, which translates to over 240 straight days of post-writing (without any sleep).
Fun Bloggy Fact #3: There have actually been Internet rumors about us, which always strike us as extremely hilarious for some reason. They're usually of the "Sherry is pregnant" variety (I joke that I would have ten kids already based on their frequency) but perhaps the most random one was something we learned about when John's mom called to say that her sister's friend told her we were Mormons (which apparently is a popular rumor about us). Who knew?! There's nothing wrong with being a Mormon, it's just not our religion – so it's pretty funny when your relatives hear something like that through the Internet grapevine! Also, in case you're wondering, I'm not prego. Haha.
Fun Bloggy Fact #4: The total value of all the giveaways that we have hosted on our site in the past five years is over $55,000! And we've given away more value in prizes over the last two months (over $15,000!) than we did over the entire first two years of hosting them on our site.
Fun Bloggy Fact #5: Blogging is the longest job either of us have ever held (if you count the full five years that we've done it, not just the more recent ones when it was our full-time profession).
Fun Bloggy Fact #6: Tori Spelling once called us (herself! For real!) to chat about producing a TV show with us. True story. She was really nice (and there was a goat and a chicken in the background, which was hilarious) but you guys know that we're waaaay too awkward to pursue a TV show gig. I can barely survive almost touching hands with Nate Berkus. We're just happy to hide safely behind our laptops. As for when the call took place, it was actually right after Hurricane Irene, so we were camped out at John's parents house where they had power, and I took this picture to forever memorialize the event.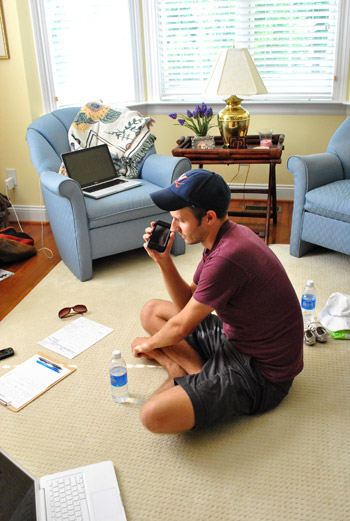 Fun Bloggy Fact #7: Last month our site got 5.5 million page views (crazytown) and our total number of page views for all time is over 143 million (which is funny because we pretend we're writing to ten people to avoid blog stage fright).
OK, now on to a slew of straight-up-stats. We've included some of last year's numbers just for comparison's sake, but you can also look back at our past by-the-numbers posts for our last four blogiversaries to see how things have changed: 2011, 2010, 2009 and 2008.
1,043,621 – The number of total comments left by you fine folks. Nearly double our number last year (570,314) meaning there has been nearly as much commenting action in the last 12 months as our first four years.
76,825 – The number of comment responses we've posted ourselves, which is nearly double last year's total (38,754).
Pamen – Default name Clara gives anything if you ask her "hey, what's that bear's/doll's/person's name?" (Aemon is her second most popular choice). No idea where either of those came from…
4 – Our longest span (in days) of not blogging over the last 1,827 days, also known as the last five years (through having a baby, an earthquake, a hurricane – we're like the postal service, haha).
3 – Average number of times a week we find ourselves at Home Depot.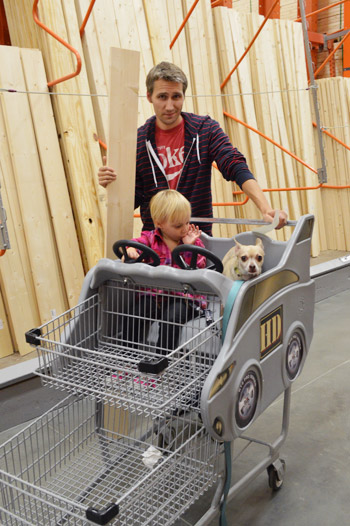 143 – The number of published posts to date on Young House Life (clearly someone's gotta pick up the slack over there, especially when compared to the 2,311 posts that we've written on YHL).
21 – Number of months we've lived in our new house.
27 – Clara's weight. Up from 21 lbs last year. She's tall and skinny like her daddy.
8 – My main man Burger's weight. A smidge down from a whopping 8.5 lbs last year.
198 – Total number of weekly giveaways that we've held since starting them back in November of '08 (after you guys requested them during our very first blogiversary).
35 – Our average number of posts per month.
4 – Number of soda-themed shirts that John owns (up one from last year's total thanks to adding a Coke one to the Dr. Pepper, Sprite, and Pepsi collection).
303 – Number of Instagram photos posted to date.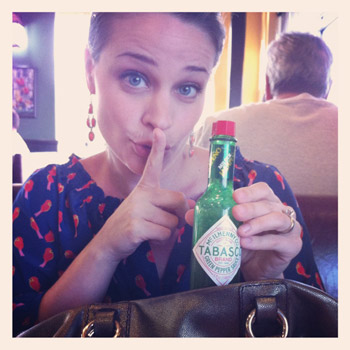 1,800 – Average number of words written per post (we're chatty, huh?).
14,400 – Average number of words written per week (admittedly, this is kind of insane).
629 – The total number of projects that we link to on our Projects page (we still have around 40 to add, but haven't gotten to that part of our to-do list yet. Sorry!)
70 – Number of Clara photos that we've taken for her photo project (52 weekly pictures + 17 monthly pics + 1 for her birthday card).
933,962 – Number of Pinterest followers (this. is. insane.)
1 – Number of ears remaining on Clara's Olivia doll for her dollhouse (don't ask, it was a terrible tragedy and we try not to speak of it).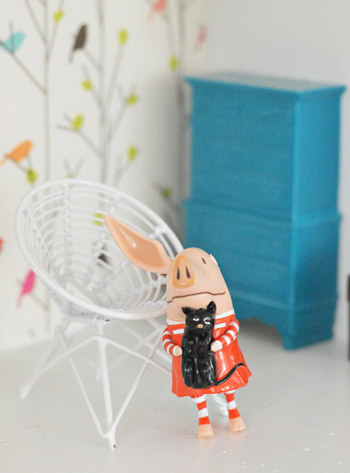 So there you have it. The stats of the year. Do you guys count things like average trips to Home Depot or how many soda shirts you own? Are we the only weirdos who document this stuff?
Psst- You can also look back at our past by-the-numbers posts for our last three blogiversaries here: 2011, 2010, 2009 and 2008.
Update – Some of the most frequent requests that we get are for info about professionally blogging (how we made our site, how we grew our following, how we make money, etc) so we shared all of the details about how we started a blog, grew our traffic, and turned it into a full time job.