Come on, could I pass up a chance to include this SNL clip? The answer is no. No, I couldn't. In other words: soup, there it is.
Anyway, I'm beginning to think that Friday posts should be called Fast & *Almost* Free Projects since we had Sir Butterfly last week and now we have a little soup can craft that I did in honor of my good friend Andy Warhol (ok, so we're only besties in my mind…). How cute are these guys holding some of Clara's drawing supplies on her desk? The colors make me permasmile.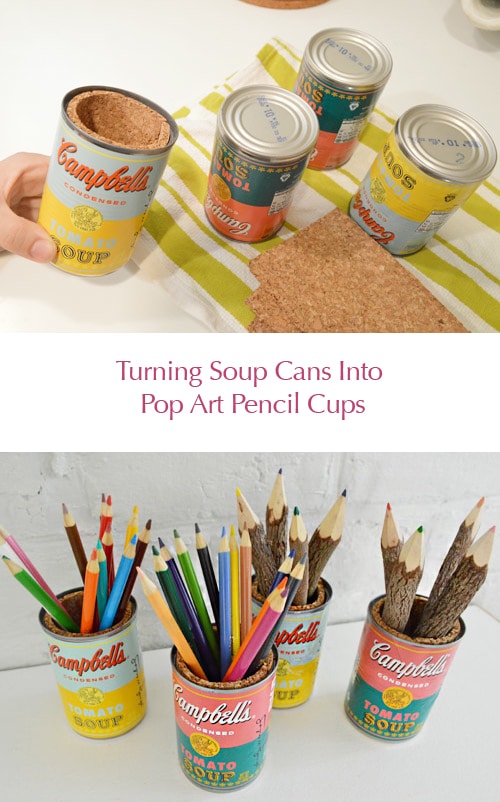 The first step was grabbing four of the limited edition tomato soup cans that Target is currently selling in honor of my buddy Andy. At 70 cents a pop, this entire project cost me $2.80 (since I already had the only other material I used on hand, but we'll get there in a minute). First I emptied my cans of tomato soup into glass tupperware so as not to waste it (it'll be lunch for the next few days, haha):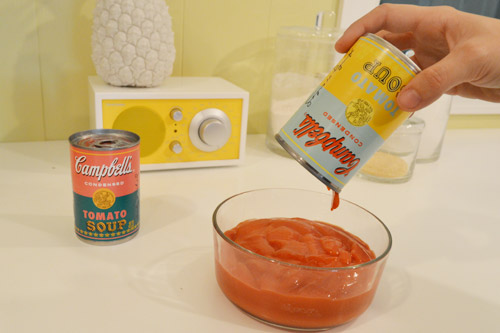 Then I carefully rinsed them out, doing my best not to soak the labels with water (slow and steady, baby). I let them dry out a bit upside down on a towel and even dragged a paper towel around the inside of each one to make sure no water was hiding in there.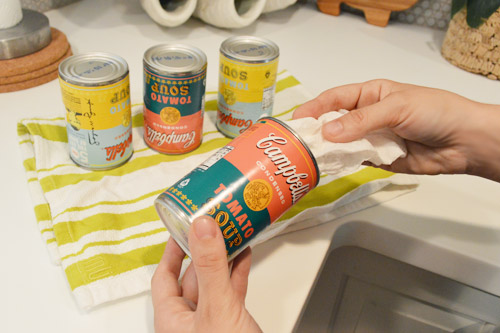 Then it was cork templating time. Wait, maybe I should explain that a bit more. The reason for the cork was because each of the cans has an odd little edge about a quarter of an inch down from the top of the can. So while the top lip of the can isn't sharp at all, there's that little metal lip about a centimeter beneath it that I worried could result in Clara cutting her hand if she put it into the can and yanked it out quickly. So I did the safety-first mom thing and decided that by making a little cork liner for each can, it would completely cover that little edge that's a smidge lower than the smooth top lip. The key was making sure the cork was tall enough to go over that lip, so there's no way a little hand (or tongue, or toe) could rub against that part anymore, because the little cork "sleeve" would extend above it. I actually used a paper towel to make a template, like this: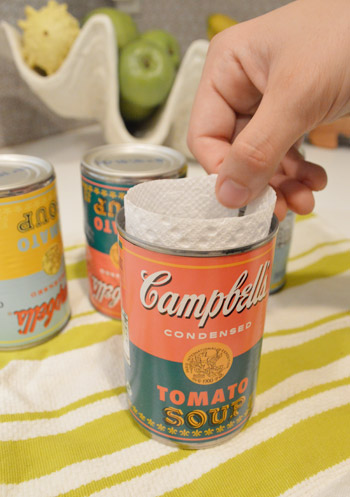 Then I used my paper towel template to cut some cork rectangles of the same size: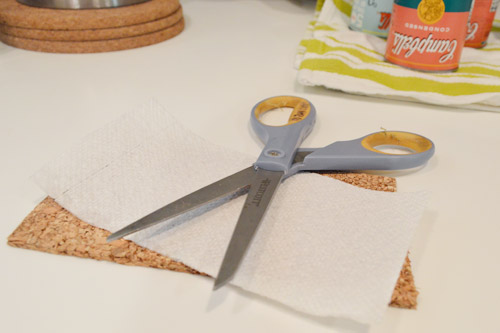 I used old cork squares that I had (leftover from this project) to create the long rectangles that could be gently curled (don't be too rough with them or they can crack) and slipped right into each can.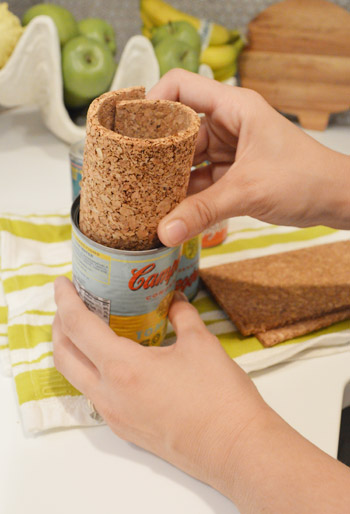 Voila. A little cork liner to keep anything from being sharp (they also look pretty charming, like those old cork-lined pen holders of yore). And the cork is super stuck in there once you get it in, so it's above Clara's skill level to somehow wedge it back out, which is nice peace of mind for a paranoid momma like myself.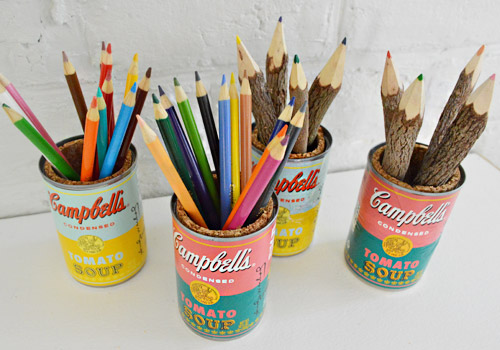 So that's my little $2.80 Friday project. Don't they look cute next to Clara's little crayon-truck masterpiece?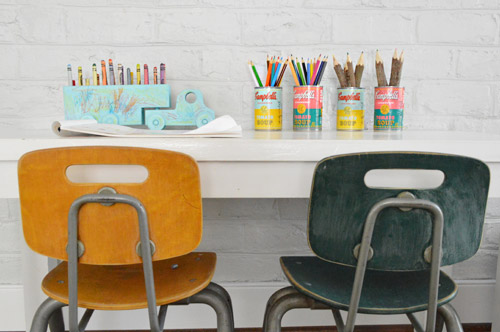 Here's hoping Clara grows just as fond of my BFF Andy as I have after years of studying him along with my other artsy friends like Klimt, Vermeer, Renoir, and Toulouse-Lautrec (FIT, represent – we were required to take a million years of art history, and only now do I appreciate that).
Any other fast and almost free projects going on this Friday? Any fun weekend plans? Any favorite artists? Oh and since I'm sure folks will ask, those awesome stick-like colored pencils are from a local shop here in Richmond called Mongrel. Since Clara's three favorite "toys" are rocks, sticks, and sand, I couldn't resist…