Waaaaay back when we mentioned that we'd be converting our third bedroom into a nursery, we admitted that we loved the asymmetrical wall of frames too much to remove it. But we did plan pretty much from the start to switch out some of the randomly framed prints and pictures with more kid-friendly and cheerfully toned art that's fitting of a little girl's nursery. So here's what it looked like before our big art-swap-fest: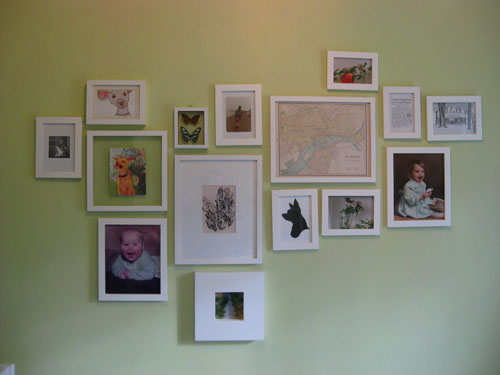 And here's the same asymmetrical arrangement of frames after the big switch: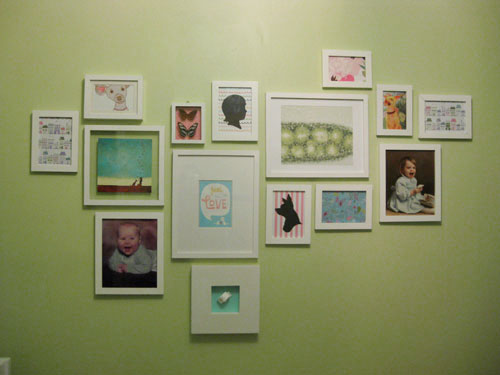 Now we'll zoom out so you can see it in context with the rest of the nursery. Don't the blues and pinks and greens work nicely with everything from the patterned curtains to the soft aqua ceiling? We think it's fun and mismatched but it still feels like it goes together without anything feeling too overpowering or clashy.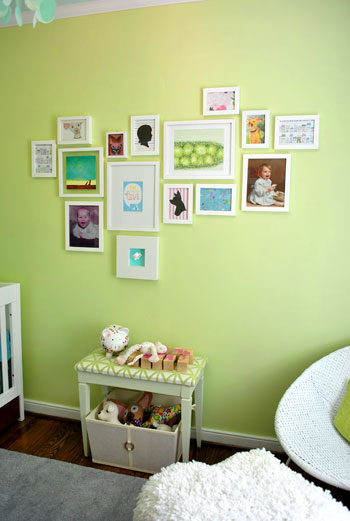 And true to form we didn't want to break the bank when it came to our little art 2.0 project. So we hit up Michael's for some almost-absurdly-priced craft paper to repurpose as wall decor. And when we say almost-absurdly-priced, we mean that it was no more than 99 cents a sheet- and most of it was just 60 cents a pop.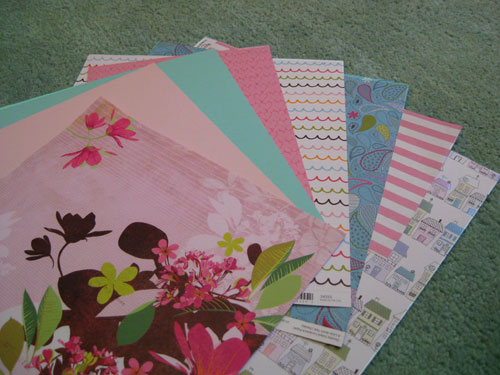 In fact we got all of the decorative paper that you see above for just a total of $4.99. And we framed some of it on it's own (like that cute paper with house illustrations on the bottom of the pile) and used some of it to layer underneath other items that we planned to showcase- like the bean's hospital bracelet. Of course we don't have one yet, so I made a little paper placeholder until we come home with the real deal.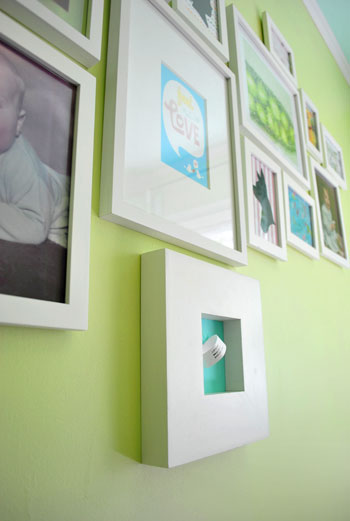 John also came up with the idea to tape some pink heart printed paper behind a glass shadow box full of faux butterflies that we already had hanging in that very spot. It definitely took them from science-y specimen-looking things to cheerful nursery decor in about thirty seconds.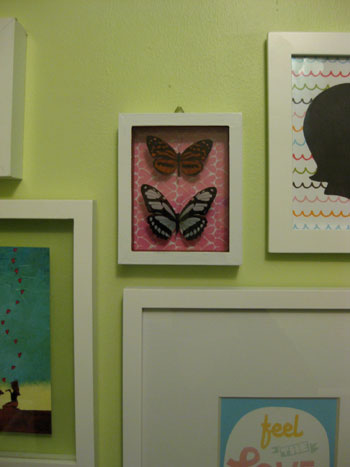 We also already had that cute black cut-out silhouette of Burger (which John got me a while back) so we carefully untaped it from the white paper backing that it was mounted on and replaced it with some fun pink & white striped paper instead. It's instantly more playful and beanette-appropriate, right? Not bad for 69 cents worth of scrapbooking paper. We also decided that we'd love to someday incorporate a similar black cut-out silhouette of Baby P, so we framed another sheet of playful squiggly line paper and whipped up a quick placeholder silhouette that we'll someday switch out for a real one of our little girl.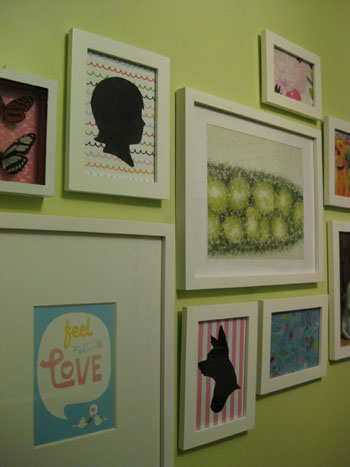 And do you see that "Feel The Love" print to the left of the Burger silhouette in the photo above? We couldn't help getting a little DIY after we saw this adorable Skinny Cow ad in a magazine that we were reading. We loved the message, the typeface, and even the color…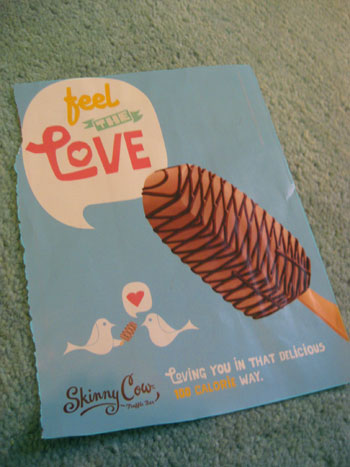 … so we scanned it and used Photoshop to remove the ice cream bar and move the cute "lovebirds" up closer to the voice bubble. Then we printed it and popped it into the frame. Voila- free magazine inspired art (check out another idea for free magazine art right here and here).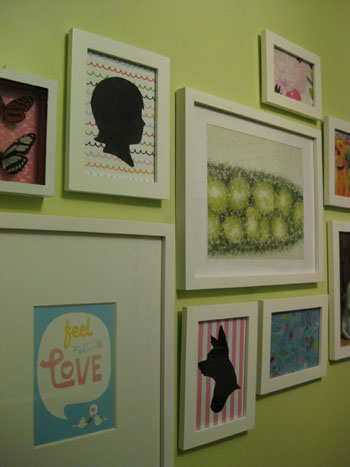 Next we trolled Etsy for affordable art that would work with our palette (we love supporting small businesses and handmade goods almost as much as DIYing things ourselves) and found that sweet aqua-toned girl & her dog print that you see in the photo below (right next to the "Feel The Love" frame). It was actually a limited edition print for just $12 and it featured a girl with her dog and a bunch of hearts floating up into the sky. We thought it was a perfectly reminiscent of Burger and Baby P's undeniable future-friendship, and the price was definitely right so we snatched it up. Good thing we did because it later sold out (see it up close and learn more about the artist right here).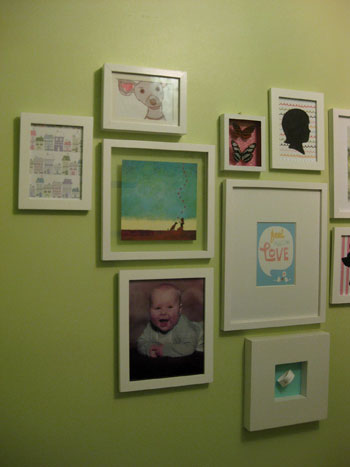 We also sprung for another print that we thought was too fitting to pass up. It's actually a print of peas in a pod, but when you get closer you realize that the peas are made up of the letter P… as in Baby P! It's kind of a hidden monogram of sorts- and we love that it also works perfectly with our color palette. This print actually hailed from Wall Blank and was ours for just $25. We think it was well worth the personal-ish slant that it adds to the whole arrangement. Note: Wall Blank was going to be under construction this week but they reopened their vault just for YHL readers today! Feel free to check out all the affordable art while it lasts!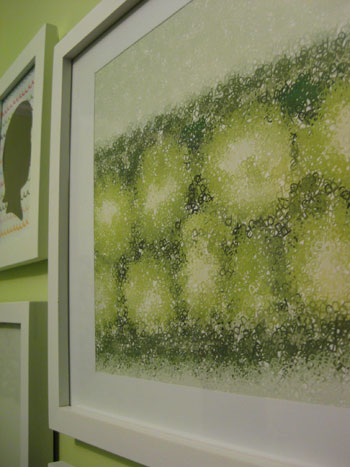 So that's how we used some 60 cent craft paper and two playful prints to give our nursery's asymmetrical wall of frames a fun dose of color and pattern. And although it could easily cost well over $100 to deck out 15 different frames with art, we pimped ours in just $42 ($5 craft paper + one $12 print from Etsy + one $25 print from Wall Blank). And the whole room just feels infinitely more happy and fun. We keep walking in there just to look at everything. And we can't wait to hold the bean up so she can take a gander at the wall of art that we tossed together in her honor. Especially the part where we compare her little face to our baby pictures to see who she looks more like (John's gunning for giant cheeks like he had as a baby- which would definitely be cute).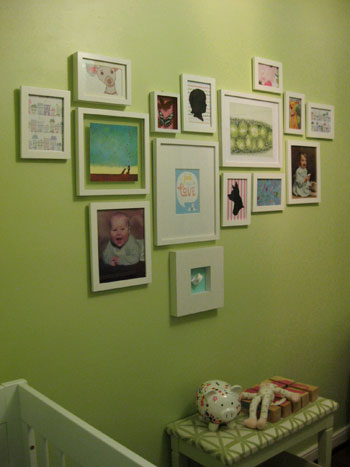 Oh and you might notice that there's a little celery-toned upholstered bench that now lives under our art wall. We found it for $7 at a thrift store, painted, and recovered it a while back, and slid a big basket for toys that we also already had underneath it. We love that the setup worked so seamlessly with the rest of the nursery design, and we definitely welcome the added storage space and the padded ouch-proof bench top.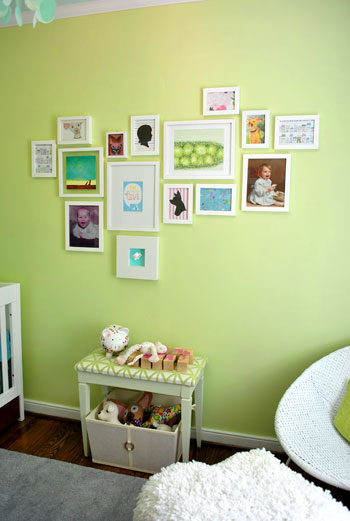 So that's where we are with the nursery these days. We're definitely rounding home plate and actually plan to share the full monty reveal next week. Time flies when you're having fun (and having a baby apparently!). What do you guys think about our little art swap fest? Have any of you framed something that's not necessarily art (like an ad torn from the pages of a magazine or your baby's hospital bracelet)? Have you perused all that fun printed and patterned craft paper at places like Michael's and Ben Franklin in hopes of gaining some cheap wall decor? Have you snatched up any great Etsy prints as of late? Let's talk about DIY or homemade-by-someone-else art on the cheap.
Psst- Wanna see our nursery progress from the very beginning? Here's our painting post, our big shopping spree, our crib hunting rundown, our curtain-making tutorial, our fun little chair search, our mirror-painting extravaganza, our DIY faux sheepskin project, our big dresser makeover (and subsequent drawer lining project), our closet makeover, our homemade crib skirt undertaking, our DIY mobile adventure and our shelf building project. Fun, fun, fun…