We're back with our homemade nursery curtain panel how-to.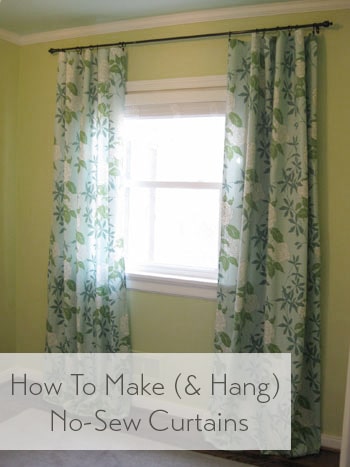 Remember when we revealed our punchy patterned find during last week's shopping post? Well here's how we took it from one big bolt of rolled up fabric by P Kaufmann…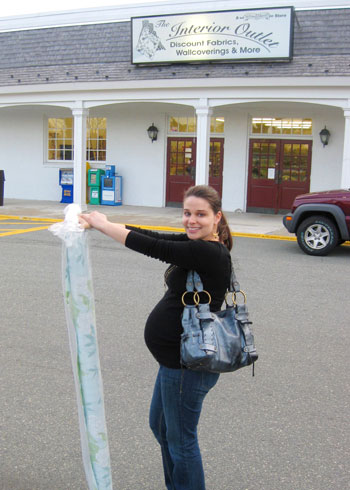 … to three gorgeous floor-length curtains (two for the window and one for the doorless closet). And probably best of all: there's no sewing machine required. In fact, here's my short and sweet list of supplies: tape measure, scissors, iron on hem tape, and an iron of course. Plus we even added a few kid-safe features so stay tuned for those details…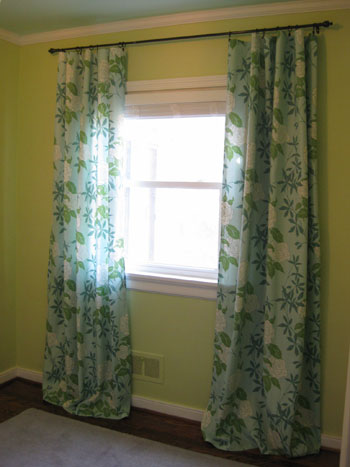 But before we get into all the dirty curtain-makin' details, we should mention that we hope our baby sleeps well. So in the interest of aiding our little one in that area, we decided that we also needed to grab some sort of 100% light-blocking blinds or shades. So we trolled the aisles of Home Depot and found some chic white faux-wood blinds. We loved them because they felt almost like substantial wood shutters when they were lowered (a lot more solid than those thin plastic or metal venetian blinds) and they definitely would block any and all light when in use (and could easily be pulled up and out of the way to let light stream in during the day).
But here's the bummer. Of course they didn't come in the exact measurements of our quirky old house's window (39 1/4″ wide in case you're wondering). Sadness. But we soon learned that Home Depot could actually cut them down to custom fit our window perfectly- and the cutting service is F-R-E-E. That turned our frown upside down. So we give the guy in the orange apron our window's odd width and he had our custom-cut clean-lined faux wood blinds waiting for us about five minutes later. The blinds weren't super cheap at $37, but they look convincingly like much pricier white wood blinds and we know the darkness that they'll provide will be priceless when we're dying for one more minute of sleep.
Of course we also liked that they didn't have those dangerous loopy pull cords (they were labeled as having "kid safe cords" that are actually separated instead of connected so they're less of a strangulation hazard- no loop to get caught in). And of course we plan to keep them wound around one of those cord wrangling pieces of metal at the top right corner of the window far out of baby's reach anyway, but we love the added loop-free design.
And since we love a before picture, here's the window prior to our little curtain and blind fest: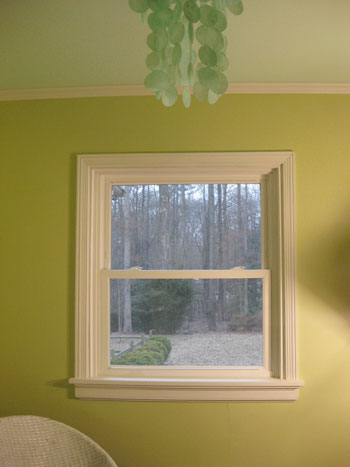 John had the blinds up in about twenty minutes, but they definitely left a lot to be desired in the length department. They were actually a bit heavy to raise and lower, all due to the fact that they were at least two feet too long for our window, so there were a bunch of slats that just clumped together at the bottom of the blinds when they were in the "lowered" position. Luckily in the installation instructions they actually detailed how to shorten them to customize their length to fit any window. Nice.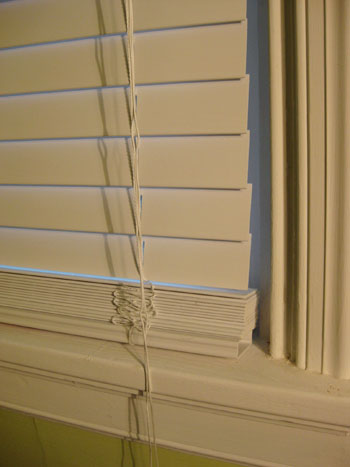 So John just followed the included directions and popped out these little plastic pieces on the bottom and could easily remove as many slats as he'd like and trim the excess string. Then he just popped the bottom pieces back on and we had an even more customized nursery blind that was a lot less cumbersome to raise and lower without all those extra slats at the bottom. Then, like a finely tuned relay team, John tagged me and said "your turn" and I began working on the curtains.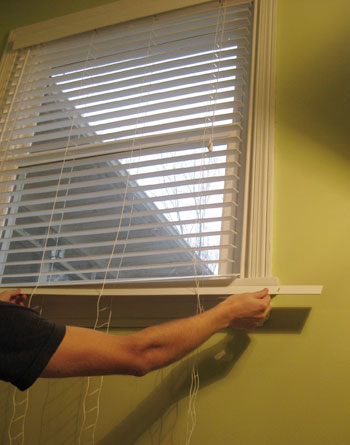 First I measured the approximate height that I wanted the curtains to be (just shy of 8′ for an almost floor to ceiling look) and added an inch and a half on the top and bottom to accommodate the hem. It was actually a nice clean measurement in the end because I determined that cutting two eight foot long sections of fabric would do the trick perfectly (since I wanted them a bit shy of 8′ but with the added hem measurement it brought them right back up to 8′ exactly). Hurrah for no quarter of an inch calculations!
The other super convenient thing about measuring out my fabric was that we already happened to have our new 5 x 8′ rug on the floor… so to cut my 8′ long fabric sections, I simply rolled the bolt from one end of the rug to the other and cut a straight line using the edge of the rug as my guide. It doesn't get much easier than that. And for the width I just left each panel as wise as the bolt allowed (so I didn't need to trim those edges at all).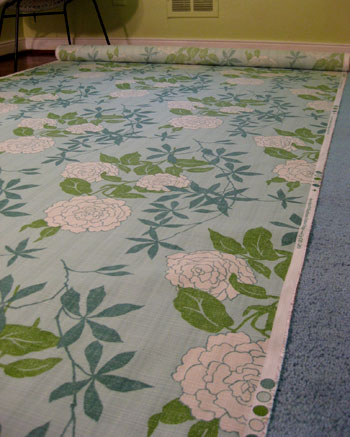 Then it was time for my trusty Heat N' Bond iron on hem tape (I always grab the "ultra hold" variety). You may have seen us using it in this crib skirt tutorial from a while back and we've also used it to hem all the white Ikea curtains that we have hanging in the rest of the house. In short: I'm a hem tape black belt (the irony is that John does all the clothes-ironing in the house). Anyway it's great stuff for leaving a polished and clean-looking edge (a lot more reliable then me with a sewing machine!) and it's even washable and super cheap (we grab ours for a few bucks a roll at Michael's). So I whipped out the ironing board, fired up the iron, laid out my big eight foot long fabric panel and had my scissors and hem tape on hand.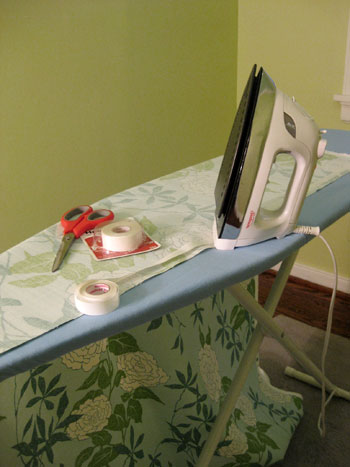 All it took was an easy-iron hem on each of the four sides of my fabric (for step by step hem tape instructions, just check out this post). Then I had a nice finished panel (without any rod loops or tabs) that I could clip up using my cheap-o oil-rubbed bronze curtain rings and rod from Target. Just look at how seamless and perfect that edge is! Much more even and less bunchy than anything I could sew…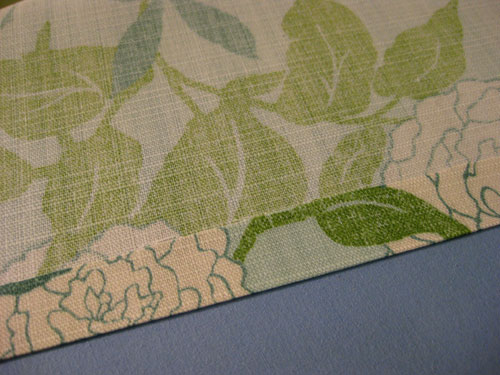 Then I tagged John to get to work hanging the curtain rod with heavy duty anchors (so it'll never come toppling down, even if over 100lbs of force is used) while I created a third curtain panel for the closet (this one only needed to be seven feet long). I also made a little rod pocket at the top of this panel (I just positioned hem tape about 4 inches below the edge of the fabric and ironed the fabric to that line of hem tape created a nice loop of fabric). Meanwhile John was already executing my let's-cheat-our-off-centered-window-so-it-looks-more-balanced plan.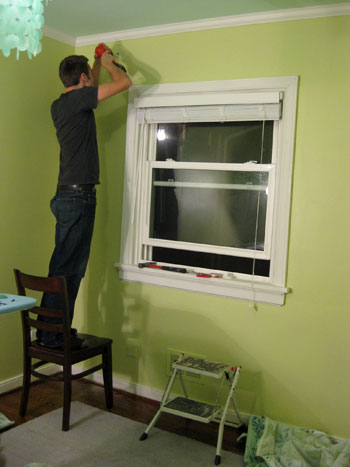 This angle gives you a better idea of what we were dealing with. See how the window is shifted a bit too much to the left? Well it's nothing a curtain rod and some billowy floor length curtains can't totally solve. I asked John to hang the left curtain rod support hook only about four inches wider than the trim on the left side of the window but requested that he hang the right curtain rod support hook about fifteen inches wider than the trim on the right side of the window.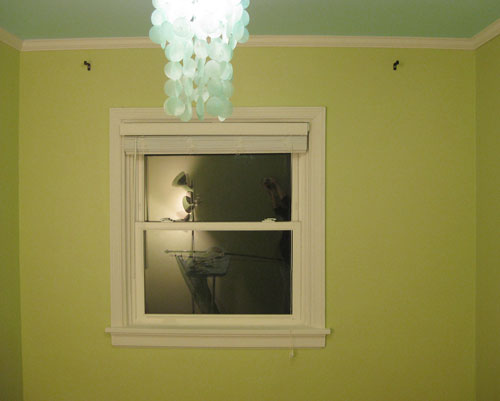 This way, once we hung each of the curtain panels, we could cheat them both over to the right (blocking a bit of the window on the left side, but adding a ton of balance and polish to the room):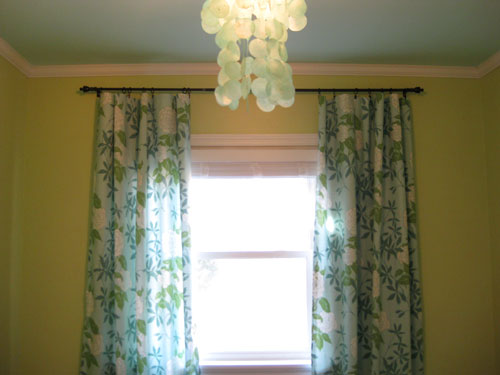 And we also mentioned in our shopping post that we snagged our simple oil-rubbed bronze curtain rod along with two packs of curtain rings on clearance at Target for less than $12 total. We love the height and the elegance that the shot of dark color brings to the wall, and love that it echoes everything from the mocha finish on the floor to a few of the darker wood accents that we'll be bringing in to keep things from getting too sugary sweet and matchy-matchy.
Plus the clip-on curtain rings are actually something of a safety feature. Remember how we mentioned that someone could hang on those curtains without the rod coming down thanks to the use of some heavy duty anchors? Well we also realized that using clip-on curtain rings would allow for just the fabric panels to pull down if anyone got too rowdy and tried to swing from them (while the rings and the rod would most definitely stay put). We even tested them out by tugging on them a bit, and although it took pretty much all of my pregnant adult weight, sure enough the fabric was released from the rings and fluttered lightly to the floor while the rod and the rings stayed nice and securely in place on the wall.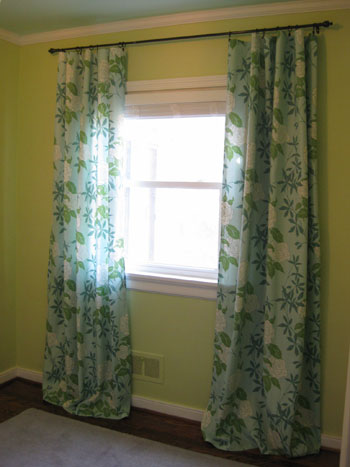 And as someone who has never used curtain ring clips before I just have to sing their praises. Not only are they nice little secret safety features, they also create such perfect little "waves" in the panels which result in such an amazingly high end look (and best of all, there's no rod-pocket required, so you can hang any panel of fabric without worrying about extra sewing or loop-making).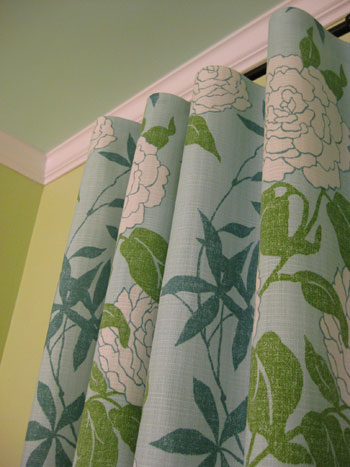 Update: This P Kaufmann fabric seems to be discontinued now, but here's an affiliate link to another fun oversized floral print on amazon for anyone looking for something similar.
Oh and we can't forget our tiny little blue closet (thanks to John's cute idea to bring the aqua color from the ceiling into the mini enclave for fun). Doesn't the curtain panel add some nice pattern and sweetness to a closet that was formerly pretty bleak looking?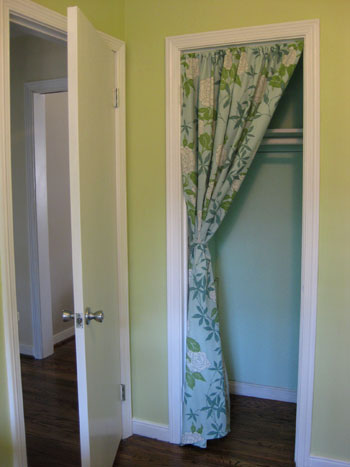 Maybe we should refresh your memory with a before pic: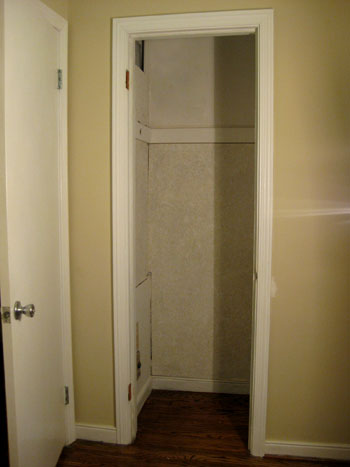 It's looking better already, right? And of course we still have to add bins, baskets, and more hanging rods (along with some sort of storage piece on the floor of the closet).
As for how we swagged our curtain panel so it's mostly out of the way, we just hung it on a $3 tension rod (one that screws into both sides of the molding for more reinforcement than those that rely only on tension). Then we added a regular old Ikea coat hook that we already had on the left side of the closet's interior trim. Next I made a little strip of fabric (using my trusty hem tape to finish the edges) and used that to create a loop around the curtain panel. Note: it's safety pinned in the back so it can easily be removed and readjusted.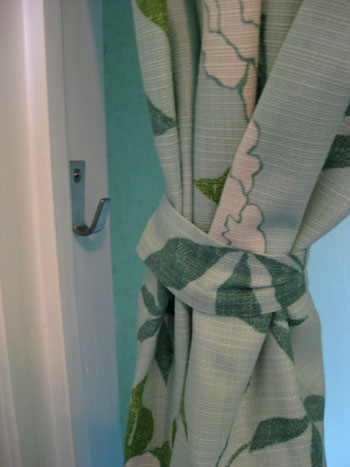 Then it was as simple as slipping my loop of fabric onto the hook on the side of the closet to hold the curtain off to the side.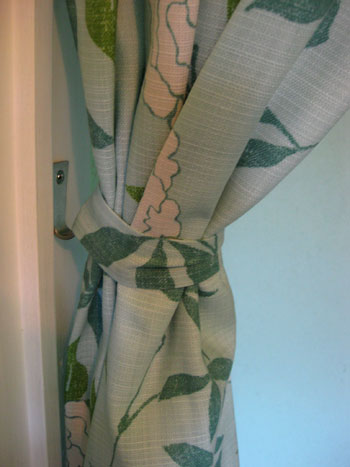 So that's the story of how we made our off-centered window look more balanced, blocked out all the light for less sleepless nights (fingers crossed) and added a fun pop of pattern to both sides of the nursery in the form of breezy floor-length curtains (which make the ceilings feel about a foot higher). Plus we only spent about $35 a panel (with almost an entire yard of fabric leftover!). Oh and it always makes us smile at our fabric luck when we recall that it's actually indoor/outdoor fabric, so it's a lot more stain and fade resistant than the average bear (although still completely washable). Which is a good thing when it comes to sticky fingers and goey faces…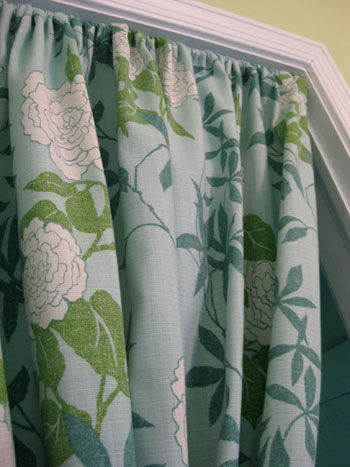 But what about you guys? Have you made your own curtains before? Do you have a closet with a panel of fabric on a tension rod in lieu of a door? Spill the sewing (or hem tape) beans.
Psst – Wanna see our nursery progress from the very beginning? Here's our painting post, our big shopping spree, and our crib hunting rundown.

Update – Want to know where we got something in our house or what paint color we used? Just click on this button: