You all remember where we left off when it comes to the big nursery makeover, right? We painted the walls a nice pear color and added a splash of light aqua to the ceiling: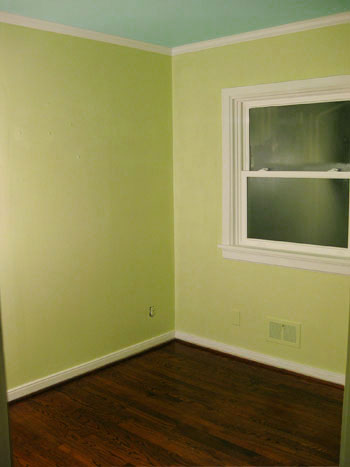 Well… then it was time to go shopping. And not just any kind of shopping. Seriously determined we-have-a-goal-and-we'll-make-fifty-stops-if-we-have-to shopping. And that goal was a lofty one. We set out on a Saturday morning with the hope of hunting down five distinct items for the recently painted nursery by that very evening:
Some sort of light fixture, either a big fun patterned pendant lamp or some sort of playful and sweet chandelier
A plush 5 x 8′ 100% wool rug (without any rubber backing or synthetic materials since we're trying to keep the nursery as VOC-free as possible)
Tons and tons of fabric to create three curtain panels (two for the window and one for the now-doorless nursery closet)
A simple clean-lined curtain rod to hang the aforementioned window panels once they're made
A vibrant mirror that will hang across from the window to reflect light around the room, thereby brightening the space)
That's a pretty specific list, eh? We didn't even really think it was possible, but we do our best under pressure so we listed all the items that we wanted out loud a few times- just so we had something to strive for. And what do you know… we actually returned home with every single item on our list! Sure it took us almost seven hours of driving around and ducking into nearly eight stores, but we got 'er done. Plus we did this all on the same morning that we picked up our nursery paint. Yeah, we weren't kidding when we said it was a serious shopping blitz. Here's what our back seat looked like after a long (did I mention long?) day of shopping: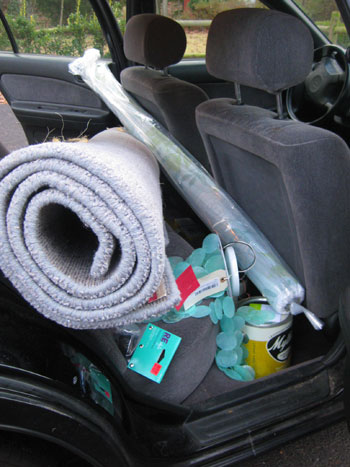 We're actually approaching the transformation of this room just as we did all the other rooms in our house except for the recent basement and full bathroom makeover that we shared. In those instances we whipped up a mood board of sorts beforehand (check out the bathroom one here and the basement one here). But when it came to every other room here at Casa Petersik, we decorated in stages and took a let's-see-what-we-find-and-go-from-there approach. The funny thing is that both methods are pretty parallel when you think about it.
Making a mood board usually involves us finding an item that we love and drawing inspiration from that single item's style and/or color (be it a rug or a pillow or even a drawer pull) and building a room around it. So when we whip up mood boards we might start with a graphic patterned rug which leads us to other furnishings and accessories that seem to complement and play up all the things that we liked about the initial piece that started the whole board. Similarly, when we shop around and take a less pre-planned mood-board-ish approach, we usually still find something that gets us thinking in a certain direction, and from there we find other items that complement that initial item. There's just more of an open plan with the second approach, since it's not like we hop online and order everything in one fell swoop. Instead we sort of let things happen organically and do some fun pavement pounding over the course of a few weeks (or even months and -gasp- years) to create a room that we love in the end. Of course with a baby girl coming along in less than four months we don't really have years to devote to this room, but we definitely don't have to finish it within a week or two either.
So on this particular Saturday we didn't have any pre-planned mood board to follow, we just had our cheerful pear and aqua walls as a starting point of sorts (tip: always bring your paint chips with you when you shop, so you can hold them up and see how they "play" with new items that you're eying). The first stop was a local discount fabric store here in Richmond called The Interior Outlet. The first bolt of playful and graphic pattern to catch our eye was this print with a richer and brighter version of both our pear wall color (seen in the flowers) and our light aqua ceiling color (seen in the leaves). But although we liked the bold design, we wondered if there was something a bit less über modern and a smidge more modern-meets-traditional (since we envisioned clean lines and punchy patterns in the room without much stark white- and with a bit more of a charming lived-in look).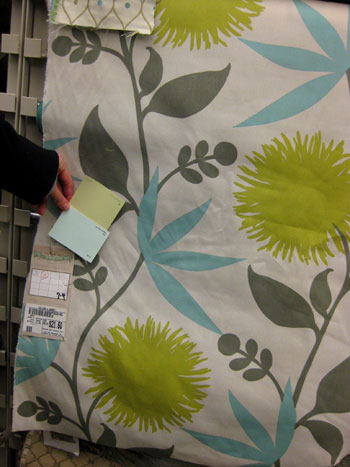 And then we saw this beauty. As Carrie on Sex & The City would say: well hello, lover. It really was love at first sight. Everything from the slightly deeper aqua background to the modern yet charming print felt warm and sweet and perfect for our little beanette. Plus when we held up our paint swatches they felt like they would seamlessly create the perfect backdrop for our new favorite fabric in the world. The other amazingly fortuitous thing about this particular fabric is that it's actually an indoor/outdoor textile made by P Kaufmann/Waverly (which still feels soft and billowy to the touch, but is not only fade resistant but dirt, water, and wear resistant). Um, could it be more perfect for a little girl's room?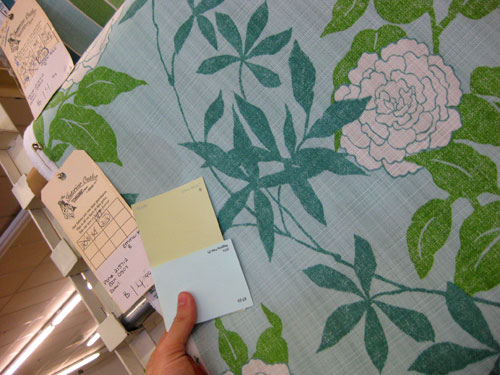 And the $14.99 a yard price was nowhere near where most designer fabrics usually range, but it wasn't exactly $2 a yard either. Especially because we needed tons of it to make two floor-to-ceiling window curtains plus a third curtain to use in lieu of a closet door. But when we did the math and deduced that each of the three panels that we needed would be around $35 a pop (plus we'd have a few feet of extra fabric to play with when it was all said and done) we decided to make our move. After all, the rest of our home's breezy white curtains were just $7 each (thanks Ikea!) so we reasoned that splurging just this once for our baby girl was ok- especially because we're pretty sure these babies will MAKE the room. Well, along with the other baby of course.
Plus we found the perfect clean-lined oil-rubbed bronze curtain rod with little ring hooks (won't they look so posh for a bambino?) on clearance at Target for a total of $12 (for two packs of rings and the rod!). So we felt further vindicated that our custom made curtains would be well worth it in the end. Spoiler alert: we've since made them and they nearly made me cry with joy when we hung them up. Yeah they're that good (stay tuned for that post early next week).
But back to our Saturday shopping spree. Here I am standing in front of the fabric store proudly showing off our new fabric and my baby bump. Side note: everyone, including fabric vendors, is nicer to you when you're pregnant. No, we didn't get a discount or anything but they were all smiles and treated me like a preferred customer. I could get used to this…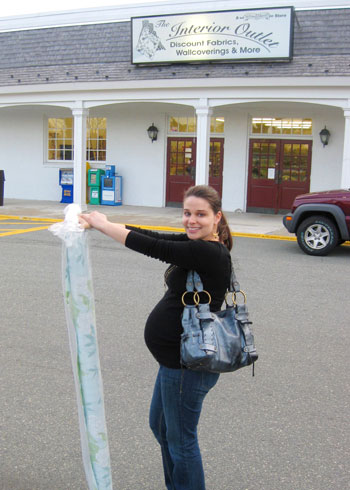 Ok, but back to the search. We checked off fabric and a rod but still had three more boxes to tick off: overhead lighting, a rug, and a mirror. So we headed over to a store that we knew could potentially kill at least two birds with one stone (that expression is kind of gross when you think about it). It's called The Decorating Outlet, and it's actually a local shop that we hit up from time to time- just to see what they have. And what do you know… they had THE PERFECT CHANDELIER. Everyone knows that I'm a sucker for capiz, and this capiz shell chandelier was aqua! Hello? Can you picture the happy dance that ensued (complete with some belly-holding to make sure not to jostle the beanette more than necessary)?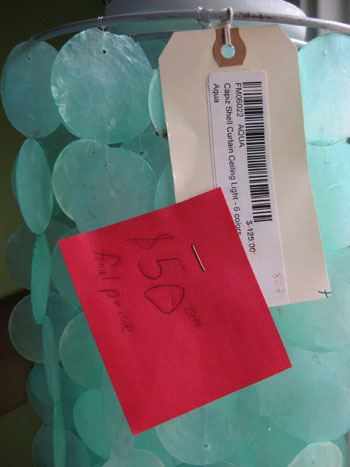 Yeah, it was kind of epic. And the great thing is that the nursery is actually visible from our bedroom (and vice versa, they're right across the hall from each other) so we love that this longer and punchier capiz chandy in the nursery will be visible from our room which boasts a wider and more subdued white version. It's like they're related but not too matchy-matchy. Almost like our bedroom chandelier had a sweet playful little baby and we adopted it for the nursery across the hall. And I haven't even told you the best part yet. It was marked down from $125 to $50. Sold!
Here's a sneak peek of it hanging up with our lighter aqua ceiling and the fun pear wall in the background. We love the texture and the sort of childlike magic that it brings to the space. And we mentioned that it was longer than the one in the bedroom, right? In fact we feared that we might have to snip a few discs off the bottom since John's a tall guy and we didn't want him walking into it, but it's perfect as is! Long and dramatic but totally walk-under-able. Whew.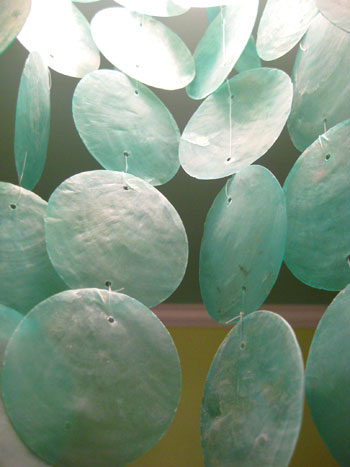 But the party didn't stop there. We knew the lighting outlet also had rugs, and thanks to an "end-of-season-clear-out" (which may or may not go on all year round- you know how those signs act like something is special but sometimes it's always in effect?) all of their in-stock rugs were 50-75% off! As we mentioned we really wanted an 100% wool rug (without any rubber backing or synthetic materials since we're trying to keep the nursery as VOC-free as possible) and they had a bunch on hand for us to choose from.
Unfortunately many of them had a bit of fun pattern, which was nice but we knew that we wanted our patterned curtains to be the star so we pulled out rug after rug in search of something simple, plush, 100% wool, and not three hundred dollars (even with the 50%- 75% off sale, many rugs were originally $800+ so they were still far beyond our budget). Then we saw a light blue 5 x 8 100% wool rug that was nice and cushy (and swanky- it was actually hand knotted). Our plush light blue find wasn't exactly as aqua as the ceiling, but it was a soft powder blue and it was marked down from $399 to $99. Uh, yes please! We decided to buy it and see how it looked and if it was a bit too cool (and not aqua-ish enough to work with the ceiling, the chandy, and the curtains) we'd just bring it back. Thank goodness we snagged it because when we got home and put everything into the space it totally worked. And we actually remarked that we were happy it wasn't light aqua like the ceiling since the more subdued gray undertone will definitely hide a lot more dirt and create some nice layered interest in the room. Score.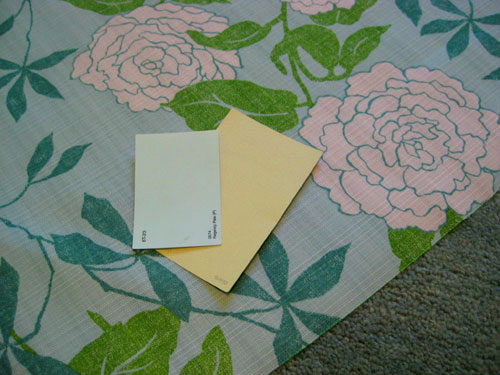 Then it was time to mirror hunt so we swung through TJ Maxx and then Marshall's (which are pretty much our mirror holy grails, along with Home Goods) where we spotted this large and in charge stunner for… wait for it… $39. That's pretty much unheard of for such a giant and detailed 30″ solid wood mirror. And of course we don't plan to keep it black so you'll just have to wait and see what color we're going to paint it. Hint: it's not going to be white- I know, we're just shocking you left and right today.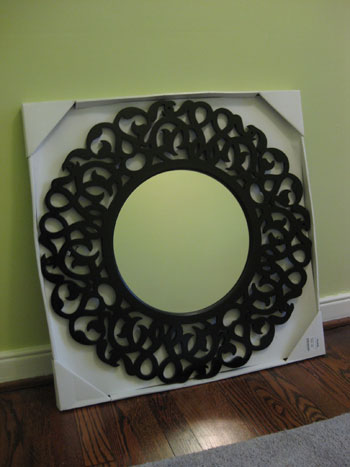 So that's how we hit up a slew of stores over the course of about seven hours and returned with a car full of stuff (poor Burger really had to pee by the time we got home to rescue him). We must admit that our shopping trips aren't usually this fruitful, we just happened to be at the right places at the right time and did our best to see the promise in things that might not always look exactly right for a baby girl's room (like the dramatic black mirror above). Oh and we devoted seven hours to the cause. Did we mention it was a long day of shopping? Because it was.
It's also pretty cool that about 70% of our finds hailed from small local businesses (not only did we get our paint from a green boutique here in Richmond, but the rug, chandelier, and fabric all came from local outlets that we found either by driving by them or looking them up in the Yellow Pages. The lesson: don't forget to check out specialty stores in your area, do some googling, and even ask the neighbors for suggestions when you're on the hunt for something that you can't seem to find at Target or Marshall's. Of course two of our items (the curtain rod and the mirror) came from those big box stores so it really is a pretty balanced bounty. It just goes to show you that you never know where you'll find your next deal, but if you keep an eye out and set out with a serious mission you just might come home with a packed car and a whittled down to-do list. Now we just need furniture, art, and storage galore…
But what about you guys? Do you have any favorite local haunts where you always score something special? Any big box stores that leave you giddy over the big box deals that they dole your way? Let's talk about that serendipitous feeling of finding the right thing for the right price. There's got to be at least one thing in your house that you can't believe you snagged for such a steal.
Psst- Wanna see the nursery transformation from the very beginning? Here's our first post about clearing the room and here's our second one about painting the walls and ceiling.