You may have seen the before & after bench pictures in our latest column for R. Home magazine. And we're back to break down the process of completely transforming a cheap rickety ol' bench with paint, fabric and a bit of elbow grease. Here's the shoddy excuse for a bench that came home with us for $7 from Love of Jesus Thrift (yes, that's really the name of one of our favorite local thrift stores):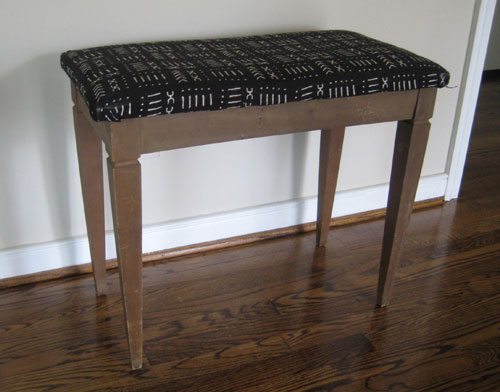 We looked beyond the dingy wood finish and the dated fabric to see something with true potential. The clean lines and easy-to-upholster seat cushion meant this baby was primed for a major makeover. We removed the seat cushion and tightened the interior bolts which immediately remedied the bench's rickety nature. And we gently sanded the wood with 100 grit sandpaper and quickly got down to the bare wood (older pieces make this especially easy).
Sanding is a great way to help prepare a surface for paint, but we also followed this step with a thin coat of white oil-based primer since we were planning to paint the bench a light celery color and we didn't want any old stains or sap marks bleeding through our brand new finish.
Then we followed our coat of primer with two coats of semi-gloss latex paint in a soft celery green (Lunar Tide by Valspar) applied with a brush for a smooth and bubble-free application. Many people think rollers are the way to a smooth finish… but only for walls. When painting furniture items, especially those with spindles or thin legs, even Benjamin Moore paint specialists agree that paint brushes offer a smoother finish (along with paint sprayers of course, but paint brushes are less messy, more accessible, easily affordable, and they offer you more control). Just remember that two thin coats are much better than one globby one- which will definitely show brush stokes and drip marks- ewww.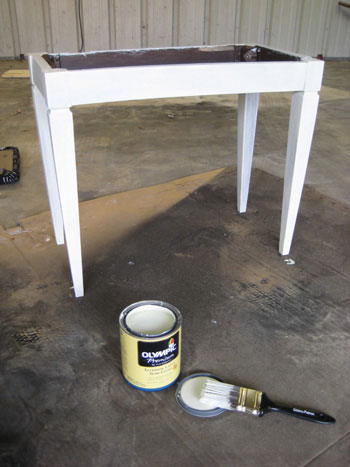 Then we let the bench dry for at least 24 hours while we tackled reupholstering the cushion. We purchased just half a yard of green and cream lattice William's & Sherrill fabric for a mere $12 and couldn't wait to give our sad little bench a fresh luxe look. It's important to take the time to carefully place fabric with a pattern before you start stapling so it doesn't seem off-center or crooked. We cut our piece of fabric with a few extra inches on each side so we could shift it and check it out from the front to be sure that the lines were straight and centered looking before we whipped out the $12 Home Depot staple gun.
We secured the fabric to the bench by pulling it tight and stapling it at the 12 o-clock, three o-clock, six o-clock and nine o-clock position. This keeps everything centered and in place (instead of stapling in a clockwise motion, which tends to allow fabric to rotate as you rotate, resulting in a bit of a twisted and unbalanced final product). We layered the new fabric right over the old fabric since the cushion underneath was in great shape and we didn't want to tear out the old fabric and risk ruining the plush little form of batting underneath.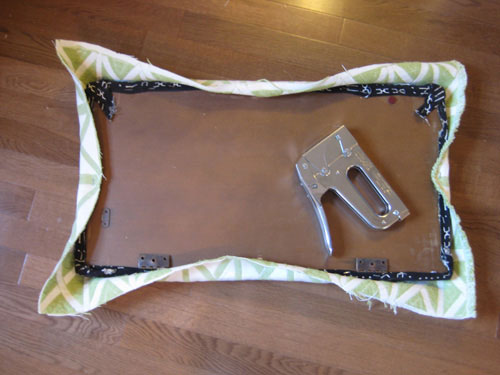 After securing your fabric in the middle of each side with one staple, going around the perimeter of the piece and adding more staples all the way around takes about five seconds. And you're left with something that looks pretty darn good- and that's just the back.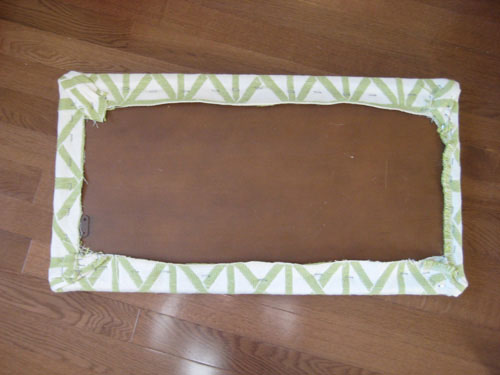 When it comes to the corners, folding them like you're wrapping a present (and checking that it looks seamless from the front) is the way to go. It usually takes at least two darts and two staples, so don't try to do it all at once. Slow and steady wins the corner-upholstery race. And the great thing about this process is that you can always pop a staple or two out with a flat head screwdriver if you want a do-over. Which practically guarantees a flawless finished product.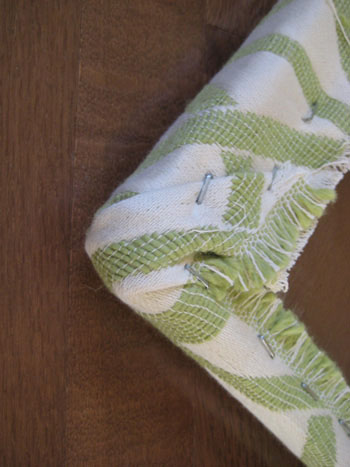 Here's our bench all put back together. Isn't she a beaut? I wonder how many people laughed at that pathetic little $7 thrift store bench before we rescued her!
Here's a top view to show how we did our best to center the fabric both left to right and top to bottom before stapling it in place. See the center line that runs down the center of the bench? And the stripes on each side that hit about a half inch away from each edge? It's those little details that make it look clean and profession. Not at all like an afternoon project done on a serious budget.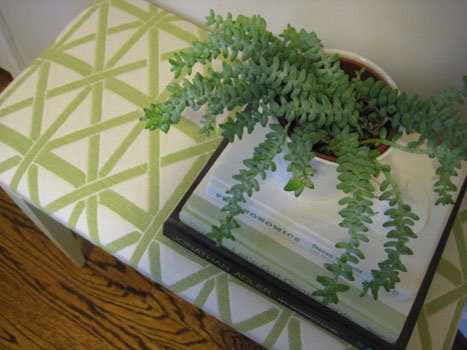 If you can paint a wall and wrap a present you have all the skills you need to completely refinish a bench. And even if you can't, you can now that we've given you the play by play. It's easy and oh so rewarding. And every time a visitor stops to compliment your new addition you can offhandedly mention "oh this old thing, I picked it up for $7 at a thrift store"- priceless. Speaking of price, the entire cost of the whole bench project was $30 for the bench, the fabric and the paint. Not too shabby…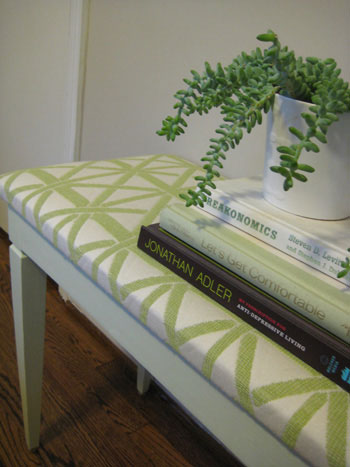 So go get benched! And tell us all about it.
Looking for another tutorial? Check out our How-To page for everything from cabinet-painting instructions to headboard-making advice.