We're back to share how we painted our $39 Marshall's mirror so it's a bit less upscale-formal (in black) and a smidge more playful and nursery-ready (thanks to a few coats of deep asparagus green paint).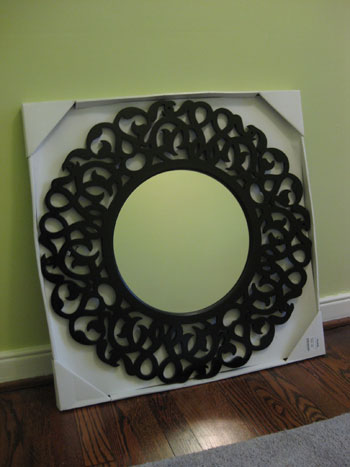 It was a super straightforward process, although I'm not gonna lie- all those curvy openings definitely took me a bit longer to work around than a basic mirror frame would have. But it was totally worth it in the end. As in, I'd do it again ten times without a second thought. We just love it!
We were inspired by the deeper green tones in the leaves from our curtain fabric so the color that we decided on for the mirror was a nice deep-ish green tone called Behr's Scotland Isle (we got it color matched to an inexpensive quart of Olympic's No-VOC Premium Paint in a semi-gloss finish). We passed on using any primer since our mirror was already painted (not stained) so we didn't worry about anything bleeding through (and we wanted to avoid the primer fumes if at all possible). But we did rough it up with a bit of high-grit (350) sandpaper before picking up a paint brush. Note: if you're not prego and not making over a mirror for a nursery, you could easily use a spray primer like Kilz followed by a few thin and even coats of spray paint in your color of choice for a perfectly polished finished product- just be sure to spray in a well ventilated area because those fumes aren't great for anyone- pregnant or not.
So as I mentioned, I passed on the spray paint approach and resolved to do the work with a small craft brush instead. I left my usual 2″ angled paint brush in our tool drawer and reached for a tiny less-than-one-inch brush from Michael's from my craft drawer instead- just to get into all those nooks and crannies. Two coats, and about two hours later, I was looking at a gorgeously green mirror that appeared as if it had always been that color. Not an ounce of black paint bled through the paint or peered around the cut outs thanks to my tiny brush. Oh and I painted the mirror on a flat piece of cardboard to catch any drips and make it easy to spin around so I could access it from all sides (which was crucial to ensure that I didn't miss any of the many edges that needed green paint to cover the black).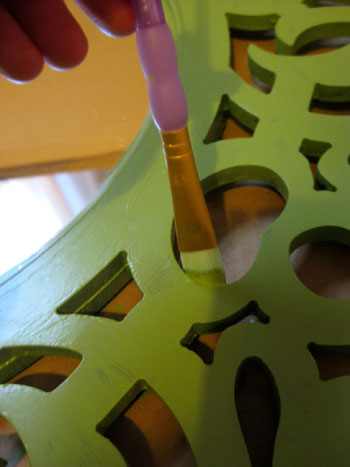 Then I sat back and let everything fully dry (I didn't even attempt to hang it for 24 hours, just to be sure it was fully cured) and used a simple straight edged razor to scrape the small amount of paint that had dripped from the frame onto the round face of the mirror in the middle. Then we used two heavy duty anchors to securely fasten it to the wall in the nursery. We intentionally hung it across from the only window in the modestly-sized room to reflect lots of light and make the space feel more open and airy.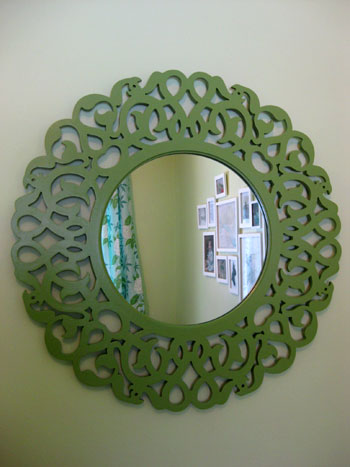 We love how the color works with the tones in our curtains. And of course we adore all the fun little shapes that it makes on the wall (that we're sure the beanette will love to stare at). We especially enjoy the four little hearts around the mirror's perimeter that we never even noticed back before we painted it green.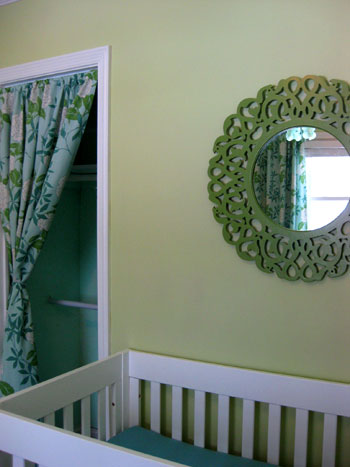 See how smooth our paint job came out just from applying two thin and even coats of latex paint with a small craft brush? Painting a frame or a mirror is really one of the most simple and rewarding projects that you can take on (how about painting a bunch of them in a bold punchy color and hanging them in a grid above your sofa?). Easy peasy. Especially if they're less ornate than this guy.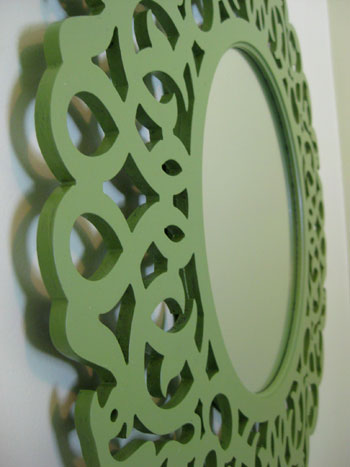 So there you have our latest little nursery project that we completed with just one cheap-o brush and a quart of colorful semi-gloss paint. Oh and we should mention that we do realize that when the beanette gets bigger and eventually can stand up in her crib (even though we'll be lowering the mattress at that point) hanging the mirror even more securely on the wall will be in her best interest. At that time we plan to screw right through the frame and into the wall (we can countersink, putty and paint the heads of the screws to hide 'em) so the mirror can't even be yanked off the wall by a hulking adult. Stay tuned for all those little childproofing adventures that we'll take on as Baby P grows and becomes more mobile towards the end of 2010…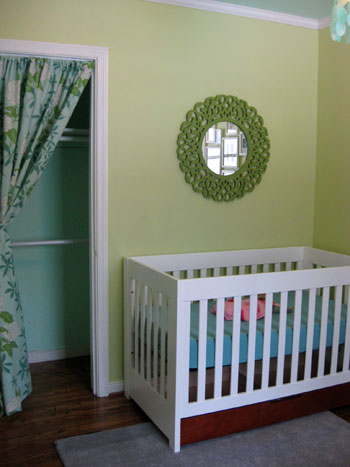 And before we forget, did you notice that we snagged an awesome aqua colored 100% organic crib sheet? We actually ordered two of them (we've heard that it's easier to always have a spare on hand) and also grabbed two 100% organic changing pad covers in the same color. We love the pop of happy hue that it adds without being too busy (we considered some patterned options but realized that with the scrolly mirror and the printed curtains it might be a bit too much).
Best of all? After sleuthing out about twenty organic crib sheet and changing pad cover options, these were the cheapest and the color happened to be perfect- plus they even offered free shipping so we couldn't have been happier. Not bad for $18 and $15 a pop respectively. Of course we did that thing where you cross your fingers that the color n the monitor is close to the real color, but as soon as they arrived we breathed a sigh of relief. Now we just have to pick up about a million other things (waterproof mattress cover, changing pad, dresser, side table, lamp, art, cloth diapers, toy baskets, etc). Not to worry, we'll get 'er done.
Psst- Wanna see our nursery progress from the very beginning? Here's our painting post, our big shopping spree, our crib hunting rundown, our curtain-making tutorial, and our fun little chair search.