The exact weekend after we wrapped up our big bathroom makeover, we hightailed it out of town. It wasn't that we were over staring at our new bathroom (we actually found ourselves going into the room just to ogle our newly spruced surroundings) but it was more like we needed a self-imposed "vacation" after such hard work. Especially my main tile man John. He really deserved a nice little weekend getaway. So we drove five hours up to the family beach house in scenic Rehoboth, Delaware (we know it's weird to go to the beach in the dead of winter, but we love how quiet and sleepy the off-season is… and we always seize the opportunity to play a lot of board games, eat some great home cooked meals, and watch hours of Law & Order and rental movies that we've been meaning to see for months). We usually also make time to swing through the outlets ($9 shoes? yes please!) and this year we even got to grab some cute baby girl clothes on the cheap.
John also initiated the "nursery chair search" since he reasoned that we might find something comfy and perfect for the corner of our modestly sized nursery while at the beach since the area is pretty much brimming with home decor shops, thrift stores, and even salvage places like this one that we always drop in on. At first we didn't have much luck when it came to finding something soft and cushy to stick in the corner of our nursery for late night feedings and general baby gazing, but we did find a pillow that looked just like Burger…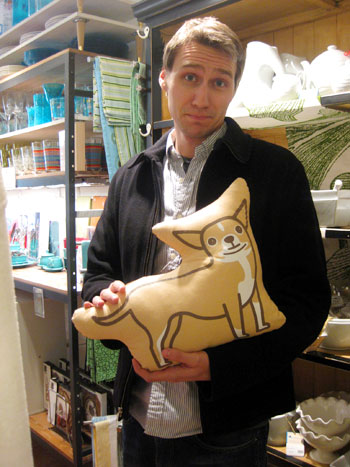 Not to be deterred, we found the strength to put down the funny little chihuahua accessory (although somehow we think our little girl is going to be obsessed with her furry big brother so a pillow in his likeness would always be welcome in her room) and continued our search. After dropping in on about six to eight places without any success (they either had inflated beach-front price tags or stiff uncomfortable chair options) we found ourselves walking into the All Saints' Parish Thrift Shop. And that, my friends, is where we hit the motherlode.
But perhaps we should explain what it was that we were looking for in a nursery chair. You see, at first we had looked into gliders, and while many moms swear they're the best thing about being a parent, we're actually surrounded by people (John's two sisters and one of my good friends) who have regular ol' chairs in their nurseries- and they all love the cozy and inviting options they chose. No regrets among any of 'em. So after looking at a bunch of gliders that didn't really do it for us from an aesthetic point of view (or boasted an $800 price tag when they did) we quickly moved on to the idea of a comfy chair and ottoman combo. I guess this is another one of those personal mom decisions that differs for everyone, but I knew as long as I could put my feet up and sink into something comfy I'd be a-ok.

Plus we're pretty good at evaluating how we'll use our house, and we knew that I would do the majority of my nursing on the sofa with the help of a Boppy. Since I work from a small desk in the den (which is also where our only TV lives and is strategically placed right off of the kitchen) we recognized that between checking the blog, watching some tube, and generally hanging out with the beanette in her first few weeks and months, beyond midnight feedings I probably wouldn't be spending much time in the nursery chair (I definitely didn't see myself walking back across the house into the nursery every three or four hours for feedings). So it really helped to realize that we'd use the chair in the nursery probably once or twice a day, but it wouldn't be my primary nursing location (which made paying $800 for a chic little modern glider or even a big overstuffed chair seem like more of a waste the longer we thought about it).
And of course as paranoid and clueless first-time parents-to-be, we like to do our research to put our nervous minds at ease. So we made a few calls to all those sisters/friends who had babies in the last year and asked what they liked about their non-gliding nursery chairs. Everyone kept saying the same thing: just get something comfortable and add an ottoman. And don't go armless (aka: be seduced by a sweet slipper chair) since it's nice to have some "chair boundaries" to keep the Boppie or your grip on the bambino a bit more contained (so you're not straining to hold your arms in a certain position while the chair provides no support whatsoever). Of course we realize that many of you out there might have a different "must have" chair criteria, but we felt good with the comfy and supportive shape/no-lack-of-arms advice that we got from our friends and family so that's what we went with. I guess that's one of the signs that we're getting ready to be parents: we did some research and made a decision that seemed right for us. And with that knowledge, we confidently embarked on our chair hunt to end all chair hunts.
Which takes us back to the All Saints' Parish Thrift Shop. We walked in and immediately saw the most cozy and enveloping egg chair. The bucket-like construction hugged us like no other chair we tried (and we must have sat in literally 30 chairs that day) and although it hardly looks plush and inviting (pictures don't do it justice) this baby practically conforms to your body. So much so that although John wasn't convinced by my blissed out expression while I sat in the chair, once he took it for a spin himself he declared that he never wanted to stand up again. Victory! Plus the small scale size is perfect for our smaller-than-average nursery and it'll be even more heavenly when we give it a little love to get it looking brandy new again. Especially when we add a fresh coat of paint, a soft little lumbar pillow and a nice ottoman for even more bliss-inducing comfort (if that's even possible). And the price tag? Twenty beans. Sold!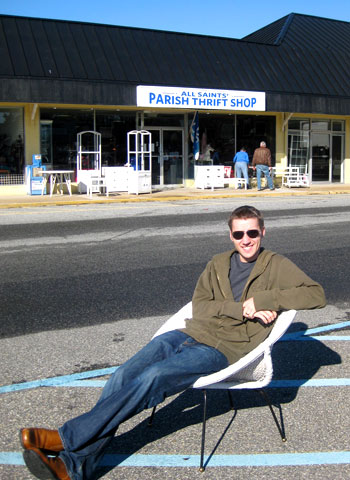 The only issue we had with the chair was that it was vintage. The shopkeeper assumed it was actually an original from the 60's/70's thanks to the shape and the construction, so naturally we had a major lead paint concern on our hands. Not to worry, we knew we could use a soy-based wet stripper to remove the paint if it did contain lead, and we actually had a strong suspicion that the chair was painted way after it was made (we thought it was probably left au-naturale for a while and then painted white within the last ten years with more modern lead-free paint). But when it comes to our baby bean, nothing but the cold hard facts can ease our nervous-new-parent minds… so we headed to Home Depot and grabbed a less-than-six-dollar lead test kit called Lead Check.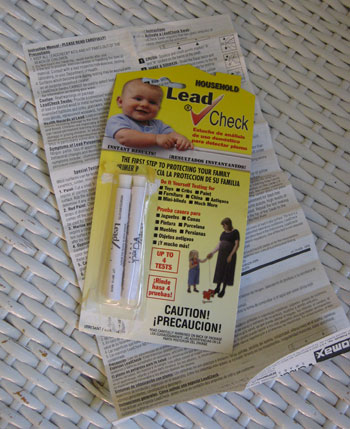 After carefully reading the directions we learned that all we had to do was snap the lead stick two times and shake it a bit (we heard some goo get released, almost like snapping a glow stick) and then rub it for about 30 seconds on an area of the chair with a bit of a paint chip (just so in case the paint was "sealed" with some sort of poly that didn't have lead we could still access the paint beneath it and get a true read).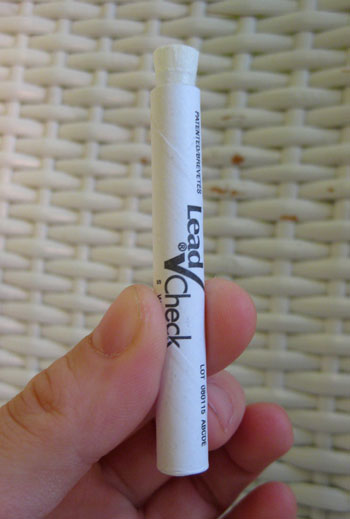 So I gently rubbed side to side on a few different chipped areas of the painted chair- and a small dribble of yellow goo came out which I massaged into the chair with the tip of the test stick for around 30 seconds a pop. We even checked the legs, which appeared to be unpainted but you never know (you can reuse the stick in a bunch of different places as long as it doesn't indicate that there's a lead reaction, at which point the test is dunzo).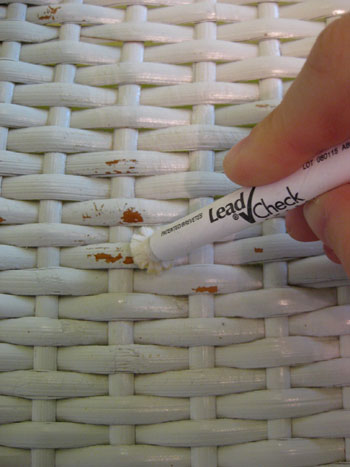 The directions explained that varying amounts of lead could be detected by this method, so a soft pink hue on the chair or the tip of the lead stick would indicate trace amounts of lead while a brighter pink tip of the stick or mark on the chair would warn us of higher concentrations of lead. And lookie here- not even a smidge of pink. In fact the tip of the stick and the chair stayed soft yellow- the exact same color of the goo when it doesn't have any reaction at all. Happy happy joy joy. No lead!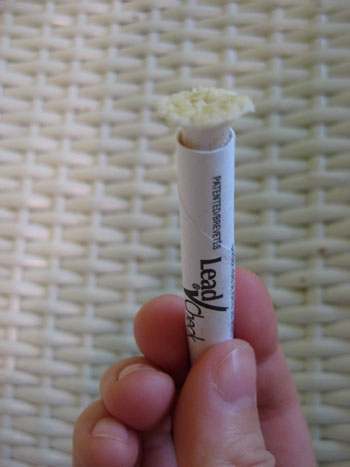 Of course we still plan to give our chair a nice fresh coat of no-VOC paint (along with those stark black legs while we're at it) but for the time being we can't bring ourselves to break out the paint because we enjoy sitting in the chair so much that the whole waiting-for-it-to-dry thing might kill us. Seriously, when the house is quiet and one of us is wondering where the other one is, we can always be found sitting in The Chair. Sometimes even in the dark with our feet up. It's the most comfortable thing in the world, I'm telling you. Pictures just don't do it justice.
And just to be sure that our $20 steal was up to the breast feeding challenge, we actually had John's sister come over and nurse her three month old baby boy in our chair (of course we closed the door while she put the chair to work and we fed her lunch afterwards to show our true appreciation). The verdict: she proclaimed that it was very cozy and even mentioned that the arm support was perfect. And she's a mom of three so her endorsement means everything to us.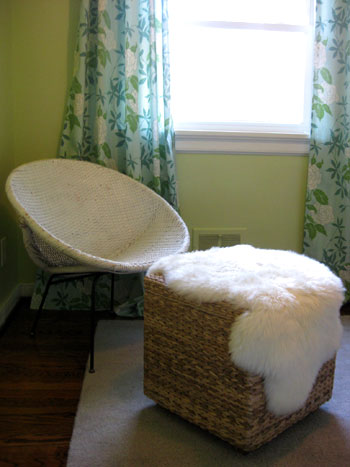 So in the end we definitely could never have guessed that we wouldn't end up with an overstuffed arm chair or a glider in our nursery but we're so excited about our comfy and supportive $20 thrift store find.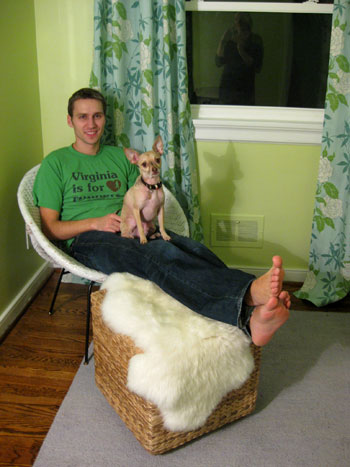 And yes I was jealous of John while I snapped these pictures because he was the one enjoying the bliss that is our new nursery chair while I slaved away taking photos…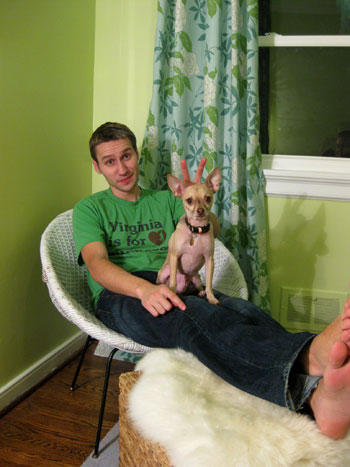 Stay tuned for updated pics of our new chair once we get the chance to paint it (and add a plush little lumbar pillow). Until then you can find me sitting in the nursery with the lights off and my feet up. Life is good when you're pregnant.
But enough about our groovy vintage lead-free twenty dollar chair. Do you guys have a favorite place to sit in the house? Do you have any cheap-o thrift store scores that you're dying to brag about? Does anyone else vacation in Rehoboth? Did anyone purchase that adorable chihuahua pillow that we sadly put back on the shelf? Spill the beans.
Psst- Wanna see our nursery progress from the very beginning? Here's our painting post, our big shopping spree, our crib hunting rundown, and our curtain-making tutorial.